5 Reasons Why Mortgage Jake is Bullish on Toronto Real Estate for 2021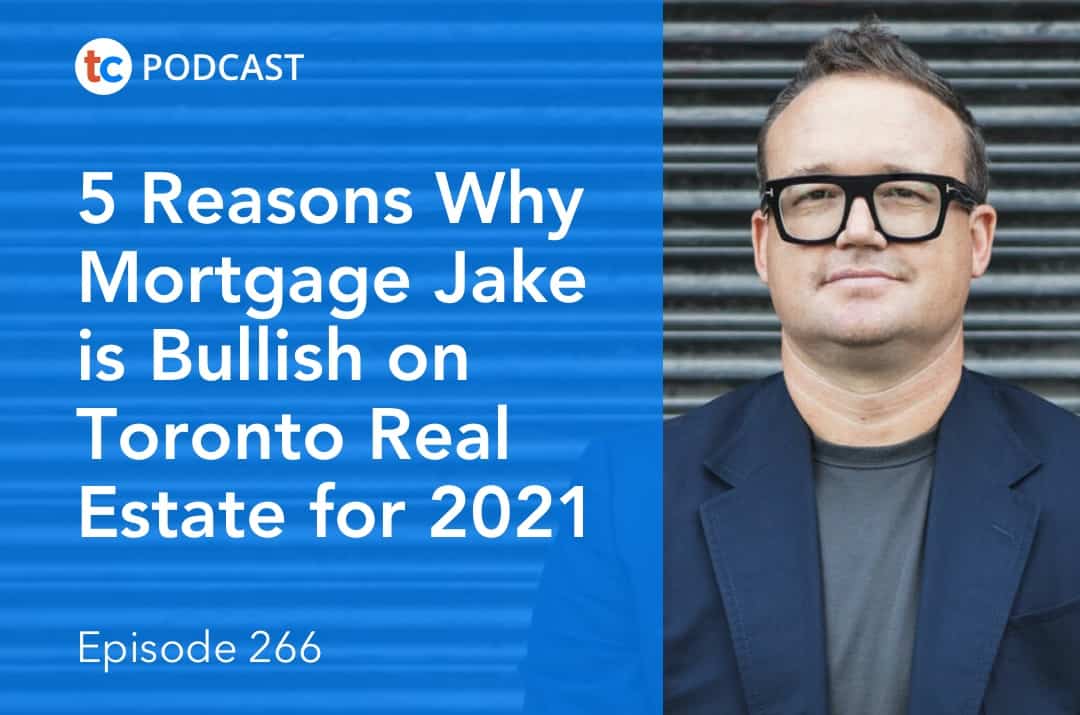 Pod regular Mortgage Jake is back to share his top-5 reasons (with a couple of bonus reasons) why he's bullish on Toronto real estate as we head into 2021. Plus – what is Mortgage Jake investing in himself right now. You're gonna love this.
Highlights From This Episode
Intro (0:40)
Reason #1: Increased Savings (3:18)
What is Causing This to Happen? (5:40)
Reason #2: Low Interest Rates (7:15)
What Did Rates Look Like 12 Months Ago? (8:44)
Reason #3: Deferral Cliffs? (10:50)
Reason #4: Insolvencies Are Down (13:30)
Reason #5: New CMHC Program (15:00)
Stress Tests and Qualifying (19:01)
The Old Days (23:00)
How Can You Be Bullish During a Recession? (25:05)
Isn't the Downtown Condo Market Dragging Right Now? (27:50)
Is the Bubble Coming? (31:20)
What is Mortgage Jake Buying Today (34:25)
Subscribe and Listen to the True Condos Podcast
Read This Episode's Transcript
Andrew la Fleur: On today's episode, Mortgage Jake joins us to give his top five reasons why he's bullish heading into 2021. Stay tuned.
Speaker 2: Welcome to The True Condos Podcast with Andrew la Fleur, the place to get the truth on the Toronto condo market and condo investing in Toronto.
Andrew la Fleur: Hi, there. Welcome back to the show. Thanks for tuning in. Your host here, as always Andrew la Fleur from True Condos, and glad you could join us on today's episode. We have a special guest returning to the show once again, Mortgage Jake, AKA Jake Abramowicz. Jake is one of the top mortgage brokers in Canada, and he's been on the show, as you may know, numerous times over the years. Jake recently sent out an email to some folks, myself included, on his top five reasons why he is bullish, heading into 2021, on the real estate market. As soon as I saw that, I said, "This is really great stuff. I want to get this content out to more people."
Andrew la Fleur: So Jake, let's jump on the podcast and go over these points and talk about this stuff in more detail. Here we are, and we're going through Jake's five points and a few extra bonus points on why he's bullish heading into 2021. Now look, obviously, everything is not rosy and the world is basically upside down right now. It's been a really weird and wild and wacky and up and down and amazing and terrible year that is 2020. The real estate market's certainly included in that, but just life in general. Jake has always been very positive and positive outlook with respect to the real estate market throughout this year. Just following him on social media and Facebook and Twitter and just the content and videos and stuff that he puts out, it's been great.
Andrew la Fleur: Thanks Jake for doing what you're doing, and thanks for coming on the show again. Yeah, so let's jump into this interview here with Jake, and I hope you enjoy it. If you want to get ahold of me, of course, as always andrew@truecondos.com is my email. You can call or text me at 416-371-2333. You can get the show notes for this episode and links to Jake and his social media and all that on truecondos.com/podcast anytime. Without further ado, here's my interview with Mortgage Jake. Jake, you ready? You ready to do this?
Mortgage Jake: Ready, man. Welcome back, or [crosstalk 00:02:43].
Andrew la Fleur: All right. Yes, welcome back to you. Thank you for welcoming yourself back to the pod. It's been a while, but yeah, we've had you on the pod, obviously, a number of times. Very popular guest, got a lot of great feedback whenever you're on the show. People love hearing from you, Jake, and looking forward to this conversation here about your ... These are your top five, not mine, although I probably agree with all of them. But your top five reasons why you're bullish heading into 2021. So hit us with it, Jake. Hit us with number one, number one reason.
Mortgage Jake: As we mentioned in our little discussion before we went live, this year has been a record year for a lot of people in real estate. Sometimes when that happens, you always think, well, maybe this is the best it'll be, but frankly, I'm a pretty balanced broker. I find that I'm not always bullish on real estate. It's not always rah, rah. But going into 2021, I'm seeing a lot of signs that I think will propel this market in a very positive direction. As we are heading into the end of the year in a positive direction, I think moving forward [inaudible 00:03:53]. Realistically, the first reason that I've seen or come up with is I've never seen this level of savings rates from Canadians.
Mortgage Jake: Deloitte estimates we're going to save $200 billion. I mean, the finance minister comes online or on TV and says to us, "Hey, this is how we should ... This should be one reason or one way that we should propel the economy by spending that savings," and eventually we're going to spend those savings into real estate. A lot of people will catch up on their RSPs, RESPs, renovations, whatever else they have going, and they will look at real estate as an asset class that has performed so well in the long-term 20 years plus, where that money will translate into people buying real estate and again. So that's reason number one, savings rates are crazy.
Mortgage Jake: Now, a lot of that is propelled by the government programs. I get it, for sure. But frankly speaking, I think with that level of money that people will have, not only will real estate directly be affected, but indirectly by way of people renovating. So that's an indirect benefit to real estate because the stock of the housing will rise. Then those people will maybe sell those properties, or buy rental properties and convert them to multi-family units, something I'm doing right now. So I just think savings rates are going to be a very big trigger in a real estate, not rebound, but a continuation of a strong bullish market.
Andrew la Fleur: Right. So basically, Canadians are just sitting on record amounts of cash.
Mortgage Jake: [crosstalk 00:05:22], yep.
Andrew la Fleur: What do you think is behind that? Yeah, the numbers are astronomical. You look at the savings rate, just how much money, $200 billion of money that people have accumulated, they're just sitting on it over the last nine months of this pandemic. What is driving that and when do you think the taps are ... When is that money going to start to stop being saved and start getting into the economy? I don't know. What are your thoughts?
Mortgage Jake: Well, I'm a perfect example of this, and you too, Andrew. We haven't gone to a Raptor game in, I don't know how long, a year now, or close to it, right?
Andrew la Fleur: Yeah.
Mortgage Jake: Not a year, nine months, 10 months. Look, for full transparency, I buy season seats to the Raptors, and guess what? I've saved a crap ton of money not going, not hosting clients, not hosting realtors, not hosting a box like we had last year around this time. You can't go out for dinner. You can't travel. I mean, another thing, I haven't taken a trip in nine months. I don't want your listeners to think, oh my God, he hasn't taken a trip in nine months, boo hoo. I mean, in general, we are not spending this money, our money in the ways that we have in the past. We're staying at home and not spending money on clothes.
Mortgage Jake: Maybe tech, maybe food takeout, but really, we're saving a lot of it because there's just isn't any money to spend. Obviously, with the first wave of vaccine rollout, I'm thinking by summer, we will start to see a lot of this money start to get pumped into the market, into the economy, and that's when, hopefully, we will see a rebound in the economy. Hopefully, stores will reopen, no more curbside pickup, and hopefully, we all do what we're supposed to do, get vaccinated, keep a distance, etc. But I'm seeing by summer, if we don't see a Raptor game, a Blue Jay game in the stands, I'll be surprised.
Andrew la Fleur: Second reason, moving on to number two.
Mortgage Jake: Well, reason number two is tied to reason number one. I want to sit on a pile of cash, and I've got enough for a 20% down payment for an investment condo or a pre-construction unit or a resale house, and I'm going to say to myself, "Okay, well, sure, I'll put 20 down because I'm borrowing money at 0.99, 1.29, 1.49%." So interest rates are going to stay exceptionally low, historically, for a long run. Bank of Canada said yesterday again, we plan ... and say, they insinuated rates will stay low till 2023. Well, when rates are very low and you have the savings to put as a down payment and you can withstand that potential $200 a month loss in your rental income, as one really silly Bloomberg article pointed out with one person that they interviewed. Well, if you can withstand that because you have very good savings, you've got the 20 down, why wouldn't you leverage and lock in for a 5, 7 year rate at 1.5% on a rental property?
Mortgage Jake: I mean, I believe it was 72% of your payment goes to principal at 1.5%. So while rates are going to stay low, consumers' confidence will be high and say, "Oh, I've got my money saved. I'm making good money and rates are cheap." So that, I think, will propel people to keep wanting to maybe invest in real estate as one of their ways of spending their money, and the second reason why I'm very bullish on real estate moving forward.
Andrew la Fleur: Extremely low rates, yeah. Give us some perspective. So rates right now hovering around 1.5% ish. Where were they 12 months ago at this time?
Mortgage Jake: For rates 12 months ago, a good question. Right before the pandemic, we saw rates go into 2.25, 2.5. Some lenders in February, March almost even touched 3%. TD Bank was at 2.89 in February, March, and we all thought, "Oh great. Here's a pandemic. People's mortgage payments are going to go up." Yes, we had a deferral, but we didn't know about that program at the time. Payments will go up for a lot of maturities and renewals. This is going to crush the market because the market is very primarily driven by interest rates. That's been something I've been saying for years, almost now decades.
Mortgage Jake: Interest rates drive both people's psychology and confidence. At the beginning of the year, I thought oh, okay, well, all these people that could have renewed earlier on in the year at 1.99, and now renewing that 2.49, 2.79, and people locked in like crazy because they thought rates would skyrocket on variable. No one wanted to touch variable. So the majority of people locked in up fixed, and now they're all calling saying, "Hey, I got a mortgage at 2.9. Can I break it to get 1.9?" Well, most likely it makes sense to do so. Rates were 1% higher less than a year ago, so here we are with a rate sale, a rate discount.
Andrew la Fleur: Yeah, 1% in a year, which is, yeah, roughly ... I mean, that's like rates are down, I guess, from high twos to mid ones, so you're talking 50% difference-
Mortgage Jake: Yeah. Yeah. [crosstalk 00:10:23]
Andrew la Fleur: ... in the rate in a year.
Mortgage Jake: Not insignificant. Not insignificant, and then the Bank of Canada had a change in governors. Now we have a new guy, Tiff Macklem. He has been very vocal, more vocal than our previous guy, Stephen Poloz. He said, "Look, rates will stay low. If you are looking at making a major purchase, now is the time to do so." I've never heard a central bank governor ever say that or do that. That's a very bullish thing for me when I'm being given an assurance, whether you go variable or fixed, rates will remain low for a while.
Andrew la Fleur: Point number three, deferral cliff. For those of us who don't know, remind us, what is the deferral cliff, and how do you look at it? What does it mean to you?
Mortgage Jake: We all know April happened or March happened, world shut down, lenders created, very quickly, a very strong deferral program for up to six months. We now know how easy it was to apply for. We now know that it was literally, with most lenders, click, click, get. I know from my experience, I had no income interruptions, but I called RBC the day that they offered it. I said, "Hey, how does this work?" "Oh, you know what? Just tell us, do you need a deferral?" "Well, sure. Maybe," and it's there for the taking. The deferral cliff is a term that, I believe, Evan Siddall from CMHC came up with, and said, "Hey, after six months, everybody, watch out because all of these buffaloes that are running on a mountain are going to fall off the cliff because now they can't afford to pay their mortgages."
Mortgage Jake: Well, early on, Home Trust, which is a very strong alternative lender that deals a lot with people with impaired credit or self-employed clients or multi, multi, multi unit investors, etC., they were one of the first lenders that said early on, as in late in the game, in the deferral game, a few months in, they said, "Well, a lot of our clients are coming back to pay." That's interesting. Let's see what the big banks say. 83% of the deferrals have gone back to normal with Royal Bank, and that's the biggest lender in Canada with the most deferrals that was outstanding, obviously, by numbers.
Mortgage Jake: That, to me, says there is no cliff. There's a very gentle slope that clients are readjusting and pivoting to pay their number one asset on time. Our non-payment rate went from 0.33 to 0.66. That means if you're more than one month late. 0.66% of all mortgages in Canada are more than one month late at this time. That's an extremely low number when you consider almost 25% of American mortgages in 2008 were late at least one month. So the deferral cliff is not a cliff. The deferral program has slowly wound its way through the system, and thankfully, Canadians are able to readjust, make those payments on that mortgage.
Mortgage Jake: That's an extremely good bullish sign. That means that, hey, I got out of the fog. Now I'm confident. Rates are still low. Maybe I can refund, maybe I could do this, and maybe I can buy real estate and invest. So 0.3 and 0.4 really are together in the fourth point. Not to jump the gun, but they're very closely tied. Insolvencies are down year over year. Insolvencies, October, are lower than insolvencies October 2019. Wait, so the deferral cliff never caused a 5% to 19% drop in prices like Evan suggested. There is no massive deferral cliff that's happened because RBC 83% of people are back to paying, and now people who are bankrupt, who are going consumer proposal is down year over year.
Mortgage Jake: Again, that's a very healthy sign for me that people will be in a good position to take advantage of low rates and to take advantage of certain segments of the market that are not doing great, we'll talk about that later, and invest in the market and create long-term wealth. So 0.3 and 0.4, deferrals, insolvencies to me, these are very strong indicators that I'll ... That's why I'm very bullish in 2021.
Andrew la Fleur: The deferral cliff basically was a gentle slope. It was not a cliff at all. The road remains very easily traveled. Basically, people deferred their mortgages because they could. It was very easy, but then when the time came up, like good Canadians, they all fell in line and paid their mortgages again.
Mortgage Jake: That's right.
Andrew la Fleur: Then, like you said, we have some recent data saying that insolvencies, people declaring bankruptcy, is actually lower now than a year ago, which is insane to think of, but that is reality. That brings us to point number five, your fifth point why you're bullish heading into next year. Talk about CMHC and some of the programs that are available. Because for some reason, I know you've been talking a lot about it on Twitter and whatnot, but nobody's really talking about this new program that CMHC announced.
Mortgage Jake: The average price of a Toronto condo is 622,000. That's a number that is set in stone today. The CMHC program that came out before the pandemic happened, the first round of first-time buyer initiative, maximized or set a cap of $505,000. This means if you're a first-time buyer with less than 20% down, so you have 5% down, the government was going to lend you another 5% and not charge you interest on it, not charge you payments on it. This would bring down your monthly payments This would bring down your CMHC premium. But when you sell the property or refinance it, you have to pay the government back their 5% plus whatever percent gain.
Mortgage Jake: So say your property goes up 10% in value, you pay them back .... say you got 25K, you pay them back 25K plus 2,500. Not a major problem. Your government's helping you, so they want a little bit piece of the pie. But 505 grand isn't going to get you anything in 416. So what Trudeau and Liberals did was they raised the purchase price to a max of 722. Now, a first time home buyer can get this initiative as long as they don't buy a property over 722,000. Yes, this also applies to pre-construction, so great, amazing. What they also did was they increased the income to debt ratio from four times to four and a half times, and four and a half times is very realistic. Four times income and 505K max, that took a lot of buyers out.
Mortgage Jake: I believe only 2,000 buyers, as of March, used this program. This program has allocated $1.25 billion to be used, and guess what? It used 4% of its entire budget. At 722K maximum, at four and a half times income, I think a lot of people will not move into condos because they're seeing condo prices are not doing great today. Well, hey, listen, every market takes a breath. Why not jump in when the condo market's not doing so great? Although that won't last very long, it'll do great again. Why not take advantage of this program, or at least let's look at this program. Let's have a dialogue. When programs come out and loosen, markets get a little bit looser.
Mortgage Jake: This means people are chatting about it. Then they look at interest rates, say, "Oh, rates are super cheap." Then they look at insolvencies, they're really low. Deferral program's done. Then they look out at their savings, I've got 5% down. Well, all of this leads a nice, perfect storm of me being bullish. The second reason, and this is not a program that is announced, but it almost came out this year where the stress test was finally going to roll back a little. They agreed in principle, OSFI and the government and everybody agreed that the stress test, instead of using a very archaic 4.79% interest rate, they were finally going to say, "We need you to prove that you can afford your mortgage at 2% higher than your contract rate."
Mortgage Jake: I'll give you an example. Right now, a client making 100K can borrow 4.5, 4.6 roughly times income using today's stress rate, but that client is borrowing money at 1.49. They have to prove to the government they can afford a mortgage at 4.79. Andrew, me and you are going to see a third Raptor championship by the time the rates go 4.97%. The government's like, "Okay, wait a sec. Maybe we can modify. Let's keep a stress test. Let's make it plus 2% of your contract." Instead of 4.79, your contract rate is 1.49. Let's make the stress test to be 4.9. Prove to me you can afford a mortgage at 2% higher in case your income doesn't rise in five years at maturity, etc.
Mortgage Jake: Well, that 100K borrower can now borrow $522,000. So instead of 4.5, they go up to 5.2 times income. That gives them more buying power, but still keeps the bears happy and the alarmist and the risk averse people happy that the stress test is still in place. I believe that when the pandemic gets wound back, we should see some kind of revisit of that stress test change, because otherwise I'd be shocked if they don't do it. We just have to see how the market plays out until then. So these government programs, I'm very bullish on because they create dialogue. They create optimism, and confidence goes up.
Andrew la Fleur: Yeah. The stress test, at this point, is just wild when you look at where real interest rates are in the mid ones and the stress tests sitting in the high fours, 4.79. I mean the gap used to be, when the stress test first came out, I think it was around 2% higher than actual rates at that time. You're like, "Ah, okay. Whatever." They pulled an arbitrary number out of the air and they said, "Okay, you got to prove that you can do 2% higher, everybody." Sure, whatever.
Mortgage Jake: [crosstalk 00:20:13] higher.
Andrew la Fleur: Let's go for it.
Mortgage Jake: Or the posted rate-
Andrew la Fleur: The posted rate, yeah.
Mortgage Jake: ... whichever is higher rather than whichever is lower. I want to be clear with your listeners, variable rate mortgages are always stress tested. One to four year mortgages are always stress tested up to 4.79%. They always have been and they always will be at the posted rates. Although a few years ago, there were some minor nuance changes. A five-year fixed mortgage should not be stress tested at ,right now, plus 325 basis points.
Andrew la Fleur: Right.
Mortgage Jake: Because it just doesn't make a lot of sense.
Andrew la Fleur: Yeah, and the Bank of Canada is telling us they're not going to raise rates. They're literally coming out and saying, "We're not in touching rates for three years." Then they're also saying, "Oh, by the way, you have to prove that you pay a rate that's 320 basis points higher than your rate, even though we're also telling you that will never happen."
Mortgage Jake: That's right, [crosstalk 00:21:09].
Andrew la Fleur: It's just crazy and illogical. But at the same time, like you said, it's a conservative stopper in the system to prevent demand in house prices rising too rapidly. It is working to achieve that end, I suppose. But like you said, hopefully we'll see some slight adjustments there. Just, again, for historical purposes, I mean you talk about you can get a mortgage today for roughly 4.5 to 5-ish times your income, broadly speaking, as a rule of thumb. That's a number that we in the industry, we know that, especially you in the mortgage side. But a lot of people on the street and even just real estate investors and buyers, they don't really think in that way, I find. That's like, oh, that's a good thing to know when I give that number to them. But historically speaking, Jake, you've been in this game a long time. Take us back to the old days. What was that number 5 years ago, 10 years ago, 15 years ago? Because it used to be a lot higher.
Mortgage Jake: It used be a lot higher. But prior to October 2016, for a long stretch prior to that, you could have qualified a five-year mortgage at the five-year fixed rate. Prior to October 2016, I could have qualified a first-time buyer with less than 20% down at seven and a half times income because I was using the five year fixed contract rate. Even though rates were three and a half-ish percent back then, it was still much easier to qualify. The government of Canada five-year posted rate was never such a massive talking point until 2016, 2017. But certainly, the government of Canada posted rate was as high as 5.99, 6.25 in the past decade.
Mortgage Jake: So some variable rate mortgage clients who have to qualify at that rate had to prove they could qualify at that rate back then, but the stress test was never a discussion point. There were many lenders making exceptions, changing the rules, etc., so there was a lot of exceptions happening. It was never like, "Hey Andrew, you can only borrow four and a half times at variable and seven times at fixed," because there was a lot of wiggle room. Because back then, things were a little looser than they are today, fortunately or unfortunately. Depends on how you look at it.
Andrew la Fleur: Yeah. It's amazing how much things have changed just in 5, 10 years from more than 7 times your income to as low as 4 times your income. You tweeted something about you used to be able to get, what was it, 0% down mortgage-
Mortgage Jake: [crosstalk 00:23:45].
Andrew la Fleur: ... with the cash back or something?
Mortgage Jake: 100. It was called GMAC I107. I did a mortgage for a guy in Brampton. I will never forget. It was one of the only times I did it. It was 320K purchase price and he got something 335,000, 340K. He did an I107%, 107% financing. The program was meant to give you the down payment, the closing costs, and even they said in the brochure, and enough money left over for furniture. This guy bought a house with nothing to his name.
Andrew la Fleur: Yeah.
Mortgage Jake: He may have had something, but he just chose to leverage. The rates were high as hell. They were five and a half percent, But hey, you know what? That guy, sitting on a million dollar property now had he not moved. The fact of the matter is that was the real Wild West of financing, and this was 10, 12, 15 years ago. It was a while ago, But yeah, that's maybe why we are here where we are. But the government did do a good job of opening up the market, 40 year amortization, zero down, and then really rapidly, the Conservative government and the Liberal government changed it and made it tighter, tighter, tighter, tighter.
Mortgage Jake: We've seen 11 rule changes in the past decade, and definitely not the last one. I don't want to blame any government level for creating the bubble/non-bubble, and I don't want to blame any government from making it tighter. It's been a non-partisan thing, I guess, if you will [crosstalk 00:25:08].
Andrew la Fleur: Goes both ways, yeah. I know you like a good debate, Jake. We don't have a bear on right now to debate with you, but I'll pretend to be one right now and throw some stuff back at you, see what you say to your five reasons for being bullish. The obvious, what about this? Devil's advocate is, Jake, we're in a recession right now, aren't we? I mean, unemployment is way up, retail is dying, businesses are closing, a lot of people are struggling right now. How can you be bullish on real estate when we're supposed to be in a recession? Historically, when have we ever seen a recession where real estate prices have gone up or real estate markets have gone up?
Mortgage Jake: Yeah, that's a ... First of all, to all the business owners and people affected by this, I drive by the hotels and restaurant, it literally breaks my heart to think. I cannot wait to go back and spend as much money as I can at those places to keep them alive. I'm trying to do local shopping, avoiding Amazon, etc. Andrew, you're very right. We're in a massive recession that we've never seen in our lives, but it's really a tale of two recoveries. Unfortunately, the people who have been impacted the most tend to skew to the lower income earners and tend not to be the people who are buying property. The people who are buying property tend not to be affected as much by the recession.
Mortgage Jake: If you're collecting CERB, you're not getting a mortgage, period, end of story. You are not the person that I'm saying will be back in the game or at least will continue to be in the game moving forward. But the people that I have seen in the game are people who haven't been affected by the recession, people whose income has continued to stay steady, maybe dip a little or maybe go up a little, and people in the industries that haven't been affected by it. Therefore, they're continuously buying, moving out of the city, buying within the city, etc.
Mortgage Jake: Yes, we're seeing a big recession. However, the one group of people affected by it mostly are the ones that aren't typically buying property today anyway, so I'm not as concerned. I want those people to work again. They're all part of the cog, the system, etc., but I just don't think that their impact is going to and has caused an impact. I look at my buyer's sheet and I think all these people are working. They're all making money. They're all saving money. They've all got great investments. That's another point. If you look at people's stock portfolios, mutual fund portfolios, stocks are up like crazy, and that is giving people also some confidence. So I feel bad for those people, but I just don't think that they are in the market right now.
Andrew la Fleur: What about people who say the condo market specifically? Sure, yeah, the housing market is flying because people can work from home. Everybody's moving further and further away and they're buying cottages. They're moving to Prince Edward County and all this. But Jake, the downtown condo market, it's hurting so bad it's going to drag the whole market down. There's so many condos available for sale and for rent right now. That's going to be a huge problem and a huge headwind for the real estate market in 2021. What do you say to that?
Mortgage Jake: I don't disagree with that in terms of a potential headwind. What I'd like to say is if someone wants to dive really deep into the stats and tell me what percentage of investors own condos versus end users? The reason that's important, when you're selling a condo, you're wanting to move up into the market, if you're an end user. But if you're an investor, you're not looking to move up into the market, so you're going to hang on to your asset class. Hopefully, you don't have to sell it while prices are lower and rents are a little bit lower. So I disagreed with it being a massive headwind, but it certainly is on my radar to see. A young couple, each one own a condominium. Now they want to sell each unit and buy a property.
Mortgage Jake: Well, unless they bought that condo in March of 2020, they probably have accrued a lot of equity anyways. They bought it in '18, '17, '16, '15, '14. I mean, the clients that I speak that have bought pre-construction [inaudible 00:29:21] for 260K in Regent Park, and now refinancing at 500, 600,000. Hey, maybe off the peak in March 2020, the numbers were a bit lower, but unless they bought it then, they have a lot of equity already. So I don't think that's going to be such a big headwind that some people are saying. From an investor perspective, if you can afford to hang on, hang on, don't sell, because guess what? Point number six why I'm bullish on real estate, a bonus point.
Andrew la Fleur: Bonus point.
Mortgage Jake: Amazon, Shopify, [inaudible 00:29:51] all reinvesting back into Toronto office space. Now, someone on Twitter said yesterday, "Yeah, but those are the biggest company in America. The biggest company in Canada." Okay, fair enough. Very good point. But those companies have all contracts with other service providers that have to provide them with solutions as well. Amazon doesn't do everything in-house. They outsource. Shopify doesn't do everything in-house, they outsource. Those small companies, part of the ecosystem, will also need to come back and reopen their downtown Toronto offices. To the people who moved out to Prince Edward County, I salute you. You've made a great life change, and I hope it works.
Mortgage Jake: But guess what? When I'm at the Raptor game with Andrew la Fleur, they're down by two in the last quarter, it's going to take you three hours to drive, plus half an hour traffic [inaudible 00:30:38]. You're going to want to come back when restaurants are back, bars. There's a reason you love living downtown because the city, when it's alive, is amazing. You walk down Liberty Village, Queen West during the peak of the summer, during the best years of our lives, the city's alive, and I think it will come back. I don't see that case where that is going to cause a massive problem, because I think people will come back into condos. What does Buffett say? Buy on fear, sell on green. I'm not saying you have to buy a condo today, but I'm certainly saying it is a massive opportunity for you to do so.
Andrew la Fleur: The big B word, I know you love it. Nothing gets you fired up on Twitter then the big B word, bubble. What do you say to those people who say, "Jake, this is unsustainable?" Especially the low rise market. Prices rising so much, real estate booming in a recession, people taking on bigger mortgages than ever before. There's a massive debt bomb coming our way. It's a bubble, house prices rising 10%, 15%. It's all going to come crashing down, isn't it, Jake?
Mortgage Jake: Yeah, it very well might, Andrew. Let's put our money where our mouth is. Well, I don't believe it is. You don't believe it is. So I put my money where my mouth is. I would love for someone who's a bubble theorist to do the same. They just can't. It's very hard to short Toronto housing. There is no ETF that shorts Canadian housing stocks or ... I mean, there isn't, really. I have been hearing the bubble chat for a long time. I talked to a lot of 905 realtors, especially in the East right now. Just for reference, I deal with about 92 real estate agents all across the GTA.
Mortgage Jake: So I talk to a lot of them in different pockets. Especially in the East, a lot of clients have moved from a condo to a house with a backyard, etc. Is there a mini bubble forming there? I don't know if I'd call it a bubble. Same thing happened in 2017 when a lot of buyers were buying 905 properties, then the foreign buyer tax hit and boom, that market, overnight, shifted. Guess what? People snapped up properties much cheaper in 2017 and that market came back, and now it's doing great. The bubble chat has been happening since literally I almost started being a mortgage broker.
Mortgage Jake: One of the Globe and Mail columnists that I refer to from the May article about a pandemic deferral cliff bubble, etc., he said, "Well, listen. This bubble has been infused by generous government grants and programs." I've heard it over and over and over. As long as interest rates remain at crazy low levels, under 2%, and so much of your money goes towards paying your principal, I just don't think we are in a bubble. As long as we have this very rigid stress test and under writing guidelines, we are not in a bubble right now. We are very reasonably lending four and a half to five and a half times income. We're looking at credit with a fine-tooth comb.
Mortgage Jake: Lenders are making sure that pandemic hasn't impacted incomes as well, credit, deferral programs. If you're on a deferral, you've got to get off deferral before you get a mortgage. Guys, lenders aren't just throwing money around like it's monopoly money. It's still really not easy to get a mortgage. You've still got to prove a lot of things and assets, etc., so I just don't see a bubble. A bubble is when money is free and it's easy to get. Right now, money is only easy to get because the rates are low, but the stress tests makes it hard to get. I disagree and I'm buying, so what does that tell you? I believe in the market long-term.
Andrew la Fleur: Great transition to my next question, which is what are you buying, or what are you looking at buying right now? You alluded to it a couple of times, so I'm sure people are very, very interested to hear. Where do you see ... Personally, where do you see opportunity in the market right now, specifically as an investor?
Mortgage Jake: So I'm looking still at properties that have development potential, that have multi unit residential maximum four units, because those are the easiest to finance. Anything five units plus becomes commercial. I'm looking at semi-detached or detached properties that are single family that can be converted to multiple units. I'm also looking at condos, frankly, because I love the idea of having an asset class. You taught me very well about this. We hung out a couple of months ago or a month ago, and I said what about condos and the maintenance fees, all of the things that you hear from other people that are against condos? You said to me, James, my tenants, I don't hear from them. I don't have to fix the roof. I don't have to worry about waterproofing the windows, this, this. I just get my deposit check every month.
Mortgage Jake: Ever since that conversation, I thought, you're actually right. This is a turn key investment that I don't have to about for the longterm If I buy it. A relatively newish building, could be pre-con, could be resale, doesn't matter. So I'm looking for great floor plans, two unit, coroner units, one parking, maybe not necessary, a lot of people don't drive downtown, anywhere along the subway line. I'm just looking for value. I'm just looking for something I can get, and I'm using relatively affordable ... not affordable, but reasonable market rents that I think I can get. People are still renting properties. Don't don't get me wrong. If you look at the heat maps of COVID levels, I was shocked. I was looking at one of the heat maps of Toronto. I think you posted this, and I'm looking downtown at CO1, CO8, the prime downtown areas, and COVID levels are very low down there.
Mortgage Jake: We all thought, oh my God, people are running away from condos because everyone's going to get COVID. Yet, we're talking 1% COVID rate. In my neighborhood, it's 3%. In the lower income neighborhoods and in Kleinberg, it's 20%. What does that tell you? It's not about how close you live. It's about how your community adapts or doesn't adapt and how it behaves together. So that, to me, is a really good sign that the downtown neighborhoods, part of that reason is people aren't moving around as much. Phenomenal, great, the lockdown is helping. Okay, great, but it also makes me think that I think too many people are poo-pooing on condos right now, and I think we should start ... I'm looking at that as an opportunity, for sure. Especially something with a tenant already that's not looking at moving, that's paying a fair rent, that doesn't want to renegotiate, or one that I can buy a property and get a good tenant in there or tenants. Those are the two opportunities I'm looking at, and I've never looked at condos as closely as I have now.
Andrew la Fleur: Yeah. Yeah, that's amazing. I know you're a big multi-family guy, and that's where you've put your bread and butter over the years, but yeah, I think it's no secret. I think a lot of people are looking at the condo market now. Whereas two, three months ago there was ... people were running for the exits. I think we're definitely, anecdotally, definitely seeing a lot of investors coming back to the resale condo market specifically and saying, "Hold on a second here. Prices are down around 15% or so from the pre-COVID highs, rents are down massively, yes." But as you said, people are still renting. These units are still renting. Many of them are still, they're renting out in a week like we're used to. It's just they're renting for significantly less, don't get me wrong than they were before.
Andrew la Fleur: But how long do you think that is going to last, these ridiculously low rents where we're seeing some small towns in Southern Ontario are getting higher rents than downtown Toronto condos right now? It's going back to the Buffett, famous Buffett quote, right, buy on fear. Well, there is so much fear. People are literally afraid of elevators right now.
Mortgage Jake: Yeah.
Andrew la Fleur: Not figuratively, I admit. They are literally afraid to go in an elevator. Hence, that is affecting the price of the asset. Well, again, we know intuitively that this will not last forever. This is a short-term thing. People will get ... We will get back in the elevator and life will return to normal. This will all be a distant memory at some point, probably pretty soon. So when that happens, it's going to be too late. You've missed the opportunity. The time is now. A lot of people are starting to wake up to that right now, and we're starting to see some positive from the numbers in the condo market. We're starting to see those inventory numbers coming down a little bit. There's starting to be signs that the bottom might already have actually happened, so will be interesting to see.
Mortgage Jake: Our good friend, our good friend on Twitter, Mark [inaudible 00:39:38] did mention he's seen three multiple offer situations on rentals this week. Again, anecdotally sure. I have seen multiple offer on condos as well as a purchase. So it's not something that is absolutely impossible to believe, and you're right, man, that window. The 2017 foreign buyer tax window really did ... or not window, but impact, did impact the 905 market, Durham region especially. I have some clients that bought a detached house 60 by 100 lot for 600 grand that was selling for 800 grand a year before. That window was so short-lived, and I think the same thing will happen here. Now back then, we didn't have a pandemic, but we also didn't have a vaccine. Reason number seven, a tip bonus reason why I'm very, very bullish, how fast this vaccine came, how fast we're getting it in Canada, etc.
Mortgage Jake: We didn't have a vaccine this quickly to our problems. Yeah, it's going to take until August to roll out through the population. That's really quick. Just like in the stock market, do you think that when a stock may be headed in the right direction, when the price goes to a 52 week high, it's too late by that point. I'll give you one very silly example. During the pandemic, I went to shop [inaudible 00:40:59] and I saw Aritzia. Aritzia was the only store that had 30 people in line, and the stock was trading at 15 bucks at the time. To me, it, Aritzia is like the condo market today. Today, Aritzia literally doubled since then. Because I posted, I go, "Man, I think I'm going to buy Aritzia stock, because of all the stores out here, no one's in line anywhere, but there's 35 people in line for this one sport.
Mortgage Jake: To me, I think condos will be like that, where the opportunity window will be open and then it's going to close and then what? Then people will go back the FOMO. Well, I missed out when the market was better for me. Now I can't get it. So if you guys are ... if your listeners are sitting on the fence thinking, oh, I'm going to wait, I'm going to wait, you cannot time real estate. It's very, very difficult to do. As long as you can afford this place today and in five years, that's my mantra, get in. Rates are cheap, economy's getting better, vaccine's here, companies are coming back. I mean, what else can I say? The programs are here, first time buyer program for pre-construction buyers as well. Get in while you can, when you can, because Toronto globally, if you compare our price per square foot, saw a great chart, top 10 cities. We're literally the lowest, the cheapest city in the world, out of the top 10 cities, the living index, by a mile by a mine.
Andrew la Fleur: Yeah.
Mortgage Jake: Not even like at $2 dollars, by a mile.
Andrew la Fleur: Yeah, absolutely. I always remind people that too. Yeah, things might not be perfect here. But when you look at Toronto on the global scale, we are so cheap compared to any other city in our class, it's not even funny. I think eventually, we will be a lot more expensive than we are today.
Andrew la Fleur: Jake, it's been awesome chatting with you again. As always, people want to get ahold of you and reach you. What's the best way for people to do that?
Mortgage Jake: Thank you. Thanks again for having me on. Twitter, @mortgagejake, mortgatejake.com. I'm on Instagram, mortgagebyjake. The mortgagejake won't sell me his handle still, so I'm still trying. Then you can always email me, jake@mortgagejake.com, or send me a text, 416-910-4448. All that information is on my website, mortgagejake.com. I've got a live chat bot. I'm straight to my phone. I'll chat with you right away. Listen, if you have any reason to counter my points, I love constructive debate. I want to hear what you think, and I most importantly, want to give you my reasons. Here they are, and thanks a lot for listening, everyone. I really appreciate being on the show.
Andrew la Fleur: Awesome. Great. Talk to you soon, Jake.
Mortgage Jake: Thank you.
Speaker 2: Thanks for listening to The True Condos Podcast. Remember, your positive reviews make a big difference to the show. To learn more about condo investing, become a true condo subscriber by visiting truecondos.com.
Sign up to receive email updates
Enter your name and email address below and I'll send you periodic updates about the podcast.