33 Sherbourne Condos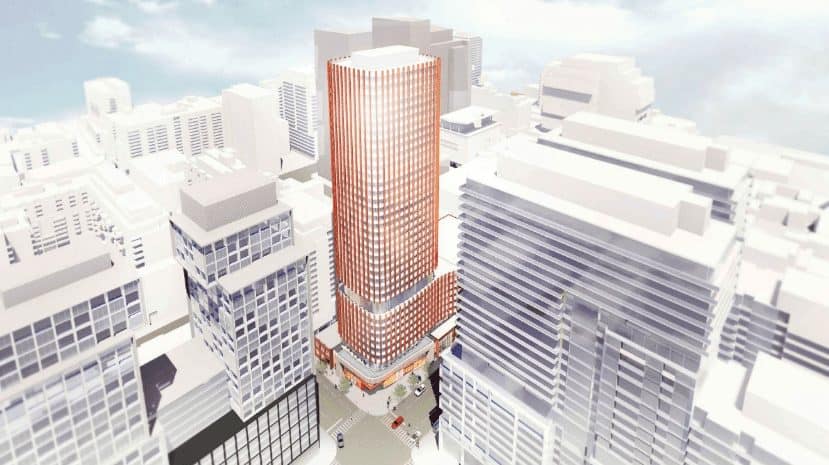 33 Sherbourne Condos is a new pre construction condo development by Menkes and Core Developments located at 33 Sherbourne Street, Toronto, ON
| | | | |
| --- | --- | --- | --- |
| | Address | 33 Sherbourne Street, Toronto | |
| Developer | Menkes and Core Development Group | Occupancy | TBA |
| Area | Old Town | Deposit | TBA |
| Storeys | 37 | Maint. Fees | TBA |
| Units | 439 | Prices | TBA |
About 33 Sherbourne Condos
Nestled in between St. Lawrence Market and the Distillery District, 33 Sherbourne Condos is proposed as a 37-storey residential condominium with commercial space. With numerous residential and office developments already underway in the area, this new condo by Menkes and Core will be in the centre of activity in this dynamic neighbourhood.
33 Sherbourne Condos Location
Located in the heart of downtown Toronto's oldest and most loved neighbourhood, the contemporary condominium residences of St. Lawrence at 33 Sherbourne Condos allows for the enjoyment of many benefits of life in this city's most coveted central location. For over 200 years of urban life, the St Lawrence Market neighbourhood has become home to some of Toronto's most iconic landmark destinations. At 33 Sherbourne Condos, there's so much to see and do in this one-of-a-kind historic neighbourhood. 
STEPS TO TOP EMPLOYERS
33 Sherbourne Condos is a short walk to the central financial district, connecting you to hundreds of thousands of jobs from the top banking, law, insurance, consulting, healthcare employers in the country 

Toronto

's booming tech scene has a strong presence in Downtown East, with a number of high tech new office towers nearby, including Google's new Canadian Canadian Office, Equitable Bank Tower, The Globe & Mail Centre, BMO's new innovation Campus, and more offices planned

St Michael's Hospital and affiliated clinics, laboratories and research centres are also in close proximity
TORONTO'S BEST SHOPPING AT YOUR DOORSTEP
33 Sherbourne Condos is minutes to

St Lawrence Market

, voted the World's Best Market by National Geographic,

Toronto

's best purveyors of fine goods housed under one roof at this iconic Toronto landmark

Quick access to

Toronto

's

PATH network

, which is the world's largest underground shopping complex, home to over 371,600 square meters of retail space – shops, restaurants & services, with connections to Union Station

Minutes to Yonge Street, where you'll find every major chain, bank branch, drugstore, grocery and more day to day needs easily accessible  
A HAVEN FOR FOODIES
Some of Toronto's favourite restaurants, bars, cafes and more are front and centre at 33 Sherbourne Condos, including:
Terroni Adelaide

Ardo Restaurant

Tom Jones Steakhouse

Golden Thai

NEO Coffee Bar

The George Street Diner

Mangia e Bevi

The Carbon Bar

George Restaurant

Fahrenheit Coffee

Gyu-Kaku Japanese Cuisine, and the list goes on and on!
About the Developer
Menkes Developments was founded by the late Murray Menkes in 1954, and has since turned his eponymous real estate company into one of the biggest developers in Toronto.
While Menkes initially focused on constructing single-family homes, that changed over time. It didn't take long for Menkes to start building master-planned communities, and today, Menkes is a major force in the Greater Toronto Area's condo, office, and industrial markets operating as a fully integrated multidisciplinary real estate firm.
Menkes continues to raise the standard for outstanding quality design and superior value as a fully integrated, multidisciplinary real estate development company. Elegant family homes that exude character and charm; exclusive luxury condominiums infused with stunning amenities; and highly coveted office and industrial space, all set in prime locations.
Core Development Group Ltd. is a Toronto-based real estate development company. Acting on behalf of our investors and for our own account, Core actively sources, capitalizes, develops and manages a wide range of real estate projects. We also offer a comprehensive range of development and project management services to our clients and joint venture partners.
We believe that value creation and sustainable development go hand in hand. We are responsible stewards of the environment and the communities in which we operate. At Core, we take the impact we have on our clients, suppliers and communities very seriously. We focus our attention and energies on areas where we can make the greatest positive impact. We use our talent and resources to improve the quality of the environment and enhance the quality of life in our communities. We proactively encourage and help our people to achieve their fullest potential by providing a safe, collaborative and productive workplace.
33 Sherbourne Condos FAQs
How do I reserve a unit in this project?
After you review the floor plans and prices, if you know what suites you are interested in, you may reserve a suite online using our online reservation worksheet form at https://truecondos.com/worksheet.
Does filling out the worksheet form mean I'm committing to buy a suite?
No it is not a formal commitment, it is an expression of interest and the first step you must take if you are thinking about getting a unit in this project.
What does it mean that Andrew la Fleur is a "Platinum Agent"?
Platinum agents are the top selling agents who get preferred status with developers and first access to new projects before regular agents and the public.
Andrew la Fleur has been a top-selling pre-construction agent since 2007, and during this time he has achieved platinum status with many of the top builders and sales companies in the Greater Toronto Area.
For more information on about Platinum agents see this article: https://truecondos.com/5-things-to-know-about-buying-a-condo-with-a-platinum-vip-realtor-real-estate-agent/
How does it benefit me as a buyer to work with Andrew la Fleur as my Platinum Agent?
Working with me as your Platinum agent gives you several benefits
You get the

highest level of access

in the building

You pay the

lowest possible price

for the unit (prices are typically increased significantly after the Platinum sales event)

The best possible

incentives

I do not represent the builder. I represent you. You benefit from my expertise of being a top selling pre-construction agent and investor myself since 2007.

Access to my personal network of mortgage brokers, lawyers, property management, HST rebate services, handymen and much more.

My services to you as a buyer are

free
Do I get a cooling off period? What is it for?
Yes, after you sign the contract to purchase a suite you will have a standard 10-day cooling off period. It's 10 calendar days, not business days from the time you sign.
The 10 days are primarily for 2 things: 1) to have a lawyer review your contract with you if you wish and 2) to get a mortgage pre-approval letter
Do I need to have a lawyer?
You don't need to have a lawyer at the moment that you sign the agreement, however I always recommend that you have a qualified lawyer review your agreement of purchase and sale after you sign and during your 10-day cooling off period.
Not sure who to talk to? Don't worry – getting a lawyer is something I can help you with. Contact me for more details.
Do I need to have a mortgage pre-approval to buy?
95% of all builders will require you to provide them with proof of financing capability in order to purchase. This is not required before you sign a contract, but it is usually required within 60 days of signing.
Not sure where to begin? Don't worry – getting a mortgage pre-approval is something that I can help you with. Contact me for more details.
Do the prices include HST?
If you are purchasing for yourself and plan to move in, then yes, prices include the HST and there is nothing you will have to pay at final closing.
If you are purchasing as an investment rental property, then you will have to pay approximately 7.8% of the purchase price as HST on final closing.
This money is remitted to the CRA and as an investor renting out your property you can apply to the CRA immediately to get this money back. It usually takes about 1 month to get your rebate back.
For more information on the HST, see here:
https://truecondos.com/tag/hst-rebates/
Contact me for more details.
What are my closing costs on a pre-construction condo?
Closing costs on a pre-construction condo will vary greatly depending on the actual purchase price of the unit you are buying, but it also depends on the builder, the city that you are buying in, and the type of unit that you are buying.
Roughly speaking in Toronto you can expect to pay approximately 3-5% of the purchase price in closing costs when purchasing a brand new condo.
Check out this article for more info on closing costs:
https://truecondos.com/5-things-to-know-about-closing-costs-when-investing-in-a-pre-construction-condo/
Contact me for more details
Are there any 'hidden' costs when buying a pre-construction condo?
No, there are no hidden fees when buying pre-construction condos because all fees must be disclosed in the agreement of purchase and sale. All purchasers have 10 days to review the agreement and have a lawyer advise them on the exact closing cost amounts. If you need a lawyer to help you we can suggest to you to several expert law firms that will review your agreement in detail.
Is it possible to assign my condo? How much is the assignment fee?
Most condo builders do allow you to sell your unit before the building is complete. This projcess is called selling by "assignment".
There is usually an assignment fee and a legal fee associated with selling. Costs can range from $1000-7000. Contact me for more details.