4 New Condo Projects that I Would Invest In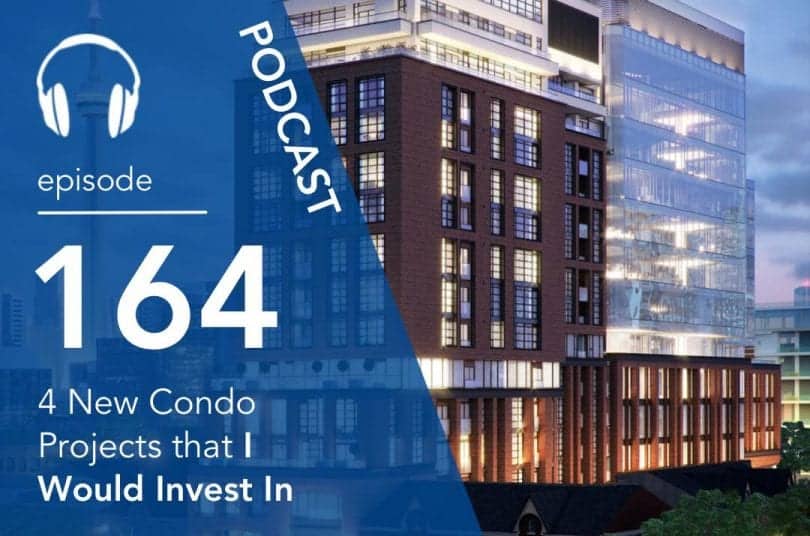 Last Updated on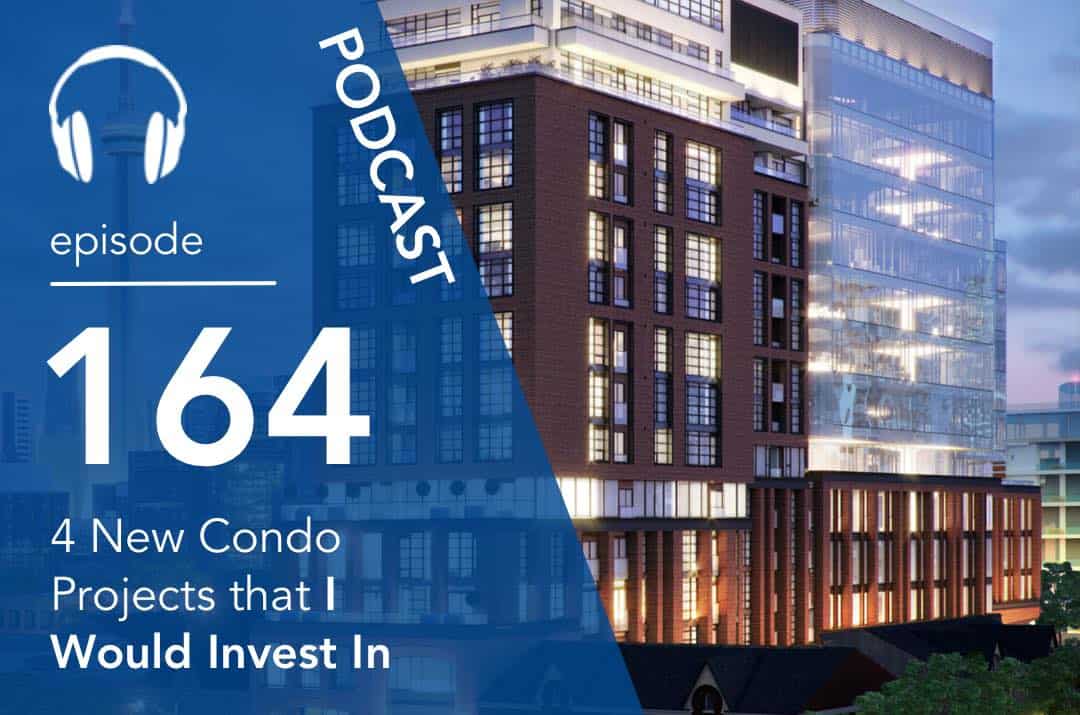 The fall condo season is upon us. There are dozens of new condos expected to launch this fall in the GTA, but as usual, only a select few will make our list of approved investment opportunities, projects that we would invest in ourselves here at TrueCondos.com! Listen to this episode to hear about 4 projects with launches confirmed for October 2017 – what they are, and why we would invest in them!
EPISODE HIGHLIGHTS
4:13 As a condo investor you need to be prepared and ready to take action.
4:37 Build up your knowledge base and understanding of condo investing.
6:05 DuEast Condominiums. 
8:45 Cherry on top of this project is the deposit.
9:57 Kingly Condos.
11:37 Unique thing about this project is that it's already half built.
13:05 Out of 4 projects this will be the hardest to get units in.
13:25 The one. 
15:18 One of the tallest buildings in the country.
15:41 Unique, world class, next level building.
16:48 E2 Condos.
17:20 Direct subway connections.
17:40 Direct access to the LRT.
18:20 Access to Yonge and Eglinton, shops, restaurants, movie theaters and everything.
Andrew la Fleur: On today's episode, I'm going to be looking at four great new projects that are launching this fall and why I personally would invest in these projects. Stay tuned.
Announcer: Welcome to the True Condos Podcast with Andrew la Fleur, the place to get the truth on the Toronto condo market and condo investing in Toronto,
Andrew la Fleur: Well, hello and welcome back to the show. Thank you for listening. Once again, Andrew la Fleur here, glad that you're spending the time here to listen to me and what I have to say. Much appreciated as always. Thank you for your reviews. Thank you for sharing this show with your friends, your family, other people who are interested in learning about condo investing and particularly condo investing in Downtown Toronto.
On today's episode, we're going to be talking about four projects that are coming up in the next few weeks. I wanted to get this out in podcast form as well as in an email. Make sure you're getting my emails. If you're just listening to this podcast and you're not receiving my weekly updates, once again, you're missing out. Make sure you're getting my email. You can do so by subscribing, signing up, filling out your name and email anywhere on truecondos.com, so just go ahead and go over to truecondos.com and fill in your name and email and make sure that you will not miss any of my weekly emails.
For those of you who got my email last week about the amazing opportunity at Daniels Waterfront, well, there's a great example of what you can get and what you can find out about if you are getting my emails and what you miss if you're not because those people who got that email and responded and were able to act quickly made a quick, I think now we're up to about 50,000, and soon, we're going to be $60,000 in price increases there at Daniels Waterfront. Congratulations to all my clients. You know who you are who purchased units in that great project.
The price increases were significant and were immediate. We were expecting that because the prices were very, very good for value downtown, for that building, that location, and of course, waterfront is very much in demand. There's nothing else out there. A lot of people missed out on that project to begin with. This was a very quiet release of these units. Daniels did not put out any marketing or any promotion on this. They just quietly released these units to myself and a handful of other top agents who sell a lot of units for them, and we sold a heck of a lot of units on that first day, and sure enough, because we were selling them so quickly as developers always do.
When things are moving quick, they say, "Well, they're moving too quick. We must be priced too low," and they raise the prices, but of course, the units are still selling, they're still selling very well, and prices have been increased several times over the past week in Daniels Waterfront, and people are continuing to buy because, again, the value is there.
There's very little inventory of any condos, pre-construction anywhere downtown, so things are moving well, so congrats to those people who got in on that deal and congrats to you if you're receiving my weekly emails. You're keeping on top of opportunities like that. Maybe you're kicking yourself because you missed that opportunity, and you're saying, "Wow, I can't believe prices went up so much. I can't believe I could've made $60,000 in a week. Man, I should've listened to Andrew's email there and taken action on that," because yeah, you could've done that but coming up, we do have some more opportunities. There will be some great opportunities coming up.
I wanted to highlight to you today four of those opportunities, four projects that are coming up, four projects that are in the downtown core, on the subway line, et cetera, and they are going to be very, very hot-selling projects. Huge demand for them. The best units are going to go right away, and of course, you need to be prepared.
As a condo investor, you need to be prepared, ready to take action, and if you are and if you do, then you rewarded for that. Part of that is educating yourself, of course, making sure you're ready and you understand the game, and that's what this podcast is all about. That's what my emails are all bout. That's what my videos are all about. It's all here for you to take in at your leisure and to take in at your own pace and to build up your knowledge base and understanding of condo investing so that when the right opportunity does come up, you are able to pull the trigger quickly when you hear about those opportunities from me, and you're able to profit more than somebody who's acting slower, somebody from the public or somebody not getting my emails who are missing out on these opportunities.
With that being said, again, I wanted to highlight four projects for you. Doesn't mean that these are the only four projects that I'm going to be approving as approved investment opportunities that I'm going to be endorsing this fall. There may be others. In fact, there most certainly will be others, but these are four that are 100% confirmed as launching in the next few weeks.
There are many others that are proposals. There are many others that are in earlier stages. There are many others that may be are going to launch this fall or maybe they're not quite ready, and they get pushed into the new year, but here's four that we know of for sure that I wanted to highlight to you and again, help you prepare as an investor, especially if you're a first-time investor, you're new to the game. You gotta know what's coming and be prepared to act quickly because things move very quickly in this business, and the early bird definitely gets the bird in this game. With that long introduction being said, let's jump right in.
The first project I want to highlight to you is DuEast Condominiums, DuEast Condominiums. You may have seen the video that I put out last week about this that's making the rounds and getting a lot of good, positive feedback about that. People are enjoying that video. It's just telling you a little bit about the project and showing you a little bit about the neighborhood.
What is this project? This is the latest project, the newest building in Regent Park, the Regent Park revitalization in Downtown East, an entire neighborhood completely rebuilt from scratch. They're ripping the whole neighborhood down, rebuilding it over about a 20-year period, 15 to 20-year period. We're about, we're just over the halfway mark of the Regent Park revitalization. This is an example now. It's a huge success, and as an example of that, people are coming to from all over the world to see what has been done here in Toronto to revitalize this neighborhood, which was historically one of the worst neighborhoods in Toronto, and now, it's becoming one of the best places to live downtown, especially if you are a first-time buyer, first-time investor.
Anybody who doesn't have an infinite budget but still wants to get something that's a great investment, that's a great place to live. That's a great place to have a family. Regent Park is that place, and Regent Park is just a proven massive success story over the past eight years. If you've missed out and missed out and missed out on building after building there, this is your chance. DuEast is your chance. This is your best opportunity. This is your opportunity to get in to this amazing neighborhood.
Of course, it's no secret that I personally have invested in not one, not two, but three condos in Regent Park over the years, and there's a very good chance that I will also be investing in DuEast. Looking forward that. Certainly going to be recommending this one to all of my top clients, first-time buyers, top investors, my own family. I mean, all these projects that I'm going to be highlighting to you today are going to be in that category, but certainly what makes this one unique in DuEast is the value proposition.
This is the best value downtown. Best value downtown. Prices are going to be better here than anywhere else in downtown. You're right in the downtown core. You're connected to everything by a streetcar. You can walk to the financial district. You can walk to everything downtown. You get the full downtown lifestyle at a much, much cheaper price than basically anywhere else downtown.
You still got amazing quality built by Daniels, but really, the cherry on top for this whole thing is the deposit. Drum roll, please. Big announcement is that the deposit is going to be 10%. 10% deposit, and not just 10%, it's actually going to be a gradual 10%. You're going to pay 5% upfront in 30 days. Typical, same as everywhere else, 5%. Then the second 5% is going to be, you're able to pay that gradually over a monthly period, small payments monthly until you reach that second 5% for a total of 10%. That is an incredible deposit structure. By far the best deposit structure of anywhere of any pre-construction opportunity.
This project has not broken ground. It's going to be probably three years before it's fully built out and finished building. Again, don't sleep this one. Get ready for DuEast. It's coming out very soon. You're certainly going to be getting more information from me about this project if you're receiving my weekly emails. That's the first one I wanted to highlight to you, DuEast, so watch for that.
Next one, next building I want to highlight to you is called Kingly. Kingly Condos. Kingly Condos is going to be coming up at King and Portland. King and Portland. It is … Interesting story here. This was originally going to be a rental building. It's only about 120 or 130 units in total, so small boutique-y building. King and Portland, right in the heart, the very, very heart of King West. The hot, hot market of King West is absolutely booming and the restaurants and the night life and just the lifestyle there is second to none anywhere in Toronto.
This is where the cool kids want to be. This is where the cool kids are. This is where you see some of the best appreciation rates anywhere in the city, you see some of the best rental rates anywhere in the city. This is, as I've been saying for a number of years, this is like the new Yorkville, like this is Yorkville for the next generation, King West, between sort of just a little bit east of Spadina to Bathurst. That's your proper core King West, and this is right in the bullseye center of that neighborhood at King and Portland.
It was originally going to be a rental building. Allied and RioCan, Allied Properties and RioCan, two multibillion dollar companies are building an office building, and then also this residential rental building. That was the original plan, and then they decided for, perhaps because of the rent control measures, perhaps other reasons, they decided to just sell these units off as condos.
Now, the great thing, the unique about it is, it's already half built. It's already half built. It's going to be finished in 18 months, so if you're looking for something that's going to be finished a lot sooner than the typical pre-construction, which is three, four, five, it could be six years, some mega projects, it could even stretch into seven or eight years, if you're looking for something that's going to be ready much sooner, you want to start getting rental income much sooner, if you want to move in, a lot of people are going to be moving into this building and not buying for investment, this one is the one to buy if you're looking for something like that. But again, the big caveat here is only, a very small building. Only about 120, 130 units so keep that in mind there.
Again, we're expecting a low deposit here as well, not the usual 20% because they don't need money to get construction financing. It's going to be done in 18 months, so they'll probably take, from what I'm told, we don't have the details yet, but probably something like 10% upfront, and then maybe 5% on occupancy in 18 months, something like that.
King and Portland, keep that one on your radar. Kingly Condos. Keep that one in your thoughts, in your preparation as you're coming forward, but again, very small building, very low number of units, so it is going to be extremely, out of all the projects I'm mentioning today, that one's probably going to be the hardest to actually get units in for anybody, but I'm sure that one will sell out overnight very easily.
Next project I want to highlight is The One. The One. The One. The One. The One. 1 Bloor, and it's called The One. The One Residences, 1 Bloor West. The One that people have been talking about, The One that people have been waiting for, The One that, fill in the blank. Cue in the dramatic music, but seriously, it's one of those once-in-a-decade projects. Landmark is an understatement. It's 1 Bloor, I mean, 1 Bloor East is not quite finished yet, but it's getting there, and it's already iconic. It's beautiful. It's spectacular. It took … It started in the recession, and there was some bumps along the way, and then it relaunch, and now it's finally just about done.
Great Gulf just did an absolutely amazing job with that building. It's just absolutely killing it in the resell market, and people who invested there are just making an absolute killing on that. Again, it's one of those classic ones where a project like this comes out and everybody looks at it and says, "That is so expensive. I can't believe how expensive that is. It's crazy. You're never going to make any money there," and sure enough, everyone's making a killing, and everyone is doing fantastic with it.
Because of its uniqueness, because of its, obviously its location is, it's so iconic, Yonge and Bloor. I mean, two subway lines. Yorkville has just gone absolutely through the roof in the past few years. I mean, Toronto's really becoming that world-class city with that world-class shopping street of Bloor Street starting rival some of the great cities of the world in terms of luxury, in terms of just the amount of money that's pouring into that neighborhood.
This is it. This is 1 Bloor. This is The One. It is finally here after years of rumors and speculation. It's finally here. It's finally ready to launch. One of the tallest buildings in the country, it's potentially. Finishes, features, architecture, retail component, all levels of things that we've never seen before in Toronto, levels of luxury, levels of design we've never seen before.
There's really going to be nothing like it, so if you're that sort of a buyer looking for something unique, something world-class, something that is next-level, something that is a jewel in your portfolio, if you're building a portfolio of units … Obviously, if you're patient. I mean, this building's not going to get built in two or three years. It's going to be one of those longer wait times, but if you have that vision, you understand the uniqueness of this property, if you understand just the blue-chip nature of this sort of property and how much these types of, how rare these properties are and how much they appreciate over time compared to other properties, this one is The One you've been waiting for.
I mean, there's so many puns you can do with the name, but the name is fantastic. It really sums it up. Looking forward to 1 Bloor. 1 Bloor coming out very soon, very soon. Again, expect more details from this project from me coming soon. That's number three.
Number four, I want to finish off with E2. E2 Condos. You might've heard of this one, you might not. E2 is the second phase of E condos at Yonge and Eglinton. Yonge and Eglinton. E condos was sold a number of years ago. Construction's going well. It should be done in about 18 months or so. This is E2.
The amazing thing about E2 and the big selling feature here and the reason why I'm very excited about this one and why I would invest in this project is because of the direct subway connection. Direct subway connection. You're going to be able to enter into the subway directly from the building without stepping outside, and not just the subway, but also the whole underground path network that is starting to build out right there at Yonge and Eglinton. Not just the subway, of course. You're also going to have direct access to the LRT.
In the similar way with 1 Bloor being at the crossroads of two subway lines, again, Yonge and Eglinton is now essentially going to be the crossroads of two subway lines because the LRT is underground for most of it, especially, it certainly at Yonge and Eglinton, it's all underground. Amazing, amazing feature.
Again, this is one of those rare buildings that comes up once every, I want to say four or five years you get a building with direct subway access like this, and you're getting direct subway access as well as LRT access as well as access to the Yonge Eglinton Centre and all the shops and restaurants and movie theaters and everything else as well as being in one of the best neighborhoods of downtown, Yonge and Eglinton, best schools. It's amazing place for families. The architecture's going to be fantastic. The floor [inaudible 00:18:37], I've seen it, is perfect for great floor plans.
Really looking forward to this one, and obviously, again, myself, I've purchased not one but actually two condos right at Yonge and Eglinton by the same builder as well just down the street at 150 and 155 Redpath. I've purchased there myself personally and invested there and done very, very well there. A lot my clients have joined me there as well and done great so far.
This building is also from Capital Developments. It's a partnership with Capital Developments and Metropia. Metropia built E Condos phase one, Capital Developments built 150, 155 Redpath and Art Shoppe. All three sold out. Amazing buildings at Yonge and Eglinton. They're really the dynamic duo, the power duo, the power couple, if you will, of Yonge and Eglinton. They know this neighborhood inside and out. Both those developers, they've done such amazing work there, and now, here they are with E2 coming up.
It's going to be an amazing building, amazing floor plans, and from what I'm told, the value proposition there's going to be excellent too. It's going to be priced to sell, so to speak. It's going to be priced very well to move quickly and to really give investors good value for their dollar, especially considering the fact, again, that it has direct subway access. I'm going to be giving you more information about that in the weeks ahead, so stay tuned for that.
There you have it. There are four projects I wanted to give you the heads up on, let you know about in advance. Get ready for those projects, get ready for more information from me in your weekly email. Make sure you're getting my weekly email by signing up anywhere on truecondos.com. Until next time, have a great week and happy investing.
Announcer: Thanks for listening to the True Condos Podcast. Remember, your positive reviews make a big difference to the show. To learn more about condo investing, become a True Condo subscriber by visiting truecondos.com.