Inside the Highest Penthouse in the Western Hemisphere – 432 Park Avenue, New York City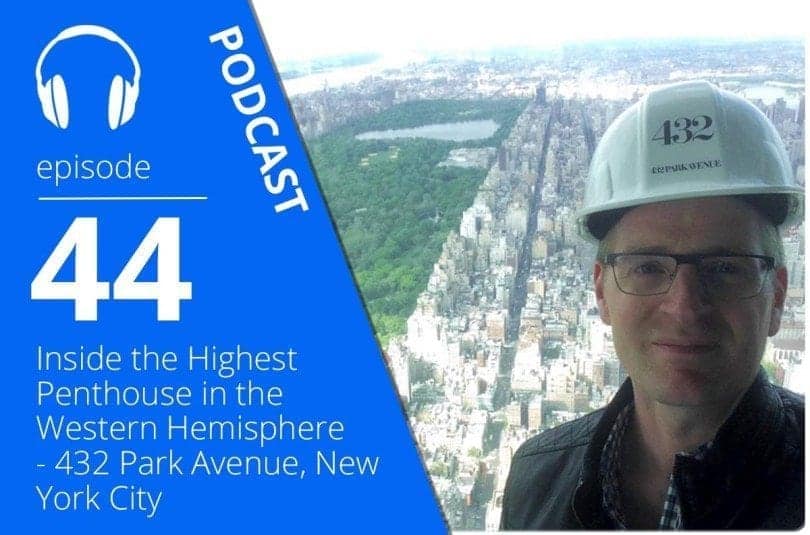 Last Updated on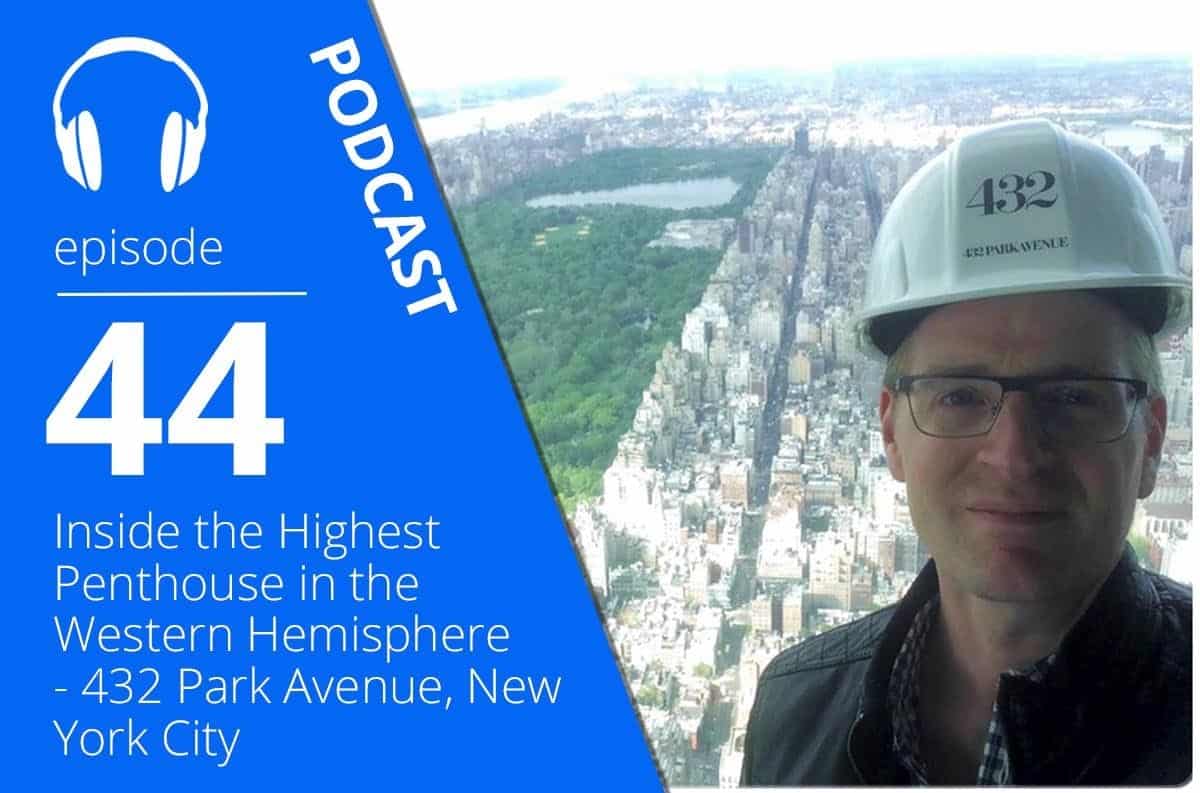 Andrew la Fleur takes a trip to New York City to check out the view from the highest penthouse in the Western hemisphere at 432 Park Avenue, New York City
Episode Transcript
Hi and welcome back to the show. Today is going to be another solo episode, just me and you today. Next week we'll be back to our programming with special guests interview, but wanted to get you this episode today and wanted to tell you in particular about a very unique experience, a very unique trip that I just went on to New York City. This week I was in New York for actually just 24 hours, and I've just had the most incredible experience there that I wanted to share with you. First of all, New York City, if you haven't been, you have to go to New York City. It's an absolutely … I don't know. The best word I can think of is magical. When you're walking down the streets of New York, there's nothing like it on earth. There's no city like it. It's just a very special place, very great place to be, if you like cities, if you like architecture, if you like buildings and condominiums. It's just a great place to be.
The one thing that I always say is when you come back to Toronto after being in New York, at least for me, I always feel like I'm coming back to … I feel like I live in a small town or a little village or something compared to the City of New York, which is just the scale of it and just the sheer massiveness of the city. You really just feel it when you're walking the streets, and each neighborhood is like a city within a city. It's just absolutely an amazing, amazing place. Yeah, if you've already been there, you know exactly what I'm talking about most likely. If you haven't been, I strongly, strongly recommend you do go to New York City. Of course, I've been there many times before this trip, but it's been a number of years since I've gotten there and I forgot that feeling you get when you first walk the streets, when you first get out from the subway, or step out of your hotel and you just get a sense of the streets. It's just magical. I love that city.
The very unique thing that I got to do while I was there, I got to actually go on a construction tour of the penthouse unit of inside the tallest residential building in the Western Hemisphere. This building is called 432 Park Avenue. The penthouse unit is available for sale. It is $82 million. That's right, $82 million – not a mistake, not a typo – which works out to around, give or take, $10,000 per square foot. Again, the numbers in New York are just astronomical. We know we get excited in Toronto when we see $1,000 per square foot, which is extremely, extremely rare, but you see it from time-to-time. Now here we are, New York City, $10,000 per square foot. Just incredible. This experience I had going in that penthouse, I'll tell you a little bit about it, the building is 96 storeys tall. It's 1,396 feet tall. Compare that to the tallest building in Toronto, which is Aura Condominiums, Aura is about 78 storeys tall. Aura is about 900 feet tall, Yonge and Gerrard, the Aura Condominiums by Canderel, 900 feet tall. This building in New York, again, is 1,396, just under 1,400 square feet tall, 500 feet taller than Aura. It's like putting a 40-storey building almost on top of Aura. That's how high it was.
It is totally a surreal experience. I'm going to put pictures that I took from the penthouse on the show notes for this episode, Truecondos.com/432park. You can see the pictures from my trip there. 15-1/2-foot ceiling heights, it has these massive picture windows, it's a square-shaped building, and all around the exterior are 10-foot by 10-foot windows. These windows are bigger than most condo bedrooms in Toronto, 10-foot by 10-foot all the way around these giant windows. The building is going to have amazing amenities, including a private restaurant or a restaurant in the building open just for the residents and their guests in the building itself. It's just surreal literally looking down on the City of Manhattan. Again, 1,396 feet high. The Empire State Building is 1,250 feet, the Chrysler Building is 1,046 feet. Literally looking down on the Empire State Building, on the Chrysler Building from this penthouse unit. Of course, looking over Central Park, north, east, south, west, the definition of unobstructed views in all directions; just a surreal experience to be up there and just really, really grateful to have experienced that and to get a chance to check that out.
You might be wondering what are you doing now? I'll explain that in a minute, but talking about Toronto condominium market related to New York, one of my top clients, he said something very interesting to me recently. He said, in speaking about people who just still don't get why investing in Toronto condos is a good idea, people are still skeptical, what he says to them is, he says to them, "If you can buy in New York City right now for $300,000, $250,000, $300,000, would you?" "Of course you would," he says. "Why aren't you buying in Toronto now?" In other words, Toronto is still very affordable. The average person can still invest in real estate in Toronto, but, eventually, it's not going to be that way. Toronto is going to get to where New York City is eventually. Take the opportunity now while you can. I just thought that was an interesting perspective, interesting way of putting it from one of my top clients. You know who you are.
Now the reason I was in New York, and the person that took me there, so to speak, was CD Capital and Freed Developments. They're the developers, of course, behind the Art Shoppe, which was a massively, massively successful launch a couple of months ago this year and also, of course, 155 Redpath. Now they wanted to thank us for all of our work, of course, and all the clients that we helped to purchase in those buildings, but also to let us know, give us a sneak peek of the next building that they have coming up, which is also at Yonge and Eglinton, actually right across the street from 155 Redpath is going to be the building 150 Redpath. They gave us a little bit of a sneak peek at it, showed us the floor plans, talked to us about where the price points are going to be. This one is looking very, very promising. I've personally invested myself actually at 155 Redpath, so I'm very excited to see what Freed and CD Capital put together for 150 Redpath, and it's looking so far really, really promising.
Basically, you're getting the same high-end finishes and everything that you're getting in the Art Shoppe Building, which was a huge success. 80% of the buildings sold out already within a matter of weeks. You're getting the same finishes, essentially, as their also Yonge and Eglinton neighborhood, also steps to the subway. The price is about $100 to $150 per square foot cheaper at 150 Redpath. Amazing value, amazing lifestyle building. The floor plans are some of the best floor plans I've ever seen from the ones I've seen so far. They really took what they learned from 155 Redpath, what they learned from Art Shoppe, the types of units that were in the highest demand in Art Shoppe that everybody wanted, which were the one-plus dens and the small 2-bedrooms, 2-bath units. They put a lot of those units now into this building. If you missed out on Art Shoppe then you can still get into a building by the same developer in the same neighborhood, the same high-quality finishes for significantly cheaper. Definitely keep your eyes out for 150 Redpath, which is coming out very soon.
Another great thing about the building is they're really promoting this 24/7 lifestyle that we're used to downtown in King West, in the whole Freedville, King West vibe. They really want to bring that to Yonge and Eglinton. Part of that is having a diner, restaurant in the base of the building, which will be open 24/7. If you want to get breakfast, whatever, French toast or pancake breakfast, go down at that. If you're coming home from a long day at the office, you want to grab a nice meal, or maybe it's coming home from the bars or something late at night or early morning, it's going to be open 24/7, and have actually room service delivered right to your unit itself in the building. Very unique feature. You're going to have the amazing rooftop pool that all of the Freed buildings have, like this also 155 Redpath, also Art Shoppe have these amazing, amazing rooftop pools. This one's going to even take it up a notch again, just always improving, always moving forward. Again, the price that they're talking to us about so far, starting from around $550 per square foot – a very, very attractive pricing from what it sounds like, and very much looking forward to seeing all the details on this building, 150 Redpath. Watch for that from me.
Yes, that is all about it for this episode of the podcast. I hope you enjoyed that. Make sure you check out truecondos.com/432park, once again, for the show notes on this episode and also to see some of my photos from touring the penthouse at 432 Park, which is the highest, the tallest residential building in the Western Hemisphere, 96 storeys up. If you're interested in buying, that unit is available. Give me a call. I can arrange a private tour for you as well. Again, the price is $82 million. All right, great. Until next time. I hope you have a great week. We will talk to you soon.
Thanks for listening to the True Condos Podcast. Remember your positive reviews make a big difference to the show. To learn more about condo investing, become a True Condos subscriber by visiting truecondos.com.