8 Elm on Yonge Condos
| | |
| --- | --- |
| Developer | Reserve Properties and Capital Developments |
| Address | 8 Elm Street, Toronto |
| Neighbourhood | Yonge & Dundas |
| Number of Storeys | 69 |
| Number of Units | 819 |
| Occupancy Date | TBA |
| Maintenance Fees | TBA |
| Priced From | TBA |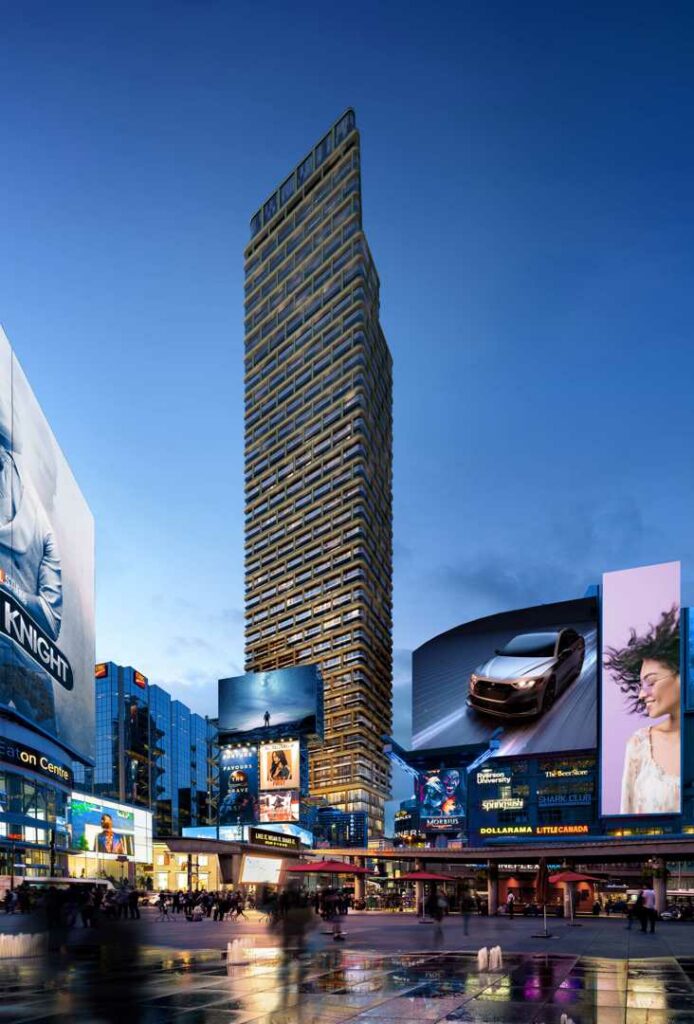 About 8 Elm on Yonge Condos
Luxurious living and downtown vibes make the mesmerizing 69-storey condominium on 8 Elm Street the perfect option to relive the pleasures of fancy living. This massive residential unit will encapsulate the spirit of the past and the future, preserving the essence of the James Fleming Heritage Building. The ingenuity of two award-winning developers makes the 8 Elm Condos project a unique piece of art that emanates elegance and comfort.
The exhilarating energy of the city is ideal for those urban spirit lovers who die to indulge in the glitz and glam of city life. It is just one block away from Yonge-Dundas Square, dotted with world-class shopping centres, entertainment hubs, and more.
In summary, 8 Elm Condos offers you the option to live life in opulence right within the heart of Toronto. Find everything that you have ever dreamt of here at 8 Elm Condos.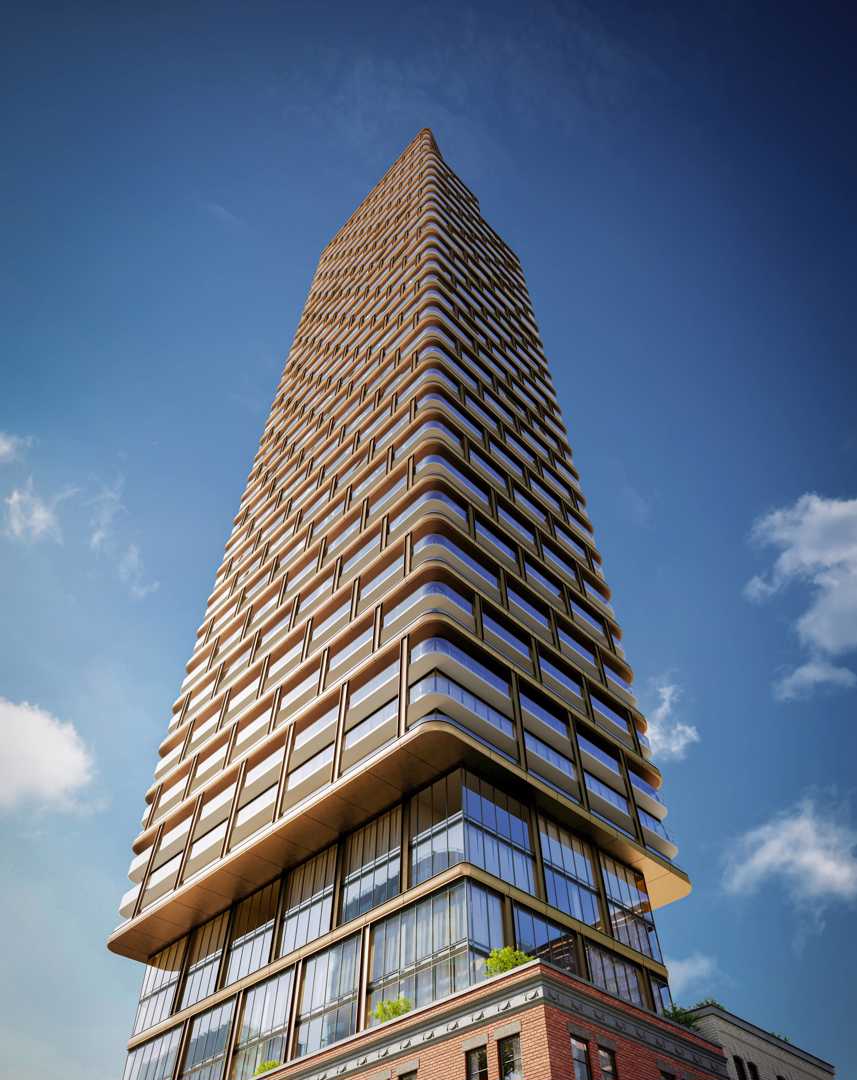 8 Elm on Yonge Condos Location
PROJECT HIGHLIGHTS
8 Elm Condos Developers –
This luxury project is aimed at providing its residents with every luxury that one can think of under the sky, thanks to the collaborative effort of Reserve Properties and Capital Developments.
8 Elm Condos Location –
8 Elm Condos is planned to be strategically located at the intersection of Yonge Street and Dundas Street, adding charm to the beauty of the lively bay corridor. It is very close to Toronto's gorgeous harbour-front, in the northern part of Lake Ontario. Starting from top-class restaurants, entertainment centres, shopping areas, beaches, waterfront trails, premier education institutions, hospitals, landscaped parks, and more; this place has it all for everyone.
8 Elm Condos Transportation –
The excellent transportation option is yet another attraction here. Several TTC bus routes are easily accessible from this place. Walking a little from your building will provide you access to streetcars and subway lines connecting all the parts of Toronto.
8 Elm Condos Building Specifications –
The foundation of this ambitious 8 Elm Condos project is that of a preserved 3-storey heritage building. This multi-use high-rise condominium will have 69-stories along with 26,000 square feet. of fascinating modern-day amenities to help you have a perfect life right next to you. In total, there will be 819 luxury condominiums with approximately 469 bicycle lockers. You get all you need to have a classy life – the spectacular social lounge and the magnificent Sky Club attached with an outdoor lounge will offer you breathtaking views of the Toronto skyline from the 56th floor. Furthermore, the building will house a massive Fitness area and a lush green terrace for the health-conscious clan. Each element of this building brings the pleasure of fine living to you.
AREA AMENITIES
Walk Score –
If you love to walk and run errands, this place is just what you've always dreamt of. This area enjoys a walk score of 99.
Ease of transportation –
Since this place enjoys the fame of being a commercial hub, the place is well-connected with the rest of the city. Get quick access to two streetcar lines running from East to West, round the clock. The location of the building is just a few minutes from Dundas Station. The Bay Street corridor is also serviced by TTC bus services.
Education –
The Yonge Street neighbourhood is ideal for students. Just cross the street and get into the well-known Ryerson University campus. Also, the University of Toronto and OCAD University are just a few minutes away from the building.
Recreation –
Residents of this project will be spoilt for choices when it comes to recreation options. Dundas Square and the Eaton Center (the two primary shopping centres of the city) are both located nearby. Dundas Square is a bustling place for music lovers, foodies, chic shoppers, and more that offers fancy lifestyle amenities to the city dwellers.
About the Developer
Spanning three decades and two family generations, Reserve Properties continues to be a driving force in reshaping the urban landscape, with more than 125 projects, 12,500 residences, and 2 million square feet of commercial and retail space across North America.
Vision, creativity, passion, and design innovation are at the core of each decision we make, as we remain steadfast in our unwavering commitment to building with integrity and purpose. With extensive multi-generational expertise, we take pride in our deeply entrenched industry relationships and are dedicated to maintaining a hands-on approach throughout each stage of the development process, with a focus on enhancing the communities in which we operate.
With a long list of design-forward iconic developments across Canada, the international beginnings of CD tell the full story. Founded by Todd Cowan and Jordan Dermer after a lengthy development career across Europe.
Today Capital Developments is building on that history of success. Along with its partners, CD has embarked on a number of exciting new residential and retail projects in Toronto and Montreal where it is involved in the development of over 2,000 condominium units with complementary retail.
8 Elm on Yonge Condos FAQs
How do I reserve a unit in this project?
After you review the floor plans and prices, if you know what suites you are interested in, you may reserve a suite online using our online reservation worksheet form at https://truecondos.com/worksheet.
Does filling out the worksheet form mean I'm committing to buy a suite?
No it is not a formal commitment, it is an expression of interest and the first step you must take if you are thinking about getting a unit in this project.
What does it mean that Andrew la Fleur is a "Platinum Agent"?
Platinum agents are the top selling agents who get preferred status with developers and first access to new projects before regular agents and the public.
Andrew la Fleur has been a top-selling pre-construction agent since 2007, and during this time he has achieved platinum status with many of the top builders and sales companies in the Greater Toronto Area.
For more information on about Platinum agents see this article: https://truecondos.com/5-things-to-know-about-buying-a-condo-with-a-platinum-vip-realtor-real-estate-agent/
How does it benefit me as a buyer to work with Andrew la Fleur as my Platinum Agent?
Working with me as your Platinum agent gives you several benefits
You get the

highest level of access

in the building

You pay the

lowest possible price

for the unit (prices are typically increased significantly after the Platinum sales event)

The best possible

incentives

I do not represent the builder. I represent you. You benefit from my expertise of being a top selling pre-construction agent and investor myself since 2007.

Access to my personal network of mortgage brokers, lawyers, property management, HST rebate services, handymen and much more.

My services to you as a buyer are

free
Do I get a cooling off period? What is it for?
Yes, after you sign the contract to purchase a suite you will have a standard 10-day cooling off period. It's 10 calendar days, not business days from the time you sign.
The 10 days are primarily for 2 things: 1) to have a lawyer review your contract with you if you wish and 2) to get a mortgage pre-approval letter
Do I need to have a lawyer?
You don't need to have a lawyer at the moment that you sign the agreement, however I always recommend that you have a qualified lawyer review your agreement of purchase and sale after you sign and during your 10-day cooling off period.
Not sure who to talk to? Don't worry – getting a lawyer is something I can help you with. Contact me for more details.
Do I need to have a mortgage pre-approval to buy?
95% of all builders will require you to provide them with proof of financing capability in order to purchase. This is not required before you sign a contract, but it is usually required within 60 days of signing.
Not sure where to begin? Don't worry – getting a mortgage pre-approval is something that I can help you with. Contact me for more details.
Do the prices include HST?
If you are purchasing for yourself and plan to move in, then yes, prices include the HST and there is nothing you will have to pay at final closing.
If you are purchasing as an investment rental property, then you will have to pay approximately 7.8% of the purchase price as HST on final closing.
This money is remitted to the CRA and as an investor renting out your property you can apply to the CRA immediately to get this money back. It usually takes about 1 month to get your rebate back.
For more information on the HST, see here:
https://truecondos.com/tag/hst-rebates/
Contact me for more details.
What are my closing costs on a pre-construction condo?
Closing costs on a pre-construction condo will vary greatly depending on the actual purchase price of the unit you are buying, but it also depends on the builder, the city that you are buying in, and the type of unit that you are buying.
Roughly speaking in Toronto you can expect to pay approximately 3-5% of the purchase price in closing costs when purchasing a brand new condo.
Check out this article for more info on closing costs:
https://truecondos.com/5-things-to-know-about-closing-costs-when-investing-in-a-pre-construction-condo/
Contact me for more details
Are there any 'hidden' costs when buying a pre-construction condo?
No, there are no hidden fees when buying pre-construction condos because all fees must be disclosed in the agreement of purchase and sale. All purchasers have 10 days to review the agreement and have a lawyer advise them on the exact closing cost amounts. If you need a lawyer to help you we can suggest to you to several expert law firms that will review your agreement in detail.
Is it possible to assign my condo? How much is the assignment fee?
Most condo builders do allow you to sell your unit before the building is complete. This projcess is called selling by "assignment".
There is usually an assignment fee and a legal fee associated with selling. Costs can range from $1000-7000. Contact me for more details.