Artform Condos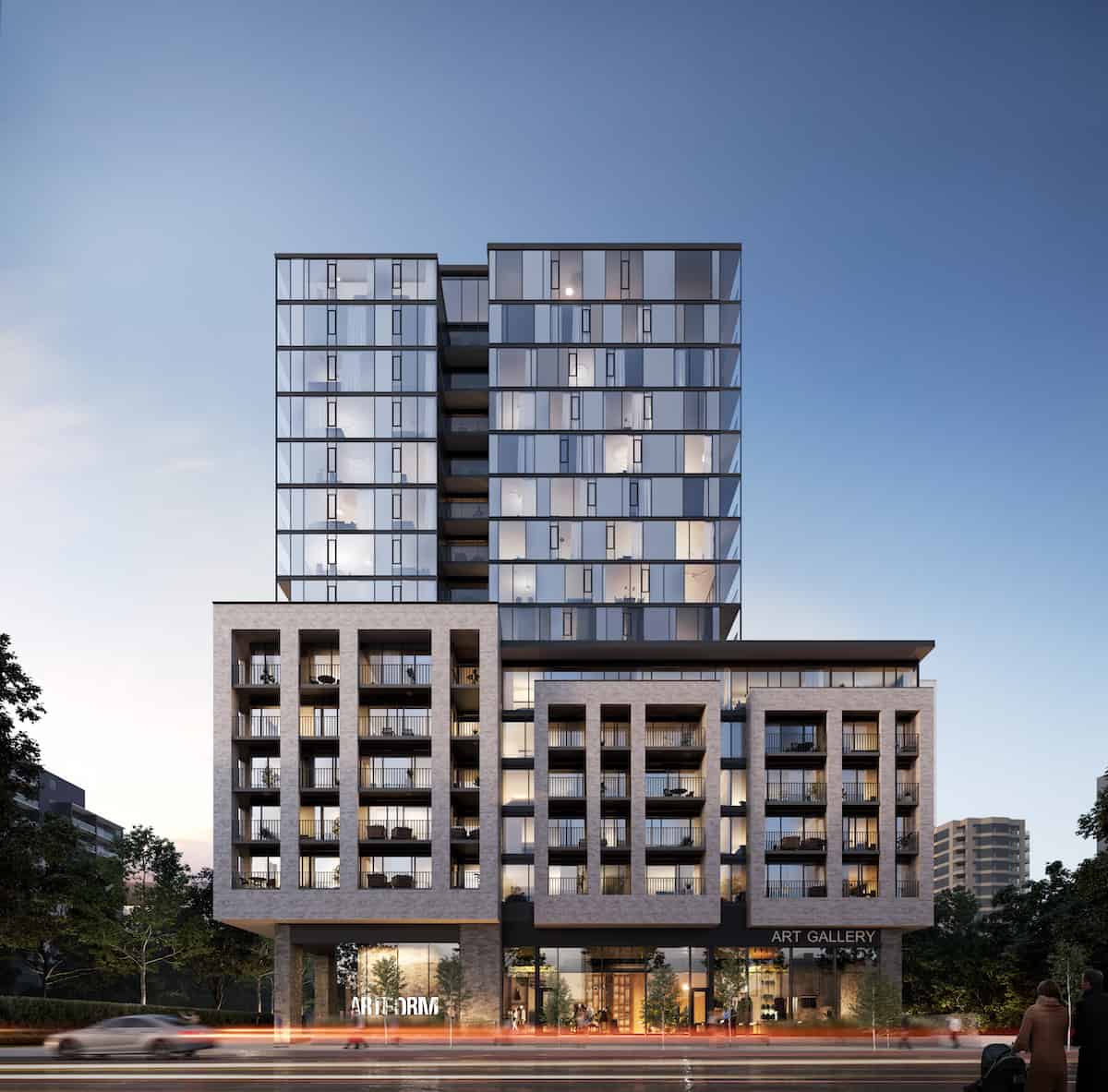 | | | | |
| --- | --- | --- | --- |
| | Address | 86 Dundas Street East, Mississauga | |
| Developer | Emblem Developments | Occupancy | 2023 |
| Area | Square One | Deposit | 15% before occupancy |
| Storeys | 17 | Maint. Fees | TBA |
| Units | 336 | Prices | upper $400,00s |
About Artform Condos
The art of transformation.
In the centre of the revitalization of Cooksville in Mississauga.
EMBLEM is transforming where Hurontario and Dundas meet and into a condominium community steeped in the most modern design and amenities. Bold, creative flair intersects with thoughtful, clean aesthetics to create the perfect marriage of art and timeless design.
Artform by EMBLEM is a symbol of style, design, and luxury. A graceful denial of conformity. Artform's 17-storeys of bold, creative presence intersect with thoughtful, clean aesthetics to create the perfect marriage of art and design. Brick, metal, stone and glass come together in an architectural achievement of geometry and creativity. Spearheading the revitalization of a historic area, adjacent to Cooksville creek and set alongside the new Dundas Connects transit system, Artform is set to become the mark of exceptional design south of Square One.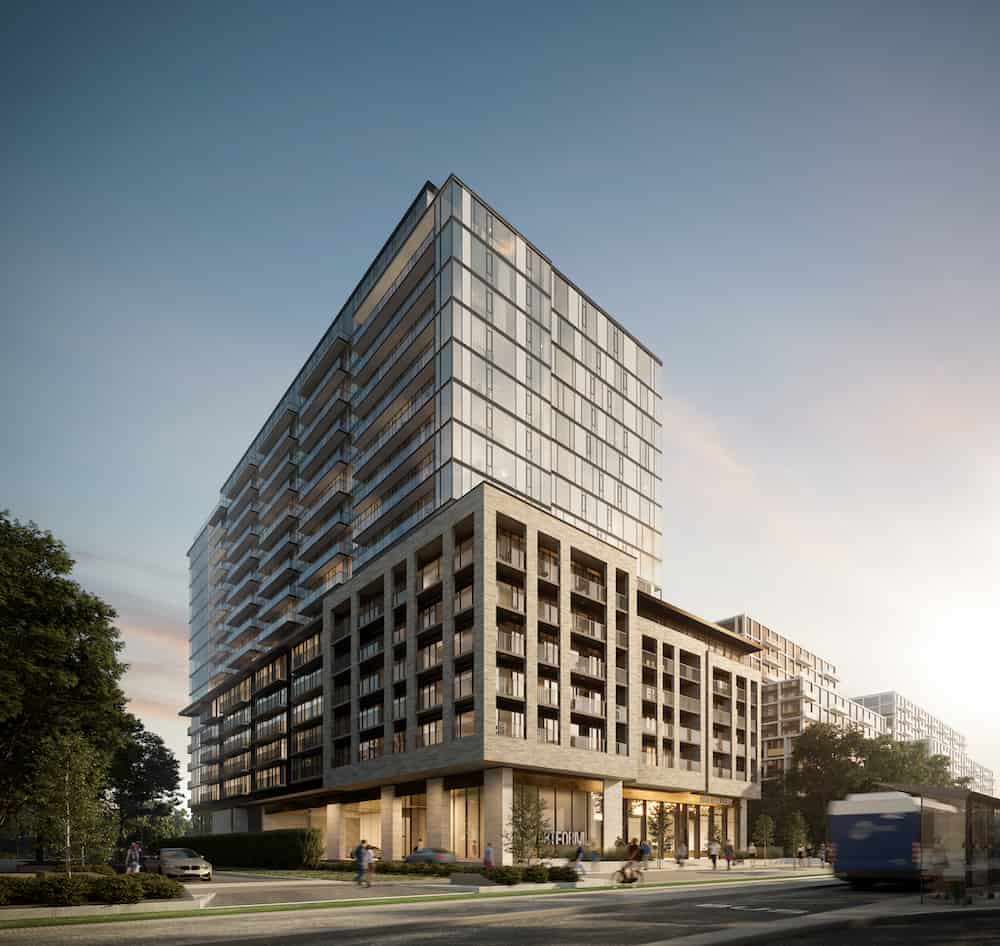 Artform Condos Location
Cooksville's status as a transportation hub will be enhanced by the new 18 km Hurontario Light Rapid Transit (LRT) line, now under construction by Metrolinx. With 19 stops, it will connect to the existing Cooksville GO Station – only one stop away from Artform – and enable access to the entire GTA.
Artform is only 500 metres from the future Dundas LRT stop, and a quick five stops from Square One. Commuters will be able to connect directly to the GO system via the Cooksville GO station. As well, the Bus Rapid Transit (BRT) will provide direct connection to TTC subway stations and the University of Toronto Mississauga campus, running along dedicated transit lanes. BRT service will be frequent, with the next bus coming in three-minute intervals.
Conveniently located steps from Dundas and Hurontario, Artform benefits from excellent connections to the entire GTA and beyond. Cooksville Go station is only a 14-minute walk or 5-minute drive from Artform. You can easily get downtown by car or Go Train in 30 minutes. Plus, it's just a 15-minute drive to Pearson Airport.
Dundas Connects and Artform Condos
Cooksville is set for major change and revitalization through the extraordinary Dundas Connects master plan with the Dundas corridor set to grow by 52,000 new residents and 9,600 jobs. This master plan will beautify the Dundas corridor, transforming it into a vibrant, dynamic street that nourishes a growing population and encourages a healthy lifestyle. Anchored by new commercial, medium and low-density residential buildings that incorporate lively and unique retail options at ground level, Dundas will
flourish with more of what makes a city enticing for residents: more parks, green spaces, and public art to enjoy; more cycling lanes, crosswalks and wide sidewalks for safer transportation; improved public transit; and a new, state-of-the-art Community Hub for every kind of gathering.
CONNECTIVITY
Centrally located in the heart of Mississauga, Artform Condos is suited for any mode of transportation, getting you where you need to be – fast! Highlights include:
Steps to future Hurontario LRT, an 18-kilometre dedicated lane rapid transit rail line connecting you to Milton and Lakeshore West GO lines, along with local transit links like MiWay, Brampton Transit, Züm, and Mississauga Transitway at Square One
Walking distance to Cooksville GO station on the Milton line, getting you to Toronto Union Station in 30 minutes
Quick access to major highways such as the 403, 407, 410 and 401
Dundas BRT
RESTAURANTS AND CAFES
A diverse array of cuisines are only steps away from Artform Condos. Dining never becomes boring with the amount of choices nearby, including:
Burrito Boyz
Tim Hortons
Popeyes Chicken
Tabaq
McDonald's
Tim Hortons
SHOPPING
Residents at Artform Condos will enjoy quick access to Square One Shopping Centre (Canada's largest mall at 2.2 million square feet) with big name brands such as Hudson's Bay, Holt Renfrew, Michael Kors, Apple, Lululemon and more. Other local shops in the area include:
FreshCo
Shopper's Drug Mart
Dollarama
LCBO
Scotiabank
And many more!
Artform Condos Features and Finishes
Watch the Artform Condos Official Teaser Video
About the Developer
EMBLEM Developments is the private equity arm of First Avenue Investment Counsel, a leading Canadian investment management firm, led by founder and CEO, Kash Pashootan. He has a 20-year history of executing and delivering results for the families that have trusted the firm with their capital. First Avenue manages in excess of $1 billion and delivers deep financial backing to EMBLEM by putting in place the resources to set up and successfully execute a development. This includes EMBLEM's professionals, who are experienced in development, sales, and construction. Together the team brings a strong covenant to execute from theory to final product.
How do I reserve a unit in this project?
After you review the floor plans and prices, if you know what suites you are interested in, you may reserve a suite online using our online reservation worksheet form at https://truecondos.com/worksheet.
Does filling out the worksheet form mean I'm committing to buy a suite?
No it is not a formal commitment, it is an expression of interest and the first step you must take if you are thinking about getting a unit in this project.
What does it mean that Andrew la Fleur is a "Platinum Agent"?
Platinum agents are the top selling agents who get preferred status with developers and first access to new projects before regular agents and the public.
Andrew la Fleur has been a top-selling pre-construction agent since 2007, and during this time he has achieved platinum status with many of the top builders and sales companies in the Greater Toronto Area.
For more information on about Platinum agents see this article: https://truecondos.com/5-things-to-know-about-buying-a-condo-with-a-platinum-vip-realtor-real-estate-agent/
How does it benefit me as a buyer to work with Andrew la Fleur as my Platinum Agent?
Working with me as your Platinum agent gives you several benefits
You get the

highest level of access

in the building

You pay the

lowest possible price

for the unit (prices are typically increased significantly after the Platinum sales event)

The best possible

incentives

I do not represent the builder. I represent you. You benefit from my expertise of being a top selling pre-construction agent and investor myself since 2007.

Access to my personal network of mortgage brokers, lawyers, property management, HST rebate services, handymen and much more.

My services to you as a buyer are

free
Do I get a cooling off period? What is it for?
Yes, after you sign the contract to purchase a suite you will have a standard 10-day cooling off period. It's 10 calendar days, not business days from the time you sign.
The 10 days are primarily for 2 things: 1) to have a lawyer review your contract with you if you wish and 2) to get a mortgage pre-approval letter
Do I need to have a lawyer?
You don't need to have a lawyer at the moment that you sign the agreement, however I always recommend that you have a qualified lawyer review your agreement of purchase and sale after you sign and during your 10-day cooling off period.
Not sure who to talk to? Don't worry – getting a lawyer is something I can help you with. Contact me for more details.
Do I need to have a mortgage pre-approval to buy?
95% of all builders will require you to provide them with proof of financing capability in order to purchase. This is not required before you sign a contract, but it is usually required within 60 days of signing.
Not sure where to begin? Don't worry – getting a mortgage pre-approval is something that I can help you with. Contact me for more details.
Do the prices include HST?
If you are purchasing for yourself and plan to move in, then yes, prices include the HST and there is nothing you will have to pay at final closing.
If you are purchasing as an investment rental property, then you will have to pay approximately 7.8% of the purchase price as HST on final closing.
This money is remitted to the CRA and as an investor renting out your property you can apply to the CRA immediately to get this money back. It usually takes about 1 month to get your rebate back.
For more information on the HST, see here:
https://truecondos.com/tag/hst-rebates/
Contact me for more details.
What are my closing costs on a pre-construction condo?
Closing costs on a pre-construction condo will vary greatly depending on the actual purchase price of the unit you are buying, but it also depends on the builder, the city that you are buying in, and the type of unit that you are buying.
Roughly speaking in Toronto you can expect to pay approximately 3-5% of the purchase price in closing costs when purchasing a brand new condo.
Check out this article for more info on closing costs:
https://truecondos.com/5-things-to-know-about-closing-costs-when-investing-in-a-pre-construction-condo/
Contact me for more details
Are there any 'hidden' costs when buying a pre-construction condo?
No, there are no hidden fees when buying pre-construction condos because all fees must be disclosed in the agreement of purchase and sale. All purchasers have 10 days to review the agreement and have a lawyer advise them on the exact closing cost amounts. If you need a lawyer to help you we can suggest to you to several expert law firms that will review your agreement in detail.
Is it possible to assign my condo? How much is the assignment fee?
Most condo builders do allow you to sell your unit before the building is complete. This projcess is called selling by "assignment".
There is usually an assignment fee and a legal fee associated with selling. Costs can range from $1000-7000. Contact me for more details.