How to Get a Bidding War on Your Rental Condo – With Sara Kelcey of True Condos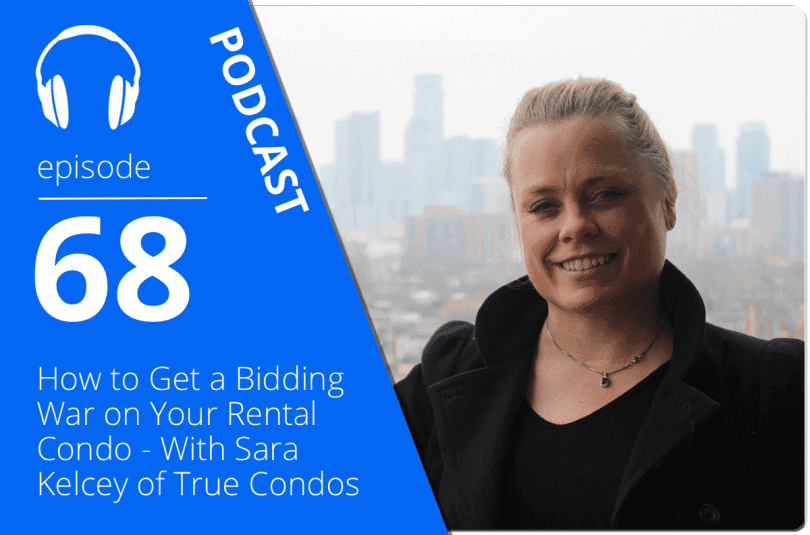 Last Updated on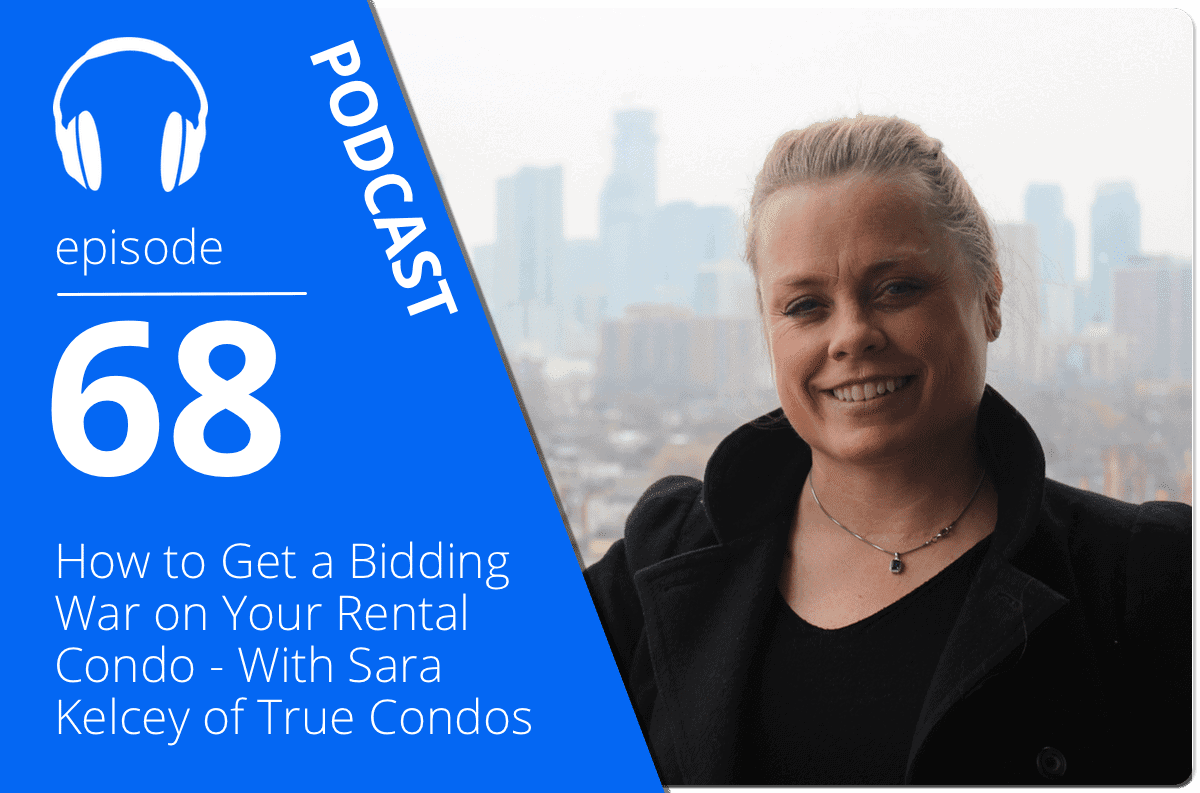 In this special episode of the podcast Andrew la Fleur interviews True Condos team member and veteran Realtor Sara Kelcey. Sara talks about her experience helping our clients in the resale and rental markets in 2015 including an incredible story of receiving 4 offers on a rental listing in the middle of December!
Welcome to the True Condo's podcast with Andrew la Fleur. The place to get the truth on the Toronto condo market and condo investing in Toronto.
Andrew la Fleur: Welcome back to the show. Glad to have you again listening into the True Condo's podcast. I'm your host, Andrew la Fleur and today on the show, very excited to have with me for the very first time, somebody from my team. Taking you on the inside a little bit of the True Condo's team and introducing you today to the wonderful Sara Kelcey. Sara, welcome to the show.
Sara Kelcey: Hi Andrew. Thanks, I'm excited to be here. It's my first time.
Andrew la Fleur: Great, great. I'm excited to have you too Sara, and just introduce you to the listeners. Why don't you start Sara, just by telling everybody a little bit about yourself, how long you've been with the True Condo's team, maybe a little bit about your background in real estate. How'd you get started? Why don't we start with that? How'd you get started in real estate, because I know you've got a lot of great experience in a lot of different areas of real estate, but how did you get started first in real estate and what was your early career like?
Sara Kelcey: Yeah, that makes sense to start there. I actually came to Toronto, went to Ryerson, gotten my commerce degree with a major in marketing, stayed in Toronto because the opportunities were far better than where I had grown up, which was in Kingston, Ontario. I ended up working immediately for a property management company who handled investors, condos, or higher end luxury condos downtown Toronto. I didn't need a license for that. We didn't list anything on MLS, so we had our own successful website. We found the clients, we took photos, we marketed it, I did all of the website changes myself, we found the tenants, screened them, and then also managed the place for them.
I did really a little bit of everything. I wore many hats in that job. I was with them for about six years, and then I started in a company called Milborne Real Estate, which is actually where I ended up meeting Andrew. Milborne is different in that it is a brokerage, it is a licensed brokerage, but they deal really primarily with pre-construction condos all over the GTA, so my job was to work in the sales office on the other side of things, meeting people like Andrew, selling condos, once that building was sold out, I would move to a different condo, and do it all over again.
Not rocket science, really. It was same formula per building. Market it, get it sold, move onto the next one. I loved it because you met all sort sorts of different people. It was great for networking. You learned about the condo, the whole building process, you learned about the neighborhood. It was a great way to see a whole project put together from A to Z.
Then last year I decided to make a leap of faith and change my career to become a completely independent realtor who makes 100% commission. I joined Re/Max because I knew a couple of people at Re/Max Condos Plus. I knew Andrew, I knew a couple other people who's paths I crossed. That was I guess a little over a year ago I started with Re/Max.
I guess a few months after I started, I should preface this by saying that before I made the change, I had called a few agents, and Andrew was one of them, just to get a better idea and really do my research about what it would be like to work on the other side of things. I always recommend that to anybody who's thinking of making the decision to make a career change into.
I guess Andrew, you contacted me a little bit after I had started. We had known each other from the pre-construction business and you were looking for somebody to possible join your team to help handle leasing and resale and that side of things. Andrew, you have continued to deal with all the reconstruction.
Andrew la Fleur: That's right, yeah. Yeah, that's great. Yeah, hard to believe I guess it's been over a year now that you've been part of the team and you've been handling, like you said, a lot of the resale needs for our clients and a lot of the listing. Specifically working with landlords and leasing out their investment units all over the city. Why don't you tell us a little bit more about … I think you've got a lot of great experience. You got of breezed through it, but you've got a lot of great experience on the rental side specifically. You worked in with the property management company for a long time, and you've just done, what would you say? Hundreds, thousands, you've done a lot of, a lot of-
Sara Kelcey: A lot. Yeah, at least 10 years experience working with new condos downtown Toronto from Lake Shore to Shepard, all the way to [inaudible 00:04:56] and I would say almost to Scarborough. I know many different neighborhoods, I've dealt with all sorts of different buildings, boutiques, high-rise, older buildings, brand new buildings that haven't even been completed yet, all sorts of landlords, domestic and foreign, so I have accumulated a lot of experience in that part of the market.
Andrew la Fleur: Yeah, absolutely. That's one of the reasons I love having you on the team and our clients love working with you is just your breadth of experience and your knowledge of many different buildings in many different areas, and everything from the rental process to the resell process, and then as well, of course your years of experience with Milborne real estate on the pre-construction site and understanding the needs of investors and working with a lot of investors through the whole process. Great to have you on the team Sara, and great to interview you today.
One of the things I wanted to just hear from you and let the listeners hear from you, your perspective working in the market everyday, what are you seeing this year 2015, as we come to the end of it, what are some of the trends or things right now or as you look back on the year, in terms of where you see the resell market, the downtown condo resell market right now, and where do you see the downtown condo rental market? What are the interesting points or trends that you think condo investors listening need to know?
Sara Kelcey: Thanks Andrew. It's been a really exciting year and moving forward into 2016, I can see the rental market continuing to thrive and be quite strong. One of the reasons I say that is the influx of young professionals into the city is going to be going forward very strong. A lot of them are going to be coming primarily into the downtown core, the entertainment district, King West/Queen West are very popular, now even the south financial core, which is around the Maple Leaf Key, is very strong. Also Yonge and Eglington, a lot of great buildings are beginning at Yonge and Eglington and there's a lot that are now taking possession at Yonge and Eglington.
Even though we're coming up to the festive season, December has been quite interesting in that my listings for rent have only been on the market for a couple of days. I've had multiple offers for them in the entertainment district and people have already moved in, which I found interesting, because I thought being a seasoned agent in rentals, that as per usual, things would get sluggish, but they have not.
Andrew la Fleur: Yes, so maybe let's get into that again, but investors who are experienced, they might already know this, but for the new investor, let's talk about what typically happens in the month of December in the downtown condo market.
Sara Kelcey: Things, I would say really shut down until January rolls around and people think, "Oh yes, that's right. I need a place to live," and things get quite busy, and then they slow down a bit again in February, but absolutely. Many other agents would concur that sort of once the first week of December has come and gone, we're thinking, "Okay, things are going to slow down," maybe around new years we'll get a couple of people looking for January, so for about a two to three week-
Andrew la Fleur: Try to get your Christmas shopping done, put your feet up a bit.
Sara Kelcey: Yeah, yeah, exactly. Everybody goes on hiatus a little bit, but not this year. No, it's been very, very strong in those key pockets that I mentioned. Yonge and Eglington, entertainment district, specifically new buildings. There's a few new buildings that are taking possession right now. People still really, really flock to brand new condos to rent.
Andrew la Fleur: Yeah. People love new, they will always pay a premium for new on sale and also on rental. You had a very interesting situation that we were helping one of our clients recently. Why don't you tell us a little bit about what happened at your most recent listing at Twelve Degrees Condo. Tell us about the condo, where it is, a little bit about it for those who aren't familiar with the building, and just walk us through what happened there, because I think it really speaks to what's happening in the market in general right now.
Sara Kelcey: This is a great story, because it's a wonderful success story. Brand new listing, it's at a building called Twelve Degrees on Beverly Street, pretty much music building, boutique building, brand new, none of the amenities are done, it's still a bit raw, there's still a lot of boarding up around the building, so to drive past it you would wonder if anybody was living there. I had a one plus den, a good size, about 700 square feet, parking and locker included, pretty standard layout, nice finishes, the appliances weren't even full size, but a really, really nice standard suite.
Andrew la Fleur: Balcony?
Sara Kelcey: No balcony.
Andrew la Fleur: No balcony? Okay.
Sara Kelcey: No balcony. One washroom.
Andrew la Fleur: Just a one bedroom plus den, one washroom, no balcony, around 700 square feet-
Sara Kelcey: Parking and a locker.
Andrew la Fleur: Had parking and a locker. It's Queen and Spadina area, kind of for people who aren't familiar with that much music building reference, so Queen and Spadina, and so yeah. You put it on the market. Tell us what happened.
Sara Kelcey: I put it on the market. The first showing I had was I think 24 hours later, and they immediately wanted to take it. Soon after that I got two other offers for people who wanted to take it. This suite's only on the third floor. It doesn't particularly have a great view, but it's in a brand new building in a hot part of the city. I got three serious offers from people all wanting to move in right away. The third offer that came in, I should mention, was above asking. We were asking $2,100 and they came in at $2,175 looking to move in immediately. I'm talking within the next two days they wanted to close. They were super serious, and they had excellent credentials, the owner was thrilled, so of course he accepted them, and at the end of the day that's what we want. We want happy investors.
I thought that was really interesting considering our experience has been December has been very slow.
Andrew la Fleur: Yeah, and again you're talking about a building that from the outside it's clearly still under construction, it's not finished yet, the amenities are probably not ready yet, in the middle of December, and you're thinking, "Man, this is really not a good time to list a place to put on the market, but you can't always affect timing. If the building is finished at that time, that's when we list it for rent. You got a total of, was it, how many offers in total?
Sara Kelcey: I got three official offers, and then after of course the offer was accepted, I got another offer presented to me. Of course then it was gone, so four in total.
Andrew la Fleur: We had four offers on this property listed at $2,100 a month, ended up renting out for $2,175 a month, so just amazing to hear that and I think obviously, well maybe I'll ask you. What were the renters, what were the tenants saying? What do you think made this one so popular? Again, talking to the condo investor today, what are some of the things that they should be looking for in a building or in an area, to ensure that they're buying something that is going to be high in demand for rentals when it's finished?
Sara Kelcey: Convenience is huge. Convenience is huge. I'm talking about Toronto Transit, I'm talking about the subway, grocery stores, they want a good night life, they want quick access to major roads, so they were also by the hospitals, they weren't too far from UFT, so really they were right in the epicenter of many different things. The other nice thing about it, I think, is that it was a boutique building and some people just … I find young couples and all of the applications were from young people, really like boutique buildings.
Andrew la Fleur: Boutique meaning?
Sara Kelcey: Not like a sky-rise that's 50 floors. Let's say up to 25 floors.
Andrew la Fleur: Right.
Sara Kelcey: Yeah.
Andrew la Fleur: Yeah. Smaller buildings we're so used to getting so many 40, 50 story buildings now, so there is a lot of tenants are looking for those smaller, more intimate buildings. Funny enough, as we're recording this podcast, we're in a boutique condo building right now in one of our feature listings coming up, but yeah that's another interesting factor.
What would you say about parking? I have my own opinion on it, but I'm curious what's your take on parking for investors in condos? Whether they should or shouldn't buy it? Was that a big factor in renting this unit out? What's your take on parking?
Sara Kelcey: Because it was a larger one plus den, and I know that doesn't seem super large, but in today's market a new condo's 700 square feet and up for one plus den is a good size, and because it was for couples, a lot of couples were applying, I think having a parking spot was really very appealing to them. For anything smaller than that, like a one bedroom for a bachelor, I don't find it to be a necessity. Young professionals nowadays, fewer and fewer of them have cars, they can walk everywhere, have access to Uber, taxis, TTC, subways, and now there's so much sprouting up in the entertainment and downtown area like grocery stores, whole food stores, a shoppers chapters-
Andrew la Fleur: Yeah, the city is just coming alive in some of these pockets you mentioned. King West, Queen West, the south financial core, Yonge and Eglington, the amount of amenities and everything that are there today that weren't there even just two years ago, it's just incredible. The city is just so much more livable. That's interesting. I would probably sort of agree on those lines. If you're sort of under 700 square feet in size, that's roughly sort of the cutoff where you probably don't need to get that parking spot, or don't need to worry about or think about it. Would you say once you go above $700 square feet, that's when you're likely to attract a higher profile, higher income, maybe a slightly more mature tenant who would more likely have a car than somebody below that mark?
Sara Kelcey: I think because of the price people are asking.
Andrew la Fleur: The price point, yeah.
Sara Kelcey: Yes, yeah. I think you're [inaudible 00:15:50] has-
Andrew la Fleur: If they can afford over $2,000 a month in rent, then-
Sara Kelcey: It's more likely they're going to have a car, I have experienced. Again, there's been other suites, I've noticed in Twelve Degrees, that [inaudible 00:16:05] fairly quickly [inaudible 00:16:06]. That building alone is just really [inaudible 00:16:09], but I would agree with you that a certain size might [inaudible 00:16:12] if you have the parking.
Andrew la Fleur: Good thing to think about. It changes all the time. The answer to that parking question, I find it's year to year. It changes in building to building, it changes, it's not a black and white answer to say you should or should not buy parking. It's case to case.
What else is happening? What are you seeing on the … We talked about the rental market, what are you seeing in the resell market in terms of working with buyers and working with sellers in the market? If you look at the [inaudible 00:16:45] stats for this year, the numbers are very good. It's potentially the biggest year ever, prices are definitely trending upwards, but what are you seeing in the resell market? What's the feeling with buyers and sellers right now today?
Sara Kelcey: I'm finding the buyers and sellers that I'm coming across are still very confident in the market. It's been a great year. Statistics show that it's going to move forward into [inaudible 00:17:12] as being another great year. The market can be very cyclical. People worry that once a lot of buildings come on the market, that we'll have this big bubble burst and there will be [inaudible 00:17:25]. What happens is these condos are [inaudible 00:17:29] as they are building, and then more come on the market, and there's always a constant [inaudible 00:17:34] of people coming into the city, that I foresee 2016 in terms of both older and newer buildings being quite strong, continuing to be quite strong. Especially in certain parts of the city.
Andrew la Fleur: Yeah, those pockets that you mentioned. Yeah, so you think things are going to continue and 2016 is looking like a great year in the resell market. I would agree. Cool. Anything else you want to talk about Sara? Anything else interesting in the market? Any other information that you think would be good for investors to know about as they're thinking about looking back on 2015 or looking ahead to 2016?
Sara Kelcey: Yeah. I think assignments is kind of an interesting topic too to discuss. I found lately there have been a lot of assignments. Specifically again in that district, there's a  lot of people have been approaching us to hopefully assign their suites. I'm sure you've talked about this in other podcasts, understand what you have signed, the rules and regulations, if you're allowed to assign that suite. I personally think, I don't know if you'd agree with me Andrew, if you can it's always great to [inaudible 00:19:02] suite.
Andrew la Fleur: Yeah.
Sara Kelcey: Personally that's my recommendation.
Andrew la Fleur: How is the assignment market right now in what you're seeing? Is there a lot of activity? Are buyers picking up these assignments or are they just waiting for buildings to close and get referred by the resell?
Sara Kelcey: Some assignments aren't moving that quickly actually. I think there's a fear from people who want to buy [inaudible 00:19:29] these huge closing costs. Then once the building closes, the person that actually sells it [inaudible 00:19:37] I find that they tend to move faster, but I find every case is a bit different. I've dealt with a couple assignments in one building. One went quickly, and the other, which was a very similar l layout was very sluggish and didn't move. It can be a bit fickle. It just depends on what the investor  and whatever your goal [inaudible 00:19:56] for you.
Andrew la Fleur: Yeah, absolutely. I think that's probably the best advice and I would agree, is as condo investors, you need to take a long-term approach. If you're getting into this game of investing in condos to make a quick buck, it's really not probably the right place for you. If you have a long-term perspective, if you understand that real value, real wealth in real estate, and in condos is created through long-term buying and long term holding of properties and renting them over long periods of time, that's where you're going to make your money, that's where you're going to grow your wealth.
If you're buying pre-construction condos and just looking to flip them as assignments, two, three, four years later, it can be done. We do have success stories absolutely, but like you said, it's fickle, it's challenging, you're dealing with a lot more variables. One way I sum it up is, it should be your plan B assignments, not your plan A. If you're going into with that's your plan A is to flip, is to assign, you're probably going to be disappointed. You might not be, but you're probably going to be disappointed and it's really not a sustainable strategy.
If you're going into it planning to hold it for the long-term, but if something comes up, your life changes, and you need to do that assignment, as long as you're buying smart, as long as you're following our advice and buying in the right places, the right buildings, the right units, then you will be fine in the long-term.
Sara, thank you so much for being on the podcast today.
Sara Kelcey: My pleasure.
Andrew la Fleur: It was great to catch up with you, and how can prole get ahold of you? What's the best way for people to reach you? Maybe share your email, phone number, if they want to get ahold of you directly. Of course they can always contact me, but if they want to contact you directly, how do they do that?
Sara Kelcey: I welcome your emails. You can reach me at sara@truecondos.com. Please also contact me by phone if you'd like, 647-961-9229. Thank you.
Andrew la Fleur: Great. Thanks Sara. Talk to you soon.
Thanks for listening to the True Condo's podcast. Remember, your positive reviews make a big difference to the show. To learn more about condo investing, become a True Condo's subscriber by visiting truecondos.com.