Can I Still Make Money Investing In the Toronto Condo Market in 2014?
One question that I have received from new readers a lot of late is, "Can I still make money investing in the Toronto Condo Market in 2014?"
The answer is it yes, absolutely- BUT, you have to know when and where to invest.
But Andrew, what about all this talk of the condo market slowing down to a crawl and the condo bubble in Toronto and that there is a massive oversupply of condos?
Be very careful what information you believe when it comes to the Toronto condo market. A recent article last week once again talked about the "slowing Toronto condo market". The article was in Bloomberg – a New York City based financial news agency. The same news agency reported a similar article heralding the impending crash of the Toronto condo market 23 months ago.
Yet 23 months later nothing has changed: prices are still rising, people are still moving into condos at unprecedented rates (both owners and renters), and the prices of low-rise homes are soaring further and further out of reach of the average first or even second time home buyer.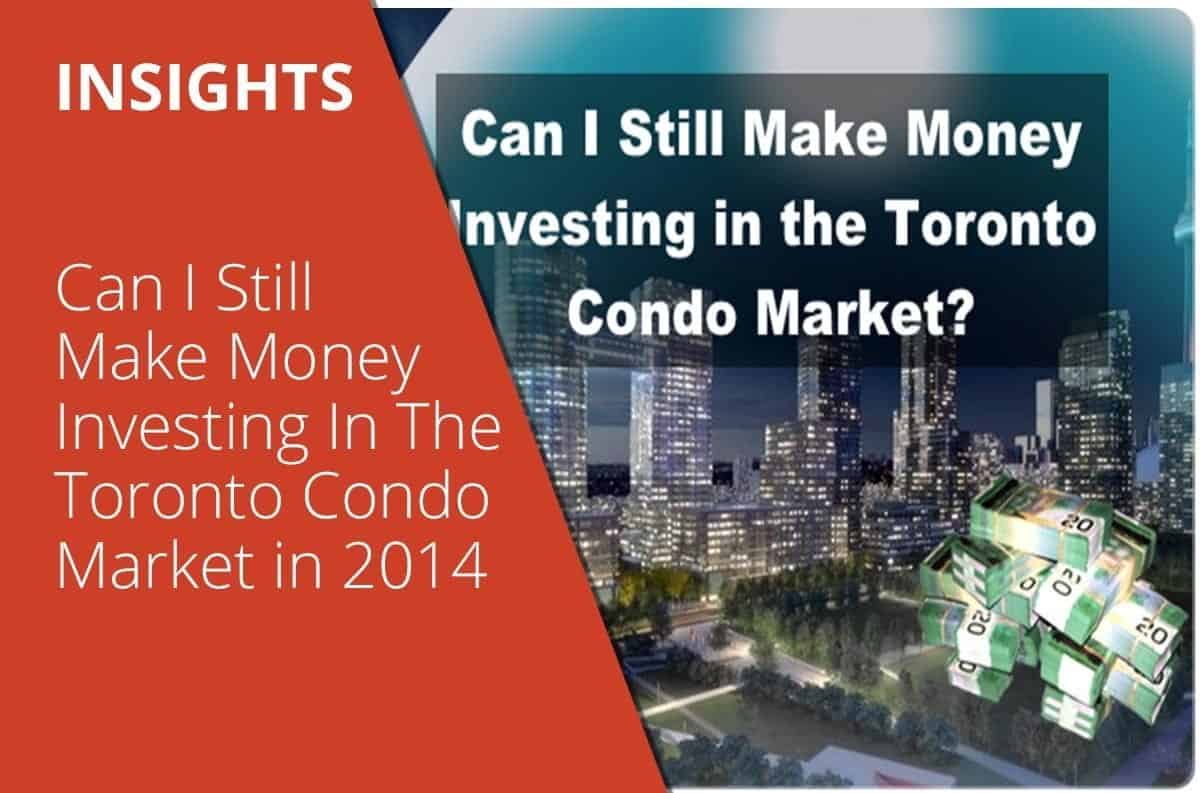 One Quick Investor Tip
The speed of the condo market or the volume of sales has absolutely nothing to do with whether or not you can still make money investing in the market.
Seasoned condo investors inherently know this, but if you are new to this world let me explain. Seasoned investors do not care if the market is up or down, left or right, going like crazy or slowing to a crawl. There is always money to be made investing in real estate if you know how to play the game and you know how to spot the opportunities.
When you buy below market value in a rising market, you win. When you buy cash flow positive in a rising market, you win. When you buy a condo at the earliest Platinum VIP stage and prices shoot up overnight, you win. These opportunities are still happening every day.
Who Made Money Investing in Toronto Condos in 2013?
A small group of savvy individuals continue to make money in the Toronto condo market while the media and the talking heads continue to spread their doom and gloom about the market.
I can keep writing my own opinions on the market but I think it's best to show you some real life examples from my own real life clients. Here are a few examples of actual clients of mine and what they bought in 2013 and how their investments are looking so far.
1. Andrea H. bought a 2 bedroom corner unit at 365 Church in February 2013 during the Platinum VIP sales event for $424,990. The same unit today is starting at $458,990. The price of Andrea's unit has so far appreciated approximately $30k.
2. Maria T. bought a 1+den unit at Harbour Plaza during the Platinum VIP sales event in May 2013. This particular unit proved to be one of the most popular in the building and the developer slowly increased the price point by nearly $50K until it was eventually all sold out.
3. Catherine J. bought a studio at One Park Place for $198,900 at the Platinum VIP release in November 2013. The building will not be released to the public until sometime this spring so she bought a full 4-6 months before the public opening (and she bought with only 5% deposit). The last studio to sell in the neighbourhood on the resale market in the building next door went for $235,000 around the very same time Catherine bought hers. Catherine doesn't really care too much about the instant price appreciation on her unit because her plan is to lease out the unit like Maxwell for a positive cash flow of approximately $300/month.
4. And finally, Jason Q. and Sue Q. They had been sitting on the sidelines waiting and thinking and deliberating about investing in the Toronto condo market for 4 years (true story). They have been faithful True Condos subscribers for more than 4 years, and finally in late 2013 they decided to pick up their first investment unit. And I must say, they got a great one. A studio at King Blue Condos for just $215,900. They only needed 10% down until 2017 on this unit. Studios in the immediate neighbourhood sell for as much as $330,000 in the resale market. They rent out for as much as $1500/month. So their unit had the rare combination of being priced massively below market value while also providing great potential future cash flows every month. They did not give up on their dream of owning an investment condo and finally they did it!
The Condo Investing Story So Far in 2014
2014 is only 13 days old, but already we have seen one GREAT condo investment opportunity. I won't mention the name of the condo building but you can probably figure it out if you are following the market at all. Here's what happened on the weekend:
A new condo building downtown just launched to Platinum VIP agents. The developer did not spend much if anything on mass marketing. They kept the prices low (very similar to 365 Church at their launch 1 year ago), lower than resale, lower than pretty much any other condo project available in the downtown, and they went directly to the top agents in the city and said, sell this building out for me very quickly.
They sold roughly half the building in just 2 short days on the weekend to agents who had pre-reserved specific suites for their clients (myself included). As a result of the extremely high demand, the developer decided to raise prices and remove some of the incentives they were offering.
So today, just one day later, prices for studios are up $10k, 1 bedrooms are up $15k, and 2 bedrooms are up $25k. The developer also took away the free assignment clause that they were offering AND they stopped including a locker for free.
Even at these newly inflated prices, the development still makes pretty good sense as an investment, just not quite as good as before.
We are in the middle of a great season for condo investing. More on this in a future article…
What's Holding You Back From Investing In the Toronto Condo Market?
So, what's holding you back from investing in the Toronto condo market? If all these ordinary people (many who are first time investors) can do it, why can't you? If I'm doing it (and I know you don't think I'm a dummy), then why aren't you?
If you would like to know when and where to invest in the Toronto condo market in 2014, please make sure you are a True Condos subscriber. True Condos subscribers receive exclusive content and access to new investment opportunities that you will not see on this blog or anywhere else.
Leave me a comment on this blog post or send me an email directly to let me know what you think.