Coming Soon: The Bond Condominiums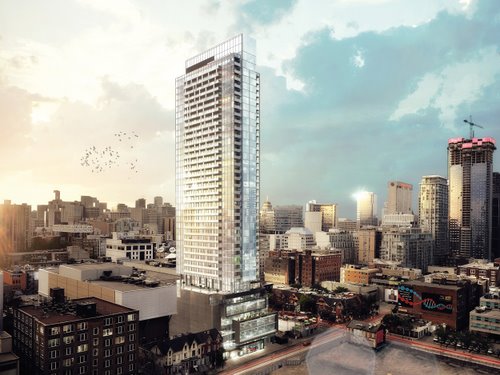 Coming soon from Lifetime Developments: The Bond Condominiums. For floor plans and pricing, please contact me.
Lifetime are arguably the hottest, hippest developers in the city right now. Their projects really bring the sizzle to a sometimes staid industry. Lifetime has all the ingredients for a winner with this project located on Adelaide, just west of John Street. Great floor plans, competitive pricing for the neighbourhood, great standard finishes, and an excellent name. There's something very suave about being able to say that you live at "The Bond".
The extremely sexy podium (see below) will have several floors of office space (perfect for this area and will continue to help the neighbourhood lose the 'clubland' image), followed by 2 floors of amenities for the condos (including an outdoor pool-everyone's got one these days!), then it's 31 floors of condos ranging from 327 sq ft studios to 859 sq ft 3 bedrooms.
The entertainment district can probably safely be renamed the condo district, as this is the 8th (by my rough count) 30+ tower in the immediate area to be launched in the past year! Others include The Mercer, Studio, Tableau, Peter Street Condos, Cinema Tower, Theatre Park, Bisha, King-Charlotte. Buyers want to live here, and clearly the city of Toronto is highly encouraging developers to build here. In 5 years there will be probably 10 40-storey towers in the entertainment district that are not there today.
For pricing and floor plans for The Bond, please contact me.