Coming Soon to Queen West: 12 Degrees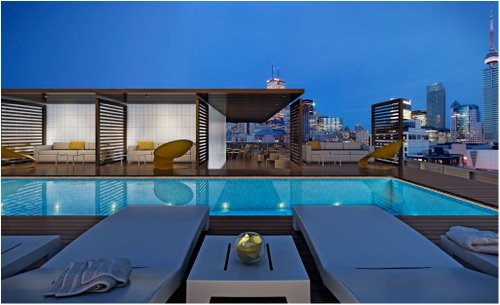 When it comes to this condo project, I think the photo above says it all. 12 Degrees Condominiums is attempting to personify the so-hip-it-hurts vibe of Queen Street West and with a rooftop pool and cabana area like this, I think they just might acheive it.
The VIP sales event for 12 Degrees is on now. For floor plans and pricing, please contact me. Pricing is about $600 PSF, similar to Berczy, FIVE, Nicholas etc.
Queen and Beverly is TRUE Queen West. The area has already arrived and is one of the best spots in Toronto to live. You won't find any mega towers around here, and probably never will, but the area is already home to some immensely popular boutique sized resale buildings like The Phoebe. The building features a very unique design that gives a sort of off-kilter Rubik's Cube visual effect. If they are actually able to build this project as it is currently designed, it will be very impressive and probably an architectural gem for the area.
Features include an ultra-modern design aesthetic with 9′ ceilings, hardwood throughout, streamlined kitchens with integrated european style appliances. But really, it's all about the rooftop pool and cabana area! Can you imagine enjoying the hot summer nights in Queen West on that rooftop overlooking the downtown core? Incredible! And you only have to share it with a total of 90 unit owners unlike some of the mega towers where you are sharing amenities with literally hundreds of other people!
The X-Factor here is obviously the developer who is a bit of an unknown commodity here in Toronto.
To book a unit at 12 Degrees NOW, contact me.