E2 Condos: Dream building from the Yonge and Eglinton Dream Team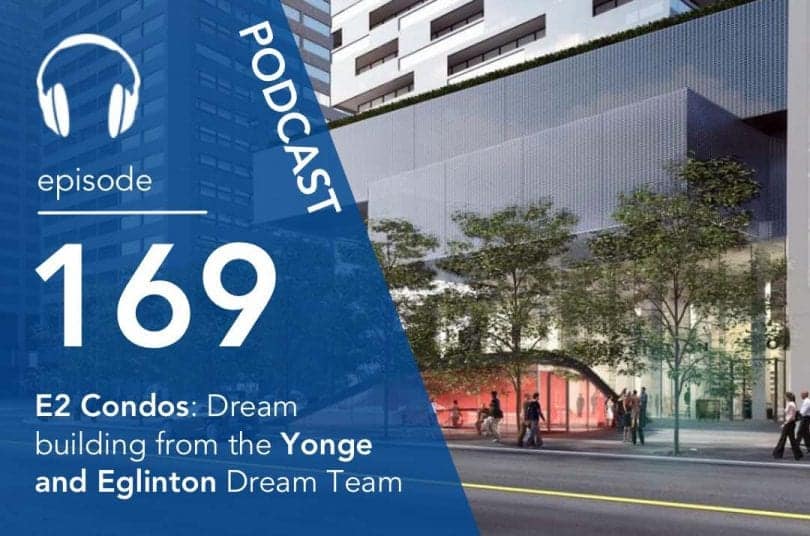 Last Updated on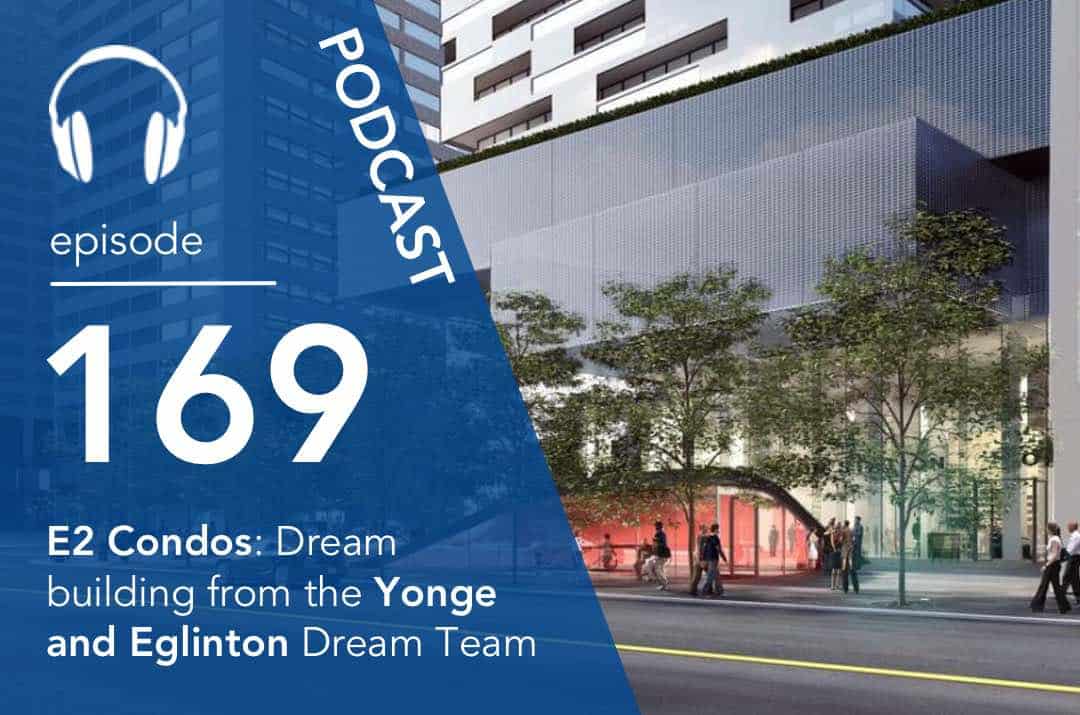 In this episode Matt Young, Vice President of Capital Developments talks about their upcoming project in partnership with Metropia – E2 Condos at Yonge and Eglinton. These two development teams are responsible for some of the highest profile and most successful buildings in the area and put their talents together to make a dream building for investors and families with direct subway AND LRT access.
MATT YOUNG INTERVIEW HIGHLIGHTS
1:23 What's new at Capital Developments in a broader sense?
2:40 In terms of Yonge & Eglinton, what's the update about those three projects now?
4:16 What do you mean exactly by "taking care of your customers" in that sense?
6:30 Let's talk about E2 Condos.Tell us about the site and what makes it unique?
10:10 Do you think condo investors is realistic or it's good strategy?
11:45 Talk about your partnership with Metropia. How did that partnership come about?
14:22 Talk to us about the building itself, E2.
17:17 What can you tell us about the floor plans and the layout of the building?
19:00 Why should they invest in E2? 
20:15 Can you give us a teaser on the site of Bloor & Dufferin?
Speaker 3: On today's episode we're talking to Matt Young of Capital Developments about Yonge and Eglinton and the upcoming E2 Condos featuring direct subway and LRT connection.
Speaker 3: Welcome to the True Condos podcast with Andrew La Fleur. The place to get the truth on the Toronto condo market and condo investing in Toronto.
Speaker 3: It's my pleasure to welcome back to the show for the third time, one of the rare third time guests that we've had on the show, Matt Young. Matt Young is the Vice-President of Development at Capital Developments.
Matt, welcome back to the show.
Matt Young: Thanks for having me again. I feel like [crosstalk 00:00:39] here.
Speaker 3: You might be. We might have to put your name up on a plaque or something here at the True Condos International Headquarters. I don't know. We'll come up with something. But, always good to talk to you Matt. I know we've done a lot of work together over the years, especially at Yonge & Eglinton and we're going to be talking about Yonge & Eglinton, obviously, today and your new project coming up there.
I think the last time we spoke was about a year ago. I think we were talking, at the time, about, you have a final release of some units at 150 Redpath, which many of True Condos listeners and clients took advantage of that. That was a great success at the time a year ago.
What's new at Capital Developments in a broader sense? In the past year what have you been working on? What has your focus been with Capital Developments in the past year?
Matt Young: We've had a really, really busy year. Last year we were finishing off our last few units at Redpath. Our entire Yonge and Eglinton portfolio is now, I believe, almost sold out. I think we have two units left. I think one at the Art Shoppe and one at 150 Redpath. It's been a great success, obviously. Since then, we were really looking for new land and to find some new deals. Over the last year we were very busy. We bought the site that we're going to talk about today, Yonge and Eglinton as well so it's a neighborhood we know really well. It's in a site that we're really excited about.
We also bought, in December last year, a 7 1/2 acre site at the corner of Bloor & Dufferin. That's going to be a master plan mixed use community that we're very, very excited about. We just submitted our zoning application a couple of weeks ago. That's going to be the next one after this.
Speaker 3: That's very exciting. We're going to talk about Yonge & Eglinton, of course. Maybe later on I'll as you a little bit more about your, if you can give us a teaser, perhaps, on that incredible site of Bloor & Dufferin.
In terms of Yonge & Eglinton, your three projects there, just to refresh everybody's memory. 150 Redpath, 155 Redpath, and of course Art Shoppe Condos. Maybe give us an update where are those three projects at right now.
Matt Young: 155 Redpath was the first one we launched. That one is at the tail-end of construction. We've started moving people in, so occupancy started a few months ago. We're expecting to close that building and register that building towards the end of this year or early next year. That one's going to be finished and then we're moving on to 150 Redpath and Art Shoppe, which are both around the same point in construction. They're just coming above ground now and those we'll be occupying and registering in a couple years from now. That's where construction is at and now for us it's really just about executing on those projects and making sure that we deliver to the standards and the quality that we expect of ourselves and we want to make sure we've got a lot of really happy customers who move in there.
Speaker 3: Maybe touch on that, if you don't mind, because that's a great point that you bring up a lot, and I really appreciate that. Not all developers ever say things like that and do things like that.
155 Redpath for example; what do you mean exactly when you say "delivering on what you promised" and "making sure your customers are happy?" I know you've taken some extra care in some of the details that went into 155 Redpath, for example. Which, as you mentioned, is coming up for occupancy right now. People are moving in. What do you mean exactly by "taking care of your customers" in that sense?
Matt Young: Well, look, for us, sometimes you can lose sight of this, but at the end of the day our business is manufacturing homes. We're creating a product for people and we want people to move into those homes and be happy and be excited. It's often the most expensive purchase, or investment, of their lives and we want to make sure that they feel happy they invested, or they purchased, with us and they're going to move into one of our homes.
We really try to focus on a lot of the details in the buildings that I think sometimes get overlooked. Just one example, all the columns, and I think I mentioned this to you before, but all the columns at 155 Redpath are architectural columns that are smooth. When people move into them they're going to look like they were actually designed, not just to hold up the building, but to look beautiful in the suite. It's a really small detail, but a lot of people forget about that. There's lots of little details throughout the building that we've tried to focus on.
Our hope is that when people move into that building they're going to speak positively about the experience and about the way their suite was turned over and they're going to be excited to live in the building. That, for us, is the ultimate tip of the hat because they're hopefully going to speak positively about their experience there and hopefully maybe they'll buy in the next project we do.
Speaker 3: Absolutely. It goes to resale values as well. Those are the little details that make a building sell and trade at higher prices in the resale market, which in turn makes your original buyers and investors happy, which in turn makes them tell their friends and they keep coming and keep buying back. You build your reputation as a developer over many years of doing that over and over again. Definitely commend you for that and look forward to more of the same with future projects.
Matt Young: We, as a company, always talk about relationships matter and that's really kind of a key philosophy in our business. This is one of the most important relationships is the relationships you have with your customers. We want to always cultivate those relationships and make sure they're strong and hopefully it lasts a very long time.
Speaker 3: Let's talk about E2. E2 Condos, which is coming very soon. Also, Yonge and Eglinton, obviously.
Let's start, maybe, with the site itself. I know it was a very unique site that you purchased. Something that, perhaps, hasn't been done before in Toronto. I know at the time when it happened and you closed on the site I gave you a call and I said I really want to get this story out and talk to people about this. It's really interesting.
Why don't you tell us about the site and what makes it unique, exactly.
Matt Young: The site is an assembly of three different parcels. One of the parcels is quite unique in that it was already an existing registered condo. To purchase that condo, we had to effectively negotiate with 80% of the residents in the building. They all had to sign off on selling their units. By doing that you'd be able to dissolve the condo corporation and redevelop the site. It was a very old building. It was kind of a low-rise condo building, I'd say. I think, if I'm correct, it was the first one ever done in Canada. It was actually spearheaded by our partners, Metropia. We've got a 50/50 partner on this project in Metropia, who is fantastic. They really led the acquisition of that and I believe it was the first time in Canada that's been done. It's pretty exciting.
Next to that there's a small commercial building that's currently housing a small school. There's also a piece of land we purchased from Bell Canada, which is a parking lot. We've purchased about 25 feet of that parking lot that will fill in the rest of the assembly on that collective piece of three parcels we'll be able to build this tower.
Speaker 3: Just to recap, you purchased an entire condo building, not just one condo. You purchased the entire condo building with all the units in it. You're basically dissolving the condo corporation. All those people who live there, their units have been purchased and they're gone. The building will be taken down and your much bigger building will be built, obviously on top of that.
Like you said, new thing for Toronto, for Canada, but other cities like, maybe, New York City, it's more of a common thing. Do you think that this is a new trend? Are you going to see more of this happening in Toronto? Is this part of the evolution of the development industry, especially in central Toronto?
Matt Young: I think it's very possible it could continue. The reality with development is as a city matures the sites tend to get more difficult and as values go up you start looking at bigger and bigger sites. If you look at what the highest and best use would be you can kind of justify a purchase. You're now starting to see things like ten story office buildings being torn down for 50 or 60 story residential or mixed use towers going up. I think smaller, older [inaudible 00:09:43] buildings that have higher maintenance fees and aren't as efficient to manage and run are potential prospects for buildings that might want to dissolve their corporation, and they might have more value in selling to a developer to build something new. It can totally happen. It's not the easiest way to structure a deal, but it's certainly possible, and I think more of them will happen for sure.
Speaker 3: Just a speculative question, I want to hear your opinion, but do you think condo investors, is it a realistic or good strategy to think about actually finding these smaller, older condo buildings that exist in very expensive real estate pockets close to the subway and so on, in the core of the city and actually try to buy units in these older buildings with the notion that eventually some time over the years a developer will want to come along and buy them out and redevelop that site? Do you think that is something that condo investors might think about doing? What are your thoughts on that?
Matt Young: It's totally possible. I think at the end of the day most people in real estate make an investment because they feel that it's relatively low risk and that they're going to make a good return on their investment from day one. That's how they make their investment decisions. I think, especially when it comes to condos, there's probably lower risk investments because you don't want to bank on something that is not going to pan out for 10 or 20 years or maybe ever. But, for the people who are really in the know and who are well connected with what's going on, you might be able to find those opportunities to buy into a building that may, over the next five years, get dissolved and turned into a larger project. It's very possible, but I think it's a little trickier. You have to have a better understanding of the development process and what developers are looking for when they're buying land to be able to do that properly.
Speaker 3: Talk about your partnership with Metropia. You mentioned them earlier. You're partners on this project E2 with Metropia. How did that partnership come about? We're familiar with Capital Development but maybe some of our listeners are not as familiar with Metropia. Tell us a little bit about how that relationship came about and what do we need to know about Metropia.
Matt Young: The relationship really came about through one of our partners, Jordan Dermer, who had a relationship with Howard Sokolowski who is the owner of Metropia. Howard's been around the real estate business forever. He was one of the founders of Tribute Homes, one of the largest home builders ever. I think he's built over 30,000 homes in his career. I think Jordan and Howard had a relationship and the thing about real estate is there's a lot of camaraderie in the industry. A lot of developers don't necessarily see each other as competition but maybe as peers. I think they had a mutual respect and always talked about trying to do a deal together and when this opportunity came up I think it was a good fit.
We had a lot of experience in the Yonge and Eglinton area. They had a lot of experience in the Yonge and Eglinton area. We really look at this as a marriage of the two most successful and prominent developers in this area coming together. We've all had great successes with our respective projects. They were heavily involved in the E condos project, the original E condos project and obviously we had Art Shoppe and 150 and 155 Redpath. I think marrying those experiences and talents and skills is really coming together well on this project. It made a lot of sense for us. That's how it started and we've now gone on to work on some new partnerships that Bloor & Dufferin were partnered on that one as well. It's very exciting times for us.
Speaker 3: That's great. I didn't realize you guys were also partner on Bloor & Dufferin, that's exciting. I really look at you guys as the Yonge and Eglinton dream team. You've put your two developers together, and the projects that you've worked on, as you mentioned, E Condos for Metropia, which, is and was a major landmark project in the area and really set the tone for the current wave of development in the area a few years back when it launched. And, of course, you guys with Art Shoppe and 150, 155, all major smash successes. Very excited to see what you guys have come up with putting your heads together on this one.
Talk to us about the building itself, E2. What do we need to know in terms of the building, what makes it unique, what are the features that are most important to you, and what are you most excited to reveal as you're about to reveal this project very soon?
Matt Young: I think the biggest thing that I think is interesting and different about this project from other projects is the fact that it's connected directly to both the subway and the new crosstown LRT as well as the Yonge Eglinton centers. We really looked at this as the most convenient, the most connected building in the city.
If you were to look at other hubs in the city, you've really got Yonge and Bloor and Yonge and Eglinton as the two most connected hubs in the city. We really think that any project directly connected to that is going to benefit from it. It's going to offer a lot of conveniences. You'll be able to go directly from this building into the subway, go down to your job in the financial district and come right back without ever going outside. In the wintertime there's going to be a lot of convenience associated with that. That, for us, is really the big thing that we're talking about on this project and I think it's going to make a lot of sense for the types of buyers we see who are going to live here.
One of the things when we look at these projects, we always try and understand who the end user is going to be. Who is the person who is actually going to live here; whether they're a renter or an owner? We have, thankfully, a lot of hindsight to look at. We've got projects at 155 and 150 Redpath and Art Shoppe and we've got to talk to over seventeen hundred buyers there and learn about why they wanted to live in Yonge and Eglinton.
One of the things we've found is that there's a lot of younger couples who are making the next step in their lives or young families who are making the next step in their lives and moving away from downtown. They want to be a little closer to some really good schools. They still want to be connected to the city but they want to have more of that family and that's something we've crafted this building around. For example, in this building, when it comes to amenities we've got a kids zone, which will have a rock climbing wall and crafts areas and slides and other things like that because there's a lot of people who are now going to be raising families in condos and they need places to take their kids and to entertain their kids and do things like that. We're doing that. In some of the suites we've designed stroller storage so if you have a stroller you've got a place to put it and it's not taking up your front hallway. We've really thought about that quite a bit when we thought about who the buyers would be and what they would be looking for when they live in a building.
Speaker 3: I know your floor plans you're very proud of. I've got a sneak peek of them but what can you tell us about the floor plans themselves and the layout of the building. It's so important, especially when you're buying for investment.
Matt Young: We always design our buildings from the inside out so we focus on floor plans first. In this building we have a lot of wide, shallow floor plans. We've got a lot of window space. Every floor plan has bedrooms and windows. Every floor plan has balconies. We really try to make the floor plans as efficient as possible too. At 155, 150, and Art Shoppe we had a 615 square foot one plus flex unit, which had two bathrooms. We've replicated that unit in this building. We've got two full stacks of that unit because it was such a popular unit. People loved it. It was great for investment.
If you were a young couple and you have a new baby you've got a perfect place for that baby or you could put a murphy bed in the den area and it could almost sleep two people even though it's still just a one bedroom. We've designed that. We've designed a lot of really great two bedrooms anywhere from about 620 square feet up to about 800 square feet. They're all very, very efficient. They're all split bedroom designs.
We're very excited about the floor plans and that's usually a key focus whenever we come out with a project is to make sure we get those right first because that's where people are going to live and then build the rest of the project around that.
Speaker 3: Speaking to the condo investor who is out there right how who's listening to this and they're looking at different projects that are launching right now; what would you say to them? Why should they invest in E2?
Matt Young: I think the reality is, it's all about location. If you look at locations there's sometimes levels to locations. Yonge and Eglinton has been a super popular area. We've had great success there and we found that it's only gotten more popular with time. But then, when you actually go into the sub-market of Yonge and Eglinton, what's the best possible location you can be. The reality is, the best possible location you can be is directly connected to the subway. We are the only project that's directly connected to the subway. For that reason alone, there's really no better location in this area than this site.
And, if you look at projects over time, the best locations, with the best builders always do better from an investment standpoint. They always appreciate more, they always retain their value better. That's really why I think this project makes lot of sense. And again, we've programmed it around real buyers and real people who are going to live here so I think whether you're an investor or not, when you try and rent this out there's going to be a lot of demand for rentals in this building because of that. That's ultimately what's going to get a return on somebody's investment.
Speaker 3: Matt, it's been great chatting with you today.
Before we go, can you give us sort of a teaser, what can you tell us about Bloor & Dufferin, that site. I know you're very excited about that one as well. It's a massive site. What can you tell us so far about Bloor & Dufferin and what people can expect there?
Matt Young: It's a really, really exciting site for us because it's really a chance to do some proper city building. It's not just an infield site. This is really building an entire, more than a city block. It's 7 1/2 acres. This site is going to have a park on site, and we've really focused the entire plan on this one around making sure we have the best pedestrian realm possible. This is really going to, hopefully, add a new destination to the city of Toronto. We just submitted our zoning application a couple of weeks ago, so we're going to start the process of working more with the community and working more with the city to make sure we get it right. This, for us, is really going to be a legacy project. We want to make sure it's done properly. I know there's going to be a lot of retail here. We're really trying to make it a live, work, play neighborhood. More information is going to come out. We're still in the early days of it but we're very, very excited and as more information comes out we're happy to chat with you and share more with your listeners.
Speaker 3: I'm very excited to see that one. I know some of the renderings and stuff are out there. Some of the conceptual renderings and things that you're going for your zoning on are out there and it looks really amazing. Really something special, unique, and what a great location. Right on the subway, once again, in the heart of the city so looking forward to that.
Matt, thanks so much for your time again and looking forward to working with you on E2. Hopefully, we'll have you on the show again soon.
Matt Young: Thank again. Really appreciate it.
Speaker 3: Thanks for listening to the True Condos podcast. Remember, your positive reviews make a big difference to the show. To learn more about condo investing, become a True Condo subscriber by visiting truecondos.com.