East Junction Condos
East Junction Condos is a new pre-construction condo project by Limen coming to 394 Symington Avenue in the East Junction neighbourhood of Toronto, ON.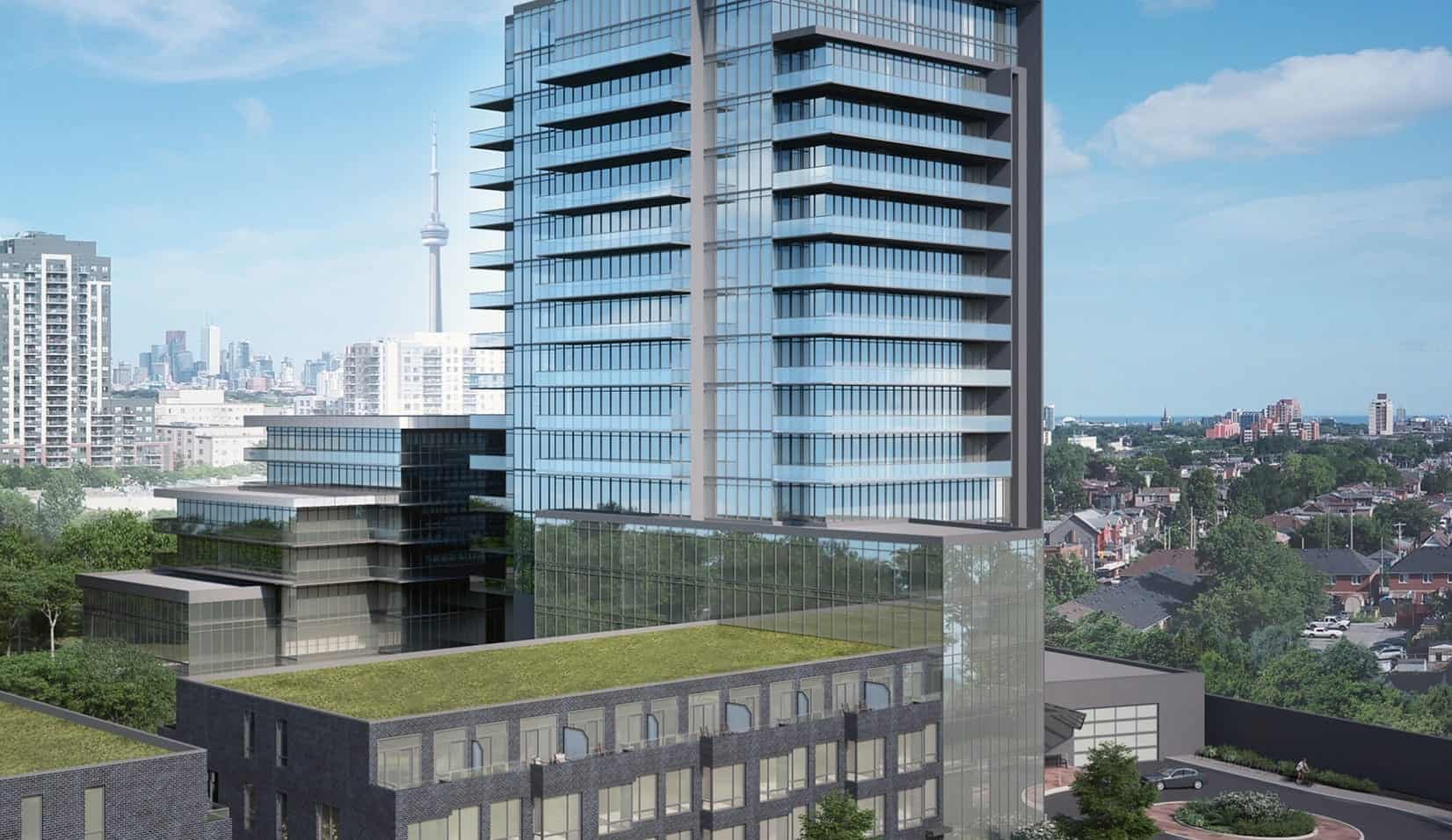 What's great about East Junction Condos?
Come Together' is the perfect way to describe this East Junction Condos. It represents the nature of the area, where modern design meets a beautiful familiarity. It speaks to a community that embraces its rich and culturally diverse origins.
Feels like home. Just a cooler version.
But most importantly, we hope 'Come Together' reflects the life you'll live here at East Junction Condos when you meet friends for eats, have a family celebration, share an Uber or kick back on your balcony and just be. That's the 'Come Together' we designed this place for.
At 16 storeys, East Junction Condos was designed to be a lot more connected to the neighbourhood than a typical high rise.
East Junction Condos Details
[su_table]
| | |
| --- | --- |
| Developer | Limen |
| Address | 394 Symington Avenue, Toronto, ON |
| Neighbourhood | East Junction |
| Number of Storeys | 16 |
| Number of Units | 339 |
| Occupancy Date | TBA |
| Maintenance Fees | TBA |
| Priced From | TBA |
[/su_table]
Where is East Junction Condos located? 
East Junction Condos is located at 394 Symington Avenue In Toronto. The major intersection is Davenport Rd and Symington Avenue.
Like Roncesvalles & Queen West before it, East Junction is the place to be.
WALKABLE. BIKEABLE. SHAREABLE.
It all comes down to how you roll and where you roll to. Foodies, socialites, artists, sommeliers. Whatever you like or love, it's in the neighbourhood.
WHAT TO DO. WHAT TO DO.
Stretch. Yoga. Smoothie. Pick up shirt from Gotstyle. Quick bite at home. Walk Roxy. Write. Portuguese custard tart at Caldense (cheat). New playlist. Work out. Groceries? Nah, lunch at Mattachioni. Swipe left, left, left, right. Friends > High Park. Skip work, Jays matinee. Balcony, book, work on tan. Indian for dinner. Walk Roxy. Binge Stranger Things, again. Unwind. Recharge.
What amenities will East Junction condos have? 
For the social butterfly.
Take it up another level to your rooftop terrace and set a new benchmark for a night in. Mix, mingle, BBQ or kick back fireside and watch the skyline light up at twilight. Yes, you've got it good.
Make an entrance and a statement.
With a beautifully appointed lobby and 24-hour concierge, every arrival will be elevated.
1st FLOOR AMENITY SPACE.
Welcome to a better you. Time to put in some work. With everything from free weights to squat, bench and pull up racks to space for core and Yoga, this Fitness Centre poses the ultimate motivation 'Earn it.'
MORE ON THE 2nd FLOOR.
Birthday party? Girls night in? Colleagues coming over to celebrate a new client? With EJ's ultimate entertainment space, highlighted by a fully equipped chef's kitchen, lounge, games room, outdoor terrace and more, you've got the space and style for every occasion.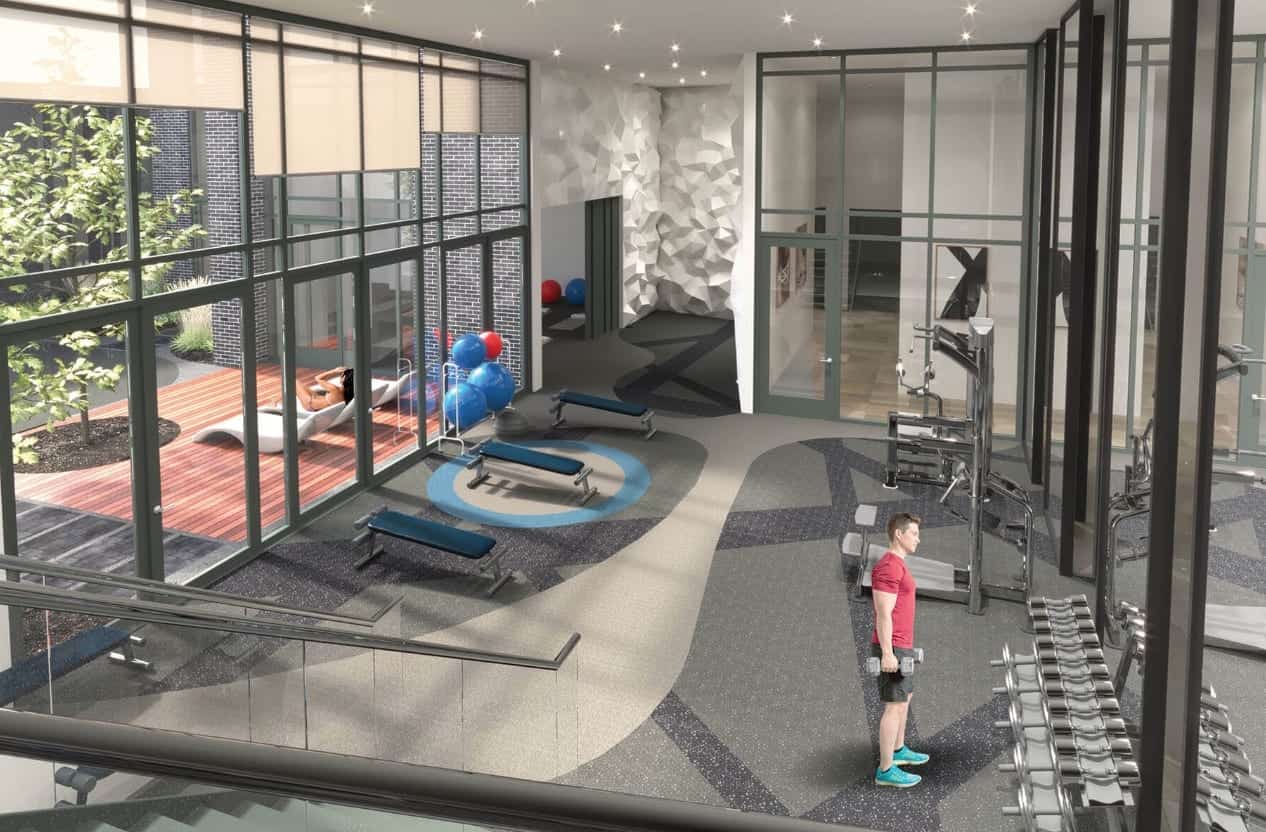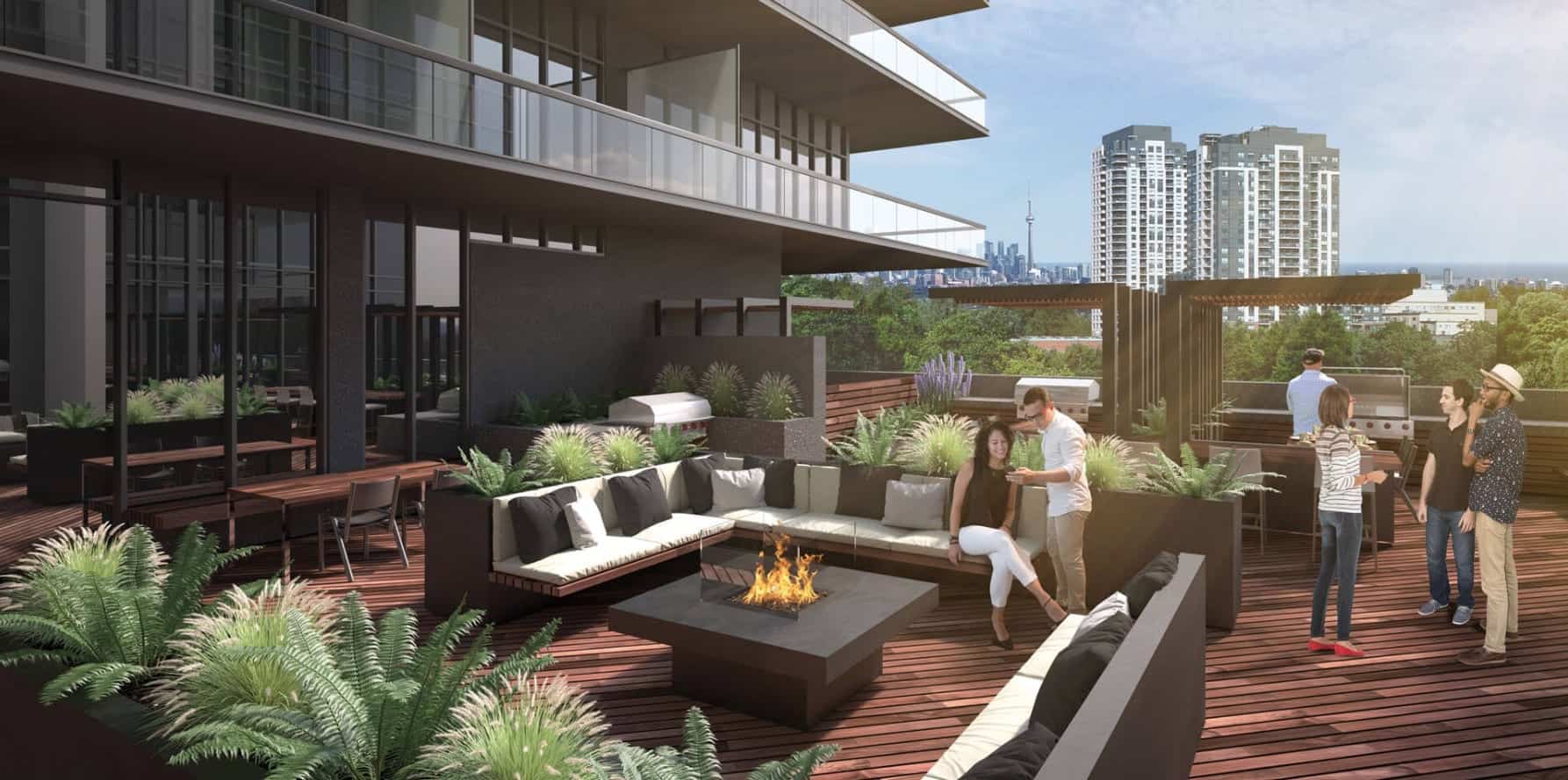 What will the finishes and featured for East Junction Condos be like?
ELEVATE YOUR STANDARDS
Taller 9' ceiling heights
Individual suite climate control
Durable laminate flooring throughout
Contemporary baseboards and door trim
Modern style handles and hardware
Ready-to-go shelving for closets
Energy Star washer and dryer
Balconies or Juliette Balconies for every suite
DESIGNER KITCHENS & BATHS
Clean-lined cabinets w/ soft close hardware
Premium quartz countertops
Single-lever pull out faucets
Stainless steel appliances, including dishwasher
Imported ceramic flooring in bathrooms
Modern chrome faucets
SUSTAINABLE FEATURES
Sustainable green roof
Water saving low-flow faucets
Enhanced air quality w/ ERVs in every suite
Energy efficient appliances
Water efficient community landscaping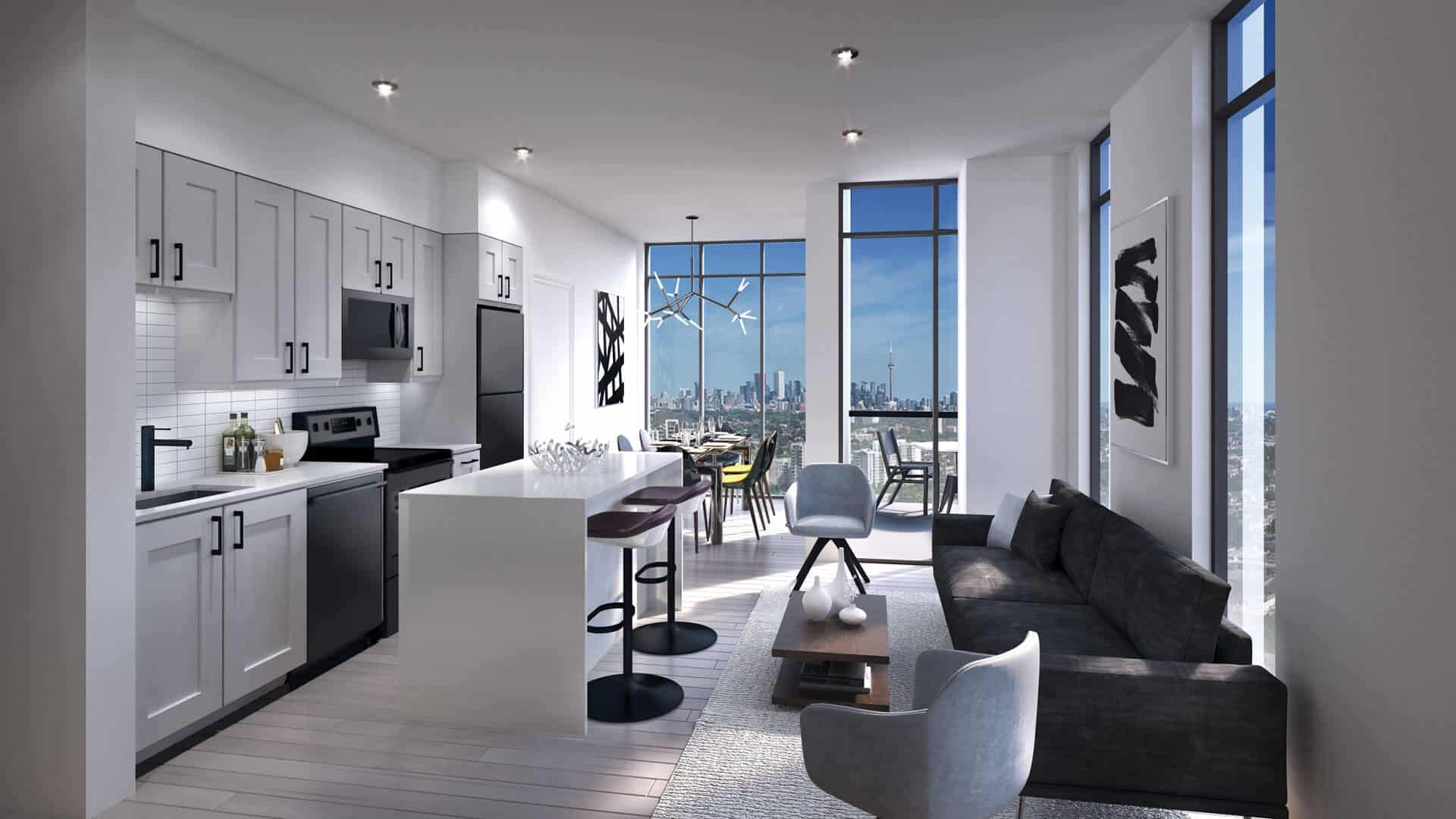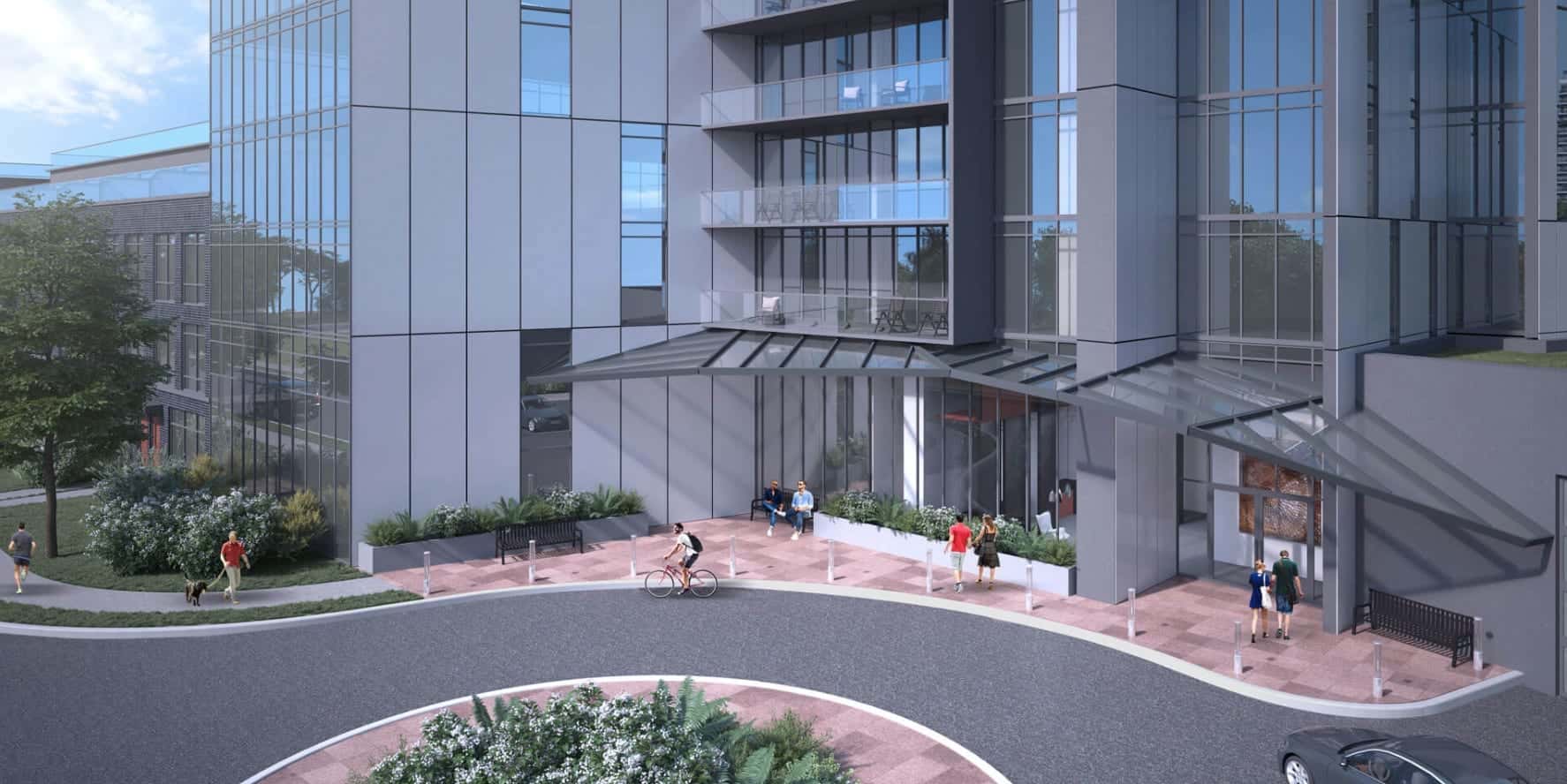 Watch this video on East Junction Condos
Who is the developer?
Limen – The Benchmark in Canadian Construction Since 1983.
Family owned and operated, full-service construction firm.
Over 30 years of design, building and customer care.
Serving residential, commercial, industrial and institutional sectors.
Partnering with public and private clients.
TRUSTED. RESPECTED.
Residential clients include Tridel, Mattamy, Brookfield.
Notable clients include Bank of Montreal, Cadillac Fairview, City of Toronto.
Institutional clients include University of Toronto, Seneca College.
Public clients include Federal, Provincial and Municipal governments.

East Junction Condos Frequently Asked Questions
How do I reserve a unit in this project?
After you review the floor plans and prices, if you know what suites you are interested in, you may reserve a suite online using our online reservation worksheet form at https://truecondos.com/worksheet.
Last Updated on
Does filling out the worksheet form mean I'm committing to buy a suite?
No it is not a formal commitment, it is an expression of interest and the first step you must take if you are thinking about getting a unit in this project.
Last Updated on
What does it mean that Andrew la Fleur is a "Platinum Agent"?
Platinum agents are the top selling agents who get preferred status with developers and first access to new projects before regular agents and the public.
Andrew la Fleur has been a top-selling pre-construction agent since 2007, and during this time he has achieved platinum status with many of the top builders and sales companies in the Greater Toronto Area.
For more information on about Platinum agents see this article: https://truecondos.com/5-things-to-know-about-buying-a-condo-with-a-platinum-vip-realtor-real-estate-agent/
Last Updated on
How does it benefit me as a buyer to work with Andrew la Fleur as my Platinum Agent?
Working with me as your Platinum agent gives you several benefits
You get the

highest level of access

in the building

You pay the

lowest possible price

for the unit (prices are typically increased significantly after the Platinum sales event)

The best possible

incentives

I do not represent the builder. I represent you. You benefit from my expertise of being a top selling pre-construction agent and investor myself since 2007.

Access to my personal network of mortgage brokers, lawyers, property management, HST rebate services, handymen and much more.

My services to you as a buyer are

free
Last Updated on
Do I get a cooling off period? What is it for?
Yes, after you sign the contract to purchase a suite you will have a standard 10-day cooling off period. It's 10 calendar days, not business days from the time you sign.
The 10 days are primarily for 2 things: 1) to have a lawyer review your contract with you if you wish and 2) to get a mortgage pre-approval letter
Last Updated on
Do I need to have a lawyer?
You don't need to have a lawyer at the moment that you sign the agreement, however I always recommend that you have a qualified lawyer review your agreement of purchase and sale after you sign and during your 10-day cooling off period.
Not sure who to talk to? Don't worry – getting a lawyer is something I can help you with. Contact me for more details.
Last Updated on
Do I need to have a mortgage pre-approval to buy?
95% of all builders will require you to provide them with proof of financing capability in order to purchase. This is not required before you sign a contract, but it is usually required within 60 days of signing.
Not sure where to begin? Don't worry – getting a mortgage pre-approval is something that I can help you with. Contact me for more details.
Last Updated on
Do the prices include HST?
If you are purchasing for yourself and plan to move in, then yes, prices include the HST and there is nothing you will have to pay at final closing.
If you are purchasing as an investment rental property, then you will have to pay approximately 7.8% of the purchase price as HST on final closing.
This money is remitted to the CRA and as an investor renting out your property you can apply to the CRA immediately to get this money back. It usually takes about 1 month to get your rebate back.
For more information on the HST, see here:
https://truecondos.com/tag/hst-rebates/
Contact me for more details.
Last Updated on
What are my closing costs on a pre-construction condo?
Closing costs on a pre-construction condo will vary greatly depending on the actual purchase price of the unit you are buying, but it also depends on the builder, the city that you are buying in, and the type of unit that you are buying.
Roughly speaking in Toronto you can expect to pay approximately 3-5% of the purchase price in closing costs when purchasing a brand new condo.
Check out this article for more info on closing costs:
https://truecondos.com/5-things-to-know-about-closing-costs-when-investing-in-a-pre-construction-condo/
Contact me for more details
Last Updated on
Are there any 'hidden' costs when buying a pre-construction condo?
No, there are no hidden fees when buying pre-construction condos because all fees must be disclosed in the agreement of purchase and sale. All purchasers have 10 days to review the agreement and have a lawyer advise them on the exact closing cost amounts. If you need a lawyer to help you we can suggest to you to several expert law firms that will review your agreement in detail.
Last Updated on
Is it possible to assign my condo? How much is the assignment fee?
Most condo builders do allow you to sell your unit before the building is complete. This projcess is called selling by "assignment".
There is usually an assignment fee and a legal fee associated with selling. Costs can range from $1000-7000. Contact me for more details.
Last Updated on
Last Updated on