Empire Maven Condos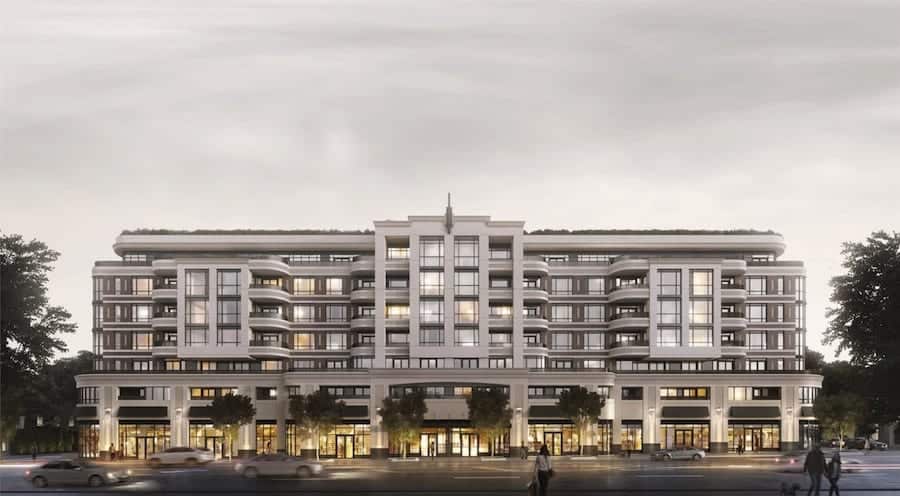 About Empire Maven Condos
EMPIRE MAVEN CONDOS – NOW OPEN AT AVENUE ROAD & LAWRENCE
An exceptional urban sanctuary featuring striking design thoughtfully curated finishes and an uncompromising vision. Not many new condos in Toronto have the luxury of Empire Maven Condos to be located at an address as exclusive as Avenue Road.
Empire Maven Condos Details
| | |
| --- | --- |
| Developer | Empire Communities |
| Address | 1700 Avenue Road |
| Neighbourhood | Bedford Park-Nortown |
| Number of Storeys | 7 |
| Number of Units | 58 |
| Occupancy Date | Feb 2021 |
| Maintenance Fees | $0.70/Sq.ft per Month |
| Priced From | $895,000 to over $3,975,000 |
Empire Maven Condos Location
Residents of Empire Maven Condos will find the tree-lined streets and warm neighbourhood feel Avenue Road & Lawrence has to offer is intimate, welcoming, and what makes the coveted neighbourhood so popular. Empire Maven Condos balances the needs and demands of urban dwellers with those looking for sophistication and comfortability. It is unsurpassed in character and convenience, with so many options for shopping, dining and services.
Empire Maven Condos is in a very walkable location where most errands can be accomplished on foot. For any sort of activities or shopping, residents can embark on a 21-minute walk to line 1 (Yonge-University) at the Lawerence Station, which travels north and south frequently throughout the day.
Nearby parks include Brookdale Park, Old Orchard Park and Woburn Avenue Playground where residents can enjoy the natural surroundings of their luxurious home.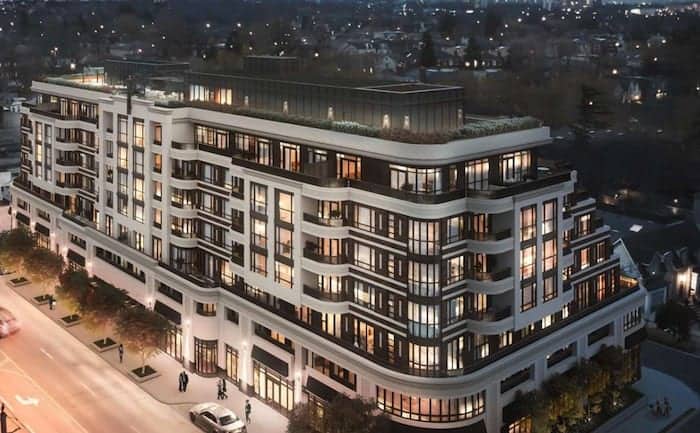 Empire Maven Condos Amenities
At Empire Maven Condos, residents have the space to indulge. Whether you're entertaining family and friends around the party room's kitchen island, hosting parties under the stars upon the rooftop lounge, providing your guests with luxurious suites for overnight stays, or staying in peak physical performance in the fully-equipped fitness centre, Empire Maven residents have a lifestyle of luxury in the palm of their hands.
Rooftop Terrace
Lush landscaping, intimate seating arrangements and impressive panoramic views set the scene for any occasion on the Empire Maven Condos rooftop patio.
Social/Party Room
Entertaining friends and family in the contemporary social room will always be a memorable experience, thanks to a fully-equipped kitchen complete with a generous island, spacious dining area and cosy lounge area.
Fitness Facilities
Cutting-edge fitness equipment, all within the comfort and convenience of your own building.
Guest Suites
Overnight guests will be spoiled for comfort with luxurious, hotel-like visitor suites.
Lobby
Empire Maven Condos comes with a ground floor lobby featuring 24-hour concierge and parcel storage room.
Lounge
Meet new friends or entertain old ones at the exclusive lounge with group seating, a wet bar, and direct access to the 8th-floor outdoor terrace.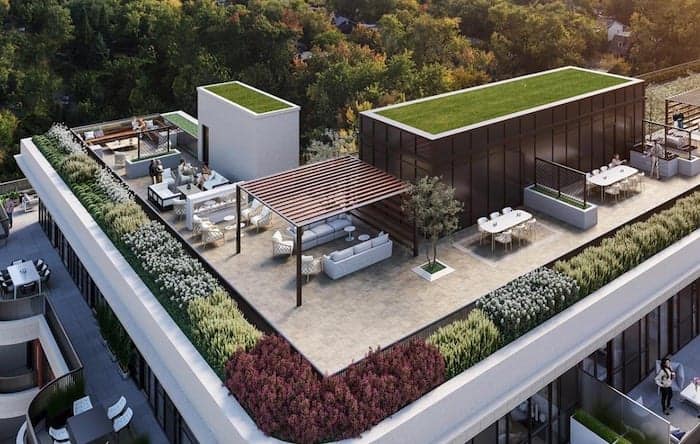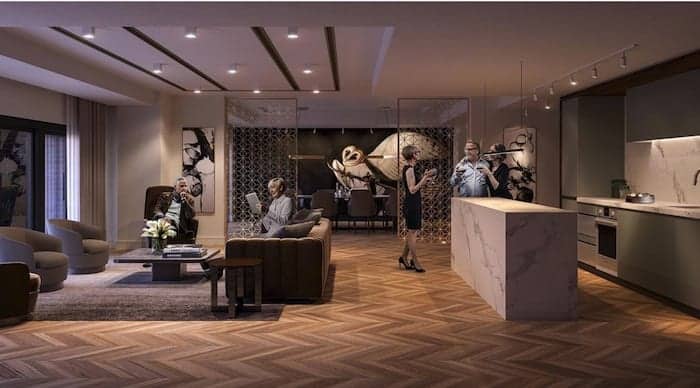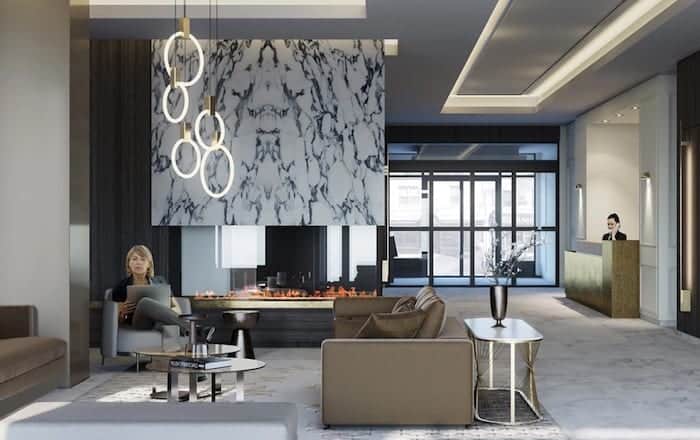 Empire Maven Condos Features and Finishes
Designed to meet vibrant and diverse lifestyles, Empire Maven Condos' residences are crafted in an unmistakable style, offering owners the ultimate in city luxury: large, uninterrupted interior spaces with generous open plans, and unprecedented indoor and outdoor square footage. Empire Maven Condos will redefine urban luxury, with more space and more potential.
Suite Finishes
• Choose from three designer-selected colour schemes to personalize your home.
• EverWood flooring throughout. Excludes bathroom(s) and laundry, as per plan.
• Ceiling heights are approximately 9'. Excludes areas with drop ceilings and/or bulkheads.
• Designer-selected ceiling light fixtures, as per plan.
• All closets to include wood shelving with closet rod.
• All suites with balconies to receive one (1) natural gas barbecue connection and one (1) exterior electrical receptacle.
• All suites with terraces to receive paving stones, one (1) natural gas barbecue connection, one (1) water hose bib, one (1) exterior electrical receptacle and designer selected outdoor light fixtures, as per plan.
Bathroom
• Designer selected 12″ x 24″ porcelain tile flooring in all bathroom and wall tile for shower/tubs.
• Designer selected cabinets with vanity mirror and wall mounted light fixtures.
• Composite stone countertops with under-mount sink.
• White soaker tub with wall-mounted showerhead and controls.
• Enclosed, frameless glass shower with a mosaic floor and wall mounted shower head and controls.
• Low flush, one-piece toilets.
Kitchen
• Irpinia Kitchens custom-designed cabinets with soft-close mechanisms.
• 36" Sub-Zero refrigerator with bottom-mount freezer and panelled doors to match cabinets.
• 36" Wolf gas range.
• 33" built-in hood fan.
• 24" built-in Wolf microwave oven.
• 24" Asko dishwasher with panelled door to match kitchen cabinets.
• Composite stone countertops and backsplash complemented with an under-mount stainless steel sink and faucets.
• Kitchen island will feature a cantilevered top for additional seating, as per plan.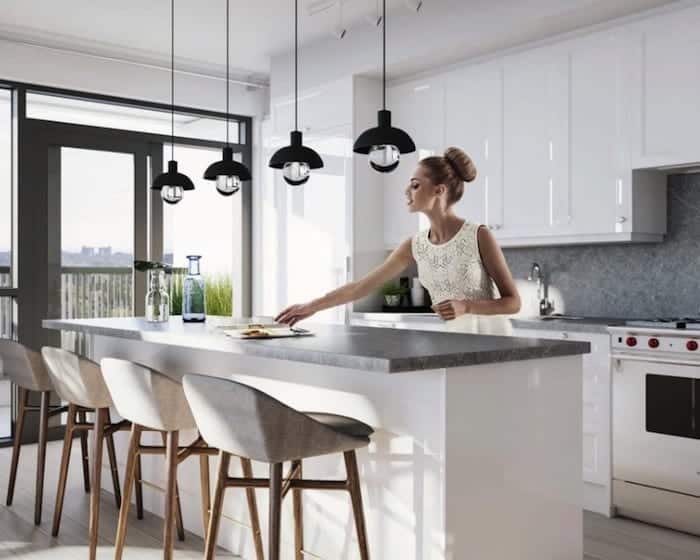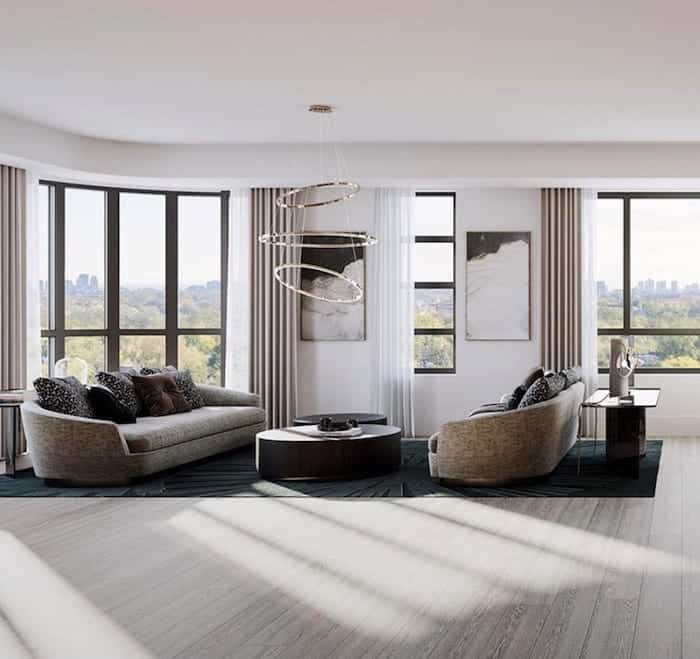 About the Developer
Empire Communities is a residential builder/developer involved in all sectors of the new home building industry, including both low-rise and high-rise built forms. Empire has an established tradition of creating prestigious award-winning new homes, communities and amenities, and has earned a reputation for outstanding attention to detail and customer service. Since its inception in 1993, Empire has built over 12,000 new homes and condos. Today, Empire is one of the largest homebuilders in Canada with current communities in Toronto, Southwestern Ontario and the Southern United States.
Empire Maven Condos Frequently Asked Questions
How do I reserve a unit in this project?
After you review the floor plans and prices, if you know what suites you are interested in, you may reserve a suite online using our online reservation worksheet form at https://truecondos.com/worksheet.
Does filling out the worksheet form mean I'm committing to buy a suite?
No it is not a formal commitment, it is an expression of interest and the first step you must take if you are thinking about getting a unit in this project.
What does it mean that Andrew la Fleur is a "Platinum Agent"?
Platinum agents are the top selling agents who get preferred status with developers and first access to new projects before regular agents and the public.
Andrew la Fleur has been a top-selling pre-construction agent since 2007, and during this time he has achieved platinum status with many of the top builders and sales companies in the Greater Toronto Area.
For more information on about Platinum agents see this article: https://truecondos.com/5-things-to-know-about-buying-a-condo-with-a-platinum-vip-realtor-real-estate-agent/
How does it benefit me as a buyer to work with Andrew la Fleur as my Platinum Agent?
Working with me as your Platinum agent gives you several benefits
You get the

highest level of access

in the building

You pay the

lowest possible price

for the unit (prices are typically increased significantly after the Platinum sales event)

The best possible

incentives

I do not represent the builder. I represent you. You benefit from my expertise of being a top selling pre-construction agent and investor myself since 2007.

Access to my personal network of mortgage brokers, lawyers, property management, HST rebate services, handymen and much more.

My services to you as a buyer are

free
Do I get a cooling off period? What is it for?
Yes, after you sign the contract to purchase a suite you will have a standard 10-day cooling off period. It's 10 calendar days, not business days from the time you sign.
The 10 days are primarily for 2 things: 1) to have a lawyer review your contract with you if you wish and 2) to get a mortgage pre-approval letter
Do I need to have a lawyer?
You don't need to have a lawyer at the moment that you sign the agreement, however I always recommend that you have a qualified lawyer review your agreement of purchase and sale after you sign and during your 10-day cooling off period.
Not sure who to talk to? Don't worry – getting a lawyer is something I can help you with. Contact me for more details.
Do I need to have a mortgage pre-approval to buy?
95% of all builders will require you to provide them with proof of financing capability in order to purchase. This is not required before you sign a contract, but it is usually required within 60 days of signing.
Not sure where to begin? Don't worry – getting a mortgage pre-approval is something that I can help you with. Contact me for more details.
Do the prices include HST?
If you are purchasing for yourself and plan to move in, then yes, prices include the HST and there is nothing you will have to pay at final closing.
If you are purchasing as an investment rental property, then you will have to pay approximately 7.8% of the purchase price as HST on final closing.
This money is remitted to the CRA and as an investor renting out your property you can apply to the CRA immediately to get this money back. It usually takes about 1 month to get your rebate back.
For more information on the HST, see here:
https://truecondos.com/tag/hst-rebates/
Contact me for more details.
What are my closing costs on a pre-construction condo?
Closing costs on a pre-construction condo will vary greatly depending on the actual purchase price of the unit you are buying, but it also depends on the builder, the city that you are buying in, and the type of unit that you are buying.
Roughly speaking in Toronto you can expect to pay approximately 3-5% of the purchase price in closing costs when purchasing a brand new condo.
Check out this article for more info on closing costs:
https://truecondos.com/5-things-to-know-about-closing-costs-when-investing-in-a-pre-construction-condo/
Contact me for more details
Are there any 'hidden' costs when buying a pre-construction condo?
No, there are no hidden fees when buying pre-construction condos because all fees must be disclosed in the agreement of purchase and sale. All purchasers have 10 days to review the agreement and have a lawyer advise them on the exact closing cost amounts. If you need a lawyer to help you we can suggest to you to several expert law firms that will review your agreement in detail.
Is it possible to assign my condo? How much is the assignment fee?
Most condo builders do allow you to sell your unit before the building is complete. This projcess is called selling by "assignment".
There is usually an assignment fee and a legal fee associated with selling. Costs can range from $1000-7000. Contact me for more details.