Galleria on the Park Condos
TOWER 3 OF GALLERIA ON THE PARK CONDOS IS LAUNCHING!
| | | | |
| --- | --- | --- | --- |
| | Address | 1245 Dupont Street, Toronto | |
| Developer | Elad Canada | Occupancy | December 2025 |
| Area | Wallace Emerson | Deposit | 15% before occupancy |
| Storeys | 31 | Maint. Fees | $0.61 psf / m |
| Units | 371 | Prices | high $400,000s |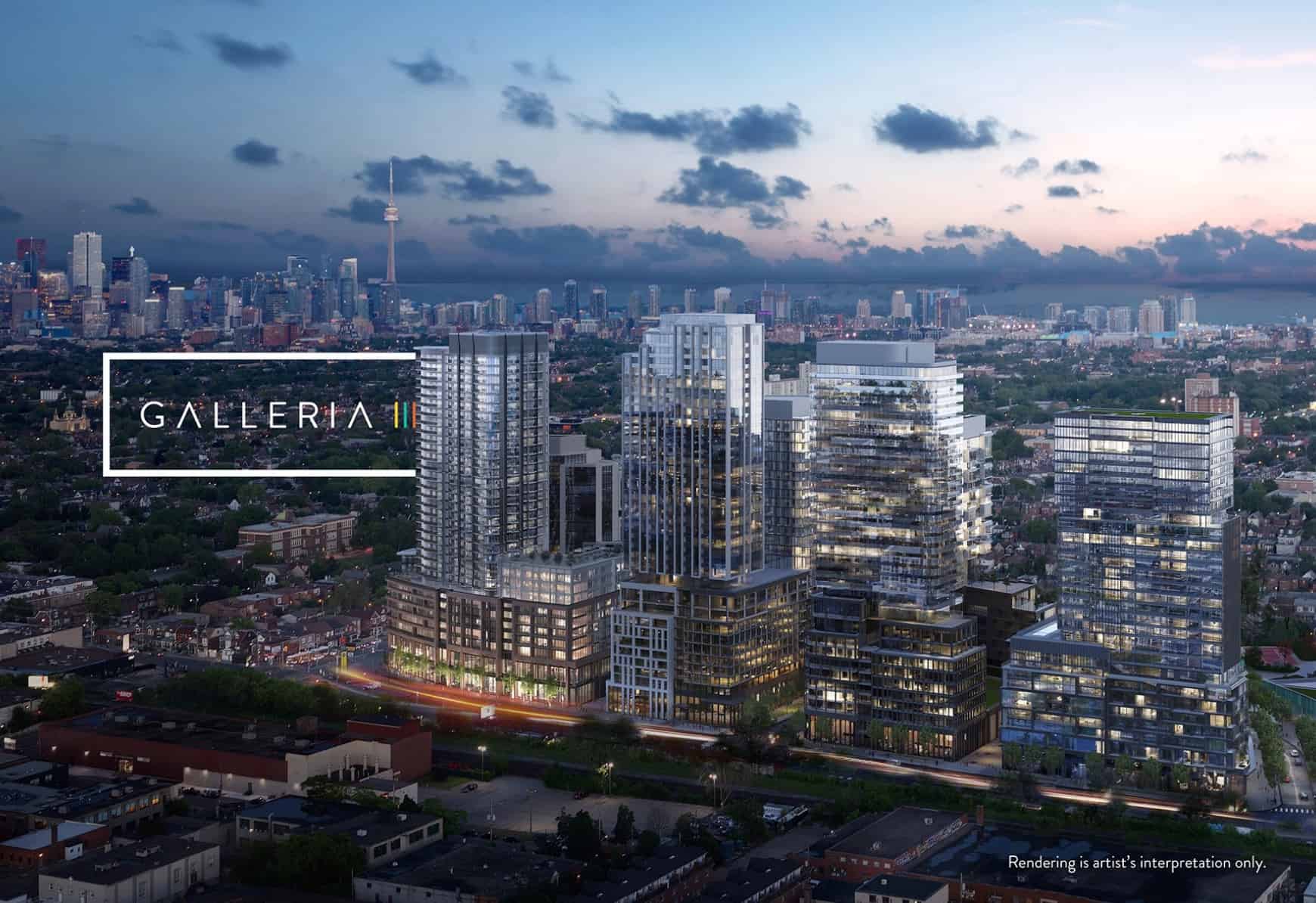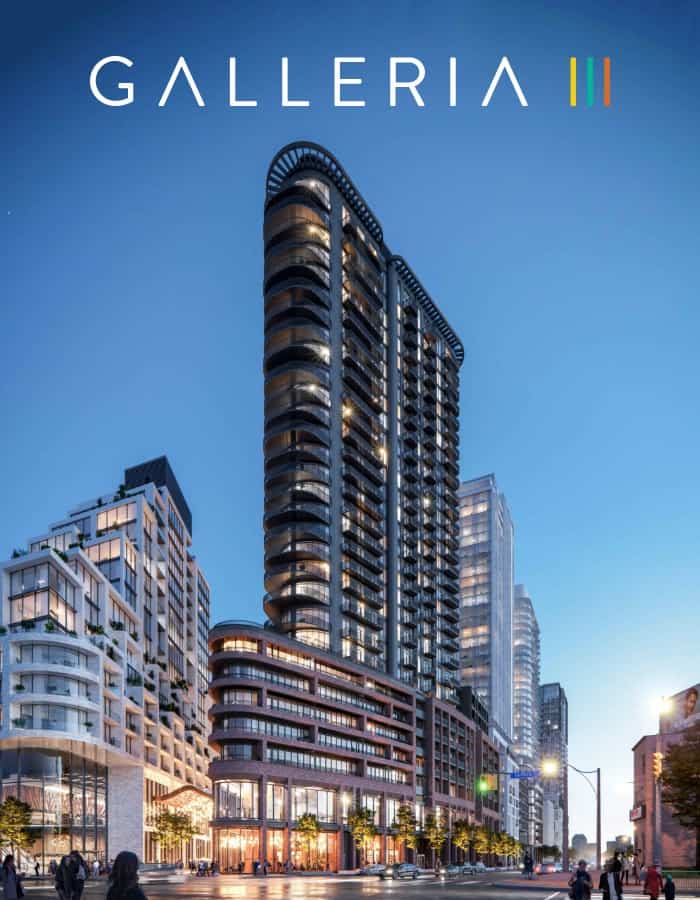 Get the True Condos Insider Market Advantage for FREE!
Along with instant access to this project, after signing up you will receive:
✅ Access to DAY 1 Platinum VIP pricing
✅ Best selection of units
✅ Opportunity to reserve your unit via worksheet before the general public
✅ Work with a condo investing specialist (someone who currently invests in the condo market and has sold hundreds of condos)
✅ Expert analysis on the 5% of condos worth investing in Toronto and the GTA
About Galleria on the Park Condos
Galleria on the Park Condos is a new master-planned, mixed-use community spanning 8 acres. The Galleria District is already an established, family-friendly community, rich with character and brimming with possibilities.
Galleria on the Park Condos fuses urban living with a rarely seen massive dedicated park, public spaces, lifestyle experiences, exceptional retail and innovative office space. Enjoy every new activity and event right here in a community living, working and growing as one.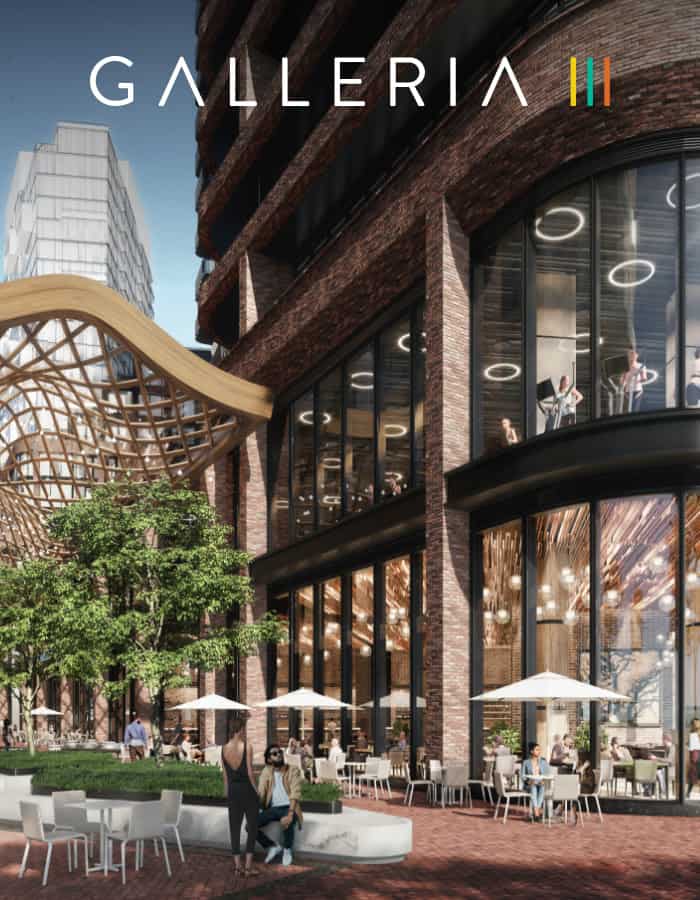 Galleria on the Park Condos Location
Galleria on the Park Condos will be located at 1245 Dupont Street, just west of Dufferin Street in Toronto, ON.
The project will replace and reimagine Galleria Mall and its surrounding area in a new live, work, play community for residents. You will be able to explore the Galleria on the Park Condos neighbourhood by bike while enjoying the endorphin-boosting green space, cafes, bars, and bistros that are only steps away from Galleria on the Park Condos.
The Dupont and Dufferin neighbourhood is well known for its creativity and giving voice to artistic expression. Its many green spaces and revamped brick factories create the ideal mix for one of Toronto's most vibrant communities. It's an open celebration of the convergence of all types of culture. Makers of all kind fill its spaces and add unique flavour with breweries, galleries, studios, fashion, bistros, restaurants and enterprises. With Ubisoft and other high-tech players already here, the next generation of creators joins the artisanal movement in capturing the imagination of the entire city. Discover all this and more in the new Dupont community, the centre of inspiration in Toronto's dynamic West End.
Transportation
Galleria on the Park Condos is minutes away from Lansdowne and Dufferin subway stations, the UP express, and Bloor GO Station so you can quickly access any point you want in Toronto without a vehicle.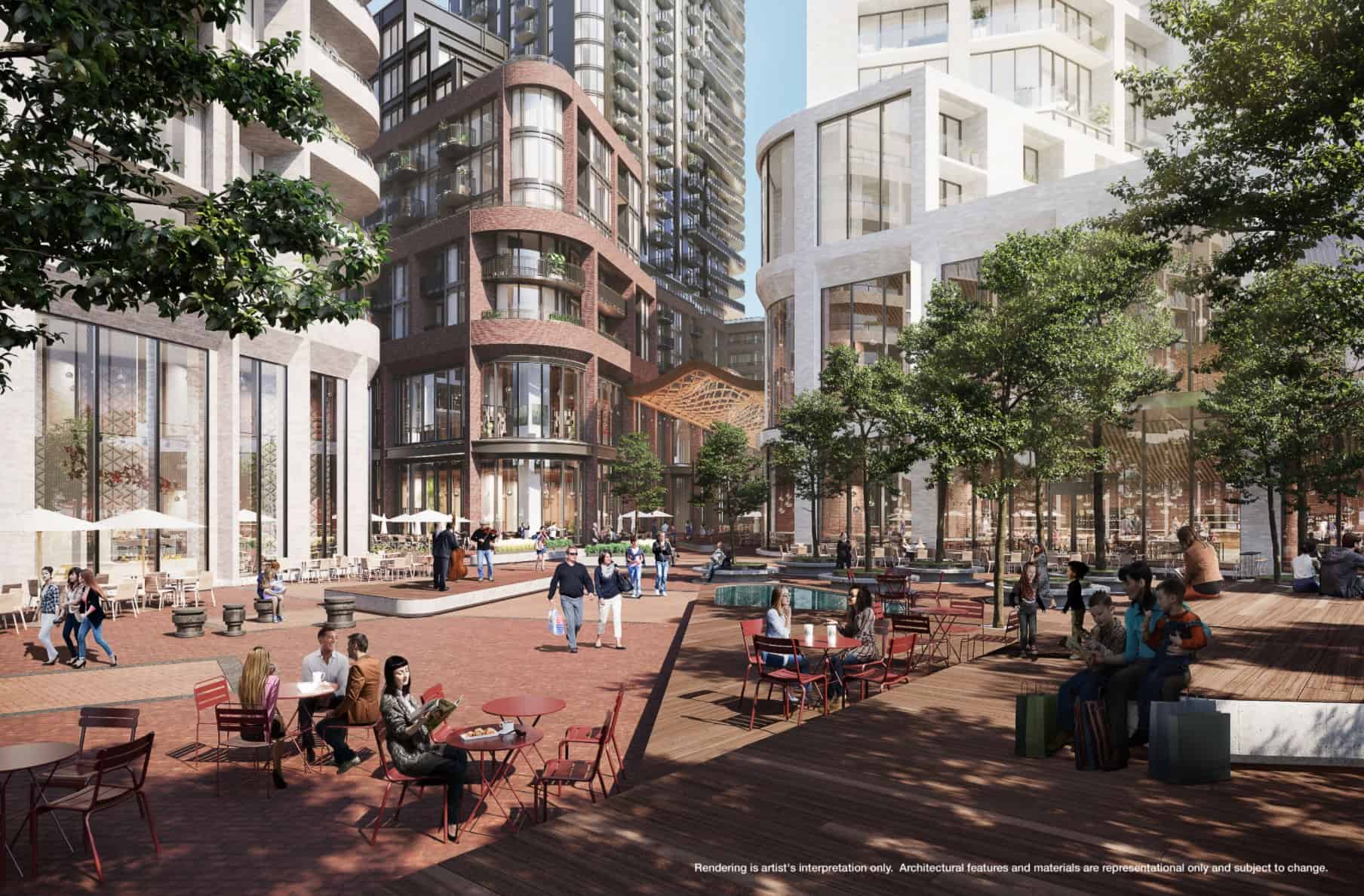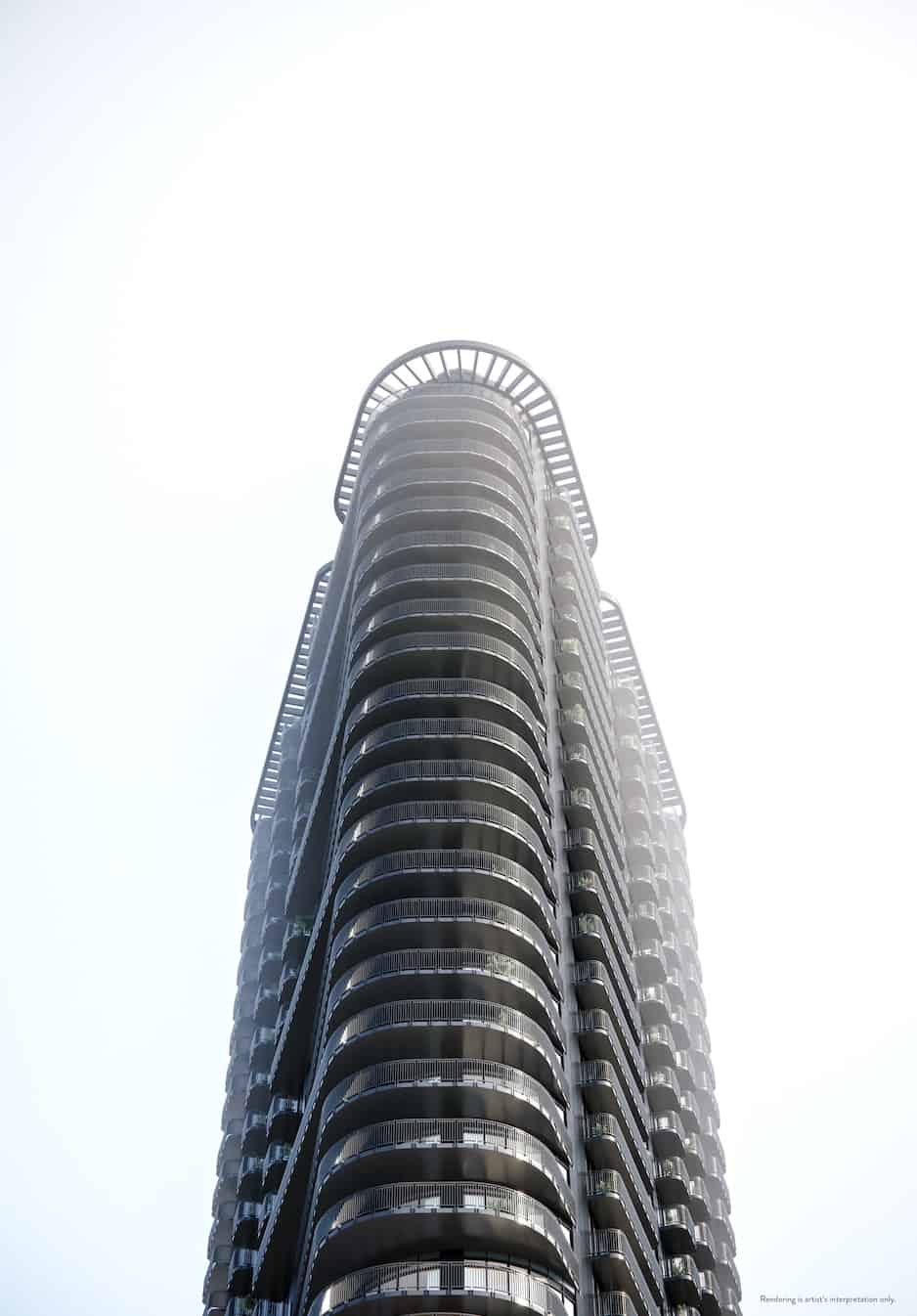 Galleria on the Park Condos Amenities
FLOOR 3 WELLNESS AMENITIES
1. FITNESS ROOM
2. POST WORK!OUT RELAXATION
3. SEPARATE SPINNING ROOM
4. MEDITATION ROOM
5. SEPARATE YOGA ROOM
6. OUTDOOR YOGA
7. LOUNGE SEATING
8. PET'S PLACE
9. SPA CIRCUIT
10. THE WORKSHOP
11. CO!WORKING LOUNGE
12. KIDS' PLAY ZONE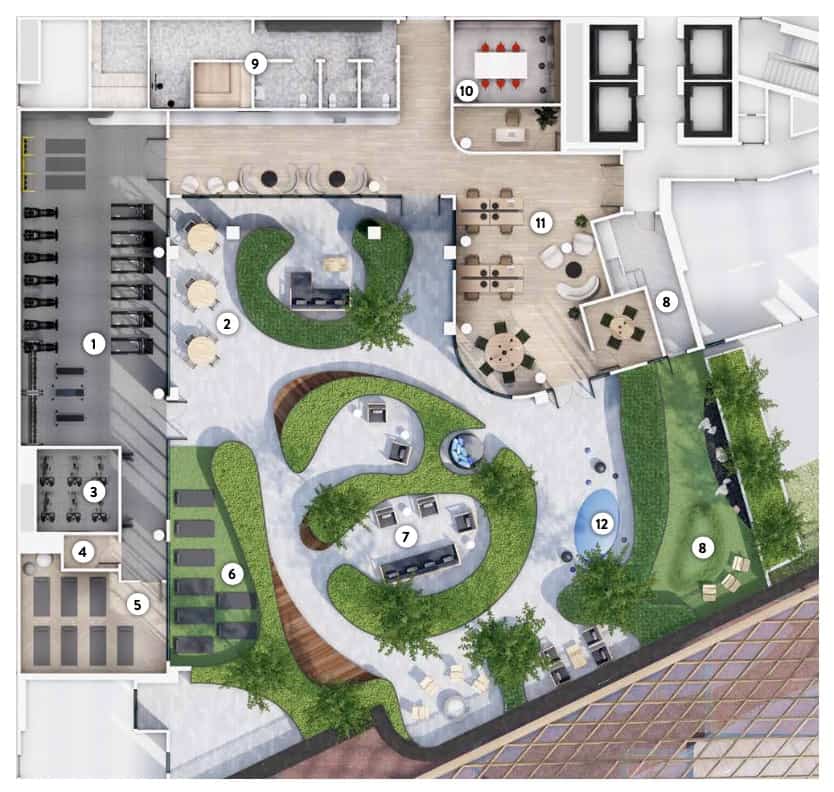 FLOOR 11 SOCIAL AMENITIES
1. SWIMMING POOL
2. OUTDOOR TERRACE
3. CABANAS
4. PRIVATE DINING ROOM WITH CHEF'S KITCHEN AND WINE CELLAR
5. KIDS' CLUB
6. SOCIAL LOUNGE
7.OUTDOOR GAMES AREA
8.RESERVABLE OUTDOOR DINING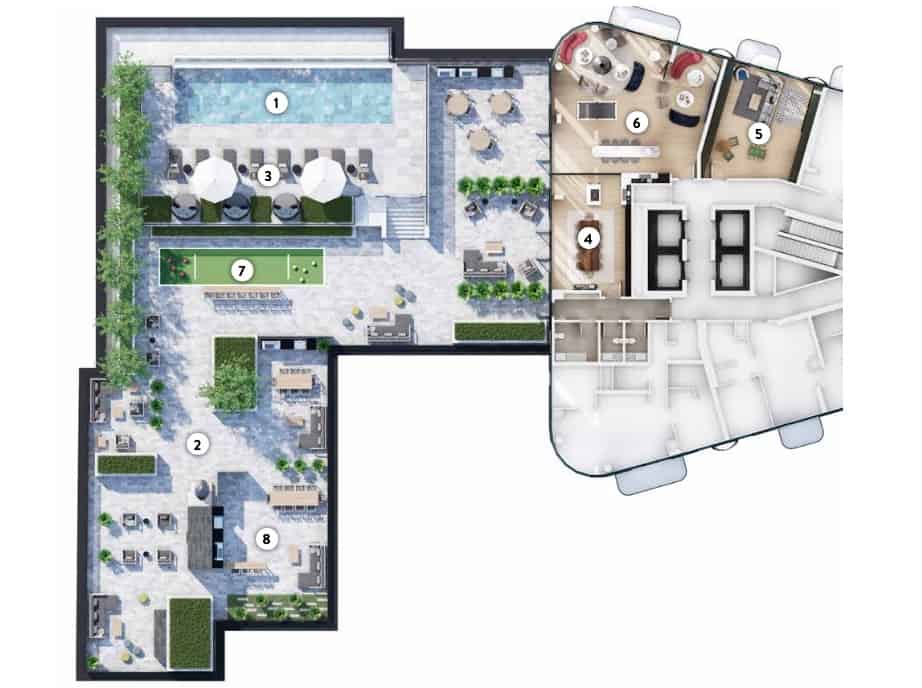 Galleria on the Park Condos Features and Finishes
Ground floor lobby with mail room and parcel storage
24-hr concierge service
Garbage chute system with Tri-Sorter
Residential parking, electric vehicle charging stations, and lockers (subject to availability) Secure bike storage spaces
Safe and convenient resident security access
Suite Features
Suites have approximately 9' ceiling heights**
A smooth finish on painted ceilings throughout
Modern, off-white paint throughout suite interiors
Solid-core entry door for maximum security
Composite hollow-core interior doors, painted, and with hardware
Convenient and elegant sliding closet doors
White décor-style switch and receptacles to match
Your choice of laminate flooring in Living/Dining Rooms, Kitchen, Den, Flex, Bedrooms, Media Area, and Foyer/Foyer Closet Individual sub-metering for hydro, water, heating and cooling
A four-pipe fan coil heating and cooling system
Kitchens
A wide selection of flat-panelled cabinets, with integrated appliances Selection of immaculate quartz countertops
Stainless steel undermount sink, with a single-lever faucet
Selection of ceramic tile backsplashes
Bathrooms
Vanity with storage and an above-counter sink Selection of porcelain tile flooring
Vanity mirror
Stylish, decorative light fixture
Shower stall with framed glass door panel and acrylic base
Soaker tub, where shown on plan
Wall tile for tub or shower surrounds and extends to the underside of the ceiling Easy, single lever faucet and shower/tub fixtures
Additional accessories include toilet paper holder and towel bar
Electrical and Technical Features
Light fixtures in Foyer, Kitchen, Den, Flex Room, Dining Room, and Bedroom(s), where shown on plan Easy access to cable and internet connections, as per plan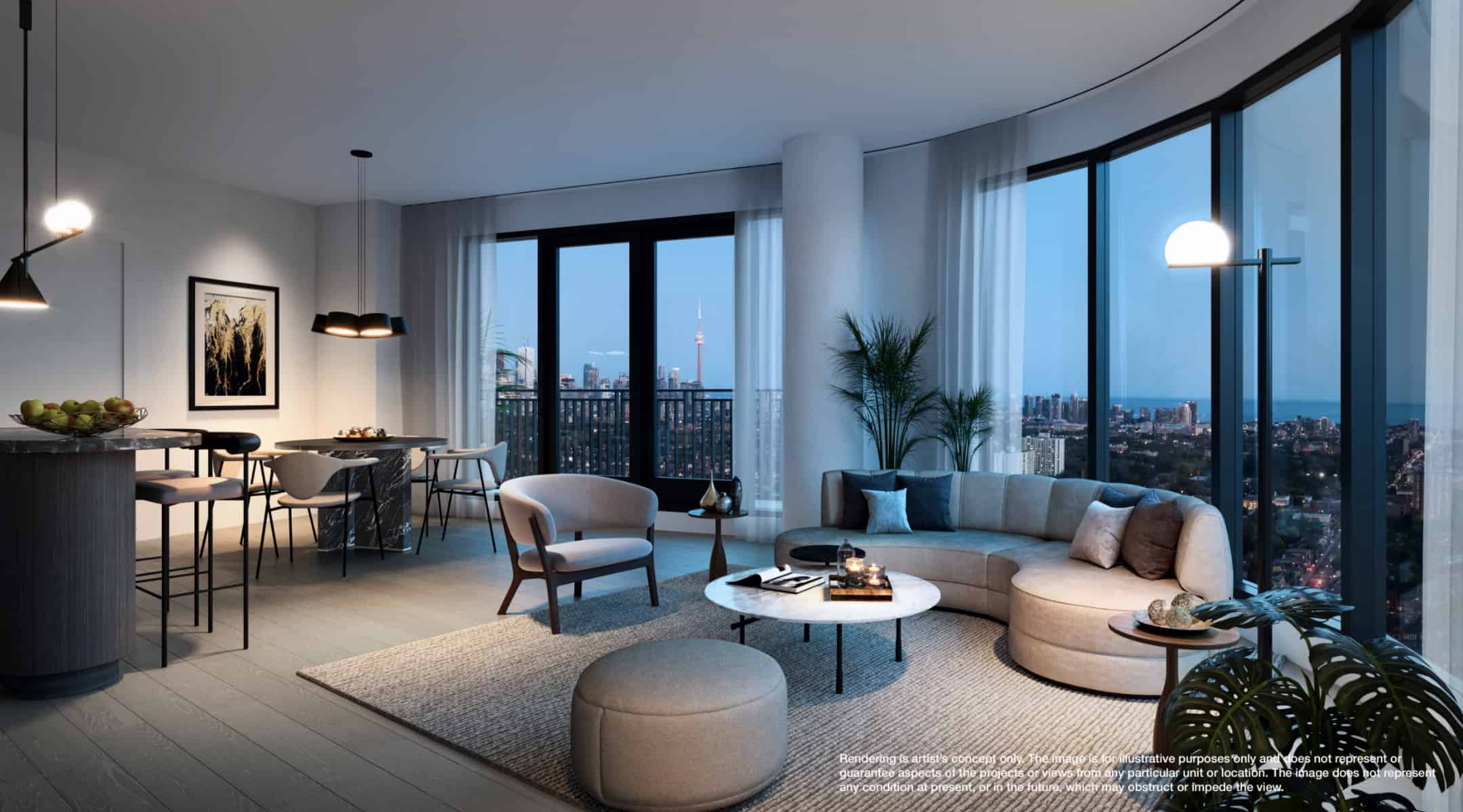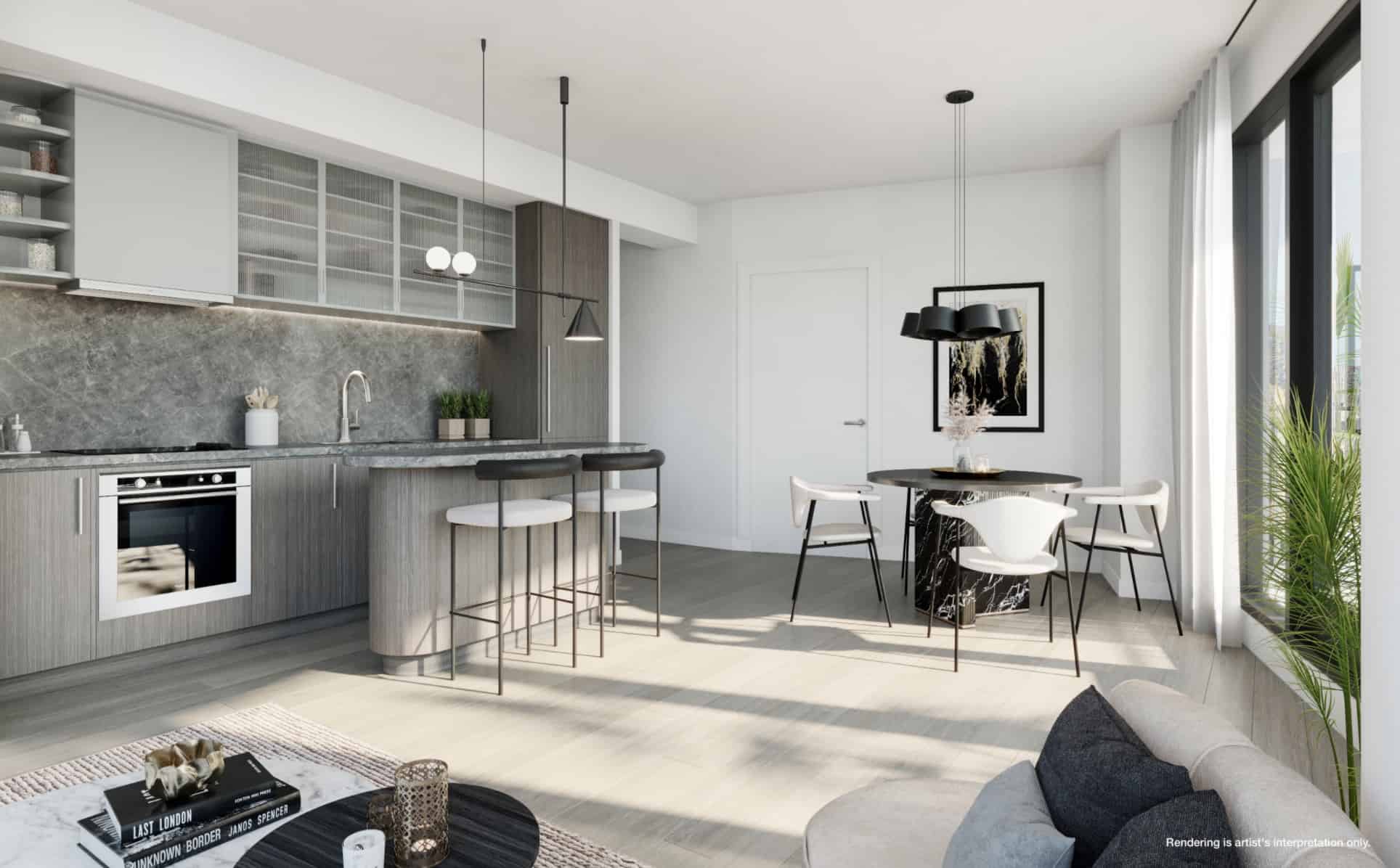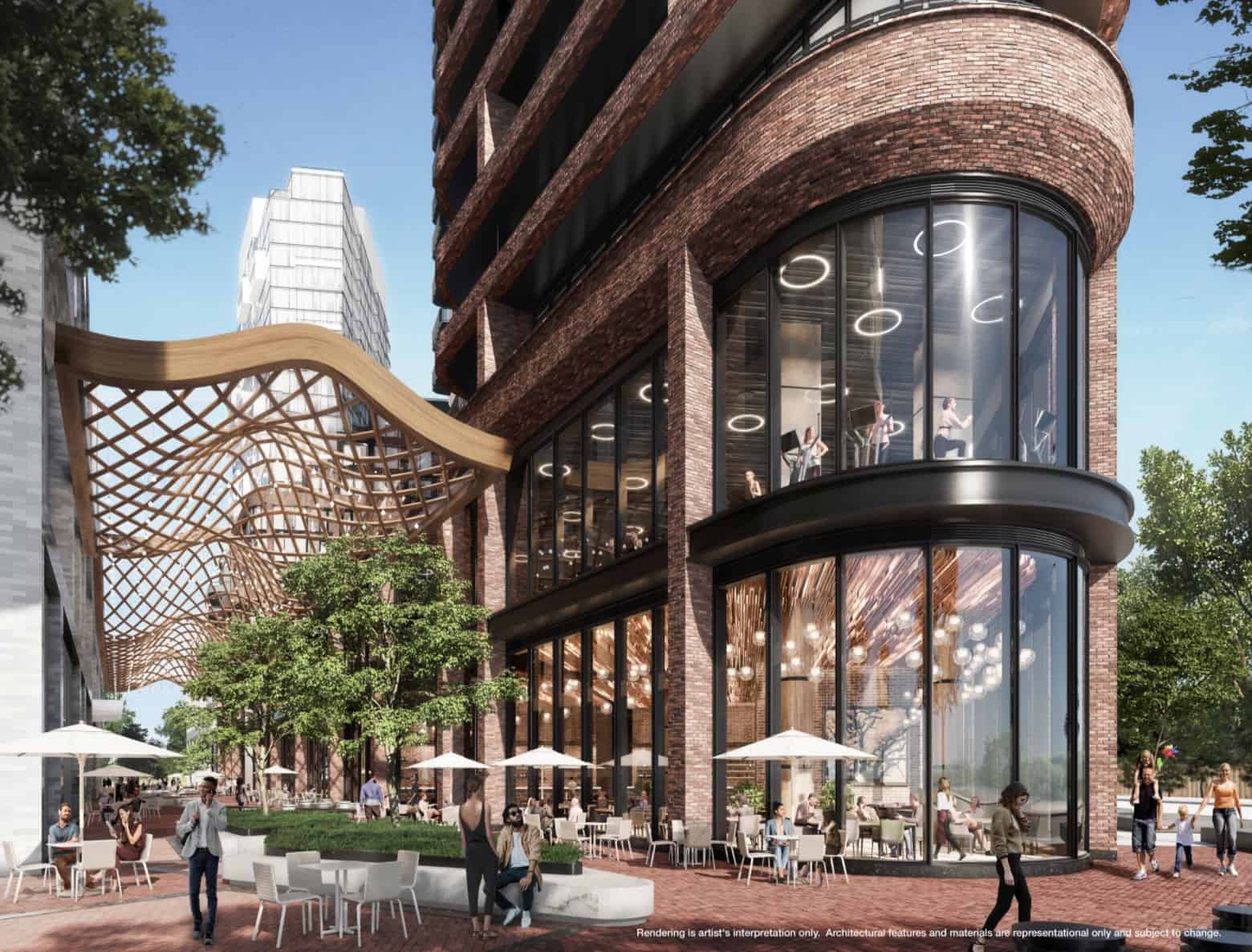 Galleria III Panoramic View from 31st Floor

About the Developer
ELAD CANADA
ELAD Canada is the versatile Canadian real estate arm of the ELAD Group, an international developer with a keen focus on development projects and income-producing properties. Backed by extensive international capital and benefiting from experience and in-depth knowledge of the industry, ELAD Canada has a proven track record with large scale, multi-phase projects throughout Canada.
Galleria on the Park Condos Frequently Asked Questions
How do I reserve a unit in this project?
After you review the floor plans and prices, if you know what suites you are interested in, you may reserve a suite online using our online reservation worksheet form at https://truecondos.com/worksheet.
Does filling out the worksheet form mean I'm committing to buy a suite?
No it is not a formal commitment, it is an expression of interest and the first step you must take if you are thinking about getting a unit in this project.
What does it mean that Andrew la Fleur is a "Platinum Agent"?
Platinum agents are the top selling agents who get preferred status with developers and first access to new projects before regular agents and the public.
Andrew la Fleur has been a top-selling pre-construction agent since 2007, and during this time he has achieved platinum status with many of the top builders and sales companies in the Greater Toronto Area.
For more information on about Platinum agents see this article: https://truecondos.com/5-things-to-know-about-buying-a-condo-with-a-platinum-vip-realtor-real-estate-agent/
How does it benefit me as a buyer to work with Andrew la Fleur as my Platinum Agent?
Working with me as your Platinum agent gives you several benefits
You get the

highest level of access

in the building

You pay the

lowest possible price

for the unit (prices are typically increased significantly after the Platinum sales event)

The best possible

incentives

I do not represent the builder. I represent you. You benefit from my expertise of being a top selling pre-construction agent and investor myself since 2007.

Access to my personal network of mortgage brokers, lawyers, property management, HST rebate services, handymen and much more.

My services to you as a buyer are

free
Do I get a cooling off period? What is it for?
Yes, after you sign the contract to purchase a suite you will have a standard 10-day cooling off period. It's 10 calendar days, not business days from the time you sign.
The 10 days are primarily for 2 things: 1) to have a lawyer review your contract with you if you wish and 2) to get a mortgage pre-approval letter
Do I need to have a lawyer?
You don't need to have a lawyer at the moment that you sign the agreement, however I always recommend that you have a qualified lawyer review your agreement of purchase and sale after you sign and during your 10-day cooling off period.
Not sure who to talk to? Don't worry – getting a lawyer is something I can help you with. Contact me for more details.
Do I need to have a mortgage pre-approval to buy?
95% of all builders will require you to provide them with proof of financing capability in order to purchase. This is not required before you sign a contract, but it is usually required within 60 days of signing.
Not sure where to begin? Don't worry – getting a mortgage pre-approval is something that I can help you with. Contact me for more details.
Do the prices include HST?
If you are purchasing for yourself and plan to move in, then yes, prices include the HST and there is nothing you will have to pay at final closing.
If you are purchasing as an investment rental property, then you will have to pay approximately 7.8% of the purchase price as HST on final closing.
This money is remitted to the CRA and as an investor renting out your property you can apply to the CRA immediately to get this money back. It usually takes about 1 month to get your rebate back.
For more information on the HST, see here:
https://truecondos.com/tag/hst-rebates/
Contact me for more details.
What are my closing costs on a pre-construction condo?
Closing costs on a pre-construction condo will vary greatly depending on the actual purchase price of the unit you are buying, but it also depends on the builder, the city that you are buying in, and the type of unit that you are buying.
Roughly speaking in Toronto you can expect to pay approximately 3-5% of the purchase price in closing costs when purchasing a brand new condo.
Check out this article for more info on closing costs:
https://truecondos.com/5-things-to-know-about-closing-costs-when-investing-in-a-pre-construction-condo/
Contact me for more details
Are there any 'hidden' costs when buying a pre-construction condo?
No, there are no hidden fees when buying pre-construction condos because all fees must be disclosed in the agreement of purchase and sale. All purchasers have 10 days to review the agreement and have a lawyer advise them on the exact closing cost amounts. If you need a lawyer to help you we can suggest to you to several expert law firms that will review your agreement in detail.
Is it possible to assign my condo? How much is the assignment fee?
Most condo builders do allow you to sell your unit before the building is complete. This projcess is called selling by "assignment".
There is usually an assignment fee and a legal fee associated with selling. Costs can range from $1000-7000. Contact me for more details.