Why now is the time to get off the fence and invest in Regent Park – with Jake Cohen of Daniels Corp.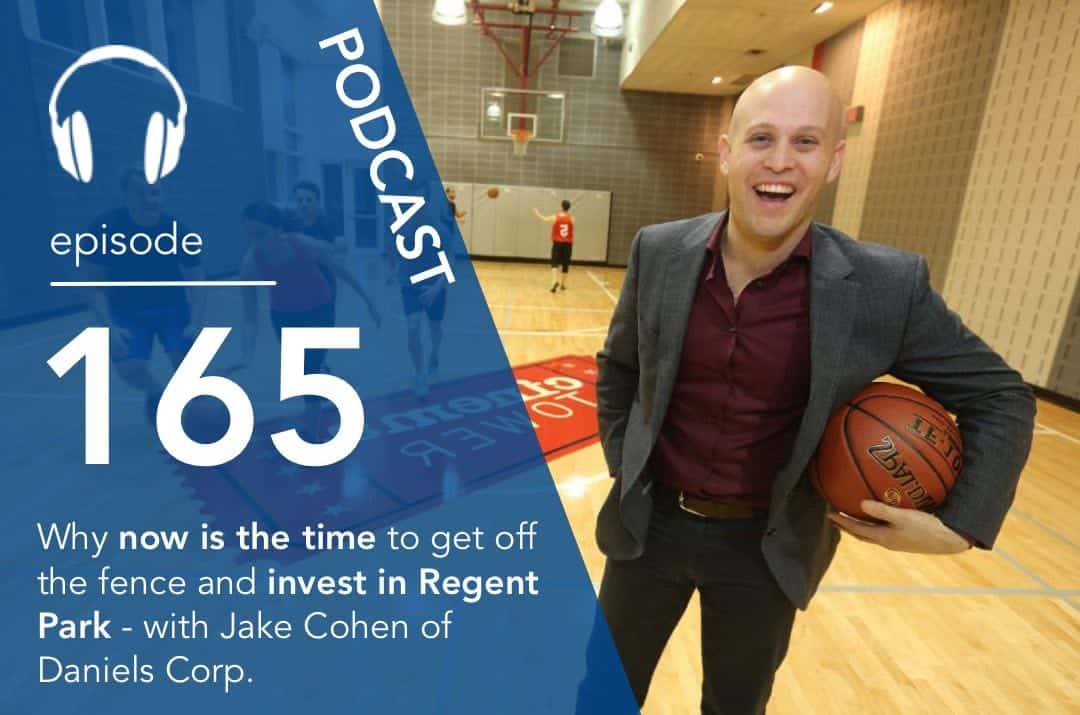 In this episode Andrew la Fleur talks again with Jake Cohen – VP of Project Implementation for Daniels Corp – about DuEast Condominiums – Daniel's latest new project in Regent Park. Listen to discover what's new in Regent Park since the record-breaking sell out of The Wyatt which launched in October 2016. Find out why Jake says that Regent Park has changed so much in the last decade and is now one of hottest neighbourhoods in the Downtown East side.
JAKE COHEN INTERVIEW HIGHLIGHTS
1:10 Looking at the real estate market, what are your thoughts?
3:23 How foreign buyer tax impacts the daniels corporation?
6:10 Recap for Wyatt, how did that launch go?
8:00 Let's talk about regent park in general. What's new over the last 12 months?
14:08 Dramatic shift in Rental and Resale prices over the past year.
16:45 Multitude of offering that are happening in the neighborhood.
19:22 DuEast project highlights. 
24:45 Are you doing penthouses suites again in this building?
26:13 Deposit structure that's gonna be available at DuEast.
28:15 Expected occupancy on DuEast.
29:40 What would be your message to them about regent park?
| | |
| --- | --- |
| Announcer: | Welcome to the True Condos Podcast with Andrew la Fleur, the place to get the truth on the Toronto condo market and condo investing in Toronto. |
| Andrew la Fleur: | It's my pleasure to welcome back to the show returning guest and favorite of ours on the show Jake Cohen of Daniels. Jake is the Vice President of Project Implementation for Daniels Corp. Jake, welcome back. |
| Jake Cohen: | Thanks for having me, Andrew. |
| Andrew la Fleur: | Great to have you again, and I hope you don't mind me mentioning it's your birthday today, so happy birthday. |
| Jake Cohen: | Thank you very much. Yeah, I appreciate that. |
| Andrew la Fleur: | Yeah, you just mentioned that to me before we hit the Record button here, so thank you very much, Jake, for taking time to talk about Regent Park and DuEast, but especially on your birthday. Thank you very much. |
| Jake Cohen: | No problem. No problem. |
| Andrew la Fleur: | Yeah, we want to talk about DuEast, of course, in this broadcast. People are very excited about the project. Once again, anytime a new building comes out in Regent Park, people are very excited about it, and this one's going to be no exception. Before we get into that, we just want to get your thoughts on the market and what's happening more in general in Regent Park. Looking at the real estate market, I'm curious to hear your thoughts on what's happening. Obviously there's sort of the before and after, before the Fair Housing Plan and after the Fair Housing Plan. |
| | There's been a lot of changes in the market since that fateful day back at the end of April, I think it was, when the Fair Housing Plan came down and the foreign buyer tax and everything, so what are your thoughts? What are you seeing out there in the market? What are your observations? Are you concerned about the market? Are you feeling good about the market? High-rise, low-rise? I'll open it up to you and see what your thoughts are. |
| Jake Cohen: | Yeah, we're still, and me personally, I'm still very cautiously optimistic about where we are and where the market is. The tax that came in, the legislation that came down in April, March and April, it definitely had an impact, there's no question. It had an impact on resale, it had an impact on new condo sales, because I think there's just a lot of uncertainty of how it would impact people, how it would impact buyers, how it would impact agents across the board. I think now that we've had a few months to kind of let it settle, let everyone digest it, see that the whole sky is not falling as a result of that, I think it's starting to level out a little bit. |
| | In the fall, we've already had one launch out in Mississauga that went extremely well. We were very happy with the turnout that happened out there, and again, Mississauga is not the Toronto market. The Toronto market I think is still a very, very strong market, and one that in Regent Park in particular is going to show again when we have DuEast coming in the next couple weeks. I'm very excited about it coming down the path, and the timing I think actually couldn't be better. The frenzy has kind of quieted down, but I don't think that's a bad thing. I think people are still very interested in the Toronto market, and this should fit this mold for sure. |
| Andrew la Fleur: | A big part of the Fair Housing Plan was the Foreign Buyer Tax. In terms of the Daniels Corporation, how much of an impact is having a foreign buyer tax having on your business as a company? |
| Jake Cohen: | I think we like to cultivate the relationships at home. We have a lot of great relationships with a lot of our platinum agent group, obviously you being one of them, a key contributor there. We have a very good, strong local group, and we also run programs outside of just our agent population where we have our Inner Circle program, where we're thinking about people who are going to be end users, and we're thinking about people who are going to think long-term about holding onto to the units that they're buying from Daniels. Cultivating that, those two groups, we've found that the impact from the foreign investor tax hasn't been as significant to us as maybe it would be to some other developers who would rely a lot more heavily on purchasers from overseas. |
| | We're feeling pretty good. We're feeling strong about and bullish about our relationships that we've established over the many, many years we've been doing this. I think it's a testament to the Daniels name and to the relationships that we've also established. For DuEast coming up, which is very exciting, we have about 300 Inner Circle members already signed up, and over 450 close agent friends who are already ready to go and excited, and keen to see this project come out. I mean, that's with the Foreign Buyer Tax, that's with the legislation that's come down. Still very strong numbers across those two demographics. |
| Andrew la Fleur: | Yeah. I mean, basically I sort of know this, but I just wanted the listeners to hear it as well. Foreign buyers have never been a big part of Daniels' business. Certainly you're a huge developer in GTA, but you're not doing really any marketing or anything overseas or looking to attract the foreign buyer. |
| Jake Cohen: | It just hasn't been … no, it hasn't been a place that we've thought that we needed to go, not the type of product that we like to offer. We like to offer to those here in Toronto, here in the GTA proper, and that's really what's worked for us, so you're absolutely right. We like to dedicate our resources and our attention to the people who are here. |
| Andrew la Fleur: | Looking back a year ago, the last time we spoke, right before the launch of The Wyatt in Regent Park, why don't you take us through what happened from, since shortly after we spoke and the launch happened and everything, that was just an incredible moment in the real estate market history in Toronto. You guys really made some history there. Let me just recap for anybody who missed that or who was unaware of The Wyatt. How did that go, that launch, a year ago at this time? |
| Jake Cohen: | Sure. Well, The Wyatt was a frenzy. There's no other way to say it. It was a great time to launch a project. The product itself was fantastic. We had all of our typical buyers come out in droves and were very excited, and we sold out in that building probably quicker than we have in … I would say at that one, any building to that date in Regent Park. We've done well in a couple of the other ones … Paintbox was very good, One Park Place was good … but in terms of the number of units, the total number of units on the first couple days of sales, that kind of blew us out of the water in terms of how successful it was. |
| | It was a very positive experience, and really led us to say the next one's got to come a year later. We didn't have intentions, for sure, to launch DuEast this early, but because of the success of The Wyatt from last year, it said, "Let's ramp up, let's get this project going, let's really drive forward into phase three at Regent Park, because people want it. The demand is there." |
| Andrew la Fleur: | Yeah. That was a big takeaway for me, was just the incredible overflow of demand, the incredible amount of people who wanted to get a unit at The Wyatt, but just who were not able to just because it was … it was just a supply-and-demand situation, where you had only so many units. There was just … the demand was absolutely incredible, and I think that's great. If somebody out there is listening right now and you missed out on The Wyatt, then this is obviously your next opportunity here at DuEast. |
| | Let's talk about Regent Park in general. Things are changing there so rapidly now. I keep telling people, if you haven't been to Regent Park in a couple of years, if you go, that it's just dramatic, the changes that have occurred. It just seems every six months there's a new building down and a new building going up, so what is new in Regent Park, say over the last 12 months or so? |
| Jake Cohen: | Yeah, well, this is what's amazing, is this is now our 11th year in the Regent Park Revitalization, and really I can honestly say … and maybe people would say this as well … Regent Park is one of the sought-after residential destinations in Toronto's Downtown East, it really is. It has so many things going for it. DuEast itself is going to be the eighth condominium to be offered in this neighborhood. |
| | Really what it comes down to in Regent Park is again location, where it's located, in situ to Downtown East and the Downtown Toronto core in its own right. A five-minute drive from downtown. You are at Dundas and Parliament, basically. DuEast is located at Dundas and Sumach Street, which is just a few blocks east of Parliament, which is fantastic. Walking distance to so many numerous local amenities, cultural, entertainment amenities, recreational amenities, educational amenities. |
| | Regent Park in itself, inside the 69-acre footprint, is unbelievable. The athletic grounds are now up, running, flourishing, having kids playing and events being run there all the time. Our team just had a huge bubble soccer event there the other day, and we're whacking people around on the athletic grounds over there and that was a lot of fun. The Aquatic Centre opened, and world-renowned in terms of its quality, in terms of the pool itself, but also just how it's maintained. Regent Park Community Centre is up and running, a six-acre community park which is now really thriving in terms of getting its own legs under it, from its movie nights in the parks to its farmer's markets on Wednesday afternoons. |
| | It's got a really great feel to it, a great vibe to it, now that it's got a few years under it. Also, of course, right across the street the award-winning Daniels Spectrum, which is really the cultural hub of the neighborhood, which runs events, which runs performances, which does fundraisers, which does … you know, you name it. Things are happening at the Daniels Spectrum all the time throughout the year, and really a great destination to kind of locate yourself and a place to go within your own community. Lots of exciting things happening from an exterior amenity perspective in Regent, happening right now. |
| Andrew la Fleur: | Yeah, what else? I mean, the list just goes on and on. I'm thinking like the Bartholomew condos, those are now completed. Of course, we sold those before. This was the building before Wyatt, and now Bartholomew condos and the townhomes there are done. That's the first time that that type of product, the townhome product, has come to Regent Park. |
| Jake Cohen: | Quite spectacular, really. I walked it again with my team not too long ago, and to see the townhouses in that configuration, in that sort of boutique-style building, be completed, and all the landscaping and the money that was spent to go into the landscaping of that building and of those amenities at the ground floor, it really completes the thought. It really makes it feel like we are moving to that next phase, that next stage of the revitalization where the different buildings along the [sack tell 00:11:51] sort of corridor are starting to come together. |
| | Construction is slowly starting to quiet down in that central area, and you're really getting a feel of a neighborhood now that is being created, where the streets are now going through and the townhouses are up, and they're populated with kids and families and singles, and people who are going to university at Ryerson or George Brown or wherever it might be. You know, all kind of mixing and mingling all within this very unique neighborhood. It's very exciting now. |
| Andrew la Fleur: | Yeah, it's really … I mean, you know, you see it in all the brochures of most developers, like this idea of, "We're building a community and we have multigenerationals, we're attracting families and seniors and downsizers and young professionals, and that sort of vibrant Toronto historical feel of the neighborhood." You see it everywhere in the brochures, but in terms of Regent Park, it's really one of the only ones downtown that is actually successfully doing it and it's not just a marketing thing. It's actually real. |
| | I mean, I know a lot of my clients as well are fitting into that category, and there are young families who are moving in and downsizers who are moving in, as well as the sort of typical young professional crowd that you're going to get everywhere downtown. It's very exciting and interesting to see that, as you said, that sort of neighborhood maturity that's now happening after this now being the eighth condo building coming up. |
| Jake Cohen: | That's exactly right. I know we just like to say … and we like to say this all the time … it goes beyond just the bricks and mortar of the actual buildings themselves in terms of what makes a community. It is the people, it's the social infrastructure, it's the amenities, it's the fabric of what's going on within the neighborhood and what's happening on a day-to-day basis, the farmer's markets or the garden plots or the communal gardening that's happening around the corners. It's all those sort of things that really lead to people saying, "This is a neighborhood, this is a community, and one that I'd want to buy into." |
| Andrew la Fleur: | Talk to me about obviously looking at the numbers, like the rental prices and the resale prices, because there's been really a dramatic shift, especially in the past year, in Regent Park. |
| Jake Cohen: | The rental … yeah, absolutely. Rental prices have really been quite strong. I mean, this comes down to, again, I think we talked about it before, supply and demand, what's being offered. Locationally, where it's located. The rental prices specifically for studio units, which there's not a ton of but there definitely are studio units, are renting at higher numbers now than they have in years. We now have an influx of more three-bedroom units, gearing up towards the family-style units, and even those most recent townhouse units in the Bartholomew, which are three-bedroom, three-story units. |
| | The rental numbers that people are getting for these size units for, I've heard anecdotally, a mix of people, a mix of students, a mix of families, getting great, great prices in the $3,500, $3,800 a month range for these three-bedroom, very large units, large townhouse units at the Bartholomew specifically. I mean, seeing those sort of things really kind of staggers you and you say, "Okay, this is great, this is a market that is established not just from a new condo perspective, but from a … let's go out and let's find good tenants, and we can rent this thing for a great number as well." |
| Andrew la Fleur: | Yeah, it's been a really dramatic change. I think it speaks to the maturity of the neighborhood and sort of … you know, let's face it, it takes probably a generation for a neighborhood reputation to change and turn over, and like you said, you're 11 years into this thing now, which is about half a generation. You're really starting to see the new people coming into the city and they're looking for places to live, and they're moving to Regent Park. New people, just people are … the perception of the neighborhood has really dramatically shifted, a lot, over the years. |
| | It seems especially true in the past year or two as … I think it was sort of this moment where you reached that halfway point of the revitalization. The neighborhood sort of moved past the phase two and you're sort of halfway done. It seems to me that was the tipping point for the perception and feel of the neighborhood, and just the way that buyers coming in and renters coming in have looked at the neighborhood. It's very different from what it was say three, four years ago. |
| Jake Cohen: | Oh, definitely. I think people are also seeing that there's a multitude of offerings that are happening in the neighborhood as well that weren't happening in the first phase. The first phase was, you know, condo units and Toronto Community Housing rental units. Now, I mean, we have a seniors, seniors lifestyle, 55-65-plus active seniors building that's being constructed in partnership with Chartwell, so that's another offering. It's very unique. It's not a condo, it's not a rental business, but it's a purpose-built seniors building, active seniors building. |
| | We're going to have another purpose-built rental building that's going to be going up in partnership with Sun Life Financial, and that's going to be going up at the corner of River and Shuter in the next three or four years. Again, buildings that are just providing different types of offerings that are going to just lead to more opportunities for people to get into the neighborhood, and again to just drive up the overall demand and the overall desire, because it really is. There's a lot of desire for people to get in here. |
| Andrew la Fleur: | Yeah. I think you mentioned it there, and it's worth noting again for people to hear and understand that Daniels, you guys are building a rental building for yourself in partnership with Sun Life Financial. You've done something similar in Mississauga in Erin Mills where you built a rental building there as part of your Erin Mills community. Now you're building a rental building here, so for the investor out there listening, I think the message is pretty clear. You, the developer, and Sun Life Financial, this massive institution, see so much value in the neighborhood that you're actually building an entire building for yourself, to keep as a long-term investment. |
| Jake Cohen: | That's right. |
| Andrew la Fleur: | You're saying, "Hey, we're not just building here and getting the heck out of here. No, we see so much value here," and you've created so much value there that you're wanting to participate in it too. I alluded to rental numbers and just the fantastic returns that investors have been getting on their investments there, as the rental rates have grown so much and rental rates have grown so much. Investors, if you're out there listening … and end users too … I mean, your investment is safe when you're buying with a builder who is in the neighborhood with you, literally, with their own property that they're going to be building themselves. |
| Jake Cohen: | Yeah. We are a long-term investor in this community and have been from the very beginning, and will be for years and years to come. I'm very excited about it, for sure. |
| Andrew la Fleur: | That's great. Let's shift now to DuEast and let's talk about the building that we're excited about. It's at Dundas and Sumach, we know that. What are some of the project highlights that you're excited about that people should know about, from a design perspective, from an amenities perspective? Every building, you guys bring something new, something different, special features as the neighborhood evolves and as you respond to customer feedback. Yeah, so I'll open it up to you. |
| Jake Cohen: | Absolutely. No, for sure. DuEast, a very exciting project. It's fronting onto Dundas, 225 Sumach is going to be the address, which again, locationally for those who don't know, the front door is going to be facing directly at the Aquatic Centre. All this talk about the Aquatic Centre and how amazing that is and how wonderful an amenity it is, this is literally at your front door, so that's a very exciting and cool feature to have. The big park is just right on the other side of that. In terms of centrally-located, DuEast is right there in the heart of it all, which is awesome. |
| | The building itself, it's a very contemporary 29-story building, 316 units. It's not a huge building, but it's a nice-sized building that can afford to then do a number of cool things from an amenity perspective and from a features perspective. There's going to be some street-level retail that's going to be along Dundas in its podium, that kind of complements what happens across the street on the other side of Dundas where you have the shoppers, you have the Wendy's. We have a new barber shop that's going in shortly, the Subway and the Yogen Fruz already going in along Dundas. Again, more street-level retail complementing what's already happening. |
| | What's very cool about this building is on the north side of it is something that we're describing as the living lane, which is a really thoughtfully designed laneway that's activated by landscape features, such as street trees and communal benches and some playful bike parking areas, and some bistro string lighting that sort of lines and extends across the street and across the lane itself. |
| | From a design perspective, it's something we thought was very important, to just sort of … you know, this is not just a back-of-house laneway. This is a cool living lane that's going to be used. It's going to have some … we have work units on the back side of it as well. It actually already won the 2017 Toronto Urban Design Award for its design, so that's an exciting feature that's going to be going into the building from an exterior perspective. |
| | From an interior perspective, led by a very young, hip, very cool interior design firm called Mason Studio, that I wanted to just say, because Mason's a very unique studio that works out of Junction. A small firm, but we're really loving what they're doing, and the style that they're bringing and the flavor that they're bringing to this building is quite unique. Excited to have them on board, and they're going to really deliver a very unique flair to the interior design of the building itself. The lobby is going to have a concierged lobby service. |
| | Up on the amenity levels, we're going to be doing what's being described as a mega-gym, so yoga and stretch and cardio and crossfit spaces, all of this most state-of-the-art stuff that people are doing from a fitness perspective. We're aware of it, we're with it, we understand what people are looking for from a health and wellness standpoint, so we're going to be delivering on all those sort of things within the building, no question about that. |
| | Building on what we started with The Wyatt with the kids and the family-friendly programming, we're doing again a more dedicated kid zone, activity rooms, padded kiddie corner and reading areas, play structures within the building itself, small library and reading nooks, really activating these kids' rooms and these kid zones to allow the families and allow the young families and the kids to have a place to go. |
| | Again, this is a neighborhood that's about families, and a neighborhood in transition. Not only are the amenities going to have those sort of things, but indoor and outdoor we're going to be thinking about the families and the kids, to make sure they're being looked after. |
| | We're going to obviously continue with our gardening plot programs. On the fourth floor there's a great gardening space, outdoor terraces and green roofs as well, that are going to continue with the theme of urban agriculture and community gardening, which is again a big theme for us. Also, you know, we have the typical party room, rec room, media room, and indoor and outdoor lounges that are really just going to be very well thought out. |
| | All the designs, the furniture, the artwork, well thought out and a place that people are really going to want to go and spend time. We're not just building spaces that are, you know, put up a couple walls, put some hardwood floor in and then call it a day. We really challenge our interior designers and challenge our in-house team to think about how people use these spaces, and I think that's really going to show at DuEast. |
| Andrew la Fleur: | Wow, that's amazing. A huge list there. I appreciate that. What about penthouses? I know in The Wyatt you decided to do penthouse suites, which was something you hadn't done before. Are you doing penthouse suites again in this building? |
| Jake Cohen: | This one, we're sticking to more the traditional unit mix, but a great unit mix from the type of units that we have. I would say in this building, we may have some of the best unit layouts that we've produced in a number of buildings. I know probably everyone says that, or you hear that all the time, but the reality is because of the shape of this building … and the architect on this was CORE Architects, who's really a very, very savvy architectural firm … the units themselves are really will thought out. In terms of the unit mix, one, two, three bedrooms, a huge mix of three-bedroom units, again tapping into those family-style units, but that mix will carry up through the entire building. |
| Andrew la Fleur: | Nice. Well, that result is more suites for people. That was the only issue with The Wyatt, was not enough units. If you'd have broken up those penthouses into smaller units, you might have had a few more buyers in there. |
| Jake Cohen: | No kidding. |
| Andrew la Fleur: | That's great. Wow, that's excellent. Obviously a big part of the appeal of the Regent Park buildings in the past has been your unique deposit structures that you've had. What can you tell us about the deposit structure that's going to be available at DuEast? |
| Jake Cohen: | Sure, absolutely. Well, so prices, again … and this will become in more detail as we get a little closer to it … but they're going to begin in the high 200s. Again, price point is still a very good place for Downtown East. |
| Andrew la Fleur: | Where you can get that? Yeah, where you can get that anywhere? |
| Jake Cohen: | That's exactly it, so we're still feeling very strong about what we're coming out at and how that's going to fit within the rest of the Toronto market, so that's great. |
| | Then the other thing which is a really exciting offering, which is something we've done in the past to some great success, is Daniels' own. Daniels created the First Home Boost program. This is a very exciting program where qualifying first-time buyers … I'll be very specific, it's got to be a first-time buyer … they can take advantage of an interest-free loan for the remaining 10 percent of their required down payment, so basically turning a 5 percent deposit that they have … they put down 5 percent … into a 15 percent deposit. We would be giving them a 10 percent boost, essentially, the First Home Boost. |
| | This is a very cool offering. This is something that gets new home buyers or people who are just trying to get into the market that little bit of that extra leg up to try to get the down payment they need to get in there, and it gives them a chance to save over the next couple of years until occupancy is going to be happening. That's an exciting program that we don't always get to roll out, but in this project we definitely are. |
| Andrew la Fleur: | Great. Are you able to touch on the deposit structure at this point, or is it too early to talk about that? |
| Jake Cohen: | It's at this point too early. I won't be able to talk about that. We typically do a gradual deposit payment plan, which is a really great program. At this point we're not quite there yet with our agreement [inaudible 00:28:02] going through the last strokes with the lawyers and all that sort of thing, so I'll just have to let you guys wait on that one until we get a little closer to it. |
| Andrew la Fleur: | Okay, got you. No worries. Do you have an expected occupancy date yet on DuEast, when it should be finished for buyers? |
| Jake Cohen: | Yeah. Right now, we're outside occupancy. We're hoping we're going to start construction by the end of this year, so with a positive sale in October and November, get into the ground by the end of December of 2017. Then we're looking at probably about a 24- to 26-month construction program, so about two years, two years and a few months. Again, we're looking into 2019, early 2020 for occupancies, but again all that can sort of shift with time and with how things go from a construction standpoint. Usually when we say we're going to deliver, we're going to deliver on those dates, so that's what we're talking about right now. |
| Andrew la Fleur: | Yeah. I know The Wyatt, of course, was sold 12 months ago and it's already well under construction, and it looks like you're almost … I was actually by there today … you're almost out of the ground, I think, there. |
| Jake Cohen: | Yeah. It's just now starting to pick up some steam, which is great. Took a little while to get down and then get back out with the big underground, but that's always the case. Now we're rolling at The Wyatt, for sure. |
| Andrew la Fleur: | Finally, Jake, before I let you go, what would be your message, or what would you say to those people who have been sort of thinking about Regent Park, looking at Regent Park over the years? They've watched these buildings come and go, these launches come and go, but they haven't gotten off the fence, so to speak? If they're still on the fence, what would be your message to them about Regent Park? |
| Jake Cohen: | I would say the time is now. It really is. It may feel like, yes, it's 11 years in, yes, it's eight buildings in, but they've got to look at the big picture of we still have another two phases of the Regent Park Revitalization to still take place. We are still in the middle of it, I would say, and I think if you can get in now, you're still going to be doing extremely well long-term, and you're going to be doing well with a builder that is one of the most reputable builders in the city. |
| | You know, Daniels was named 2016 and 2017 High-Rise Builder of the Year by the Tarion Homeowners' Awards, so this is … you're going to be buying in with a builder who knows how to deliver. We know how to create the right products for people and give people the values that they're putting their money into. I mean, get off the fence and come to Regent Park. It's definitely time. |
| Andrew la Fleur: | Awesome. Great. Couldn't have said it better myself. Thank you, Jake, very much, for your time, and hopefully we'll have you on the show again soon. |
| Jake Cohen: | Thank you very much, Andrew. |
| Andrew la Fleur: | Okay, there you have it. That was my interview with Jake Cohen. Thank you, Jake, for your time on that great interview, talking about Daniels' DuEast project. One point that came up in the interview that I just wanted to clarify before we finish off the episode is the deposit. Jake at the time was not able to discuss the deposit, but I can now confirm that the deposit for the project will be only 10 percent. It's only a 10 percent deposit. It's a very unique opportunity compared to every other project in the city for pre-construction, which is always going to be 20 percent, so 10 percent deposit. |
| | For more details on that, of course, make sure you get the investor package. Make sure you go to TrueCondos.com and get the investor package for DuEast, or send me an email, andrew@truecondos.com, or you can text me, 416.371.2333, and I'd be happy to get that over to you. Thanks for listening. |
| Announcer: | Thanks for listening to the True Condos Podcast. Remember, your positive reviews make a big difference to the show. To learn more about condo investing, become a True Condos subscriber by visiting Truecondos.com. |