Meet Maxwell
This is Maxwell.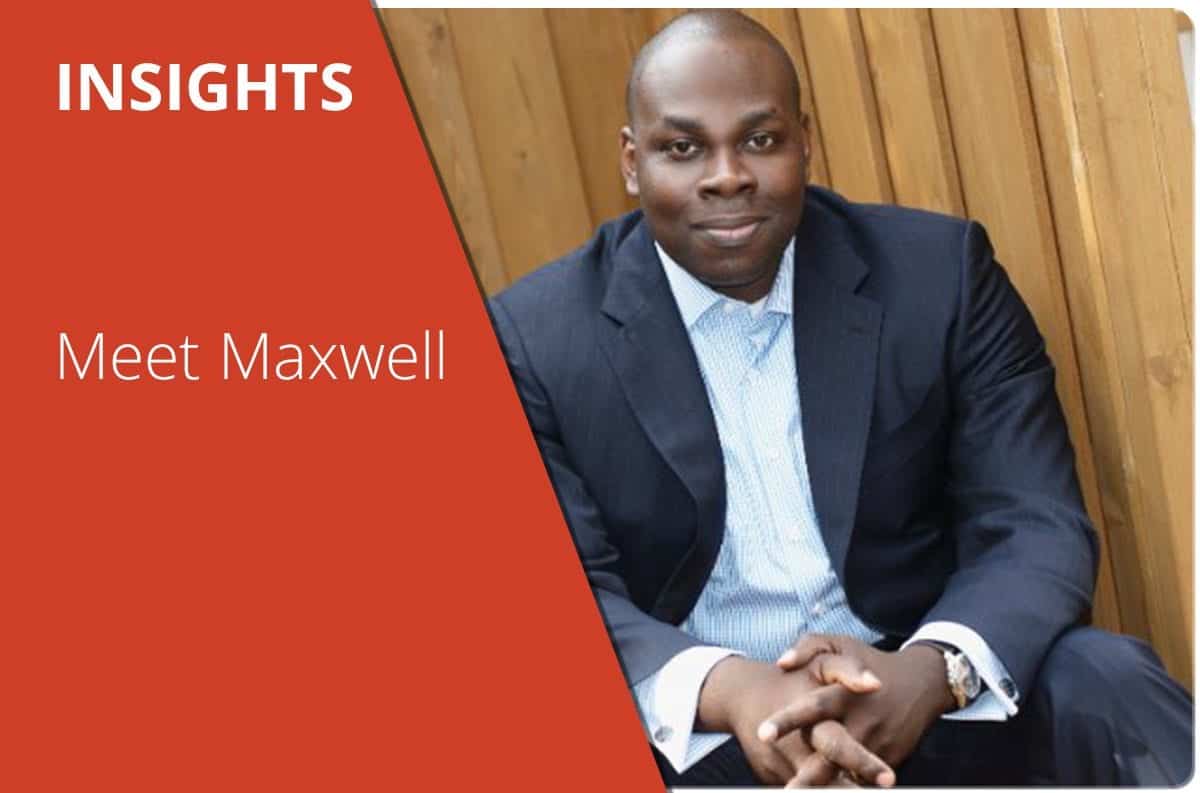 Maxwell is an entrepreneur and he lives in Oshawa with his wife and family.
Maxwell was sick and tired of lackluster returns on his investments in the stock market. His bank was offering him a paltry 1% to keep his hard-earned money sitting with them.
Maxwell decided he'd had enough and wanted to change his investment strategy.
He started researching the Toronto condo market and shortly after he found TrueCondos.com.
He used the resources and articles here to educate himself on the condo market and he learned even more investing in condos once he became a subscriber.
Today, Maxwell is projecting a 31% annual return on his money by investing in a Toronto condo.
Here'ss how he did it.
Maxwell purchased a condo downtown for $218,000 which he recently closed on and is now renting it out for $1300 per month. The tenant pays all the utilities.
Maxwell's tenant is a single female professional who works downtown and who earns a salary of roughly $90k.
Maxwell is enjoying positive cash flow every month, while at the same time his tenant is paying down the principle on his mortgage which means Maxwell's equity position in the property is INCREASING and he is getting POSITIVE CASH FLOW every month.
Now I'm going to share with you Maxwell's exact numbers for his projected income statement that shows you how and why Maxwell is expecting to get up to a 30% annualized return on his cash over the next 5 years.
These numbers are all real life numbers based on today and some very realistic assumptions for a 5 year time horizon.
Maxwell's 5 Year Projections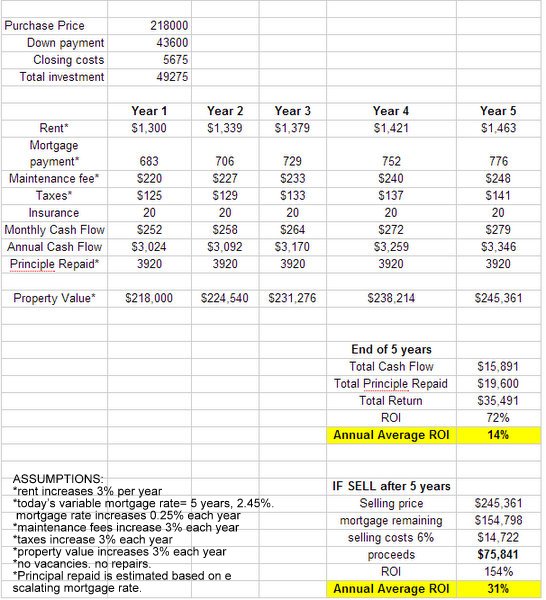 Pretty amazing, right?
I find when you see it broken down with simple numbers it really clicks.
Real estate investing is not a get rich quick scheme.
Real estate investing is not rocket science.
But real estate investing is the absolute best way to build wealth and enjoy financial freedom.
So why doesn't everybody do this?
This is a question I get a lot from my successful clients.
Many people just don't get real estate investing. Some people will never get it. It is too risky, too outside of the box, too unattainable in the minds of some people – and to me, that's incredibly sad.
So many people are missing out on a great opportunity that is right at their doorsteps because they are afraid, or worse – misinformed.
There are lot of voicing competing for your attention, many of those voices are telling you that buying a condo is a terrible idea and that you will never make any money – in fact you might lose money.
The number one goal of my business and TrueCondos.com is to help as many people as possible see the power and the potential for investing in Toronto condos.
To me, condos are the absolute best way to get into real estate investment for today's busy professional or business person.
Yes, there are many other forms that investing in real estate can take – you can buy duplexes and triplexes and commercial properties. You can flip houses, you can rent out basement apartments, you can develop vacant land.
The possibilities are endless in real estate but if you are like me, you already have a life and commitments and you don't have time to turn real estate investing into a full time job.
You just want something that puts your money to work for you, gives you a solid return and doesn't take up a lot of your time.
I feel the same way. That's why I invest in condos and that's why my clients invest in condos.
Maxwell is a very smart guy. He runs a successful company and he knows what it takes to get ahead in life, but nothing that Maxwell has done is out of the reach of anyone else.
So if you find yourself resonating with Maxwell's story, and you are wondering why you are letting your hard earned money sit there and rot in the bank making 1% (less than inflation), or you are sick and tired of the ups and downs of the stock market and paying all those fees to your financial advisor, then do like Maxwell and buy a condo.
Honestly, this is not rocket science. This is real estate investing 101. People have been doing it for decades in this city and many who have are now enjoying worry-free retirements or pursuing their true passions with financial freedom.
Oh, and one last thing about Maxwell.
Maxwell didn't just buy 1 condo, he's already bought 3 and he plans on doing the exact same thing with the other 2 that showed you above. Imagine the kind of wealth you could build over the next 5 years with just 3 small condos!
I'll give the final word to this article to Maxwell himself:
"Thank you Andrew for helping me get my real estate investing off the ground. I'm really happy with my condos so far and I'm excited about continuing to build my portfolio slowly over time."
If you are ready to invest or want to learn more, please become a True Condos subscriber today.