New Condo Sales for November 2008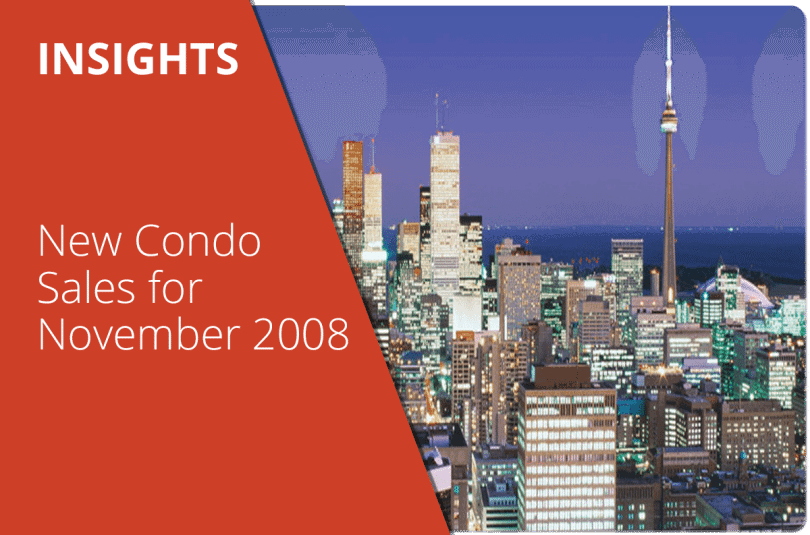 Last Updated on
Today I want to share with my readers a press release from BILD – Building Industry & Land Development Association.ÂÂÂ
They just released their sales statistics for new homes and condos sold in November. For Toronto, 789 high rise condos were sold. At first glance this number sounds pretty high, but when you hear that in November of 2007 1922 new condos were sold in Toronto, this means that sales this November were down 59% versus last November. This is very consistent with the numbers for November's resale market, where downtown west condo sales were down 61% and downtown east 51%.
We have surpassed the 15,000 mark for condos sold in the GTA for 2008 so far. We will likely end up with about 15,500 condos sold in 2008, which is far off of 2007's record pace of 22,000, but pretty much dead-on with previous predictions from new development tracking company, Urbanation, who was calling for around 16,000.
Click here for the full press release, or continue reading.
TORONTO, Dec. 22 /CNW/ - There were 1,638 new homes and condos sold in
the Greater Toronto Area in November, Michael Moldenhauer, President of the
Building Industry & Land Development Association (BILD) said today.
    Moldenhauer noted that November sales were down appreciably from the
heady days of 2007 prior to the onset of the global financial turmoil yet
remarkably resilient in that context. "The fact that more than 1,600 new
homebuyers signed on the dotted line despite all the distracting factors in
November represents a very encouraging vote of confidence in the GTA new home
market," he said.
    Moldenhauer projected that new home sales would end the year at around
28,500 total sales, down approximately 35 per cent compared with 2007, which
he described as a "reasonably solid performance given the circumstances
prevalent throughout much of the final third of the year."
    Mr. Moldenhauer pointed out that growth in high-rise unit sales has
continued throughout 2009 with 55 per cent of the market now captured by this
product type. "The continued growth of high-rise sales is reflective of higher
order provincial policy on intensification combined with the relative
affordability of the product type," Moldenhauer concluded.

    <<
    -------------------------------------------------------------------------
              Low Rise             High Rise               Total
     November
    ---------------------    %     ------------    %    -------------    %
                          Change                Change                Change
    Region   2007   2008           2007   2008           2007   2008
    -------------------------------------------------------------------------
    Durham    223    139  -37.7%     12     10  -16.7%    235    149  -36.6%
    -------------------------------------------------------------------------
    Halton    291     91  -68.7%     32     22  -31.3%    323    113  -65.0%
    -------------------------------------------------------------------------
    Peel      311    287   -7.7%     86     16  -81.4%    397    303  -23.7%
    -------------------------------------------------------------------------
    Toronto    88     35  -60.2%  1,922    789  -58.9%  2,010    824  -59.0%
    -------------------------------------------------------------------------
    York      682    121  -82.3%    227    128  -43.6%    909    249  -72.6%
    -------------------------------------------------------------------------
    GTA     1,595    673  -57.8%  2,279    965  -57.7%  3,874  1,638  -57.7%
    -------------------------------------------------------------------------
    Jan to
     Nov   20,442 12,442  -39.1% 22,015 15,053  -31.6% 42,547 27,495  -35.4%
    -------------------------------------------------------------------------