Why Toronto Was Selected for the World's First Nobu Branded Residence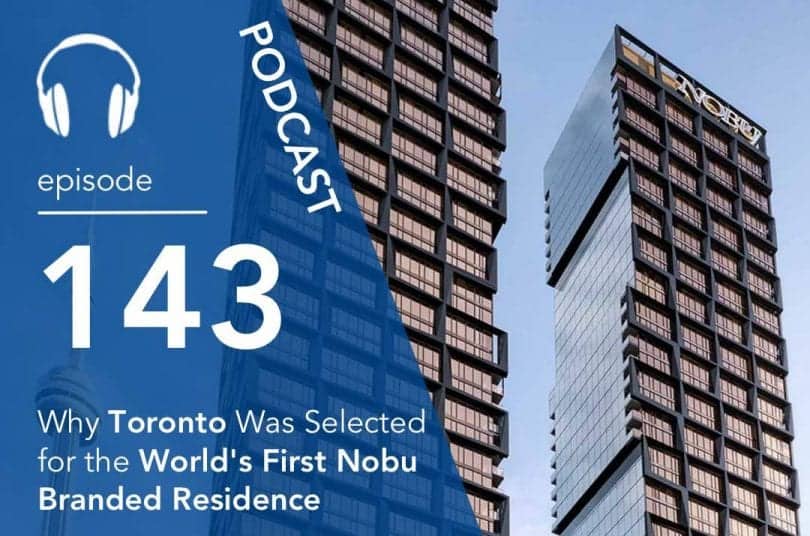 Last Updated on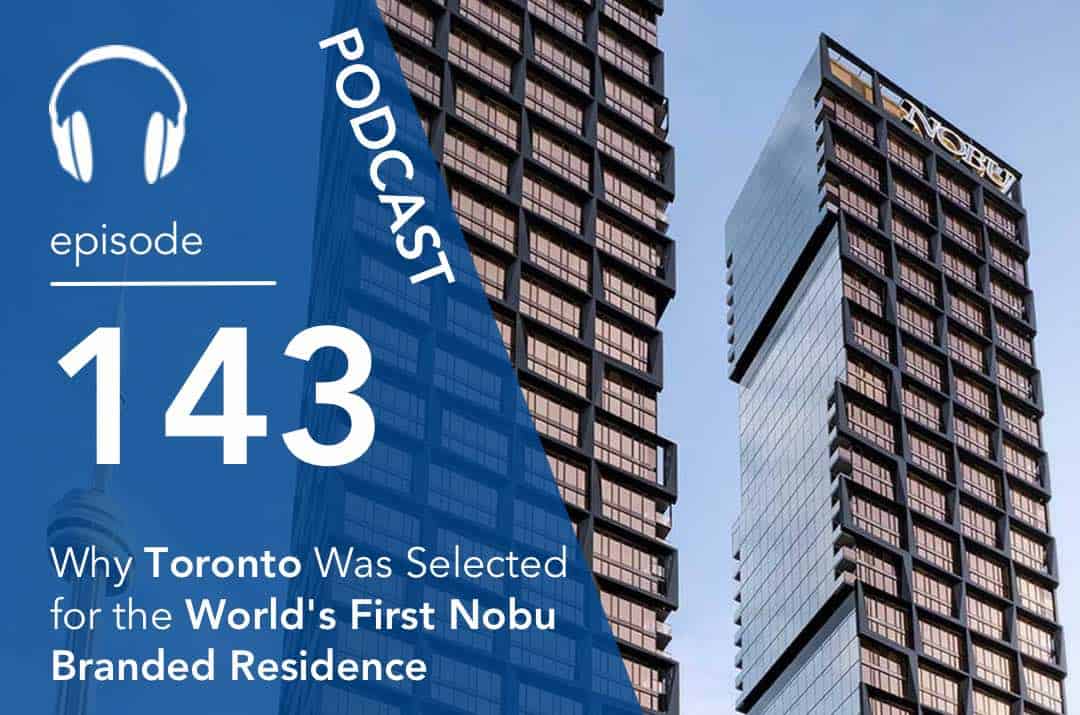 Nobu Residences coming to 15 Mercer Street will be a world's first Nobu-branded residence and will also include a 36-room Nobu hotel and a 15,000+ square foot Nobu restaurant. We sit down with Elliott Taube – President of International Home Marketing Group to talk about what we can expect from what is probably the single most anticipated new condo launch in Toronto this year.
ELLIOTT TAUBE INTERVIEW HIGHLIGHTS
2:26 How did the launch of home condos go?
3:50 Thoughts in the market for the past 6 months.
7:00 What is NOBU?
9:24 What is the brand mean to you?
11:15 What is special about this location?
14:20 Where do you see the neighborhood evolve over the next 5-6 years?
15:40 What can you tell us about the building's developer?
17:05 What can buyers expect from the Madison building and how it turn out?
22:45 Tell us a little about the NOBU restaurant.
23:30 Is there any other retail in the building?
24:30 Are the amenities completely separate from the hotel and the condo?
28:00 Anything to expect about the pricing standpoint?
Announcer: Welcome to the True Condos Podcast with Andrew la Fleur, the place to get the truth on the Toronto condo market and condo investing in Toronto.
Andrew la Fleur: Okay, it's my pleasure to welcome back to this show Elliott Taube. Elliott is the president of International Home Marketing Group. Elliott, it's great to have you on the show once again.
Elliott Taube: Great, thanks Andrew. Always a pleasure to talk with you.
Andrew la Fleur: And Elliott, I know you just flew in. Why don't you fill everybody in where you were, what you're doing and what you've been up to these days. I know you're a very busy man.
Elliott Taube: Yeah, busy, I think, is sometimes an understatement. I woke up, I was in New York City this morning finishing some meetings down there. I've been running back and forth on a couple of different projects, a lot of stuff that we're going to be actually talking about coming up, so, yeah, it's been a long day so far. Love New York City, though, absolutely love New York City. But it's good to be back home.
Andrew la Fleur: Good to be home in your own bed tonight. Is Toronto becoming New York? What's your feeling on the Toronto/New York comparison that everyone likes to make? You've been spending a lot of time in New York, what do you think?
Elliott Taube: I think there's a direct correlation to New York, and I look at some of the different neighborhoods as well, correlate that as well. I think Toronto is Manhattanizing, in a bit. It's just that with all the high rise that we're doing as really the true form of living, it brings that to is. The comparisons … I love New York, but I love Toronto more than anything else in the world. I think it has the best of all those aspects, from the food and the entertainment to the architecture and the freedoms that we enjoy. The open space is something that New York doesn't necessarily have. I think, you know, the cleanliness that we have here, so it's … as much as I love New York I wouldn't trade Toronto for anything.
Andrew la Fleur: Good answer, good answer. Yeah, obviously you've been in New York a lot dealing with Nobu and we want to talk about Nobu, Nobu residences. Everybody's talking about it, of course. We just want to learn as much as we can here on the show.
Before we do that, last time we spoke was right before Home Condos, which was launched in November. Why don't you sort of fill us in again on how did the launch of Home Condos go, and what's been happening in the market over the last six months since then.
Elliott Taube: Okay, well [inaudible 00:02:36] made a tremendous success for them, and for us. We have not sold out. Like, a lot of buildings have come and blown out. We've not sold out, but that was on purpose in the strategy and thinking, so there are still suites available at this moment in time. It is very limited and we will continue to release throughout, but the project was exceptionally well received. That part of town, especially the Eastern Block and its change, price point, architecture, design, everything, people went crazy for. Actually, tomorrow night is the Build Awards, sales and marketing awards for the new home industry, and Home is up for a whole bunch of awards, including the coveted Project of the Year. I'm looking forward to tomorrow's events, and hopefully Great Gulf, and we'll get to share in taking a trophy home tomorrow.
Andrew la Fleur: Amazing, well congratulations. I didn't realize that. That's a very big honor to be nominated for project of the year. What … the market has just been crazy. What's it been like from your perspective, and where do you sort of see the market going for the second half of this year. Where … what's been happening in the market for the last six months from your perspective and where do you see the market going over the next six months, the second half of the year?
Elliott Taube: Well, I mean, looking back, when I think of 2016, which for International was an exceptionally successful year for the amount of units that we did and the dollar volume, from a sales perspective we're actually just edging ahead of where we were last year as far as units sold. But the biggest difference for me is normally at any one point between all of our builders' projects, we'd have hundreds and hundreds of units, sometimes over a thousand units in inventory, you know, available to purchase. At this point I'm down to, I think it's over 200, so that's everything. Projects are … the cycle is just so different. We used to come out and we'd expect it be six months to 18 months to sell out a project. Now it seems like it's six days to get it done. And I haven't seen that slow down, being in the high rise side, the low rise side, it's all been the same. Everything that we've been launching, the demand has been furious. I just can't seem to quench everybody's appetite for units.
Even with all of those announcements from the government last week, I haven't seen a slow down. Talking to you and a lot of our consultants out there and the agents that we deal with, nobody's seen a real slowdown, so I think it's going to continue throughout the year. I just don't think … the biggest thing is we don't have the amount of projects coming out that we used to. I think the supply side is a little bit … there's just not enough inventory.
Andrew la Fleur: Yeah, we're seeing a lot fewer projects, especially in the downtown core, and like you said, normally there's a lot of just standing inventory, units available for sale at various projects that are 40, 50, 60% sold out around the city, so okay, if you missed out on the new launch, that's okay. You can go next door and they've got units available, somebody else over here, somebody else over there … But right now, if you're a buyer and you're out there looking, it's crazy. There's just nothing to buy, anywhere.
Elliott Taube: I know. And the numbers that we're seeing, and the dollar … like, the price people are paying for projects is also unprecedented. The one thing that I think and I hope that these new rules will do, and nobody knows exactly what's going to happen, it just kind of slow down the appreciation of value. I'm all for appreciation, that's why we get into this, we get into make money, build on our equity, but I was not happy with how quickly prices have been elevating. I think it's … I'm hoping we're a little bit more slow and steady going forward.
Andrew la Fleur: Absolutely. That would be a healthier thing for everyone.
Let's jump into Nobu now. What is Nobu, exactly? For people who don't know, tell us what Nobu is. What is the brand represent, and, I guess, we'll start with the company, first. What is Nobu?
Elliott Taube: Okay, so first off, Nobu is a real person, a gentleman who, known as a chef, started a restaurant 25 years ago on the West Coast of the United States in California. People loved the restaurant, they gravitated to it. Famous people always started showing up, and probably one of the most famous who came in and loved it almost a quarter century ago, was Robert De Niro. Along with him and a couple of other Hollywood heavyweights said, "If you ever want to come to New York," because, you know, De Niro is New York sound, "I'll back you, we'll back you, do whatever you want to do."
So that business arrangement came together, and over other the last 25 years the restaurants have grown to over 30 of them throughout the world, Asia, United States, South America, the Caribbean, throughout the United States, and now coming to Canada. During their history as well, they've also done hotels and there's just, I believe, 15 hotels at the moment, and again, throughout the world, major centers from Malibu to Miami, Hong Kong, over in the Arab Emirates, down south, and finally coming to Toronto as well.
Now, with this project, it's the first that they're going to do a branded residence as well. So not only is Toronto going to be the first of its kind for Nobu, residence, hotel and restaurant all in one.
Andrew la Fleur: Wow, so it's a world first for a Nobu branded residence. You've got the hotels, you've got the restaurants around the world. This is the first residence branded Nobu in the world. That's very cool. And it's here in Toronto.
You've been spending a lot of time with the brand, and with the folks behind the company. I'm sure you've been having lunch with De Niro every week … what does the brand mean to you? I mean, how do you personally describe it, like when you are trying to communicate to somebody you know, this is what Nobu's all about, this is what makes it unique among the other, sort of, luxury brands that are out there. What does it mean to you?
Elliott Taube: I mean, first off, for me, this is … you always say like a dream come true. My first experience with Nobu goes back 20 years ago. Just as a person who enjoys dining, being in Las Vegas, I had heard tremendous things about this restaurant, and it was the first time I ever walked in, I was absolutely blown away by it, and over the years have been fortunate enough to try Nobus in various locations.
It's always been elegantly stated. There's a comfort level to it. You go in there, and everything just makes you feel welcome. There's that Japaneses simplistic elegance to it. I think when they've also been able to do the hotels and the restaurants, everything seems to flawlessly blend together. There's a high level of service, there an attention to detail. Everything seems to have its place. It's just … You don't realize that until you come through. A lot of times you'll go out, you'll go to a restaurant, you come out … you just weren't satisfied. Something seemed off, something seemed wrong. These experiences have all been encompassing from the time you walk through the door to the time you leave, and it is, it's just a very comfortable, enjoyable, memorable experience, and I think that's going to translate to what we're doing here as well.
Andrew la Fleur: Wow. Let's talk about the location for the project itself, Mercer Street. What is special about this location? Why was this location selected to be the first Nobu in Toronto?
Elliott Taube: Well, first off, we're on Mercer Street. Mercer's not … it's not a large street by any means, it actually just runs between one block, Blue Jay Way at John Street, just south of King Street, so you're smack dab in the entertainment district. It is a phenomenal location being downtown for its accessibility to everything. Whether you want to go to the Sky Dome for a baseball game, to the ACC to see your favorite sports teams. The Raptors are playing tonight, so let's hope they win. Then here in the entertainment district, the restaurants, the nightlife. Plus, you're close to the financial course. The location has everything you want. Out the door, just head a block up to the Eastern, the path system to the subway. You can avoid our Canadian winters. Everything's down there. It's like, it is just absolutely a phenomenal location.
And with that street being non-traffic, there's a major heritage portion to it. The developers will be cobblestoning that street at the very end, and if you've looked at any of the teaser videos with the girl walking on the cobblestones, that's intentional because that's how that street will be once the residence is completed. 
Andrew la Fleur: Wow, very cool feature. That's … you heard it here first. So the Mercer Street … all of Mercer, or a portion of Mercer is going … the whole Mercer Street is going to be cobblestone.
Elliott Taube: Yeah.
Andrew la Fleur: Wow, and so the front façade of the Nobu building is an existing heritage building, like, it's a brick … it's got that rich, kind of reddish brick front to it. That's going to be maintained, I understand. And then combine that with the cobblestone street, it's going to have a very, kind of Old World, New Yorky, almost, kind of feel.
Elliott Taube: Mm-hmm (affirmative). Yeah, so that building originally years ago was the [inaudible 00:13:23] Factory, and it does maintain a heritage designation, so it will be carefully kept as part of the external façade of the building. As part of the development deal with the city, and you know, developers are always giving money for parks, development charges, so part of the deal that they created was just basically to make it a cobblestone street, and more pedestrian friendly, so in the summer we can expand. Basically, the sidewalk areas have cafes open, so you can do a lot of stuff with it, so that's going to add to the allure of this project, too.
Andrew la Fleur: Yeah, it's going to be such a cool, intimate, kind of tucked away right in the heart of the action kind of spot there, with people coming and going from the hotel, the restaurant. You've got other restaurants and hotels, and bars and lounges in the area. It's going to be a really cool spot.
Elliott Taube: Mm-hmm (affirmative)
Andrew la Fleur: Where do you see the … like, the entertainment district has just changed so much in the last, like, five to ten years. Where do you sort of see this neighborhood … how do you see it evolving? Not just Nobu, but the whole neighborhood, how do you see this area evolving over the next, say, five to six years?
Elliott Taube: I think it's the preeminent area of the city. We know what the plans are going forward, and how it's envisioned to be developed. When you look at the [inaudible 00:14:50] partnership with Gary and the buildings that are going to be there, which will be spectacular, the restaurant row to be basically repurposed and rebuilt. A couple of other developers on some other streets down there have projects in the works as well.
I mean, from where it is right now, which is absolutely fantastic, it's only going to get better.
Andrew la Fleur: Absolutely. Yeah, it's … I mean, the energy there, I was spending some time there today, and just the energy on the street around King and John is just phenomenal. Like, it's … yeah, I mean, it's … King West is really the New York feel in a lot of ways, and it's certainly trending higher and higher and higher.
Let's talk about the developer. So, Nobu is the brand, but who's building the building, and what can you tell us about them?
Elliott Taube: Well, the major … and there is a partnership arrangement, so there's a lot of people in the background, but the … the face of it and the development team is Helm by Madison. It used to be Madison Homes, has now changed their name to Madison Group because they're so much more than just a home builder they were, you know, 25 years ago. Probably one of the larger development companies in the city with experience in not only home building, high rise, low rise and great projects that we have out there with them, but they also understand the retail business. They have office buildings, retail concepts going. So they're very well rounded and if anyone was going to bring this project to fruition and execute it, these are the people to do it.
Our relationship, with International, goes back 25 years with Madison. For us, they were the very first client that International had, so it's been a long relationship, and it's wonderful working with the folks there.
Andrew la Fleur: Let's talk about the last, most recent building that Madison just completed, which is also another two-towered development at Young and Eglinton, the Madison at Yonge and Eglinton. How did that building turn out, and what can buyers expect from a Madison building?
Elliott Taube: Well, that's a great thing about the city now. Buyers and investors are definitely much more savvy. In doing your due diligence visit the project as they complete it. I think the Madison on Eglinton is spectacular. It is a tremendous mix of residential, with 706 suites in the building. People have closed and are in love with it. I think the detail, the fit, the finish, it lived up to everything that we had promised in the pretty pictures and brochures. The retail in the building is spectacular, [inaudible 00:17:49] the LCBO. Orange Theory Fitness is in there as well, and there's another little surprise coming down the road for that building to complete the retail. But it is just a wonderful …
Andrew la Fleur: Any hints? Any hints … on the surprise?
Elliott Taube: Okay, I'll tell you it's not a Nobu.
Andrew la Fleur: It's not a Nobu, okay. Okay, not a Nobu. Okay, but there's something cool still yet to come at the Madison. Like you said, I mean, yeah. The retail has just been a huge success. Whether you live in the building or not, the people in the neighborhood just love it because of, like you said, the [inaudible 00:18:22] and the LCBO are just phenomenal additions to the neighborhood.
Elliott Taube: And, you know, if you have a chance to talk to friends or residents there, or even on the street, just what you've experienced for customer service, how was your apartment delivered, I … you know, you can go out and I am just confident in what people are going to hear out there, and I love that because not every project and every developer out there takes the same pride that these guys do.
Andrew la Fleur: Yeah, absolutely not. Yeah, it's great to … and I've been hearing that from a lot of people as well, just the feedback on the Madison has bene fantastic, the quality. Like you said, I mean, turning out as good or better than what was promised in the brochures, and then with all the pictures and everything, and that's what you … that's what every investor and buyer wants, hopes that that will happen. Unfortunately, it doesn't always happen that way, but it's … yeah, Madison Group has done a great job with that one. So, looking forward to Nobu, which obviously will be on a whole other level.
Let's talk about Nobu. Let's talk about the building. What … I mean, it's early, still. We obviously don't have the specifics yet, but what can buyers expect from the building perspective, from amenities perspective, suite mix? What can you share?
Elliott Taube: Definitely time to start sharing some information. I mean, we've been leaking out teasers. People have seen the renderings of the building, so it is a twin tower concept sitting on top of a shared podium. There's almost 700 suites in the building. It's two 49-story towers.
The western tower is actually where the hotel component is going to be in here. One of the things about this hotel, and especially from a luxury branded hotel, and we've got a lot of them in the city, great places. Four Seasons, Shangri-La, Ritz, tremendous. But a little bit different. In those buildings the hotel component is always at the bottom, in the lower portions. Here, it's at the top five floors of the west tower, and it's only 36 rooms. So it is an exclusive boutique hotel that will be heavily sought after. Larger than normal-type hotel suites, and with spectacular views. It's in the best real estate in the entire building. So that will be just a calling card that people are coming to town to be able to even get a room at Nobu.
The residence, we've done our homework, you know, that we've worked tirelessly on on suite designs, making sure we get it right. We learned from agents like yourself that … and everybody, what do the clients want, what are the demands out there, and we've got a tremendous mix. There are some one bedrooms, but its a very small component there. One bedroom and dens, great selection of two bedrooms, livable two bedrooms. Wide, shallow designs as well as regular designs, glass space. Some three bedroom product in there as well.
So it's not just cookie cutter investor type product. There's something for everybody, whether you want to live there as your alternate residence or if you're just looking for a crash pad downtown, and just well designed. No wasted space.
The building also helped us do that, in the way that it's a basic rectangle type building with a center core, so that helped us in the design process. But I'm thrilled with how the suites came out.
The amenities, as well, like a spectacular gym, beautiful lobby to welcome people, they're on the ninth level between the two towers is going to be an outdoor amenities space as well, to enjoy in the city. So the amenity package is really, really special. People are going to enjoy it when they're living there, or if they're sharing it from a hotel perspective.
Andrew la Fleur: And …
Elliott Taube: We also have a Nobu restaurant there.
Andrew la Fleur: Right, yeah, I was just going to ask you. The restaurant is pretty important, and it's pretty spectacular. So tell us a little about the Nobu restaurant, which obviously will be a calling card for anybody in the city or anybody visiting the city, you've got to go to the Nobu and so … yeah, what about the restaurant.
Elliott Taube: Yeah, over 15,000 square feet, and indoor space which is the prominent part of the restaurant, as well as for the warmer weather it does have some outdoor terrace places as well.
The restaurant's in its design stage right now, and from everything that we've seen in looking at it, it is going to be spectacular, the place to be.
Andrew la Fleur: Is there going to be other retail in the building as well, or there's other retail, not just the restaurant. What other … like, is it street front retail, or …
Elliott Taube: [inaudible 00:23:34] Mercer, and nothing there has been set in stone yet, so we will see the developer. Once we get closer to having the building completed we'll fill those spots.
Andrew la Fleur: So the restaurant, I assume, 15,000 square feet is multi-level? Is it …
Elliott Taube: Yes.
Andrew la Fleur: It's over two levels? Three levels?
Elliott Taube: It's over two levels.
Andrew la Fleur: Over two levels. And, like, ground and second, or second and third, or … do you know that yet? Second and third levels?
Elliott Taube: The renderings, which you can actually see online, you'll see where people are kind of sitting out on a terraced patio, that is part of the restaurant. That's the restaurant ares. It's going to be stretching on towards Mercer.
Andrew la Fleur: Very nice. Very nice. So in terms of the fact that it's a hotel/restaurant/condo, for people purchasing the condos is there … depends on the building, but like, are the amenities completely separate from the hotel and the condo? It's a common question.
Another question people ask is about, like, can you access services? Can you get room service or things in your suite, things like that?
Elliott Taube: Yes, all that, it's still in the works, but essentially from what we know at this point, if you are in your room and you want to order from the restaurant, yeah, there will be no issues with that. If you're looking for some Wagyu dumplings, my personal favorite from Nobu, and you want those ordered up, that can be done.
Because it's only a 36 room hotel, the amenities are being shared mostly with the residents, so there is a reciprocal agreement that the hotel guests will be able to use it, but what that's done, it's increased the standard of the amenities that are actually going into this building because they will be shared with the hotel. So the residents are really getting a major benefit from that.
Andrew la Fleur: Wow, spectacular. Anything else? Anything else that I didn't ask you about? Obviously details are going to be coming out much more so in the weeks ahead, but is there anything else that I didn't ask you about, that I should ask you about the building that you can share now?
Elliott Taube: I think we've covered a lot. I mean, the launch time frame, and that date's going to be … we're about to send out a scheduled date very shorty, but the end of May is when we're going to really unveil it to the world. And I really mean the world. It's amazing, when the first press release came out, it was picked up by almost 300 different news sources throughout, you know, the world. And that's huge for a project in a place like Toronto. So, I have never seen something catch on like that.
I've got to say, you know and I've worked on great projects with great developers, but I've never had the level of interest for any project that I've done, like I've had for this one.
We've covered a lot, so we know two 49-story towers, a hotel, restaurant, additional retail in the entertainment district, one of the best zones in the city. Incredible suite layouts, incredible amenity packages, fantastic development team bringing everything to town. It is exciting.
The other things that we kind of didn't touch on but it is such a global brand and we knew that we wanted to do something special to launch this, so the developers really put together a global team to do this, so, you know, we talk about me running back and forth to New York. We have a New York ad agency.
Toronto has such amazing talent here. I think Toronto does this type of business as well as anybody in the world does, but we've gone outside to hire some outside talent. So an ad company out of New York.
Our rendering company is out of Australia, the ones who are producing all the picture, two amazing architects can then combine to make sure that we get everything right.
An interior designer who's done projects all over the world, so it's truly a global brand and it's a global team that's going to bring to Toronto.
Andrew la Fleur: Very exciting. Anything … I guess the last question might be just price. Anything you can tell us about what to expect from a pricing standpoint?
Elliott Taube: You know, we've got our initial theories. I don't want to put it out there. It … you know, it's the entertainment district. We've watched what everything else has been selling for of late. I think the developers will be fair in what they're expecting and asking, but yeah, price at this point is really tough for me to pinpoint exactly where we're going to be.
I'm looking forward, though, you know, with yourself and a group of realtors that we're about to take away next week, so, you know, we've got a very special Nobu experience for you guys coming up, so to help you sell this as well and really understand what we're doing.
Andrew la Fleur: Yeah, that's right. Looking forward to that. We're going to be … I' going to be joining you and a few others, a few other top agents in Las Vegas to get the full Nobu experience, and I know you're bringing some other agents to New York City for a similar experience in New York. So, yeah, that's going to be … going to be great to connect and to get ready and excited to work on this project. Looking forward to it very much.
Elliott, thank you so much for your time today, and looking forward to working on this one again with you. Until we … until we speak again, thank you very much.
Elliott Taube: Oh, my pleasure. Always a pleasure.
Announcer: Thanks for listening to the True Condos Podcast. Remember, your positive reviews make a big difference to the show. To learn more about condo investing, become a True Condos subscriber by visiting truecondos.com.