Tracking the Toronto Condo Market in 2014 with Shaun Hildebrand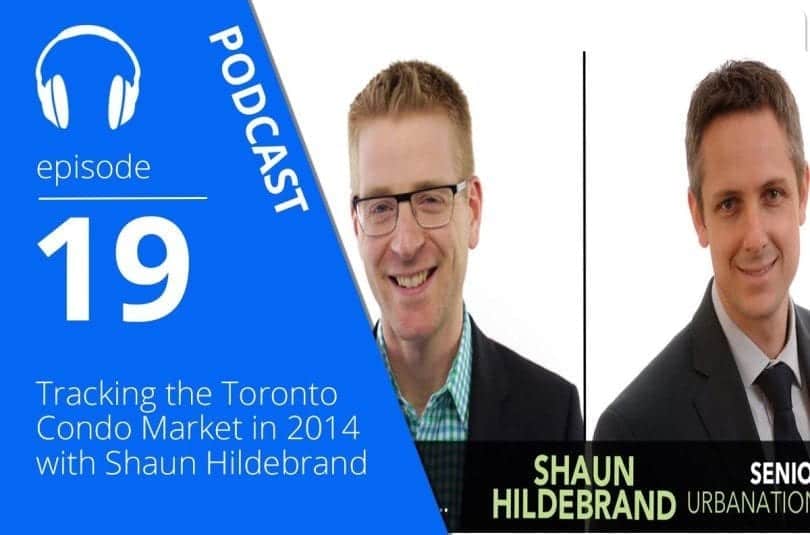 Last Updated on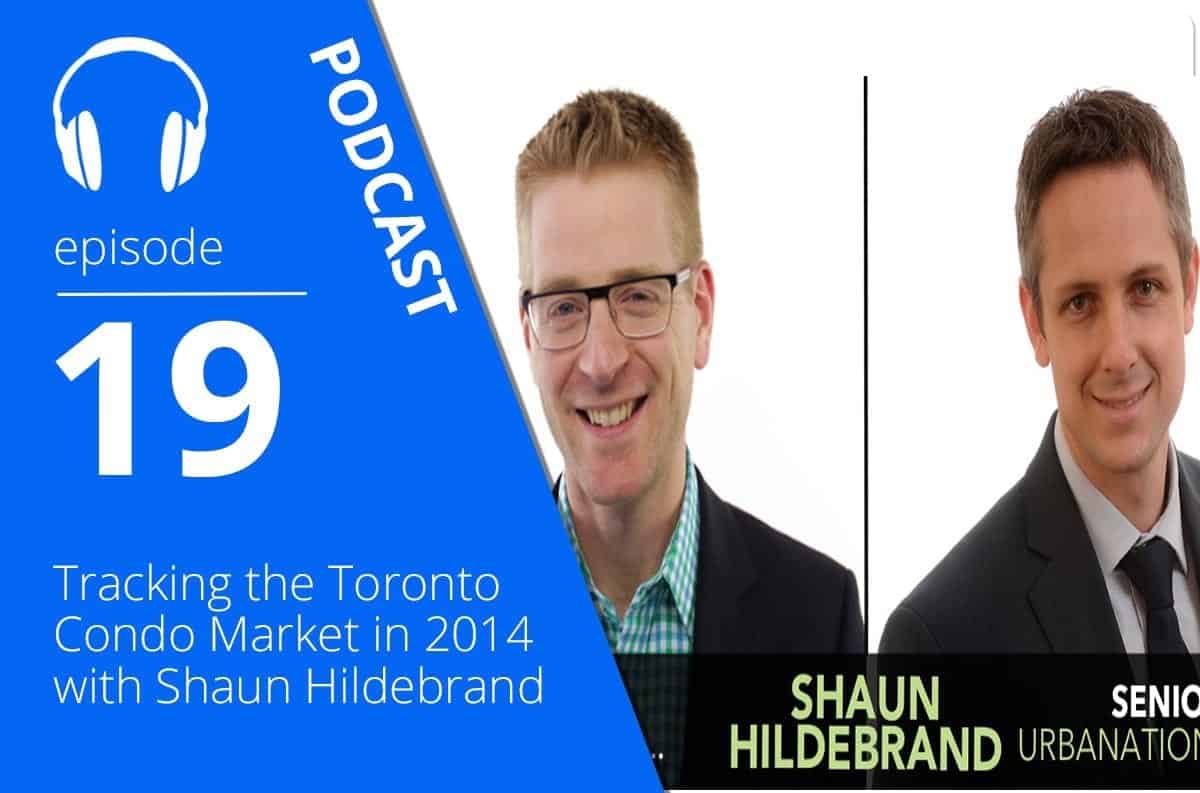 In this week's episode of the True Condos podcast, Andrew la Fleur discusses the current state of the Toronto condo market with Shaun Hildebrand of Urbanation.
For more than 30 years, Urbanation Inc. has been actively tracking Toronto's high rise condominium market. From projects in the planning stages, to new projects in the presale and construction phases, to completed projects trading units in the resale and rental markets — Urbanation monitors the market from a 360 degree angle with consummate accuracy that is unmatched.
Shaun Hildebrand Interview Highlights
00:17 Who is Shaun Hildebrand?
2:55 Interest Rates
6:10 How Shaun Got Started in Real Estate
9:46 What is CMHC & Their Role?
11:51 Q3 Sales Report from Urbanation
13:51 What is Driving the Demand of Toronto's Condo Market?
16:04 The Surprising Numbers
17:18 Is There a Condo Bubble in Toronto?
21:47 Condo Completions This Year
23:43 The Condo Rental Market
28:40 Which Areas Have the Strongest Growth?
31:20 Where is the Toronto Condo Market Going Over the Next Five Years?
36:01 Resale Market Demand
36:46 Shaun's Personal Condo Investment Strategy
38:00 Today's Competitive Condo Market
40:30 How to Reach Shaun Hildebrand
Links
<Globe and Mail article: Interest rate
How to Leave a Review for The True Condos Podcast on iTunes
Shaun Hildebrand Interview Transcript Coming Soon…
Andrew la Fleur: Hello and welcome back to the True Condos Podcast. Once again, I'm your host, Andrew la Fleur. Thank you for listening.
Today on the show we have Shaun Hildebrand of Urbanation. I've been trying to interview Shaun for quite a while now. He's one of the best known people in the condo industry. Urbanation certainly is one of the best known companies in the condo industry in Toronto, but also across North America. Nobody tracks the condo market to the level of detail, you could say, across all sectors – resale, new, rental – in the way that Urbanation does.
Also, I should disclose that I'm also an Urbanation subscriber myself. What that means is I pay Urbanation for their data. The reason I do that is, where most real estate agents would never consider paying quite a bit of money actually for this kind of data, is because it adds a lot of value to my clients.
The information they provide helps in making better investment decisions, understanding the market better, understanding the opportunities and the challenges that are in the market. My clients can take advantage of that by working with me.
Also, a little plug there, if you're not a subscriber already, make sure you head over to truecondos.com and become a subscriber today.
Subscribers also benefit from this information as well through the newsletters, the e-mails, articles, videos, interviews like this that I provide to you. Urbanation is fantastic, and I really appreciate the data that they put out.
I talked to Shaun about a number of things. Anything that surprised him about the market this year, you can hear about that, what's happening, obviously, in the market right now – the question about are there going to be a massive glut of condos, as some of the headlines have said, coming online and how that's going to affect the market. Is that actually reality or not? We talked about the rental market, what's happening, where the hot areas are of the market.
I asked him to bring out his crystal ball, which he has a very accurate crystal ball on his desk there. He is predicting what's going to happen in the condo market over the next 5 years. That's today's interview – Shaun Hildebrand.
Before we get to that, I just wanted to look again, as I've been doing in the past few episodes, what's in the news today about the market. Today, as I looked at The Globe and Mail, I see the headline "Plunging Crude Prices Could Delay Interest Rates Hike Says The Bank Of Canada". Interest rates, let's talk about that for a moment.
A lot of people like to say, "Andrew, the numbers on this investments look good for pre-construction," but that's based on interest rates being good today and being low today. We all know interest rates are going to go up, and they're going to go up a lot. When that happens, the market's going to crash and this and that.
Again, as I've been saying for years, low interest rates are a new reality. This is where we're going to be for a very long time. We dug ourselves a hole here. It's going to take a very long time to get out of his hole, so to speak, of being in a low interest rate environment.
Sure, eventually, at some point in time, interest rates will go up, but all signs are pointing to the fact that that is not going to be anytime soon. The Bank of Canada's tune, in the past 6 months or so, has been, "We're not going to touch interest rates for the next 18 months."
Basically, what they're indicating by that is we have zero need or urgency or reason to raise interest rates anytime in our foreseeable horizon is basically what they're saying. It's quite conceivable that we will not see any interest rate rises over the next 36 months.
Whenever we do see interest rates rising, it's not going to happen all overnight. They're not going to suddenly jack up interest rates to 1%. Obviously, that would shock the economy to the extent that it would be detrimental.
When interest rates do start to go up, whenever that might be, they're going to do it slowly- 25 basis points at a time over a period of probably 2, 3, 4 years. It's not going to happen overnight. We're not going to see the Bank of Canada essentially sabotage the real estate market and possibly the broader economy by jacking interest rates up.
The reality is that if you look at the global economy, especially the United States, it's still just not doing very well. We are not seeing strength in the overall economy. Therefore, there's no reason to raise interest rates. That's my 2 cents on the interest rate question for anybody who's interested in that angle. I would love to hear your thoughts.
Feel free to send me an e-mail anytime, andrew@truecondos.com, or you can also leave a comment, if you like, on the show notes for this episode, truecondos.com/shaun, S-H-A-U-N, Shaun Hildebrand, who we're interviewing today.
Okay. Enough for me. Let's get to the interview. Here's my interview with Shaun Hildebrand of Urbanation.
Andrew la Fleur: All right, it's my pleasure to welcome to the show Shaun Hildebrand. Shaun is the vice-president at Urbanation. Shaun, welcome to the show.
Shaun Hildebrand: Thanks. Thanks for having me.
Andrew la Fleur: Great. Looking forward to this interview. I know we've been trying to connect for a little while here, but excited to hear what you've got to say about the market and what's happening.
Let's get started. How did you get started in real estate yourself in this world? Tell us a little bit about who you are and your background.
Shaun Hildebrand: Sure. I studied economics in both my undergrad and graduate degrees. There weren't many specific courses to real estate economics, but I found real estate as a useful tool to help understand some of the, I guess, abstract concepts I was learning, because it incorporates elements of both macro and microeconomics.
Ultimately, I focused a lot of my research assignments while I was studying, and my thesis work, on real estate economics. I really wanted to pursue that area of study after I completed school as well.
After school, I was fortunate to work with the federal government and the Bank of Canada in Ottawa for a time. Ultimately, I wanted to be in Toronto.
I worked with a private economic consulting firm, which was mostly focused on wealth management. My work was centered around analyzing household assets, debt trends, basically analyzing and taking a look at the household balance sheet. Again, a lot of my focus was on real estate assets and mortgage debt and that sort of thing.
At one point, while I was working there, I attended a CMHC Forecast Conference. Right there I decided that that's what I wanted to do. I felt like that was a perfect fit for where I saw myself going.
Then not too long after that, I was fortunate enough to land a position with CMHC. I was able to manage housing market research. It was focused specifically on the GTA market.
It was an incredible experience. I got to work with some of the smartest economists around. I got to focus all of my time on the Toronto market and really see firsthand the inner workings of probably the most important institution in the housing market and one of the most important economy, in general.
Naturally, a lot of my time, because I did focus on the Toronto market, was spent analyzing the condo market. I was asked, it seems like on almost a weekly basis, to brief upper management on what was going on. I had the opportunity to consult with the president and the CMHC board on the condo market. Ultimately, I was a very heavy user of the Urbanation data.
When the opportunity came up to take over running Urbanation, it was very interesting to me. Not only could I continue to focus on the condo market, where, really, all the eyes are pointed to these days, I also got to gain experience on the operation and strategy side of running and growing a small research company.
It's really been an incredible experience so far. I work with an amazing team that is unbelievably dedicated and really, truly passionate about the local housing market.
We're a small team. We all have our own individual strengths. We work very well together. Even though we're small in terms of company size, I think we're very large in terms of our output and industry presence.
Andrew la Fleur: That's great. For those people who don't know, tell us what is CMHC and what is their role in the housing market in Canada a little bit, because, really, like you said, you got your start there. Tell us a little bit about CMHC.
Shaun Hildebrand: CMHC's main line of business has been mortgage insurance, ensuring high ratio loans. If you have less than a 20% downpayment, the banks require insurance for the loan and would CMHC would provide the insurance for that. You would pay a premium on your mortgage amount to the bank, who ultimately pays it to CMHC.
A lot of interest, a lot of inner workings dedicated to understanding the health of the overall housing market. Market analysis was a very large part of the organization, understanding the market from a risk perspective, taking a look at CMHC's own individual insurance portfolio and analyzing trends within that pull of assets, and working across all lines of business within CMHC was part of the role.
Andrew la Fleur: CMHC, obviously, ensuring a lot of mortgages in Canada, Crown corporations. They're very interested in the health of the Toronto condo market. You spend a lot of your time, basically, day in, day out, studying the Toronto condo market.
Shaun Hildebrand: That's right. Yeah. A lot of attention, obviously, on the condo market. Most of the headlines are related to … Or at least they have been related to perhaps a bubble forming in the Toronto condo market. Naturally, it raises concerns within an organization as important as CMHC. Ultimately, they want to learn more.
We were very fortunate enough to have organizations like Urbanation who focus specifically on the condo market and they're able to offer very fine levels of detail of all aspects of the condo market in Toronto.
Andrew la Fleur: Let's get into the market itself right now. I think either you're working on the third quarter report for Urbanation. Is that right? It should be coming out soon?
Shaun Hildebrand: Yeah, we're updating our third quarter numbers for new condo sales and resale activity. We recently put out the rental activity report earlier this month.
Andrew la Fleur: That's right. We'll talk about the rental numbers, for sure. In terms of the Q3 sales report, what sneak peak can you give us? What are things looking like for Q3, or what kind of trends are you seeing developing this year?
Shaun Hildebrand: The first half of the year was unbelievably strong, but we were also coming off of a fairly weak period in 2013. Sales in the first half of the year were up about 65%. Again, coming from fairly depressed levels in the first half of last year.
We've seen a lot more activity occurring. It still seems to be fairly centralized, most of the sales activity and launch activity happening within the core of the city. That's where developers are feeling most confident and that's where most investors are looking to purchase these days. Not as much in the 905.
We've gotten to a point where inventory levels in the core are actually quite low. Of all units that are in development right now, there are collectively over 90% sold. We haven't seen a ton of new launches. I think there's still quite a little bit of room to grow in the core.
The suburbs have been adjusting. They've been dealing with higher levels of inventory as a result of the overhang caused by the slow down last year, but they're working their way down. I think, as we move through the later part of this year and into 2015, we'll probably see more activity happening at some of the larger markets outside of the city, like in Markham, Mississauga. We're seeing actually quite a bit of activity happening in the West End and Burlington, even other areas of the whole region.
Andrew la Fleur: What do you think is driving this market right now? What's driving the demand, in your opinion? As you said, sales up 65% this year over last year for the first half. What do you think is the story behind the story here?
Shaun Hildebrand: Most of the activity that happens in the new condo market happens at pre-construction sales centers. At least half, probably more, of pre-construction buyers are investors. It really comes down to investor sentiment, how confident they are in the marketplace. Do they see a stable market going forward?
I don't think they have distorted expectations for huge price gains in a short period of time, but they do recognize opportunities that are presenting themselves in the rental market. They can see rates are still very low.
Rents are holding stable. Rental demand is probably at or close to its highest level in over 20 years.
There are longer term investors that see longer term potential and longer term value in the market place. I don't think that the market is being driven by speculative investors. If that were the case, we would have been seeing prices grow much quicker than they have been.
Prices in the new condo market are growing at 2% or 3% year over year. That's a very sustainable rate of growth. We're not seeing overly aggressive price increases and investors bidding up prices to astronomical levels. What we're seeing now is actually very competitive pricing in the market place to the extent that pricing for pre-construction condos is at or slightly below levels that we saw even a couple of years ago.
Pricing when you move off of Yonge Street has been discounted. We're seeing the Downtown East seeing a lot of traction, and investors are noticing this.
They're seeing that comparable projects in the resale market, recently completed projects, are trading at comparable values to pre-construction units, which is something that hasn't really been the case in previous years. I think they're recognizing more value and they're seeing stable conditions on the horizon for the market. That's really what's bringing a return of confidence to the market this year.
Andrew la Fleur: Has there been anything that surprised you this year from the numbers so far?
Shaun Hildebrand: Yeah. Just the numbers, in general, had surprised me. We were expecting somewhere around 16,000 sales or so for 2014. It looks like we'll probably reach at least above 18,000 this year. I was surprised at how quickly confidence returned to the marketplace and how quickly inventory levels adjusted down.
Part of the reason why we didn't see a lot of activity in 2013 was because there wasn't a lot of new launches, mostly because developers were focused more on unwinding inventory at their existing sites, but the incentives that they offered really attracted the attention of buyers. That brought that inventory levels to a more appropriate level that would necessitate a higher level of new openings coming into the marketplace. It would allow for more supply in terms of project launches.
I was surprised at how quickly the market adjusted. I thought that it would be a slower process, but it happened actually quite quickly. Developers who were waiting around in 2013 reacted very quickly in the first half of 2014 to getting new projects out there to meet that level of demand.
Andrew la Fleur: You probably get asked this more than anybody. You're at a cocktail party or whatever, you're on the street, someone finds out what you do. They first thing they'd probably say is, "Oh, Shaun. There's so many condos going up in Toronto. I see the cranes everywhere. Isn't this thing all just going to crash soon?" What's your cocktail party answer to that statement from someone you hear that sentiment?
Shaun Hildebrand: Yeah. It's quite often for sort of in a bubble. The bubble word seems to be the buzz word that gets tossed around whenever you talk of the local condo market. I think bubble is definitely the word to apply to the current market. It doesn't take much to pop a bubble. They'll eventually burst under their own weight.
I heard once, an economist, I think, at one of the banks referred to the current market as more of a balloon, meaning that the market has clearly inflated, but it would require something sharp and something meaningful to cause any sort of damage. Unlike a bubble, a balloon can cut off slowly to let its air out rather than become popped by a slight change in policy or even just a modest rise in interest rates or slightly weaker economic growth and cause prices to collapse that way.
I tend to agree more with that analogy, but I would go even a step further and say that the current market is like those long, skinny balloons that clowns use to make animals for kids in a sense that it hasn't inflated overnight. It's been a steady and gradual rise in the marketplace, I guess, apart from a brief period of frenzy in 2011.
I think that we'll still see growth over the longer term, but the short term may experience bumps and perhaps brief periods of deflation, which I think is natural and healthy for any market to go through. I think that, as I mentioned before, expectations in this market are very well-anchored in reality. I don't think many buy with the intention of making a quick amount of money. The focus on the market has been in the longer term.
The market itself has already gone through a test, I think, in the last 12 to 18 months. As we've seen demand slow and supply rise, market conditions have remained very stable, and that's provided, at least for me, from an analytical point of view, more confidence in the market going forward.
It's been very resilient. Supply, developers, buyers, they've all adjusted very quickly to changes in market conditions, which means that they're very, very much on top of what's going on in today's market. They don't have distorted expectations.
I think that what's happened today has really set the stage for what's happening in the market moving forward. As I said, we're seeing development increase, we're seeing sales levels begin to rise again. That's coming at a time that we're going to be seeing higher levels of supply.
As forecasters, we know the outlook for supply because we measure activity at such early stages of development. We know the number of units that are in pre-construction. We know the number of units that are set to come to completion over the next few years.
What we see is still a record level of units under construction and completions that are going to continue to remain at very high levels. We know that supply is going to remain strong, we feel confident that demand is going to remain at least stable, and that should create conditions that will allow prices and rents to at least hold steady. We may not see a high growth scenario, but at least we won't see a deflationary environment over the next little while.
We can certainly talk about the longer term benefits of the condo market and how development is shifting towards high rise and all of the supporting facts that go into leading to higher condo prices in the future, but I think a lot of people are focused on what's going to happen over the next couple of years.
As I mentioned, it's going to be a bit of a bumpy ride, but I don't expect to see a lot of turmoil and any period of weakness is going to be followed by a period of strength. I think there's going to be some pretty good opportunities in the market over the next little while, as there are right now.
Andrew la Fleur: What are we looking at in terms of completions this year? Because we haven't heard too much about it lately in the media, but, in the past couple of years, there's a lot of headlines around this glut, as they like to say, of units coming on to the market is just going to cause rental rates and prices to collapse because there's so many units under construction. We're going to see 30,000, 35,000 units coming on this year. What is it looking like for 2014 in terms of number of completions and moving forward? What picture are you seeing there?
Shaun Hildebrand: We've been tracking this very closely. At the end of each year, we look at the number of units that are scheduled to complete in the coming year. What we've noticed is that over the last few years, there's been a pretty big gap – the units that are supposed to come to completion are always way higher than the number of units that actually do come to completion, a gap of around 10,000 units actually.
There was supposed to be upwards of 30,000 units or so coming to completion this year. It doesn't look like we'll probably even surpass 20,000 or so.
That's a level that I think is probably going to be averaged over the next few years, which is above average. The average over the past 5 to 10 years has been somewhere around 14,000. We are seeing higher levels of supply, but it's not as if we're going to see the 55,000 units that are under construction right now all come to completion within a 12-month period.
They're going to be staged and staggered. Some will be grouped together, which means that we will, as I mentioned, see some pockets of very high supply growth in relation to demand. But averaged over the next few years, I don't see completions creating an oversupply situation on their own at least.
Andrew la Fleur: Let's shift gears and talk about the rental market now. As you said, the Q3 rental report was just released by Urbanation. What are we seeing in the rental market? What's the story there this year?
Shaun Hildebrand: The rental market's been very fascinating this year. We've been watching it very closely. The market is very heavily influenced by new supply.
Up until this year, I think there is an unbelievable amount of pent up demand for new rentals. The new supply that was being offered by investors from new completions was being snapped up very, very quickly. We were hearing reports of even bidding wars for new condo rentals.
Rents were growing noticeably for the first time in about 15 years. We saw rents grow by over 4% in 2012 and 2013 each. This year, market conditions have changed a bit.
Units are still in very high demand, but there's been enough of them on the market now that they've created enough supple competition to hold rents steady. Rents, in the first half of this year, or the first three-quarters of this year, are up about 1.5% compared to the same period last year. We are seeing a flattening out in rental appreciation; although still holding steady.
There's a couple of things that are happening here. I think we are seeing some winding down of previous levels of pent up demand. I think we've reached or close to reaching peak levels of rental demand, at least in the near term.
If you take a look at some of the fundamentals like immigration, that's been slowing recently. Population growth between the ages of, say, 15 and 34 isn't quite as strong as it was over the previous couple of years. We're seeing a slightly weaker employment situation this year as well. At the same time, supply's still on the rise. We're not going to see that slow down over the next couple of years.
What it's doing is it's creating more balance in the rental market. It's still a very strong market, but it's not as tight as it once was. It's leading to a situation where rents don't need to grow by the same extent that they have been. It's possible that we'll see vacancy rates edge up slightly.
CMHC measures condo vacancy rates in the fall of every year. They're set to report their numbers in December. Last year, we saw average vacancy rates for condos move up to 1.8% from 1.2% in the previous year. Still very low levels, but gradually moving up.
When they report vacancy rates this year, I don't expect to see a huge increase, but it may move up slightly higher than 1.8%. Still, an average of 2% is still a very low vacancy rate by any measure. It's still very supportive of current rent levels in the market.
I think it's also important to note that what's happening in the market right now is fairly short term. Supply growth is going to remain strong from new completions over the next few years, but when you move into that post-2016, 2017 period, you're going to see completion slow down considerably because we haven't been seeing many new projects launching in the last couple of years.
At the same time, you're probably going to see further support for rental demand as interest rates begin to move higher and homeownership becomes relatively less affordable. The short term has its challenges, but the longer term, I think, for rental growth is really bright.
We've been talking to a lot of developers lately and there's quite a bit of interest these days in actually constructing purpose-built rental projects across the city.
Andrew la Fleur: Yeah, that's certainly something we've talked about on previous episodes of this podcast and different developers I've interviewed as well. A lot of developers, like you said, are looking at, "Hey, instead of building this condo and selling these units off, we're looking at the rental market and seeing how strong it is. Why don't we just hold on to this building ourselves and rent it out?" because the average condo developer has a much longer term outlook than the average individual investor who's just thinking, "What is my money going to do in the next 5 years?" versus the average developer's thinking, "What is my business and my money going to do over the next 10, 15 years?"
Shaun Hildebrand: Yeah, it's true. There's certain pockets of the city that see very high rental premiums, but maybe not as high of a premium on the price side. Certain locations certainly do lend themselves better to building purpose-built than perhaps condo, even though condo's obviously a good option as well.
Andrew la Fleur: Breaking it down on the rental market, the Q3 numbers looks like, overall, rents are up on a per-square-foot basis around 1% or so, year over year, but you have different submarkets within that Toronto market. Breaking it down, where are the areas where you are seeing stronger growth still, year over year?
Shaun Hildebrand: The core, which is the largest part of the rental market, is pretty much in line with the market average when you look at it year-to-date. The third quarter was quite strong. We saw rents move up, largely because we didn't see a lot of new registrations during that 3-month period. If you take a look at the downtown core over the last 9 months or so, that's up about 1.5% when you look at rents on a per-square-foot basis.
Some of the higher growth areas are the neighborhoods that haven't seen a lot of new completions in recent years. Taking a look at the south and north Midtown markets, really not a lot of new supply over the last 3 years. It's really starting to create tight conditions and demands obviously growing much faster than supply, creating a situation where rents around Yonge and Eglinton are growing 6% or so year over year. I would say that that pocket of the city, right now at least, is one of your higher growth markets.
Also along Bloor Street, even the Downtown East, I would say, is slightly about average. Liberty Village rents are starting to flatten a bit, but they've seen quite a bit of growth. City Place as well is still seeing quite a bit of growth even though it actually is one of your markets with higher turnover.
Andrew la Fleur: That's very interesting. City Place, normally, a market where most people would say, "There's too many condos," that poster child of the people who say, "Oh, there's too many condos in Toronto. It's never going to work out," but, in fact, like you're saying, you look at the numbers, they're actually outperforming the market in terms of growth.
Shaun Hildebrand: With areas like City Place and Liberty Village, they're, obviously, very well-located. The units that trade in these markets are below average. They're exceptionally small. They're usually below 700 square feet.
On an average monthly rent basis, they're well below average. Located very well within the city, but offering affordable options for renters. They see very high level of demand as a result.
Andrew la Fleur: Bring out your crystal ball, if you don't mind. I know you got one there on your desk. Where do you see the market really going over the next 5 years? You touched on the rental situation, improving after 2016 and more growth ahead. What else do you see longer term, 5-year projection? Where do you see things going?
Shaun Hildebrand: Yeah. Like I said, I think we'll see a period of relative flatness over the next 2 to 3 years. Then, after that, I think we'll see both rental rates and price appreciation begin to pick up again.
One of the obviously strong variable that could impact the market are higher interest rates, but it seems as though the timeline for interest rate increase just keeps getting extended further out into the future.
It doesn't look like interest rates are going to be a huge factor in the next few years. I'm more concerned about the recent trends that we've been seeing in terms of employment growth and net migration into the city. Hopefully, that will improve. Hopefully, it's just a short term blip in a longer term upward trend.
Net migration into the city last year was at one of its lowest levels of the past 10 years or so. I think that's largely related to the strength in economic growth that's been occurring out west. We've seen a net flow of people from the region moving out into areas like Calgary where the unemployment is a full 3 percentage points lower than where it is here.
That could change. Obviously, with what's happening to oil prices, economic growth may not be quite as strong out west as it has been in the last year or two. The strength in the local financial sector, despite the weakness that we've seen in recent weeks, it still supports a very healthy labor market.
I think that it is a shorter term phenomenon. As long as we see stable economic conditions and at least modest economic growth in the city over the next few years, I think that demand is going to continue to grow as well. One of the benefits that the condo market has, in relation to other housing forms, is it's an incredibly large affordability gap.
One of the biggest stories I find in the Toronto housing market this year has been the continued and persistent rise in single detached home prices. The difference between even a condo and a row home or a semi-detached home in the city has grown to record levels. It's a huge leap to move between those types of housing options.
An increasing share of the population is continuing to gravitate towards condominiums. I really don't see that changing over the next few years. As long as single detached prices remain where they are at least, condos are going to remain an even more accessible option to a greater share of the population over the next few years.
Andrew la Fleur: Yeah, absolutely. That's what I say to everyone as well. The housing market, the housing price has really set the floor for the condo price, where prices of housing keep going up 8%, 10% a year. The prices of condos have nowhere to go but up as well as more and more people are shut out of the housing market. Their only option becomes a condo.
Shaun Hildebrand: Yeah. This is why you're starting to see growing opportunities within the larger segment of the condo market.
One of the things that we've noticed recently is a very strong growth in resale demand for relatively older condos that offer more space and allow you to move up within the condominium market. Two-bedroom units, over 1,000 square feet, typically found in older buildings. Perhaps they need some work, but there's quite a bit of renovation activity that's been occurring in these projects. Really, it's been the strongest segment of growth we've seen recently within the broader condo market in terms of resales.
Developers are starting to notice that as well and you're starting to see a bit of a more diverse product mix coming in to the marketplace, a relatively larger allocation of, say, 2-bedroom and 2-bedroom plus den units in comparison to what was being offered over the previous few years.
Andrew la Fleur: That's interesting. What do you mean by that? You're saying, in the recent market, you're seeing the most amount of growth in the larger units. Is that anecdotally or do you have numbers to support that?
Shaun Hildebrand: I don't have the numbers right in front of me, but we've certainly been calculating them and segmenting the market by unit size range, age of the building, obviously, and unit types. What we've noticed is that, again, larger unit types – 2-bedroom plus and 1,000-plus square feet units, again, typically found in older buildings – have experienced well above average growth over the last year.
Andrew la Fleur: Interesting. That's certainly a trend to watch for. Like you said, so many buildings the past couple of years, and pre-construction has shifted their focus in their suite mix towards one bedrooms, but, on the resale market side, you're seeing stronger demand for two bedrooms, quite possibly because people can't afford to get into a house, they're staying in a condo longer, they're looking for those larger suites to move up to from their studios and one bedrooms.
Shaun Hildebrand: Yeah. I think it's that and it's also the downsizing trend that we've seen as well. Not all people moving away from their single-family home in retirement want to live in a one-bedroom unit. They want more space as well. I think the combination of those 2 factors are helping to drive that market.
Andrew la Fleur: Shaun, I know you're a real estate investor yourself as well. When you are investing personally, what do you look for, or what are you looking for now in investment properties for yourself?
Shaun Hildebrand: When I look for an investments within the condo market, I would typically look to an area in the building that doesn't see a lot of turnover. Obviously, I'm privy to a lot of detailed information, I have access to a lot of information on that front, but I wouldn't typically tend to buy in a building that has a very high share of units that are rented out, because there's always going to be a lot of turnover, whether it'd be in the rental market or in the resale market. That tends to create, obviously, a lot of supply competition and limit potential price appreciation.
I like to look at smaller scale buildings that don't see a lot of competing supply and are surrounded by single-family homes that are relatively expensive. I look for those areas that offer relative value in relation to their surrounding markets in terms of price and also don't see a lot of supply turnover within the individual units.
Andrew la Fleur: Makes a lot of sense. Shaun, is there anything else that no one has ever asked you about yourself or about the condo market or about Urbanation that you wish that they would?
Shaun Hildebrand: Not really. I talk to a lot of people in the media. The last thing they always ask is, "Is there anything you want to add?" I always use that opportunity to say my piece and make sure that I get everything I want to say in there.
I will say that today's market is unbelievably competitive. Having access to data and accurate data is incredibly important. If I can just plug Urbanation for a second, it's just that we're the only company out there that monitors the markets from every angle. Not only are we tracking new condo projects, we're tracking proposed projects, we're tracking resale projects, we're tracking activity within the rental market.
Altogether, we're tracking over 650,000 condo units and we have information on all of them – sales, pricing, inventories, suite mixes, suite finishes, anything that has to do with the project in terms of building amenities, deposited structures, everything.
We do that on a quarterly basis. The information is updated regularly. We offer a lot of consulting assignments as well. Our clients and other developers and institutions and individual investors will come to us and ask us for studies on particular sites. We put together recommendations on pricing and rent levels, if that's the case. That's been a very strong and growing portion of the business as well.
We take the care and the time to get as accurate as information as possible. I think our clients are quite appreciative of that. I think, in today's market, it's just unbelievably important to have access to very fine levels of information, particularly within the condo market.
There really isn't a group like us, even within North America, that tracks the condo market, specifically in this level of detail. I think our market has benefited from having very wide open access to information and complete market knowledge, whereas others perhaps were operating in more of an unknown statement [akin to 40:28] what was actually happening in the marketplace.
Andrew la Fleur: That's great. Thanks, Shaun. I really appreciate your time today. Thank you for sharing your insights with us. If people want to get a hold of you, what's the best way for them to do that?
Shaun Hildebrand: I'm not big on social media myself. We do have Twitter account, @Urbanation, but I wouldn't be the person you'd be contacting if you went through that, but it will eventually get to me.
E-mail is fine. I'm more than willing to provide my e-mail address. It's Shaun, S-H-A-U-N, @Urbanation.ca. Feel free to send me an e-mail, if you have any questions or want to chat at all about the real estate market.
Andrew la Fleur: That's great. Okay, thank you very much, Shaun. Hopefully, we can have you on the show again soon.
Shaun Hildebrand: All right, thank you.
Andrew la Fleur: Okay, there you have my interview with Shaun Hildebrand. I hope you enjoyed that. I certainly did. He had a lot of great things to say. I'm sure I'll have him on the show again, maybe make it a quarterly thing or at least twice a year to understand what's happening in the market.
Once again, for all the show notes on this episode and for links to Urbanation and the other things we talked about, head on over to truecondos.com/shaun. Once again, thank you for supporting this show. Thank you for becoming a subscriber at truecondos.com. Until next time. I will talk to you soon.
Thanks for listening to the True Condos Podcast. Remember, your positive reviews make a big difference to the show. To learn more about condo investing, become a True Condo subscriber by visiting truecondos.com.