Stockyards District Condos
Welcome to the Stockyards District Condos project page. This is your ultimate resource for getting all the details on Stockyards District Condos including prices and floor plans. When you're ready, you can reserve your Stockyards District Condos unit right here by clicking the green "Reserve Your Unit" button below.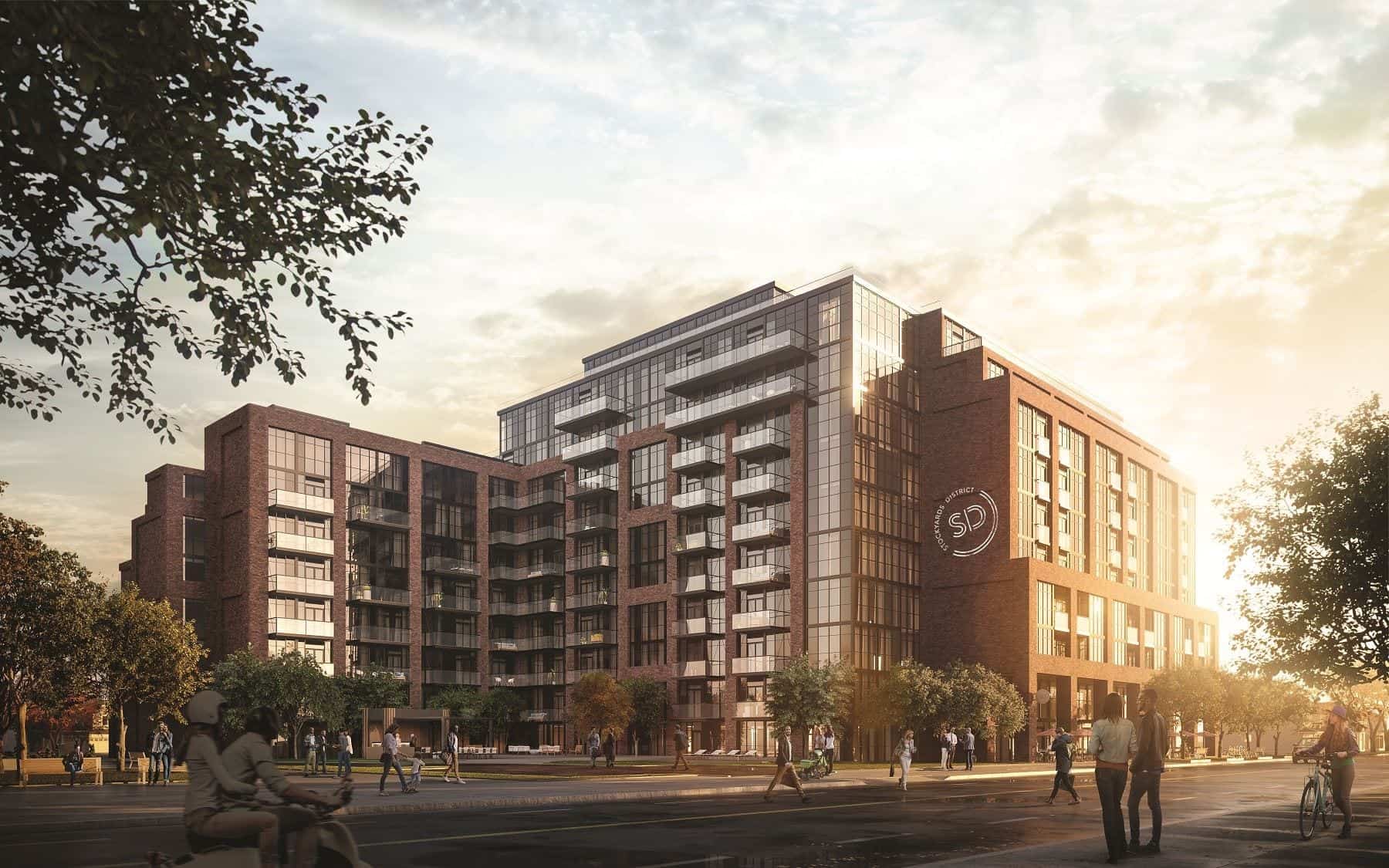 About Stockyards District Condos
Welcome to Stockyards District Condos.
Condominium living for you.
Some of us not only seek authenticity – we live it. At every given opportunity, we create our truth: in the types of shoes we wear, whether we bike or drive, new music or podcasts, morning bird or night owl, sunny side up or scrambled. Through each moment of our lives, we live in the reality we have created. When we return home from that vision, we live in the places we choose.
Stockyards District Condos Details
| | |
| --- | --- |
| Developer | Marlin Spring Developments |
| Address | 2306 Saint Clair Avenue West |
| Neighbourhood | The Stockyards |
| Number of Storeys | 10 |
| Number of Units | 236 |
| Occupancy Date | TBA |
| Maintenance Fees | TBA |
| Priced From | low $400,000s |
Stockyards District Condos Location
North of The Junction, elements of Toronto's unique history have come
together to create The Stockyards District where the Stockyards District Condos will reside.
In this community, there's proof of the boundless efforts of creators and cultures that have made Toronto the well-loved city it is.
Historically, The Stockyards is like any neighbourhood that organically finds transformation. The ideal setting for creative growth and urban life, it shines through elements created anew —warehouses turned into homes; artists staking their claim; day-to-day life and nightlife made equally essential. This is the place to create and thrive. This pocket of the city is yours to discover.
Steps from The Junction, The Stockyards District Condos echoes the ingenuity of one of Toronto's best neighbourhoods. Paired with transit, bike paths, boutiques, and a nearby urban centre, The Stockyards District is all yours, however you choose to explore.
Stockyards District Condos Amenities
LOBBY
Retreat into an open, comfortable space with high ceilings, exposed brick, and furnishings with quiet, unassuming style.
Accompanied by a concierge, the Stockyards District Condos lobby is accessible from the street through St. Clair Avenue West or through the building's interior courtyard along Symes Road.
Inspired by the uniqueness of the local urban culture, it's an entryway that invites you to take a seat, grab a book, and relax for a while.
OUTDOOR AMENITIES
Featuring multiple covered lounge and dining nooks, this inviting outdoor amenity space provides residents with various options for relaxing retreats or open-air entertaining.
Alongside cozy fire pits, The Stockyards District Condos has a series of rustic materials come together to create a warm, laid-back atmosphere in the courtyard and outdoor green space.
With the addition of clean-lined furniture, a kitchen prep and BBQ station, dog run and children's play area, you'll find the perfect comforts to extend your living space.
FITNESS
With a modern, fully-equipped fitness and yoga room, enjoy everything you need to build or maintain your strength. Find that inner zen, relax, recharge, or ramp up your routine, all without leaving the comforts of home.
Stockyards District Condos is made to accommodate all of your exercise needs, from weight training to cardio to yoga, our exercise amenities have been designed with you and your life in mind.
PARTY ROOM
Enjoy special occasions and private gatherings amidst the backdrop of a relaxed and design-savvy party room environment.
Suited with chic tile flooring, a contemporary mix of furniture and unique lighting selections, the tone has been set for a space that welcomes you and yours to do everything from hosting big celebrations to unwinding with close friends.
The Stockyards District Condos comes with a lounge and private entertainment and dining area, let this intimate and inviting room welcome you in for any occasion.
KID'S PLAYROOM
With areas for activity, socializing, and quiet time together, the Kids Playroom is a welcoming space for parents to comfortably entertain their children.
The Stockyards District Condos comes with furniture designed to optimize fun and play, this is a space made for family gatherings. A series of games, toys and chalkboards encourage creativity, alongside an air hockey table made for friendly competition.
Patches of soft carpeting and cozy places to sit and read make this space both functional and fun for kids of all ages.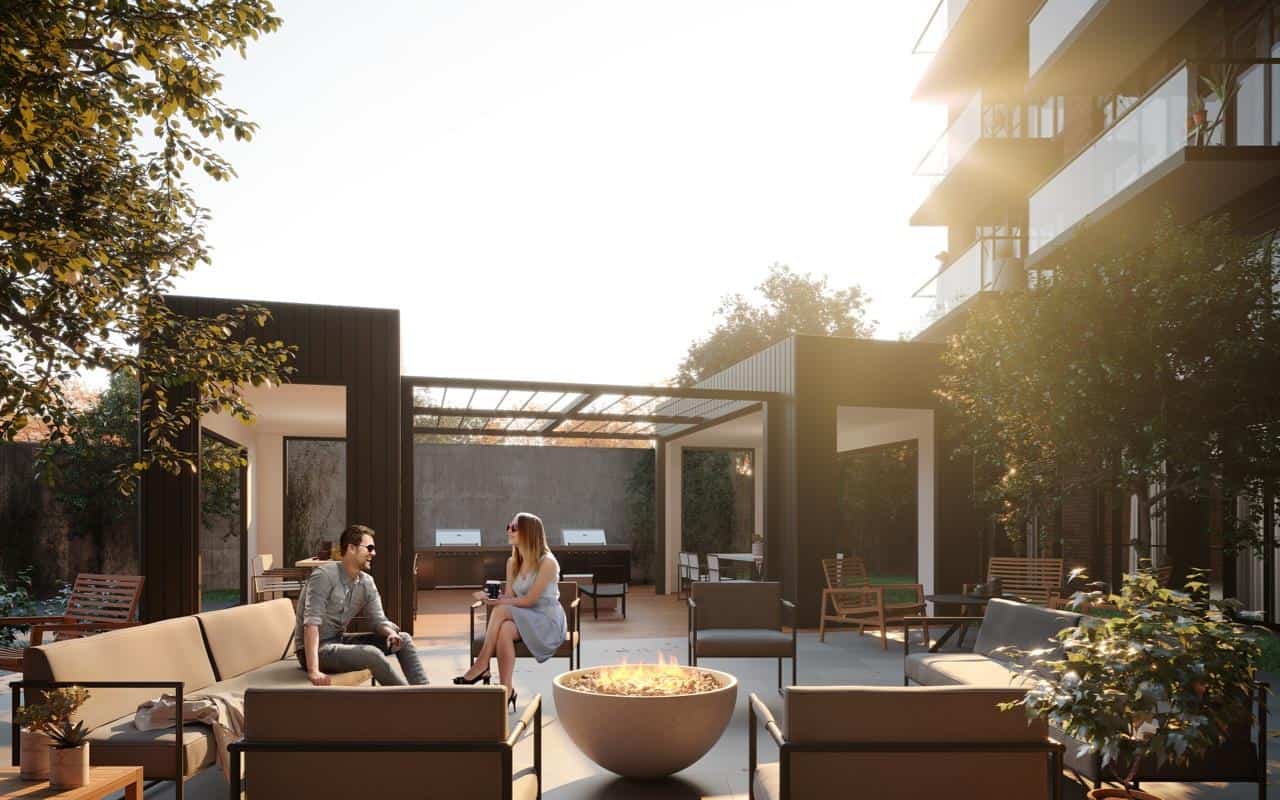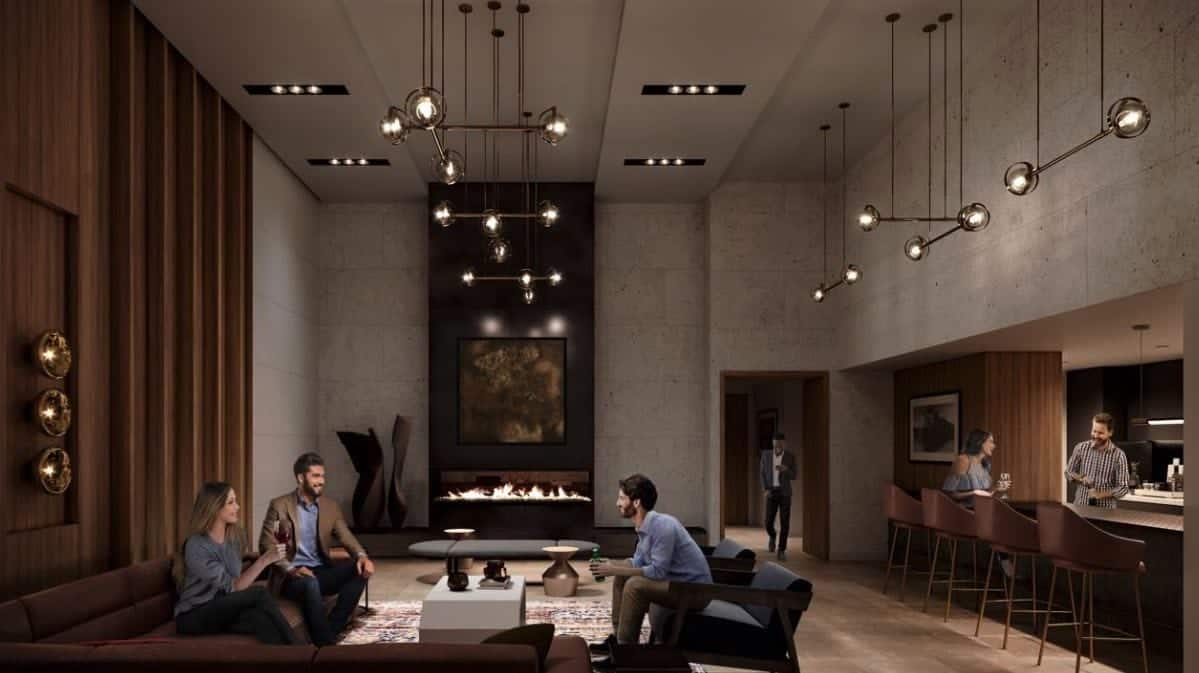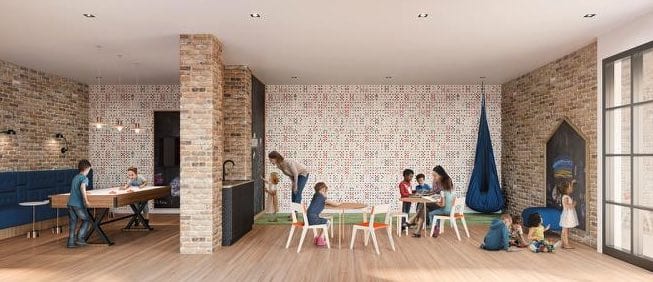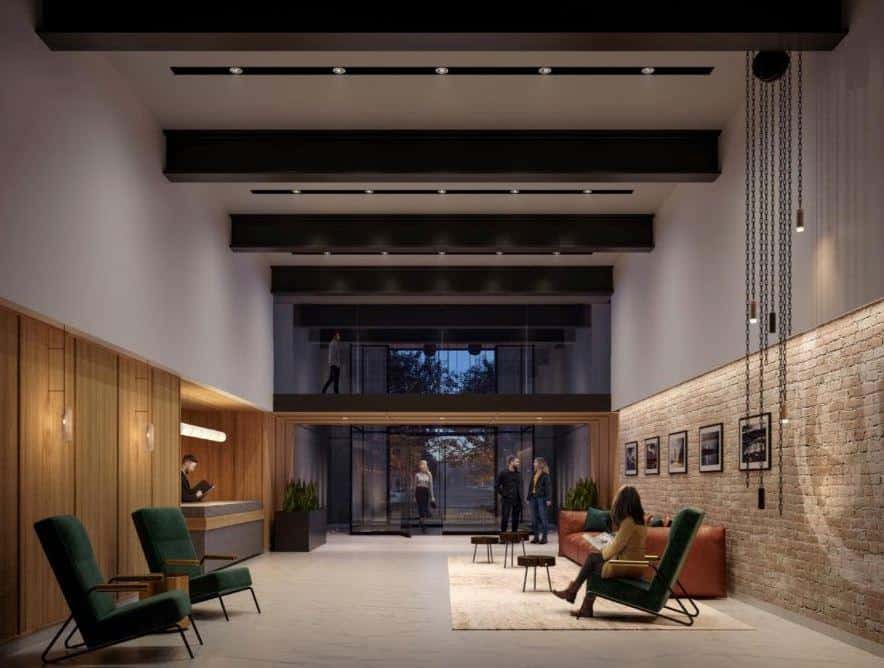 Stockyards District Condos Features and Finishes
It's all in the details. The Stockyards District Condos features and finishes are carefully selected to maximize your living space using the highest quality craftsmanship.
Residents will enjoy an array of premium features and finishes with thoughtful elements throughout. From custom vanities created by coveted interior design firm U31, to individually controlled heating & cooling, sleek contemporary soaker tubs and more, every suite detail has been meticulously crafted to exceed standards and expectations.
SUITE FEATURES + FINISHES
– Authentic industrial-inspired architectural design;
– Balconies and terraces with contemporary glass railing systems and industrial-inspired accents
– Floor to ceiling windows
– Energy-efficient appliances
Spacious ground floor exterior amenity:
– outdoor BBQ with dining area
– fire pit with lounge seating
– comfortable sun loungers
– children's play space
– dog run area
– Suite designs with approximately 9' smooth finish ceilings
– Contemporary kitchen cabinetry custom designed by U31
Custom designed vanity by U31, with quartz slab countertop and undermount sink
– Contemporary single-lever faucet in matte black finish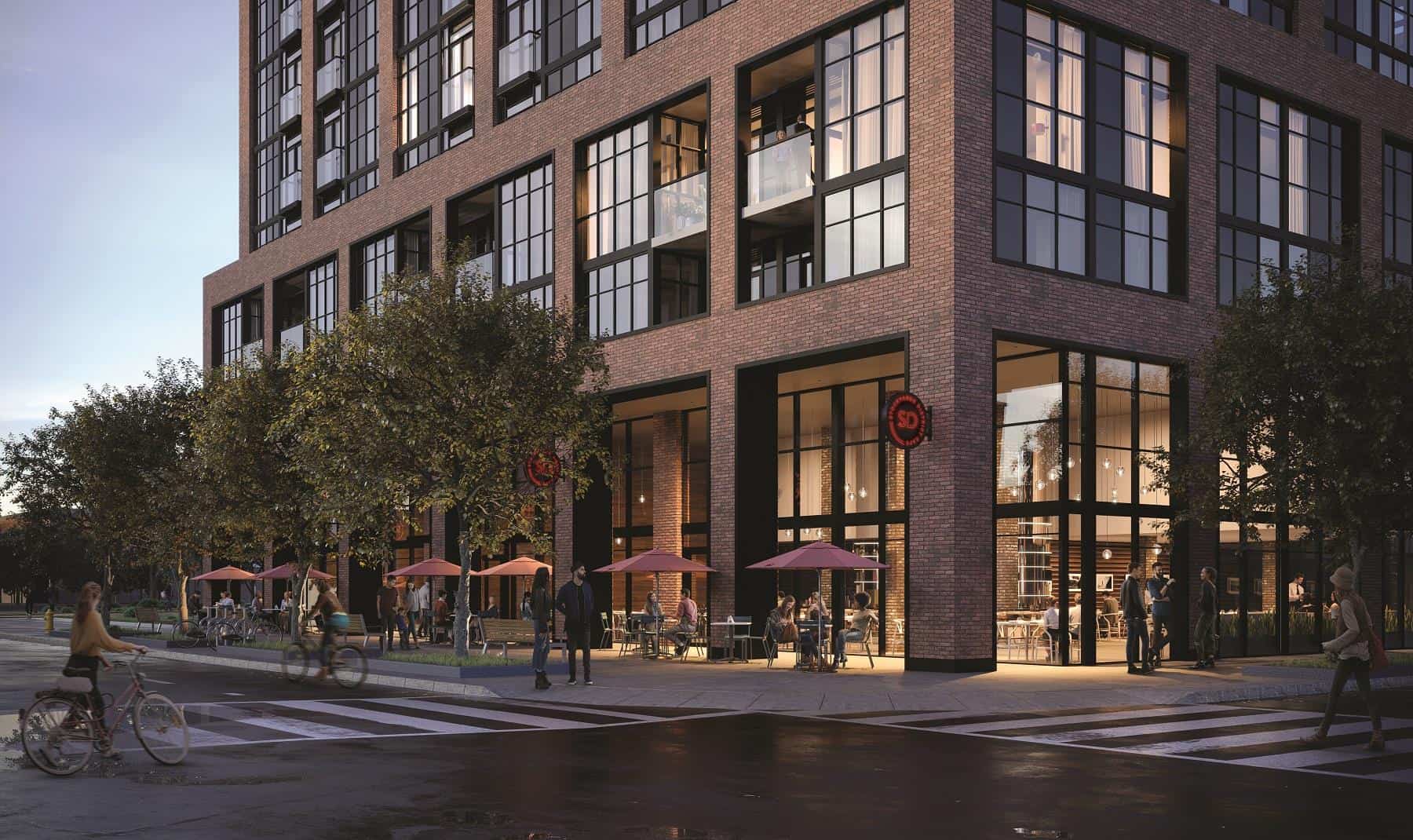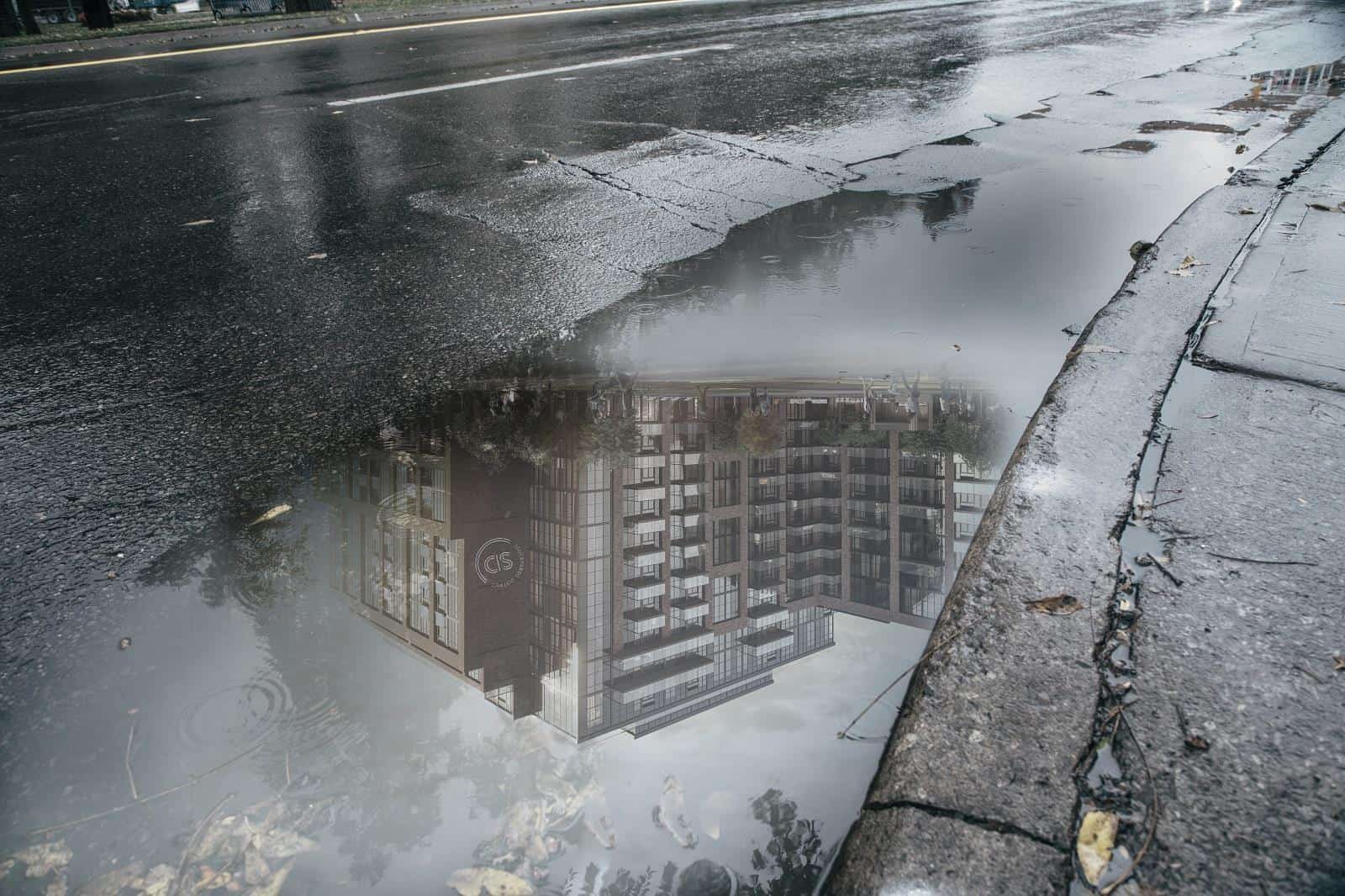 About the Developer
Marlin Spring prides itself on its ability to imagine, to inspire, and to innovate. Its industry- leading communities are distinguished by the highest quality building standards, elegant architecture, vibrant amenities, and environmentally friendly features.
The company has a strong, diversified portfolio of low-rise, mid-rise, and mixed-use projects in prime locations across the GTA, with approximately one million residential square feet currently under development. As a testament to its community commitment, Marlin Spring makes significant investments in the communities in which it builds.
Stockyards District Condos Frequently Asked Questions
How do I reserve a unit in this project?
After you review the floor plans and prices, if you know what suites you are interested in, you may reserve a suite online using our online reservation worksheet form at https://truecondos.com/worksheet.
Does filling out the worksheet form mean I'm committing to buy a suite?
No it is not a formal commitment, it is an expression of interest and the first step you must take if you are thinking about getting a unit in this project.
What does it mean that Andrew la Fleur is a "Platinum Agent"?
Platinum agents are the top selling agents who get preferred status with developers and first access to new projects before regular agents and the public.
Andrew la Fleur has been a top-selling pre-construction agent since 2007, and during this time he has achieved platinum status with many of the top builders and sales companies in the Greater Toronto Area.
For more information on about Platinum agents see this article: https://truecondos.com/5-things-to-know-about-buying-a-condo-with-a-platinum-vip-realtor-real-estate-agent/
How does it benefit me as a buyer to work with Andrew la Fleur as my Platinum Agent?
Working with me as your Platinum agent gives you several benefits
You get the

highest level of access

in the building

You pay the

lowest possible price

for the unit (prices are typically increased significantly after the Platinum sales event)

The best possible

incentives

I do not represent the builder. I represent you. You benefit from my expertise of being a top selling pre-construction agent and investor myself since 2007.

Access to my personal network of mortgage brokers, lawyers, property management, HST rebate services, handymen and much more.

My services to you as a buyer are

free
Do I get a cooling off period? What is it for?
Yes, after you sign the contract to purchase a suite you will have a standard 10-day cooling off period. It's 10 calendar days, not business days from the time you sign.
The 10 days are primarily for 2 things: 1) to have a lawyer review your contract with you if you wish and 2) to get a mortgage pre-approval letter
Do I need to have a lawyer?
You don't need to have a lawyer at the moment that you sign the agreement, however I always recommend that you have a qualified lawyer review your agreement of purchase and sale after you sign and during your 10-day cooling off period.
Not sure who to talk to? Don't worry – getting a lawyer is something I can help you with. Contact me for more details.
Do I need to have a mortgage pre-approval to buy?
95% of all builders will require you to provide them with proof of financing capability in order to purchase. This is not required before you sign a contract, but it is usually required within 60 days of signing.
Not sure where to begin? Don't worry – getting a mortgage pre-approval is something that I can help you with. Contact me for more details.
Do the prices include HST?
If you are purchasing for yourself and plan to move in, then yes, prices include the HST and there is nothing you will have to pay at final closing.
If you are purchasing as an investment rental property, then you will have to pay approximately 7.8% of the purchase price as HST on final closing.
This money is remitted to the CRA and as an investor renting out your property you can apply to the CRA immediately to get this money back. It usually takes about 1 month to get your rebate back.
For more information on the HST, see here:
https://truecondos.com/tag/hst-rebates/
Contact me for more details.
What are my closing costs on a pre-construction condo?
Closing costs on a pre-construction condo will vary greatly depending on the actual purchase price of the unit you are buying, but it also depends on the builder, the city that you are buying in, and the type of unit that you are buying.
Roughly speaking in Toronto you can expect to pay approximately 3-5% of the purchase price in closing costs when purchasing a brand new condo.
Check out this article for more info on closing costs:
https://truecondos.com/5-things-to-know-about-closing-costs-when-investing-in-a-pre-construction-condo/
Contact me for more details
Are there any 'hidden' costs when buying a pre-construction condo?
No, there are no hidden fees when buying pre-construction condos because all fees must be disclosed in the agreement of purchase and sale. All purchasers have 10 days to review the agreement and have a lawyer advise them on the exact closing cost amounts. If you need a lawyer to help you we can suggest to you to several expert law firms that will review your agreement in detail.
Is it possible to assign my condo? How much is the assignment fee?
Most condo builders do allow you to sell your unit before the building is complete. This projcess is called selling by "assignment".
There is usually an assignment fee and a legal fee associated with selling. Costs can range from $1000-7000. Contact me for more details.