SXSW Condos
| | | | |
| --- | --- | --- | --- |
| Developer | Primont Homes | Number of Units | 848 |
| Address | 7082 Islington Ave | Occupancy Date | Dec 2022 (T1) Jun 2023 (T2) |
| Area | Vaughan | Maint. Fees | $0.58 psf/m |
| Number of Storeys | 21 | Priced From | $359,900 to over $694,900 |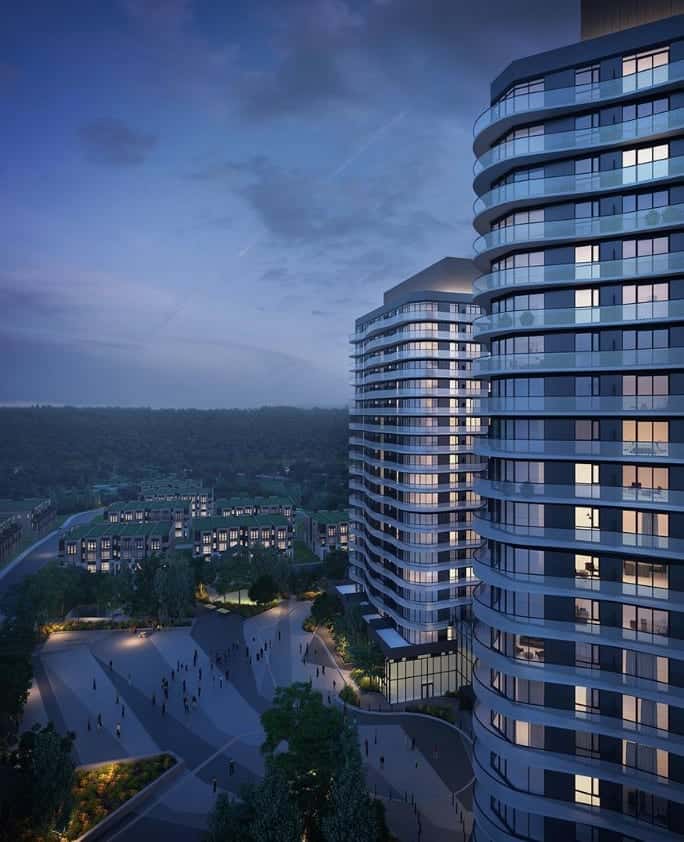 About SXSW Condos
PARKSIDE CONDOS AND TOWNHOMES
SXSW Condos is a rare opportunity to live comfortably, surrounded by natural beauty. Experience the ultimate parkside lifestyle, immersed in stunning contemporary design and resort-style amenities, close to the best that Woodbridge has to offer.
RESORT-STYLE LIVING IN WOODBRIDGE
A luxurious collection of condominiums and townhomes, SXSW Condos offers a resort lifestyle amid lush, green parkland.
Poised on the edge of a pristine, forested ravine, SXSW Condos is surrounded by the bounties of nature, while also offering an array of rich amenities both at home and nearby.
Everything you could possibly desire is lavished upon you at SXSW Condos. Revel in luxurious style, and delight in an array of features considerately designed to invigorate your life. Explore miles of parks in every direction, and discover the wonders of nature along walking trails. Find zen for your soul at exclusive yoga pads, and take in the sumptuous views from your suite.
Life unfolds beautifully at SXSW Condos.
SXSW Condos Location
SXSW Condos will be located at 7082 Islington Avenue, just north of Steeles, in the Woodbridge neighbourhood of Vaughan, ON.
SOUTH OF THE EVERYDAY
Sophisticated pleasures and absolute convenience await you just minutes away from SXSW Condos in Woodbridge.
GIRO D'ITALIA RISTORANTE DINING & NIGHTLIFE
Woodbridge is heaven for those who appreciate masterfully executed meals, rivalled only by Italy itself for exceptional Italian cuisine. For other purveyors of local and international flavours, the bar is high, and you'll always find new restaurants and cafes offering exceedingly delicious cooking. In the VMC, take in a comedy show at Yuk Yuks or dress to impress and make an appearance at one of many nightclubs.
GRAFIC BOUTIQUE SHOPPING
From carefully curated designer shops to premier shopping malls such as nearby Yorkdale and Vaughan Mills, finding what you're looking for is always rewarding. Decorate your new home with unique pieces from a range of furniture and décor stores. Update your look with clothing and accessories from on-trend shops. And don't miss the old-world charm of Market Lane's fresh markets, gift stores and unique boutiques.
KORTRIGHT CENTRE CONSERVATION AREA PARKS AND GOLF COURSES
With hundreds of hectares of manicured green parks, and natural forests and ravines, your options for outdoor activities are infinite. In the VMC, desolate landscapes are transforming into revitalized natural green spaces with native trees and renewed waterways – perfect for walks. And for golfing enthusiasts, Woodbridge offers a number of artfully designed golf courses amid the undulating terrain.
BERGERON CENTRE FOR ENGINEERING, YORK UNIVERSITY SCHOOLS
In Woodbridge, most public schools score very high on the government's EQAO tests, standards are extremely high in the Catholic school board, and private schools are acclaimed near and far. And with York University and Humber College not far away, post-secondary students can study from home.
SXSW Condos Amenities
RESORT-STYLE AMENITIES
Get away from it all right at home. With so many resort-style amenities, SXSW Condos is the centre of your leisure pursuits. Swim laps in the azure-blue waters of the pool, and shape up in the state-of-the-art fitness facility.
Entertain in the lavishly appointed lounge, replete with soaring ceilings, gold and marble décor, and comfortable seating arrangement overlooking the leafy ravine.
EASY CONNECTIONS
For Vaughan residents, the new subway Line 1 extension has made life much easier, offering a faster and more efficient way to commute to downtown Toronto. From Vaughan Metropolitan Centre (VMC) Station, trains can whisk you all the way to Union Station in just 47 minutes.
And that's not all – the VMC station is an intermodal transit system. Underground walkways connect you in minutes to the SmartCentres Place bus terminal, where you can catch a Viva bus to many GTA points in all directions.
FREE SHUTTLE SERVICES
SXSW Condos residents benefit from another resort- style exclusive perk: Free shuttle service that takes you directly to the Vaughan Metropolitan Centre and to York University. Whatever your destination, accessing it is convenient.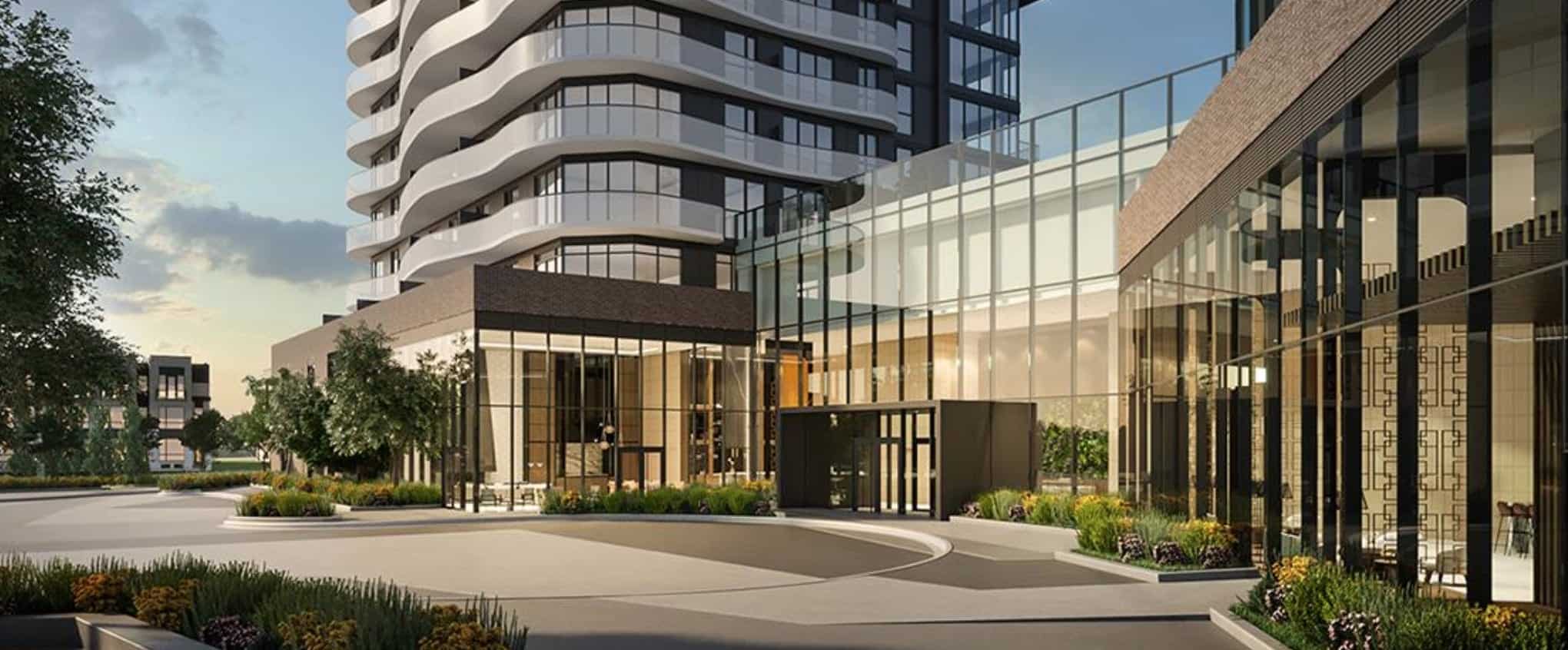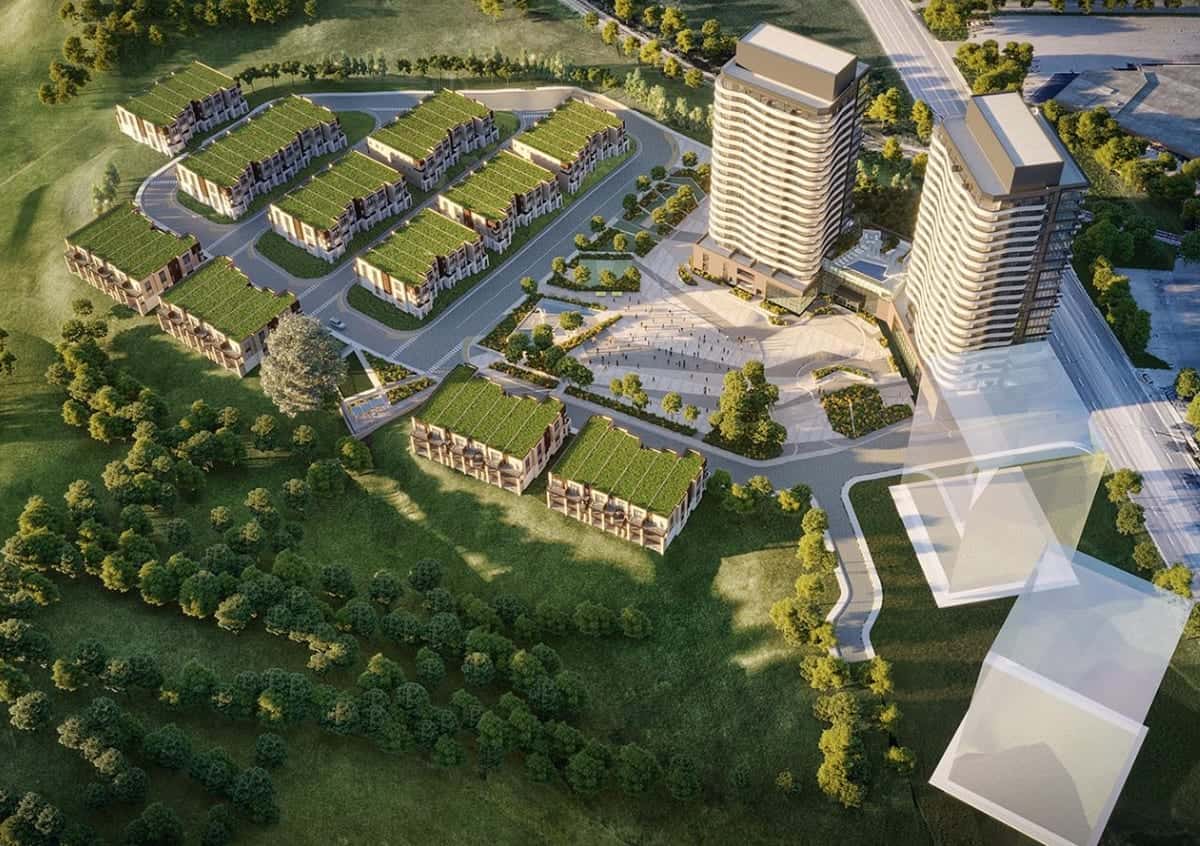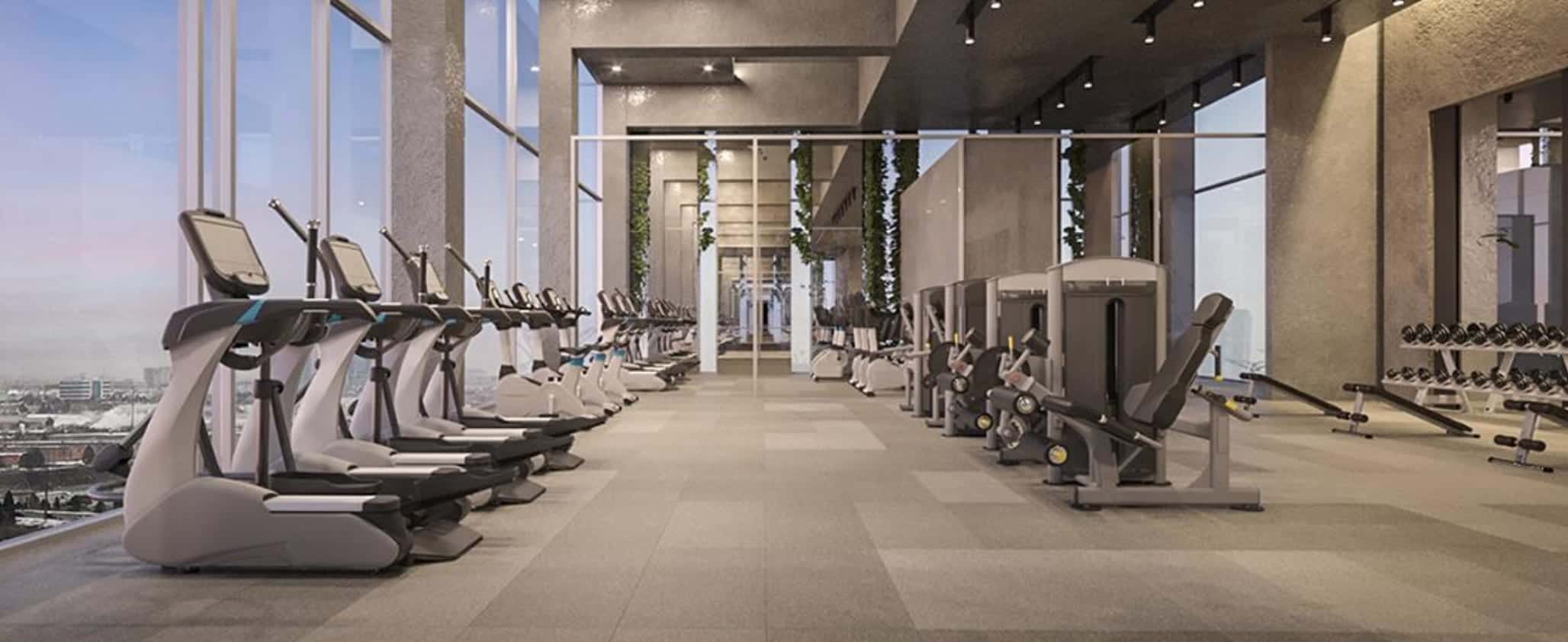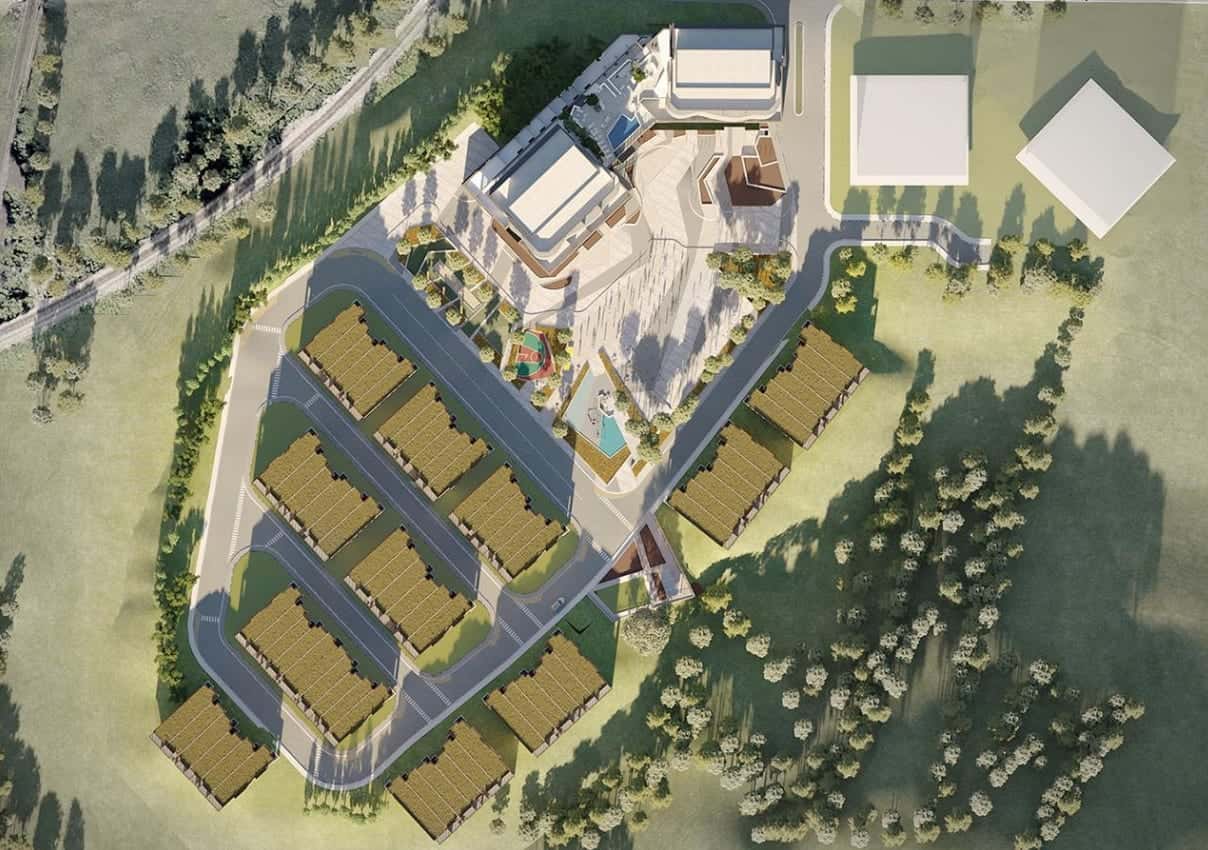 About the Developer
PRIMONT HOMES
A signature of excellence.
For 50 years, our company has followed the simple philosophy of building every home as if it's our own, and treating every customer like they're a member of the family.
Now when you're purchasing a new home, you can benefit from all those years of experience. Primont Homes is committed to providing the highest quality and value to all our homebuyers. Prime locations, elegant design, superb craftsmanship and unrivaled customer service have made Primont a leading and trusted name in the industry. It's been our privilege to build several dynamic, outstanding new communities of more than 3,000 homes in the GTA.
SXSW Condos Frequently Asked Questions
How do I reserve a unit in this project?
After you review the floor plans and prices, if you know what suites you are interested in, you may reserve a suite online using our online reservation worksheet form at https://truecondos.com/worksheet.
Does filling out the worksheet form mean I'm committing to buy a suite?
No it is not a formal commitment, it is an expression of interest and the first step you must take if you are thinking about getting a unit in this project.
What does it mean that Andrew la Fleur is a "Platinum Agent"?
Platinum agents are the top selling agents who get preferred status with developers and first access to new projects before regular agents and the public.
Andrew la Fleur has been a top-selling pre-construction agent since 2007, and during this time he has achieved platinum status with many of the top builders and sales companies in the Greater Toronto Area.
For more information on about Platinum agents see this article: https://truecondos.com/5-things-to-know-about-buying-a-condo-with-a-platinum-vip-realtor-real-estate-agent/
How does it benefit me as a buyer to work with Andrew la Fleur as my Platinum Agent?
Working with me as your Platinum agent gives you several benefits
You get the

highest level of access

in the building

You pay the

lowest possible price

for the unit (prices are typically increased significantly after the Platinum sales event)

The best possible

incentives

I do not represent the builder. I represent you. You benefit from my expertise of being a top selling pre-construction agent and investor myself since 2007.

Access to my personal network of mortgage brokers, lawyers, property management, HST rebate services, handymen and much more.

My services to you as a buyer are

free
Do I get a cooling off period? What is it for?
Yes, after you sign the contract to purchase a suite you will have a standard 10-day cooling off period. It's 10 calendar days, not business days from the time you sign.
The 10 days are primarily for 2 things: 1) to have a lawyer review your contract with you if you wish and 2) to get a mortgage pre-approval letter
Do I need to have a lawyer?
You don't need to have a lawyer at the moment that you sign the agreement, however I always recommend that you have a qualified lawyer review your agreement of purchase and sale after you sign and during your 10-day cooling off period.
Not sure who to talk to? Don't worry – getting a lawyer is something I can help you with. Contact me for more details.
Do I need to have a mortgage pre-approval to buy?
95% of all builders will require you to provide them with proof of financing capability in order to purchase. This is not required before you sign a contract, but it is usually required within 60 days of signing.
Not sure where to begin? Don't worry – getting a mortgage pre-approval is something that I can help you with. Contact me for more details.
Do the prices include HST?
If you are purchasing for yourself and plan to move in, then yes, prices include the HST and there is nothing you will have to pay at final closing.
If you are purchasing as an investment rental property, then you will have to pay approximately 7.8% of the purchase price as HST on final closing.
This money is remitted to the CRA and as an investor renting out your property you can apply to the CRA immediately to get this money back. It usually takes about 1 month to get your rebate back.
For more information on the HST, see here:
https://truecondos.com/tag/hst-rebates/
Contact me for more details.
What are my closing costs on a pre-construction condo?
Closing costs on a pre-construction condo will vary greatly depending on the actual purchase price of the unit you are buying, but it also depends on the builder, the city that you are buying in, and the type of unit that you are buying.
Roughly speaking in Toronto you can expect to pay approximately 3-5% of the purchase price in closing costs when purchasing a brand new condo.
Check out this article for more info on closing costs:
https://truecondos.com/5-things-to-know-about-closing-costs-when-investing-in-a-pre-construction-condo/
Contact me for more details
Are there any 'hidden' costs when buying a pre-construction condo?
No, there are no hidden fees when buying pre-construction condos because all fees must be disclosed in the agreement of purchase and sale. All purchasers have 10 days to review the agreement and have a lawyer advise them on the exact closing cost amounts. If you need a lawyer to help you we can suggest to you to several expert law firms that will review your agreement in detail.
Is it possible to assign my condo? How much is the assignment fee?
Most condo builders do allow you to sell your unit before the building is complete. This projcess is called selling by "assignment".
There is usually an assignment fee and a legal fee associated with selling. Costs can range from $1000-7000. Contact me for more details.