T1 at M2M Condos 2
T1 at M2M Condos is a new pre-construction condo development by Aoyuan International coming to 5851 Yonge Street in Toronto, ON.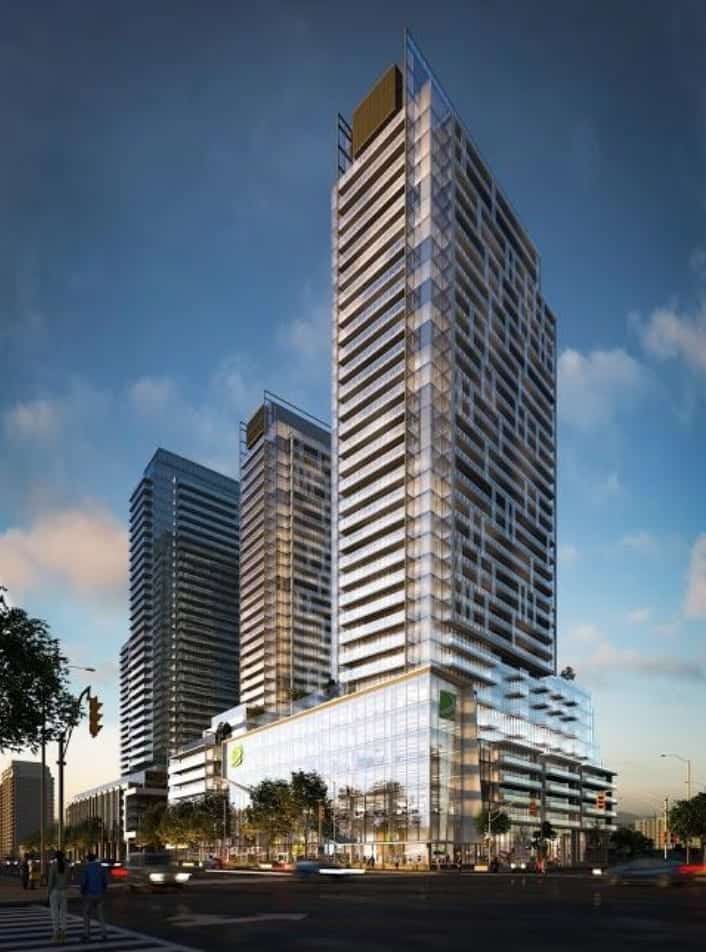 About T1 at M2M Condos 
The M2M Condos way of life is healthy, happy and active.
At T1 at M2M Condos every living detail is designed holistically and built into the site. Parkland. Community centre. Daycare. Office space. Market place. All in your backyard.
T1 at M2M Condos brings home the great outdoors. Pick your patch of lush green park for relaxation and recreation.
Giving meaning to the first three characters of the neighbourhood's postal code, M2M Condos is a one-of-a-kind, master-planned community that is made to matter.
Beyond its beautiful form, T1 at M2M Condos is the newest expression of Aoyuan's brand philosophy of building a healthy lifestyle. This landmark community was designed by Wallman Architects, with inspiring outdoor amenities created by landscape architects Ferris + Associates, and interior design by the award-winning U31.
T1 at M2M Condos Details
| | |
| --- | --- |
| Developer | Aoyuan International |
| Address | 5851 Yonge Street, Toronto |
| Neighbourhood | North York |
| Number of Storeys | 34 |
| Number of Units | TBA |
| Occupancy Date | Summer 2022 |
| Maintenance Fees | $0.57 per sq/ft |
| Priced From | $592,900 to over $1,209,900 |
T1 at M2M Condos Location
Whether it's your precious time, treasured moments with family or your health and wellness, T1 at M2M Condos makes the most of it in an unparalleled North York location.
Known as "The City with Heart", North York is home to a diverse community known as Newtonbrook. This urban yet quaint neighbourhood strikes the perfect balance of world-class restaurants and pulsating nightlife with tucked-away parks and hidden trails.
T1 at M2M Condos will further enhance the vibrancy of the neighbourhood with new roads, a public park and multi-use spaces that allow residents to experience their community as an extension of their personal lives.
Whether it's retail, restaurants or an active lifestyle, M2M Condos is where they all come together, so you can make every moment matter. Refresh and connect in nearby parks and community centres, and shop consciously at grocers right outside your front door.
Finch Subway Station
CONNECTION FROM HOME
The northernmost stop on Line 1, this connecting TTC station is just steps away. Enjoy a quick ride downtown, or anywhere else, thanks to the adjoining bus terminal.
Finch GO Bus Terminal
3-MINUTE WALK FROM HOME
Serving York Region and beyond, the Finch terminal connects you to what matters with multiple VIVA and GO Bus routes that travel throughout the GTA, including the airport.
Sheppard Subway Station
2 SUBWAY STOPS FROM HOME
A few stops south of Finch is Sheppard station and the eastward Line 4, which quickly connects passengers to the upscale Bayview Village Mall, MEC, IKEA and more.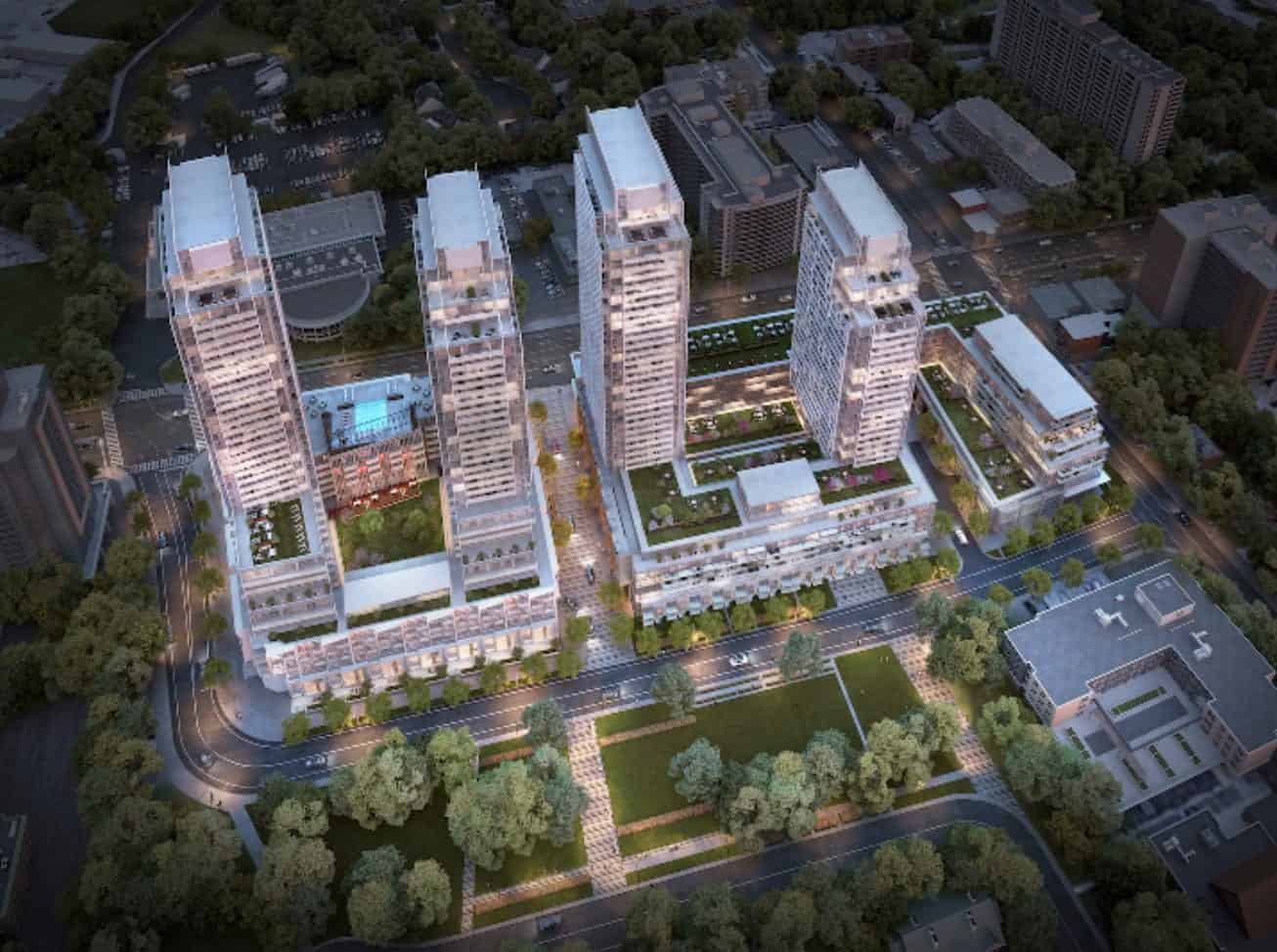 T1 at M2M Condos Amenities
Inspirational spaces made to matter.
T1 at M2M Condos will have stunning recreational facilities to ensure that your health and wellness are not only a priority, but a pleasure. Step it up or slow things down in the integrated fitness centre or yoga studio.
3rd Floor Amenities
Discover a host of thoughtfully designed amenities to keep you refreshed, energized and inspired.
– Theatre Room
– Multi-Purpose Game Room
– Yoga Studio
– Fitness Centre with Change Room
– Mezzanine Fitness Area (4th Floor)
– SaunaKids' Playroom
– Outdoor Play Area
9th Floor Amenities
Meet and mingle in common spaces that are anything but, exemplifying a community unlike any other.
– Party Room & Lounge
– Dining Room with Full Chef's Kitchen
– Lounge Area
– BBQ & Outdoor Dining Room
– Infiniti Pool with Waterfall Feature
– Change Rooms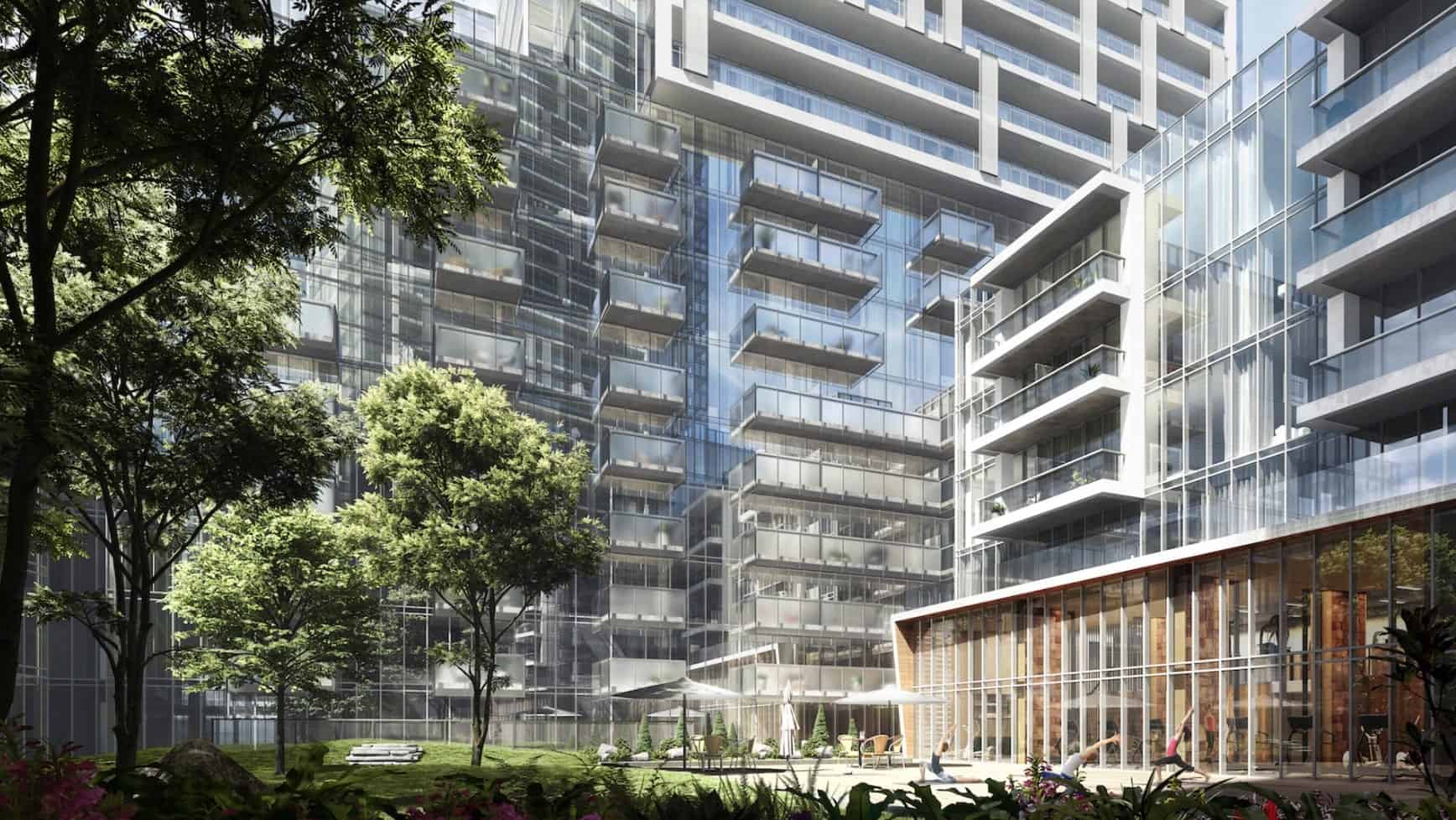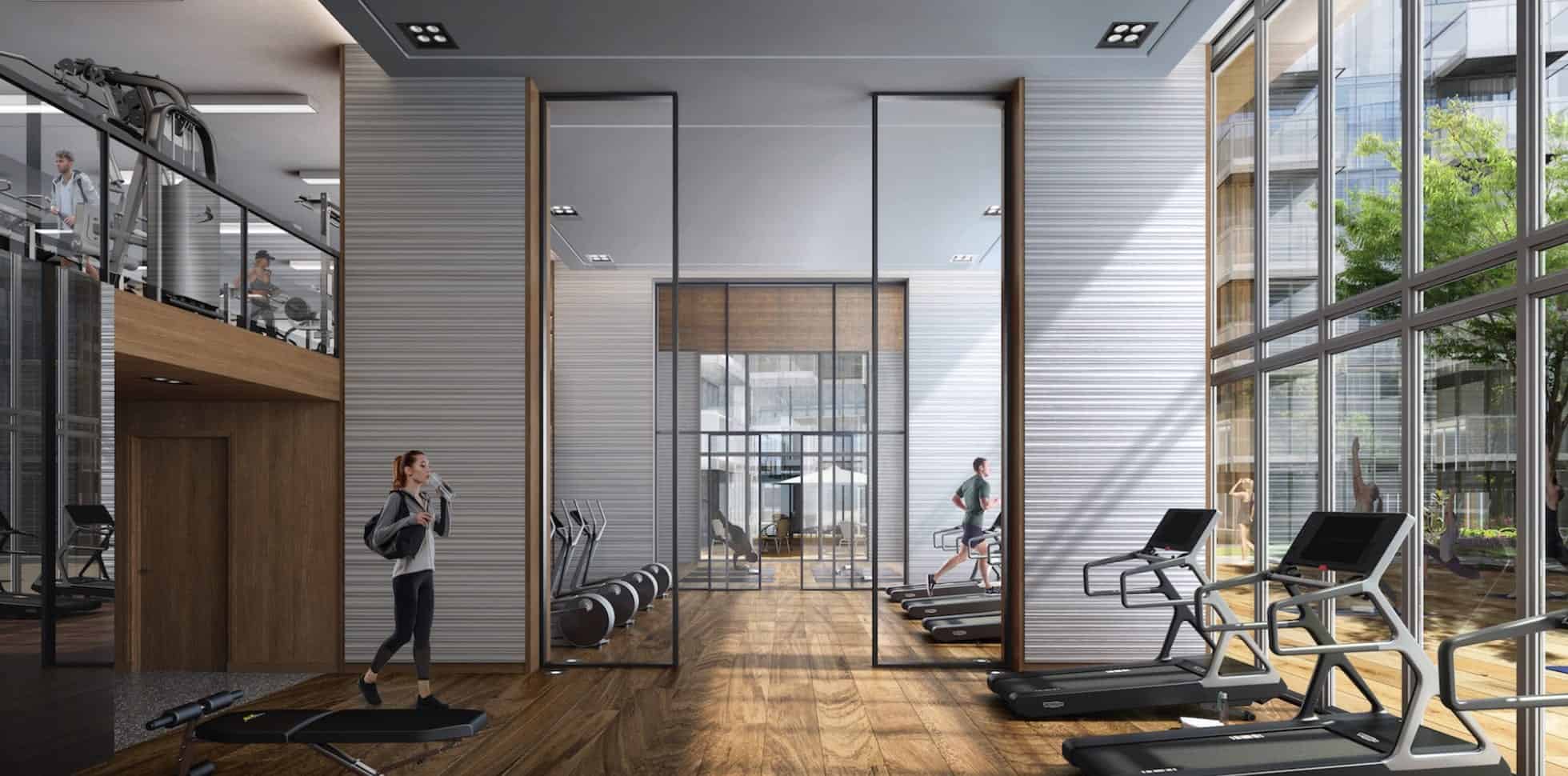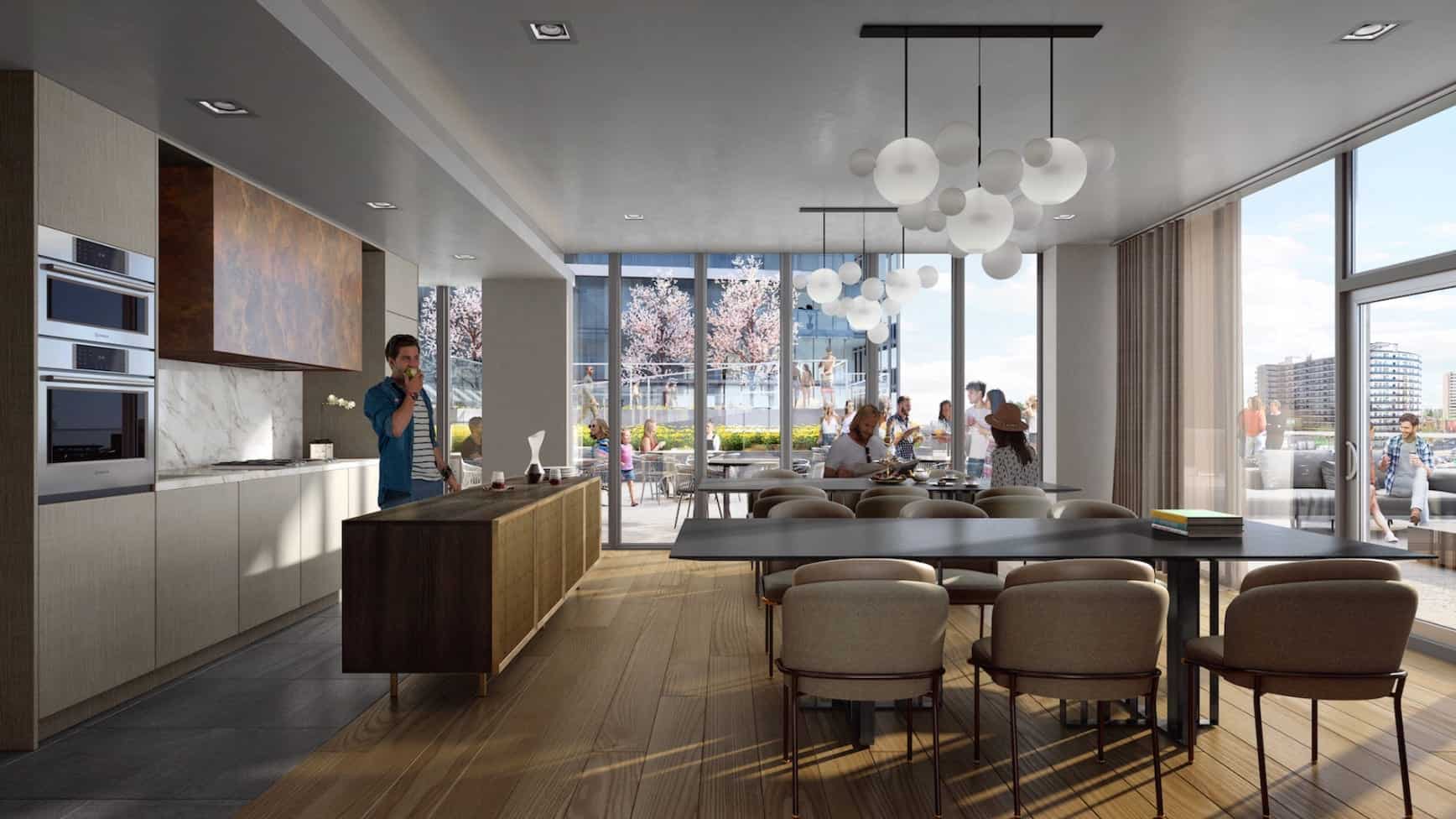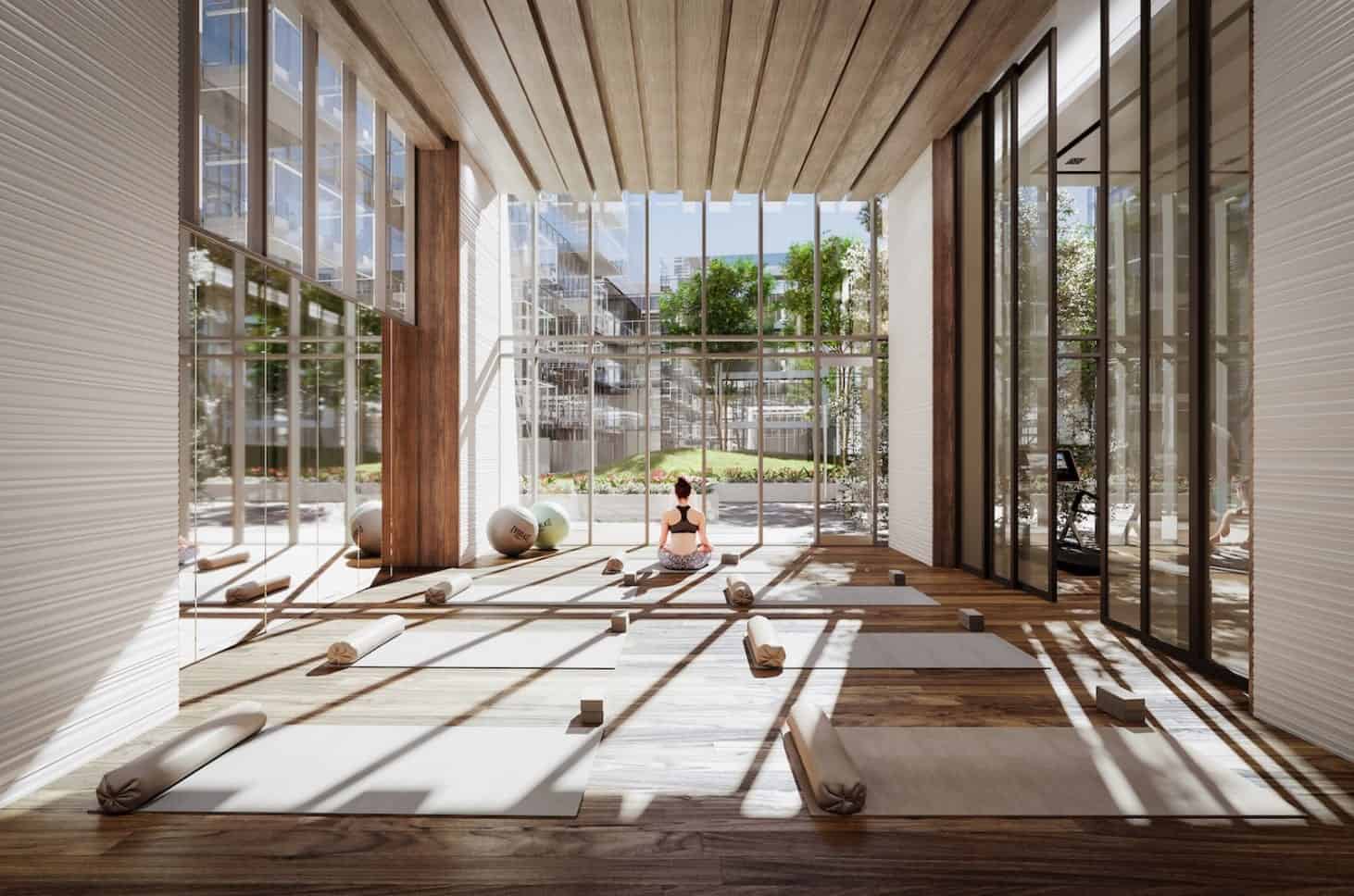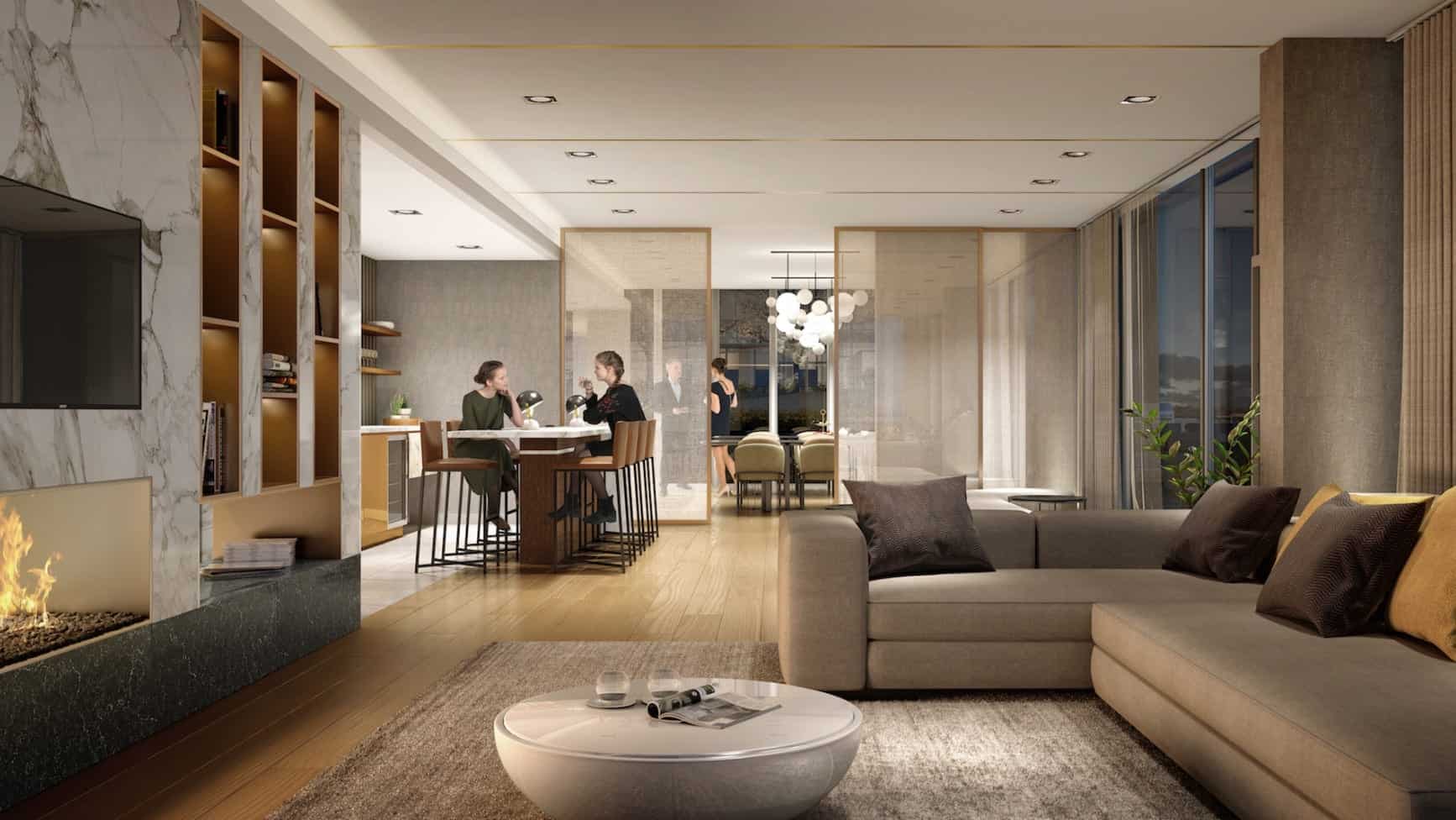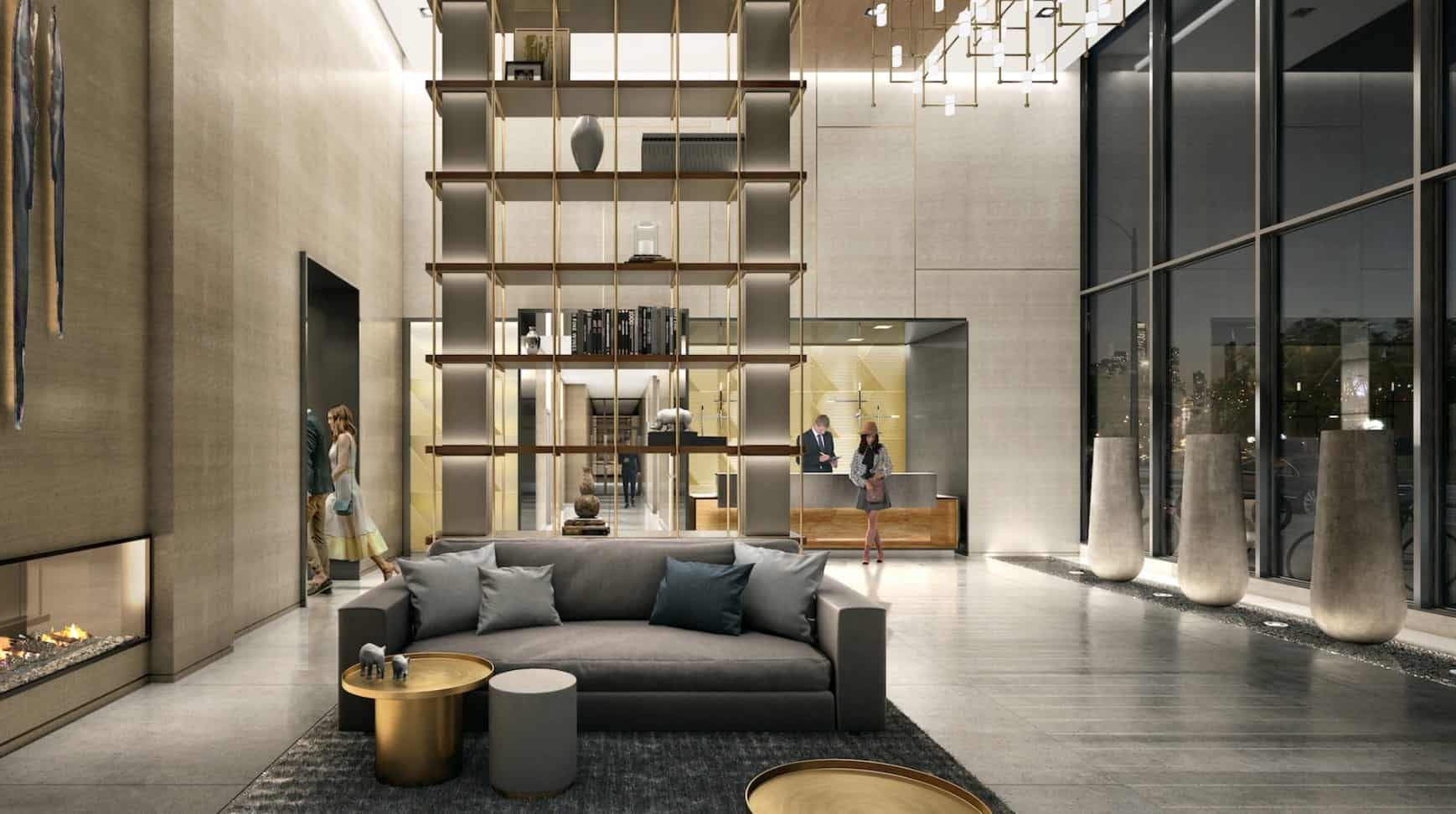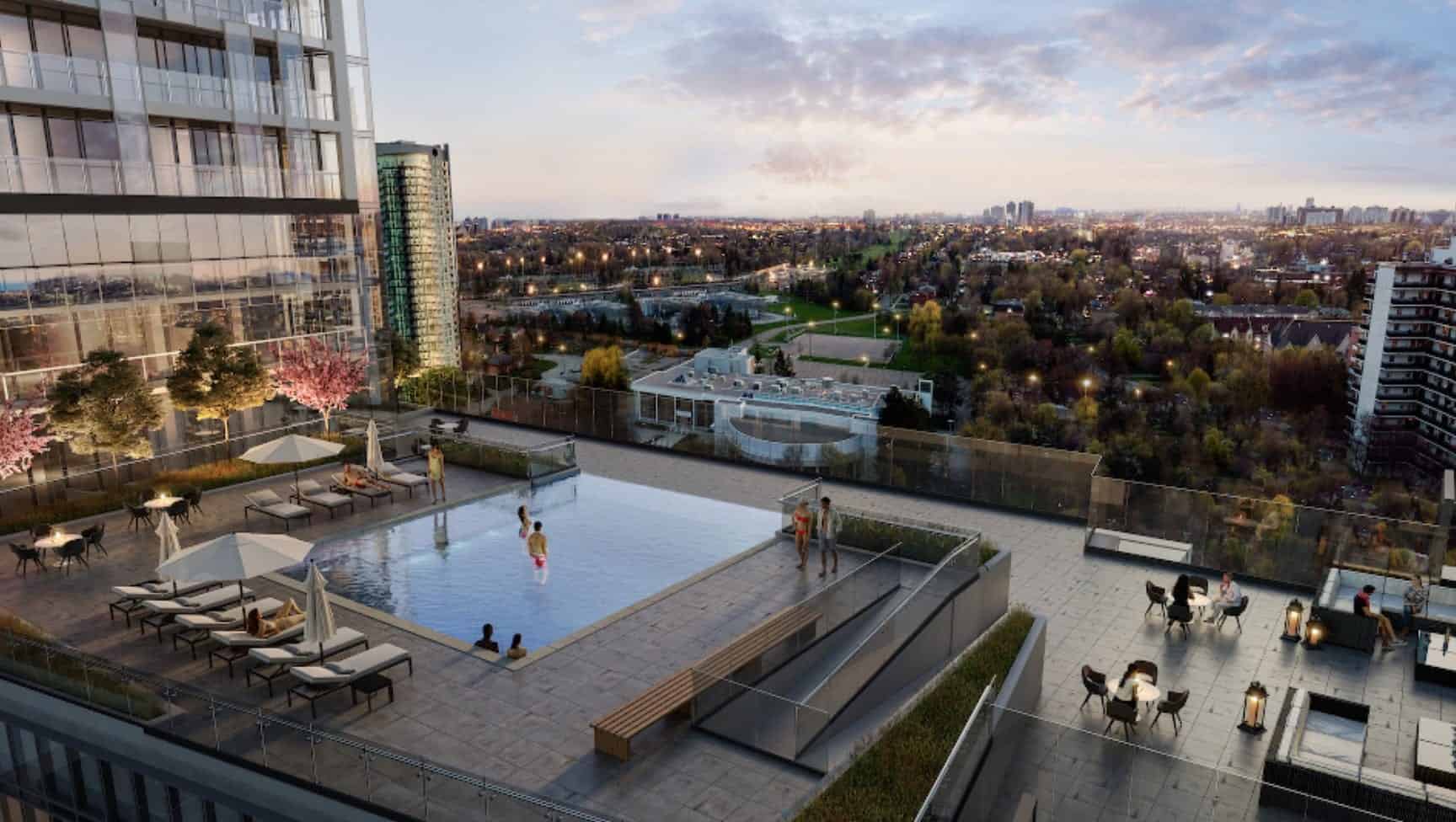 T1 at M2M Condos Features and Finishes
Interiors made to maximize every meter.
Designed to be both beautiful and functional, the suites at M2M Condos feature open-concept layouts made to make you feel more connected from room to room. Contemporary laminate wood flooring throughout fosters a seamless esthetic. Prepare a healthy meal or whip up a delicious dessert in a tastefully designed kitchen that emphasizes efficiency with fully integrated, modern appliances.
M2M Condos Building Features
– A 34 storey landmark building designed by Wallman Architects
– Amenity features designed by award-winning interior designers U31 Design Inc.
– Exterior amenities designed by landscape architect Paul Ferris + Associates.
– 5-star hotel inspired soaring lobby with lounge area, concierge, mail and parcel handling, pet wash and dry area, and grand staircase to third floor wellness amenity and courtyard.
M2M Condos Sustainable Features
– High performance thermal envelope minimizes unwanted solar gain and heat loss
– High efficiency mechanical equipment
– Programmable thermostat
– Motion sensor controlled lighting in common areas to reduce common area electricity costs
– Energy Star appliances (refrigerator, dishwasher, washing machine, and clothes dryer)
– LED lighting in stairwells
– Paints with low levels of volatile organic compounds
– Water efficient faucets and water wise appliances
– Building waste sorting and recycling system
– Rough-in provision for future Electric Car Charging Stations***
M2M Condos Comfort, Safety, and Security Features
– Each suite to have individually controlled heating and cooling system that provides heat and air conditioning all year round
– Individual metering of electricity and water
– Entry phone system
– Computer controlled access system provided at main building entry points
– All residents will receive an electronic encrypted security fob for access to building, parking garage, and amenity areas.
– All main entrances and exits monitored with closed circuit video surveillance system
– Smoke, heat, and carbon monoxide detector(s) as per Ontario Building Code
– EVC (Emergency Voice Communications) in suite as per Ontario Building Code
– Fire detection, protection and sprinkler systems as per Ontario Building Code
M2M Condos Suite Features
– Ceiling height of approximately 9 feet (excluding bulkheads and dropped ceiling areas required for mechanical or structural purposes)
– White smooth painted ceilings throughout
– Low "e" double glazed windows with thermally broken aluminum frames and clear glazing
– Wide plank laminate flooring in all principal rooms with acoustic underlay*
– Attractive 7' solid core suite entry door with designer-selected lever hardware and security door viewer.
– Contemporary one panel paint grade interior doors with brushed metal lever handsets and privacy handsets on bathroom doors
– Foyer closet sliding doors to be mirror with brushed metal frames and valance**
– Closet sliding doors to be white painted doors with white painted metal frames and valance**
– All closets to receive hanging rod and white shelving. White linen closet shelving provided. Master bedroom closet to receive sections of double and single hanging rod.**
– 5" high contemporary square profile paint grade baseboards
– 2-1/4" wide contemporary bevelled profile paint grade casings
– White tile in laundry area
– 27" high efficiency washer/dryer
M2M Condos Kitchens
– Designer cabinetry with a selection of woodgrain or solid colour finishes, with choice of hardware.*
– Soft closing drawer system on cabinet drawers
– Quartz composite countertop with ¾" square polished edge*
– Imported ceramic tile backsplash*
– 24" fully integrated built-in refrigerator-freezer with cabinetry matching front panels in studio, 1 bedroom, 1 bedroom + den, and 2 bedroom suites.**
– 30" stainless steel freestanding refrigerator-freezer in 2 bedroom + den, 3 bedroom, and 3 bedroom + den suites.**
– 24" built-in contemporary smooth cooktop
– 24" built-in retractable hood fan with cabinetry matching front panel
– 24" built-in contemporary convection wall oven
– 24" built-in microwave with trim kit
– 24" built-in dishwasher with cabinetry matching front panel
– Single bowl stainless steel undermount sink with polished chrome single hole single lever pull down faucet
– LED kitchen undercabinet lighting
M2M Condos Bathrooms
– Large format porcelain floor tile*
– Luxurious white soaker tub or shower with acrylic base as per plan**
– Pressure balanced shower and tub with shower valves with designer selected polished chrome shower fittings including handheld shower on slide bar in bath 2 walk-in shower**
– Large format porcelain full-height tub surround and shower wall tile*
– Designer vanity cabinet with a selection of woodgrain or solid colour finishes, with choice of hardware*
– Soft closing drawer system on cabinet drawers**
– Quartz composite countertop with ¾" square polished edge*
– Rectangular white undermount basin with polished chrome single hole single lever faucet
– One-piece toilet with skirted trapway
– Frameless tempered glass shower enclosure in walk-in shower**
– Ceiling light above bathtub or shower
– Stylish vanity mirror above sink with lighting
– Designer selected bathroom accessories
Lighting and Electrical
– White decora switches and receptacles throughout
– Pre-wired for telephone, cable, and internet and in-suite alarm
– Switched ceiling fixtures in foyer, hallways, bedroom(s), den, and walk-in closets**
– Capped ceiling outlet in living/dining area
– Switched electrical receptacle in living room
– Outdoor electrical receptacle on balcony or terrace**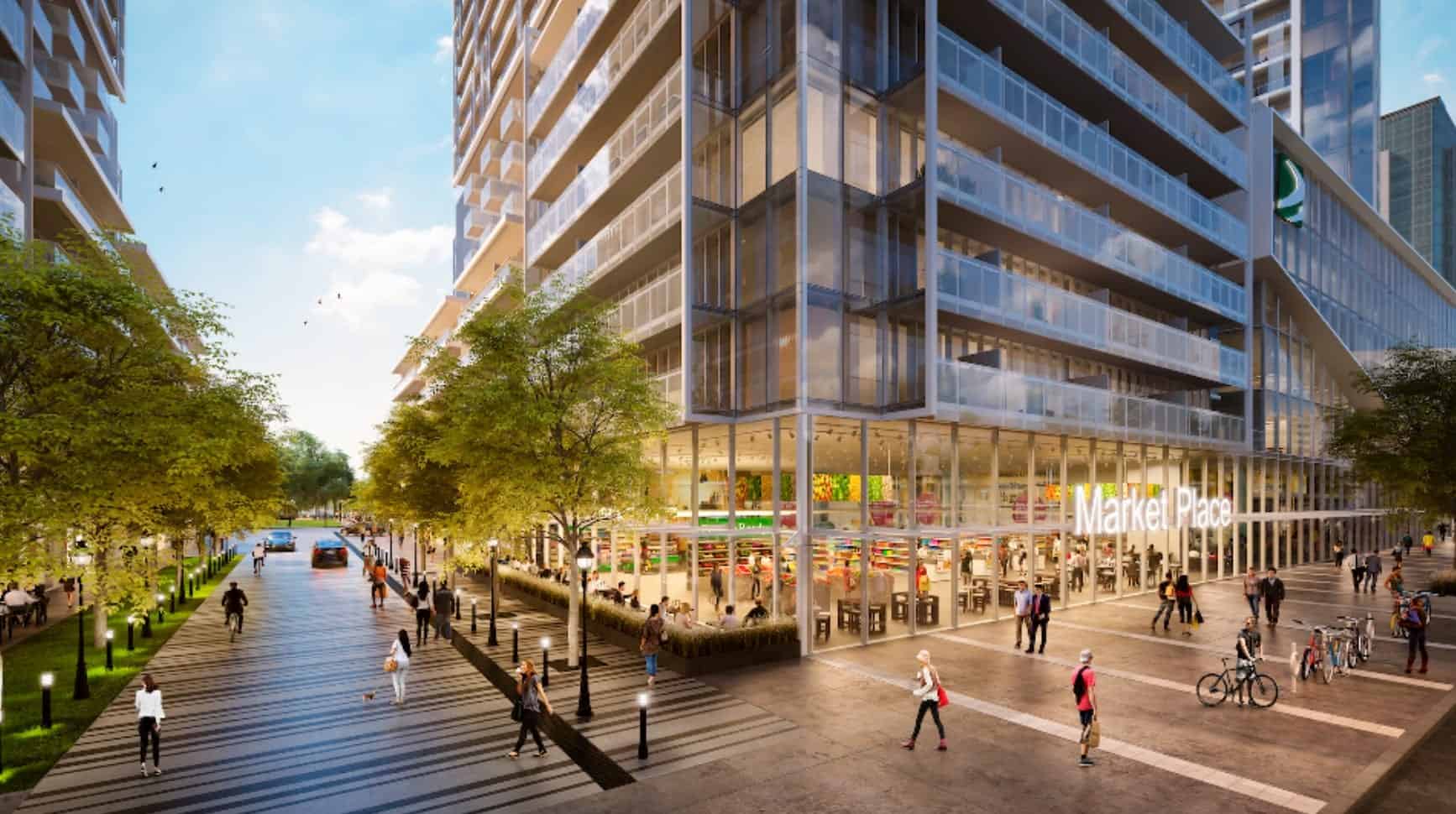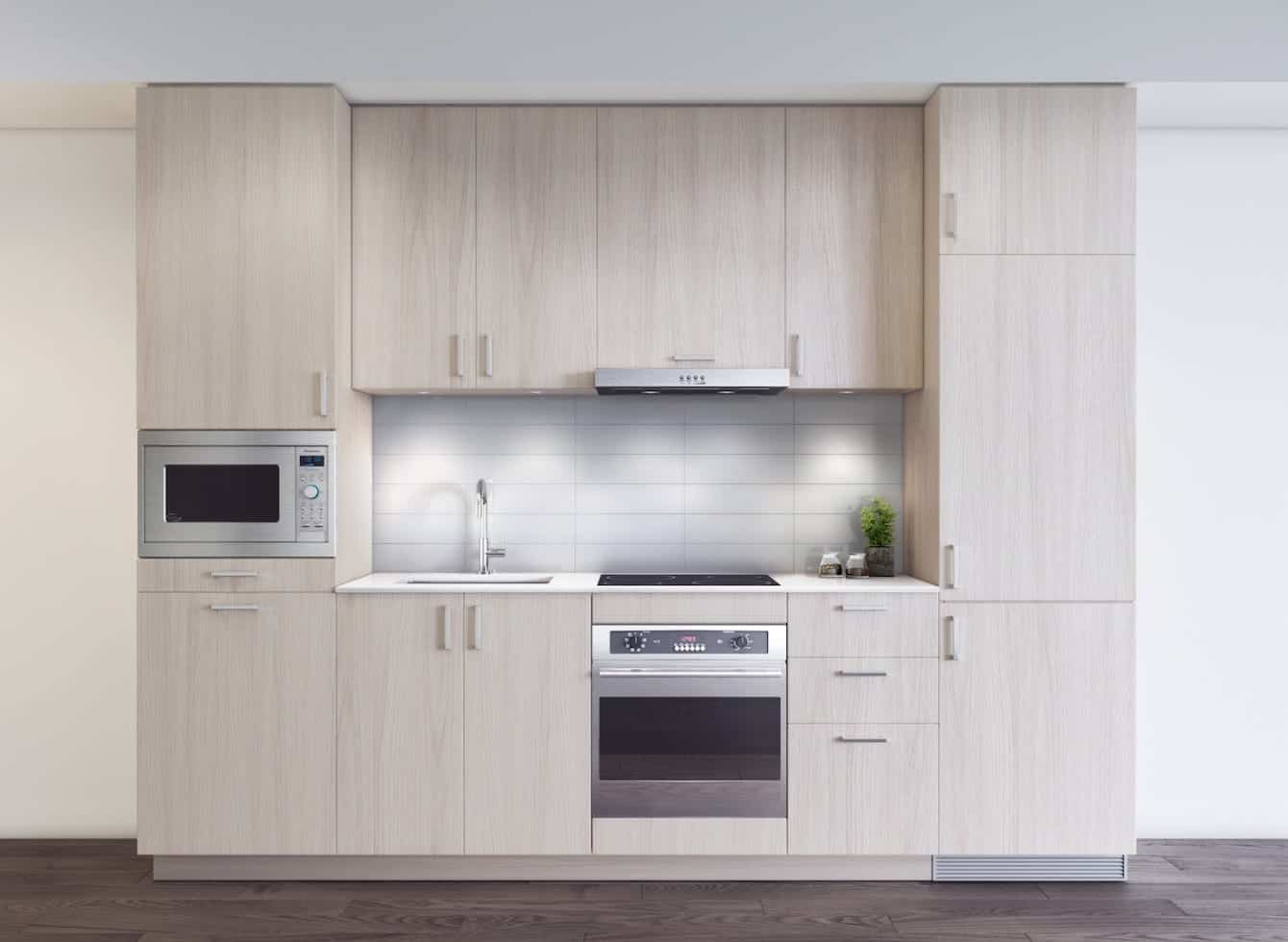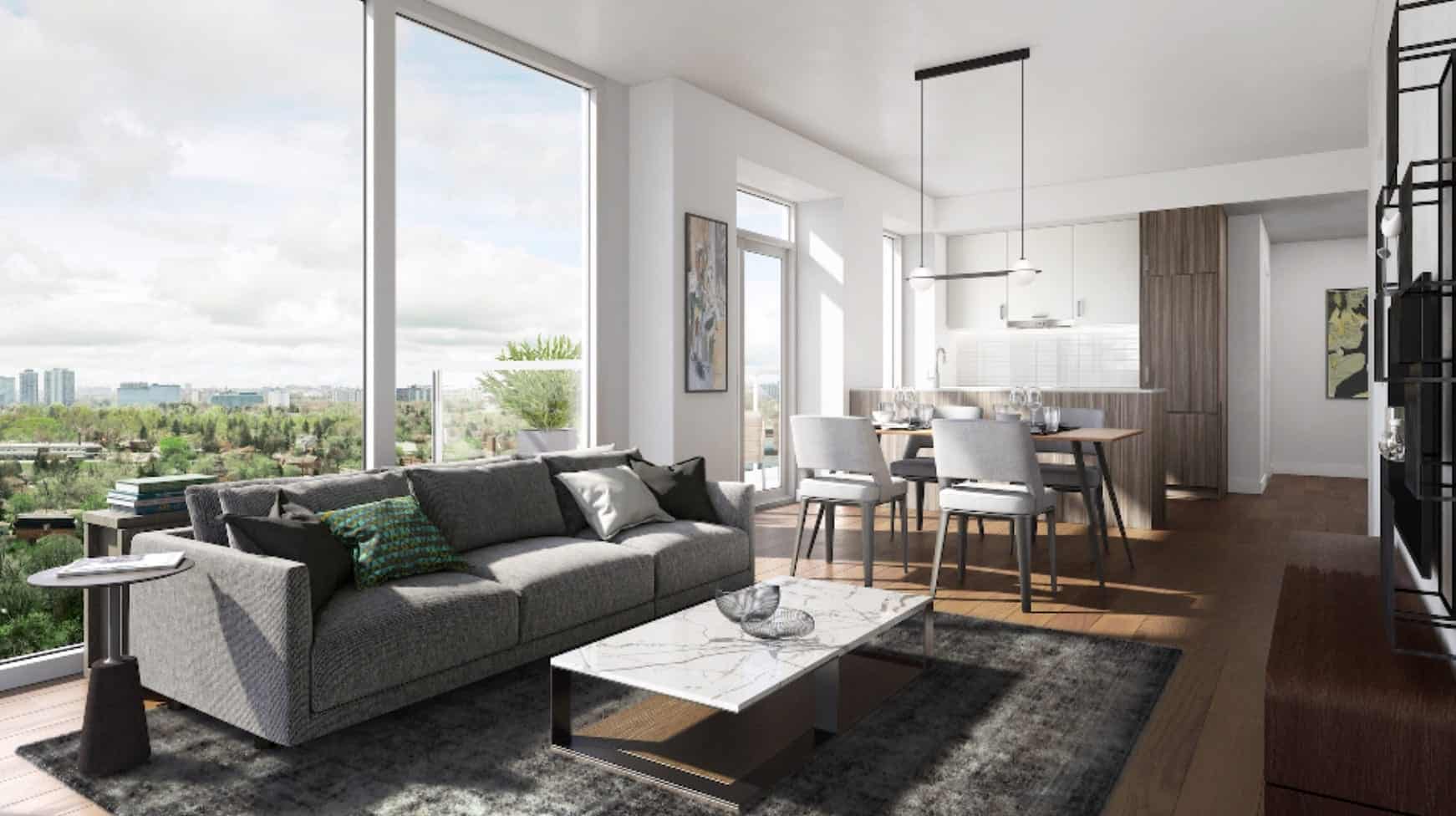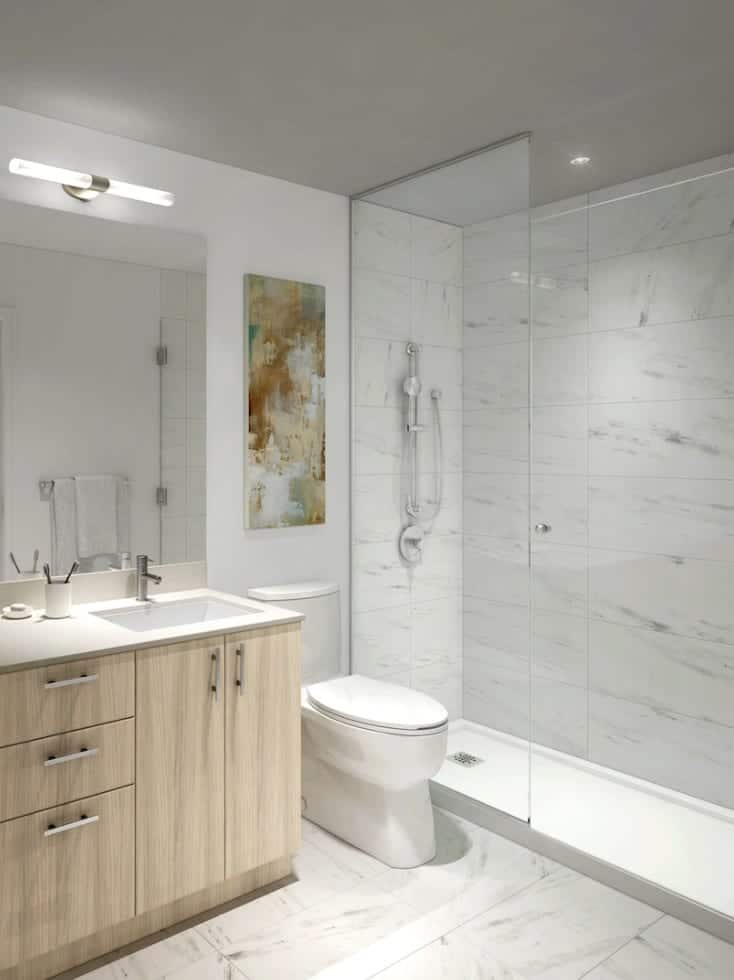 About the Developer
AOYUAN International
Aoyuan Property Group has head offices in Guangzhou, Guangdong, China, and Hong Kong and has been around since 1996. However, only recently has Aoyuan expanded internationally, beginning in 2015 with a project in Sydney, Australia.
Since then, growth has been fast and furious. In addition to establishing a presence in China and Australia, Aoyuan has since expanded to Canada, specifically in Vancouver, Burnaby and Toronto.
In its native China, Aoyuan has made a name for itself. It creative a master-planned community called Olympic Garden, which, as the name suggests, was sports themed. The development received an endorsement from the International Olympic Committee.
Since the 1990s, Aoyuan's land bank has come to include more than 200 million square feet of property, including residential and other uses, throughout 30 cities worldwide.
T1 At M2M 2 Condos Frequently Asked Questions
How do I reserve a unit in this project?
After you review the floor plans and prices, if you know what suites you are interested in, you may reserve a suite online using our online reservation worksheet form at https://truecondos.com/worksheet.
Does filling out the worksheet form mean I'm committing to buy a suite?
No it is not a formal commitment, it is an expression of interest and the first step you must take if you are thinking about getting a unit in this project.
What does it mean that Andrew la Fleur is a "Platinum Agent"?
Platinum agents are the top selling agents who get preferred status with developers and first access to new projects before regular agents and the public.
Andrew la Fleur has been a top-selling pre-construction agent since 2007, and during this time he has achieved platinum status with many of the top builders and sales companies in the Greater Toronto Area.
For more information on about Platinum agents see this article: https://truecondos.com/5-things-to-know-about-buying-a-condo-with-a-platinum-vip-realtor-real-estate-agent/
How does it benefit me as a buyer to work with Andrew la Fleur as my Platinum Agent?
Working with me as your Platinum agent gives you several benefits
You get the

highest level of access

in the building

You pay the

lowest possible price

for the unit (prices are typically increased significantly after the Platinum sales event)

The best possible

incentives

I do not represent the builder. I represent you. You benefit from my expertise of being a top selling pre-construction agent and investor myself since 2007.

Access to my personal network of mortgage brokers, lawyers, property management, HST rebate services, handymen and much more.

My services to you as a buyer are

free
Do I get a cooling off period? What is it for?
Yes, after you sign the contract to purchase a suite you will have a standard 10-day cooling off period. It's 10 calendar days, not business days from the time you sign.
The 10 days are primarily for 2 things: 1) to have a lawyer review your contract with you if you wish and 2) to get a mortgage pre-approval letter
Do I need to have a lawyer?
You don't need to have a lawyer at the moment that you sign the agreement, however I always recommend that you have a qualified lawyer review your agreement of purchase and sale after you sign and during your 10-day cooling off period.
Not sure who to talk to? Don't worry – getting a lawyer is something I can help you with. Contact me for more details.
Do I need to have a mortgage pre-approval to buy?
95% of all builders will require you to provide them with proof of financing capability in order to purchase. This is not required before you sign a contract, but it is usually required within 60 days of signing.
Not sure where to begin? Don't worry – getting a mortgage pre-approval is something that I can help you with. Contact me for more details.
Do the prices include HST?
If you are purchasing for yourself and plan to move in, then yes, prices include the HST and there is nothing you will have to pay at final closing.
If you are purchasing as an investment rental property, then you will have to pay approximately 7.8% of the purchase price as HST on final closing.
This money is remitted to the CRA and as an investor renting out your property you can apply to the CRA immediately to get this money back. It usually takes about 1 month to get your rebate back.
For more information on the HST, see here:
https://truecondos.com/tag/hst-rebates/
Contact me for more details.
What are my closing costs on a pre-construction condo?
Closing costs on a pre-construction condo will vary greatly depending on the actual purchase price of the unit you are buying, but it also depends on the builder, the city that you are buying in, and the type of unit that you are buying.
Roughly speaking in Toronto you can expect to pay approximately 3-5% of the purchase price in closing costs when purchasing a brand new condo.
Check out this article for more info on closing costs:
https://truecondos.com/5-things-to-know-about-closing-costs-when-investing-in-a-pre-construction-condo/
Contact me for more details
Are there any 'hidden' costs when buying a pre-construction condo?
No, there are no hidden fees when buying pre-construction condos because all fees must be disclosed in the agreement of purchase and sale. All purchasers have 10 days to review the agreement and have a lawyer advise them on the exact closing cost amounts. If you need a lawyer to help you we can suggest to you to several expert law firms that will review your agreement in detail.
Is it possible to assign my condo? How much is the assignment fee?
Most condo builders do allow you to sell your unit before the building is complete. This projcess is called selling by "assignment".
There is usually an assignment fee and a legal fee associated with selling. Costs can range from $1000-7000. Contact me for more details.