Terrasse at the Hunt Club
| | | | |
| --- | --- | --- | --- |
| | Address | 1316 Kingston Road, Toronto | |
| Developer | Sunrise Gate Homes | Occupancy | Nov 2021 |
| Area | Fallingbrook | Deposit | 15% Before Occupancy |
| Storeys | 8 | Maint. Fees | $0.42 psf/m |
| Units | 32 | Prices | from $671,900 to over $1,710,900 |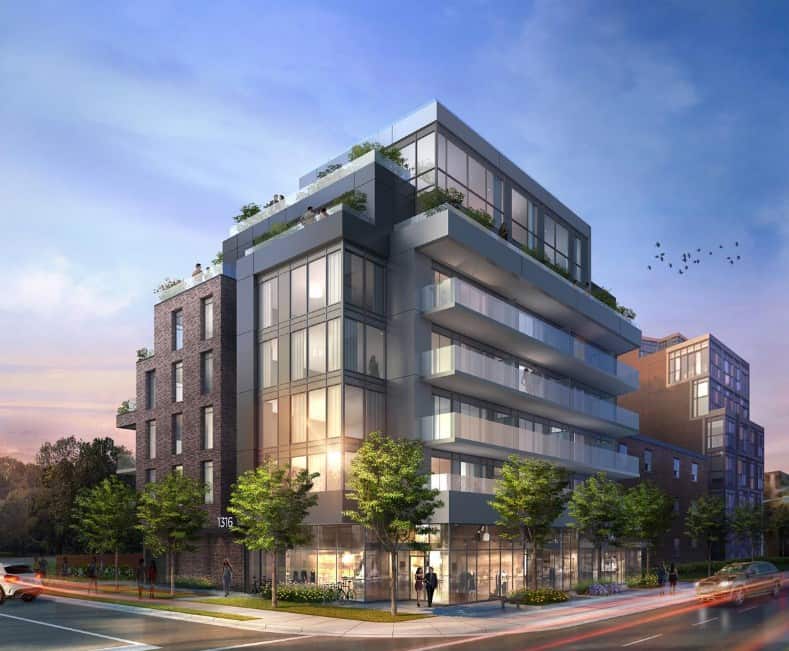 Get the True Condos Insider Market Advantage for FREE!
Along with instant access to this project, after signing up you will receive:
✅ Access to DAY 1 Platinum VIP pricing
✅ Best selection of units
✅ Opportunity to reserve your unit via worksheet before the general public
✅ Work with a condo investing specialist (someone who currently invests in the condo market and has sold hundreds of condos)
✅ Expert analysis on the 5% of condos worth investing in Toronto and the GTA
About Terrasse at the Hunt Club
INTRODUCING TERRASSE AT THE HUNT CLUB WHERE BETTER LIVING IS A MATTER OF COURSE.
PART URBAN. PART CASUAL. ALL CAREFREE.
What do you want to do today? Here, anything becomes possible. Catch a play, a movie, or dinner with friends. Shop from local one-of-a-kind to world class downtown. Gear down in Ashbridges Bay, the boardwalk or The Beach. Just pick up and go, because everything is easy. This is turnkey condo living. This is the lifestyle you deserve.
Enter off a quiet private street to discover Terrasse's porte cochère entry, which sets the tone for the sleek world that awaits beyond. A state-of-the-art parking lift system will store your car indoors until you need it again. You won't need it to access the convenient, future retail offerings at ground level anyway. This is urban living at its finest… convenient, creative, and oh-so-civilized.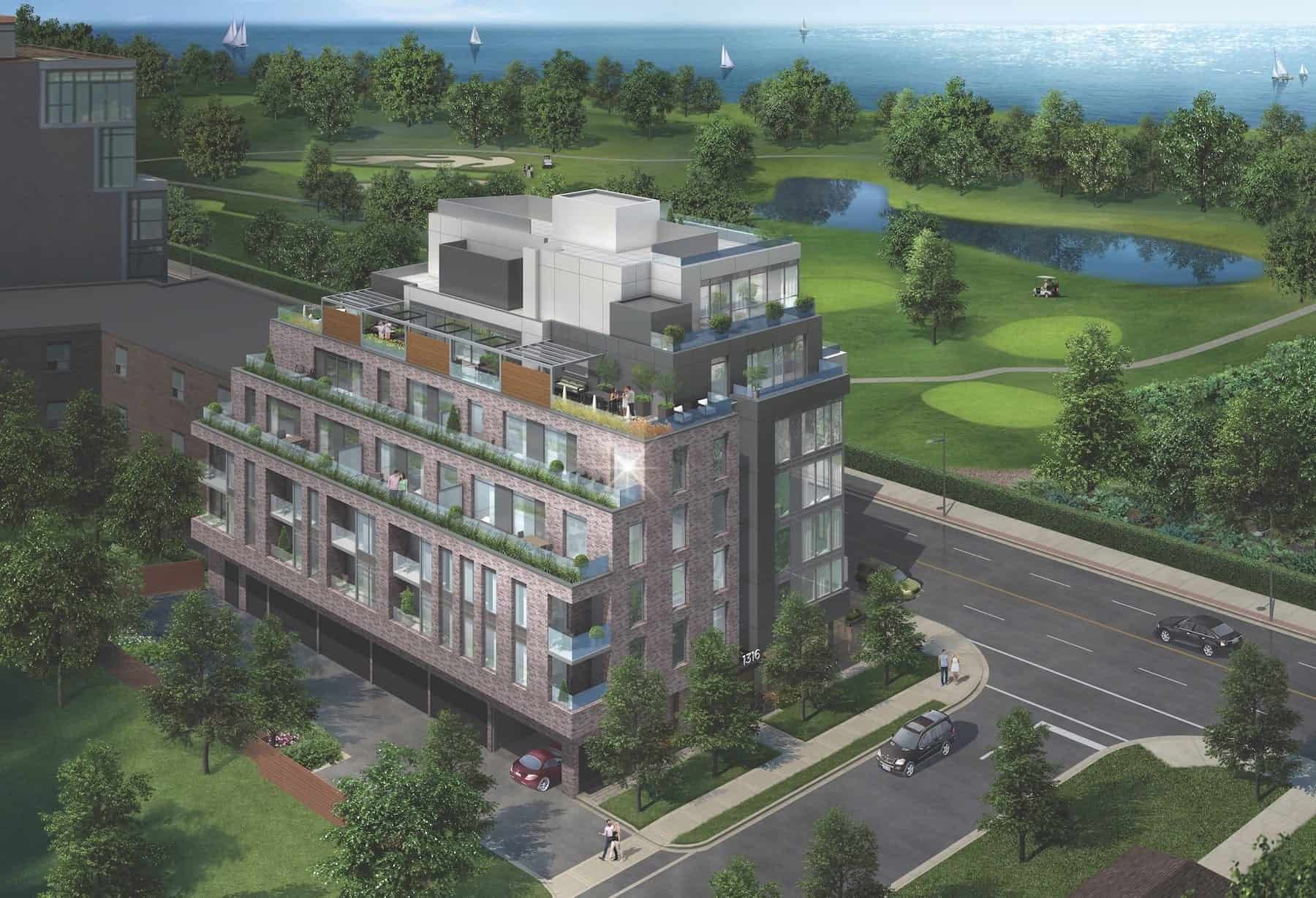 Terrasse at the Hunt Club Location
Terrasse at the Hunt Club will be located between Victoria Park Ave and Warden Ave at 1316 Kingston Road in the Fallingbrook neighbourhood of Scarborough in Toronto, ON.
Experience the best of The Beach without living in the thick of it, the vibrancy of downtown while being able to escape its pulsing beat.
Terrasse at the Hung Club condos puts both just within reach while ensuring that everyday necessities including cafes, shops, public transit and easy access to main streets are all practically outside your door.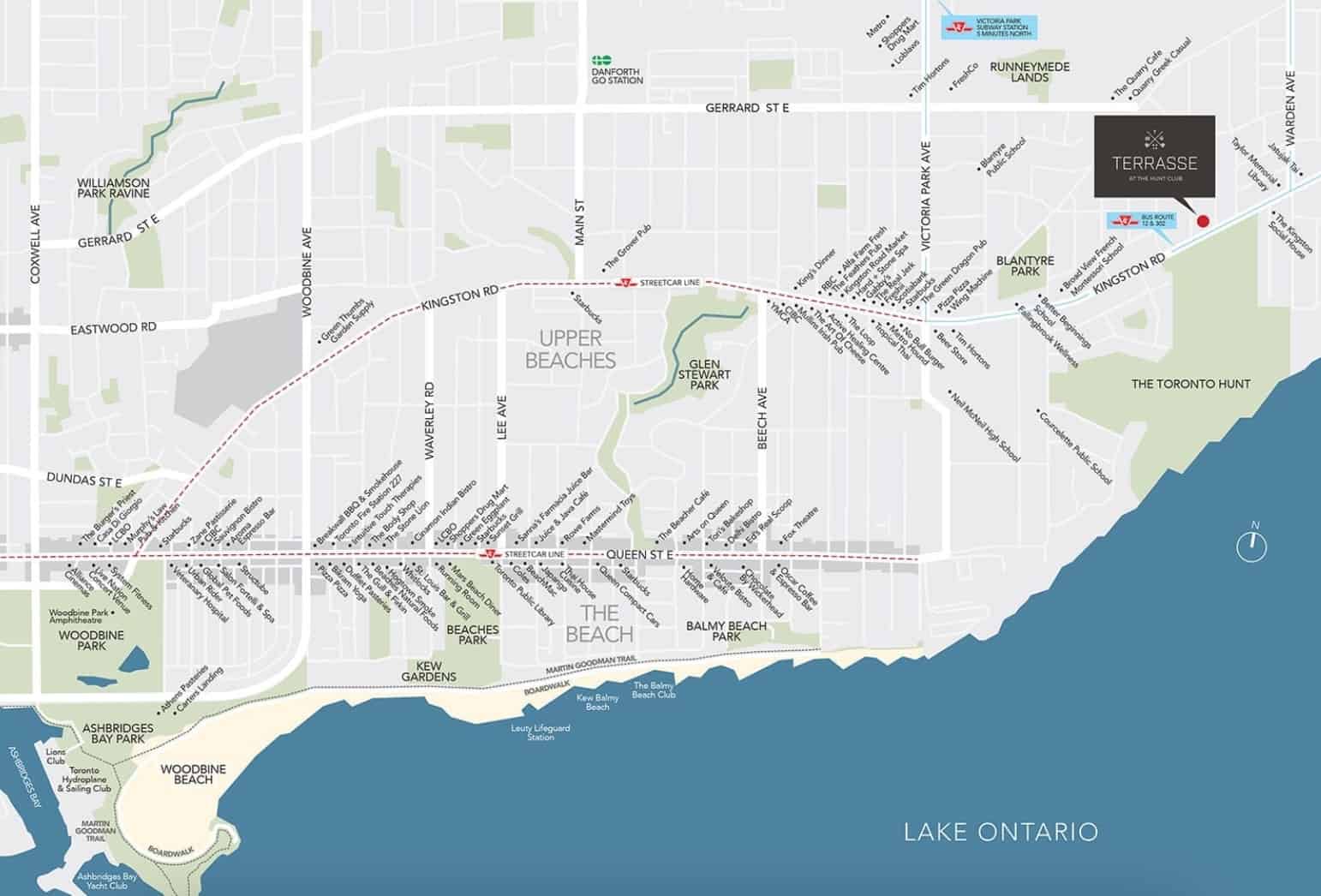 Terrasse at the Hunt Club Condos Amenities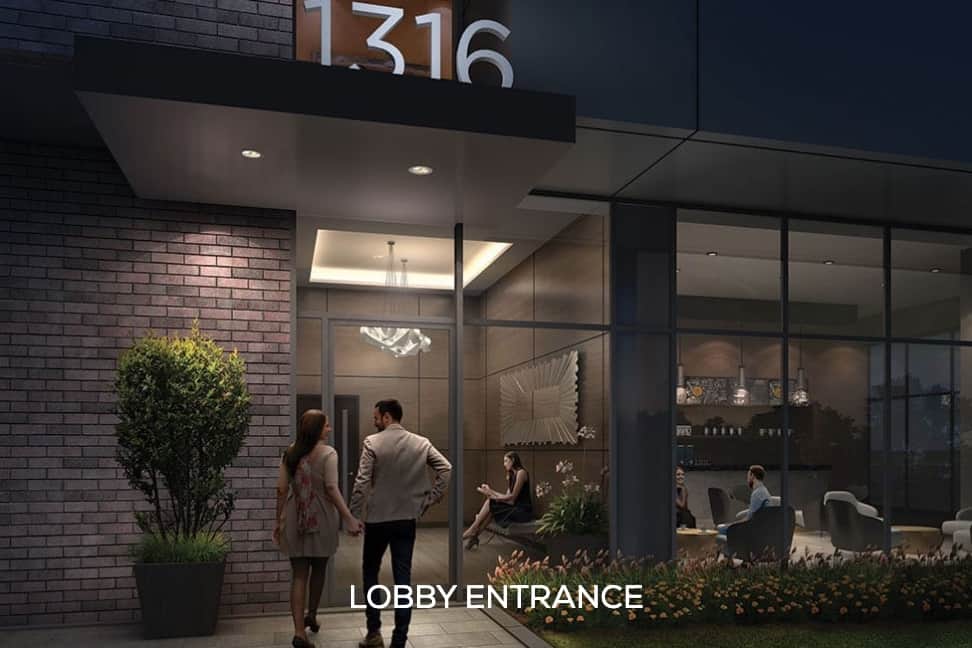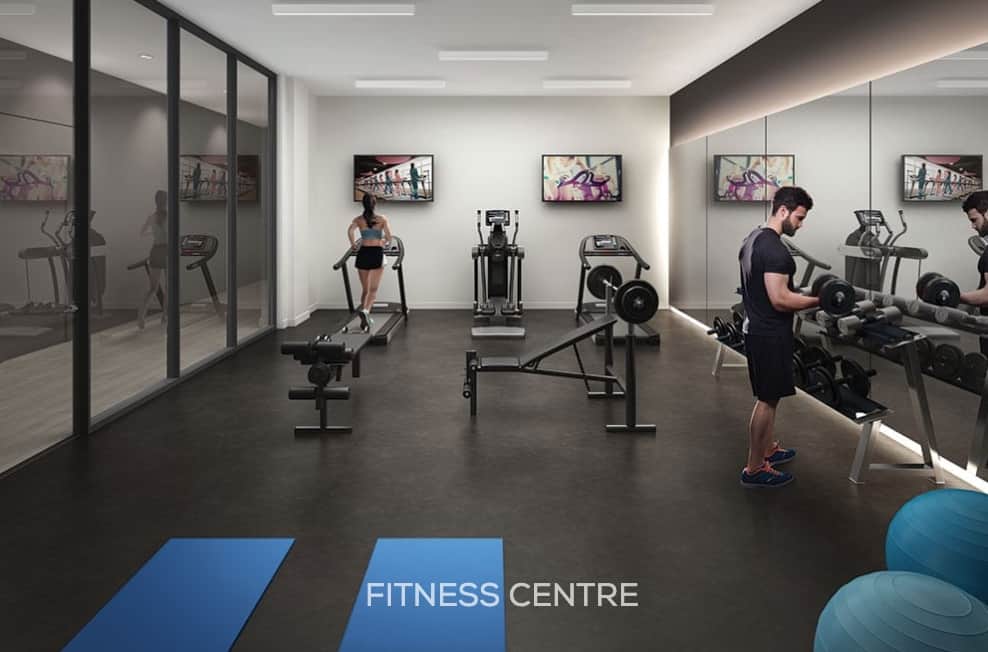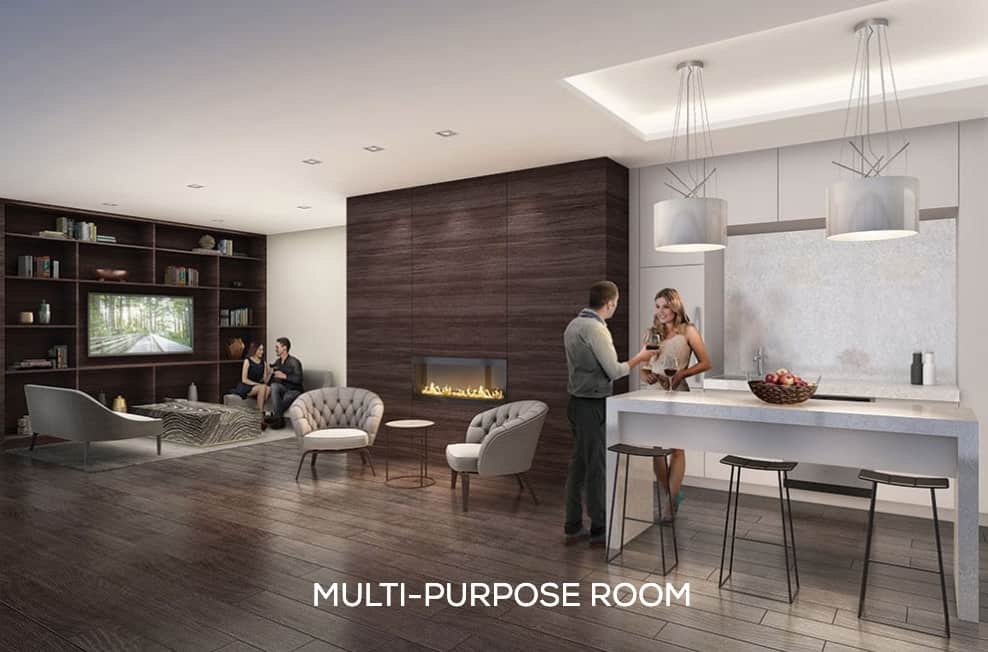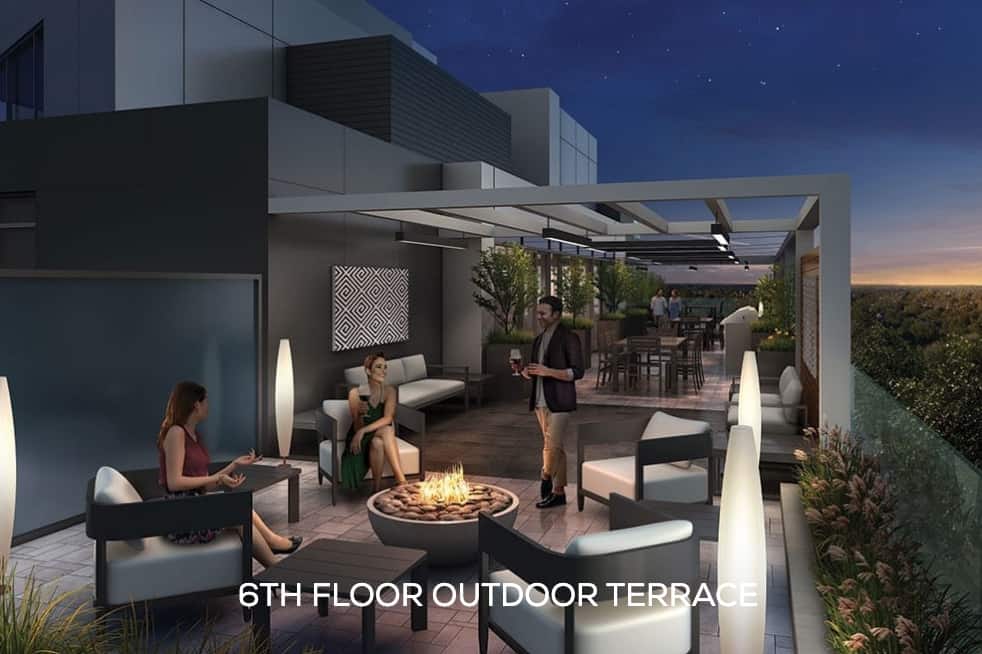 About the Developer
Sunrise Gate Homes is a GTA based company that began with a vision, a vision of bringing your wants and needs into your luxurious dream home. Sunrise chooses the most desirable locations in the GTA and works with top architects, best designers and hand-picked craftsmen to create and build the home of your dreams. Our innovative ideas and top of the line products combined with beautiful designs and comfortable outdoor living spaces make your home the envy of all who visit. Sunrise prides itself with the highest quality, enduring and eloquently designed homes that your family can enjoy. We take the trust our clients place in us very seriously and we are dedicated to building a home that reflects their desires and exceeds their family's expectations.
Terrasse at the Hunt Club FAQs
How do I reserve a unit in this project?
After you review the floor plans and prices, if you know what suites you are interested in, you may reserve a suite online using our online reservation worksheet form at https://truecondos.com/worksheet.
Does filling out the worksheet form mean I'm committing to buy a suite?
No it is not a formal commitment, it is an expression of interest and the first step you must take if you are thinking about getting a unit in this project.
What does it mean that Andrew la Fleur is a "Platinum Agent"?
Platinum agents are the top selling agents who get preferred status with developers and first access to new projects before regular agents and the public.
Andrew la Fleur has been a top-selling pre-construction agent since 2007, and during this time he has achieved platinum status with many of the top builders and sales companies in the Greater Toronto Area.
For more information on about Platinum agents see this article: https://truecondos.com/5-things-to-know-about-buying-a-condo-with-a-platinum-vip-realtor-real-estate-agent/
How does it benefit me as a buyer to work with Andrew la Fleur as my Platinum Agent?
Working with me as your Platinum agent gives you several benefits
You get the

highest level of access

in the building

You pay the

lowest possible price

for the unit (prices are typically increased significantly after the Platinum sales event)

The best possible

incentives

I do not represent the builder. I represent you. You benefit from my expertise of being a top selling pre-construction agent and investor myself since 2007.

Access to my personal network of mortgage brokers, lawyers, property management, HST rebate services, handymen and much more.

My services to you as a buyer are

free
Do I get a cooling off period? What is it for?
Yes, after you sign the contract to purchase a suite you will have a standard 10-day cooling off period. It's 10 calendar days, not business days from the time you sign.
The 10 days are primarily for 2 things: 1) to have a lawyer review your contract with you if you wish and 2) to get a mortgage pre-approval letter
Do I need to have a lawyer?
You don't need to have a lawyer at the moment that you sign the agreement, however I always recommend that you have a qualified lawyer review your agreement of purchase and sale after you sign and during your 10-day cooling off period.
Not sure who to talk to? Don't worry – getting a lawyer is something I can help you with. Contact me for more details.
Do I need to have a mortgage pre-approval to buy?
95% of all builders will require you to provide them with proof of financing capability in order to purchase. This is not required before you sign a contract, but it is usually required within 60 days of signing.
Not sure where to begin? Don't worry – getting a mortgage pre-approval is something that I can help you with. Contact me for more details.
Do the prices include HST?
If you are purchasing for yourself and plan to move in, then yes, prices include the HST and there is nothing you will have to pay at final closing.
If you are purchasing as an investment rental property, then you will have to pay approximately 7.8% of the purchase price as HST on final closing.
This money is remitted to the CRA and as an investor renting out your property you can apply to the CRA immediately to get this money back. It usually takes about 1 month to get your rebate back.
For more information on the HST, see here:
https://truecondos.com/tag/hst-rebates/
Contact me for more details.
What are my closing costs on a pre-construction condo?
Closing costs on a pre-construction condo will vary greatly depending on the actual purchase price of the unit you are buying, but it also depends on the builder, the city that you are buying in, and the type of unit that you are buying.
Roughly speaking in Toronto you can expect to pay approximately 3-5% of the purchase price in closing costs when purchasing a brand new condo.
Check out this article for more info on closing costs:
https://truecondos.com/5-things-to-know-about-closing-costs-when-investing-in-a-pre-construction-condo/
Contact me for more details
Are there any 'hidden' costs when buying a pre-construction condo?
No, there are no hidden fees when buying pre-construction condos because all fees must be disclosed in the agreement of purchase and sale. All purchasers have 10 days to review the agreement and have a lawyer advise them on the exact closing cost amounts. If you need a lawyer to help you we can suggest to you to several expert law firms that will review your agreement in detail.
Is it possible to assign my condo? How much is the assignment fee?
Most condo builders do allow you to sell your unit before the building is complete. This projcess is called selling by "assignment".
There is usually an assignment fee and a legal fee associated with selling. Costs can range from $1000-7000. Contact me for more details.