The Stockton Condos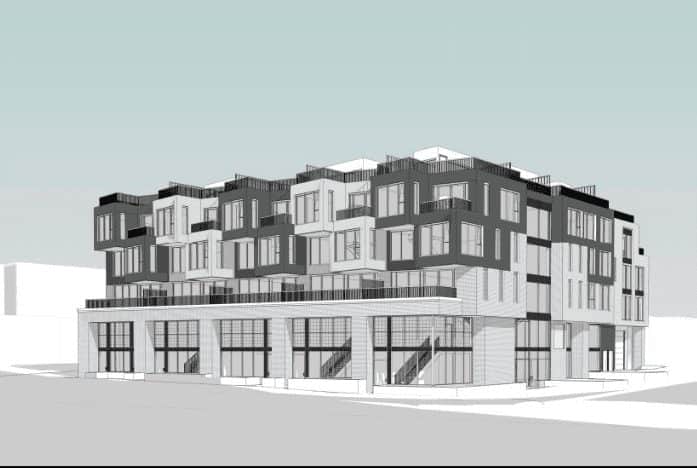 The Stockton Condos is a new condo in Toronto by Block Developments coming to 406 Keele Street, Toronto, ON 
| | | | |
| --- | --- | --- | --- |
| | Address | 406 Keele Street, Toronto | |
| Developer | Block Developments | Occupancy | TBA |
| Area | The Junction | Deposit | TBA |
| Storeys | 4 | Maint. Fees | TBA |
| Units | 30 | Prices | TBA |
About The Stockton Condos
The Junction has now arrived in Toronto, shedding it's working class image and evolving into a stylish and hip address for young professionals and uber urbane families. The Stockton Condos sits in the centre of this newly revitalized neighbourhood that has spawned a slew of new and exciting rising chef's restaurants, industrial chic vintage antiques, indie design and décor stores, hipster barber shops and coffeehouses.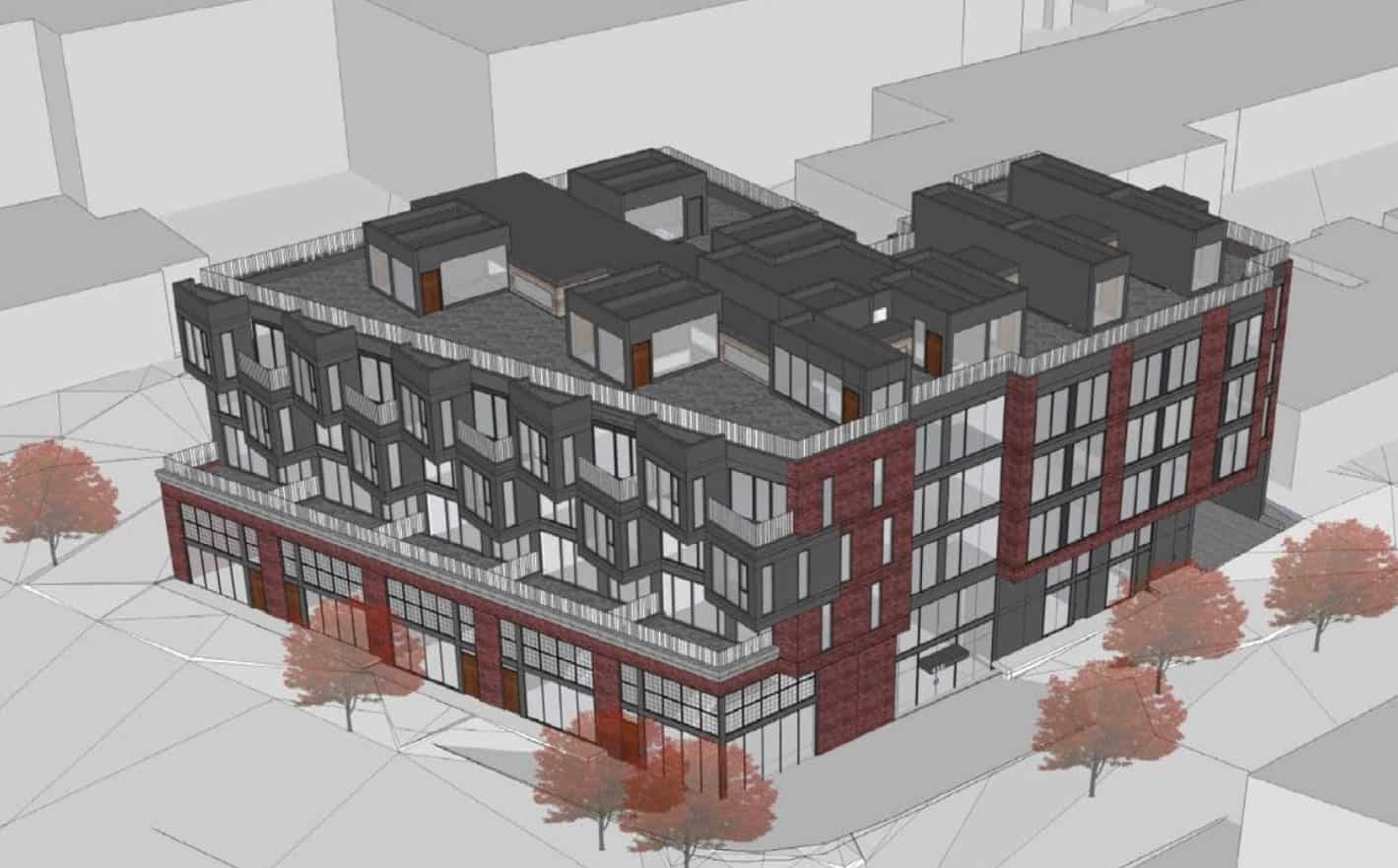 The Stockton Condos Location
The Junction has quickly become Toronto's most intriguing and unique neighbourhood, with nothing else truly comparable. Featuring a number of Toronto's most adorable cafés, hidden gem restaurants, and best craft breweries, markets, and locally owned shops, it offers a slice of urban living, yet a sense of community that one rarely gets whilst living in the big city. Transit, shopping, and dining are merely moments from The Stockton Condos, and incredible parks and community spaces are just around the corner.
TORONTO'S BEST MODE OF TRANSIT – UP EXPRESS
Unbeknownst to most, the UP Express has evolved from not just the best way to get Pearson International Airport, but it is also an effective commuter rail line. Why is this important? It is the most rapid form of transit to downtown's Union Station from The Junction or vice-versa. This cost effective train route runs every fifteen minutes, and goes from the Junction Triangle's Bloor GO station to Union Station downtown in a mere seven minutes (in comparison, it would take about three times longer via the subway). The Stockton Condos also boasts countless other options for transportation, including:
Multiple bus routes

Access to Keele Subway (TTC Line 2)

GO Transit access from Bloor GO/UP Express Station

Access to major arterial roads as well as the Gardiner Expressway
TORONTO'S MOST ECLECTIC NEIGHBOURHOOD
The Stockton Condos is perfectly situated for all The Junction has to offer, especially it's well known dining scene. Dundas Street West boasts a myriad of charming restaurants and cafes that are as good as you'll find in Toronto, including:
Nodo Junction 

Honest Weight

Chica's

Indilicious

The Alpine

Playa Cabana Cantina

Indie Alehouse

Isaan Der

Junction Local and so many more!
STEPS TO HIGH PARK
The Stockton Condos is a short stroll to High Park, Toronto's most beloved park. Spanning a whopping 161 hectares, High Park is a mixed recreational and natural park, with sporting facilities, cultural facilities, educational facilities, gardens, playgrounds and a zoo. Other green spaces nearThe Stockton Condos include:
Baird Park

Lithuania Park

Vine Parkette
About the Developer
Block Developments is a real estate investment and development firm with a mandate to provide homebuyers with beautifully designed and meticulously crafted homes in outstanding locations. Our guiding philosophy is to create dynamic urban revitalization with vibrant master planned mixed-use communities offering sustainable green living and cutting-edge technology. Featuring superior amenities and premium features and finishes, every suite is developed to the highest standards with the resident's ultimate enjoyment in mind.
How do I reserve a unit in this project?
After you review the floor plans and prices, if you know what suites you are interested in, you may reserve a suite online using our online reservation worksheet form at https://truecondos.com/worksheet.
Does filling out the worksheet form mean I'm committing to buy a suite?
No it is not a formal commitment, it is an expression of interest and the first step you must take if you are thinking about getting a unit in this project.
What does it mean that Andrew la Fleur is a "Platinum Agent"?
Platinum agents are the top selling agents who get preferred status with developers and first access to new projects before regular agents and the public.
Andrew la Fleur has been a top-selling pre-construction agent since 2007, and during this time he has achieved platinum status with many of the top builders and sales companies in the Greater Toronto Area.
For more information on about Platinum agents see this article: https://truecondos.com/5-things-to-know-about-buying-a-condo-with-a-platinum-vip-realtor-real-estate-agent/
How does it benefit me as a buyer to work with Andrew la Fleur as my Platinum Agent?
Working with me as your Platinum agent gives you several benefits
You get the

highest level of access

in the building

You pay the

lowest possible price

for the unit (prices are typically increased significantly after the Platinum sales event)

The best possible

incentives

I do not represent the builder. I represent you. You benefit from my expertise of being a top selling pre-construction agent and investor myself since 2007.

Access to my personal network of mortgage brokers, lawyers, property management, HST rebate services, handymen and much more.

My services to you as a buyer are

free
Do I get a cooling off period? What is it for?
Yes, after you sign the contract to purchase a suite you will have a standard 10-day cooling off period. It's 10 calendar days, not business days from the time you sign.
The 10 days are primarily for 2 things: 1) to have a lawyer review your contract with you if you wish and 2) to get a mortgage pre-approval letter
Do I need to have a lawyer?
You don't need to have a lawyer at the moment that you sign the agreement, however I always recommend that you have a qualified lawyer review your agreement of purchase and sale after you sign and during your 10-day cooling off period.
Not sure who to talk to? Don't worry – getting a lawyer is something I can help you with. Contact me for more details.
Do I need to have a mortgage pre-approval to buy?
95% of all builders will require you to provide them with proof of financing capability in order to purchase. This is not required before you sign a contract, but it is usually required within 60 days of signing.
Not sure where to begin? Don't worry – getting a mortgage pre-approval is something that I can help you with. Contact me for more details.
Do the prices include HST?
If you are purchasing for yourself and plan to move in, then yes, prices include the HST and there is nothing you will have to pay at final closing.
If you are purchasing as an investment rental property, then you will have to pay approximately 7.8% of the purchase price as HST on final closing.
This money is remitted to the CRA and as an investor renting out your property you can apply to the CRA immediately to get this money back. It usually takes about 1 month to get your rebate back.
For more information on the HST, see here:
https://truecondos.com/tag/hst-rebates/
Contact me for more details.
What are my closing costs on a pre-construction condo?
Closing costs on a pre-construction condo will vary greatly depending on the actual purchase price of the unit you are buying, but it also depends on the builder, the city that you are buying in, and the type of unit that you are buying.
Roughly speaking in Toronto you can expect to pay approximately 3-5% of the purchase price in closing costs when purchasing a brand new condo.
Check out this article for more info on closing costs:
https://truecondos.com/5-things-to-know-about-closing-costs-when-investing-in-a-pre-construction-condo/
Contact me for more details
Are there any 'hidden' costs when buying a pre-construction condo?
No, there are no hidden fees when buying pre-construction condos because all fees must be disclosed in the agreement of purchase and sale. All purchasers have 10 days to review the agreement and have a lawyer advise them on the exact closing cost amounts. If you need a lawyer to help you we can suggest to you to several expert law firms that will review your agreement in detail.
Is it possible to assign my condo? How much is the assignment fee?
Most condo builders do allow you to sell your unit before the building is complete. This projcess is called selling by "assignment".
There is usually an assignment fee and a legal fee associated with selling. Costs can range from $1000-7000. Contact me for more details.