Why Rental Demand is at the Highest Level in 30 years with Shaun Hildebrand of Urbanation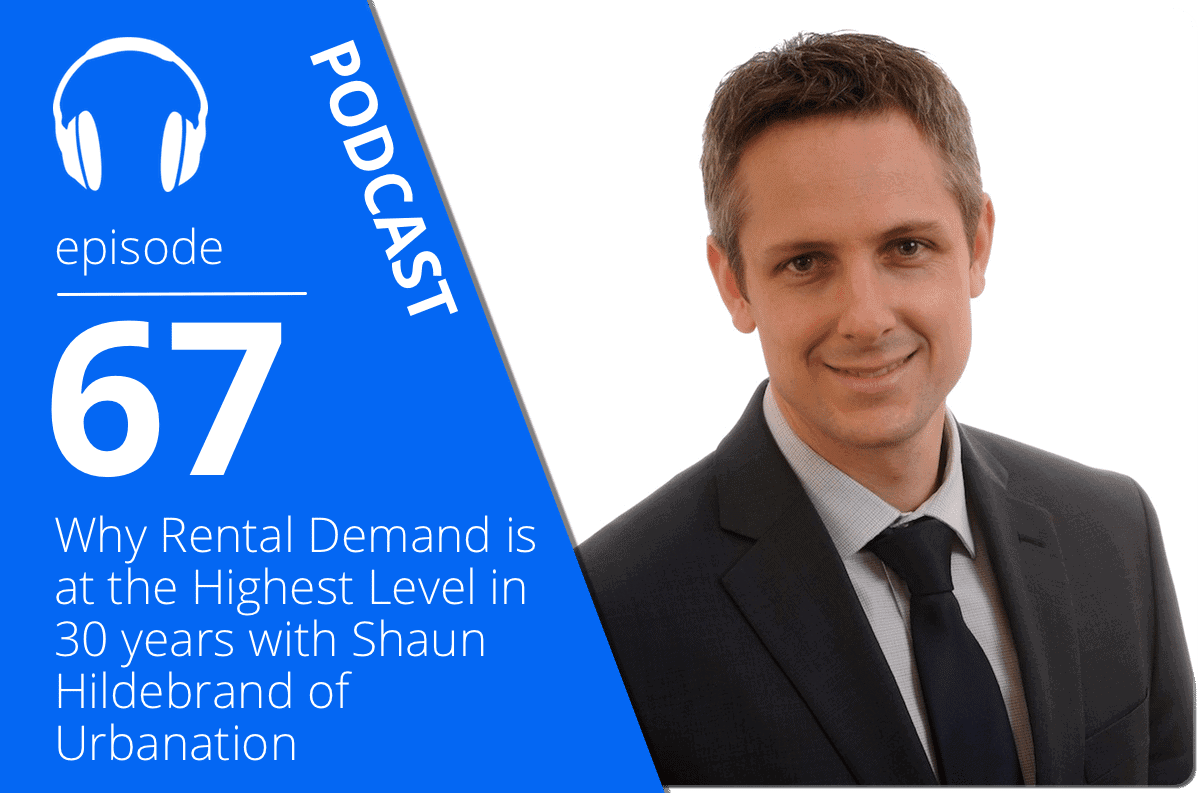 This week we sit down with Shaun Hildebrand of Urbanation. Urbanation has been tracking the Toronto condo market since 1981. We talked about the latest data from the market which is showing the highest rental demand Toronto has seen in nearly 30 years. Condo ownership rates looked like they have peaked and rental turnover rates are down. What this means for condo investors and more.
Introduction: Welcome to the True Condos Podcast, with Andrew la Fleur. The place to get the truth on the Toronto Condo market, and condo investing in Toronto.
Andrew: Hey, it's my pleasure to welcome to the show Shaun Hildebrand. Shaun is the Senior Vice President at Urbanation. Shaun, welcome back to the show.
Shaun: Thank you. Thanks for having me.
Andrew: Great to chat with you again. Always love to hear your take on the market and things that are happening. You've recently put out your Q3 reports, sales and rentals for the condo market in 2015. Why don't we start behind the sales side. Tell us: What are the top highlights from the third quarter? What are you seeing in the market, and where are we at compared to last year?
Shaun: Sure. Out of the 3 condo markets that we track, new condos, resale condos, and rental condos, resale and rental condo transactions were growing actually very fast. On the resale side, activity was up about 15% year-over-year. It was a record third quarter for resale activity. On the new condo sale side, activity was down about 13% in the third quarter year-over-year. That was down from a pretty busy summer in 2014. The levels were pretty much in line with third quarter averages over the past 10 years. It was a pretty normal third quarter for new condo sales, but certainly not keeping pace with the level of activity in the resale market.
If you take a look at new condo sales volumes on a 12 month rolling basis, activity has really leveled out over the past year and a half or so. We're trending at about a level of 20,000 units a year for new condo sales. I think that's really a sustainable level. If you take a look at metrics such as household formation rates for the GTA, they've been averaging over the past 10 years something in the range of 30-35,000 households a year. New low-rise absorptions are at or below 15,000 homes a year. 20,000 seems to be an appropriate level. It's one that is helping to promote a balanced market in the condo market as it's been. You can see how that's sort of diverging from what's happening in the single family home market.
Within the new condo market, supply is comfortably balanced. On the resale side, we're seeing prices grow at a moderate pace. On the rental side, they can see rates are starting to edge up a bit. Rent growth is starting to flatten out, which i don't think is a bad thing for affordability. I would suggest that 20,000 units is actually a good level, and, in the end, provides kind of a bit of a sense of predictability for supply growth going forward.
Since we've been at this 20,000 unit a year level over the past year and a half or so, it gives us some knowledge looking forward, that we know that construction volumes are going to remain at that level over the next few years, because there is a lag obviously between presales and construction starts. That's going to help to keep the local economy strong. Ultimately, we know how supply growth is going to unravel in the coming years as well. I think, going through a period we've gone through in the past few years where we've seen some ups and downs in the data, I think the fact that we're starting to see things level out is going to help us set our expectations for where we see the market going forward over the next few years.
Andrew: We're coming to the end of 2015 here at time recording, end of November here, what is 2015 looking like in terms of new condo sales? Was it better or worse than you … I can't remember your predictions or things from the beginning of this year, but … Better or worse than expected, in your opinion, 2015 for new condo sales?
Shaun: Slightly better. At the end of last year, we were expecting around 18,500 sales for the year. I think we'll probably end up somewhere around 19 or 20,000 sales this year. That's up, obviously, from some of the lower points that we've seen in previous years, but it's down slightly from 2014. It's probably ranking in sort of the third or fourth best year on record, so a very solid year for new condo sales. On the resale side, it'll be a record year for sure. We'll hit over 20,000 resale activity this year.
Andrew: Wow. A lot of people are talking about the resale market. Want to get your take on the unsold inventory question. There's a lot of noise in the media recently about this OECD report, or statement or something, saying that there's great concern in Toronto because there's all these unsold units. There was a similar thing about 5, 6 months ago as well. What's going on with unsold inventory? Should we be concerned about it? What's your take on this?
Shaun: I think most of the attention has been drawn to some data that's been released through CMHC that's showing that the inventory is completed and unabsorbed units has been rising. We track the markets, I think, in a little bit more detail than CHMC does, and we're not seeing a rise to the same extent, as they're reporting. In fact, the increase in inventory at completion has been exclusively the result of just a higher volume of completions. The percentage of units that are presold that are coming to completion has remained steady at around 95%.
In fact, the total level of unsold inventory in projects that are occupying right now is still a very minute share of the market. Within projects that are in the occupancy phase right now, we're tracking less than 700 units that are unsold. That really isn't much. If you add that into, say, the total number of condo rentals that are vacant right now, it would really only push the vacancy up from 1.8% to 2%. It's really immaterial. A lot of these units will become absorbed in time. They've just recently come to completion, so there's still time for buyers, obviously, to come into the units and tour them, and then make their decision. Most of the inventory that is unsold is actually in projects that have been standing for over a year or so. In most cases, these units aren't really unabsorbed, they've been rented out by the developer. The number is sort of artificially high. It's been driven up by the fact that we've seen more completions, but just because that number is high doesn't necessarily mean that they're available units.
Andrew: Right. I think that's another big factor to consider … The resale market is so high. These buildings that are finishing that have unsold units are putting those units into a very hot and very busy resale market as well.
Shaun: Yeah, that's right. It's actually pretty surprising how strong the resale market is for condos right now. I don't think anybody, including myself, predicted that in an environment where condo completions are above 20,000 units a year, that you would actually see the resale market turning into a seller's market again. That's exactly what we've been seeing. In the third quarter, resale prices for condos were up over 7% year-over-year. The sales to listings ratio, in a lot of downtown sub-markets is rising very quickly. That's a reflection of the fact that demand has heated up, but also the reflection that most of the supply that becomes finished in these new buildings has been entering the rental market, as opposed to the resale market. In fact, we've been seeing turnover of these new units going into the resale market declining, actually, quite steadily. A few years ago, when a new building would come to completion, we would see in the first year about 10% of the units go up on the resale market. That share has declined to 2%. That's been offset by the fact that we've seen a huge increase in the share of units that are being listed for rent.
Over the past 12 months, the unit that have come to completion, just on the MLS system, 1/3 have been added to the rental market. That's a big jump, even from just a year ago, when it was 1/4. If you factor in all of the other means of listing your unit for rent, you're probably looking at about half of all units that are coming to completion going straight into the rental market, and very few actually becoming listed for resale.
Andrew: Mm-hmm (affirmative). I want to definitely talk about the rental market in a moment, but just sticking with the new condo sales market in 2015 as we're getting to the end of the year and looking back on the year … Just from my perspective on the ground, it was kind of an interesting year. A lot of new projects came out. Some projects did very, very well and sold out quickly. Others did not, and others have struggled in terms of new projects coming on to the market. What are you seeing? What were the sort of … I don't know if you can talk specifics, but what were the projects that you saw that were really the biggest sellers of the year, and in your opinion, what is it, or why did certain projects sell really well, versus others have struggled in terms of new project launches this year?
Shaun: Yeah. This has really been … The fact that we see this dichotomy in the market, where some projects will come out and do very well and some struggle, has been really the reason why we've seen new condo prices remain flat over the last couple of years. Even though resale prices are growing very quickly, new condo prices are pretty much unchanged over the past year. That's because of the competition that exists at pre-construction sale centers right now.
Almost 1/3 of all the units that have been launched in the past 12 months are still less than 50% sold, but there's also a very large share that are over 90% sold. From what we're seeing, without getting into too many specifics, is that the projects that are doing exceptionally well are able to push pricing in their respective areas by being very well located, very well positioned, coming out at the market at an opportune time, when there isn't a lot of surrounding competition. Whereas, other projects that have struggled may not be as connected to transit, for instance. Or, perhaps, they're entering into a market where there has been a lot of launch activity recently, and it's sort of saturated. They've struggled to reach their absorption targets. The large scale projects that have been released recently and driven towards investors have for the most part done quite well. There are some that for one reason or another, and I think a lot of is location … In most cases, they're very competitively priced … Haven't done that well.
Andrew: Yeah. Again, from my perspective on the ground, there's not a lot of froth in the market. Overpriced product out there. Most of it is very well priced. Like you said, there seems to be this tale of two markets. It's a bit of a theme I've seen this year in 2015, where some projects are flying off the shelves, and they tend to be the projects in the best locations, and then you've got other projects that are great projects, good pricing, everything seems to be there, but for, whether it's location or whether it's timing, we have seen some projects, a bit of a surprise, that have not done as well.
Shaun: Yeah. Investors are pretty astute these days. They recognize that where the markets are hottest, and where they offer the greatest potential for resale or for rental as well, what the upside is after completion. They realize that core markets are able to generate very high rents on a per square foot basis. The resale market is exceptionally tight. Whereas, perhaps in some other periphery markets or suburban markets, it's a tougher sell. Really, it's been a migration into the core in terms of sales activity. Really over the past couple of years.
Andrew: Maybe you could expand on that. Migration to the core. I've seen some numbers related to that as well, that it seems to be a greater and greater share of the overall market is coming from the downtown core. Is that what you mean?
Shaun: Yeah. Backtracking to the market peak in sort of the 2010-2012 period, activity started to spread out all across the GTA, and it was very easy to launch a project pretty much anywhere and have it sold out really quickly. It didn't really matter the location, because the market was so hot at the time. When the market began to slow in the later part of 2012 and into 2013, it left quite a bit of supply overhang in some of these suburban markets. It's taken a long time for that inventory to become absorbed, and for there actually to be a greater number of launches that are necessitated in these types of markets.
However, in the central core markets, the market has always remained very highly sold. The inventory was never really a problem. In sort of the former city of Toronto boundaries, the percentage of all units that are in development right now are over 90% presold. Whereas, if you look sort of in the 905 region, it would fall to sort of 80, 75% range, something like that. For pre-construction projects, it may even be in the 50-60% range. Investors and buyers in general just realize that there's inventory out there to be absorbed, and developers have held back, in a lot of cases, on launching new projects until that inventory has been brought down. Whereas, in the downtown core, if you have the availability to launch a new project into the market, in most cases, it's going to do very well if it's launched at the right time and at the right price.
Andrew: Mm-hmm (affirmative). It's interesting that, like you said, there's this other story that's going on where you have the resale condo market prices going up 5, 6, 7% a year, as we've seen this year, and the new condo prices relatively flat, as you said at 2, 3% a year kind of thing increasing. When I look at that, as an investor, I see a great opportunity to actually purchase into the pre-construction market, where prices are relatively flat, knowing that the resale market is increasing at a fast rate. Would you agree with that, or do you see it from my perspective?
Shaun: Yeah, definitely. I think that the outlook for capital appreciation, as sort of signaled by gains that we're seeing in the resale market, is at its highest point that we've seen in 4 years. Resale prices on an annual basis were averaging 2% per year between 2012 and 2014, and now suddenly, they're rising above 5%. I think that definitely helps when you look at what's been happening in the rental market. I know we'll talk about that, but rents have really remained slack over the past year and a half or so. Then there's obviously the possibility that interest rates could be moving higher next year. That could have a dampening effect on price growth as well. The fact that we're seeing, in a lot of cases, resale values for completed buildings, newer completed buildings, above the price for pre-construction units, I think helps to provide some insulation for an investor that's looking to get into the market today.
Andrew: Mm-hmm (affirmative). Let's shift gears and talk about the rental market. Again, your Q3 report you just released, detailing what's happening in the rental market. As we're heading to the end of 2015, what are the sort of top points or key things that you're tracking in the rental market and trends and stories for 2015?
Shaun: I think the most remarkable story that's come out of 2015 is the fact that leases have continued to grow at such an exceptional rate. We've been seeing close to 20% year-over-year growth. It's not coming off of a low level. 2014 was a huge year for condo leases, as well. I think what it's suggesting is that rental demand is at its highest level in about 30 years right now. We'll see the total number of units leased through the MLS system within the condo market probably reach somewhere around 28,000 units this year. That's a massive number. If you compare that to the number of units that are resold through the MLS system, it's about 30% higher. There's a huge amount of demand that's being filtered into the rental market. Even though demand for resale is strong, it's even hotter for rental right now.
A lot of that has been driven by all the new supply that's been coming into the marketplace. We're seeing completions at record levels. Above 20,000 units a year. Then, the share of those units that are being added to the rental market keeps going up as well. Even regardless of the supply, demand has been able to keep pace. In fact, over the last couple of quarters, we've seen the volume of leases actually growing faster than the volume of listings. That's suggesting that the market is still quite tight. The average unit rents in just over a couple of weeks. They don't stay on the market very long. Even still, with the volume of supply that we see, it has compressed rent growth. That's because of the volume of units that become listed for rent upon initial occupancy. When a new building comes up for completion, there's a large volume of units that are listed for rent. There's intense competition within the building to get the units leased in a timely manner. That keeps rents from growing.
I think that's going to be the case over the next couple of years, just because we continue to see the level of condo completions remaining high. Until about 2017 or so. Then, I think eventually it's going to lead to modestly higher vacancy rates, but I don't see any sort of crash in the condo rental market, that's for sure. I think rental demand is going to continue to remain as high as it is. Ultimately, it's at a level that's able to absorb this record level of supply that's been coming in.
Andrew: You're saying huge growth. Yeah, it's a big, big story. People really need to understand. Not enough people, in my opinion, are talking about the fact that there's just almost exponential growth in the rental market. At the same time, the resale market is growing, prices are growing. What do you think is driving this? Particularly in the rental market, is it just migration to the GTA? More and more people moving in? Is is the lack of low rise housing options and condos are now just the de facto housing market? What is sort of behind the numbers, in your opinion?
Shaun: I think it's a few things. I definitely think the migration to the core story is huge, because if you look at total population growth numbers and immigration numbers to the GTA, they're not exceptionally high. In fact, they're down from previous years' highs. That would suggest that a greater share of the population is, in fact, moving into the core. The city of Toronto accounts for over 80% of all condo rental activity, so it stands to reason that more and more individuals are moving into the core, as opposed to more suburban markets in the GTA.
I also think it's largely related to affordability, and the fact that … I think at least within the condo market, we've seen ownership rates peak. For one reason or another, and perhaps it's a level of skepticism over owning a condo, a lot more people are choosing to rent as opposed to own. The economics, to some extent, do favor renting as opposed to owning. If you factor in mortgage payments, condo fees, and property taxes, in a lot of cases it does make more sense to rent. In fact, you're able to save some cost on rent by renting smaller units that are being offered by investors, as opposed to perhaps larger units that are being offered for resale. I think there's an affordability angle, as well.
I also wouldn't downplay … Really, I think this has been continuing over the past few years, but a lot of pent up demand that was accumulated during the downturn in 2008, 2010 … The job market for younger households was really weak for several years. You saw cohabitation, people staying with their parents longer. Now, the job market for younger individuals is starting to improve. Despite the weakness that we hear in the job market emanating out of the west, the GTA continues to see very stable job increases. A lot of that has been focused on younger households. We're starting to see more household formation occur. A lot of that is single individuals, younger individuals, who are moving out on their own for the first time. Their first step into the market has been renting as opposed to owning. They want to live in the core. I think in some cases, there's a sense of hesitation about owning a condo. They want to try it out. They want to live in the unit for a while, and rent it out, and then eventually, I think, this will help the resale market for condos in the years to come.
Andrew: I guess ultimately, low ownership rates and high price appreciation rates is a good thing for investors. The future, I guess you could say of the city, is looking more like New York City, or something to that effect, where the vast majority of people are renting just because ownership is not even a possibility.
Shaun: Yeah. I think this comes with any sort of city that's seen population densities rise to the extent that we have in Toronto. This is reflected in the fact that we see single family home prices grow by double digits, and the fact that we see a greater share of the population choosing to rent, as opposed to own. It becomes sort of a more natural occurrence, as a city becomes as large as Toronto has, and has grown up as quickly as Toronto has. It's not just younger individuals that are choosing to rent. I think there's a greater pool of longer term renters, as well, that are staying in the market and renting for a longer period of time, than say, previous generations, who would rent for a short period of time and then eventually move into the ownership market. Certainly that transition I think has been delayed. Renters are staying in the market for longer periods of time. That's actually been reflected in lower rates of rental turnover in the existing stock of rentals.
Andrew: Interesting. Lower turnovers, you have statistics on that? Or is that anecdotal? Or …
Shaun: Yeah, no, we've been tracking turnover rates in the condo market. After a building has been in existence after a year, the percentage of units that gets turned over after that initial lease up period. In fact, it's been coming down. The turnover rates in the condo market right now is about 20%. A couple of years ago, it was something around 25%. People are renting for a year, and then moving on. They're staying in units for longer periods of time.
Andrew: Interesting. That's all, again, part of the story of what seems to be happening, of more people renting and renting for longer and longer, and delaying that ownership decision. You track different sub-markets. You said overall rent prices are fairly flat, but I'm always curious to hear: What sub-markets are you seeing? Maybe there's ones that surprised you? Where are you seeing the most growth in rental prices from your latest data?
Shaun: Yeah. Headline rents, on a per square foot basis, are rising by about 1%, 1.5% of so. If you take a look at same sample rents, so units that are common to today and a year ago, they're growing slightly slower. About half a percent or so. It has been quite flat, but when you do break down the market into its sub-neighborhoods, you do see that some are out-performing. Same sample rent growth in areas mostly in the east end of the city are out-performing. The east lower neighborhood, even Yorkville, the downtown east markets. These are areas that haven't seen the infusion of supply that some of the other sub-markets have. They haven't been as popular new condo markets as, say, the downtown west and sort of the south core markets, that have seen a lot of construction in recent years and a lot of new buildings come to completion, and in turn, a lot of new rentals coming into the marketplace.
Supply has been relatively more restricted in these markets, and it's allowed rents to grow at a faster pace. I think even looking forward, in terms of the scheduled completion of these markets, it still seems to support stable rents in these areas that haven't seen, at least on a relative basis, as much construction as, say, some of the higher volume condo construction markets in the core.
Andrew: Interesting. It's always good as investors to look for these pockets where you don't have as much supply in the pipeline, and that's where you would see the growth. A question I often get asked is around the institutional investors entering into the rental market. I know you guys do a lot of work in that area now as well, tracking the institutional rental market. Should individual condo investors be concerned or worried about the fact that institutions are now really getting into the market in a big way and they're building entire buildings that are rental buildings, which is a new phenomenon we haven't really seen in the last 20 or 30 years really? Should individual investors be worried? From a perspective of, again, supply, just having to compete with these large institutions for tenants down the road. Should this be a concern?
Shaun: No. I don't think so. I think the movement towards more purpose built rental development is still very much in its early days. The growth that we're reporting in purpose built rental construction is coming off of a very low base. We have I think just over 6,000 units or so in purpose built rental projects that are under construction. That is a 25 year high, but it's also coming off of very depressed levels. There's really been a lack of purpose built rental development over the past 3 decades in Toronto. We're starting to see more interest in that segment, but it's certainly not overtaking condo development. In fact, there's still 8 times as many condo units under construction as there are rental projects.
In a lot of ways, the units that are being constructed for purpose built, they're sort of different than what's being offered in the condo rental market as well. In a lot of cases, they're higher end. They're larger units. They're more expensive. A lot of them aren't really located in the core. There's been some, but not a lot. Looking forward, these projects are going to be entering into the markets in a few years time, when there's not as much new condo supply coming to completion as well. You sort of have to take a look at the fact that there hasn't been nearly as many new projects launched for condominium projects over the past few years.
In 5 years time, 4 years time, there's not going to be as many completions as well. These rental units that are dedicated purpose built are going to be completing at a time when there's not as much new condo construction coming into the market as well. Overall impact on rents and vacancy rates, I think, is going to be quite limited. It is mostly larger institutions and bigger developers that are getting into the purpose built game. In a lot of cases, it's very difficult to make the numbers work. The economics are still quite fragile. It isn't going to be a huge shift away from condo development toward purpose built rental. It's an emerging trend, but coming off of almost 0 development in recent years. In the end, if we're selling 20,000 new condos a year and we're building 20,000 new condos a year, there isn't a lot of room for purpose built rental development to continue to grow. If it does, it's going to tip the scale, and there's going to be some repercussions. It's going to end up offering too much supply to the market. 
Andrew: Right, right. It's just not going to be attractive, and institutions will just back off and put their money elsewhere. Interesting. Shaun, anything else? It's been great chatting with you. Anything else that you'd like to add about what you're seeing in the market, or any other interesting trends, or anything that you are seeing in the market that we didn't discuss today?
Shaun: I think a lot of people are still somewhat worried about what's going to happen to the market in the next couple of years as we're going to continue to see the record level of condo units that are under construction come to completion. We've been sort of running some numbers around what these units that are going to be coming to completion are going to do to the marketplace. We're expecting that … It could be 25,000 units next year that come to completion. We're going to have about 21,000 this year. That was a record high. We're going to be building off of a record high to an even higher record high next year, but if you take a look at these units, they're 87% pre-sold. They equal about 3,000 unsold units, but there's still quite a bit of time left before these come to completion to be able to hit that 95% absorption rate. I don't think there's going to be very much unsold inventory coming out of the units that are under construction right now.
You also have to consider the fact that most of these units were bought several years ago, at prices that are considerably lower than what they're offered at today. The average pre-sale price for a unit that's under construction right now that's going to be coming to completion next year is less than $500 per square foot. If you compare that to the average resale price for units that are in the market right now and have been completed over the past couple of years, that's close to $100 or so less per square foot. There's still quite a bit of appreciation room there for the units that are going to be coming to completion. If you think about what the holding cost would be on these units, with a 25% down payment, and you factor even just slightly higher interest rates than there are today, at a 25 year amortization, the holding cost is pretty much equal to what the going rent is for new units as well.
I don't see there's a lot of risk in the market next year from rising interest rates. At least if it happens at sort of an incremental level, there's built in capital appreciation that the investor has. There's an incentive to continue to hold, as resale prices are continuing to move up. The holding cost is still manageable. To me, I don't see a lot of risk in 2016, but again, that's largely dependent on only modest or slight increases in interest rates. If, for whatever reason, interest rates rose a lot higher than expected, we could be experiencing something different. Or, perhaps, there's a sudden downturn in demand, but I think as we look towards 2016 I think it's going to be pretty much status quo. I don't see a lot of change in the market based on the trends that we're seeing as we enter into 2016.
Andrew: Great. Shaun, thank you so much for your time again today. I really appreciate it. If you want to learn more about yourself and Urbanation, what's the best place for them to go?
Shaun: You can check out the website. It's www.urbanation.ca. My contact information is on there. It outlines the reports that we offer through our subscriptions, and our online database that tracks new construction condos, the rental condo market, anything that's proposed for development, and then obviously the resale market as well. We have coverage of every building across the GTA. Check it out if you want to learn more, and send me an email or give me a call. All my contact information is on the web.
Andrew: Great. Definitely you guys have a fantastic Twitter feed which is very active. You're always updating great tidbits and information about the market on your Twitter feed. I'll include a link to that as well. Shaun, thanks again for your time.
Shaun: Thank you.
Thanks for listening to the True Condos podcast. Remember, your positive reviews make a big difference to the show. To learn more about condo investing, become a True Condo subscriber, by visiting truecondos.com.