UC Tower Condos in Oshawa
| | |
| --- | --- |
| Developer | Tribute Communities and Rio-Can |
| Address | Simcoe Street North & Winchester Road East, Oshawa |
| Neighbourhood | North Oshawa |
| Number of Storeys | 27 |
| Number of Units | TBA |
| Occupancy Date | November 2024 |
| Maintenance Fees | $0.56 psf/m |
| Priced From | Low $300,000s |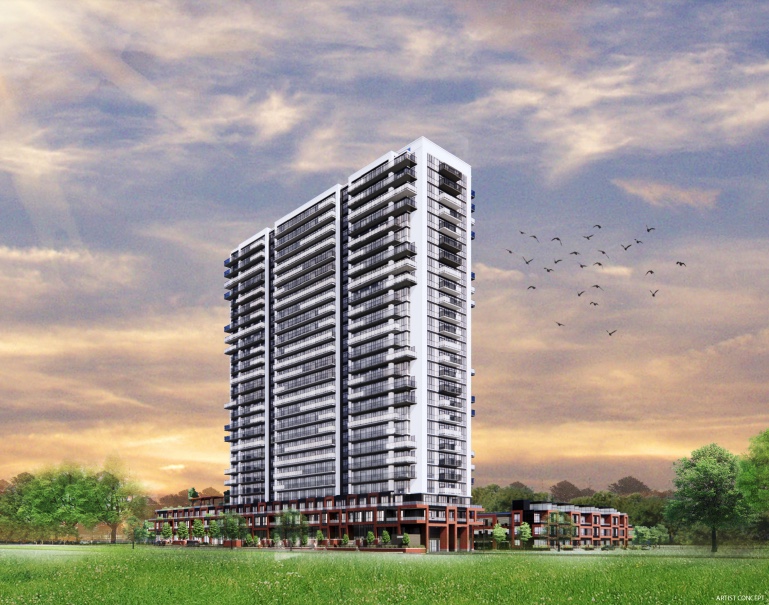 About UC Tower Condos in Oshawa
Introducing the newest addition to the U.C. community, U.C. Tower 2 is primed to make a statement in the heart of Oshawa's most vibrant area! Designed to help you enjoy life to the fullest, U.C. Tower 2 puts you in a prized Oshawa location just moments from the modern amenities and contemporary luxuries demanded by the most astute homebuyers.
Surround yourself with a multitude of conservation areas and golf courses, remarkable retail destinations like the new RioCan Shopping Centre, pillars of art and culture with Oshawa Little Theatre, strong academic institutions like Ontario Tech University and Durham College, quick access to Hwys. 407 & 401, and so much more. Everything you want is right here at U.C. Tower 2, coming soon.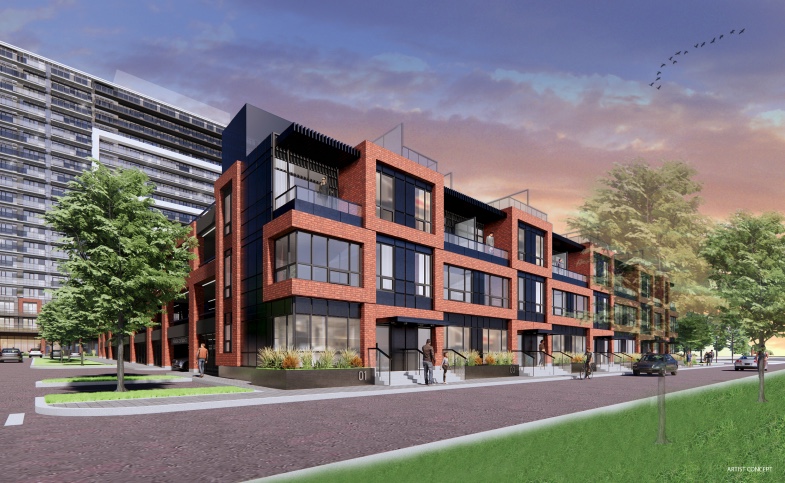 UC Tower Condos in Oshawa Location
If you're thinking about buying a home in UC Towers, you won't be disappointed. The City of Oshawa has plenty to see and do to keep all its residents entertained. As one of the up and coming community cities in Ontario, Oshawa has worked hard to develop infrastructure worthy of the title of one of Canada's fastest growing cities.
TRANSIT OPTIONS
Oshawa is a transit hub. It's only 45 minutes to Pearson International Airport. It's right in the Highway 401 and 407 corridors, making it easy to get around. GO Transit has two new stations coming to Oshawa plus a new layover facility. Not to mention
the Durham Region Transit that is always growing. UC Tower specifically is perfectly situated to quickly jump on the 407 so you can hit the road for an adventure.
TRIBUTE COMMUNITIES CENTRE
Home of the OHL's Oshawa Generals, this world class facility has hosted countless concerts, sports, and international events including the 2015 Pan Am Games. It's also home to the Oshawa Sports Hall of Fame. This beautiful mid-sized arena is a corner stone of the vibrant downtown community that Oshawa has been developing and it remains a marquee stop for many touring events.
UNIVERSITY OF ONTARIO INSTITUTE OF TECHNOLOGY (UOIT)
One of Canada's newest universities, UOIT, is an amazing place to learn. Its main campus is just minutes from UC Towers and it offers a wide range of undergraduate
and graduate programs in science, engineering, health and information technology, while a second campus in downtown Oshawa offers social science and teacher education programs. It's on the cutting edge of education and was one of the first universities to implement the "Technology-Enriched Learning Environment" (TELE), whereby the students are encouraged to use the digital space in all aspects of their education.
DURHAM COLLEGE
Sharing its beautiful campus with UOIT, Durham College has been steadily growing since being founded in 1967. With diverse course options and a desire to be an institution that has something for everyone, Durham College is known for its wide range of programs including: business, information technology, media, art, design, general arts, science, skilled trades, justice, emergency services, health and engineering technology. With a state-of-the-art recreation centre, library, and tons of eating and studying options, this is a great campus to call home.
WINDFIELDS FARM
Phase one of the Windfield Farms shopping centre is planned to open
in 2020 and is directly adjacent to the residential development. The shopping centre will include approximately 200,000 square feet of retail and service offerings, and will be anchored by a national grocer.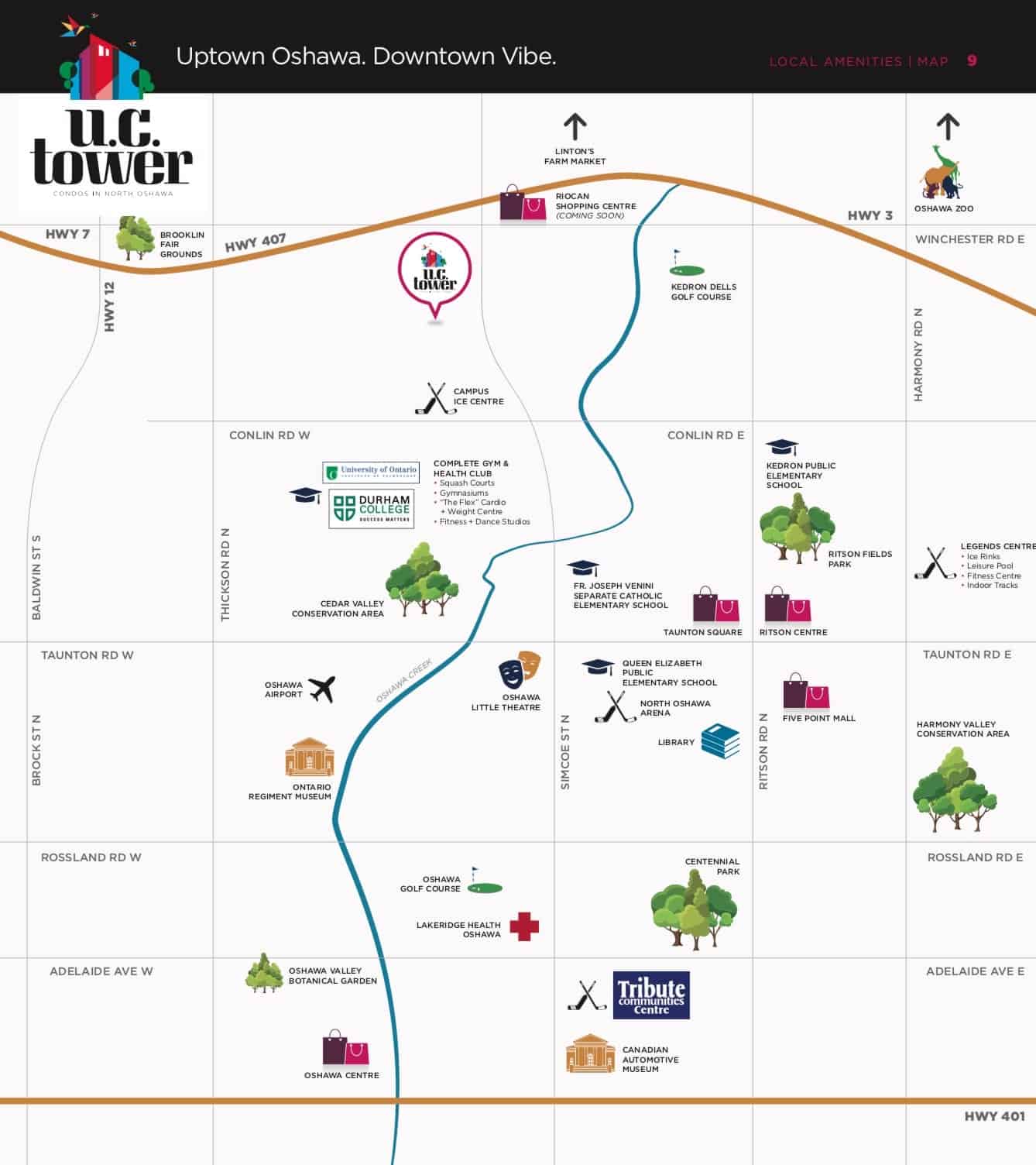 UC Towns in Oshawa Amenities
One of the best perks of living in UC Tower is having access to over 18,000 square feet of exceptional amenities.
Indoors, you'll enjoy over 9,000 square feet of top
of the line facilities. UC Tower spared no expense in ensuring that all the residents will be able to enjoy the diverse amenities being offered. They include:
01 CONCIERGE
02 EXERCISE ROOM 03 PET WASH
04 BIKE ELEVATOR
05 THEATRE
06 INTERNET LOUNGE
You'll also be able to enjoy 7,782 square feet of beautiful outdoor space. Whether you want to grab some friends and head to the barbeques or fireplaces, or just enjoy some time reading under a tree on a terrace, there is space for it all.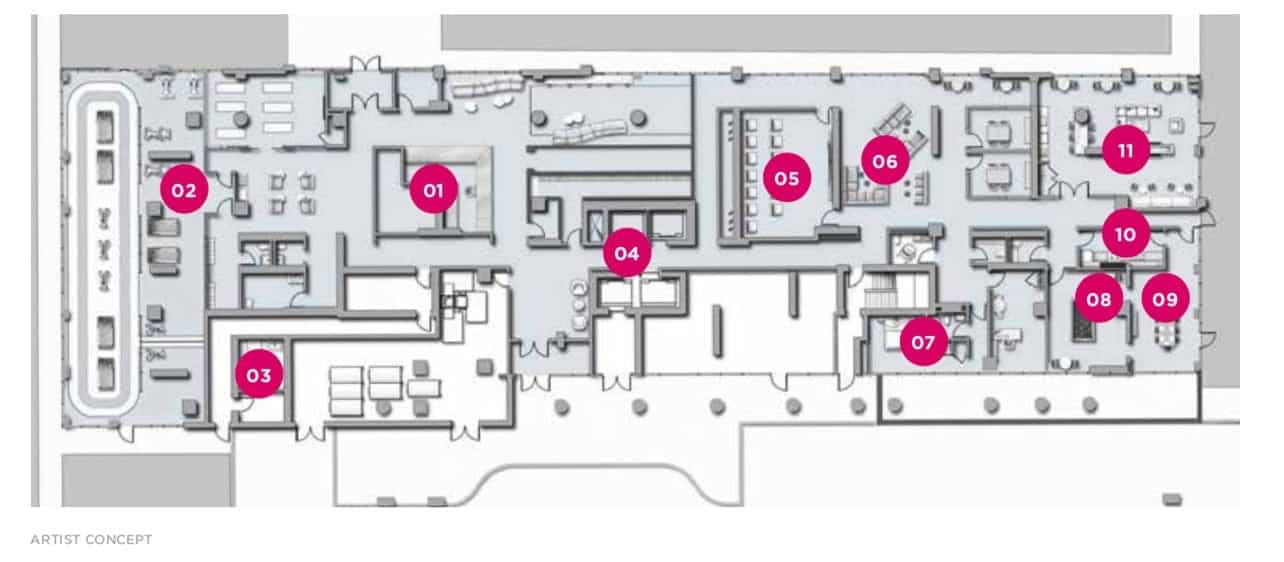 About the Developer
Tribute Communities is a Builder/Developer with over 35 years experience who has built more than 30,000 homes across Southern Ontario. The company's reputation has been earned through their architecturally distinct and exquisitely designed homes that incorporate unique features, classic finishes and the very finest streetscapes and communities.
Since 1993, RioCan has helped shape the places Canadians want to work and shop. Now, RioCan Living is shaping the places they want to live. We know that building a community takes more than bricks and mortar. It takes people. When they select a project location and building team, they're thinking about the people who will one day call it home.
UC Tower Condos in Oshawa Frequently Asked Questions
How do I reserve a unit in this project?
After you review the floor plans and prices, if you know what suites you are interested in, you may reserve a suite online using our online reservation worksheet form at https://truecondos.com/worksheet.
Does filling out the worksheet form mean I'm committing to buy a suite?
No it is not a formal commitment, it is an expression of interest and the first step you must take if you are thinking about getting a unit in this project.
What does it mean that Andrew la Fleur is a "Platinum Agent"?
Platinum agents are the top selling agents who get preferred status with developers and first access to new projects before regular agents and the public.
Andrew la Fleur has been a top-selling pre-construction agent since 2007, and during this time he has achieved platinum status with many of the top builders and sales companies in the Greater Toronto Area.
For more information on about Platinum agents see this article: https://truecondos.com/5-things-to-know-about-buying-a-condo-with-a-platinum-vip-realtor-real-estate-agent/
How does it benefit me as a buyer to work with Andrew la Fleur as my Platinum Agent?
Working with me as your Platinum agent gives you several benefits
You get the

highest level of access

in the building

You pay the

lowest possible price

for the unit (prices are typically increased significantly after the Platinum sales event)

The best possible

incentives

I do not represent the builder. I represent you. You benefit from my expertise of being a top selling pre-construction agent and investor myself since 2007.

Access to my personal network of mortgage brokers, lawyers, property management, HST rebate services, handymen and much more.

My services to you as a buyer are

free
Do I get a cooling off period? What is it for?
Yes, after you sign the contract to purchase a suite you will have a standard 10-day cooling off period. It's 10 calendar days, not business days from the time you sign.
The 10 days are primarily for 2 things: 1) to have a lawyer review your contract with you if you wish and 2) to get a mortgage pre-approval letter
Do I need to have a lawyer?
You don't need to have a lawyer at the moment that you sign the agreement, however I always recommend that you have a qualified lawyer review your agreement of purchase and sale after you sign and during your 10-day cooling off period.
Not sure who to talk to? Don't worry – getting a lawyer is something I can help you with. Contact me for more details.
Do I need to have a mortgage pre-approval to buy?
95% of all builders will require you to provide them with proof of financing capability in order to purchase. This is not required before you sign a contract, but it is usually required within 60 days of signing.
Not sure where to begin? Don't worry – getting a mortgage pre-approval is something that I can help you with. Contact me for more details.
Do the prices include HST?
If you are purchasing for yourself and plan to move in, then yes, prices include the HST and there is nothing you will have to pay at final closing.
If you are purchasing as an investment rental property, then you will have to pay approximately 7.8% of the purchase price as HST on final closing.
This money is remitted to the CRA and as an investor renting out your property you can apply to the CRA immediately to get this money back. It usually takes about 1 month to get your rebate back.
For more information on the HST, see here:
https://truecondos.com/tag/hst-rebates/
Contact me for more details.
What are my closing costs on a pre-construction condo?
Closing costs on a pre-construction condo will vary greatly depending on the actual purchase price of the unit you are buying, but it also depends on the builder, the city that you are buying in, and the type of unit that you are buying.
Roughly speaking in Toronto you can expect to pay approximately 3-5% of the purchase price in closing costs when purchasing a brand new condo.
Check out this article for more info on closing costs:
https://truecondos.com/5-things-to-know-about-closing-costs-when-investing-in-a-pre-construction-condo/
Contact me for more details
Are there any 'hidden' costs when buying a pre-construction condo?
No, there are no hidden fees when buying pre-construction condos because all fees must be disclosed in the agreement of purchase and sale. All purchasers have 10 days to review the agreement and have a lawyer advise them on the exact closing cost amounts. If you need a lawyer to help you we can suggest to you to several expert law firms that will review your agreement in detail.
Is it possible to assign my condo? How much is the assignment fee?
Most condo builders do allow you to sell your unit before the building is complete. This projcess is called selling by "assignment".
There is usually an assignment fee and a legal fee associated with selling. Costs can range from $1000-7000. Contact me for more details.