How to Ask – and Get – Premium Rental Rates on Student Housing – With A.J. Keilty of Varsity Properties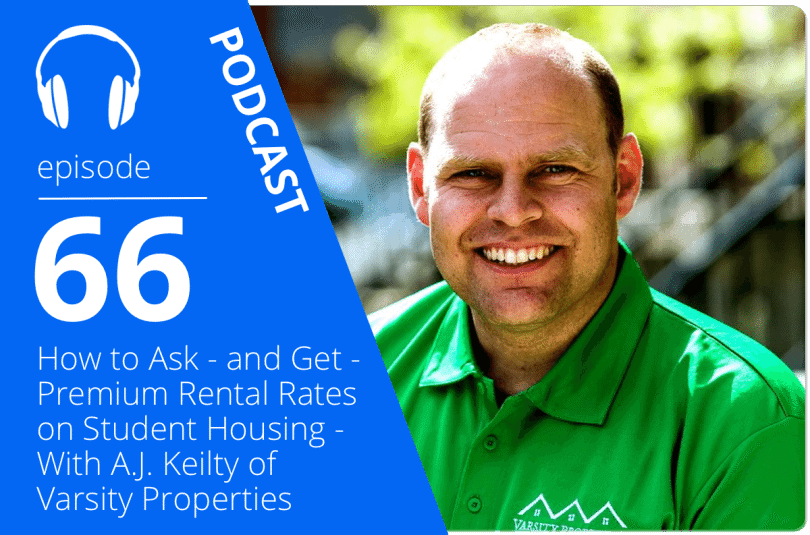 Last Updated on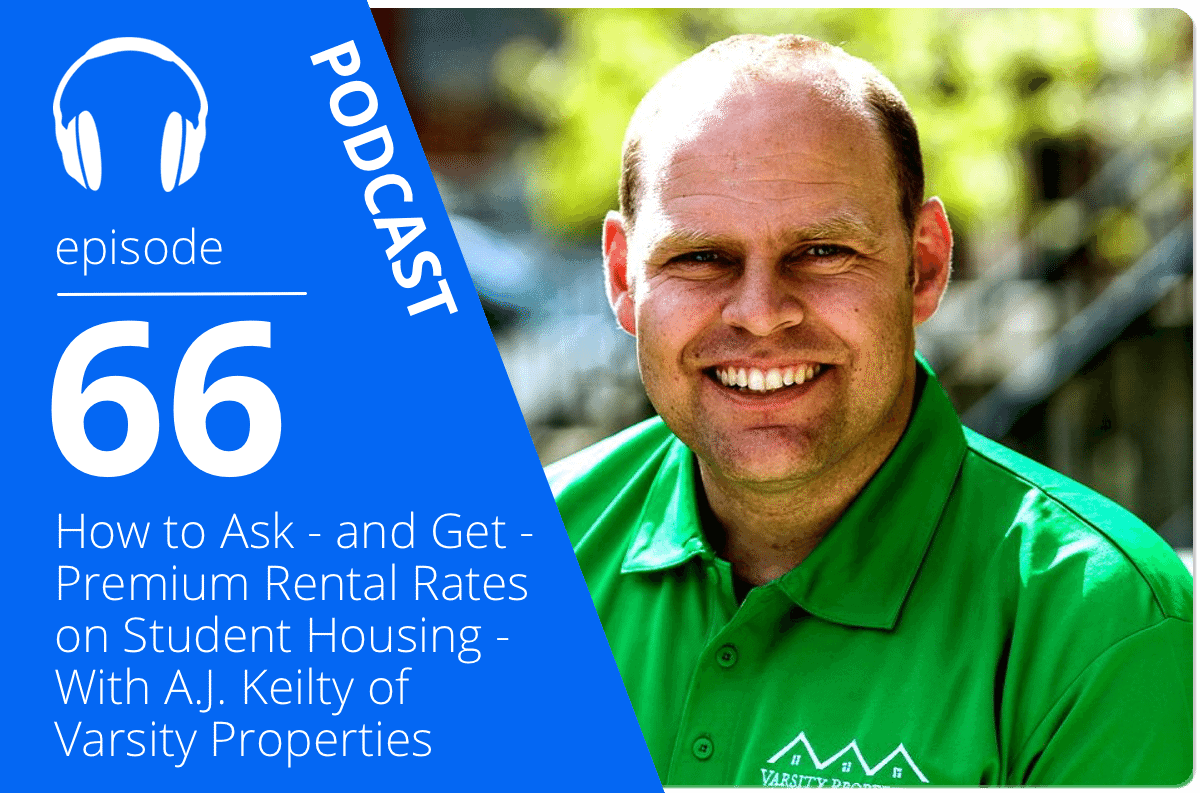 University Studios is a new investment opportunity in Oshawa, right beside UOIT and Durham College. Varsity Properties is offering a 3 year rental guarantee to all investors who purchase in this project. Varsity Properties has been achieving premium rents in the student rental markets of Kingston, Oshawa and Barrie for over a decade. We chatted with A.J. Keilty – President and CEO – to talk about how they do this and specifically we discuss the investment opportunity in Oshawa.
Welcome to the True Condos podcast with Andrew La Fleur, the place to get the truth on the Toronto condo market and condo investing in Toronto.
Andrew la Fleur: Hi, welcome back to the show. On today's show, I'm going to be interviewing AJ Keilty. AJ is the president and CEO of Varsity Properties, and we're going to be talking about the opportunity that is right now at University Studios in Oshawa. Varsity Properties is a property management company that is handling the management of these units. Once again, if you're not familiar with University Studios Oshawa, it is a project entirely composed of studio units. It is high end student housing. It's a very unique offer, if you're an investor in this project, where you're getting a 3-year rental guarantee, and you're getting 3 years of free professional property management and the units come fully furnished. Prices are starting from 149, and the occupancy is slated for 2018.
I asked AJ, who's going to be managing all of these units, and I sort of played the role of the skeptical investor, if you will, and I asked him the tough questions that a lot of investors are asking me about the project because quite frankly, and let's be fair, it almost seems too good to be true. I've been selling condos for almost 10 years now, and I've never sold condos at this price point of 149 anywhere in the GTA, obviously a lot of people are very interested in this project when they see 149 as a way to get into the property market, as a way to invest in real estate in the GTA at an unheard of price.
It's very attractive, and the deposit structure is also very attractive, you only need about $25,000 over 20 months to purchase a unit here. It's all backed by a rental guarantee from Varsity Properties. Naturally, a lot of people are saying to me, "Andrew, this seems too good to be true. What's the catch?" kind of thing. I play the role of the skeptical investor in interviewing AJ Keilty, the president of Varsity Properties, and I ask him all the tough questions for you, so you're going to really enjoy this interview if you're thinking about investing in University Studios. You really want to hear what AJ has to say.
I'm quite confident that after you listen to this interview, you will be very impressed by the offer, and you will feel very confident making an investment in this particular project or even if you're not thinking about this project, it's still very interesting to hear about what's happening in Oshawa, what's happening in the high end student rental market in Canada because it's a huge and growing asset class. We've talked a lot about it on this podcast. Without further ado, let's get to the interview, and once again, for the show notes on this episode, links to University Studios, links to Varsity Properties, and to learn more about everything, you can just go to truecondos.com/podcast and you'll find the show notes for this interview as well as all of our other episodes. Here it is, interview with AJ Keilty.
Welcome to the True Condos podcast with Andrew La Fleur, the place to get the truth on the Toronto condo market and condo investing in Toronto.
Andrew la Fleur: All right, it's my pleasure to welcome to the show, AJ Keilty. AJ is the president and CEO of Varsity Properties. AJ, welcome to the show.
A.J. Keilty: Thanks so much for having me, Andrew. Happy be with you.
Andrew la Fleur: Yeah. Good to have you back again. I know the last interview we did about your other project, University Suites in Kingston was great. A lot of people really enjoyed listening to that one. I'm sure they're excited about this one, too. Of course, we want to talk a lot about University Studios in Oshawa and the opportunity there, but before we jump into that, maybe if you could just, for those who aren't familiar, tell us briefly again about your background in property management and in high end student rentals and how that story sort of came to be.
A.J. Keilty: Well, it began 12 years ago. We actually celebrated our twelfth anniversary just on November 6, so it's pretty cool to reflect back from where we came from to where we are now when you hit those kind of milestones. I began at Queens University and before I went to Queens, I grew up in a hotel, actually. My parents ran a small inn just 30 minutes outside of Kingston. When you grow up in the hotel business, 24/7 service is just what you do. You're always on. You're leasing your rooms at the end of the year. There's a pretty big gap in the student market [inaudible 00:05:00] because here, we were living in a house that was pretty expensive, but the service was pretty poor. The owner of the property lived 3 hours away. It was a hobby investment, and it really … I just thought it could be done better.
The concept for the business model was what if we brought hotel-level services to the student housing world and be able to give students quite frankly [inaudible 00:05:22] respect than they were getting at the time and be able to look after their property, look after their housing experience, look after hopefully even to support while they're away from home really for the first time. That's how it all began. We started managing small houses to begin with and over time brought in partners to the business who were actually my former house mates when I was living in Queens. We started demolishing and rebuilding homes into larger developments.
Over time, slowly but surely duplex, 4-plex, 8-plex, 16-plex. We've gone over time to finishing building for the 370 bedrooms, 350 bedrooms. Those are the scale of communities that we build now. It's been a lot of fun. We've really enjoyed seeing the quality of the property improve and the quality of the people that work in these properties improve as the scale gets bigger. That's what's really interesting about this opportunity with University Studios is that we're able to share some of the great upsides that we've had as owners of these properties with people who would like to be able to make an investment that's at an affordability level for someone. It's an exciting project, and we're excited to be a part of it.
Andrew la Fleur: That's great. Why don't you tell us a bit more about Varsity Properties itself? I know you've got a great website. I definitely encourage everyone listening who's interested in the project to check out your website, learn more about you, and we'll include a link to that in the show notes, but what is it about Varsity that makes you guys unique? What do you want investors who are looking at your project now to know about Varsity Properties?
A.J. Keilty: Our mission statement is that we are building people building people. What that means in a nutshell is we have a learning culture of continuous improvement. We want to help our residents build themselves, teach them some things along the way to make the housing experience great and make them successful after they've left school. What's really different about Varsity is we hire for caring, as we've said the quote many times, and we train everything else. We like to get people coming to our firm who are new into their career and teach, teach, teach, teach, teach, teach, and try to learn from them as well the new things that their generation is interested in and paying attention to.
That's where the big difference is that by focusing exclusively on the management of properties that service or are close locations to universities in Ontario, we've been able to gain expertise in an area that most investors typically think is too complicated to run or that there's issues with the damage or it's just a lot of turnover. As I said, having grown up in a hotel where you lease your rooms every night of the week, leasing your rooms every year is pretty good. We really try to create a culture within our firm of community-building. I hope that comes through in all that we do and the way that our residents feel because that's really what makes people want to stay.
If you are a part of a community, if you have met friends that you feel connected to, you'll most likely want to renew your lease, which is ultimately what we want to see happen often. We want to see low turnover in our properties. By working hard to build community, both the relationship with the team that works on the property, but also between residents in the property, we're able to create a much better living experience for our people and ultimately a better rent return for our investors. I think that's what makes us really different is that we are truly focused on community. That's what is a little different than what you've seen otherwise.
Andrew la Fleur: That's great. Something that you've been able to achieve, which you kind of allude to, but the fact that you're consistently able to ask and get much higher rents than the average in the markets that you're in, premium rents. How do you achieve those premium rents, and how are you able to consistently get them versus the rest of the market? Is it just that community aspect, or what else is there to it?
A.J. Keilty: Great question. Great question. From the very beginning, Varsity began with a pretty simple innovation, which really isn't that complicated, but we include inside the rent of every single suite that we rent housekeeping services. What typically has been a problem with student housing is that if you let the younger folks live on their own without attention or care for months and months and months at a time, there is typically a build-up of damage and typically a build-up of dirt, and it's not very clean and it's not very nice. Our team actually goes in and cleans on a regular basis. It's part of the rent. It's just part of the service. You can't opt out of it. It's just what you get.
By doing that, we're able to get our eyes in the suite to help fix things that maybe they weren't aware were broken to be fixed. We're able to keep it clean, make it smell fresh. When it comes to releasing season, which happens every year in our business, our properties will always be the best-looking, most fresh-smelling suites. That's why typically we lease faster and at a higher rent than other properties because they just look better than what's out there in the market typically. Not very complicated but a very simple thing that we've been doing from the very beginning.
Then the premium rents also come … From these are beautiful properties. These are truly gorgeous homes that we've built over the years. Our condo units are top-notch designs. They really do stand out in the market, and that helps to drive the rents. Then finally the brand. People come to know a brand and associate value with it. We've worked very hard over the past decade to try and associate a premium experience with the name Varsity Properties. When a parent in one city puts their child into a Varsity Property to rent, and they happen to have another child going to the same school or maybe another school, they'll tend to come to us first because they know they had a good experience and it's a brand they can trust. Those 3 things together I think are what make people put value behind our offerings and makes them willing to get above-average rents.
Andrew la Fleur: That's great, AJ. Why don't you tell us about University Suites in Kingston, just briefly stepping back in time? Obviously, that project was a massive success, sold out. Were you surprised at how successful and how well received that project was, or why do you think it was such a huge success?
A.J. Keilty: Well, you know, it's interesting. We've learned a lot. As I've said in the beginning, we are a learning company. We're always trying to push our understanding and knowledge of the real estate space and understanding and knowledge of our customers. What we really did with University Suites is our [kappa 00:12:31] demand that's been around for a long time. Andrew, I've got to tell you. It's not even an exaggeration, a little bit, but at least 4 or 5 times a quarter, I will receive a phone call from a parent who's frustrated with the state of the housing that they have available to them to rent, and they ask can they buy one of ours or, even more advanced, can we buy into Varsity. We like it so much, at their current residence.
We've said, no, it's just not really what we're interested in, but we realized that there's an opportunity there. We said, "What if we were to create a Varsity Property that was accessible to owners that had a down payment that was between $20 to $100,000?" They could actually own a unit that we had designed, that we had planned to build, that we had also planned to look after in the long-term? I think that there's an opportunity to invite people into what we've been experiencing for so long, which is a very recession-resistant type of investment that provides consistent cash flow. That's what University Suites really was. It was a long time planning.
We learned that by planning in advance and having a really strong marketing campaign and really thinking about the design of the building very carefully and really looking to try and make a great investment for an owner. When we launched it, we were surprised … Obviously, we didn't expect it to go quite that fast, but we had an inkling that there might be a lot of interest in this asset class, in this size of investment. When University Suites both and the North and South Towers sold out in, I think it was under 18 days all together, we were very excited. It was a good validation to what we were experiencing and all the work that we put into to create a great product for folks to want to invest into.
Taking all at knowledge, taking all the things we did right, and then also we did wrong too, we went and we went forward to look for other sites that were of a similar proximity to campuses in Ontario, and we came across University Studios, which it is actually touching campus. It is the closest possible investment you could get at this point in time in Ontario that is actually touching the campus university. That really got us excited. That was one of the things we were always trying to get closer to.
University Suites was a great success, and we're really excited to welcome all these new investors into our family of property owners that we had been looking after for some time. I think the reason why it was a great success is just the simplicity of people always have to go to school. There's always a strong demand to try and live close to campus if you're going to school because it makes your life a lot easier, and I think there's a strong interest in people seeing their children make a big step forward, and education's a big piece of how to do that in life, and it's a fairly universal desire regardless of if you've been living in this country for hundreds of years or if you just arrived with your family. Education is a great path to prosperity. I believe that's why we've been so successful with this product because it is universally understood to be needed.
Universities don't really move. When it comes to location, and it's always very important in a real estate investment, universities typically grow, and universities typically don't move. There's a constant stream of people looking for housing close to those universities. That was a major reason why that project was a success. Kingston's got some great physical barriers that made it very hard to build as a product close to campus in this way. When it comes to being close to campus, there really isn't anything better than University Studios because it next to UIT, actually rouching the campus.
Andrew la Fleur: Yeah. Let's talk a little bit more about Oshawa and University Studios. You've been active in that marketplace yourself now for quite sometime. You have a lot of beds in the market, what do investors need to know about Oshawa? About UOIT and about the opportunity that … In a bigger picture sense, what is the opportunity there in Oshawa for investment?
A.J. Keilty: Just to start at the beginning. As I was speaking at a student housing conference sometime 3 years ago and a gentleman came up to me after the event and said, "Hi. I'd like to get this land that I think is incredible. It's right across the street from campus. I don't necessarily have the expertise to do all the work myself, but I think it's a great site. Would be interested in being our partner on this?" We went down the road of essentially redesigning the site that he had in mind into a town home form and we built Varsity Oshawa and we're building 3 phases. It's almost done. Phase 1 and 2 are built and occupied.
Phase 3 is under construction right now and we came to learn and know about the Oshawa market from actually being there with what's on the ground and seeing the tremendous need for great housing and for community building. That's 1 of the things that I'm really excited about in that particular market. It's a great opportunity for folks to live in off-campus housing and choose the 1 that will give them the best community as a real desire to do that amongst folks who attend UIT and Durham College.
I should mention that UIT is a fantastic thing and we do get a lot of our students in University Oshawa that developments call of the town homes who go UIT, but we also have a lot of folks who go to Durham as well. That's the biggest part of this bigger locations because of the university and a college there's almost 20,000 people who are associated with this property, who are associated with building educational facilities. They draw a lot of demands into that part of Oshawa for rental housing. Typically, what we've seen in that market is sort of the old thing you used to see in Kingston which is single family homes that have been converted into 4 and 5 bedroom places and quite frankly it's a difficult build form because once they will bring a car and it's a little bit complicated for maintenance and [inaudible 00:18:42] garbage in that old build form.
When we brought them, the community with "Let's just do this in a different way rather than doing a smaller project, we'll do a really big 1. Where we can actually afford to have the on-site staff required to address the problem. At least it looks beautiful all the time. You can actually afford to have a security. You have the snow [inaudible 00:19:02] all done for the residents. Then we can afford to create community through resident events. That really resonated with the renters and the students who chose to live inside of our existing community across the street.
What's interesting about that is that this location over at University Studios is just across the street from the 1 we've already built. I think is closer to campus and a different build form. University Studios is quite special and that it rather than being a traditional student housing, it's this big 4's and 5's units. It's actually studio suites which gives you more privacy and allows them to be able to have their own space when they want to and here more to offer your students as opposed to other students who are perhaps more interested in building a housemates' relationships.
It's a different offering because it's smaller. It's more compact. It's more efficient and ultimately we think that there's a demand for this and we've seen that there's a huge interest in student housing that's professionally operated. That's why we're pretty excited about UIT and Durham College and moving forward and building more housing in this community because I think it's a special place to further our attention.
Andrew la Fleur: That's great. Why don't you tell us what's happened with your building so far? The buildings that you have completed which I understand the students have just moved in for the first time this year, this term, fall 2015 as we're recording this. Are the units fully … Are the buildings fully occupied? What kind of rents are you seeing there?
A.J. Keilty: That's right. University … Sorry, I apologize. Varsity Oshawa which is the Taylor Town Home Development is a 3-stage development consisting of a total of 8 buildings all together, 371 beds, and 3 bedroom units and 5 bedroom units. Especially that that is bed-bath [inaudible 00:21:00] every single bedroom has an attached bathroom to it which is very unique in that market. We finished phase 1 last year and moved residents in to the first phase. We've finished phase 2 this past fall and moved residents in. Again, 100% occupied, 100% leased month in advance for both those 2 phases.
Phase 3 is under construction right now and there's 2 more buildings that create phase 3 for a total of 8 all together in the entire development. Pre-leasing is going extremely well. We're already a little past 90% on phase 3 and that will be for leases starting the first of September 2016 and here we are sitting on almost the fist of December, so November 27th right now. That's just goes to show the opportunity that I see in the weird side of it, is that when folks will step up and pre-lease the property so many months in advance because they know the best and they do it because they know there's scarce resource and they know that if they don't thoroughly the good things will be gone and they'll be stuck renting the things that are less attractive.
That really is a vote of confidence that we've seen within the market experience that we're really excited about and the reason why we are excited about University Studio is because there's a gap in the market right now that's not being serviced. Studio apartments just can't be found. You just can't find them close to the campus. We're hopeful that by having University Studios come online, we'll be able to revive the housing experiences that fit each demographic, the older students, the younger students and give them exactly what they need at the right stage in the life cycle ability experience in university.
Andrew la Fleur: That's great. AJ, I had a chance to speak to a number of investors who are looking at the project. They're interested in it and there's a lot of common questions that come up from investors who are talking to about it. If you don't mind, I'd to now just step into the investors' shoes and ask you a bunch of specific questions about this project, this opportunity. Some of them might be a little bit tough from a skeptical mindset. I find a lot of people just feel like this opportunity, it almost seems too good to be true. I'd love to ask you some of these questions to see what your response is. Is that cool?
A.J. Keilty: By all means. Go right ahead.
Andrew la Fleur: Okay. Great. You kind of touched on it, but first question I get a lot is, why are you building an entire building with just studios?
A.J. Keilty: Great question. Well …
Andrew la Fleur: I guess nobody's ever done that before, right?
A.J. Keilty: Yeah. It's a little unique, isn't it? The reason why we're really excited about that is that it makes it so affordable to own a unit and when you think about the typical condominium inside of GTA, it's a lot more expensive. It is a lot more expensive to buy a unit, typically than what this building is. We really want to make it acceptable to a large variety of investors who could really afford for approximately $20,000 paid over 2 years. It's feasible for someone low class income to be able to actually own their own real estate investment and we're really excited it was very acceptable essentially. That was the first thought.
The second thought is that there really isn't anything out there. If you were to look for studio apartments in this area, they just don't exist. There's a huge gap. There's all kinds of things you can find in the 5 bedroom, in the 4 bedroom, in the 3 bedroom, but if you want a place just for your own, there's nothing available for you and if there is you might be living in a basement somewhere with no natural light and definitely no amenities, definitely no fitness facility, definitely no social hub and definitely no laundry … The reality is the problem exist.
We saw a gap and whenever we see a gap in the market, we want to try and fill it with great product and that's the reason why we spent a long time really thinking about the suite and trying to design them … It's months and months and months until we can gather the. Exactly how these things are going to be laid out. There be the most efficient use of space so that people who could live in them, could get all the things they want out of them at an affordable rent and ultimately make it an to buy at an affordable price.
Andrew la Fleur: Aren't these units too small though at 300 square feet? That's a question I get a lot.
A.J. Keilty: Yeah. That question. What makes us very excited about this is the efficient use of the furniture. We have created a suite that it designs the furniture into the lifestyle of that person. We have this convertible bed that we found in New York City that allows for the bed, you put way when you don't need it and an interesting big, big table to work with. We've designed for the mounting of TVs right on the wall which comes with the suite, so they're for the owner and the resident. We've designed for stand up decks which are very popular to maintain your health. To, again, be more efficient, you can sit down if you want as well, but stand up save some space.
We've also found a way to create a kitchen that … The facility that gives you all the things you need inside a compact space, but also gives you the opportunity if you want to do a bigger kitchen, bigger kitchen party or big dinner with people, you can use the social hub, they're on each floor as well. We really find that at this point in life, a lot of people are looking for 2 things: a great place to study where it's quiet and a great place to meet people and to be interacting and engage with their neighbors at the right time. By giving folks this smaller space, we're able to get both of those things at the same time, but you're right.
The question I've heard a few times as well and I come back to the same thing is that we've seen again and again, our residents typically live in their bedrooms and even in our larger suites, they spend all their work time studying in these bedrooms and that bedroom in the large units as well. We really thought about how when they have the most amazing big bedroom you could possibly have and that's how we came to this format where the studio can be like a gigantic bedroom. You have extra privacy, convertible furniture and very of space.
The square foot that you just talked about may on the surface [inaudible 00:27:28] that's really small, but when you build in all these extra design features to really maximize the area, it's just pretty big.
Andrew la Fleur: Property management, free for 3 years, that's part of your offer here. What does that mean exactly? What am I getting as the investor?
A.J. Keilty: We want to make sure that folks who are unfamiliar with the space and/or unfamiliar with Oshawa have the reassurance that it's a good … it's a safe place to invest. It was a very successful thing that we tried over at university suites in Kingston was getting our owners a lease back essentially. Saying to them very clearly, "We're so confident with this market and feel so good about it. You don't have to worry about rent for the first 3 years. We'll just look after everything and you just sit back and enjoy the cash flow." For us, we like the ability to control that and to be able to provide a better and a more unified experience in there in the first couple of years to make sure that it's a great place for folks to live.
When you get free property management, we break it down a little bit into the services that are provided. As a developer what we would be doing is we would be giving to the owner the full accounting package so that the owner knows the money's coming from rent and then expenses are being paid and reporting that to the owner on monthly basis. It's what we call owner services. We would also be providing resident services. That's the whole business of actually looking after that resident and responding 24/7 to their phone calls or any issues that come up, dispatching work orders.
We would also be building community events for that residents that makes them want to stay in the community they're renting in and help bind them to their neighbors and make them want to renew their lease. That's the resident service package. We're also providing leasing services as well. The leasing services include all the work to advertise the suite. Do all the tours of the suite. To do credit checks on the renters that will be renting the suite. To do all the lease documentation of the suite to make sure we leases them correctly according to the RTA and make sure all the legal procedures are done correctly after the leasing process.
Then finally, house keeping service which is a very important 1. The fourth and most important 1 in this whole thing is that part of the process is that we'll clean the suite on a regular basis as well so that the owner knows what's going on in the suite, knows that it's always looking great and the suite is beautiful and compares well to the things on the market so that they'll be able to rent them faster.
Finally, is the turn over rental services. When the property moves from 1 resident to a new resident, a new lease our service also include all the work of cleaning every debris that was leftover and removing any garbage and then taking care of all of the cleaning required to make that suite fresh and clean for the new resident that will coming in to the suite for a new lease. All those things are included for the first 3 years and then after the first 3 years the lease back ends, you'll have have seen what the rentals history at that point in time there and enjoy the lease back that we've provided and we are still available to provide those owner services of property management owner services for those that are interested in and having the suite it.
Andrew la Fleur: Yeah. That's great. That's another common question and might as well ask you now is after the 3 years what happens? What would be the … You described all those great services that you're getting included at no charge during those 3 years. After the 3 years if somebody wanted to continue to use your services, what would the cost be?
A.J. Keilty: It's equal to 1 month's rent. That's a very simple process for us to transition from the developers side to the other side. It's approximately 1 month's rent and it allows for all of the worries and hassles to be no longer an issue whatsoever for the owner. It wasn't before when developers that were doing the lease back and it won't be all the issues of managing that resident are also gone when you enroll the suite at the end of the lease back program.
Andrew la Fleur: That's great. Maybe the most common question that I get from investors I'd love to ask you is, is on the rental rates themselves. The rates you're guaranteeing on the units … The common response is "Are these rates really attainable?" Or "They seem to high, Andrew," people say to me. Or hear people say "I looked around on Kijiji and I see that you can rent a room near the university for about 500 bucks." The question is, are these rents attainable? Are these rents realistic? Will students pay these rents that seem to be much higher than what rooms are going for?
A.J. Keilty: That 1 question and I've heard the question many times ourselves from folks who aren't familiar with the student housing landscape and what's available in terms of product that's comparable. I can say though that this product is not comparable to anything else like this in the market right now. You simply can't find a studio apartment that's brand new. They just haven't been built quite frankly. The reason why the rental rates are higher are that the product is better than anything comparable right now and the $500 bedroom that you'd be looking at would be located inside of a shared unit with maybe 2 to 3 or 4 other people which obviously drops that rate down.
This is in an individual unit with it's own laundry, it's own washing facility, it's own furniture included. Internet included. These are the kind of things that typically are missed out, forgotten about in trying to compare apples to apples because there really are … I know there are apples there that doesn't look like this. That's the primary reason. It's new and there's nothing else out there that matches the kind of product offering. We also find that people don't fully grasp just the power of the student renter and what they're up against. It's 1 of those things where if you are renting a place to go to school there are typically 3 sources of revenue, or 3 sources from where money comes in to pay their rent.
Number 1 is parents typically have been saving for 18 years to send their child to school somewhere. When people start renting, start saving for their child education, they have no idea where they're going to go to school. All they know is that save every month a little bit of money to make sure that their kid have a chance of a better future because they would have put away for education. If for any reason parents have failed to do that, there are summer jobs available that we find typically are able to get done and people do save money and work for their own university education and number 3, is there government loans available.
3 other things fail, there are government loans for [inaudible 00:34:28] to be able to get money now to pay for school now and then pay back over time. Those are 3 very, very strong revenue streams that allow folks to be able to pay rent which is why I look for whenever I'm trying to figure out an investment is where the money is going to come from. If I'm an owner of a property, I want to know where the money is and we stand consistently by playing in this space, this student housing space, student living space for the last decade is that this is a very, very important investment into that person.
Whether you're doing it for yourself because you want to make an advancement in your life or a parent is helping you or a grandparent is helping you do. It is essentially the primary driver why I want to go to work, is to make their kids able to get access to better opportunities and that's why that we've seen strong rents in all the markets we go to is because if you give a great product, it is scarce in quantity and if the service is top of the line and allows that student to focus more on their studies and less focus on trying to deal with a house that may be old or housemates that are difficult. If you give all those things together, you can get the premium rents.
Andrew la Fleur: What about appreciation rates and investors looking at buying today and thinking the 3 year rental guarantee is great, but eventually at some point in time every investor has to sell. What do you think their … I mean it's obviously impossible to predict the future. I don't want to ask you to take out your crystal ball, but what do you think the chances are that these units will appreciate in value, let's say, in the next 5, 6 years?
A.J. Keilty: That's a great question and quite frankly whenever I do my own calculations of what my property will be worth over time, I actually never include that number because I like the surprise at the end. It's 1 of those extra sort of things that comes along most likely, but I actually never include that inside of my calculations essentially and I'm looking into investment properties myself. I want to make sure my properties are going to be great basing on the cash flow right now, right from the beginning and the inflation that may happen or the appreciation that may happen, excuse, that's just my share in the pop.
For years, it's not really a new or different or unknown, but the reason why is so beautiful, that's why it's 1 of my absolute favorite investor class is that you get to enjoy the appreciation pay down of your mortgage every month by somebody else. You own more of the property every month and pay your mortgage down. You get to enjoy the cash flow where there's more revenue and then with expenses that on a monthly basis and then the third nice bonus is appreciation. Hope for the properties are worth more years down the road than what you paid for it at the beginning.
To talking appreciation I don't ever really include those. It's a nice bonus at the end. I want to make sure my investments work from the beginning, from day 1 that's for University Studios, but if you want to dive under what appreciation might be or some of the crystal ball ideas as to what could cause this to get better, I like the idea of a university that is new. When you think about it, most universities in this country are very, very old and they … Someone else appreciation about [inaudible 00:37:57], but when you're getting in and buying a unit, buying some real estate that is directly attaching in the side a campus, it's only 10 … Sorry, 12 years old now.
That is essentially the ground floor as you can possibly get. I wouldn't necessarily want to buy something in year 1 or year 2, I mean the universities like because that will mean that they won't know about it. It takes a long time to build up awareness, but at this point in time coming in and getting things … It's so close to 10th year anniversary. We service 10,000 students there. They're going to UIT and 10,000 are in Durham College. We're seeing that there's … It's a strong investment. It's growing.
The actual university itself is very focused on technology based education and as we're seeing there's a huge growth in that industry, in technology the big driver that's going to make our country successful. We're a big fan of UIT because it's fairly new. It's fairly early to its market, but there's a huge up side. The campus has plans to expand. The campus master plan is going to approximately triple the size of the campus over the next 20 years and when I see that a university that has a plan for growth, I would like to invest beside it so that I can hopefully experience the growth that comes with their growth as well and that is what we're talking about appreciation, is what I think it will come from. As the university expands, so will demand for housing and the close to campus housing will always in the most demand.
Andrew la Fleur: That's great. Let's talk about students as tenants. Obviously, the common thing you hear all the time is students are the worst people to have as tenants. Nobody wants to be landlord for a student. They're going to trash your place, these kind of thing. What's your take on that perspective with respect to this investment?
A.J. Keilty: Great question. It's a real common there that students are rough on properties and they trade expenses for maintenance so you wouldn't see in an older renter, an older resident, but I found over the last dozen years that there are certain things you can do to mitigate that and reduce the risk and still enjoy the premium you may get for perceived risk and some of the things we do, we've been doing from the beginning. House keeping service, built-in, mandatory, have to do it, part of the process. Allows us to have eyes in the suite, to understand that there's extra roommates or let's say there's some that needs to be dealt with or accommodated, surprise. If there's damages that need to be fixed.
Broken windows and we just fix it quickly, you won't have another broken window the next day. It's just good property management. Good professional stewardship of the asset on behalf of our owners. Students, well, most of them typically think, "Oh, goodness they're very rough on the property." We've found also a new magic billet, if you will, is that by including furniture, we reduce a dramatic amount of the expense that comes from the high turnover among the student world. I mean, think of this way, if you were to go to live in a hotel for a month, you wouldn't be expected to bring your furniture with you. Furniture would be in the hotel. We're very similar.
Varsity is a hotel branch, rather than being a place you stay for a night or a week or a month. You stay 8 to 12 months and why would you bring your furniture when you're only staying for that certain amount of time and if you are staying for longer, why would you want to have to deal with the hassle bringing your furniture in it. It's a challenging thing. By including furniture in all of our suites that we build new, we now have the ability to turn our suites faster because there's less work to do cleaning up. That people can move in and out with less effort and time and there's less damage. The hallways at the building and the unit itself get less damaged when there's no big items being moved down on a regular. Big on that move in, move out on a manual basis.
We typically see that when folks can bring just their pillows, their clothes, their books and their computer, parents are way happier because it's less effort to move their into the apartment, but also as an owner, we're way happier because there's less wear and tear on the property and cost us less money to fix it.
Andrew la Fleur: Absolutely. That's great. What about the fact that most students only go to school 8 months of the year? is that mean that investors can expect their properties to sit empty and not be collecting rent for 4 months a year?
A.J. Keilty: That's a good question, Andrew. We do only 12 month leases and the only exception to that would be in the very first year, we deliver our suite to the universities so it will be delivered to residents on the first September and it'll be an 8 month lease in the first year, it's an incentive for folks who want to sign up and lease the property who can't see, touch it, feel and we will make sure we reward them for that. A little bit of lower annual rent by having them sign an 8 month lease in the first year, but we call it the freshmen year is 8 month lease. The sophomore year which is the year after the property is delivered, is a 12 month lease and the subsequent years thereafter they're all 12 month leases.
We found that by … It's an industry standard. It is commonly thought of … Because most people who can live in residents on campus that it's an 8 months lease and you're out the door and they couldn't for the rest of the year, but off-campus housing is very different. Off-campus housing plays in the [inaudible 00:43:38] market which is a 12 month lease.
Andrew la Fleur: That's great. AJ, it's been fantastic chatting with you. Just 1 last thing, is there anything else that I didn't ask you about University Studios or about Varsity properties that you wished I did?
A.J. Keilty: Well, 1 of the things I think is really about this building is the amenities and I think that have forgotten about people think of it as the of the units, or the suite that they're buying to own, but owning that unit also gives you you can live over there yourself or it gives you access to some fantastic facilities. They gym facility we have is quite awesome. We're really excited about all the features we've built in there, it's quite large. The social hubs on each floor are designed to help build community on each floor and to create interactions.
Those are beautifully sun sealed rooms with big [inaudible 00:44:33] units that you have a place to lounge with awesome TVs and lots of dinning space and kitchen. Really, really exciting place and in addition because students are typically working in teams these days so often I think owning the property next to the university, we have a huge number of meeting spaces. Private rooms that can be used for groups of 2, 3, 4 and some board rooms for larger groups from 10 to 15 people, but folks who use that as group work that's such a big part of the university experience these days.
Those are some really, really great features. Finally, the 1 I'm really excited about is, we have a fantastic outdoor terrace that is going to be so sun filled and [inaudible 00:45:12] the ground floor. That's a quiet, private area for residents to enjoy the outside. It's on the ground floor, we like that a lot and it's attached to a very, very large social area on the ground floor that is going to be a special place. It's going to be the place community already built and I come back to it again and again, but this is a building that's being built for our community.
Will come and go from the community over the years, but it's a building built to build … It's a building that's been constructed to build a community on our annual basis so people can be a part of something and that's really what we're all about here at Varsity Properties, is building community and as our [inaudible 00:45:51] we're building people building people. Our job is to create great environments and great places to have a lifestyle where we can learn and build yourself. That is why I'm really excited to be a part of this project and that's why I'm really excited to be able to share this platform with folks who might be interested in investing along with us.
Andrew la Fleur: Awesome. Thank you so much, AJ. Really appreciate your time. People want to learn more about Varsity Properties in particular, where is the best place for them to go?
A.J. Keilty: Our website is varsityproperties.com. Each of our communities are also … You can access them at varsitybarrie.com or varsityoshawa.com or varsitykingston.com. Those are the 3 things we're often in. Follow us on Tweeter too, you can get a sense and the feel of the social community we've built through our online community. There are online outreach to current residents and those are potential residents. Follow the Instagram feed as well on Varsity Kingston, Varsity Barrie, Varsity Oshawa and then I also recommend liking Facebook page, as well as the University Studios Facebook page. All of those different pieces of information that you'll be able to see if you're following those platforms will give you a sense of the culture and community that we are building and give you a sense of what we're hoping to offer the folks who are tenants and owners of residents at University Studios would not [inaudible 00:47:15].
Andrew la Fleur: Great. Great. Thank you so much, AJ. Really appreciate your time and hopefully we'll have you again on the show soon.
A.J. Keilty: My pleasure, Andrew. Thank you so much for the opportunity to speak to you and your guest. I really enjoyed the time today.
Andrew la Fleur: Thanks. Bye for now.
Okay. There you have it. That was the interview with AJ Keilty. I hope you enjoyed that. I hope that a lot of your questions were answered. You still have more questions, I'm happy to answer them. Just send me an email, andrew@truecondos.com. Give me a call, send me a text 416-371-2333 and I'm happy to chat with you more about University Studios and investing in the condo market in general. Thank you very much for listening and again, for the show notes on this episode and all the episodes, just head on over to truecondos.com/podcast and until next time. I hope you have a great week.
Thanks for listening to the True Condos podcast. Remember, your positive reviews make a big difference to the show. To learn more about condo investing become a True Condos subscriber by visiting truecondos.com.