Why condos are the new Canadian dream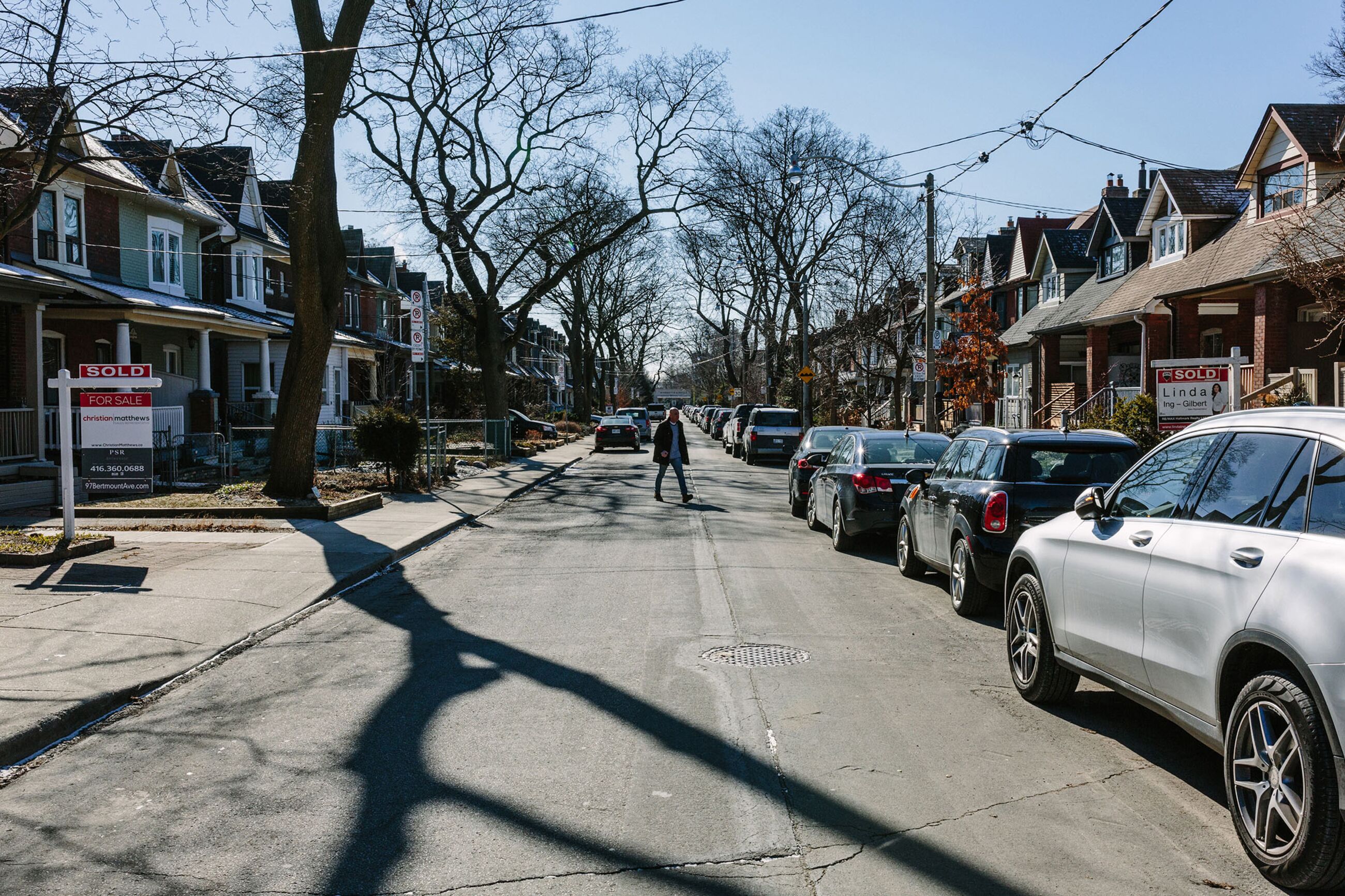 Desperation Sets in for House Hunters in Toronto's Red-Hot Market
Dana Kayali is preparing for battle. Clutching a stack of home ads, the pension fund manager and her fiancee brave a swarm of about 30 people on a recent Saturday and step into the first of four open houses of the day. They're all searching for what's dawning on Kayali is a fantasy: a home in downtown Toronto for under C$1 million.
Ontario reconsidering a foreign buyers' tax to cool housing market
The Ontario government is reconsidering its opposition to taxing foreign home buyers, saying it is now open to a B.C.-style levy to restrain Toronto's hot housing market.
Toronto's Housing Boom Refills Empty Nests, Driving Prices Even Higher
Many of her longtime neighbors up and down the block have cashed in on the area's soaring house prices and moved away. Where their modest wood homes once stood, much larger architect-designed houses of stone, steel and glass fill the lots. Across the street, a big sign plastered with "Sold" stickers means that one is probably next to go.
No bidders offer to buy Trump-branded tower in Toronto

Only $298M stalking horse offer was received for the luxury hotel and condo property
TRANSCRIPT
Today is Monday, March the 12th, and this is what's making news in the condo market this week. Before I get started, let me just make sure that there's no kids coming and running in here while I do this video. Hopefully you got that reference to the video that went viral this week which was hilarious, and is pretty much my life every single time that I try to shoot one of these videos for you, working from home here. I thought that was great.
The first news clip this week is from Bloomberg, and the headline is Desperation Sets in for House Hunters in Toronto's Red-Hot Market. Again, basically talking about how hot the market is in Toronto and how things are just going crazy specifically with people looking for houses. The sales-to-new-listing ratio at an all-time high; 93.5%, so again, every single property that's coming on the market is selling right away. There's nothing that's sitting around at all. Everything's gone, gone, gone. The amount of listing available are half as much as they were a year ago, and it's just created this condition where house prices and condo prices are just rising very very quickly. There's really nothing to say that that's going to change anytime soon. In my opinion, short of some kind of a major recession or economic event, or some government intervention.
Great quote here from a friend of the show and a friend of mine in the business Ara has just bought a condo himself. He says, "Home ownership is going to be an issue for families who want to live in urban centers. There's already so much competition, it'll be nuts in the future", he's saying. They just bought a condo for their family. It says around 800,000 dollars for a pre-construction condo in the West Don Lands in the Canary District area.
Again, I think more and more families, like their family, are going to be making that choice of wanting to stay in the city, and of wanting to live in a condo, and/or from affordability issues as well, just looking at houses at 1.5, 2 million dollars for a decent house in the core of the city, and you can buy a great brand-new condo for about half that amount; there's a lot of value there still in the condo market. Again, as the housing prices have shot up like that over the past few years, and the condo prices have remained relatively flat, now we're finally seeing condo prices are really starting to catch up. They're really being pulled up the constant and sky rocketing prices in the housing market. The condo market's doing very very well right now as well.
Next article from the New York Times. Toronto's housing Boom Refills Empty Nests, Driving Prices Even Higher. This is an interesting article. A bit of a case study on a family in Oakville. It could be any, really, suburban area of Toronto where the adult children of these folks, 29 and 31 years old, they're living with their parents still, or the story of moving back in with your parents after university, or maybe after renting for a bit. The usual path to home ownership is gone. The story that we've grown up with the past 50 years is over. This idea that you live with your parents, you go to university, you work for a couple of years, you save up a little bit, and you buy a house; that Canadian dream, or whatever you want to call it, that is over. You have to save for, probably, an average about 15 years for most people to be able to purchase a house. You're looking at, you're 40 years old when you're able to purchase a home in Toronto on your own.
This whole theme, this idea of more and more people, adult children, living with their parents, and saving there, trying to save as opposed to paying rent, trying to save up to buy something, again I think it continues to bode well for the condo market as condo prices are still much, much, much lower than housing prices. More and more people will be looking at purchasing condos, or renting condos as house prices continue to be out of reach, and it's just going to get worse and worse and worse, unfortunately, for the future. Continue to invest in condos for that reason.
The next article is from the Globe and Mail, and it is: Ontario reconsidering a foreign buyers' tax to cool housing market. This one's been getting a lot of press this week as well. This idea that the Ontario government and the finance minister, specifically, Charles Sousa, has been, now, publicly come out and said, "Okay, maybe we will do this foreign buyers' tax thing". As opposed to, before, he was saying, "Let's just let the market ride it out". I've been on record to say, as soon as it came into Vancouver six months ago, you can go back and check the podcast, I said it's going to come here, it's just a matter of time. I still believe that. Am I in favor of it? Not really in favor of any government intervention into the market, but at the same time, I'm a realist, and I understand that 25, 30% price increases are not sustainable, they're not healthy for the market, and there's really no recession or any major monetary policy shift on the horizon that's going to change the market, so most likely, there will be some form of government intervention into the market again in 2017. Exactly when and what it looks like. Is it going to be this foreign buyer tax thing? I don't know. Something's got to give, something's bound to happen.
Finally the last article is from the CBC, and it's talking about the Trump Hotel in Toronto. No bidders offered to buy Trump-branded Tower in Toronto. They had a minimum bid of 298 million dollars for the Trump International Hotel and condo building, of which the developer went into default, and so it's gone through the courts, and now it's a foreclosure situation on this building. It's just a very strange, long and winding story with this building. It's been 12 years, I believe, since I think around … Maybe even 13 years. 2004, I believe, is when they started promoting and talking about building this building in the financial district. I believe at some point in the future, this will be a great opportunity to invest in, but not today. Hold off on that. Just like the Ritz Carlton. I was on record a few years ago saying that the Ritz Carlton was a fantastic investment opportunity, and now you look at that building, and it's absolutely soaring now. Shangri-La is similar, done very very well. The Four Seasons in Yorkville; they just sold their hotel portion for a record price.
Yet nobody wants to buy this Trump Hotel building. What's going on?Obviously, part of it, probably is just the Trump name. I think one of the biggest issues with this building is its location, being directly in the center of the financial district, right at Bay and Adelaide, you're really … You're not in any sort of a neighborhood at all. I think that's, not the whole story by any means; there's much more layers to it, but if it had been located in Yorkville, none of this would have happened. This would have been a huge success. It wouldn't have taken 12, 13 years. The building would have been done much quicker and everything.
When it comes to luxury, especially, location matters so much. Really when it comes to any condo, location matters so much. Just because you're in the center of an area or downtown, or you're in the center of something that you think is a good thing, it doesn't necessarily translate into being a great location, a great investment for that reason. The ultimate question you need to ask yourself when it comes to location is, is this an area where people want to live? Where a large proportion of the population, a large, potential pool of people buying from you, or renting from you, is this where they want to live? I believe one day this will be a location like that, but still today, when you go there to the financial district, it's still a bit of a challenge. There's still other areas near there where most people, not everyone, most people would rather be more of a neighborhood feel, less of the financial district. Everything shuts down at 5 or 6 pm feel. That, I believe, is one of the challenges within it, and I think a lesson for investors as well, when you're looking at buying anywhere, is really think about that question, is this a spot where people will want to live? There's some food for thought for you there.
Okay, that's all I got for you this week. I hope you enjoyed this video. If you did, go ahead and hit the Like button. Hit the Share button below. Leave a comment. I really appreciate it. It helps people see this video and get the word out, and until next time, I hope you have a great week.