Heights of Harmony: Minto's Brand New Community in North Oshawa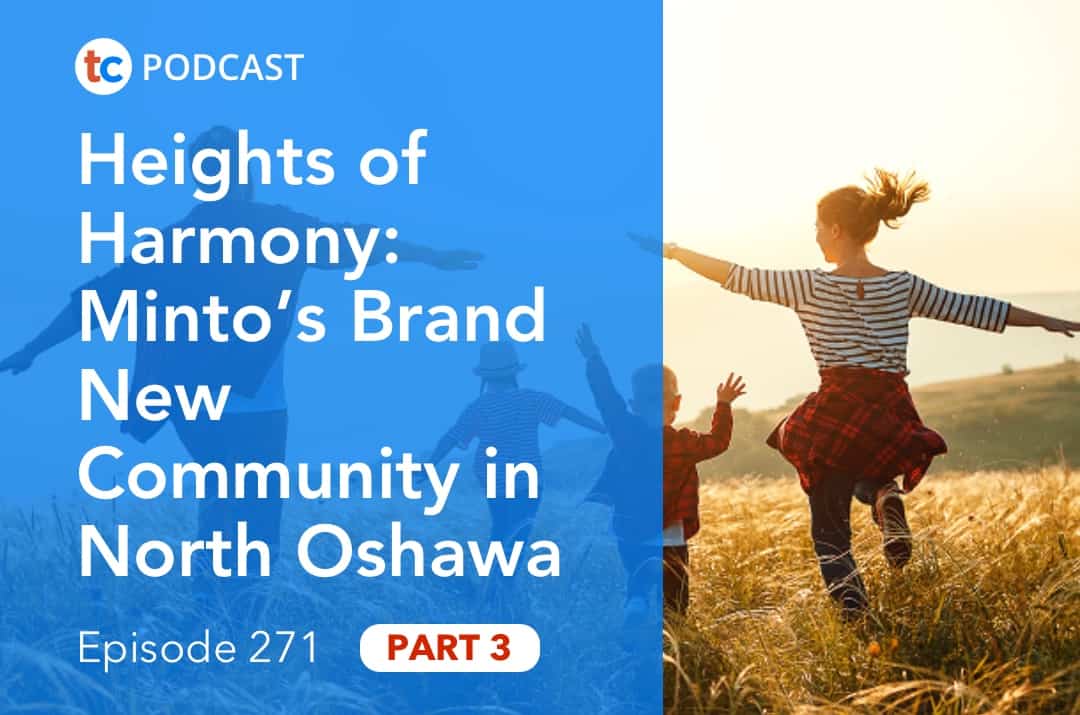 [part 3/3] In Part 3 of our Minto Miniseries, Justin Bossio reveals the details for the highly anticipated Phase 1 release of Minto's brand new community in North Oshawa – The Heights of Harmony. This is the Unicorn of Toronto real estate – affordable low rise in the GTA from a top quality builder. What can buyers expect for this first release? Find out on this, the conclusion of our 3 part miniseries.
Highlights From This Episode
Coming soon.
Subscribe and Listen to the True Condos Podcast
Read This Episode's Transcript
Andrew la Fleur: Minto is launching a brand new low-rise community called The Heights of Harmony in North Oshawa. Stay tuned for all the details on today's episode.
Speaker 2: Welcome to the True Condos Podcast with Andrew la Fleur, the place to get the truth on the Toronto condo market and condo investing in Toronto.
Andrew la Fleur: Hi there. Welcome back to the show. Thanks again for tuning in, Andrew la Fleur here, andrew@truecondos.com, (416) 371-2333 is where you can call, text or email me. And love to hear from you and today's episode, once again is our third part of our Minto mini-series.
Andrew la Fleur: And this is a long interview that I did with Justin Bossio from Minto Communities GTA and this is the third and final portion of our conversation. And on this episode, we are talking all about The Heights of Harmony, which is a brand new never before released community of low-rise homes in North Oshawa.
Andrew la Fleur: So its going to be about 700 homes in the plans for this site in Oshawa. And the first release of these homes is coming up very, very soon. So you're going to want to definitely listen to this interview to learn more.
Andrew la Fleur: Once again, part one in this series was all about North Oak, the high-rise community in North Oakville. Part two was all about Union Village, which is a partnership low-rise community between Minto and Metropia in Markham Unionville. And here we are again on the third and final part of this mini-series, talking about The Heights of Harmony, which is a low-rise community in North Oshawa, which of course is promising to be a very affordable option for anyone who's looking to purchase a low-rise anywhere in the GTA.
Andrew la Fleur: As you know, low-rise homes are extremely expensive and they continue to get more and more expensive every year. So if you have an opportunity like this, any brand new area where affordability is definitely going to be one of the key features and functions and highlights of the community, this is an amazing opportunity right off the bat and demand is certainly off the charts for this new release coming up.
Andrew la Fleur: COVID and pandemic and work from home and everything else has certainly expanded where people would have perhaps previously looked for real estate. Now people are looking further and further away and open to living further and further away from the downtown core of Toronto and North Oshawa is one of those areas and communities where you can still purchase for a relatively affordable prices compared to anywhere else in the GTA and get very good bang for your buck.
Andrew la Fleur: So Minto's got a lot experience in the North Oshawa area as well. You'll hear all about that on this interview with Justin and just everything you need to know about the first release that's coming up. Of course, they're not going to release the entire 700 units at once, they're just releasing a small portion. So if you are interested in this and getting in on the first release, definitely if you haven't already let me know, let us, me and my team know as soon as possible so we can make sure we get you on the priority list, andrew@truecondos.com, (416) 371-2333 is how you can do that.
Andrew la Fleur: And yeah, so that's all I have for you here. I hope you enjoy my interview right now with Justin Bossio about The Heights of Harmony. So North Oshawa, Durham Region real estate obviously is on fire. The hottest real estate probably in the GTA is Durham. So yeah, very exciting brand new community in North Oshawa, The Heights of Harmony. So what can you tell us about?
Justin Bossio: And so for Durham and Minto, we actually have a very long relationship with Oshawa and Whitby and we've built over a 1000 homes in Oshawa, actually not even five minutes from The Heights of Harmony location and that was called King Meadow. And for those of you that have been around Minto for that long, that community has just transformed to kind of that North Oshawa pocket there.
Justin Bossio: And again, a 1000 happy homeowners that have done quite well in their investments into this [inaudible 00:04:46] master-planned community. And in Whitby, we just sold out of about 700 homes in Whitby with our Ivy Ridge community that recently sold out just a couple of months ago. But now we're back in Durham and happy to be doing another one. And this one, Heights of Harmony is Harmony Rd, just two seconds South of the 407.
Justin Bossio: We bought a piece there, it's a green field. So it's something that we can start developing on pretty quick. It's total slated for 750 lots [inaudible 00:05:26] over four phases. First phase will be the Spring and will be following North Oak and then Union Village. And then we're going to go to Oshawa.
Justin Bossio: So the Minto marathon, the Spring and we'll be releasing the first phase in Oshawa. And the first phase will be a collection of traditional towns, as well as 36 and 43 foot singles. It will be completely free-hold and we're taking a lot of what we've done even in Union Village, the plans, what we're starting to learn instead of coming out with brand new plans every time and kind of trying to think what the market wants.
Justin Bossio: We've taken some of our plans that have been our best and all we do now and what we're doing with this community is just making those plans as good as they can be so for those that are familiar with Union Village or even Ivy Ridge, you'll probably be familiar with some of the plans that we're bringing there.
Justin Bossio: We've got a couple of pretty great tweaks to those four plans and elevations will be a little bit different than what we did in Whitby. It will be different than Union Village for sure as far as how they look, we do expect this community to be a very family focused end-user community.
Justin Bossio: And that's what we're looking for as buyers and you may remember Union Village, phase one, we did not allow for assignments in Union Village as much as you know there's tons of pressure to wilt to that and we can sell faster if we allow assignments but we don't want that.
Justin Bossio: Especially in this market here where it's just so hard to get in, we want to identify end-users, we want those first time buyers, that's right. We want those move up buyers. That's who we're trying to sell to but of course when you're doing anything good, you're going to have investors, right? And we're happy to have investors, but when it comes to overseas buyers right now and assignments.
Justin Bossio: We want to sell to Canadians that live in the neighborhoods and want to make this their home. So that's what is permanently going to be for us. And we're excited to get started up there and we have 750 lots based to where we're racing to get ready for the second half of this year. But we'll start with phase one the Spring and just over a 100 lots to sell there.
Andrew la Fleur: A 100 lots? Okay so a 100 out of 750, so yeah, those will sell quick. That's for sure and obviously, I assume the value play is going to be pretty, pretty strong here again too. So many people looking to get into low-rise around the GTA. North Oshawa is one of the few pockets left, I think, where you could still get into the low-rise market at a relatively decent price compared to pretty much anywhere else in the GTA and the whole 407 Corridor across Durham Region is really a major growth area for the next few years ahead here too.
Justin Bossio: Yeah, yeah and again, this is phase one again for us and we want to step things up as we go. And yeah I think it's a great opportunity for anyone wanting to get into the low-rise markets. I really look at heights of permitting and from what we'll be offering from a product point, it's not going to be sacrificing anything right?
Justin Bossio: We're not building different homes and in Oshawa than we are in Markham its just maybe some of the finishes are going to be a little bit different just to keep that price point lower. Some of the exterior materials that we're going to use are going to be a little bit different, just we can keep those prices lower. But we do want to go out to those first time buyers and those move up buyers and give them a great opportunity to get a home for them and their families.
Andrew la Fleur: Yeah and probably some of those work from home buyers too. They're looking for something, they don't need to be maybe downtown anymore. And a lot of people are looking at areas like this. They still want to be somewhere in the GTA but their work is much more flexible, so they're looking for affordable areas as well to get into that market. I think you'll see a lot of those buyers too. What are we talking about for occupancy dates on these first 100 lots?
Justin Bossio: It's about again probably closer to that 30 month mark again, from sale to close, so we're looking probably sometime mid-2023 for deliveries there.
Andrew la Fleur: Mid-2023. Great, yeah, so we've touched on the three communities and there's so much more, I know that you've got in your pipeline income but that's a great start here for us to look at the calendar in 2021. So just to recap, Harmony Oshawa, you're looking at a 100 lots there, Union Village, you said sort of 200 to 260 lots [crosstalk 00:11:13]. About 200? Okay cool and then North Oak two towers, are they both roughly 200 units each?
Justin Bossio: Right now 207 for the first building and second building is about 170 right now. So we're working on the second building or plans and demising right now. Se could be up a little bit, I think, from the 170 but right now we're modeling 170 and that fourth or that second tower in North Oak, we're hoping to have that after Heights of Harmony right? So we're going Oakville to Markham, to Oshawa back to Oakville in a very short time and Andrew will be with us every step of the way and hopefully your listeners are too.
Andrew la Fleur: Yeah, very exciting, knock them out one at a time. And like he said, we start at North Oak and we go to Union Village, we go to Oshawa and then we go back to North Oak for the second tower there. Anything else, Justin, you want to add? Anything else I didn't ask you about that you want to touch on or that you wished I had asked you about?
Justin Bossio: We're doing some great things company-wide and we were recognized just on Friday for the National Awards for High-rise Building of the year as so I think we were 900 applicants and I think it was worldwide. And one, two, three Portland, our boutique building in King West there, won High-rise Building of the year. Its an international type of award and 900 applications and our building won top honor.
Justin Bossio: So again, we're doing big things, just from GTA and we're just talking our Toronto division but we're doing big things from high-rise to low-rise and really pushing that envelope and we want to continue our growth and we want more people to know what we're doing. So I appreciate you having me on today and maybe second half of the year, we can do it again. And I can tell you all the exciting things that we have coming from the second half of 2021.
Andrew la Fleur: Absolutely, yeah, looking forward to it. We'll continue the conversation when we're talking about the second half cause there's a lot of exciting stuff coming. This is just for the next couple of months here in the early part of the year.
Andrew la Fleur: Justin, thank you so much for your time today. You've been super generous. Really appreciate it. And yeah, it's been great working with you and my clients are super excited and happy to be continuing to work with Minto and yeah. Look forward to more good things to come in 2021.
Justin Bossio: All right, Andrew. Thank you very much. Thank you for being part of our journey too. So looking forward to the next couple of months together.
Andrew la Fleur: Awesome. Thank you, Justin. We'll talk again soon. Okay, there you have it, I hope you enjoyed that. That was the conclusion of our three-part Minto mini-series. And that was my interview, Justin Bossio about The Heights of Harmony. Once again, if you want to get more info or get on the priority list for this project or North Oak or Union Village, which are all launching right now, make sure you do contact us right away, (416) 371-2333.
Andrew la Fleur: You can call or text or you can email andrew@truecondos.com and I'll be sure to get you the info that you need so that you are ready for these projects as they are all going to sell out very quickly, as soon as they're released.
Andrew la Fleur: Okay, there you have it. Talk to you soon. I hope you enjoyed this three-part series. If you're just listening to this one and you haven't listened to the other two for North Oak and Union Village, I do suggest you go back and check those out as well. And until next time happy investing. And we'll talk to you soon.
Speaker 2: Thanks for listening to the True Condos Podcast. Remember your positive reviews, make a big difference to the show. To learn more about condo investing become a true condo subscriber by visiting TrueCondos.com.
Sign up to receive email updates
Enter your name and email address below and I'll send you periodic updates about the podcast.