11 YV Condos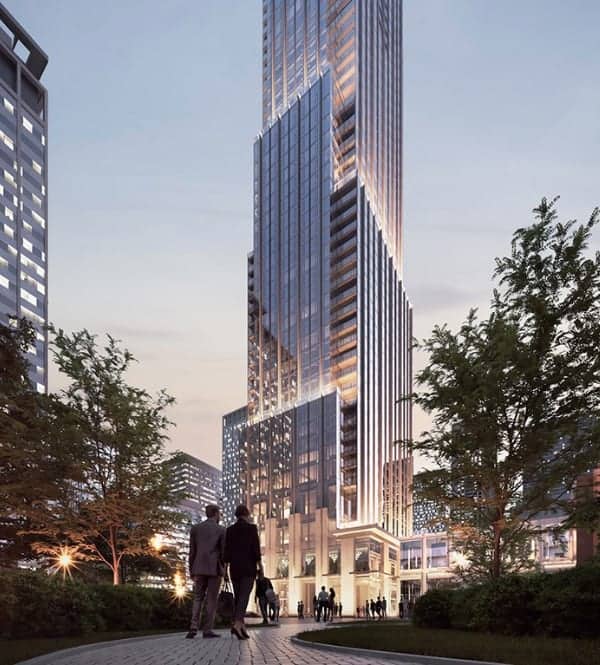 About 11 YV Condos
Discover your future at 11 YV Condos.
11 YV is the mark of luxury and sophistication. It's an unparalleled location in the heart of Canada's capital of commerce and culture. 11 YV Condos have superlative architecture and flawless design. It has customized service and convenience at your fingertips with the accessibility of nature in the middle of the urban jungle. 11 YV Condos is a world-renowned address in a city that offers an outstanding quality of life.
11 YV Condos Details
| | |
| --- | --- |
| Developer | Capital Developments/RioCan/Metropia |
| Address | 11 Yorkville Avenue |
| Neighbourhood | Yorkville |
| Number of Storeys | 62 |
| Number of Units | TBA |
| Occupancy Date | Spring 2024 |
| Maintenance Fees | TBA |
| Priced From | TBA |
Location
11 YV Condos is Yorkville's newest luxury residence. Deeply influenced by the world of wine and the building's prestigious Yorkville address, everything about this project reflects excellence.
11 YV Condos is located in one of Canada's most coveted neighbourhoods. Across the street from the spectacular Four Seasons Hotel & Residences, 11 YV Condos is among luxurious company.
Transportation
11 YV Condos is steps away from TTC's Bloor-Yonge Subway Station which connects residents to neighbourhoods all across the city. Travel east or west on the Bloor line, or head up or downtown in the matter of minutes on the Yonge-University line.
Education
11 YV Condos is a short trip away from University of Toronto, Ryerson University, and OCAD University among many other elementary and secondary schools.
Shopping/Entertainment
Just south of 11 YV Condos, residents can indulge in some of the best shopping in all of Toronto. Bloor Street is decorated with every high-end retailer, boutique, and restaurant you can think of.
Nearby 11 YV Condos
• Lee Chen Asian Bistro
• Trattoria Nervosa (Italian Cuisine)
• CIBC
• RBC
• Holt Renfrew
• Tiffany & Co.
• Burberry
• Gucci
• Louis Vuitton
• Prada; and more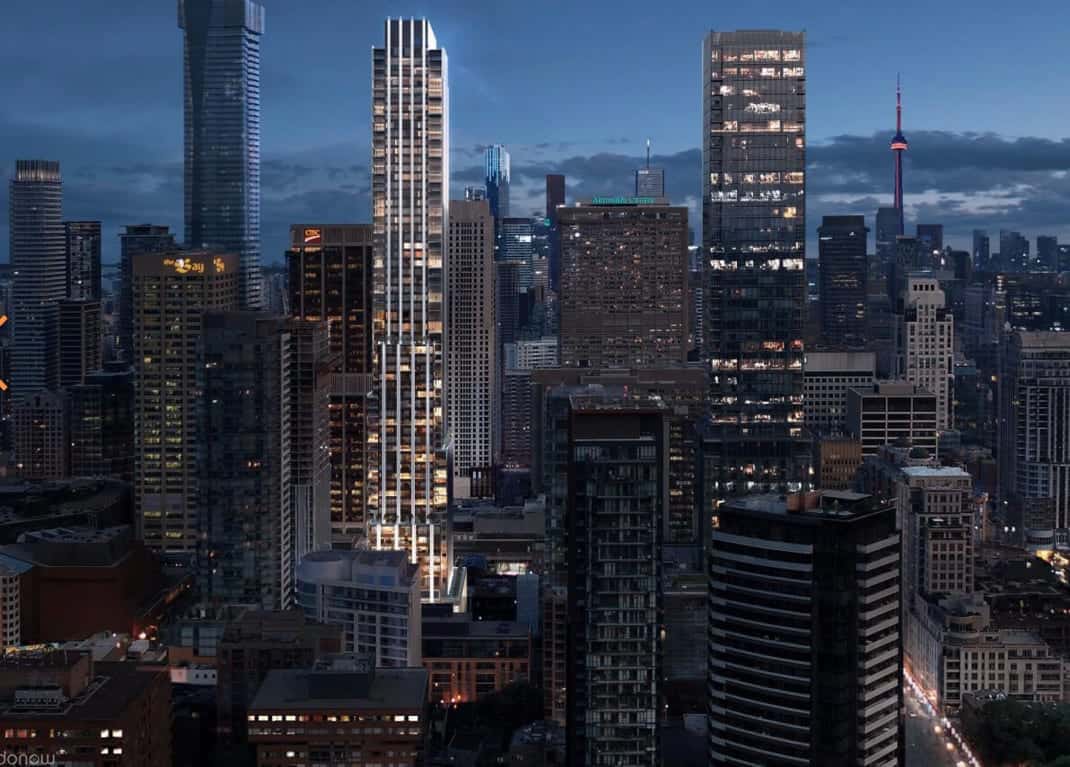 Amenities
11 YV Condos has something everyone can enjoy. With endless options for state-of-the-art amenities, the shopping on Bloor Street isn't the only luxurious aspect to living at 11 YV Condos.
The following is a list of the amenities available to residents of 11 YV Condos:
• Wine tasting/Piano lounge
• Bordeaux lounge
• Theatre
• Business center
• Pet spa
• Outdoor lounge with barbecues
• Indoor-outdoor infinity pool and hot tub
• Fitness facilities with steam rooms
• TV lounge/Chef kitchen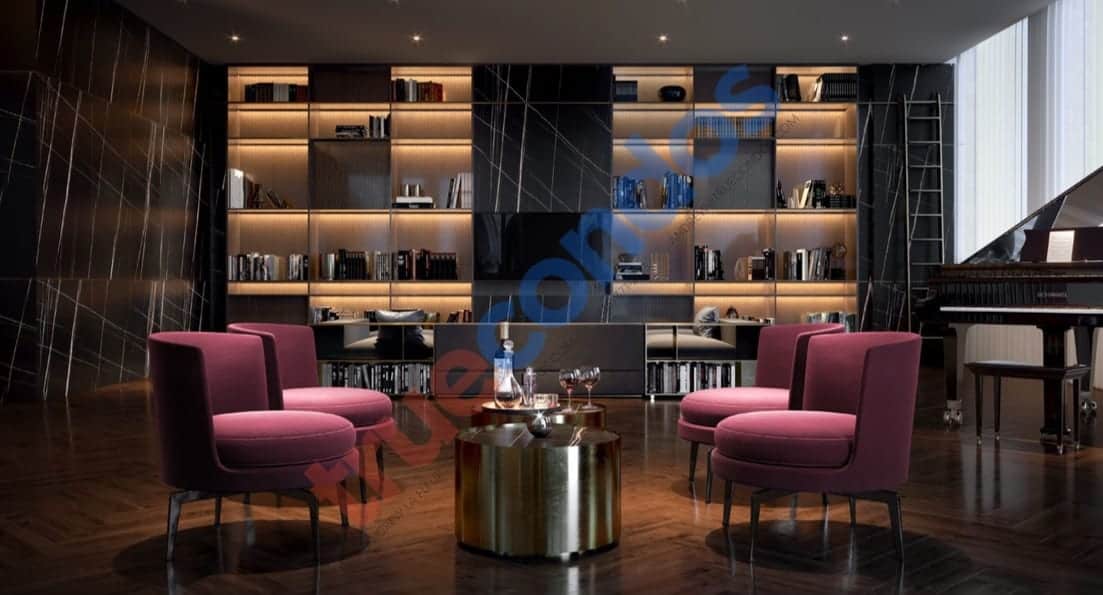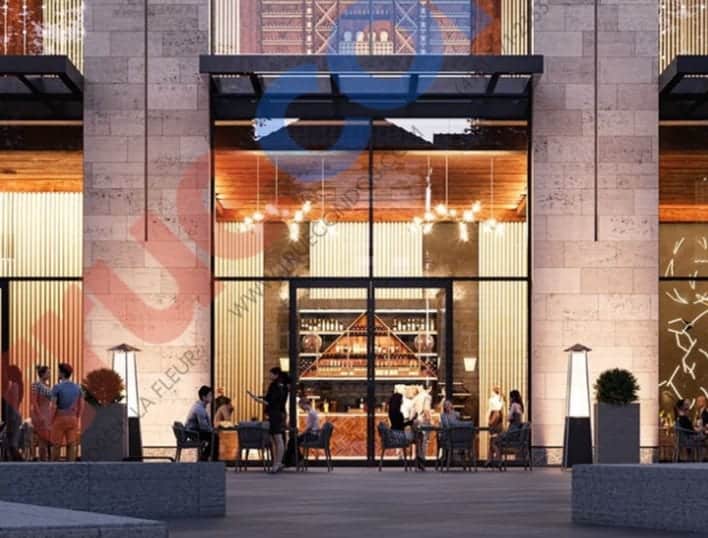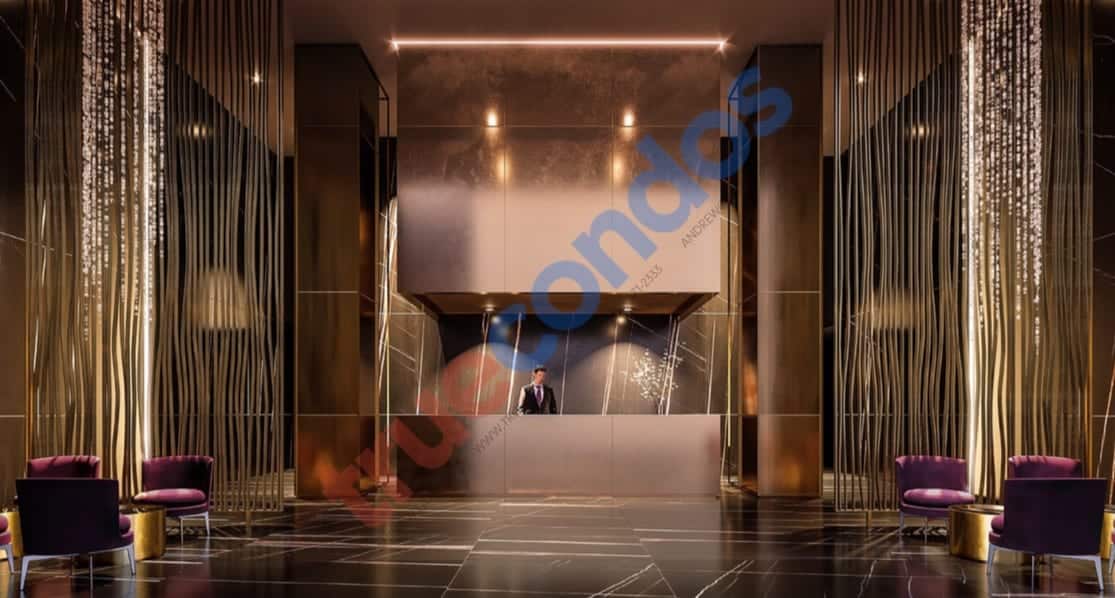 Features and Finishes
11 YV Condos comes finished top to bottom in the finest materials and with outstanding features that residents are sure to enjoy.
• 6 Standard Appliances – Miele package +wine fridge
• Marble island with waterfall and integrated dining table
• Integrated Beverage entertainment centre
• Custom wine & stemware storage
• Marble hood enclosure in the kitchen
• Luxurious bathroom tilework
• Closet organizers
• Double corner 2 and 3-bedroom suites
• 9', 9'6" and 10' ceilings
• Exclusive elevator bank for Grand CRU collection
• Balconies and Terraces available on select units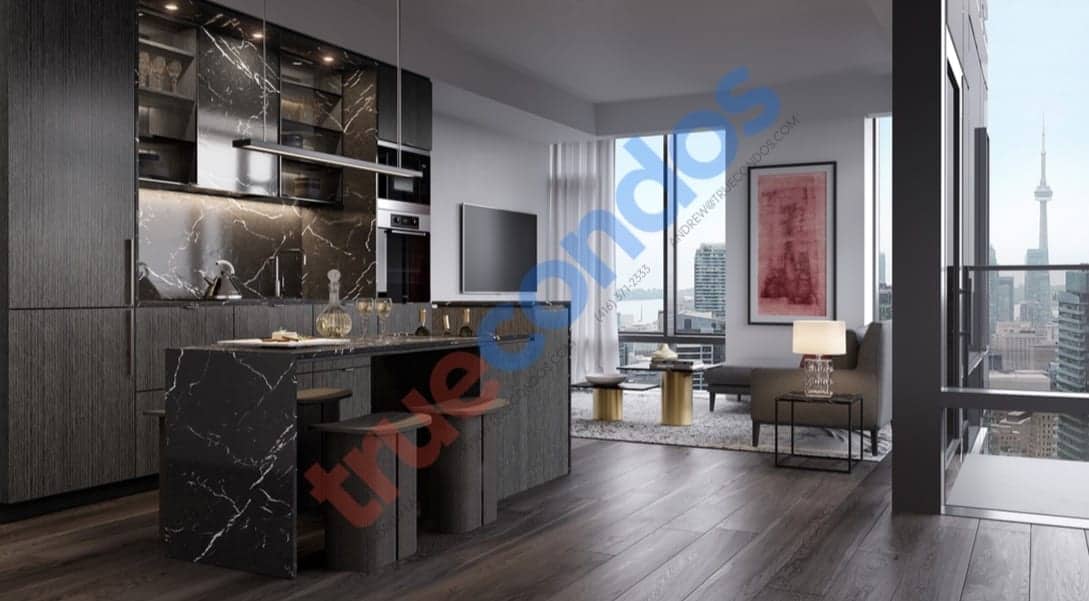 About the Developers
Capital Developments
Capital Developments is an industry leading Canadian real estate development company with international roots. With years of experience, they've learned that architecture, location, interior design, glass, metal and concrete all matter. But they've also learned that personal connections, trust and relationships are the things they really build.
RioCan
Since 1993, RioCan has helped shape the places Canadians want to work and shop. Now, RioCan Living is shaping the places they want to live in. Every one of their developments is backed by proven performance and commitment to providing impeccable management, convenient access to major commuter routes, world-class architecture, best-in-class amenities and expertly curated retail experiences.
Metropia
Metropia is a Toronto-based real estate developer of master-planned communities and condominiums across Canada. With four decades of industry experience, Metropia's expertise covers every facet of the development industry. The pursuit of superior quality, innovation and excellence is reflected in their design, living spaces, amenities and coveted communities.
New Condos Frequently Asked Questions
How do I reserve a unit in this project?
After you review the floor plans and prices, if you know what suites you are interested in, you may reserve a suite online using our online reservation worksheet form at https://truecondos.com/worksheet.
Does filling out the worksheet form mean I'm committing to buy a suite?
No it is not a formal commitment, it is an expression of interest and the first step you must take if you are thinking about getting a unit in this project.
What does it mean that Andrew la Fleur is a "Platinum Agent"?
Platinum agents are the top selling agents who get preferred status with developers and first access to new projects before regular agents and the public.
Andrew la Fleur has been a top-selling pre-construction agent since 2007, and during this time he has achieved platinum status with many of the top builders and sales companies in the Greater Toronto Area.
For more information on about Platinum agents see this article: https://truecondos.com/5-things-to-know-about-buying-a-condo-with-a-platinum-vip-realtor-real-estate-agent/
How does it benefit me as a buyer to work with Andrew la Fleur as my Platinum Agent?
Working with me as your Platinum agent gives you several benefits
You get the

highest level of access

in the building

You pay the

lowest possible price

for the unit (prices are typically increased significantly after the Platinum sales event)

The best possible

incentives

I do not represent the builder. I represent you. You benefit from my expertise of being a top selling pre-construction agent and investor myself since 2007.

Access to my personal network of mortgage brokers, lawyers, property management, HST rebate services, handymen and much more.

My services to you as a buyer are

free
Do I get a cooling off period? What is it for?
Yes, after you sign the contract to purchase a suite you will have a standard 10-day cooling off period. It's 10 calendar days, not business days from the time you sign.
The 10 days are primarily for 2 things: 1) to have a lawyer review your contract with you if you wish and 2) to get a mortgage pre-approval letter
Do I need to have a lawyer?
You don't need to have a lawyer at the moment that you sign the agreement, however I always recommend that you have a qualified lawyer review your agreement of purchase and sale after you sign and during your 10-day cooling off period.
Not sure who to talk to? Don't worry – getting a lawyer is something I can help you with. Contact me for more details.
Do I need to have a mortgage pre-approval to buy?
95% of all builders will require you to provide them with proof of financing capability in order to purchase. This is not required before you sign a contract, but it is usually required within 60 days of signing.
Not sure where to begin? Don't worry – getting a mortgage pre-approval is something that I can help you with. Contact me for more details.
Do the prices include HST?
If you are purchasing for yourself and plan to move in, then yes, prices include the HST and there is nothing you will have to pay at final closing.
If you are purchasing as an investment rental property, then you will have to pay approximately 7.8% of the purchase price as HST on final closing.
This money is remitted to the CRA and as an investor renting out your property you can apply to the CRA immediately to get this money back. It usually takes about 1 month to get your rebate back.
For more information on the HST, see here:
https://truecondos.com/tag/hst-rebates/
Contact me for more details.
What are my closing costs on a pre-construction condo?
Closing costs on a pre-construction condo will vary greatly depending on the actual purchase price of the unit you are buying, but it also depends on the builder, the city that you are buying in, and the type of unit that you are buying.
Roughly speaking in Toronto you can expect to pay approximately 3-5% of the purchase price in closing costs when purchasing a brand new condo.
Check out this article for more info on closing costs:
https://truecondos.com/5-things-to-know-about-closing-costs-when-investing-in-a-pre-construction-condo/
Contact me for more details
Are there any 'hidden' costs when buying a pre-construction condo?
No, there are no hidden fees when buying pre-construction condos because all fees must be disclosed in the agreement of purchase and sale. All purchasers have 10 days to review the agreement and have a lawyer advise them on the exact closing cost amounts. If you need a lawyer to help you we can suggest to you to several expert law firms that will review your agreement in detail.
Is it possible to assign my condo? How much is the assignment fee?
Most condo builders do allow you to sell your unit before the building is complete. This projcess is called selling by "assignment".
There is usually an assignment fee and a legal fee associated with selling. Costs can range from $1000-7000. Contact me for more details.