5 Things You Should Know About Realtor.ca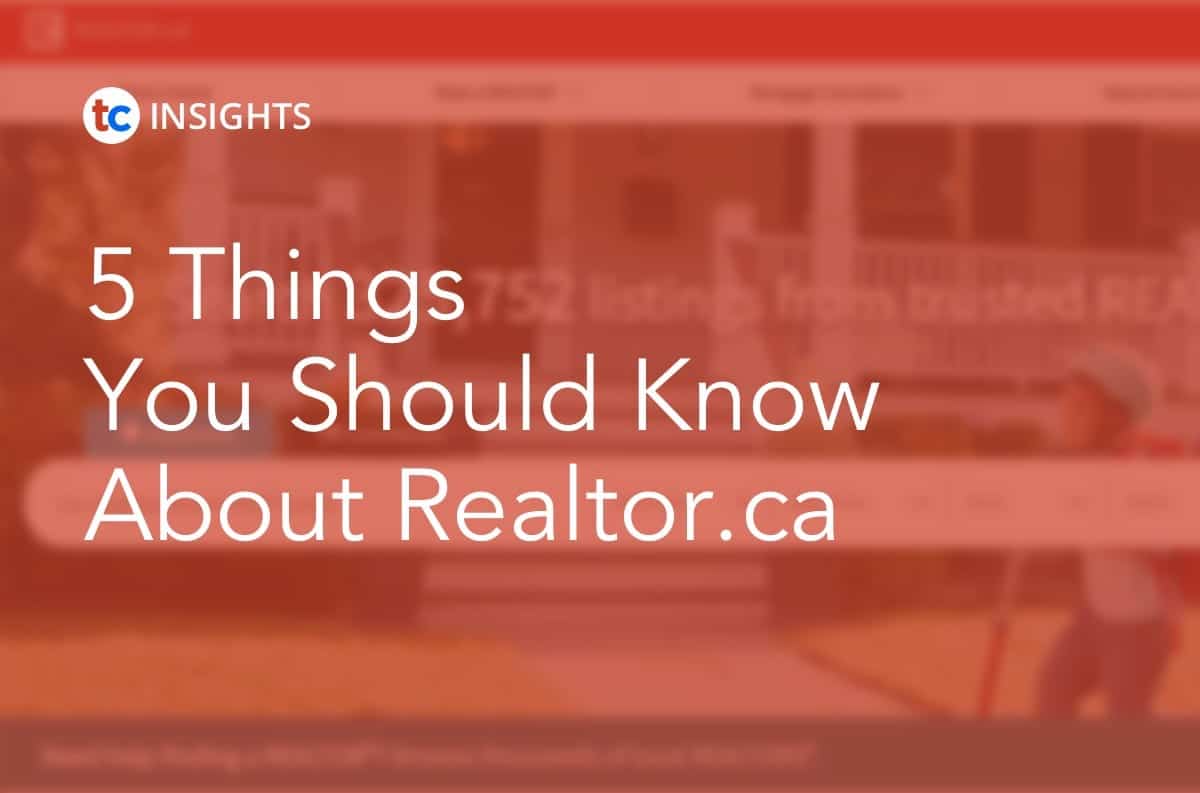 Realtor.ca is the official site of the Canadian Real Estate Association and is the best place to find real estate listings for sale in Canada.
Alexa ranks Realtor.ca as one of the top-50 websites in Canada by traffic.
I personally use Realtor.ca and the Realtor.ca iPhone app every week, however there are some major shortcomings to Realtor.ca.
As a real estate investor, information is power and whoever has access to the best information gets the best opportunities and therefore best return on investment.
Here are 5 things you shuld know about Realtor.ca as a real estate investor:
1. Every single listing on Realtor.ca is incomplete 
Realtor.ca gives you a lot of information about each property listed, but there are many fields that are not included for every listing – and yes, this is very annoying when you realize this.
Did you know that real estate agents have access to a different – the full MLS system – with ALL property information and all fields visible?
The Realtor.ca is based off the MLS system that real estate agents have access to, however it doesn't pull all the data for every listing
A few things that are missing on the Realtor.ca version:
Days on Market – It is vitally important to know how long a property has been on the market, yet this field is curiously missing on Realtor.ca. Frustrating!
The listing real estate agent's cell phone number – This one is really annoying. Got a question about a listing you want answered? You can't just call the listing agent's cell phone. You can only call their office, who will page them to call you, and you may or may not get a call back! 
The first image is from Realtor.ca and the second image is from the MLS system for the exact same listing: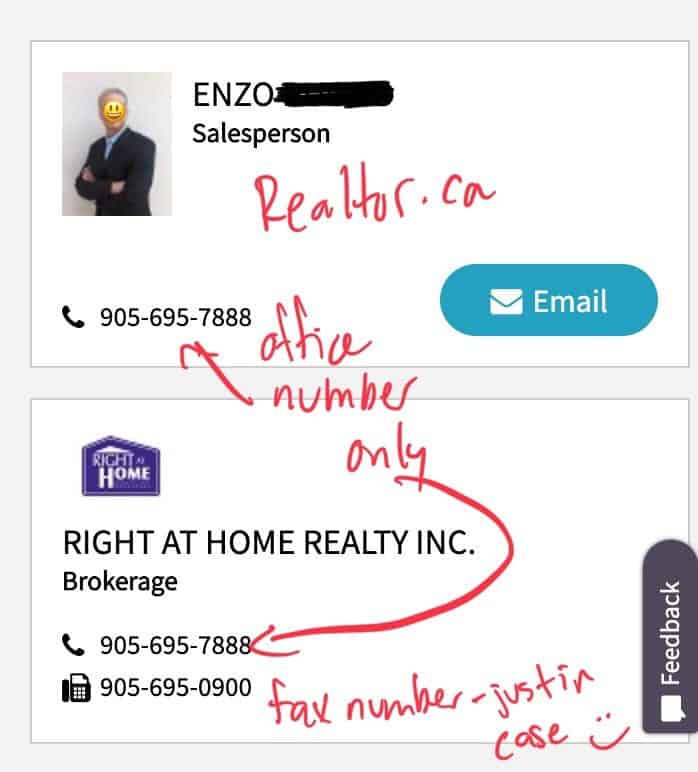 Maintenance fees – Recently Realtor.ca started showing the maintenance fees for condos, but it still doesn't show you what is included in the fees and what is not. Kind of useless info without this.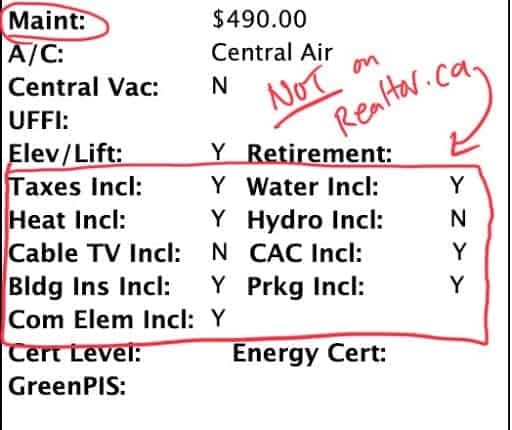 Past sold data – there is no past sales data on the property on Realtor.ca. You can get this information on various other websites these days like HouseSigma.ca, Condos.ca, and others.
Square footage – how big is the property? If you're looking at Realtor.ca you will have no idea. Unbelievable that this is not shown.
File attachments – often there are attachments like floor plans or surveys or other property information attached to the listing in the MLS system which a real estate agent can download instantly, but Realtor.ca users can't see at all.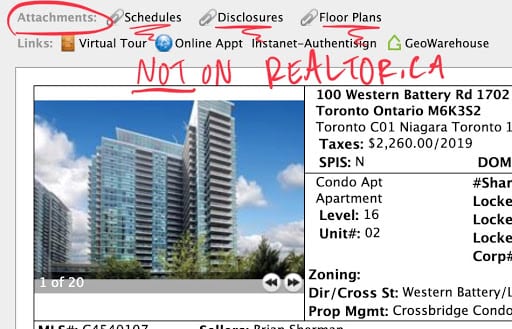 2. Every single listing on Realtor.ca is out of date
Realtor.ca pulls info from the MLS systems across Canada into their listings feed which populates on the website. 
Unlike the system the real estate agents have access to, this is NOT done in real time, rather it only happens periodically. 
Some changes to a listing do not even show up for weeks on Realtor.ca!
Also, many properties on Realtor.ca are actually already sold (either conditionally or firm) but they are still listed and appear as though they are available. 
Talk about wasting your time as a buyer or investor.
3. Realtor.ca is missing a huge portion of the real estate market
In 2018 there were 77,426 resale transactions according to the Toronto Real Estate Board. These are the listings that you see when you visit Realtor.ca.
According to BILD there were 25,161 new home and new condo sales in 2018 – the vast majority of which are never listed on the MLS system.
That means that Realtor.ca is missing at least 25% of the real estate market!
When you're on Realtor.ca you are simply not looking at the entire real estate market.
For pre-construction condo investors then, Realtor.ca is simply a waste of time to use.
Tip: if you're searching for pre-construction, check out our page for new homes and condos in Toronto.
4. Realtor.ca is the worst place to look for a deal
This might be the biggest reason why as a condo investor I avoid Realtor.ca.
Realtor.ca is available to everyone, everywhere, all the time. 
Virtually every single resale listing in Canada is on Realtor.ca.
It's the closest thing to an open and free market we have and is actually a model for other countries around the world to follow.
This is great if you are a seller, you get maximum exposure for your property, but it sucks if you are a buyer looking for a deal.
But if you are a buyer, but more specifically an investor, it means that you have ZERO advantage over the competition if you are looking for properties on Realtor.ca.
Searching for a deal on Realtor.ca is like searching for a deal
On the other hand, in the pre-construction market, there is no MLS system, and this creates amazing opportunities for deals – if you know how to get access to them.
I have spent the last 12 years building my relationships with builders and a massive database of investors that enables me to give my clients an "unfair advantage" and access opportunities that are not advertised or available to the public. 
5. Realtor.ca is just not as good as the alternatives
While Realtor.ca has improved dramatically over the last decade, it still lags behind the competition in terms of the tools it offers the house or condo search
New entrants like Zillow.ca, HouseSigma, Zolo, offer far more powerful tools for anyone searching for a resale property.