What Every Condo Investor Should Know About Delayed Occupancy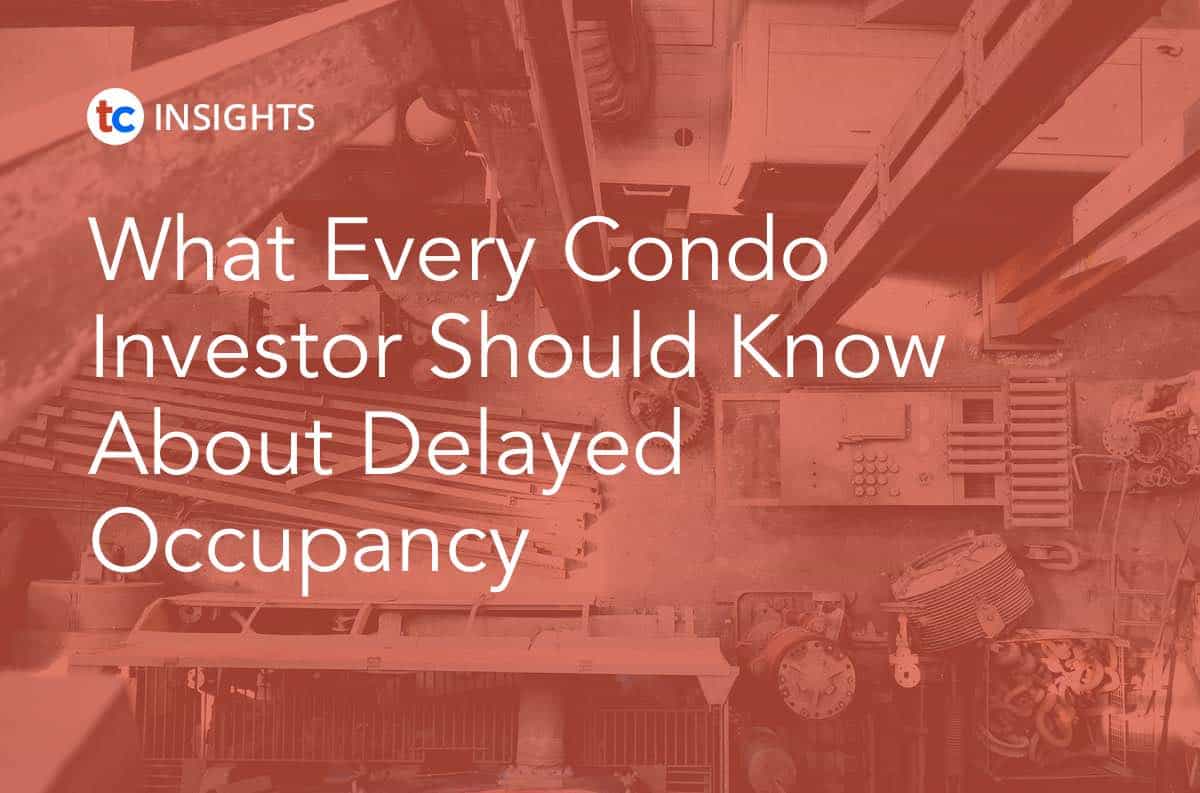 There are many upsides to investing in pre-construction condos—that much should be obvious by now from reading this blog—but one difference from the resale market that can turn into an inconvenience is the uncertainty surrounding occupancy dates with new builds.

On the resale market, it's clear when you're taking possession of a home. On the new-build side, you're dealing with the Tarion warranty program. When you enter into an agreement to purchase a pre-construction unit, you'll receive Tarion paperwork outlining what you need to know, but I'll go over the highlights in this blog post.
Keep on top of the Tarion Rules
The first thing to know is that the rules change from year to year, so you always need to read the fine print, even if you're an experienced investor. What Tarion covers for a unit purchased in 2015 might not be relevant today.

Something that is consistent is the fact that there is both an outside occupancy date, which is firm, and a tentative date, which can be pushed back. In terms of delays, you can only get compensation if they result in the builder missing the outside occupancy date (so long as a builder gives you 90 days notice before your current tentative date, they can keep changing the tentative date).
If the builder misses that outside occupancy date, or changes the tentative date with less than 90 days notice, you may be entitled to $150 per day, to a maximum of $7,500. At that rate, you're covered for up to 50 days before you max out the compensation.
What Else You can Claim
You can also claim out of pocket expenses, whether you're planning on renting out the unit upon receiving it or moving into it yourself (though what you can claim in each instance varies).
If you're planning on living in the unit yourself, you could claim hotel costs, storages fees related to keeping your furniture somewhere, or even the cost of putting your pet in a kennel.
If you had a renter lined up, you could claim the cost of arranging accommodations for them. Naturally, you'll need supporting documentation in each case. Keep in mind that even if do claim out of pocket expenses, you still aren't eligible for more than $7,500—that's the hard cap.
Unavoidable Delays
Also be aware that there is something called an "unavoidable delay," which gets builders off the hook for missing the firm occupancy date, although Tarion is very specific about what is considered an unavoidable delay, and builders must tell you about the delay within the prescribed period (again, this is something that varies depending on the year).
While you should consult your paperwork, an unavoidable delay is typically something like a flood, strike, or war. Builders can't claim an unavoidable delay if the painters get sick, or a kitchen supplier goes out of business.

If you receive notice about an unavoidable delay, it's a good chance to look into it; just because a builder says it's unavoidable it doesn't mean Tarion agrees. Note that it doesn't cost a cent to make a claim, but you only get one shot at it. If you make a mistake in your paperwork, you're out of luck. You're also going to need to make that claim within a year of occupying. File it any later than that and the builder won't even have to review your claim.
Wondering if you qualify for delayed occupancy claim on your new condo? Please contact us for more information.
***If you enjoyed this article, you might also enjoy listening to the podcast which it was based off. Check it out here***