1107 Main in Hamilton
| | |
| --- | --- |
| Developer | IN8 Developments and Westdale Properties |
| Address | 1107 Main Street West, Hamilton |
| Neighbourhood | Hamilton |
| Number of Storeys | 14 |
| Number of Units | 300 |
| Occupancy Date | May 2027 |
| Maintenance Fees | $0.67 psf/m |
| Priced From | Mid $400,000s |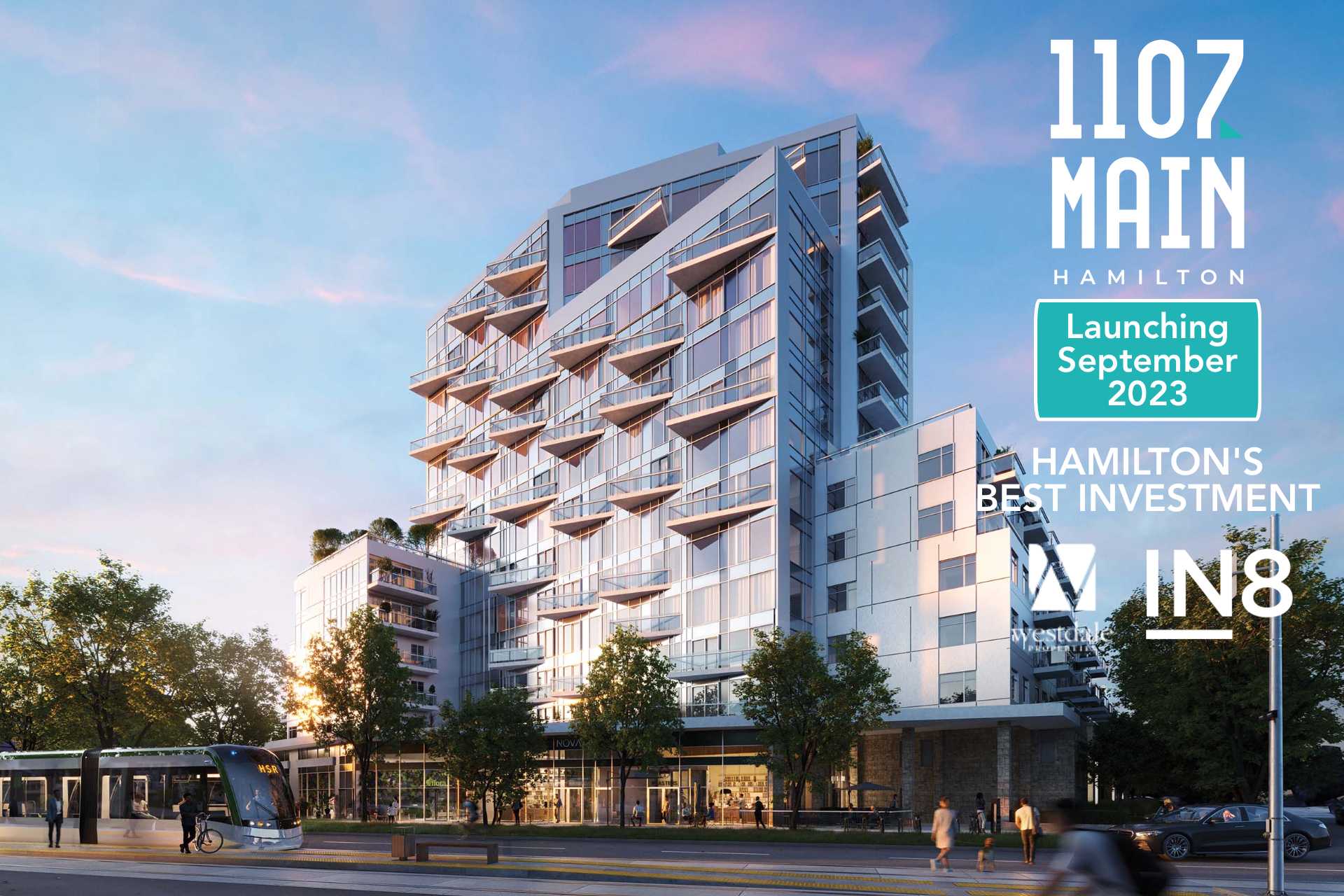 About 1107 Main in Hamilton
HAMILTON IS HOT
The Main Stage
A REVITALIZED HAMILTON
Over $1 billion slated for investment in the city's waterfront, venues & infrastructure.
ATTRACTING INVESTMENT
Ranked as one of the fastest growing economies and best places to invest in Ontario.
THE NEW HOT SPOT
A trendy alternative to Toronto for film, arts and tech industries: home to 30,000+ professional creatives.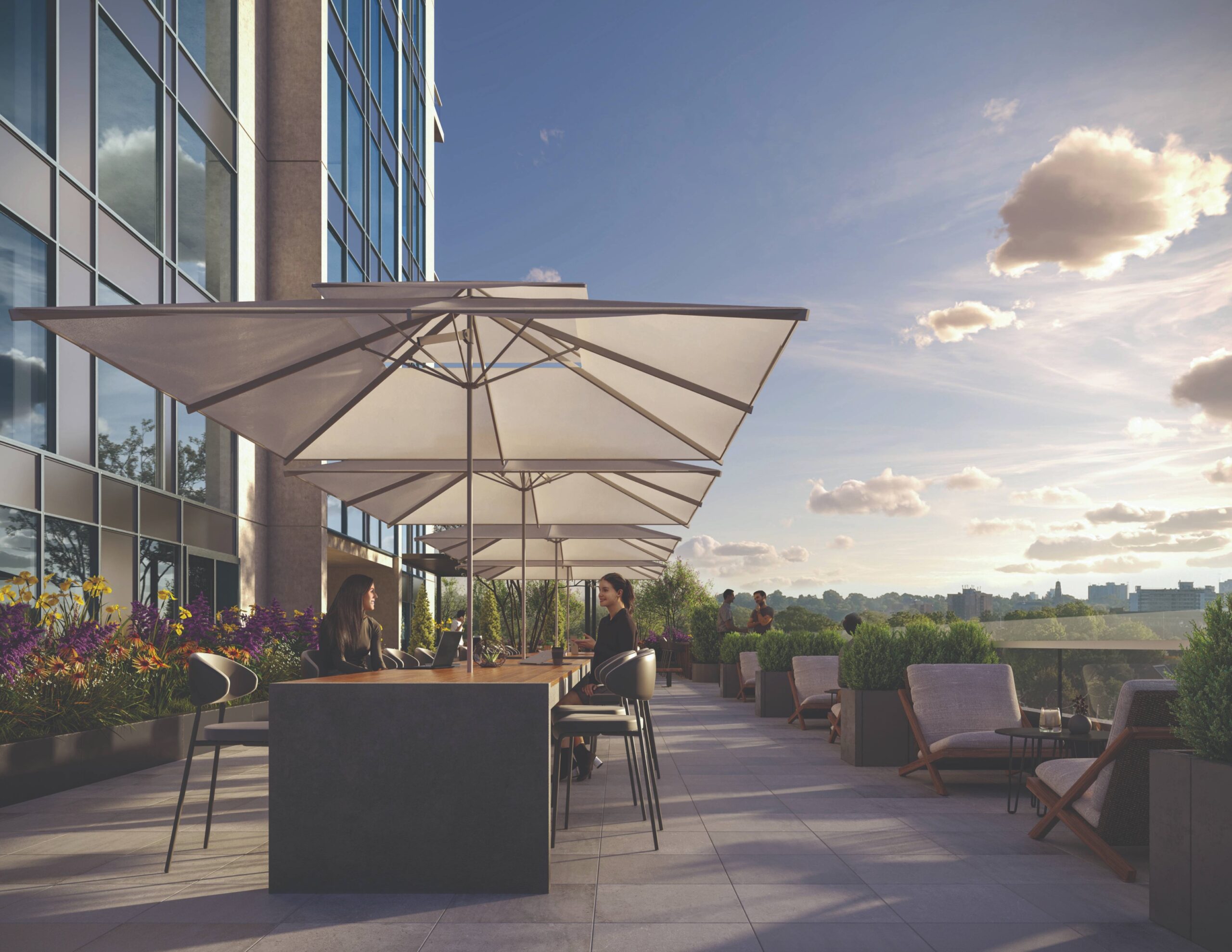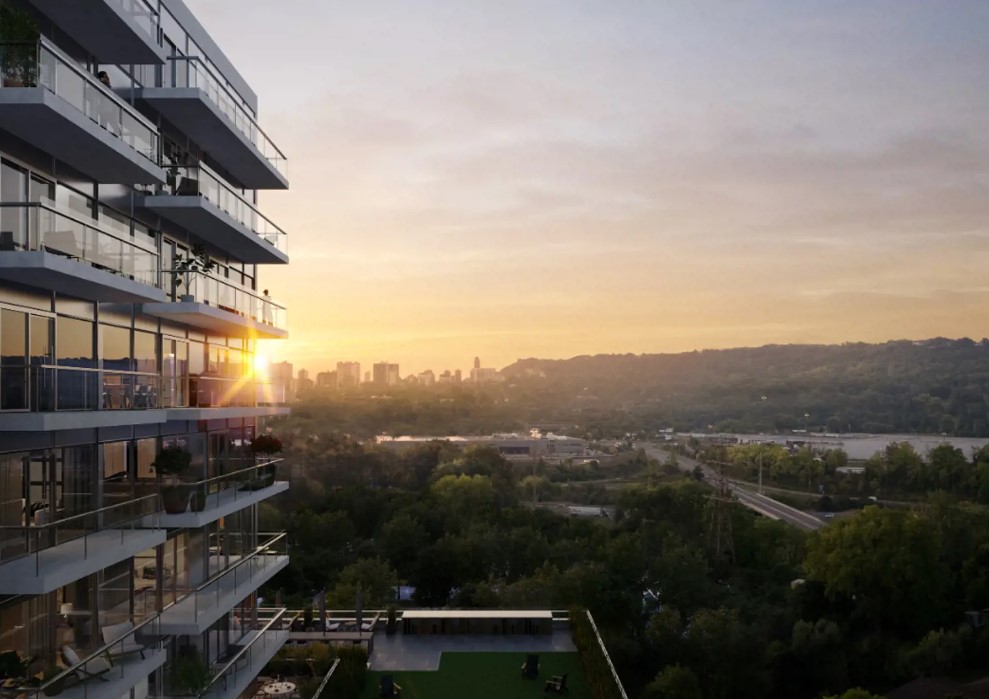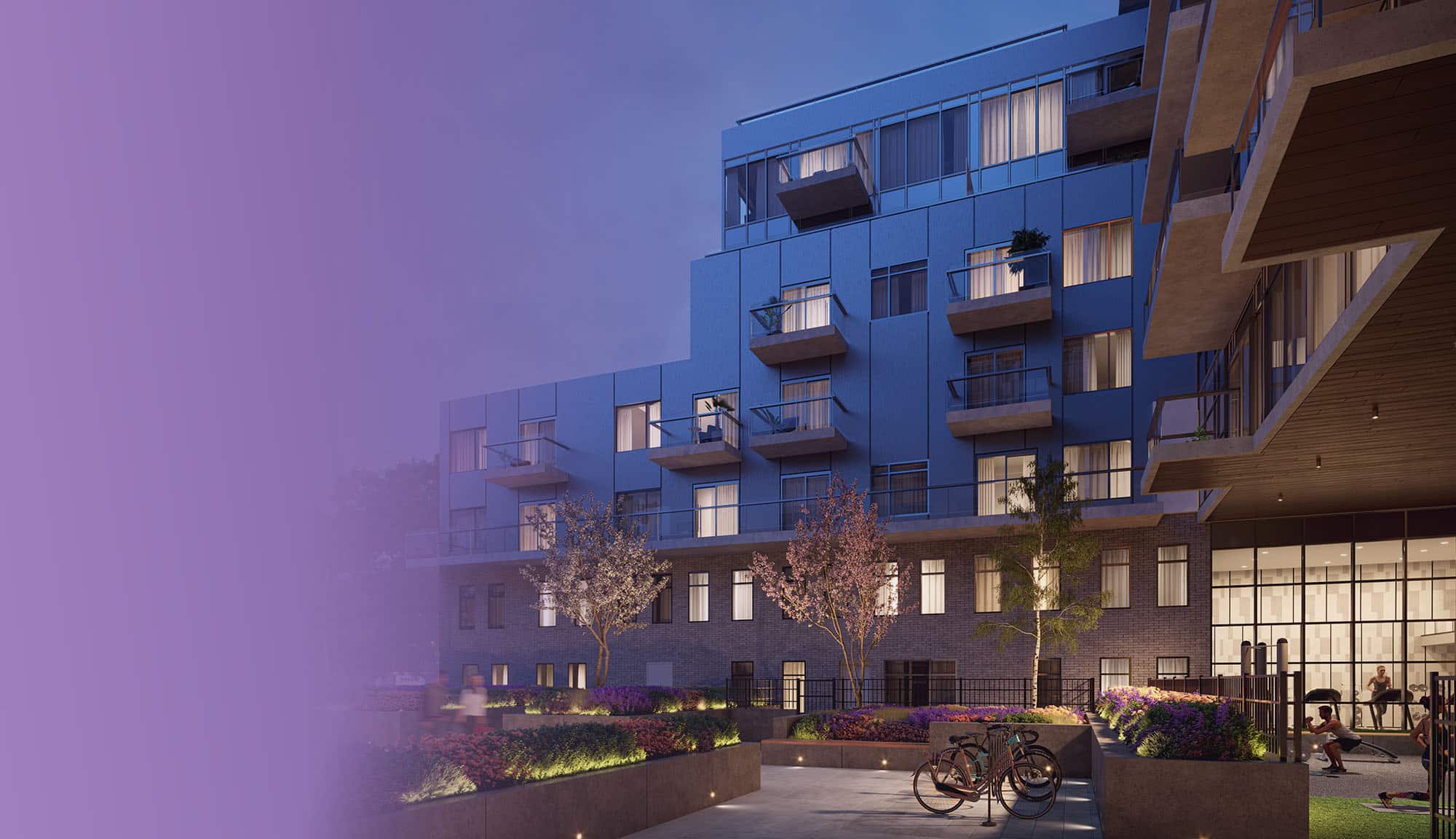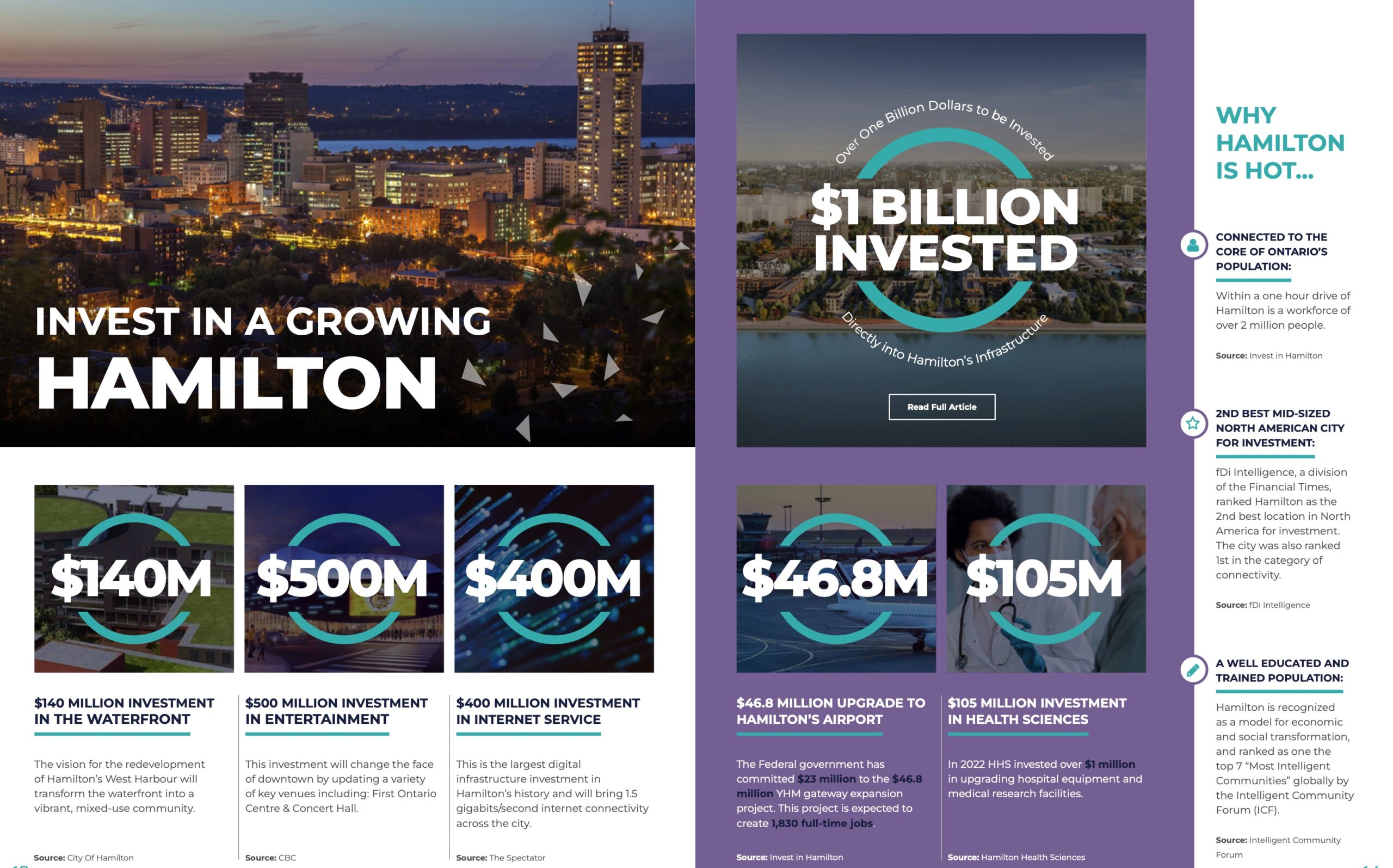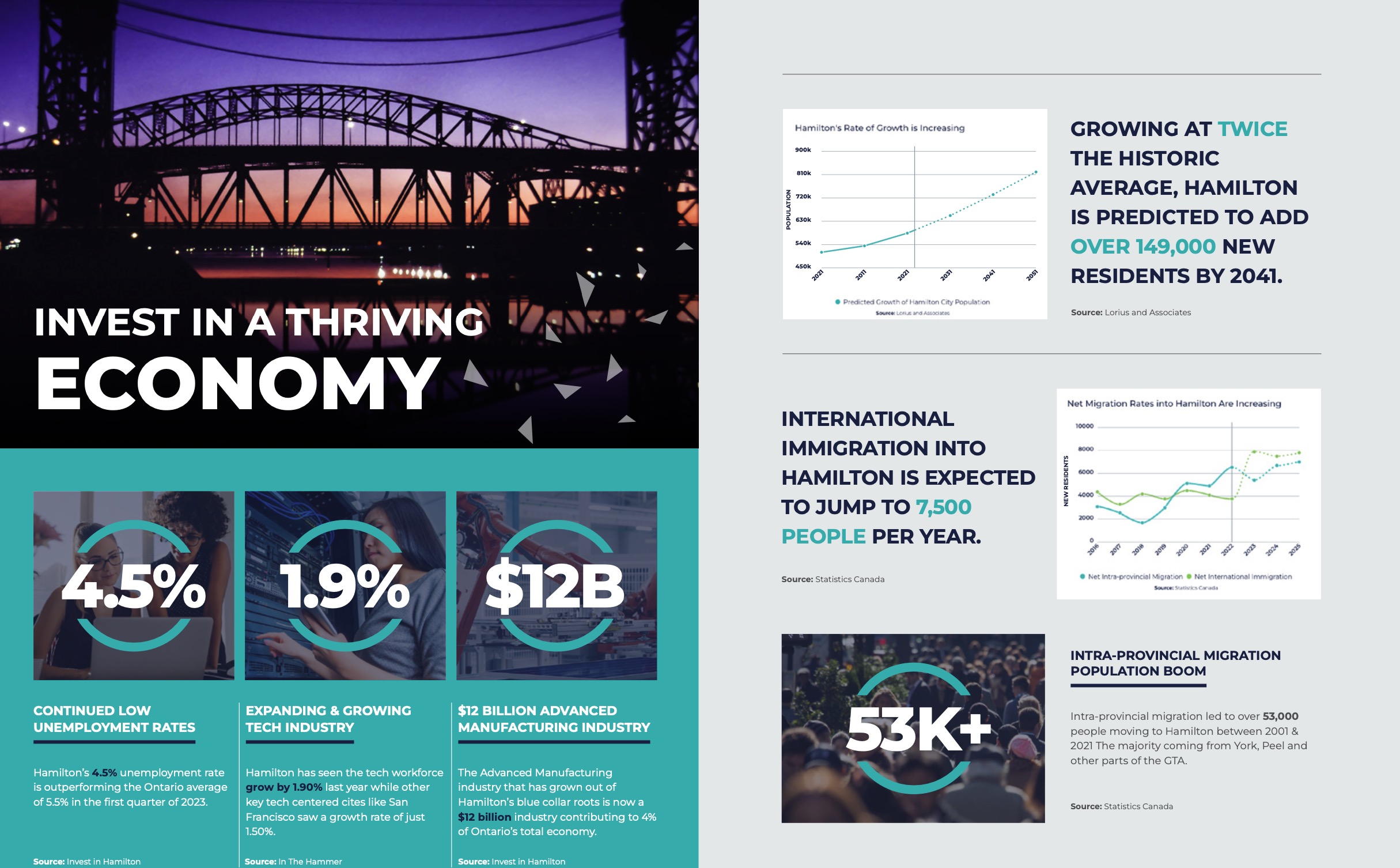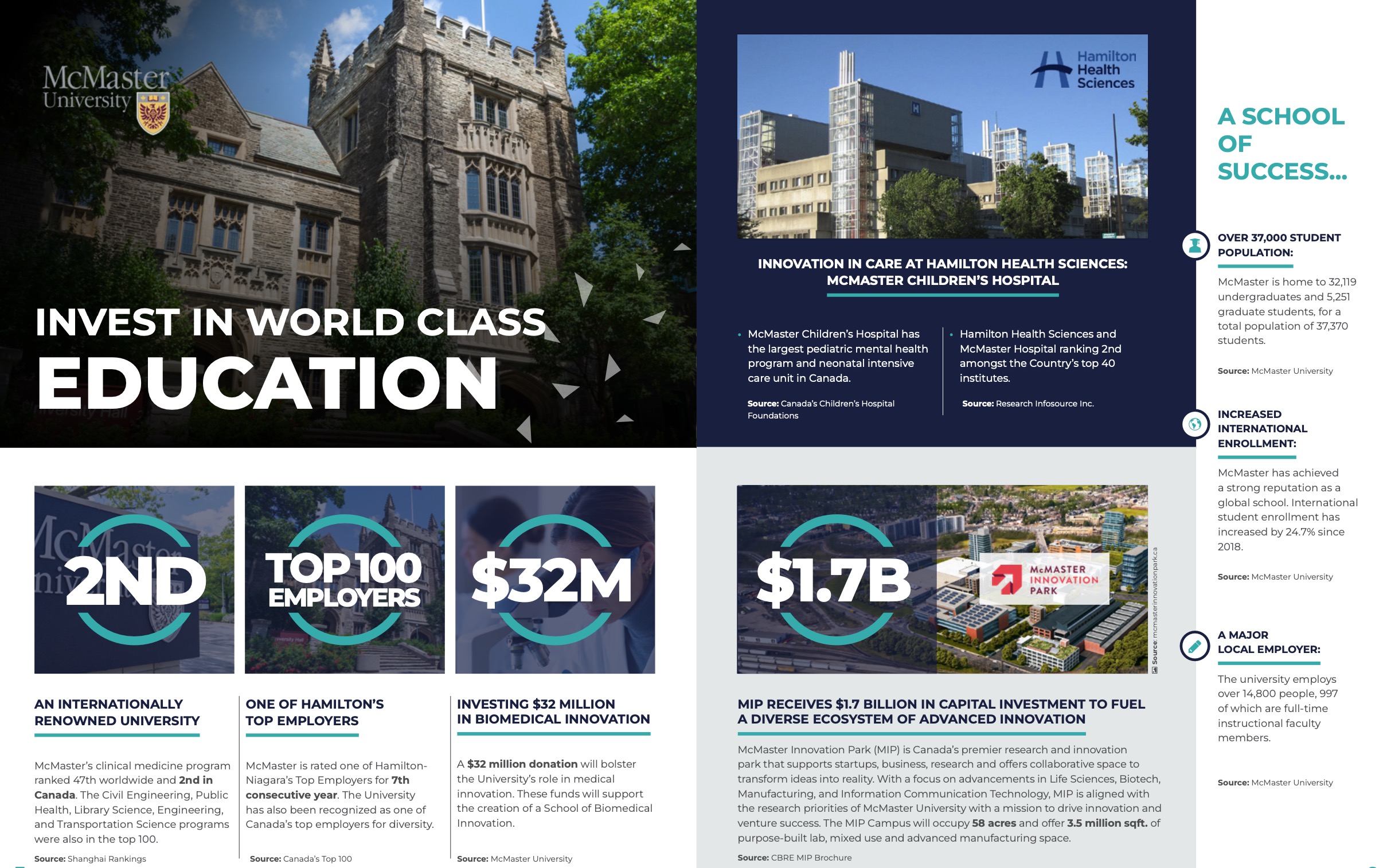 1107 Main in Hamilton Location
GET UP AND GO
On the Main Line
LRT AT YOUR DOOR
$3.4 billion in funding has been approved for Hamilton's LRT system on Main Street.
EXPANDED GO SERVICES
Metrolinx is expanding 2-way all day GO service in Hamilton.
QUICK ACCESS TO THE 403
Just 200m from Highway 403, 1107 MAIN is ideally located for commuters.
AN URBAN VILLAGE
The Main Event
IN CHARMING WESTDALE
A unique aesthetic blending small village charm with urban amenities.
THE FIRST OF ITS KIND
Westdale has never seen a condo development of this scale before.
500M FROM MCMASTER
Just steps from one of Hamilton's largest employers, McMaster University & Medical Centre.
AMAZING AMENITIES
Life on Main
NATURAL AMENITIES
Enjoy the waterfront, over 150KM of trails, 100+ waterfalls and views of the escarpment.
BUILDING AMENITIES
Over 17,000 sq.ft. of amenities including gym, rooftop terraces & landscaped courtyard.
STATE OF THE ART BUILDING
In-suite tech package integrated with building amenities & digital concierge.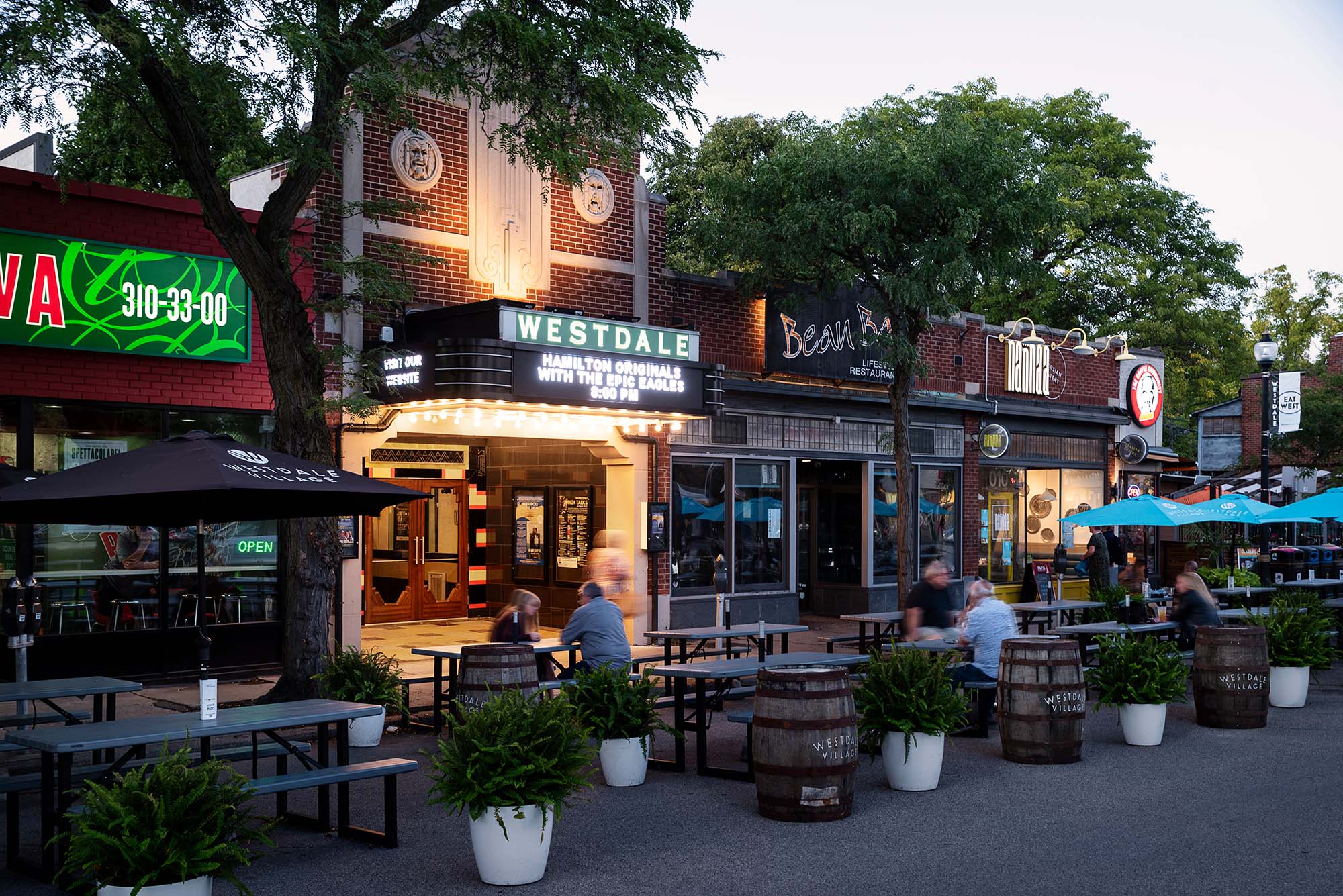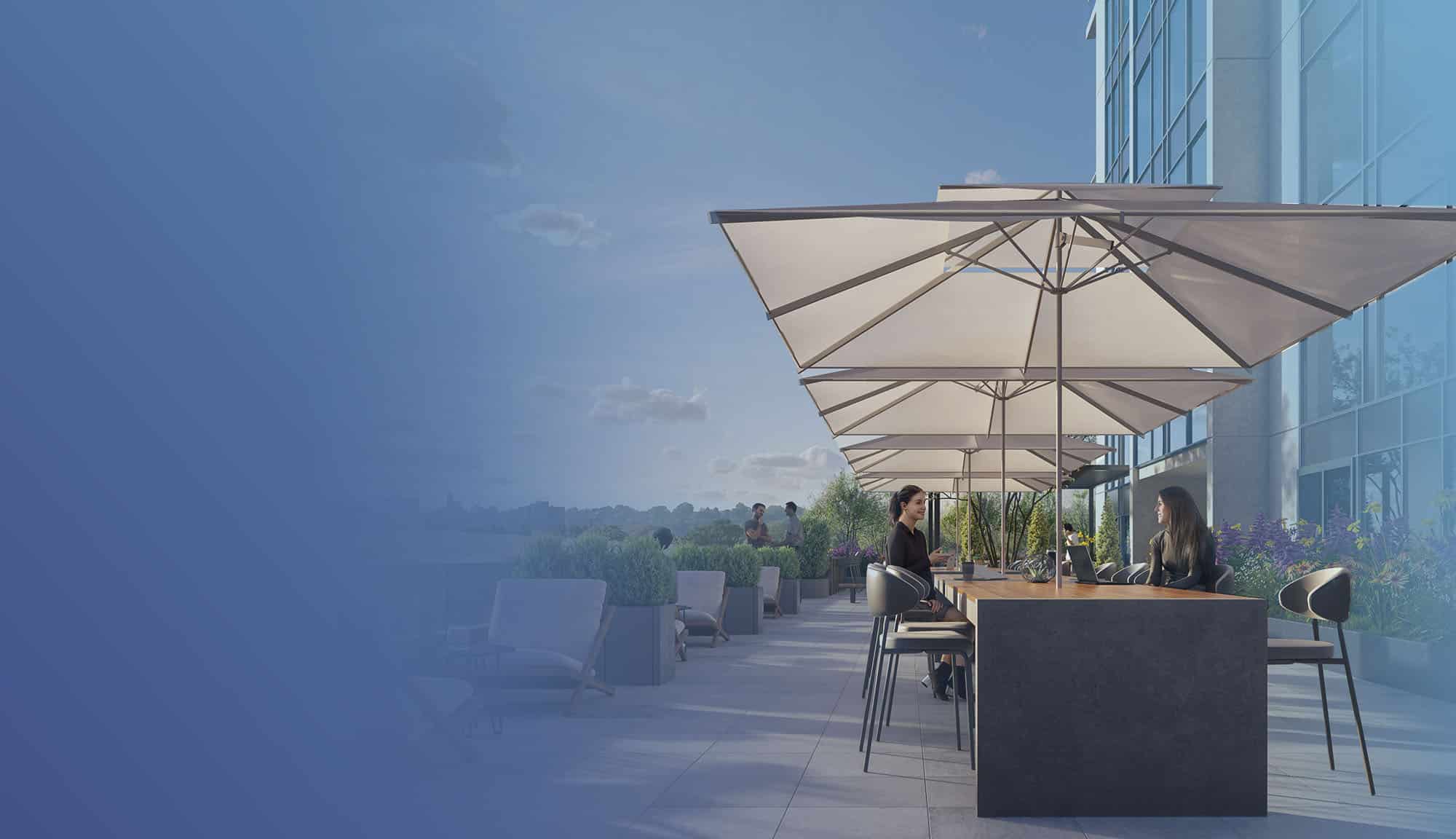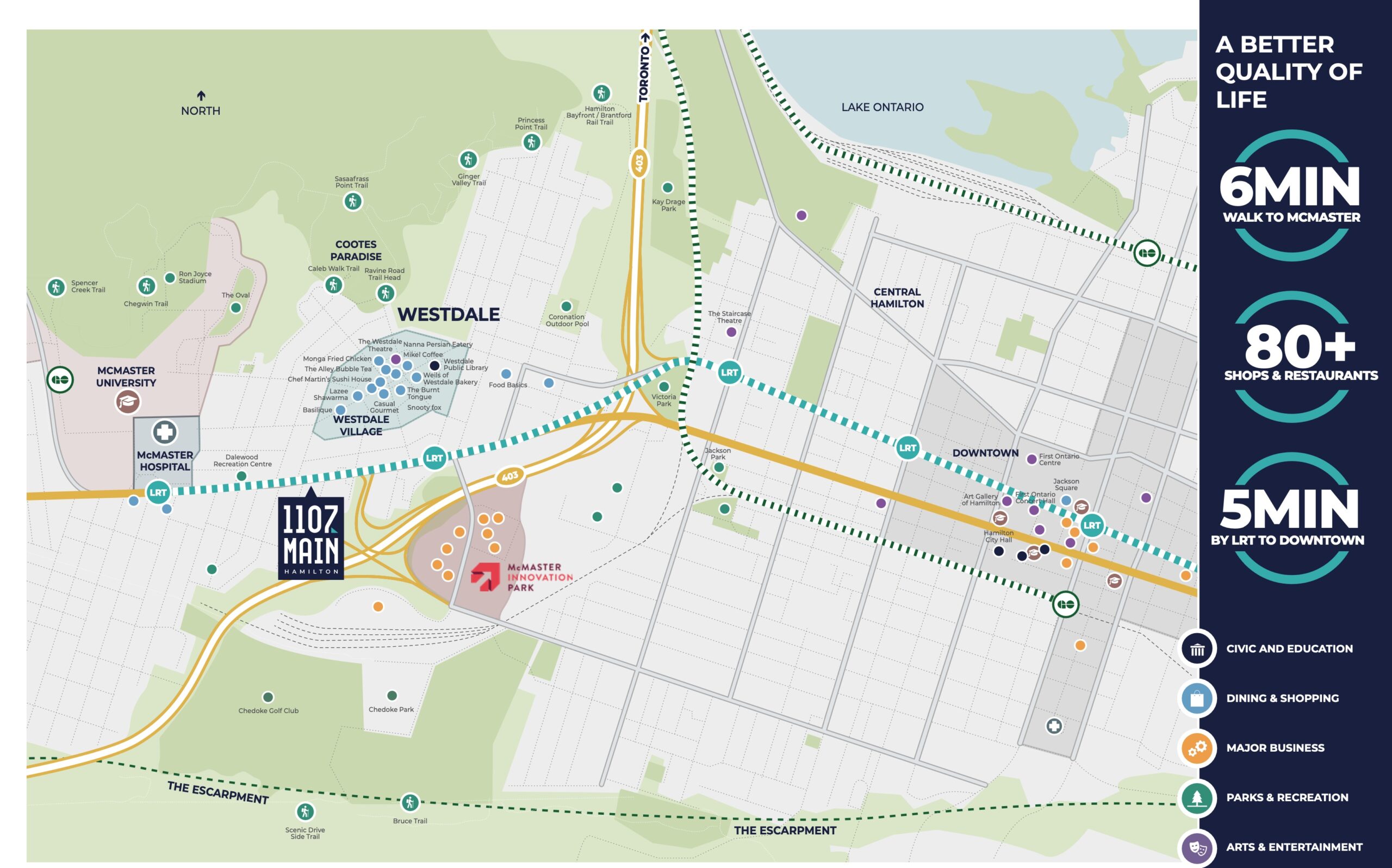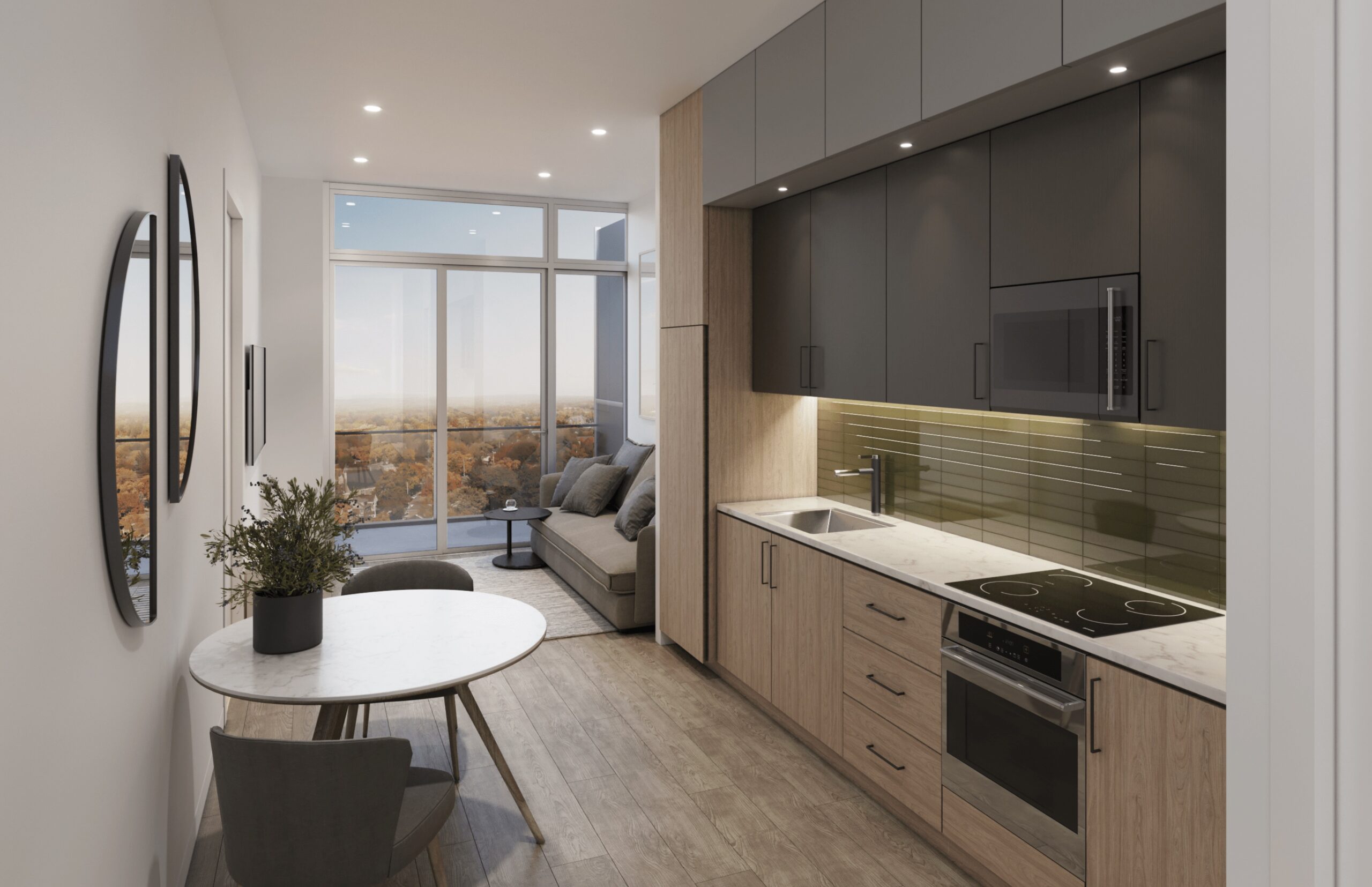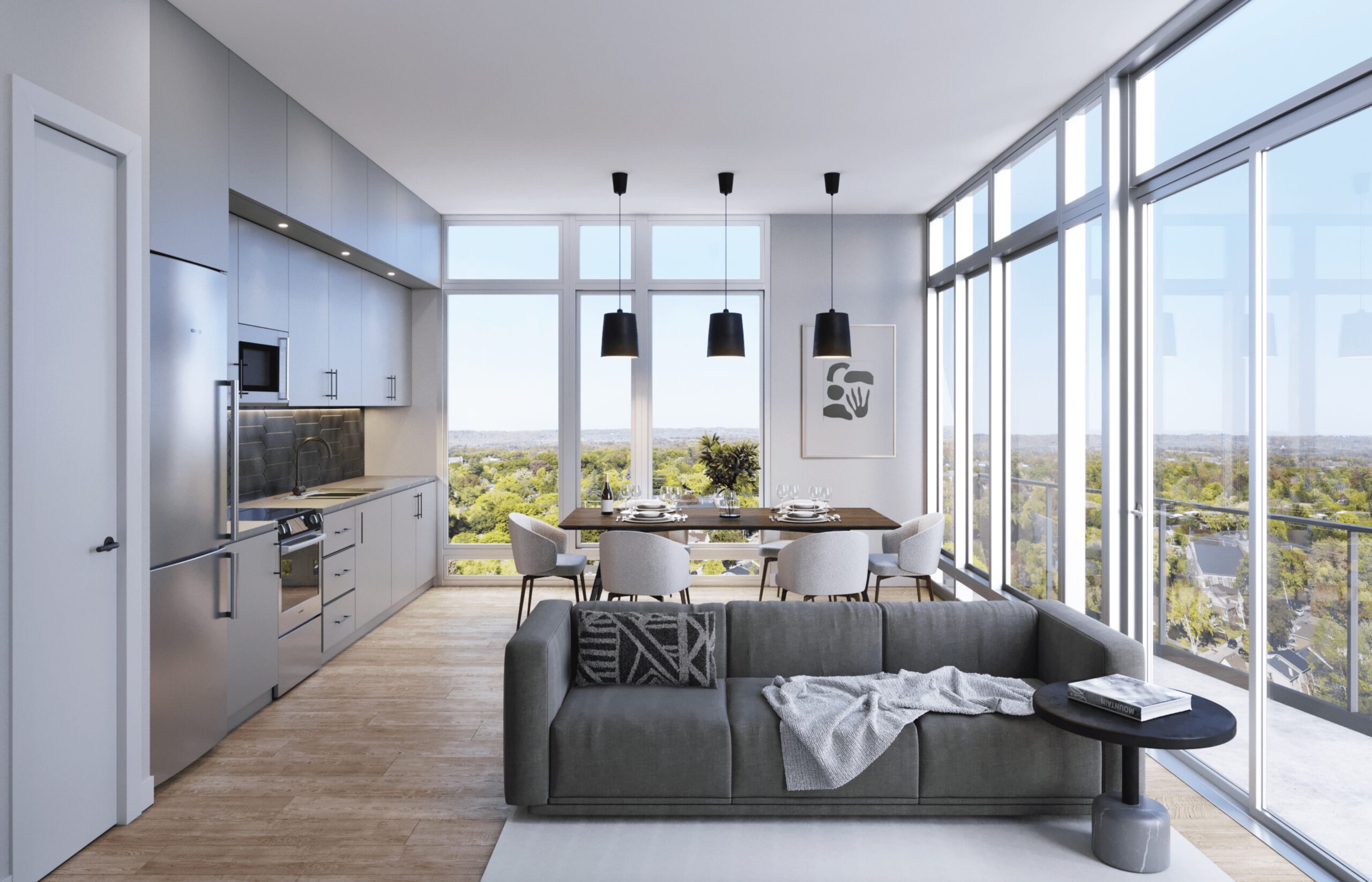 About the Developer
The principals of IN8 Developments have over 20 years of direct experience in the construction and urban development industries. With a multitude of projects completed in the area over the past several years, IN8 has a recognizable and popular footprint throughout the Waterloo Region.
Committed to progressive thinking, IN8 Developments leads the way in intelligent housing solutions. We take pride in being the pioneers of luxurious and innovative housing options in downtown Kitchener and the university district in Waterloo. IN8 remains at the forefront of the industry in creating highly profitable, durable and trendy designs proven to be continually favoured among the local target groups. Explore more by viewing our portfolio of properties.
For over 60 years, Toronto-based Westdale Properties has owned, managed and developed real estate across North America. As a family company with a unique vision for multi-residential real estate and an understanding of mixed-use development, we are committed to fostering positive experiences for the thousands of people who live in, work and shop at our properties.
1107 Main in Hamilton FAQs
How do I reserve a unit in this project?
After you review the floor plans and prices, if you know what suites you are interested in, you may reserve a suite online using our online reservation worksheet form at https://truecondos.com/worksheet.
Does filling out the worksheet form mean I'm committing to buy a suite?
No it is not a formal commitment, it is an expression of interest and the first step you must take if you are thinking about getting a unit in this project.
What does it mean that Andrew la Fleur is a "Platinum Agent"?
Platinum agents are the top selling agents who get preferred status with developers and first access to new projects before regular agents and the public.
Andrew la Fleur has been a top-selling pre-construction agent since 2007, and during this time he has achieved platinum status with many of the top builders and sales companies in the Greater Toronto Area.
For more information on about Platinum agents see this article: https://truecondos.com/5-things-to-know-about-buying-a-condo-with-a-platinum-vip-realtor-real-estate-agent/
How does it benefit me as a buyer to work with Andrew la Fleur as my Platinum Agent?
Working with me as your Platinum agent gives you several benefits
You get the

highest level of access

in the building

You pay the

lowest possible price

for the unit (prices are typically increased significantly after the Platinum sales event)

The best possible

incentives

I do not represent the builder. I represent you. You benefit from my expertise of being a top selling pre-construction agent and investor myself since 2007.

Access to my personal network of mortgage brokers, lawyers, property management, HST rebate services, handymen and much more.

My services to you as a buyer are

free
Do I get a cooling off period? What is it for?
Yes, after you sign the contract to purchase a suite you will have a standard 10-day cooling off period. It's 10 calendar days, not business days from the time you sign.
The 10 days are primarily for 2 things: 1) to have a lawyer review your contract with you if you wish and 2) to get a mortgage pre-approval letter
Do I need to have a lawyer?
You don't need to have a lawyer at the moment that you sign the agreement, however I always recommend that you have a qualified lawyer review your agreement of purchase and sale after you sign and during your 10-day cooling off period.
Not sure who to talk to? Don't worry – getting a lawyer is something I can help you with. Contact me for more details.
Do I need to have a mortgage pre-approval to buy?
95% of all builders will require you to provide them with proof of financing capability in order to purchase. This is not required before you sign a contract, but it is usually required within 60 days of signing.
Not sure where to begin? Don't worry – getting a mortgage pre-approval is something that I can help you with. Contact me for more details.
Do the prices include HST?
If you are purchasing for yourself and plan to move in, then yes, prices include the HST and there is nothing you will have to pay at final closing.
If you are purchasing as an investment rental property, then you will have to pay approximately 7.8% of the purchase price as HST on final closing.
This money is remitted to the CRA and as an investor renting out your property you can apply to the CRA immediately to get this money back. It usually takes about 1 month to get your rebate back.
For more information on the HST, see here:
https://truecondos.com/tag/hst-rebates/
Contact me for more details.
What are my closing costs on a pre-construction condo?
Closing costs on a pre-construction condo will vary greatly depending on the actual purchase price of the unit you are buying, but it also depends on the builder, the city that you are buying in, and the type of unit that you are buying.
Roughly speaking in Toronto you can expect to pay approximately 3-5% of the purchase price in closing costs when purchasing a brand new condo.
Check out this article for more info on closing costs:
https://truecondos.com/5-things-to-know-about-closing-costs-when-investing-in-a-pre-construction-condo/
Contact me for more details
Are there any 'hidden' costs when buying a pre-construction condo?
No, there are no hidden fees when buying pre-construction condos because all fees must be disclosed in the agreement of purchase and sale. All purchasers have 10 days to review the agreement and have a lawyer advise them on the exact closing cost amounts. If you need a lawyer to help you we can suggest to you to several expert law firms that will review your agreement in detail.
Is it possible to assign my condo? How much is the assignment fee?
Most condo builders do allow you to sell your unit before the building is complete. This projcess is called selling by "assignment".
There is usually an assignment fee and a legal fee associated with selling. Costs can range from $1000-7000. Contact me for more details.