150 Pearl Condos
150 Pearl Condos is a new condo development by The Conservatory Group currently in pre-construction at 150 Pearl Street, Toronto, ON.
| | | | |
| --- | --- | --- | --- |
| | Address | 150 Pearl Street, Toronto | |
| Developer | The Conservatory Group | Occupancy | TBA |
| Area | Downtown | Deposit | TBA |
| Storeys | 482 | Maint. Fees | TBA |
| Units | 57 | Prices | TBA |
About 150 Pearl Condos
Toronto is 'Silicon Valley North', the world's emerging tech superpower with the fastest growing tech market and fourth largest tech talent pool in North America. Multinationals are converging in the downtown core, where work/life amenities inspire innovation.
Here in the hub of interactivity are the high-octane residences of 150 Pearl Condos, the centre of future living.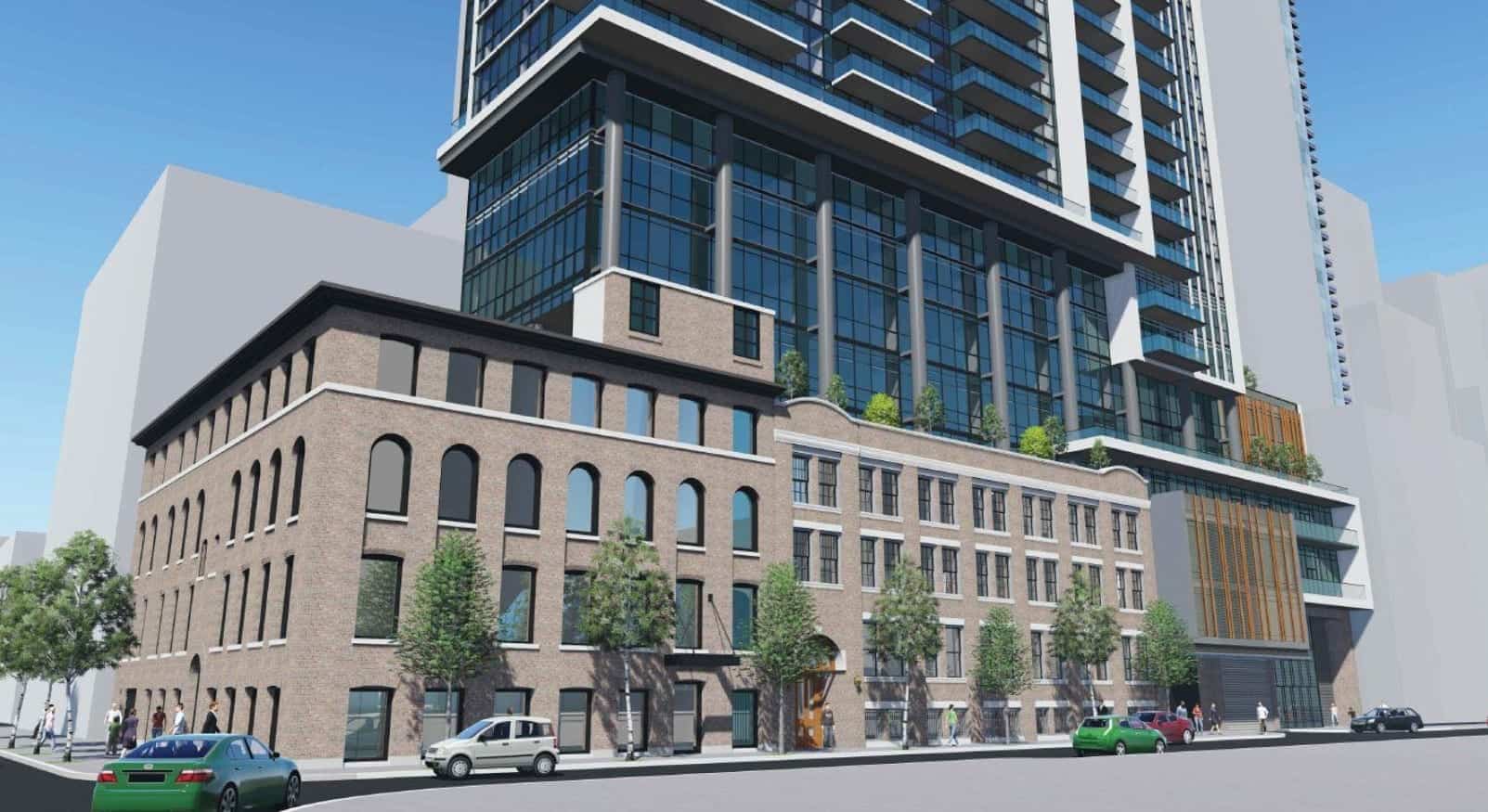 150 Pearl Condos Location
IN THE HEART OF EVERYTHING
Big city. Big dreams. This is where they live. At the intersection of energy and ambition 150 Pearl Condos sits front and centre, where the districts of entertainment, financial and tech converge. Steps from the most dynamic start-up market, a short walk from the best of King West, this is where tomorrow's influencers live, work and play. Transit. PATH. Everyday essentials are just minutes from its front door. Packed with restaurants, cafés, TIFF, theatres, sports arenas, 150 Pearl Condos  is in the centre of everything the city has to offer.
STEPS TO TORONTO'S MOST IMPORTANT STREET
150 Pearl Condos is steps to King Street West, the pulse of Toronto. From the longstanding restaurants and bars to the poetic shows of Toronto's theatres, King West has long been a magnet for nightlife, foodies and entertainment, and increasingly, high quality employment, such as:
Amazon

Google

Shopify

IBM

eBay

Mozilla

Oracle

Apple

The headquarters of all Big 5 Canadian Banks

Consulting firms such as E&Y, PwC, KPMG and Deloitte  
STEPS TO THE PATH AND TRANSIT
Very few condos have such quick access to the path the way 263 Adelaide Condos does, with quick access to Toronto's famed PATH network, the world's largest underground shopping complex, with over 371,600 square meters of retail space – shops, restaurants & services, connecting you to hundreds of thousands of jobs in finance, law, technology, consulting and healthcare. You have access to a number of rapid transit options including:
Walking distance to both the 504 King and 501 Queen Streetcars, the two most vital streetcar routes in the city, connecting you to any neighbourhood in the city

Walking Distance to St Andrew Subway (Line 1), allowing you to go from downtown to Vaughan, and everyone in between

Future Ontario Line rapid transit will be walking distance to 150 Pearl Condos
TORONTO'S BEST DINING
Toronto's Entertainment District features some of the top-rated restaurants anywhere in the city, and for good reason. At 150 Pearl Condos, whatever cuisine you find yourself craving, you'll find it nearby
Alo (consistently rated as Toronto's top restaurant)

Labora

Chotto Matte

Kai

Aloette 

Pai

La Carnita

Byblos

Michael's on Simcoe

Cactus Club Cafe

Figo

Khao San Road

Luma

Pizzeria Libretto
About the Developer
The company's founder, Mr. Ted Libfeld, has been one of the outstanding contributors to Toronto's new home industry. Among his many achievements, Mr. Libfeld was responsible for innovative financial programs that made home ownership affordable to thousands. In 2000, Mr. Libfeld was recognized with the "First Presidential Award of Merit" for his exceptional contributions to the new home industry by his peers and inducted into the Greater Toronto Home Builders' Association Hall of Fame.
Today, his legacy is ably carried on by his four sons, who are leading The Conservatory Group's competent team of professionals through many more decades of success.
How do I reserve a unit in this project?
After you review the floor plans and prices, if you know what suites you are interested in, you may reserve a suite online using our online reservation worksheet form at https://truecondos.com/worksheet.
Does filling out the worksheet form mean I'm committing to buy a suite?
No it is not a formal commitment, it is an expression of interest and the first step you must take if you are thinking about getting a unit in this project.
What does it mean that Andrew la Fleur is a "Platinum Agent"?
Platinum agents are the top selling agents who get preferred status with developers and first access to new projects before regular agents and the public.
Andrew la Fleur has been a top-selling pre-construction agent since 2007, and during this time he has achieved platinum status with many of the top builders and sales companies in the Greater Toronto Area.
For more information on about Platinum agents see this article: https://truecondos.com/5-things-to-know-about-buying-a-condo-with-a-platinum-vip-realtor-real-estate-agent/
How does it benefit me as a buyer to work with Andrew la Fleur as my Platinum Agent?
Working with me as your Platinum agent gives you several benefits
You get the

highest level of access

in the building

You pay the

lowest possible price

for the unit (prices are typically increased significantly after the Platinum sales event)

The best possible

incentives

I do not represent the builder. I represent you. You benefit from my expertise of being a top selling pre-construction agent and investor myself since 2007.

Access to my personal network of mortgage brokers, lawyers, property management, HST rebate services, handymen and much more.

My services to you as a buyer are

free
Do I get a cooling off period? What is it for?
Yes, after you sign the contract to purchase a suite you will have a standard 10-day cooling off period. It's 10 calendar days, not business days from the time you sign.
The 10 days are primarily for 2 things: 1) to have a lawyer review your contract with you if you wish and 2) to get a mortgage pre-approval letter
Do I need to have a lawyer?
You don't need to have a lawyer at the moment that you sign the agreement, however I always recommend that you have a qualified lawyer review your agreement of purchase and sale after you sign and during your 10-day cooling off period.
Not sure who to talk to? Don't worry – getting a lawyer is something I can help you with. Contact me for more details.
Do I need to have a mortgage pre-approval to buy?
95% of all builders will require you to provide them with proof of financing capability in order to purchase. This is not required before you sign a contract, but it is usually required within 60 days of signing.
Not sure where to begin? Don't worry – getting a mortgage pre-approval is something that I can help you with. Contact me for more details.
Do the prices include HST?
If you are purchasing for yourself and plan to move in, then yes, prices include the HST and there is nothing you will have to pay at final closing.
If you are purchasing as an investment rental property, then you will have to pay approximately 7.8% of the purchase price as HST on final closing.
This money is remitted to the CRA and as an investor renting out your property you can apply to the CRA immediately to get this money back. It usually takes about 1 month to get your rebate back.
For more information on the HST, see here:
https://truecondos.com/tag/hst-rebates/
Contact me for more details.
What are my closing costs on a pre-construction condo?
Closing costs on a pre-construction condo will vary greatly depending on the actual purchase price of the unit you are buying, but it also depends on the builder, the city that you are buying in, and the type of unit that you are buying.
Roughly speaking in Toronto you can expect to pay approximately 3-5% of the purchase price in closing costs when purchasing a brand new condo.
Check out this article for more info on closing costs:
https://truecondos.com/5-things-to-know-about-closing-costs-when-investing-in-a-pre-construction-condo/
Contact me for more details
Are there any 'hidden' costs when buying a pre-construction condo?
No, there are no hidden fees when buying pre-construction condos because all fees must be disclosed in the agreement of purchase and sale. All purchasers have 10 days to review the agreement and have a lawyer advise them on the exact closing cost amounts. If you need a lawyer to help you we can suggest to you to several expert law firms that will review your agreement in detail.
Is it possible to assign my condo? How much is the assignment fee?
Most condo builders do allow you to sell your unit before the building is complete. This projcess is called selling by "assignment".
There is usually an assignment fee and a legal fee associated with selling. Costs can range from $1000-7000. Contact me for more details.