181 East Condos
| | | | |
| --- | --- | --- | --- |
| | Address | 181 Sheppard Avenue East, Toronto | |
| Developer | Stafford Homes & Greybrook Realty Partners | Occupancy | Fall 2023 |
| Area | Willowdale | Deposit | 10% Before Occupancy |
| Storeys | 9 | Maint. Fees | $0.60 psf/m |
| Units | 185 | Prices | Mid $500,000s |
Get the True Condos Insider Market Advantage for FREE!
Along with instant access to this project, after signing up you will receive:
✅ Access to DAY 1 Platinum VIP pricing
✅ Best selection of units
✅ Opportunity to reserve your unit via worksheet before the general public
✅ Work with a condo investing specialist (someone who currently invests in the condo market and has sold hundreds of condos)
✅ Expert analysis on the 5% of condos worth investing in Toronto and the GTA
About 181 East Condos
181 East is a boutique development at the corner of Sheppard Ave E. and Willowdale Ave., designed to elevate the neighbourhood to new heights.
With tiered terraces flanked with greenery, modern windows and pops of bold colour, it strikes a luxurious balance between uptown sophistication and innovative urban design.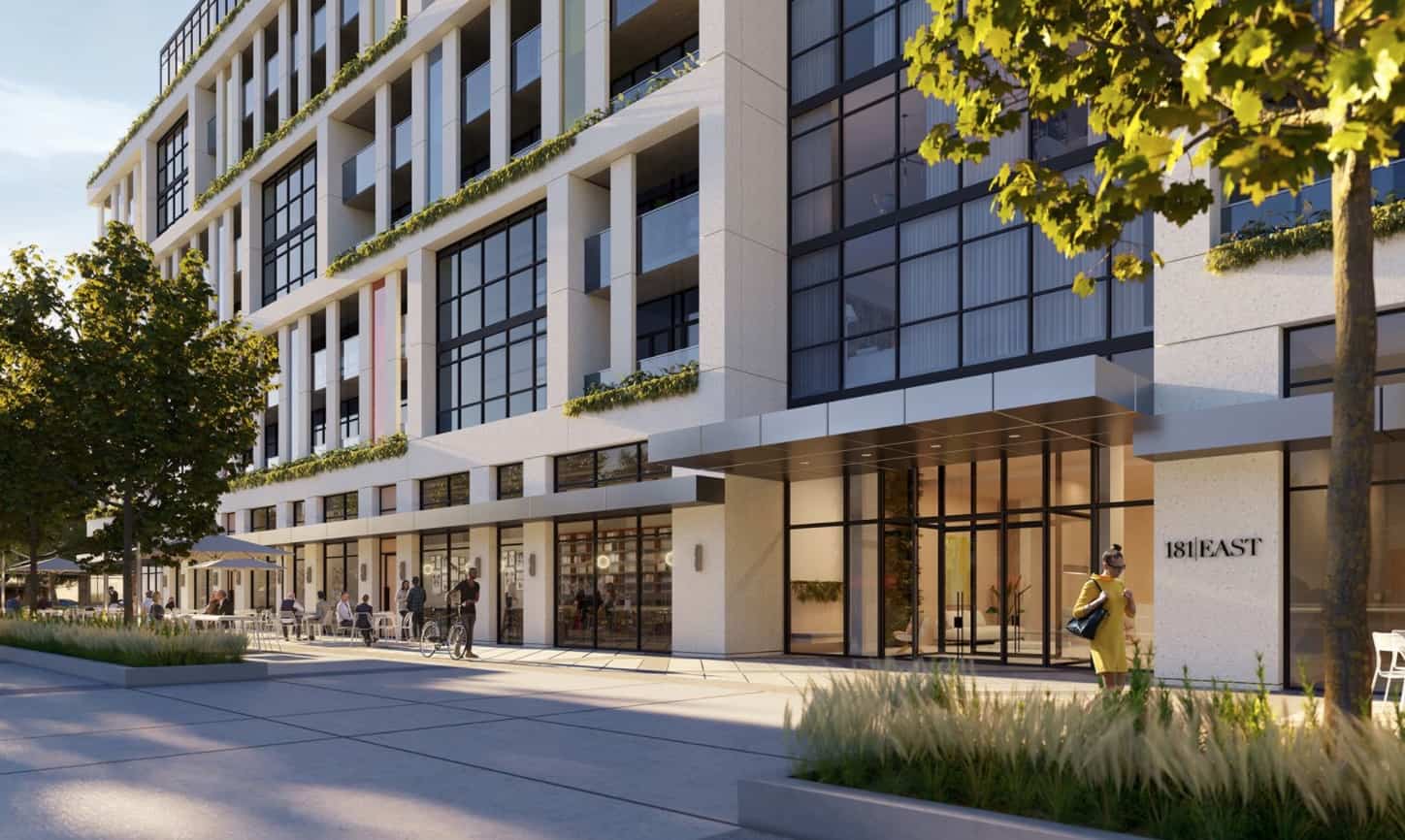 181 East Condos Location
WELCOME TO NORTH YORK
Art, fashion, sport, food, business and entertainment converge in this metropolitan neighbourhood where community, creativity and culture intersect.
Shop curated collections and haute couture, at Toronto's most fashionable destinations, all within a 15-minute drive.
Luxury brands and designer labels can be found at Bayview Village Shopping Centre and renowned Yorkdale Shopping Centre.
Exclusive shops, trendy restaurants and highly-sought services are steps from the front door. Venture east and discover the high-end retailers of Bayview Village Shopping Centre or The Shops of Don Mills. Travel south to Aga Kahn museum – dedicated exclusively to Islamic arts. Head west to explore the thriving, metropolitan strip at Yonge And Sheppard.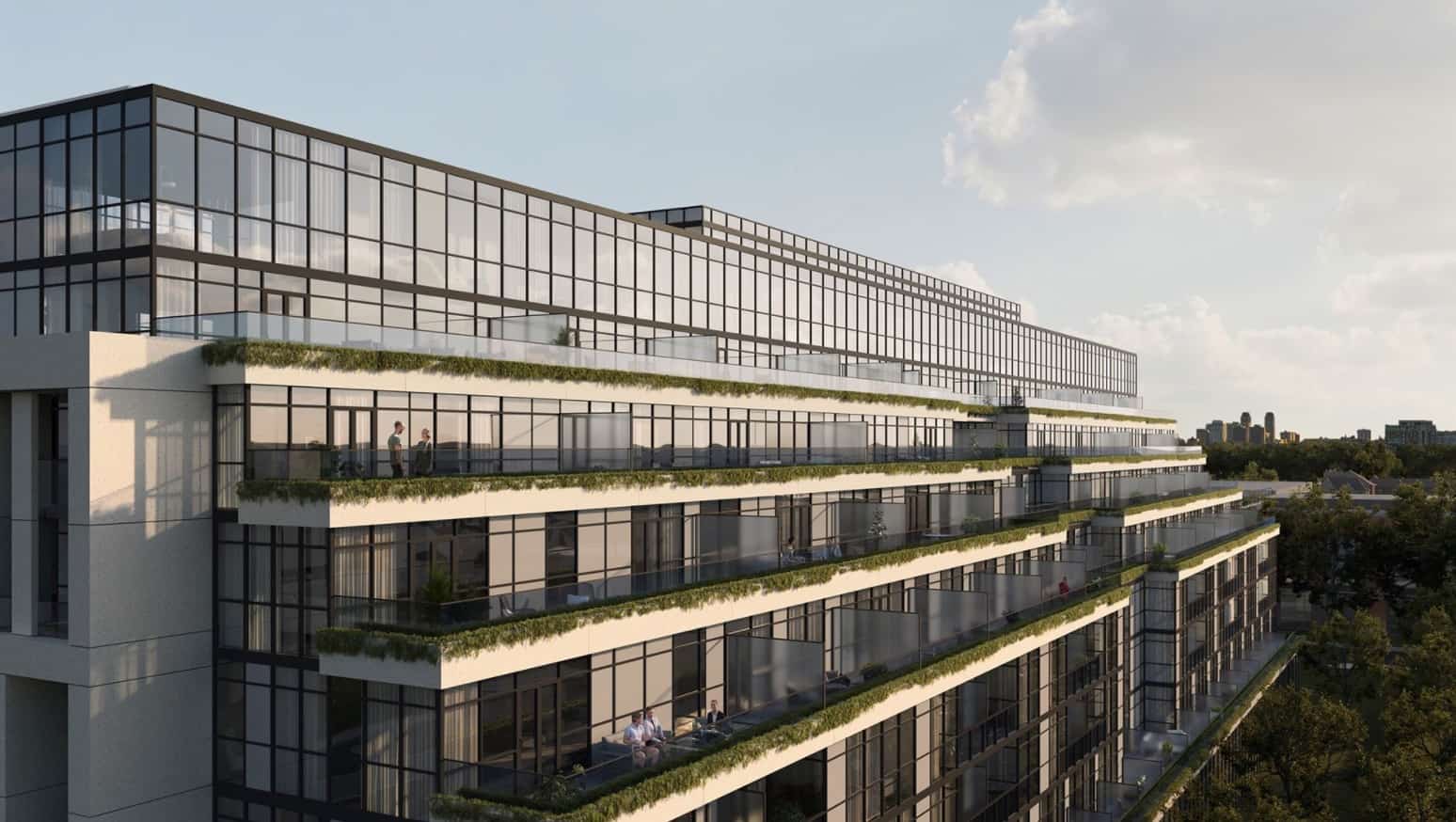 181 East Condos Amenities 
When you leave the city behind and step into the calming lobby of 181 East, the understated luxury speaks volumes.
LOBBY
The field elm wood slats found through-out the common areas instill warmth and a sense of calm. The elegant glass panel feature wall brings architectural building elements right into your lobby.
CO-WORKING SPACE
A prominent backlit curved bookcase feature offers a quiet spot for reading or relaxation. Multi-use space offers areas for private work, collaboration and open discussion at the coffee bar.
EVENT LOUNGE
This flexible space includes a tasting kitchen for intimate gatherings and a party room for larger ones. You can also open up the entire area, to the adjacent terraces.
FITNESS STUDIO
Take your workouts into the fresh air in the indoor/outdoor fitness space with attached terrace. With a free weight room, yoga studio and cardio machines, you can work out your way.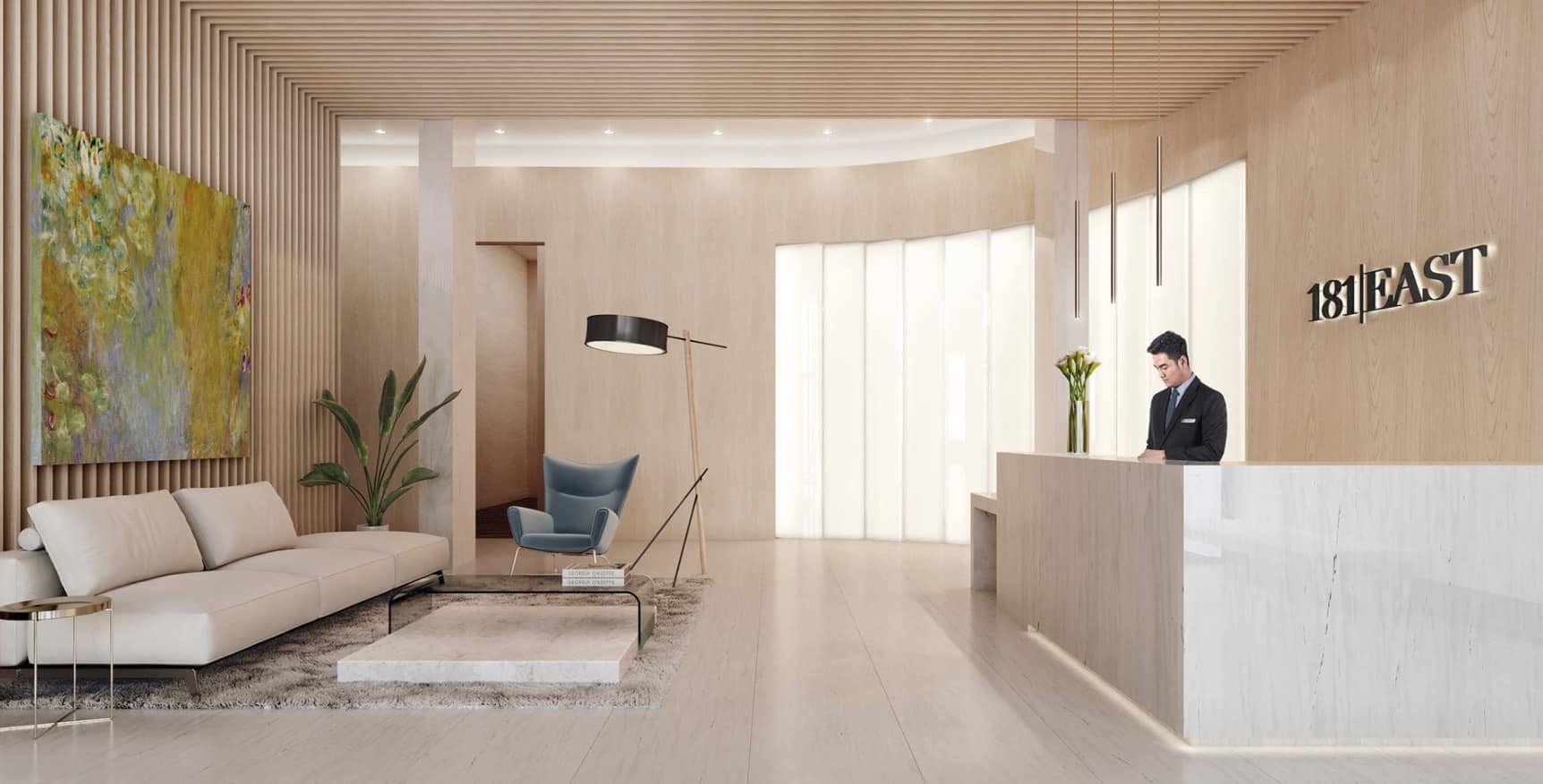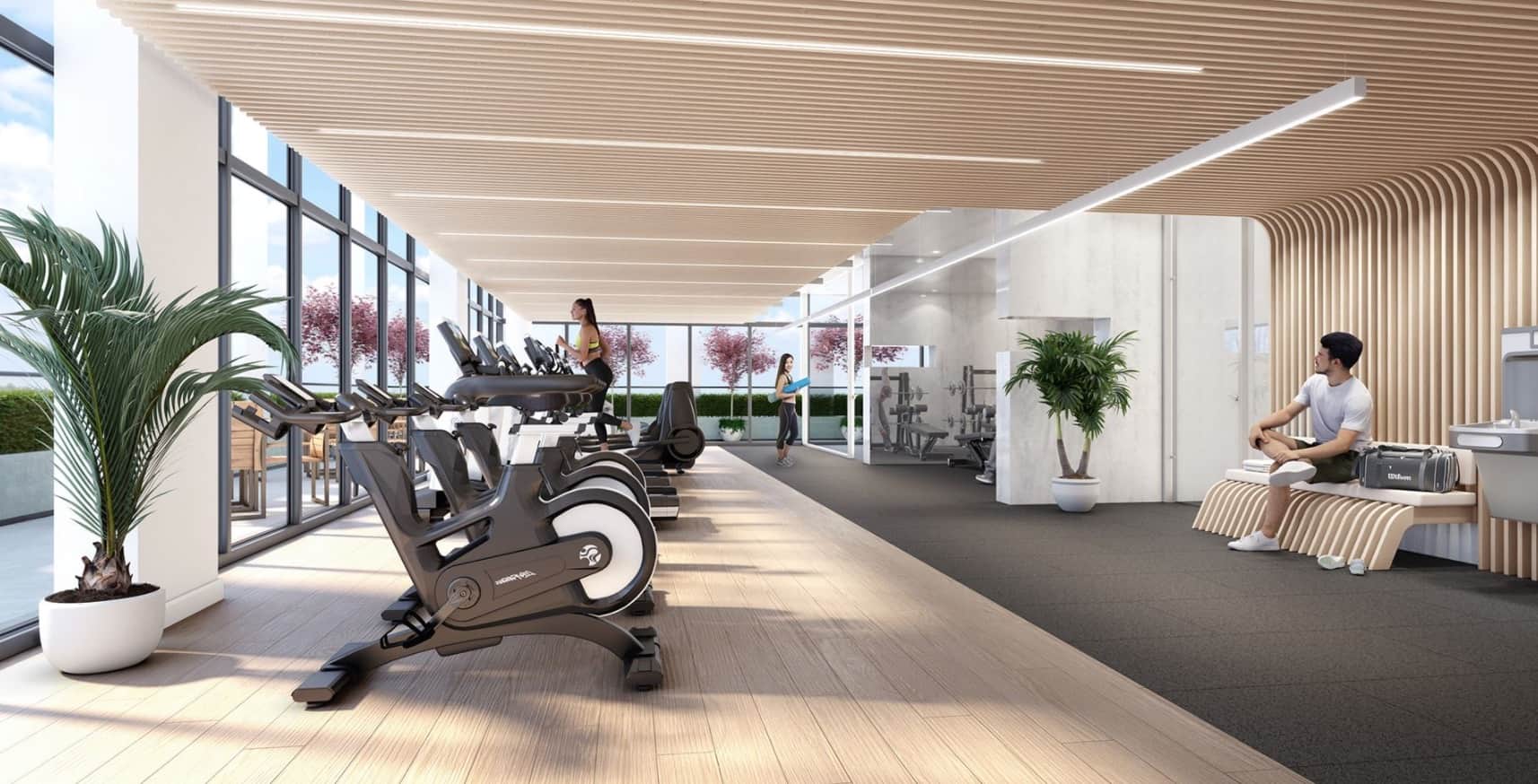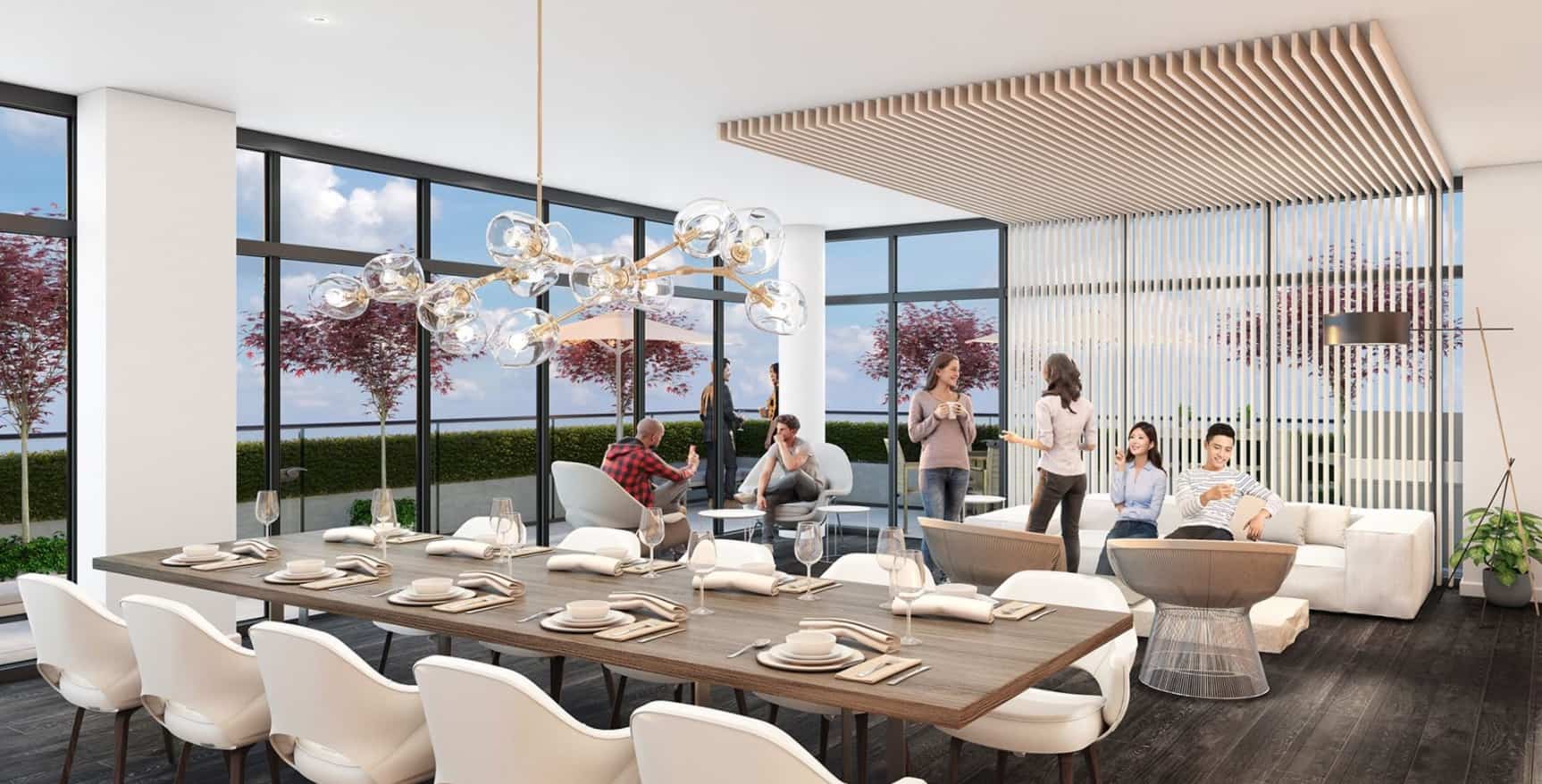 181 East Condos Features and Finishes 
SUITES
Units offer an array of views with beautiful green spaces. Unobstructed views west and south towards downtown Toronto. Facing north, views here look out over low-rise residential neighbourhoods and green space.
PANORAMIC VIEWS
The 'Modern' colour scheme features a crisp white kitchen and light flooring. Spacious living-dining on corner unit has windows on two sides and terrace.
SPACIOUS DESIGN
This is open concept living at its finest, perfect for entertaining. 'Transitional' colour scheme adds visual appeal with darker lower cabinets and lighter uppers.
LUXURY KITCHEN
A touch of traditional design elements and warm toned finishes create an elegant kitchen space with a luxury vibe.
ENSUITE BATHROOM
"Modern" colour scheme creates a spa-like setting. Oversized walk-in shower with premium rain shower-head and fixtures.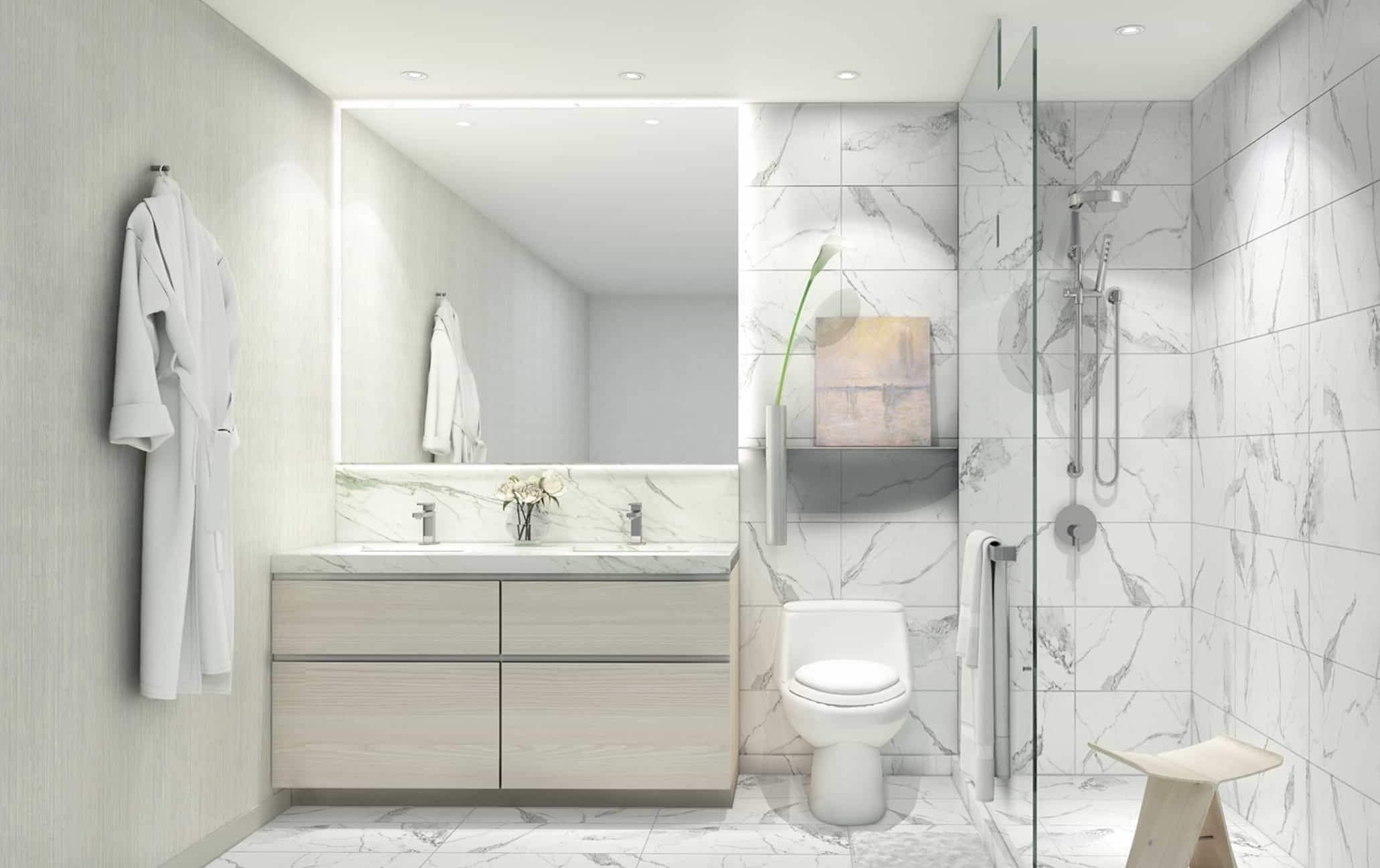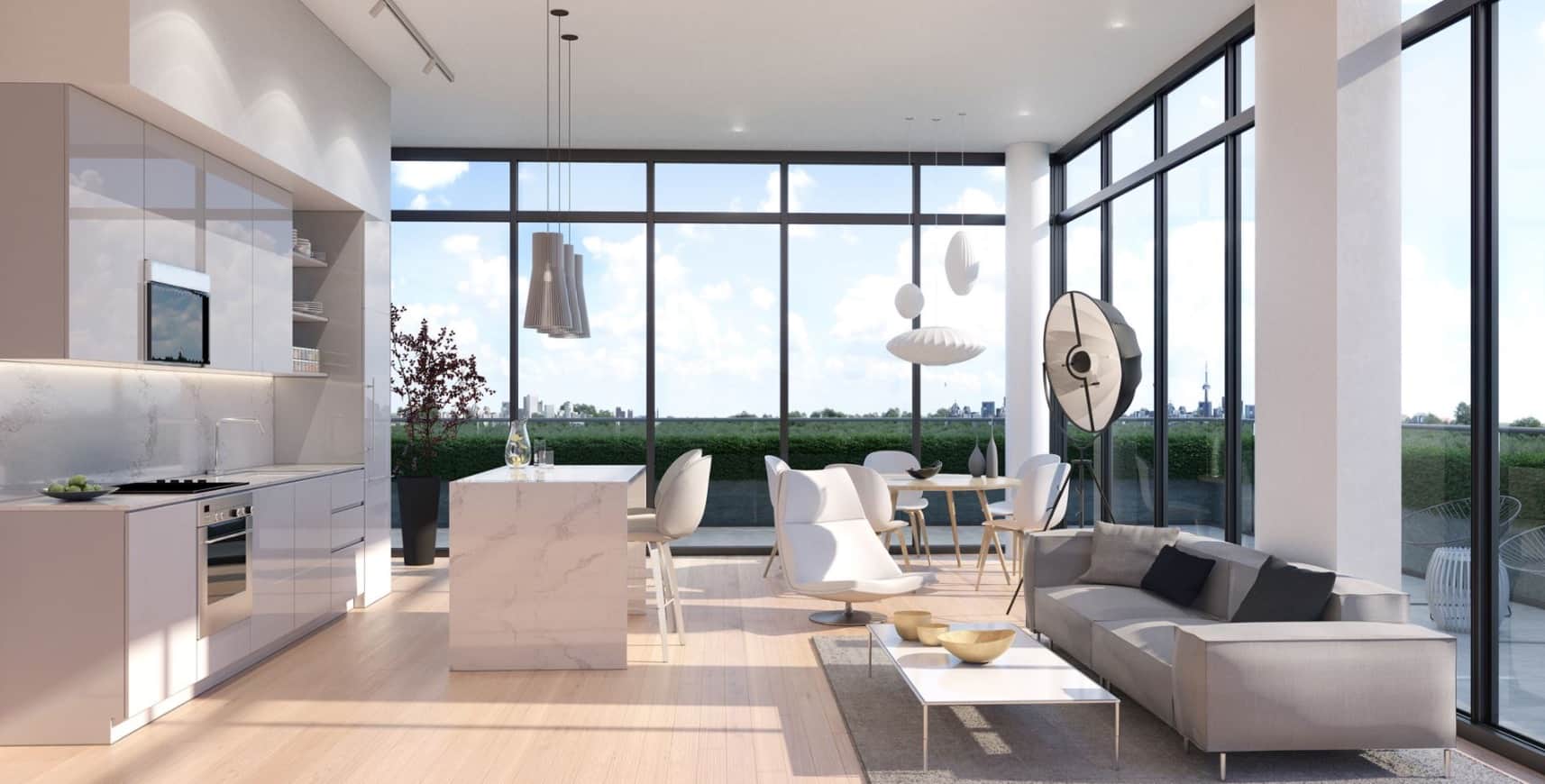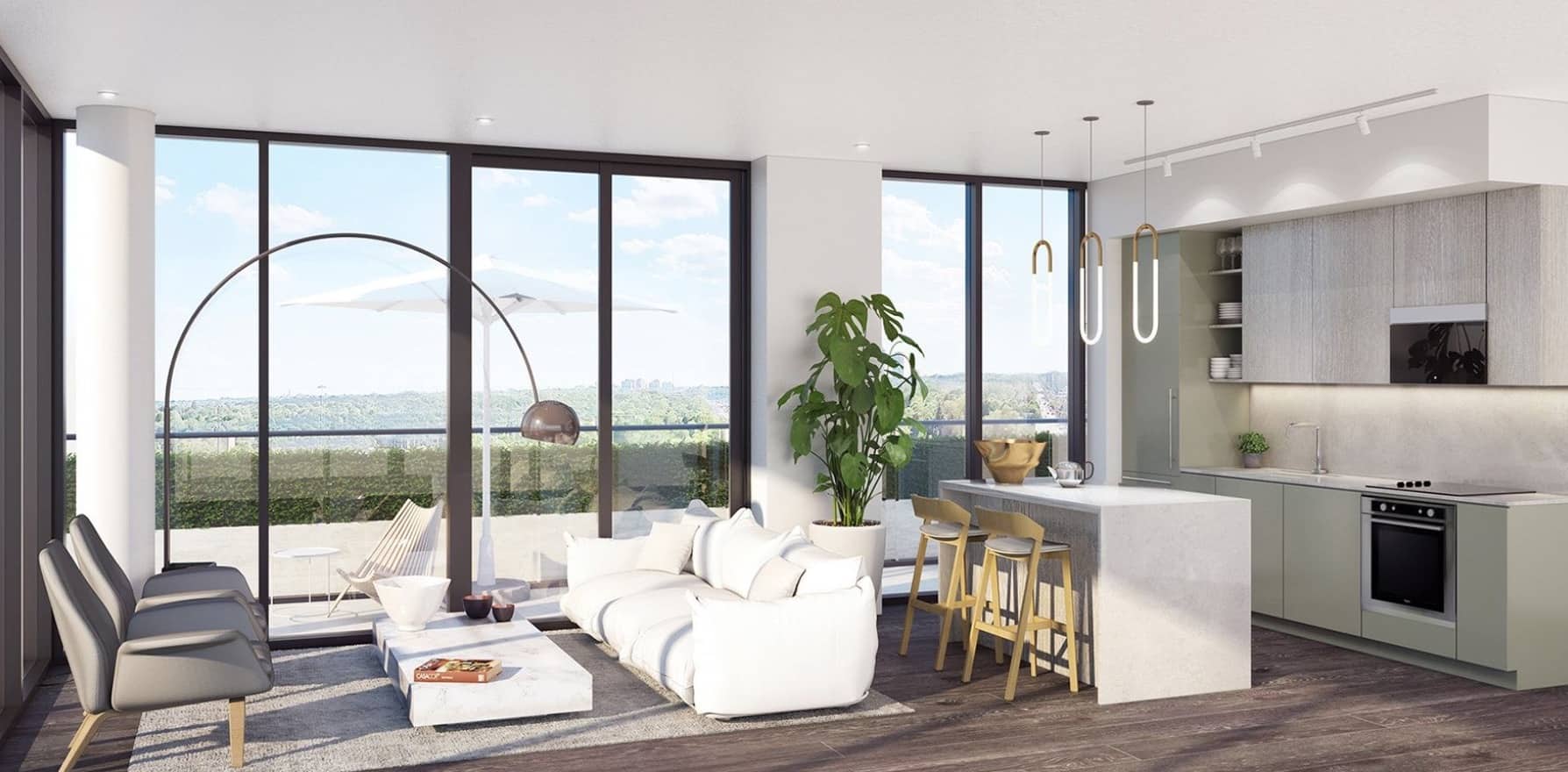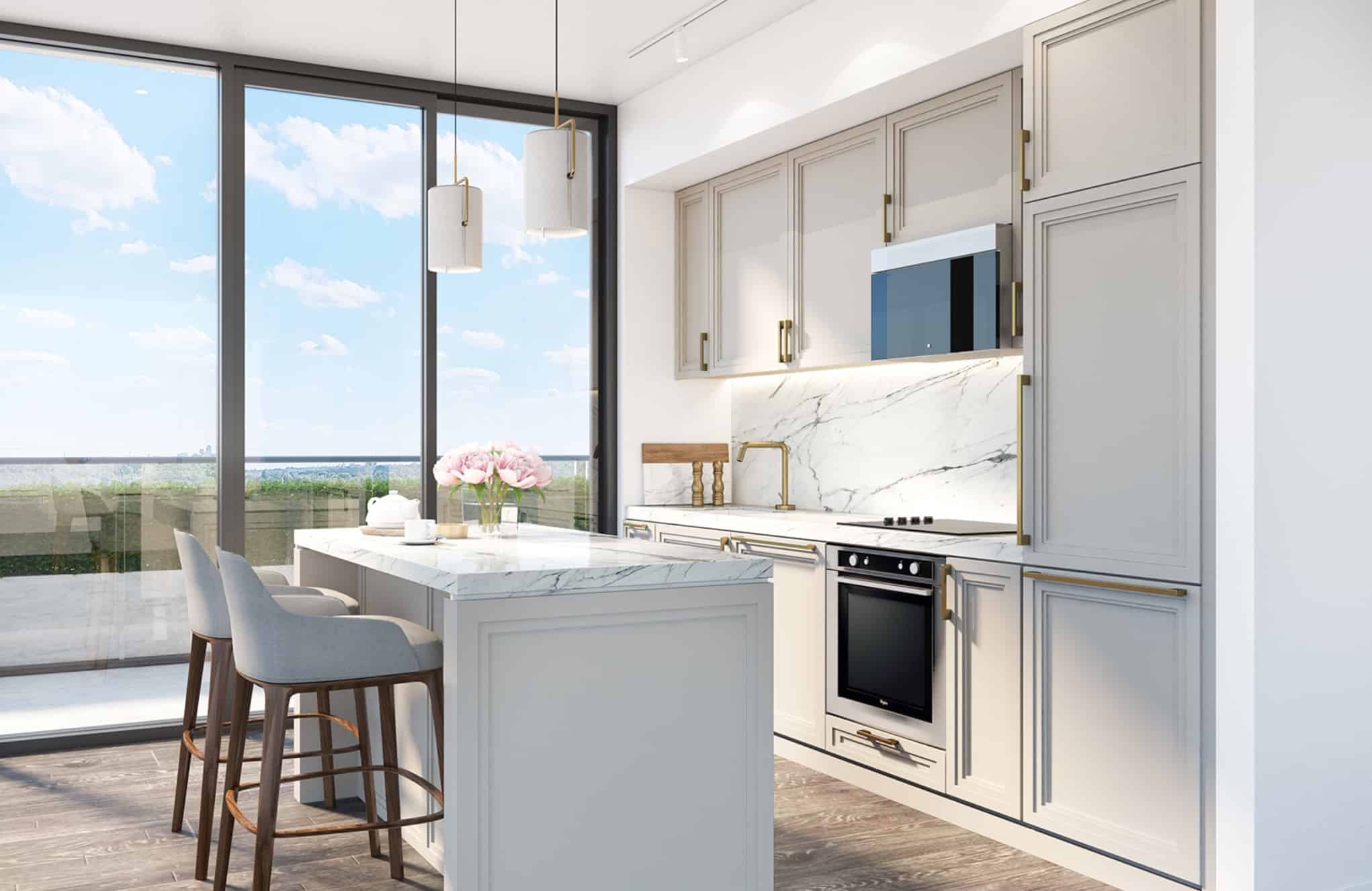 About the Developer
FOUR GENERATIONS OF BUILDING TRADITION
Stafford along with its sister company The Goldman Group are fully diversified private property development companies which have been carrying out land development, construction and property management in Canada and the United States for more than 50 years.
PHILOSOPHY
At Stafford what we care about most is the commitment we make to build you a home that goes beyond meeting your satisfaction, a place that you can be proud of.
As one of Toronto's most experienced and innovative real estate development companies, Stafford has earned a reputation for construction quality, beautiful designs and efficient living spaces while consistently developing award winning projects on time and in accordance with the highest standards in the industry.
We take pride in every single community we build and what is most important to us, is you.
Greybrook Realty Partners is the real estate investment and asset management division of Greybrook Capital, a North American private equity firm focused on making investments in the real estate and healthcare sectors. We invest in a range of real estate asset classes with one goal in mind: generate exceptional risk-adjusted returns for our investors while contributing to the economic prosperity of communities in our target markets.
How do I reserve a unit in this project?
After you review the floor plans and prices, if you know what suites you are interested in, you may reserve a suite online using our online reservation worksheet form at https://truecondos.com/worksheet.
Does filling out the worksheet form mean I'm committing to buy a suite?
No it is not a formal commitment, it is an expression of interest and the first step you must take if you are thinking about getting a unit in this project.
What does it mean that Andrew la Fleur is a "Platinum Agent"?
Platinum agents are the top selling agents who get preferred status with developers and first access to new projects before regular agents and the public.
Andrew la Fleur has been a top-selling pre-construction agent since 2007, and during this time he has achieved platinum status with many of the top builders and sales companies in the Greater Toronto Area.
For more information on about Platinum agents see this article: https://truecondos.com/5-things-to-know-about-buying-a-condo-with-a-platinum-vip-realtor-real-estate-agent/
How does it benefit me as a buyer to work with Andrew la Fleur as my Platinum Agent?
Working with me as your Platinum agent gives you several benefits
You get the

highest level of access

in the building

You pay the

lowest possible price

for the unit (prices are typically increased significantly after the Platinum sales event)

The best possible

incentives

I do not represent the builder. I represent you. You benefit from my expertise of being a top selling pre-construction agent and investor myself since 2007.

Access to my personal network of mortgage brokers, lawyers, property management, HST rebate services, handymen and much more.

My services to you as a buyer are

free
Do I get a cooling off period? What is it for?
Yes, after you sign the contract to purchase a suite you will have a standard 10-day cooling off period. It's 10 calendar days, not business days from the time you sign.
The 10 days are primarily for 2 things: 1) to have a lawyer review your contract with you if you wish and 2) to get a mortgage pre-approval letter
Do I need to have a lawyer?
You don't need to have a lawyer at the moment that you sign the agreement, however I always recommend that you have a qualified lawyer review your agreement of purchase and sale after you sign and during your 10-day cooling off period.
Not sure who to talk to? Don't worry – getting a lawyer is something I can help you with. Contact me for more details.
Do I need to have a mortgage pre-approval to buy?
95% of all builders will require you to provide them with proof of financing capability in order to purchase. This is not required before you sign a contract, but it is usually required within 60 days of signing.
Not sure where to begin? Don't worry – getting a mortgage pre-approval is something that I can help you with. Contact me for more details.
Do the prices include HST?
If you are purchasing for yourself and plan to move in, then yes, prices include the HST and there is nothing you will have to pay at final closing.
If you are purchasing as an investment rental property, then you will have to pay approximately 7.8% of the purchase price as HST on final closing.
This money is remitted to the CRA and as an investor renting out your property you can apply to the CRA immediately to get this money back. It usually takes about 1 month to get your rebate back.
For more information on the HST, see here:
https://truecondos.com/tag/hst-rebates/
Contact me for more details.
What are my closing costs on a pre-construction condo?
Closing costs on a pre-construction condo will vary greatly depending on the actual purchase price of the unit you are buying, but it also depends on the builder, the city that you are buying in, and the type of unit that you are buying.
Roughly speaking in Toronto you can expect to pay approximately 3-5% of the purchase price in closing costs when purchasing a brand new condo.
Check out this article for more info on closing costs:
https://truecondos.com/5-things-to-know-about-closing-costs-when-investing-in-a-pre-construction-condo/
Contact me for more details
Are there any 'hidden' costs when buying a pre-construction condo?
No, there are no hidden fees when buying pre-construction condos because all fees must be disclosed in the agreement of purchase and sale. All purchasers have 10 days to review the agreement and have a lawyer advise them on the exact closing cost amounts. If you need a lawyer to help you we can suggest to you to several expert law firms that will review your agreement in detail.
Is it possible to assign my condo? How much is the assignment fee?
Most condo builders do allow you to sell your unit before the building is complete. This projcess is called selling by "assignment".
There is usually an assignment fee and a legal fee associated with selling. Costs can range from $1000-7000. Contact me for more details.