199 Church Condos
About 199 Church Condos
You are constantly shifting gears. From the moment morning breaks till night falls, your day, your life is moving from point A to point B. From one thing to another. Be it work or play. Shop or dine. Rest or exercise, you are always doing something. Taking on new roles. Trying out new things. In this busy environment, there's one place that accommodates your every state of being.
That place is 199 Church Condos, your home in this big city.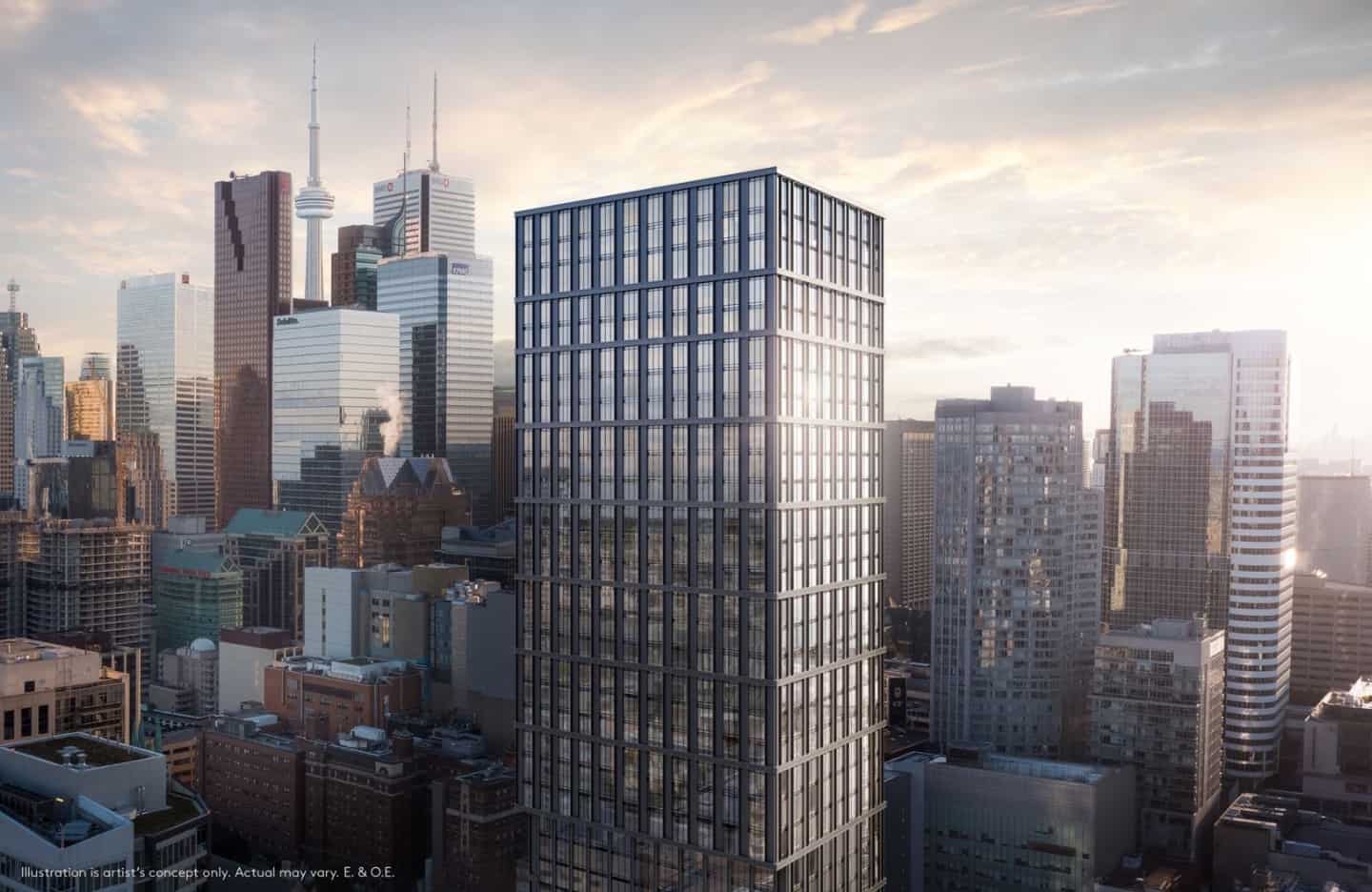 199 Church Condos Location
199 Church Condos will be located south of Dundas Street East, and north of Shuter Street, on the east side of Church Street at 199 Church Street in Downtown Toronto, ON.
Every place that is important, everything that's necessary is steps from 199 Church. Tucked in the heart of downtown, convenience lives here.
It's easy to switch to work mode when you live at 199 Church. Bay Streeters, the Financial District is simply minutes from your door. If learning is the centre of your universe, take note: Ryerson University is just steps away. The corporate hub of Yonge and Bloor, hospitals, businesses big and small are close or a quick transit or bike ride away.
With Dundas TTC around the corner, all you high achievers will find a perfect work/life balance. If you've got play on your mind, this is the place to be. On any given day, you can immerse yourself in the energy of Yonge-Dundas Square, update your closet at the Eaton Centre, catch a show at the numerous theatres or savour the many flavours and cuisines in the restaurants that surround your home.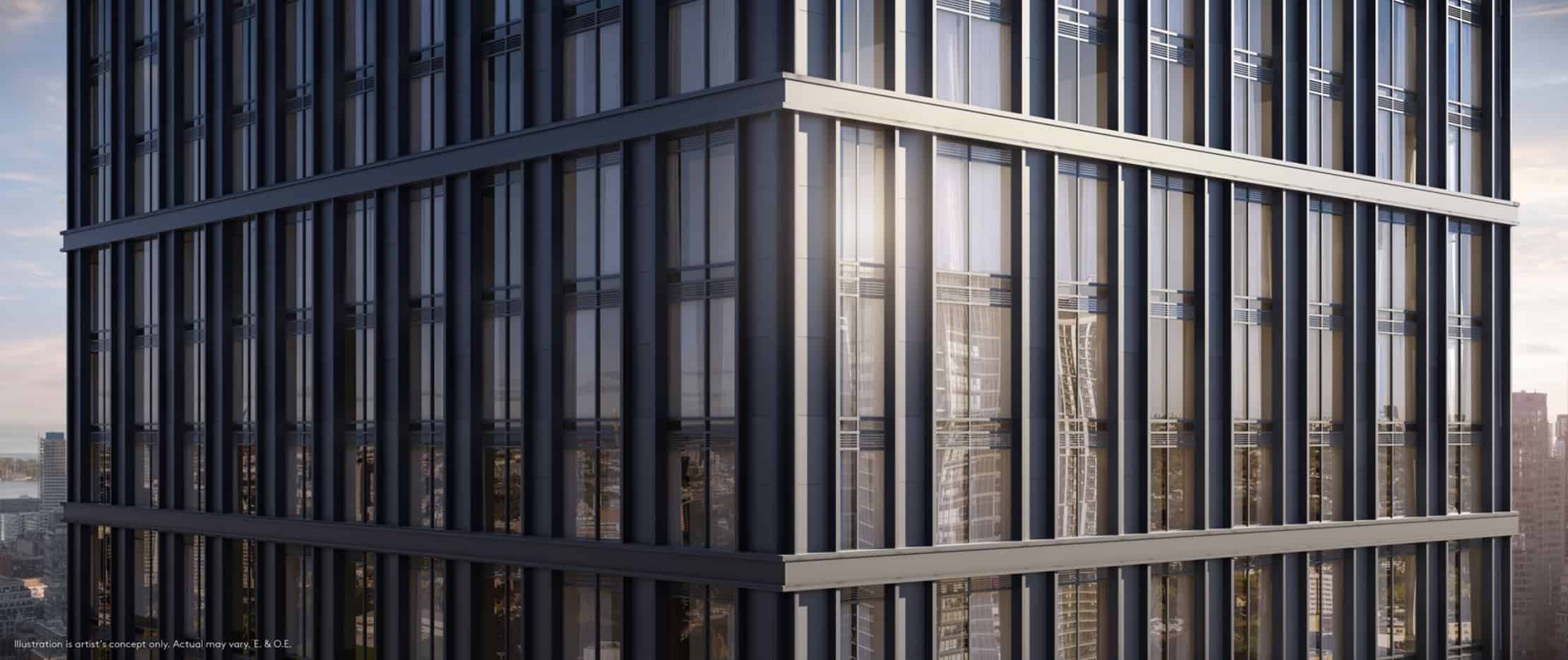 199 Church Condos Features and Finishes
The most important place at 199 Church Condos is your suite. Designed to complement your life story and its many chapters, this is where you will be happy, comfortable, and restful.
Light and bright, every suite here has expansive windows, a sleek kitchen, and spa-like bathrooms. Every little detail of your suite offers that necessary measure of luxury you deserve.
BUILDING
> 24 hour, 7 days a week concierge
> Security coded access fob for all residents
> Two guest suites provided for resident's use
> Individual suite hydro, BTU and water metering
> Automated parcel storage
SUITES
> Smooth finished ceilings throughout
> Choice of flooring throughout entry, kitchen,
dining, living areas and bedrooms from
builder's standard samples
> Painted baseboards, door frames and casings
> TV/telephone outets in living/dining room and bedrooms
> Smoke detectors and sprinkler system
KITCHENS
> Kitchen cabinetry from builder's standard samples
> Countertop from builder's standard samples
> Undermount stainless steel sink
APPLIANCES
> Refrigerator
> Cooktop and oven
> Microwave
> Exhaust fan insert
> Dishwasher
> Stacked washer and dryer
BATHROOMS
> Countertop from builder's standard samples
> Tile from builder's standard samples
> Sink and faucet
> Bathroom cabinetry from builder's
standard samples
> Bathtub with shower curtain rod, faucet,
controls and shower head, as per plan
> Shower with enclosure, as per plan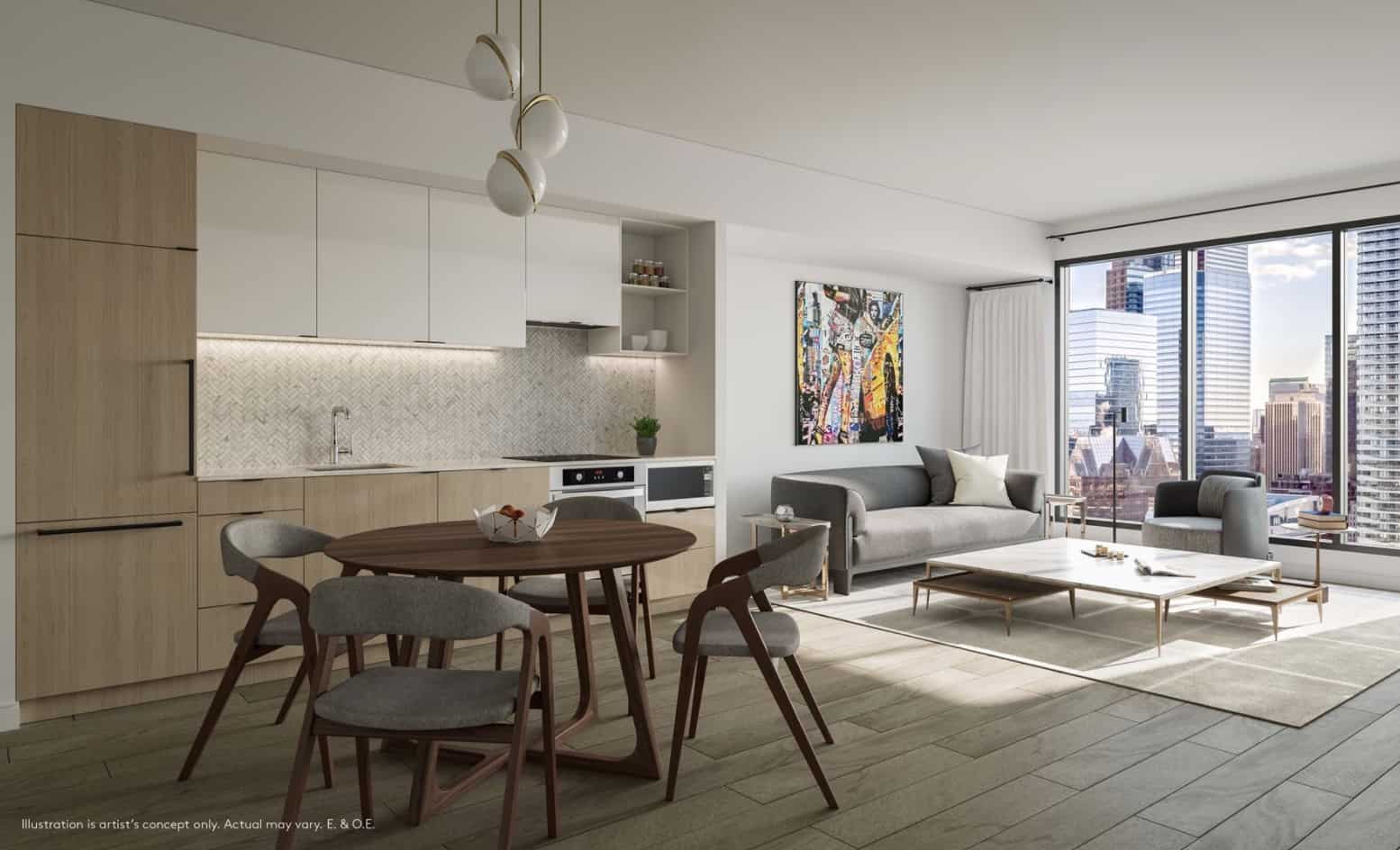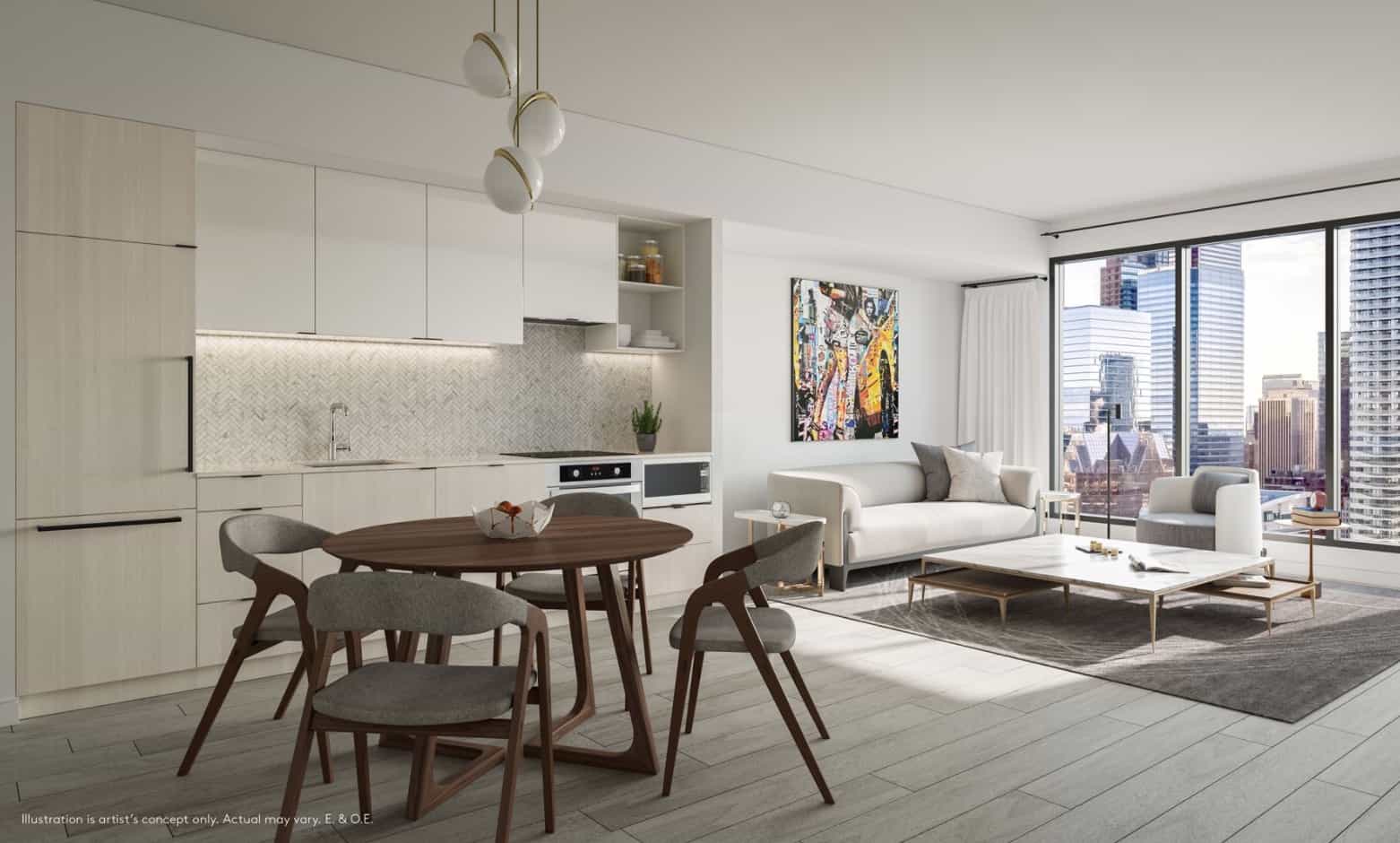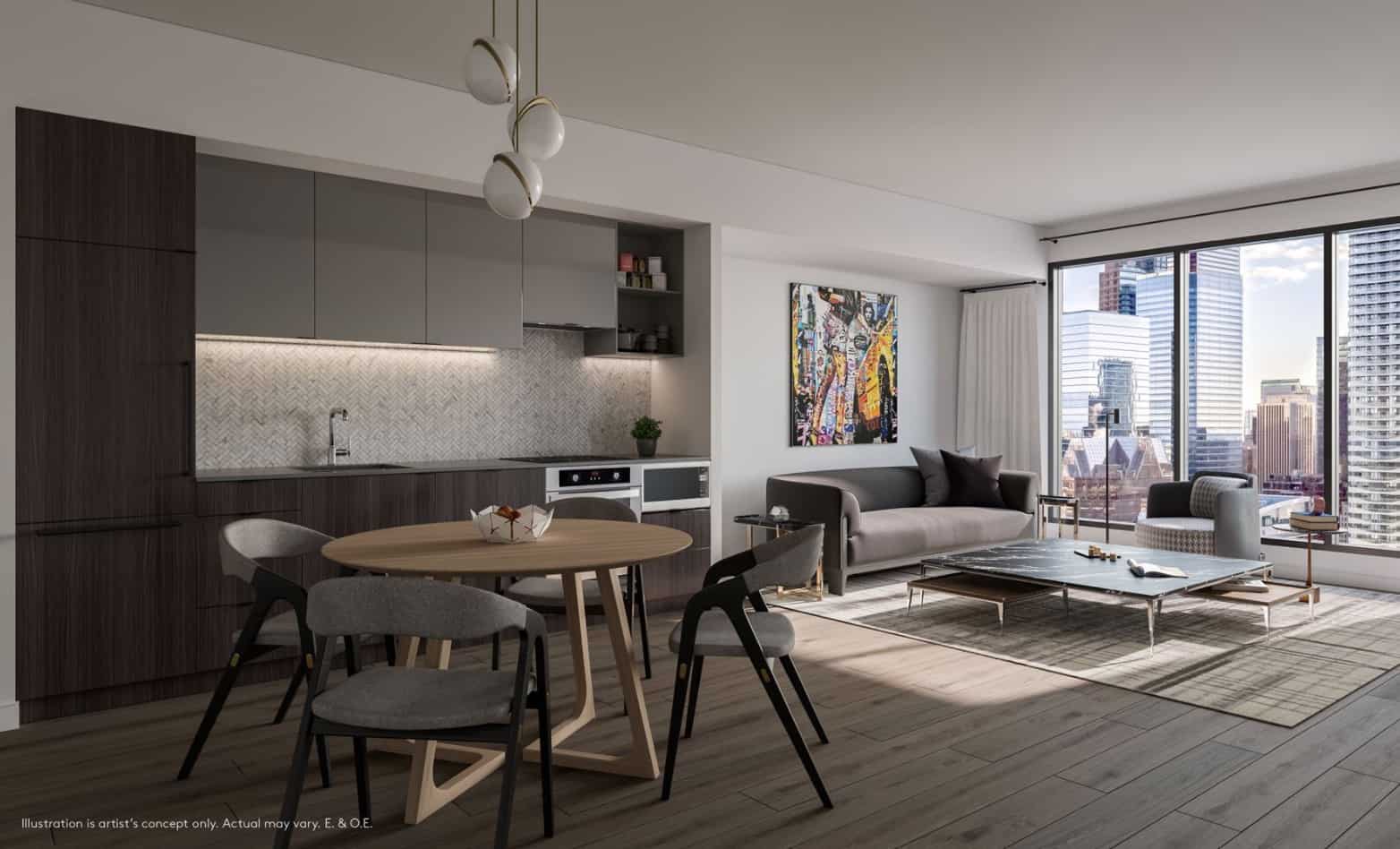 199 Church Condos Amenities
When you want to meet, greet or welcome friends and family, the lobby is a great place to do all that. Styled with accents of matte black and glossy white, its modern minimalist aesthetic makes a memorable first impression. Outfitted in Fendi furniture and captivating art, the space makes a chic and very hip statement.
With all the things you like to do and want to do, this condominium fits your life to a tee. Just like you, wellness has a special place at 199 Church.
Here you can achieve all your fitness and feel-good goals. Spread out over 4,800 sf, the wellness zone comes kitted with state- of-the-art equipment, separate zones for cardio, weights, yoga and more. Surrounded by an expanse of outdoor space, you have the freedom to take your stay fit routine outside under the sky. It's also great for relaxing and enjoying the breeze.
Once you're done feeling good, you can switch to work or play just as easily. Right above the wellness zone is a shared workspace that embraces many functions.
During the day, it's a great place to think, ideate, and get stuff done. Inspired by the workspaces of leading technology companies, like Google, this all encompassing space provides a mix of large open areas and private meeting enclosures ideal for work and study.
Outfitted with banquettes, communal tables, gatherings of soft seating and a servery, the space is carefully curated for contemplative and engaging activities. With everything it has to offer, it's easy to be you at 199 Church Condos.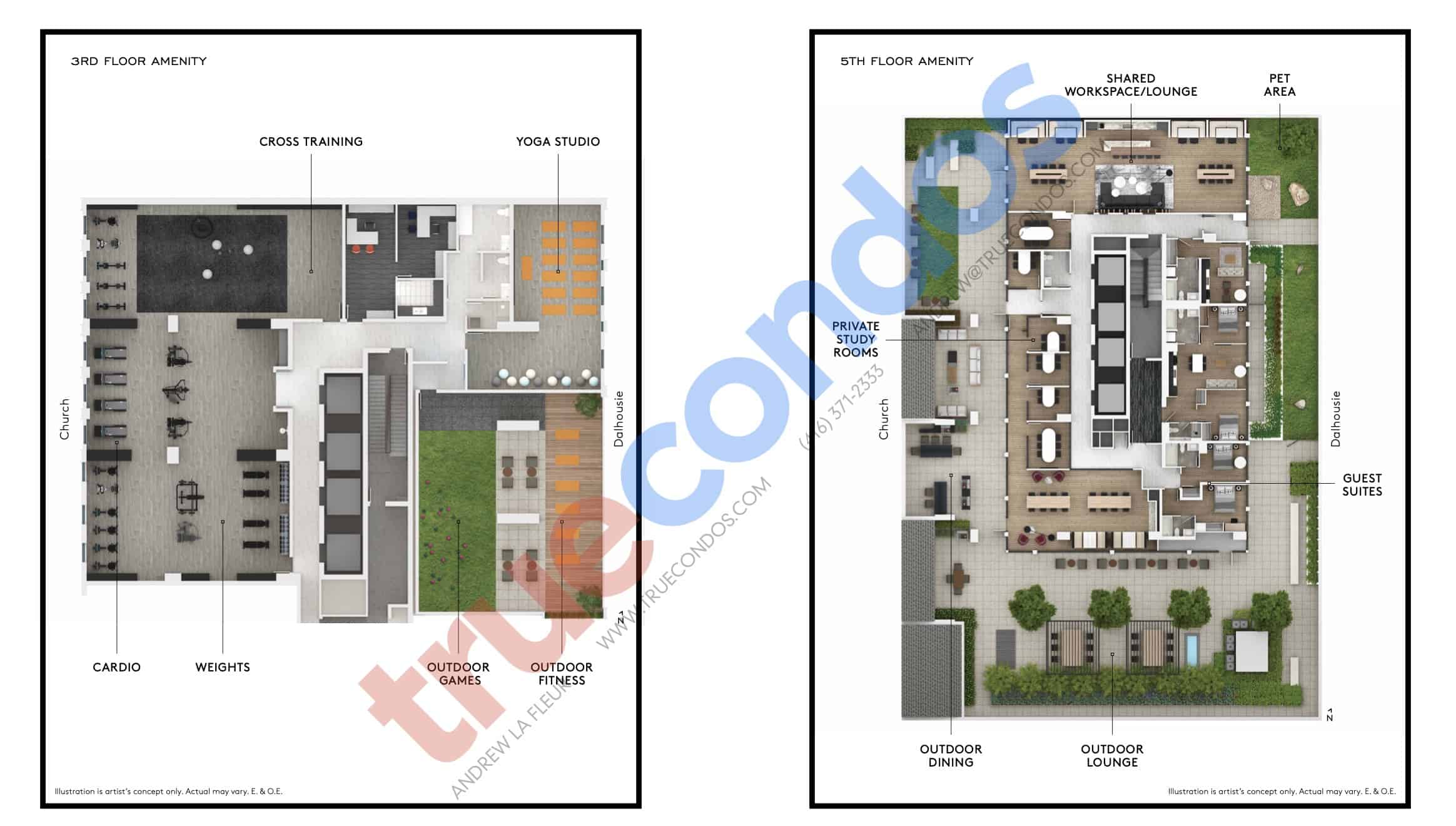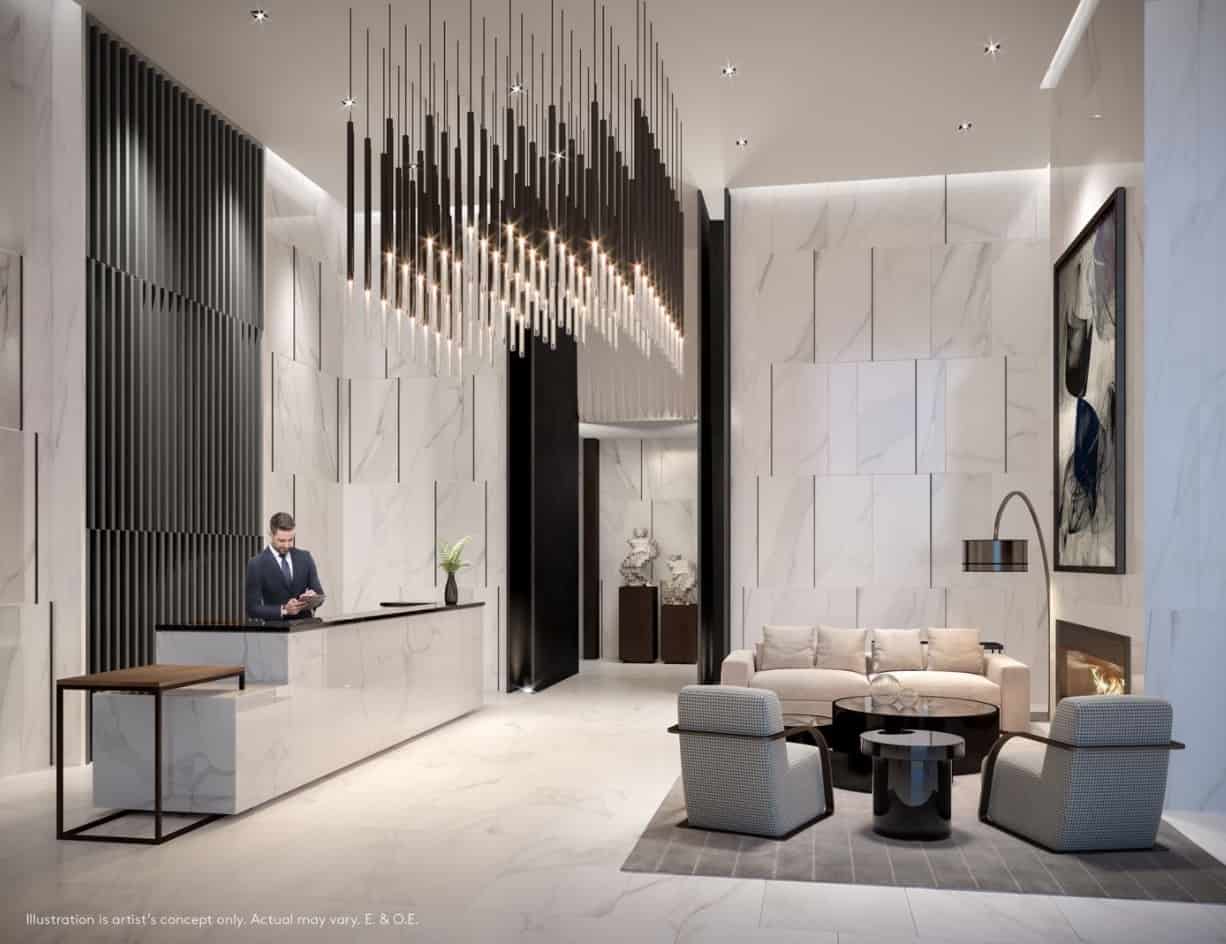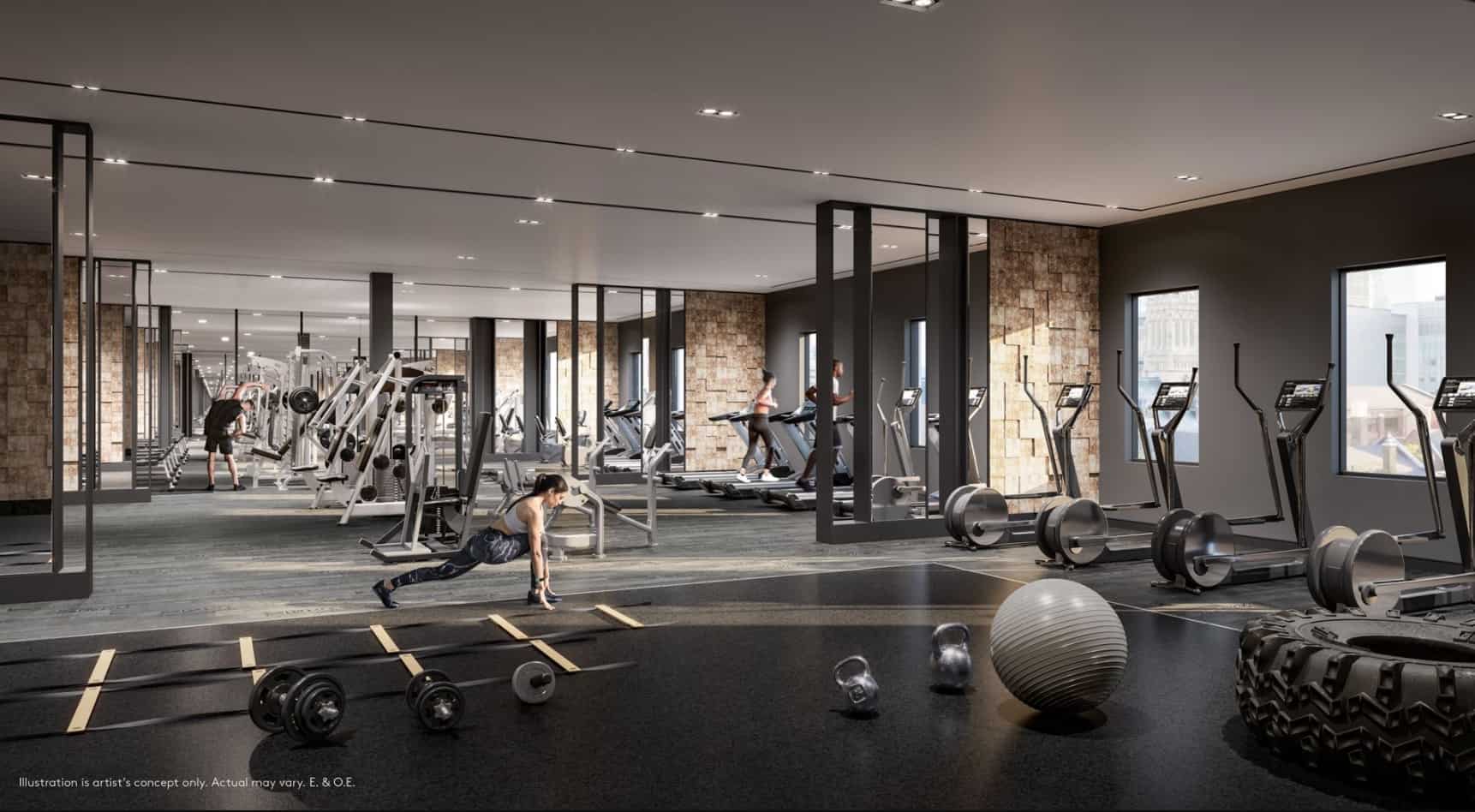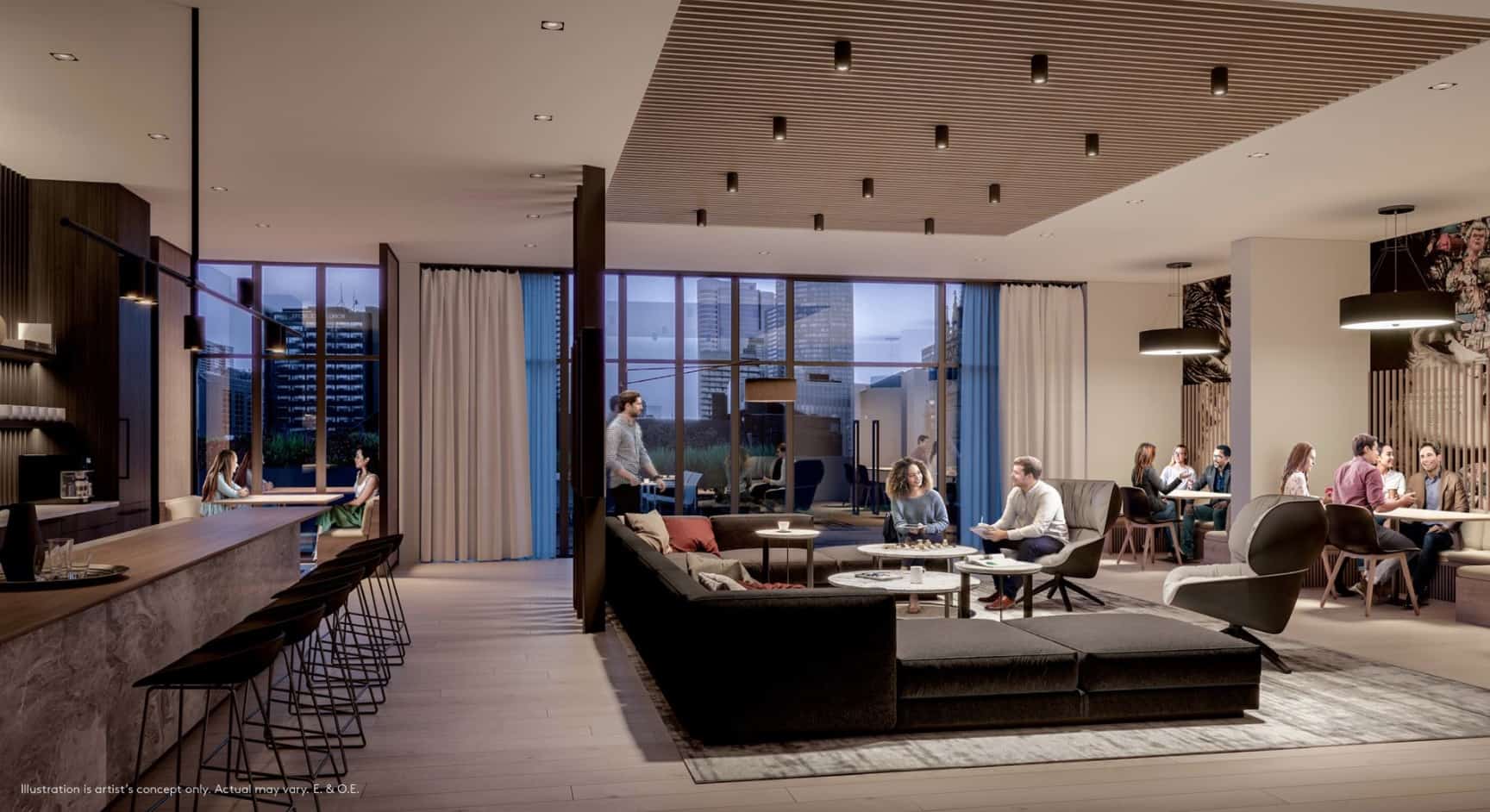 About the Developer
CentreCourt Developments is a real estate company focused on the development of high-rise residential communities located near major amenities, rapid transit networks and employment areas across the Greater Toronto Area (GTA). They are a fully integrated organization that operates across all areas of development including land acquisition, zoning, design, sales, construction and customer care.
At Parallax, we view things from a different angle. We see opportunities that others often miss. It's our edge. Our mandate. Our uncanny sense of potential nourished by imagination and experience.
For the past 35 years, we've developed fine residential and commercial communities throughout the GTA and beyond.
How do I reserve a unit in this project?
After you review the floor plans and prices, if you know what suites you are interested in, you may reserve a suite online using our online reservation worksheet form at https://truecondos.com/worksheet.
Does filling out the worksheet form mean I'm committing to buy a suite?
No it is not a formal commitment, it is an expression of interest and the first step you must take if you are thinking about getting a unit in this project.
What does it mean that Andrew la Fleur is a "Platinum Agent"?
Platinum agents are the top selling agents who get preferred status with developers and first access to new projects before regular agents and the public.
Andrew la Fleur has been a top-selling pre-construction agent since 2007, and during this time he has achieved platinum status with many of the top builders and sales companies in the Greater Toronto Area.
For more information on about Platinum agents see this article: https://truecondos.com/5-things-to-know-about-buying-a-condo-with-a-platinum-vip-realtor-real-estate-agent/
How does it benefit me as a buyer to work with Andrew la Fleur as my Platinum Agent?
Working with me as your Platinum agent gives you several benefits
You get the

highest level of access

in the building

You pay the

lowest possible price

for the unit (prices are typically increased significantly after the Platinum sales event)

The best possible

incentives

I do not represent the builder. I represent you. You benefit from my expertise of being a top selling pre-construction agent and investor myself since 2007.

Access to my personal network of mortgage brokers, lawyers, property management, HST rebate services, handymen and much more.

My services to you as a buyer are

free
Do I get a cooling off period? What is it for?
Yes, after you sign the contract to purchase a suite you will have a standard 10-day cooling off period. It's 10 calendar days, not business days from the time you sign.
The 10 days are primarily for 2 things: 1) to have a lawyer review your contract with you if you wish and 2) to get a mortgage pre-approval letter
Do I need to have a lawyer?
You don't need to have a lawyer at the moment that you sign the agreement, however I always recommend that you have a qualified lawyer review your agreement of purchase and sale after you sign and during your 10-day cooling off period.
Not sure who to talk to? Don't worry – getting a lawyer is something I can help you with. Contact me for more details.
Do I need to have a mortgage pre-approval to buy?
95% of all builders will require you to provide them with proof of financing capability in order to purchase. This is not required before you sign a contract, but it is usually required within 60 days of signing.
Not sure where to begin? Don't worry – getting a mortgage pre-approval is something that I can help you with. Contact me for more details.
Do the prices include HST?
If you are purchasing for yourself and plan to move in, then yes, prices include the HST and there is nothing you will have to pay at final closing.
If you are purchasing as an investment rental property, then you will have to pay approximately 7.8% of the purchase price as HST on final closing.
This money is remitted to the CRA and as an investor renting out your property you can apply to the CRA immediately to get this money back. It usually takes about 1 month to get your rebate back.
For more information on the HST, see here:
https://truecondos.com/tag/hst-rebates/
Contact me for more details.
What are my closing costs on a pre-construction condo?
Closing costs on a pre-construction condo will vary greatly depending on the actual purchase price of the unit you are buying, but it also depends on the builder, the city that you are buying in, and the type of unit that you are buying.
Roughly speaking in Toronto you can expect to pay approximately 3-5% of the purchase price in closing costs when purchasing a brand new condo.
Check out this article for more info on closing costs:
https://truecondos.com/5-things-to-know-about-closing-costs-when-investing-in-a-pre-construction-condo/
Contact me for more details
Are there any 'hidden' costs when buying a pre-construction condo?
No, there are no hidden fees when buying pre-construction condos because all fees must be disclosed in the agreement of purchase and sale. All purchasers have 10 days to review the agreement and have a lawyer advise them on the exact closing cost amounts. If you need a lawyer to help you we can suggest to you to several expert law firms that will review your agreement in detail.
Is it possible to assign my condo? How much is the assignment fee?
Most condo builders do allow you to sell your unit before the building is complete. This projcess is called selling by "assignment".
There is usually an assignment fee and a legal fee associated with selling. Costs can range from $1000-7000. Contact me for more details.