252 Church Condos
| | |
| --- | --- |
| Developer | CentreCourt |
| Address | 252 Church Street, Toronto |
| Neighbourhood | Garden Dsitrict |
| Number of Storeys | 52 |
| Number of Units | 679 |
| Occupancy Date | TBA |
| Maintenance Fees | TBA |
| Priced From | from the mid $500,000's |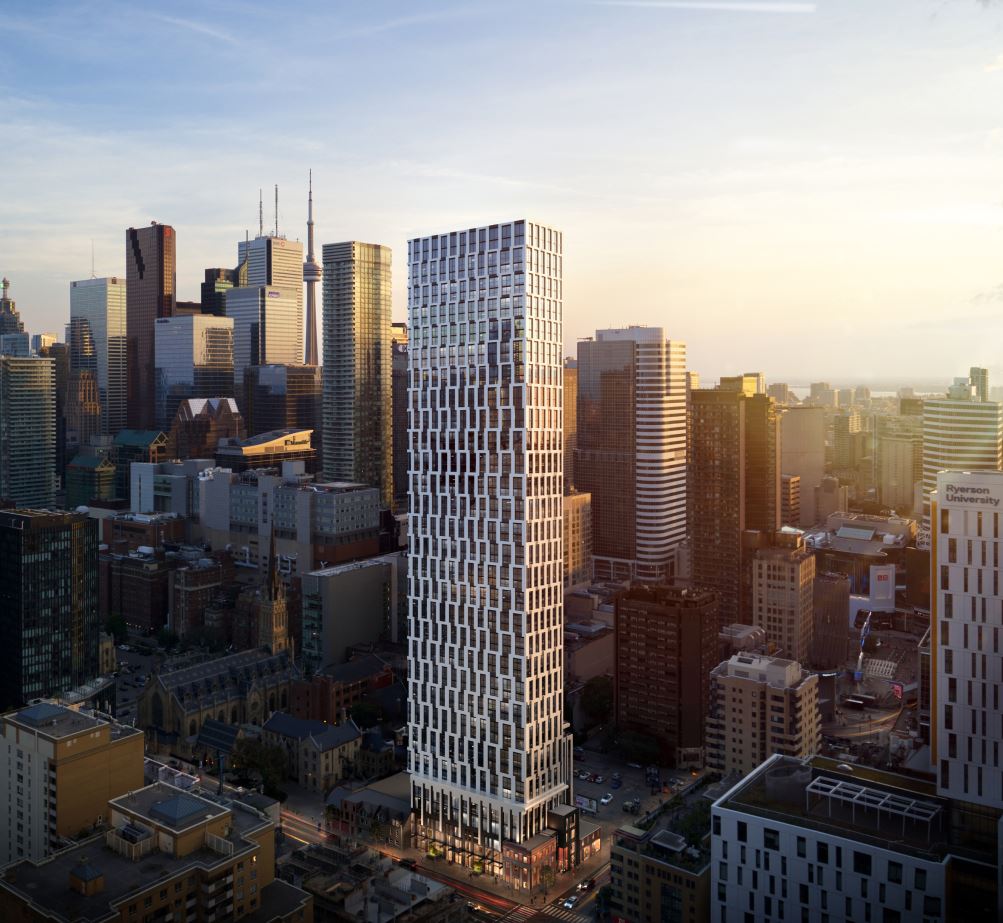 About 252 Church Condos
Iconic, integrated, and impressive – behold a true expression of artistic architecture. The fully restored historic corner building acts as an architectural counterpart to the modern brick and stone podium housing over 2,000 sq. ft. of retail; and the 52-storey residential tower that rises above. The vision, an interplay of inverted U-shaped white metal panels punctuated by black metal pixels playfully enveloping the building in a distinct fish-scale pattern. The effect unlike any other in the sky.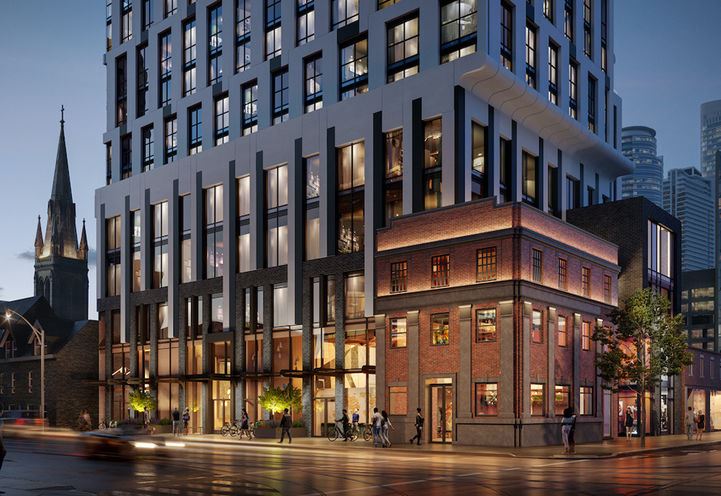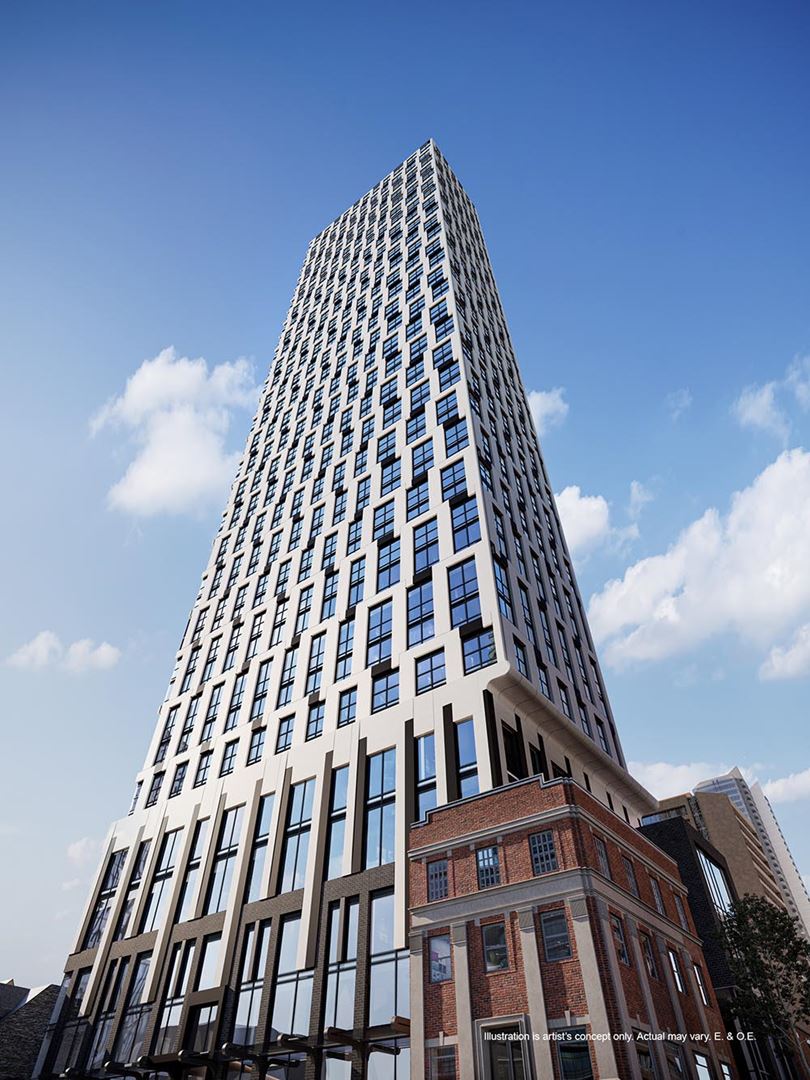 252 Church Condos Location
Booming, bustling, and ever evolving – Toronto is a dynamic destination consistently ranked as one of the most livable cities in the world. As the fastest growing City in North America, Toronto's population has doubled over the past 40-years and the employment opportunities are endless.
Home to top notch healthcare, education and public facilities, Toronto offers one of the best standards of living in the country. At 252 Church, you get to live at the center of all the action with endless opportunity resulting from expanding residential development and major investments in education, finance, health science and technology.
Conveniently located in the heart of downtown, steps from Yonge and Dundas Square and the Eaton Centre, 252 Church's location is its best-selling feature. Experience a 24/7 lifestyle that's built around Toronto's financial district, a bustling tech sector, world-class universities, and an extensive hospital network. 252 Church invites an exclusive location and lifestyle for professionals, students and the growing healthcare and tech communities.
Arrive in dramatic style to a breathtaking, double height lobby featuring an extravagant fireplace, further warmed by the surrounding textured wood panel walls. Dark metal accents and sculptural lighting deliver an urban vibe, while the modern lounge seating and tables invite contemporary comfort.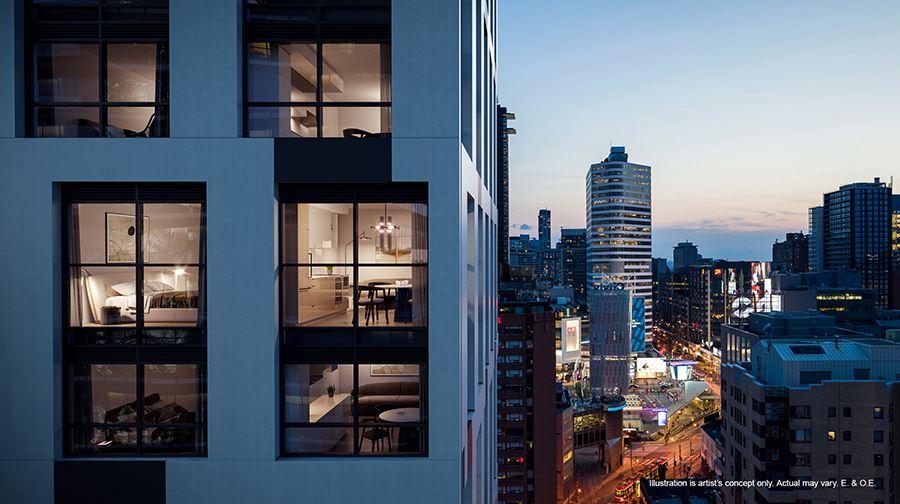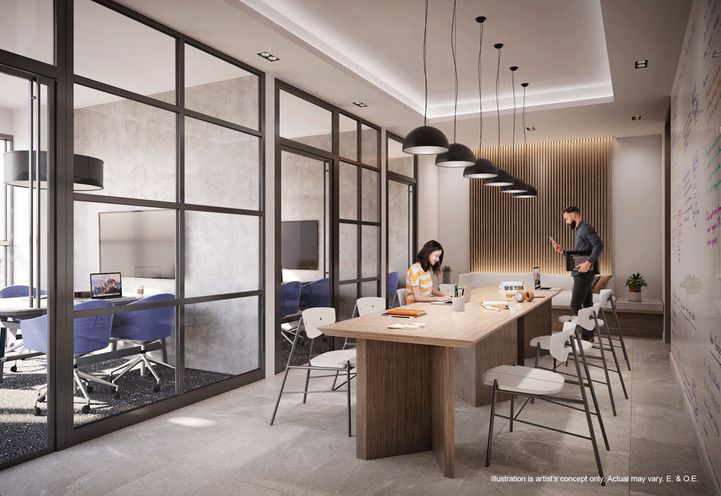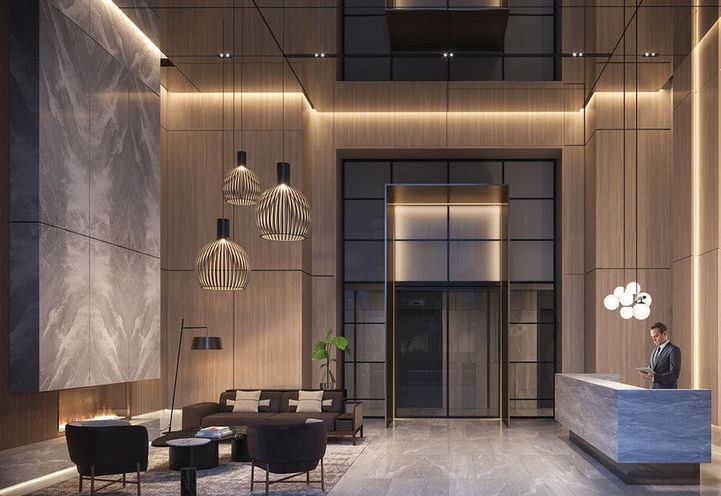 About the Developer
CentreCourt Developments is a real estate company focused on the development of high-rise residential communities located near major amenities, rapid transit networks and employment areas across the Greater Toronto Area (GTA). They are a fully integrated organization that operates across all areas of development including land acquisition, zoning, design, sales, construction and customer care.
How do I reserve a unit in this project?
After you review the floor plans and prices, if you know what suites you are interested in, you may reserve a suite online using our online reservation worksheet form at https://truecondos.com/worksheet.
Does filling out the worksheet form mean I'm committing to buy a suite?
No it is not a formal commitment, it is an expression of interest and the first step you must take if you are thinking about getting a unit in this project.
What does it mean that Andrew la Fleur is a "Platinum Agent"?
Platinum agents are the top selling agents who get preferred status with developers and first access to new projects before regular agents and the public.
Andrew la Fleur has been a top-selling pre-construction agent since 2007, and during this time he has achieved platinum status with many of the top builders and sales companies in the Greater Toronto Area.
For more information on about Platinum agents see this article: https://truecondos.com/5-things-to-know-about-buying-a-condo-with-a-platinum-vip-realtor-real-estate-agent/
How does it benefit me as a buyer to work with Andrew la Fleur as my Platinum Agent?
Working with me as your Platinum agent gives you several benefits
You get the

highest level of access

in the building

You pay the

lowest possible price

for the unit (prices are typically increased significantly after the Platinum sales event)

The best possible

incentives

I do not represent the builder. I represent you. You benefit from my expertise of being a top selling pre-construction agent and investor myself since 2007.

Access to my personal network of mortgage brokers, lawyers, property management, HST rebate services, handymen and much more.

My services to you as a buyer are

free
Do I get a cooling off period? What is it for?
Yes, after you sign the contract to purchase a suite you will have a standard 10-day cooling off period. It's 10 calendar days, not business days from the time you sign.
The 10 days are primarily for 2 things: 1) to have a lawyer review your contract with you if you wish and 2) to get a mortgage pre-approval letter
Do I need to have a lawyer?
You don't need to have a lawyer at the moment that you sign the agreement, however I always recommend that you have a qualified lawyer review your agreement of purchase and sale after you sign and during your 10-day cooling off period.
Not sure who to talk to? Don't worry – getting a lawyer is something I can help you with. Contact me for more details.
Do I need to have a mortgage pre-approval to buy?
95% of all builders will require you to provide them with proof of financing capability in order to purchase. This is not required before you sign a contract, but it is usually required within 60 days of signing.
Not sure where to begin? Don't worry – getting a mortgage pre-approval is something that I can help you with. Contact me for more details.
Do the prices include HST?
If you are purchasing for yourself and plan to move in, then yes, prices include the HST and there is nothing you will have to pay at final closing.
If you are purchasing as an investment rental property, then you will have to pay approximately 7.8% of the purchase price as HST on final closing.
This money is remitted to the CRA and as an investor renting out your property you can apply to the CRA immediately to get this money back. It usually takes about 1 month to get your rebate back.
For more information on the HST, see here:
https://truecondos.com/tag/hst-rebates/
Contact me for more details.
What are my closing costs on a pre-construction condo?
Closing costs on a pre-construction condo will vary greatly depending on the actual purchase price of the unit you are buying, but it also depends on the builder, the city that you are buying in, and the type of unit that you are buying.
Roughly speaking in Toronto you can expect to pay approximately 3-5% of the purchase price in closing costs when purchasing a brand new condo.
Check out this article for more info on closing costs:
https://truecondos.com/5-things-to-know-about-closing-costs-when-investing-in-a-pre-construction-condo/
Contact me for more details
Are there any 'hidden' costs when buying a pre-construction condo?
No, there are no hidden fees when buying pre-construction condos because all fees must be disclosed in the agreement of purchase and sale. All purchasers have 10 days to review the agreement and have a lawyer advise them on the exact closing cost amounts. If you need a lawyer to help you we can suggest to you to several expert law firms that will review your agreement in detail.
Is it possible to assign my condo? How much is the assignment fee?
Most condo builders do allow you to sell your unit before the building is complete. This projcess is called selling by "assignment".
There is usually an assignment fee and a legal fee associated with selling. Costs can range from $1000-7000. Contact me for more details.