3 Big Reasons Brad Lamb Is Sold on Hamilton Real Estate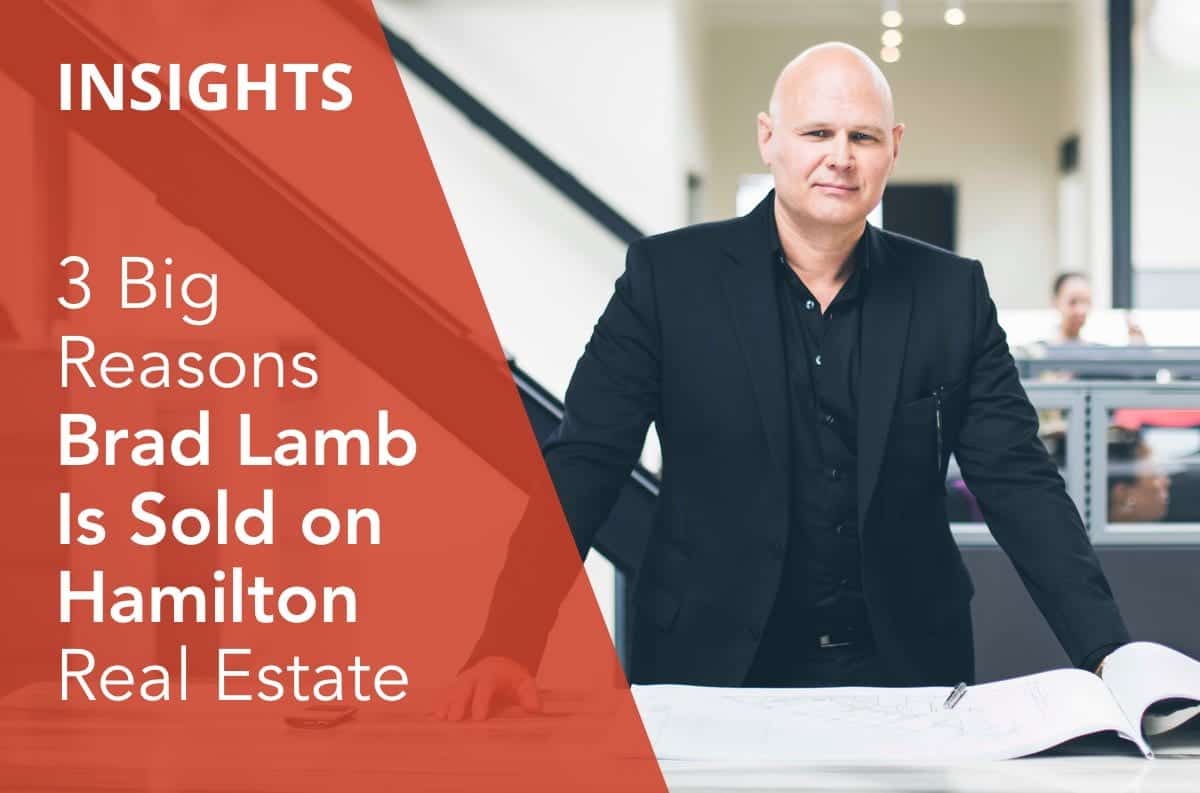 After all, he's been promoting his new condo development there: Once complete, Lamb Development Corp.'s major Television City project at 163 Jackson St. will encompass more than 600 residential units in two high-rise towers ranging from 30 to 40 storeys.
But beyond pitching Television City, Lamb makes a case for the Hammer in a recent TrueCondos.com podcast. Here are three reasons why the outspoken industry personality sees a future in the Hamilton market.
Hamilton's cash-flow potential exceeds Toronto's right now
Being behind the times can be a disadvantage—especially for investors. But in one way, Hamilton benefits from lagging Toronto. Lamb says you can get a condo in Steeltown for around $600 a square foot at a time when one-bedroom rents there are pushing about $1,300 to $1,400 (not so far off Toronto rents, yet the price per square foot is considerably cheaper). "Hamilton's three or four years in the past, if you look at it that way," says Lamb.
And it's not just the condo segment that provides relative value. Lamb estimates a house that would go for a million dollars in Hogtown coulc be snapped up for a paltry $260,000. Don't just take his word for it. According to the Realtors Association of Hamilton-Burlington, the September average for the price of a Hamilton home, including condos and houses, was $549,395. Compare that to Toronto's average of $863,910. There are deals to be had.
It's also a bonafide city, not a suburb
Unlike Mississauga, Burlington, or Oakville—areas that, while intensifying have maintained their suburban character—Lamb suggests Hamilton is a "big city." This has a number of advantages, as far as he's concerned.
For starters, investing in a bigger, diversified economy with more to prop it up is a safer bet. While Hamilton has a reputation as a one-time industrial powerhouse, hence its steel-related nickname, it has become home to blossoming tech, medical and entertainment industries.
And then there are the cultural amenities that go hand in hand with that growth. "Why would someone live in a condo at Appleby Line and Steeles?" Lamb asks, taking a shot at an intersection in Milton. "You walk out there and you got a Finn McCool's, you got a subway shop, and a McDonald's. What kind of life you going to have?" he asks.
From events like Hamilton's Art Crawl to the local music scene to great restaurants and craft breweries, the city—sometimes called the Brooklyn of Toronto—is on a different level than many pockets of the Greater Golden Horseshoe.
And Hamilton is a regional transit hub, too
It'd be hard to find an investor who doesn't know the importance of location. But what makes a location a good one? Transit plays no small part. For those planning to move in on Hamilton property, it's worth noting the city has forthcoming infrastructure improvements, including an ambitious new LRT route that will cut across its downtown.
Hamilton's also less than an hour from Toronto by GO Train, making commutes into the city for work do-able. During none-peak hours, Lamb said he has travelled to Toronto by car, albeit a Ferrari, within 40 minutes—so checking on your investment isn't an issue. "If you have an investment condo in Hamilton, you can easily manage it yourself. It's no worse than being in Scarborough or Richmond Hill."