77 River Street Condos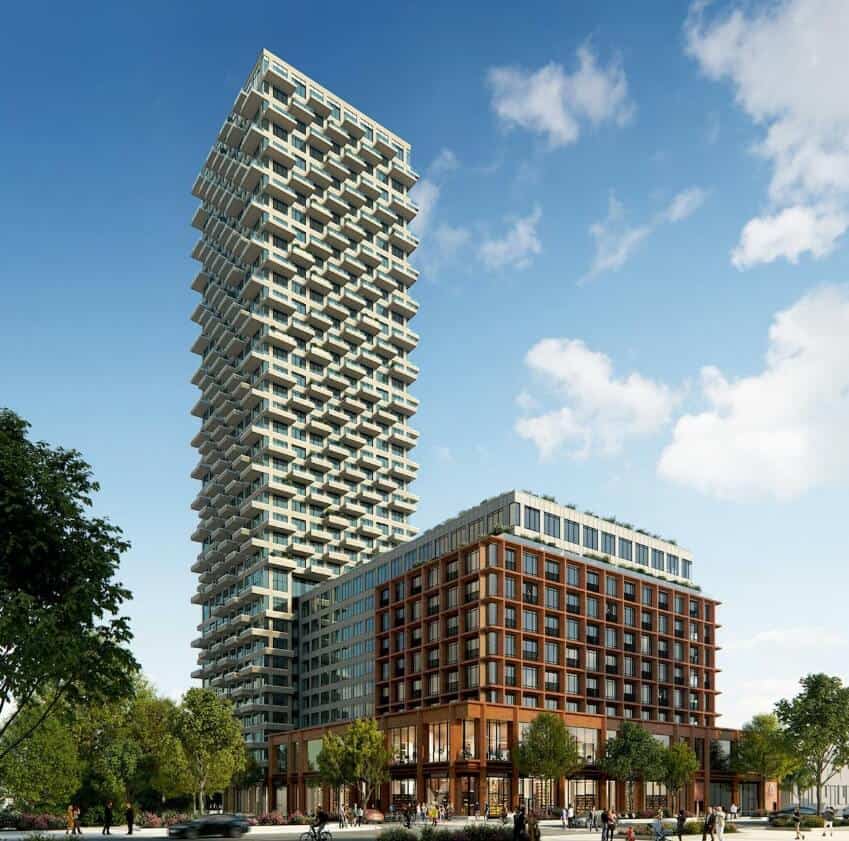 7 Labatt Condos is a new preconstruction condo development by TAS and Tricon Developments, located at 7 Labatt Street, Toronto, ON
| | | | |
| --- | --- | --- | --- |
| | Address | 77 River Street Labatt Street, Toronto | |
| Developer | TAS, Tricon Developments | Occupancy | TBA |
| Area | Regent Park | Deposit | TBA |
| Storeys | 38 | Maint. Fees | TBA |
| Units | 295 | Prices | TBA |
About 77 River Street Condos
TAS has partnered with Tricon and an institutional investor to support revitalization efforts in downtown Toronto's east side with a project at the corner of 7 Labatt Avenue and 77 River Street in Toronto's revitalizing Regent Park neighborhood. Close to parks, schools, transit and hip restaurants and cafes, 7 Labatt Condos is where you want to be!
77 River Street Condos Location
7 Labatt Condos is located immediately south of Regent Park, in close proximity to cultural, community and athletic amenities. Steps from Corktown, a cultural hub, the property is surrounded by restaurants, retail and historic landmarks. It offers convenient access to three downtown streetcar lines as well as the Don Valley Parkway. 
ENDLESS EMPLOYMENT
7 Labatt Condos is well positioned to capitalize on the new and growing employment districts that are rapidly popping up on the eastern side of Toronto. Highlights include:
East Harbour, t

he largest redevelopment of commercial land in Canada: a massive 62 acre site, giving way to 12 million square feet of office, retail and entertainment spaces

Alphabet (the parent company of Google) brings

Sidewalk Labs

, a 'smart city' within the city, which will house several hubs for innovation, applied research, venture  funds and more

Lower Don Lands/Portlands

Redevelopment unlocks an astounding 880 acres of mixed-use land. This multi-billion dollar revitalization project is well underway, with tens of thousand of jobs coming, as well as new parklands, trails, and renewed connections between the Don River and Lake Ontario

7 Labatt Condos is close to employment hubs along the eastern downtown of

Toronto

, in close proximity to new buildings such as recently completed Globe The Mail Centre, as well as new offices under construction such as Equitable Bank Tower, Google's new Canadian headquarters, the Waterfront Innovation Centre and the list goes on!
 CONNECTIVITY
7 Labatt Condos has incredible walking, cycling, transit and driving options of getting to where you need to go, in moments:
Walkable to three streetcar lines, with the Dundas, Queen and King streetcar lines only steps away

Minutes to the Don Valley Parkway and Gardiner Expressway, taking you any direction in the city and the Greater Toronto Area

Amazing cycling infrastructure, with quick access to dedicated bike lanes along nearby Sherbourne, Adelaide, and Richmond streets, as well as the Bayview Multi-Use Trail and Don Valley Path and Waterfront Trail 

Proposed

Ontario Line

subway stop and an enormous eastern 'Union Station' to be built at East Harbour, just south of 7 Labatt Condos, connecting dozens of bus routes, streetcars SmartTrack, GO Transit, LRTs and the Ontario Line all connecting at this transit hub

You are also  surrounded by some of

Toronto

's best neighbourhoods to explore on foor, such as Cabbagetown, Corktown, Riverside, The Distillery District, and the revitalized Regent Park!
RECREATION AND LIFESTYLE
Residents of 7 Labatt Condos would be hard pressed to find better access to green space, with some of Toronto's best parks, trails and ravines just minutes away! Some of which include:
Pam McConnell Aquatic Centre

Corktown Common

The revitalized Regent Park

The Lower Don River trail connecting you to

Toronto

's world class ravine system, as well as Lake Ontario!

Riverdale Park East and West and  Riverdale Farm
About the Developer
TAS is the community-focused, mixed-use developer that is deeply committed to building resilient urban villages founded on sustainable connections to food, family and future.
Entrepreneurs for the public good, TAS cultivates long-term relationships with communities to ensure our positive impact extends well beyond the footprint of our buildings. Our office is a lab where a growing team of passionate experts and external partners experiment with new ways of programming and building to solve our city's most pressing needs. This ambition evolved from TAS's 35-year history of delivering homes, offices and ultimately, solid returns on investment.
TAS has completed five major projects, including DUKE and M5V condos. We have 16 properties−totaling over four million square feet−in various stages of development and value-add redevelopment, delivering a diverse portfolio of commercial office and retail space, alongside a mix of long-term rental and for-sale condominium units. TAS is a Certified B Corporation and a founding member of the SVX Social Impact Investment Platform.
Tricon is a residential real estate company primarily focused on rental housing in North America, with approximately $8 billion (C$10.5 billion)* of assets under management. Tricon invests in a portfolio of single-family rental homes, multi-family rental apartments and for-sale housing assets,  and manages third-party capital in connection with its investments. Since its inception in 1988, Tricon has invested in real estate and development projects valued at approximately $22 billion. Our vision is to be North America's pre-eminent investment manager focused on the residential real estate industry. Our mission is to provide our shareholders and investors with superior risk-adjusted returns by investing in communities. Since our beginning in 1988, we have been guided by a set of core values and business principles and we believe that we owe our success – past and future.
77 River Street Condos FAQs
How do I reserve a unit in this project?
After you review the floor plans and prices, if you know what suites you are interested in, you may reserve a suite online using our online reservation worksheet form at https://truecondos.com/worksheet.
Does filling out the worksheet form mean I'm committing to buy a suite?
No it is not a formal commitment, it is an expression of interest and the first step you must take if you are thinking about getting a unit in this project.
What does it mean that Andrew la Fleur is a "Platinum Agent"?
Platinum agents are the top selling agents who get preferred status with developers and first access to new projects before regular agents and the public.
Andrew la Fleur has been a top-selling pre-construction agent since 2007, and during this time he has achieved platinum status with many of the top builders and sales companies in the Greater Toronto Area.
For more information on about Platinum agents see this article: https://truecondos.com/5-things-to-know-about-buying-a-condo-with-a-platinum-vip-realtor-real-estate-agent/
How does it benefit me as a buyer to work with Andrew la Fleur as my Platinum Agent?
Working with me as your Platinum agent gives you several benefits
You get the

highest level of access

in the building

You pay the

lowest possible price

for the unit (prices are typically increased significantly after the Platinum sales event)

The best possible

incentives

I do not represent the builder. I represent you. You benefit from my expertise of being a top selling pre-construction agent and investor myself since 2007.

Access to my personal network of mortgage brokers, lawyers, property management, HST rebate services, handymen and much more.

My services to you as a buyer are

free
Do I get a cooling off period? What is it for?
Yes, after you sign the contract to purchase a suite you will have a standard 10-day cooling off period. It's 10 calendar days, not business days from the time you sign.
The 10 days are primarily for 2 things: 1) to have a lawyer review your contract with you if you wish and 2) to get a mortgage pre-approval letter
Do I need to have a lawyer?
You don't need to have a lawyer at the moment that you sign the agreement, however I always recommend that you have a qualified lawyer review your agreement of purchase and sale after you sign and during your 10-day cooling off period.
Not sure who to talk to? Don't worry – getting a lawyer is something I can help you with. Contact me for more details.
Do I need to have a mortgage pre-approval to buy?
95% of all builders will require you to provide them with proof of financing capability in order to purchase. This is not required before you sign a contract, but it is usually required within 60 days of signing.
Not sure where to begin? Don't worry – getting a mortgage pre-approval is something that I can help you with. Contact me for more details.
Do the prices include HST?
If you are purchasing for yourself and plan to move in, then yes, prices include the HST and there is nothing you will have to pay at final closing.
If you are purchasing as an investment rental property, then you will have to pay approximately 7.8% of the purchase price as HST on final closing.
This money is remitted to the CRA and as an investor renting out your property you can apply to the CRA immediately to get this money back. It usually takes about 1 month to get your rebate back.
For more information on the HST, see here:
https://truecondos.com/tag/hst-rebates/
Contact me for more details.
What are my closing costs on a pre-construction condo?
Closing costs on a pre-construction condo will vary greatly depending on the actual purchase price of the unit you are buying, but it also depends on the builder, the city that you are buying in, and the type of unit that you are buying.
Roughly speaking in Toronto you can expect to pay approximately 3-5% of the purchase price in closing costs when purchasing a brand new condo.
Check out this article for more info on closing costs:
https://truecondos.com/5-things-to-know-about-closing-costs-when-investing-in-a-pre-construction-condo/
Contact me for more details
Are there any 'hidden' costs when buying a pre-construction condo?
No, there are no hidden fees when buying pre-construction condos because all fees must be disclosed in the agreement of purchase and sale. All purchasers have 10 days to review the agreement and have a lawyer advise them on the exact closing cost amounts. If you need a lawyer to help you we can suggest to you to several expert law firms that will review your agreement in detail.
Is it possible to assign my condo? How much is the assignment fee?
Most condo builders do allow you to sell your unit before the building is complete. This projcess is called selling by "assignment".
There is usually an assignment fee and a legal fee associated with selling. Costs can range from $1000-7000. Contact me for more details.