859 West Condos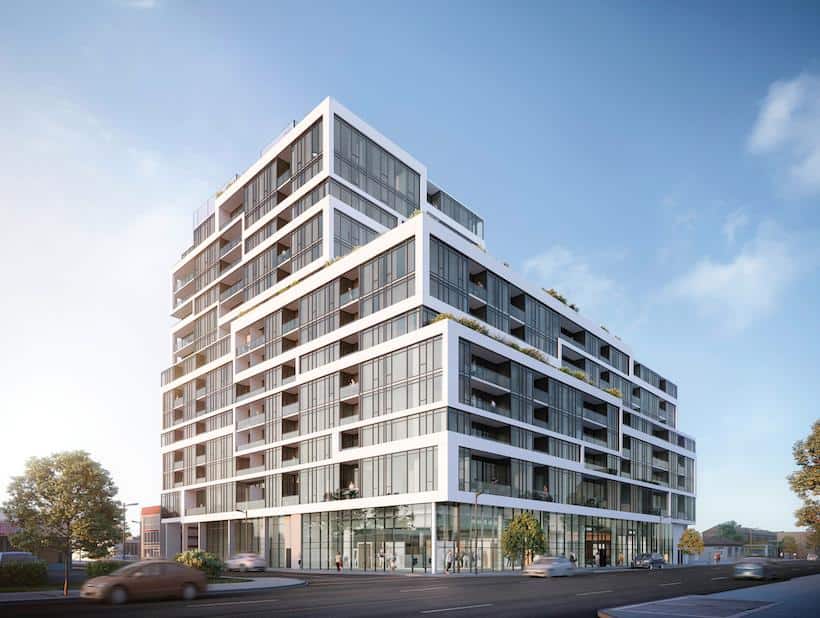 About 859 West Condos
Located in the heart of The Queensway, this remarkable 14-storey residence features 9ft ceilings and plenty of windows to let natural light in. Framed in pristine white and boasting stunningly contemporary architecture, 859 West Condos is built for the design conscious.
The focus on 859 West Condos' design starts with the stepped, asymmetrical exterior. The bold shape and horizontal form give it energy, inviting the eye and engaging the senses. 859 West Condos' glass-enclosed street-level retail space also adds texture and dimension.
And the exciting look doesn't stop with the exterior – 859 West's inside features the same touches of brilliance. From the clean, vintage-inspired pieces in the lobby to the sleek, modern finishes in each suite, this is unmistakably a residence for people who appreciate great design and sophisticated urban living.
Condos Details
| | |
| --- | --- |
| Developer | First Avenue Properties and Latch Developments |
| Address | 859 The Queensway, Toronto, ON |
| Neighbourhood | The Queensway |
| Number of Storeys | 14 |
| Number of Units | 228 |
| Occupancy Date | November 2021 |
| Maintenance Fees | $0.56/Sq.ft per Month |
| Priced From | $533,900 to over $805,900 |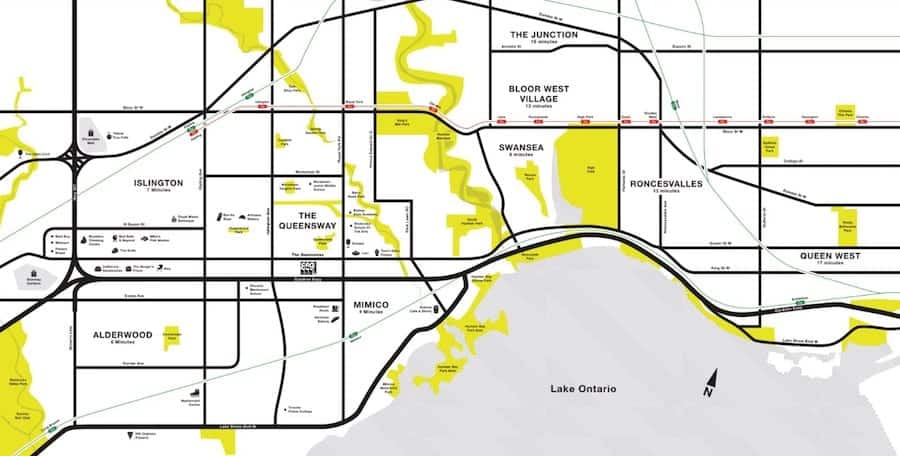 859 West Condos Location
859 West Condos location is on the incredible Queensway at Plastics Avenue, putting you at the core of this burgeoning community.
The Queensway offers a vibrant and active lifestyle that balances a fabulous array of amenities with plenty of parks and natural spaces. Amazing shops and boutiques, gourmet restaurants, and entertainment are all a short walk, TTC trip, or drive away. It's set to become one of the most desirable places to live and 859 West Condos is at the center of it all.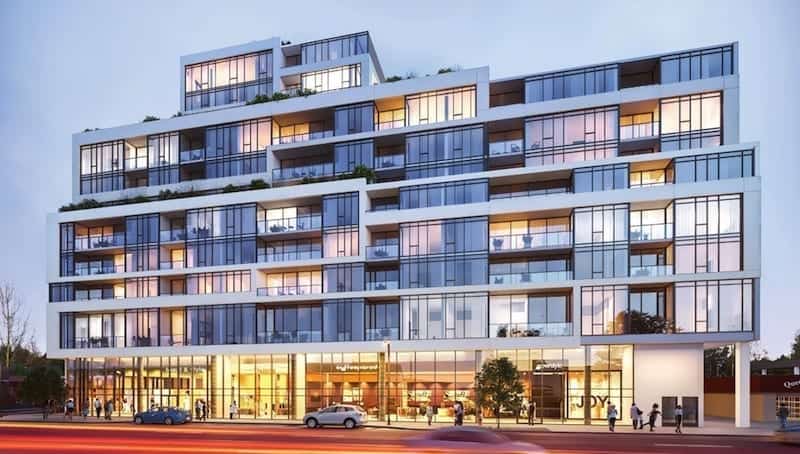 859 West Condos Amenities
859 West Condos is built to be a place of luxury, relaxation, and recreation for residents. While there are endless options for things to do in the area 859 West has a list of their own world-class amenities, such as:
• 24-hour concierge and elegant lobby space
• Outdoor Oasis – BBQ's, Private Cabanas, Outdoor garden and Lounge area
• Outdoor games area – Includes lawn bowling
• Gourmet kitchen and private dining room for dinner parties
• Entertainment bar and lounge
• Wi-Fi Cafe and Co-working Lounge
• Yoga Studio
• Gym and Wellness Studio
• Children's play area
• 9ft ceiling in suites, 10 ft ceilings in penthouse suites*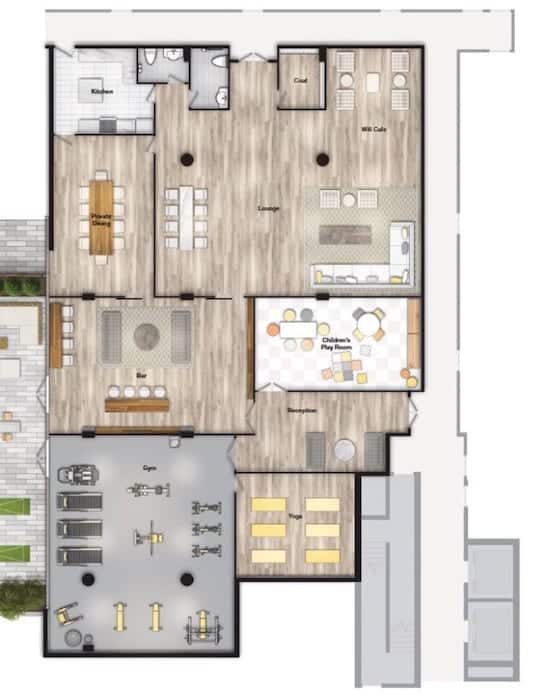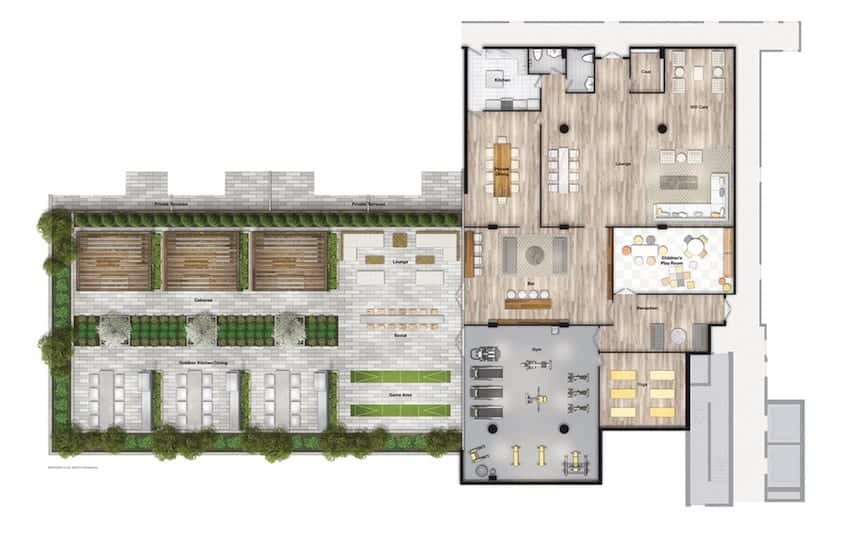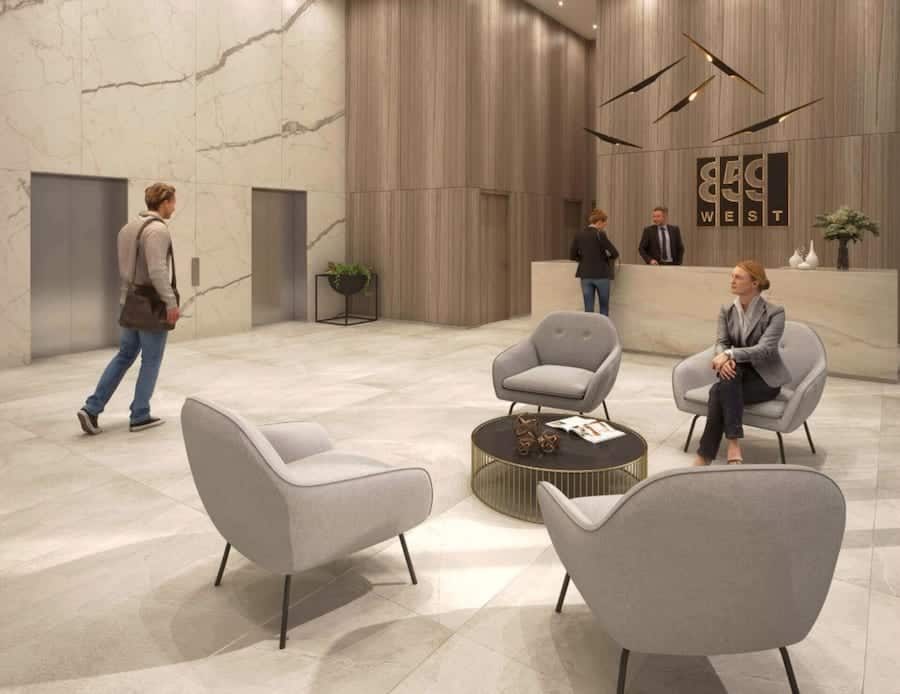 859 West Condos Features and Finishes
Flooring
• 859 West Condos get laminate flooring in foyer, hallways, kitchen, living/dining room, bedrooms, and den.
• Porcelain tile floor in bathroom
• Ceramic wall tile in the shower enclosure
Kitchen
• Designer-selected two-tone cabinetry
• Engineered stone countertop with under mount stainless steel sink
• Designer-selected tile backsplash
• 859 West Condos get stainless steel appliances including refrigerator, self-cleaning range, dishwasher, and microwave or range hood combination
Bathroom
• Designer-selected bathroom cabinetry and vanity mirror
• Quartz countertop with under mount sink
• Chrome-finish vanity and shower stall faucets
• Soaker tub will full height surround (where applicable)
• Clear, tempered glass shower stall enclosure with full-height tile surround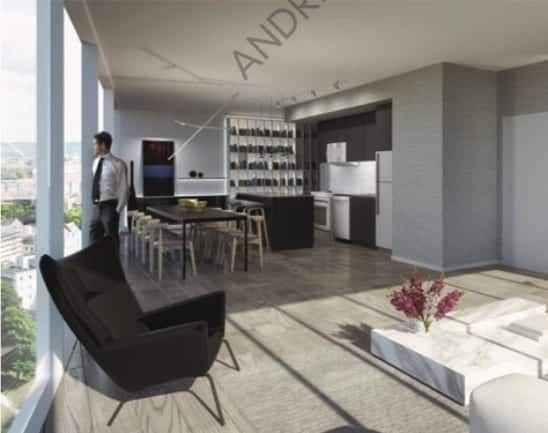 About the Developer
Developer Name
First Avenue Properties and Latch Developments
First Avenue Properties and Latch Developments bring years of multi-faceted real estate development experience with a commitment to building excellence and unrivaled customer service. The partnership is a unique combination of inspired and highly experienced professionals that have a solid understanding of development and building. Together they create desirable living environments that compliment the community in which they are built.
Jack Morelli of First Avenue Properties has, for the past 20 years, overseen the acquisition, development, construction and property management of residential, industrial and commercial/retail properties across the Greater Toronto Area.
Marc Nufrio, president of Latch, brings close to a decade of experience where he has brought a multitude of mid- and high-rise residential buildings to fruition in Toronto.
Collectively, their vision is to develop great spaces that contribute to the existing fabric of the surrounding neighbourhoods.
859 West Condos Frequently Asked Questions
How do I reserve a unit in this project?
After you review the floor plans and prices, if you know what suites you are interested in, you may reserve a suite online using our online reservation worksheet form at https://truecondos.com/worksheet.
Does filling out the worksheet form mean I'm committing to buy a suite?
No it is not a formal commitment, it is an expression of interest and the first step you must take if you are thinking about getting a unit in this project.
What does it mean that Andrew la Fleur is a "Platinum Agent"?
Platinum agents are the top selling agents who get preferred status with developers and first access to new projects before regular agents and the public.
Andrew la Fleur has been a top-selling pre-construction agent since 2007, and during this time he has achieved platinum status with many of the top builders and sales companies in the Greater Toronto Area.
For more information on about Platinum agents see this article: https://truecondos.com/5-things-to-know-about-buying-a-condo-with-a-platinum-vip-realtor-real-estate-agent/
How does it benefit me as a buyer to work with Andrew la Fleur as my Platinum Agent?
Working with me as your Platinum agent gives you several benefits
You get the

highest level of access

in the building

You pay the

lowest possible price

for the unit (prices are typically increased significantly after the Platinum sales event)

The best possible

incentives

I do not represent the builder. I represent you. You benefit from my expertise of being a top selling pre-construction agent and investor myself since 2007.

Access to my personal network of mortgage brokers, lawyers, property management, HST rebate services, handymen and much more.

My services to you as a buyer are

free
Do I get a cooling off period? What is it for?
Yes, after you sign the contract to purchase a suite you will have a standard 10-day cooling off period. It's 10 calendar days, not business days from the time you sign.
The 10 days are primarily for 2 things: 1) to have a lawyer review your contract with you if you wish and 2) to get a mortgage pre-approval letter
Do I need to have a lawyer?
You don't need to have a lawyer at the moment that you sign the agreement, however I always recommend that you have a qualified lawyer review your agreement of purchase and sale after you sign and during your 10-day cooling off period.
Not sure who to talk to? Don't worry – getting a lawyer is something I can help you with. Contact me for more details.
Do I need to have a mortgage pre-approval to buy?
95% of all builders will require you to provide them with proof of financing capability in order to purchase. This is not required before you sign a contract, but it is usually required within 60 days of signing.
Not sure where to begin? Don't worry – getting a mortgage pre-approval is something that I can help you with. Contact me for more details.
Do the prices include HST?
If you are purchasing for yourself and plan to move in, then yes, prices include the HST and there is nothing you will have to pay at final closing.
If you are purchasing as an investment rental property, then you will have to pay approximately 7.8% of the purchase price as HST on final closing.
This money is remitted to the CRA and as an investor renting out your property you can apply to the CRA immediately to get this money back. It usually takes about 1 month to get your rebate back.
For more information on the HST, see here:
https://truecondos.com/tag/hst-rebates/
Contact me for more details.
What are my closing costs on a pre-construction condo?
Closing costs on a pre-construction condo will vary greatly depending on the actual purchase price of the unit you are buying, but it also depends on the builder, the city that you are buying in, and the type of unit that you are buying.
Roughly speaking in Toronto you can expect to pay approximately 3-5% of the purchase price in closing costs when purchasing a brand new condo.
Check out this article for more info on closing costs:
https://truecondos.com/5-things-to-know-about-closing-costs-when-investing-in-a-pre-construction-condo/
Contact me for more details
Are there any 'hidden' costs when buying a pre-construction condo?
No, there are no hidden fees when buying pre-construction condos because all fees must be disclosed in the agreement of purchase and sale. All purchasers have 10 days to review the agreement and have a lawyer advise them on the exact closing cost amounts. If you need a lawyer to help you we can suggest to you to several expert law firms that will review your agreement in detail.
Is it possible to assign my condo? How much is the assignment fee?
Most condo builders do allow you to sell your unit before the building is complete. This projcess is called selling by "assignment".
There is usually an assignment fee and a legal fee associated with selling. Costs can range from $1000-7000. Contact me for more details.