Aquabella Condos
Aquabella Condos is a new pre-construction condo project by Tridel and Hines coming to Toronto's East Bayfront neighbourhood on Edgewater Drive.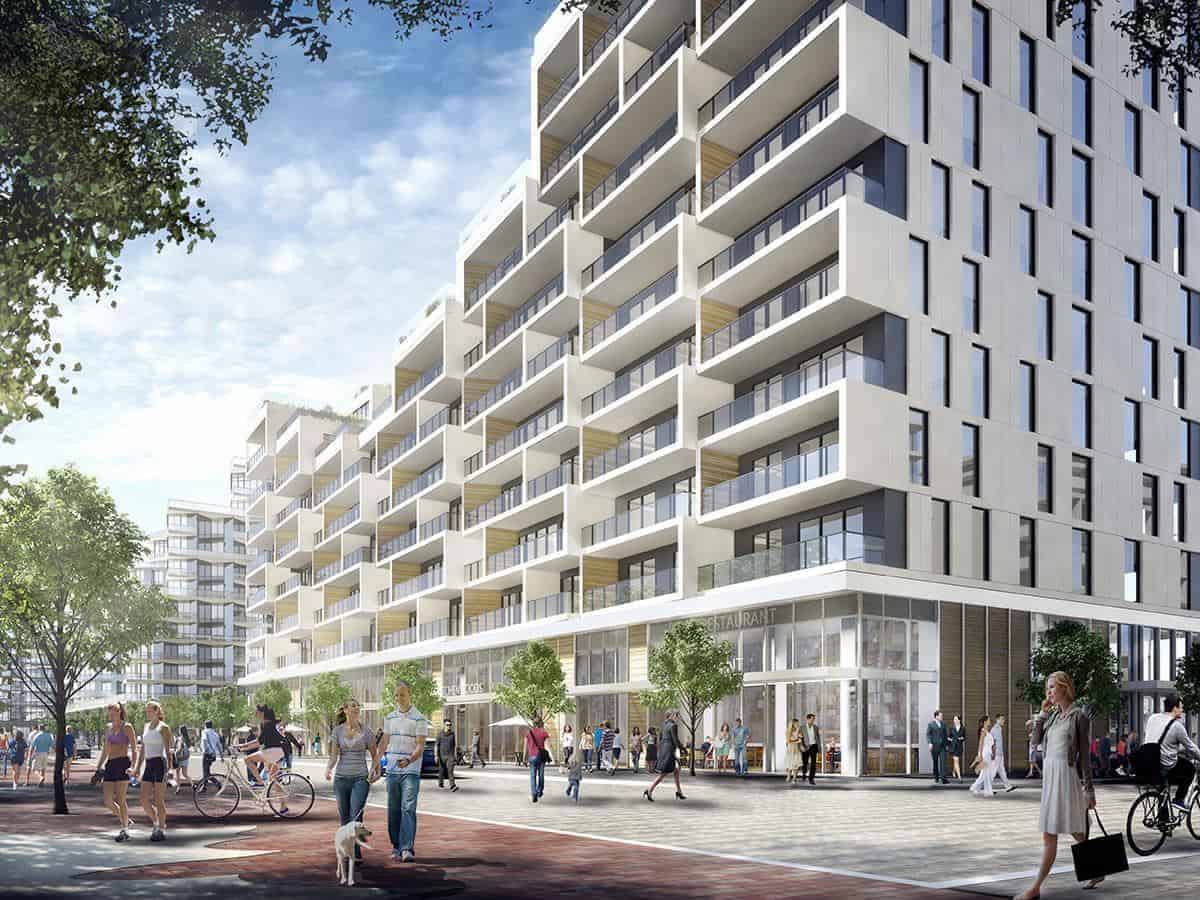 About Aquabella Condos
Aquabella Condos by Tridel and Hines will have unobstructed views of open skies and open waters used to be the realm of dream getaways. Invigorating and rejuvenating, they can soon be the rewards of your daily life at this exceptional city address. The spacious terraces of Aquabella Condos afford you unique and spectacular vistas of the lake.
Aquabella's softer, sculptured look blurs the boundary between the building and its setting. All suites on the lower levels include an expansive balcony for enhanced outdoor living and clear views of the lake or the neighbourhood.
At once intimate and grand, Aquabella is truly a marvel of the 21st century.
Aquabella Condos Information
| | |
| --- | --- |
| Developer | Tridel and Hines |
| Address | Queens Quay East, Toronto |
| Neighbourhood | Waterfront |
| Number of Storeys | 12 |
| Number of Units | 174 |
| Occupancy Date | Fall/Winter 2020 |
| Maintenance Fees | $0.63 Per SqFt per Month |
| Priced From | $2,380,000 to over $6,450,000 |
Aquabella Condos Location
Aquabella Condos will be located at Edgewaters Drive near Queen's Quay East in Toronto's East Bayfront neighbourhood.
Eat, Drink, Be Merry Or Take The Ferry
Living at Aquabella, you're surrounded by the beauty of nature – sky, sun, lake and parks – as well as big city conveniences that add richness and variety to your life. Shopping, dining and entertainment are all within walking distance. The waterfront is your starting point for discovery, whether you have all day or just an hour.
How Do You Roll?
Stroll, bike or rollerblade along the lakefront from the promenade right outside Aquabella to the boardwalk at Harbourfront. Then venture further west to parks, the Billy Bishop Airport, Ontario Place and even Humber Bay. You can while away a day and watch water birds on the lake, grab some food, take in a concert, and go shopping at eclectic Queen's Quay Terminal. On the way home, pick up groceries or flowers at Loblaw's or St. Lawrence Market.
In the opposite direction, you can cycle for miles along bike paths that take you east to the Beaches, or the intriguing Leslie Spit, a huge sliver of land made from landfill and recycled construction materials and now a world-famous bird sanctuary.
North of the waterfront, your options expand infinitely. Head up to the Distillery District, a former distillery turned into a charming, picturesque centre of art galleries, bakeries, restaurants and cafes, and unique shops.
Foodie's Delight
Although your Aquabella kitchen comes fully equipped with the latest appliances, you may be lured outside to discover the incredible restaurants and cafes nearby. There is an irresistible variety of amazing dining options close to home, in every direction. Quick breakfasts, long and lazy brunches, and fabulous dinners are all on offer at restaurants and cafes within the downtown core and along the waterfront.
The Distillery District, Queen Street East, King Street East, and the Financial District are at your doorstep, offering meals with a view, fast food with a twist and rapturous gourmet dinners.
Life Is A Beach
Living on the lake, you're conveniently close to a string of sandy beaches where you can soak up the sun, hang out with friends, picnic, or even just relax under an umbrella with a good read.
Hop on the bus and get to Cherry Beach in minutes. Walk out your front door and stroll over to Sugar Beach with its whimsical pink umbrellas. Take a leisurely stroll to H20 park just east of Harbourfront Canoe and Kayak Centre. Or board the ferry and make it an outing to the beaches of Toronto Islands; you'll feel like you've arrived in cottage country without the long commute in traffic.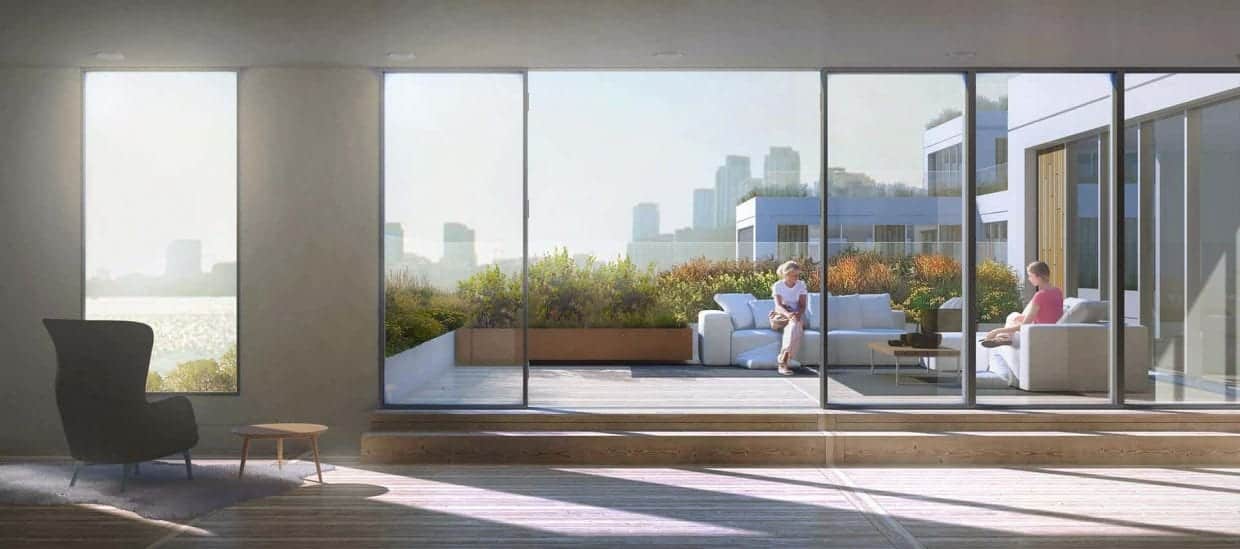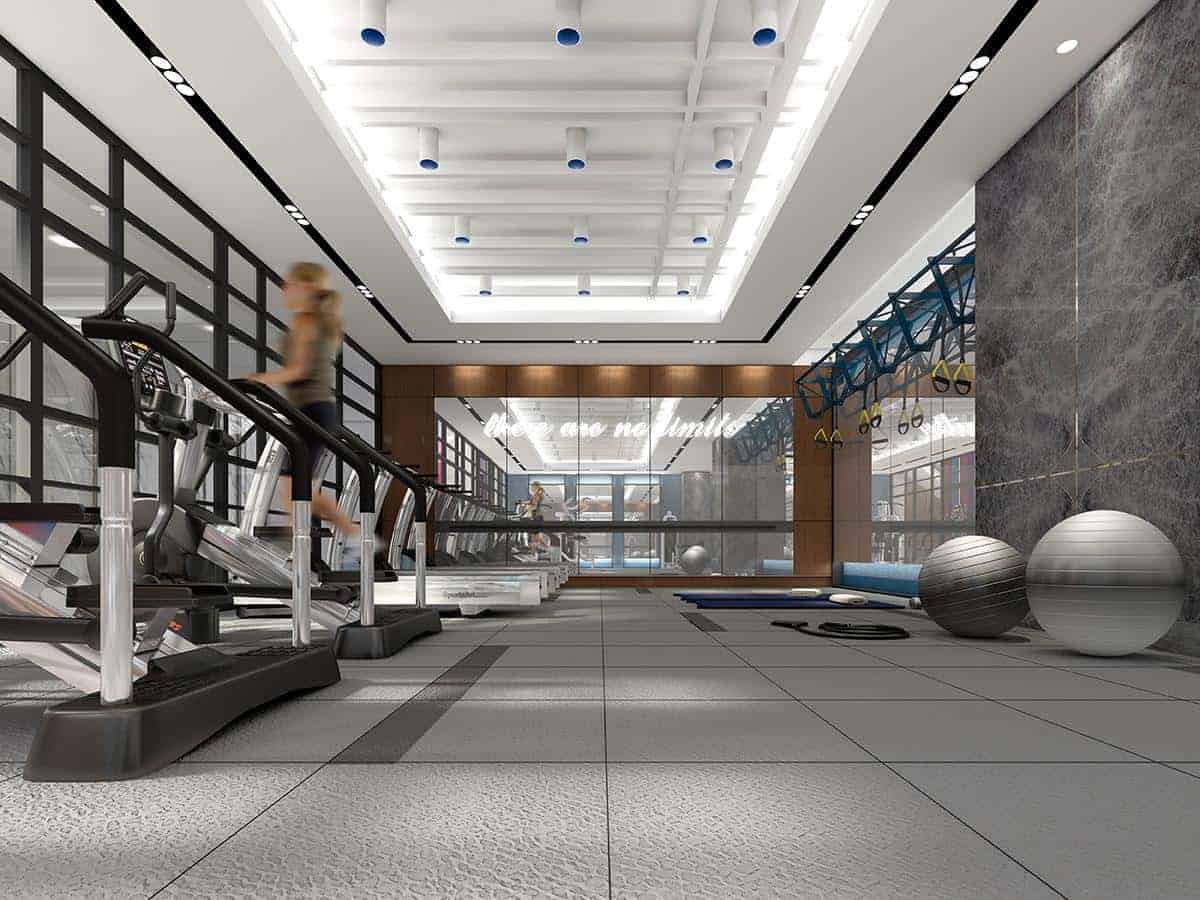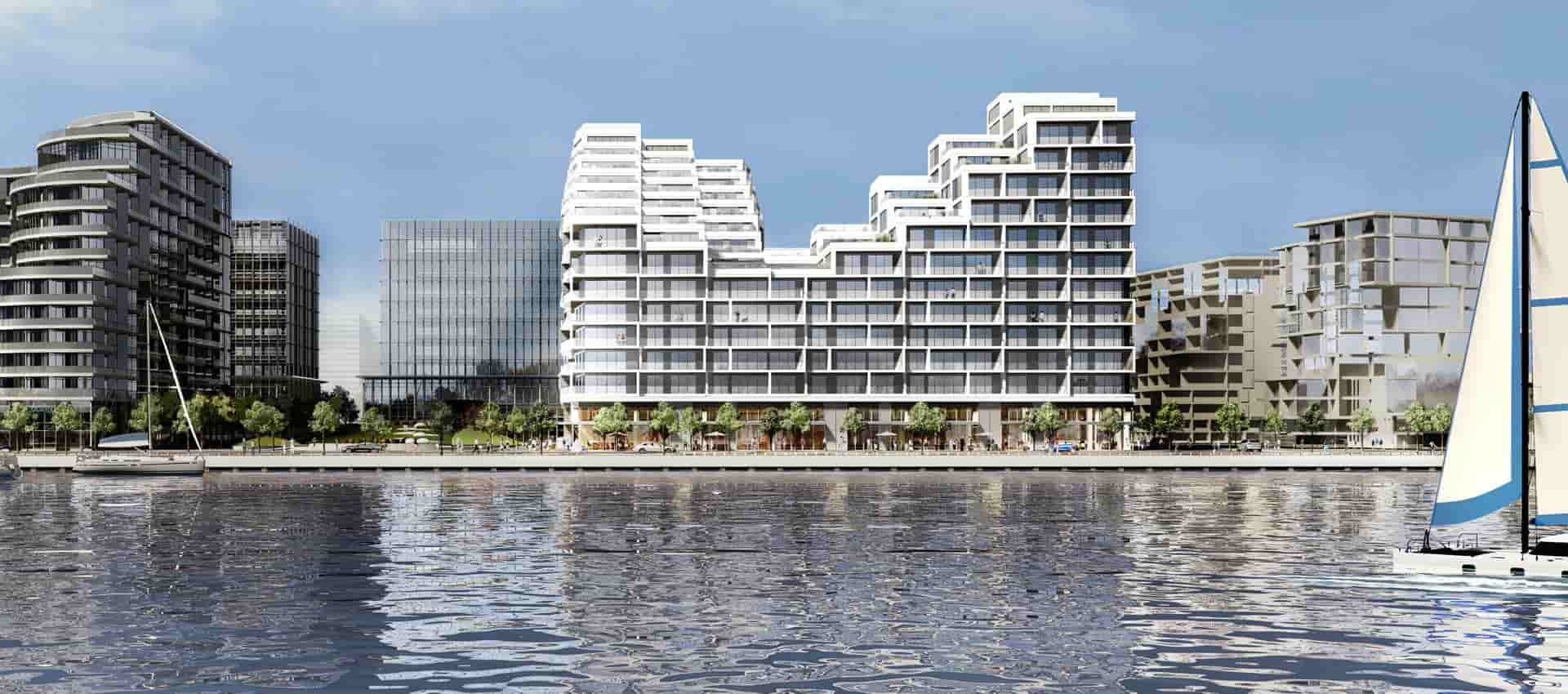 About the Developer
TRIDEL
We've been a leader in condominium living for over 80 years, and our founders redefined what "home" is. While we're passionate about building condos, our story is about much more than what we build.
Quality starts with an intention. To do our best. We know that nothing's more personal than your home. It's fitting then that our team of people put their skills and dedication to work each day for the good of our homeowners, their families, and the communities that we share.
Your life. Our promise to you is a simple but powerful reflection of our trademark, Built for Life. This means building homes of enduring, lasting value for today's lifestyles.
HINES
Hines is a privately owned global real estate investment, development and management firm, founded in 1957, with a presence in 207 cities in 24 countries and $116.4 billion of assets under management—including $64 billion for which Hines provides fiduciary investment management services and $52.4 billion for which Hines provides third-party property-level services.
Aquabella Bayside Toronto Condos Frequently Asked Questions
How do I reserve a unit in this project?
After you review the floor plans and prices, if you know what suites you are interested in, you may reserve a suite online using our online reservation worksheet form at https://truecondos.com/worksheet.
Does filling out the worksheet form mean I'm committing to buy a suite?
No it is not a formal commitment, it is an expression of interest and the first step you must take if you are thinking about getting a unit in this project.
What does it mean that Andrew la Fleur is a "Platinum Agent"?
Platinum agents are the top selling agents who get preferred status with developers and first access to new projects before regular agents and the public.
Andrew la Fleur has been a top-selling pre-construction agent since 2007, and during this time he has achieved platinum status with many of the top builders and sales companies in the Greater Toronto Area.
For more information on about Platinum agents see this article: https://truecondos.com/5-things-to-know-about-buying-a-condo-with-a-platinum-vip-realtor-real-estate-agent/
How does it benefit me as a buyer to work with Andrew la Fleur as my Platinum Agent?
Working with me as your Platinum agent gives you several benefits
You get the

highest level of access

in the building

You pay the

lowest possible price

for the unit (prices are typically increased significantly after the Platinum sales event)

The best possible

incentives

I do not represent the builder. I represent you. You benefit from my expertise of being a top selling pre-construction agent and investor myself since 2007.

Access to my personal network of mortgage brokers, lawyers, property management, HST rebate services, handymen and much more.

My services to you as a buyer are

free
Do I get a cooling off period? What is it for?
Yes, after you sign the contract to purchase a suite you will have a standard 10-day cooling off period. It's 10 calendar days, not business days from the time you sign.
The 10 days are primarily for 2 things: 1) to have a lawyer review your contract with you if you wish and 2) to get a mortgage pre-approval letter
Do I need to have a lawyer?
You don't need to have a lawyer at the moment that you sign the agreement, however I always recommend that you have a qualified lawyer review your agreement of purchase and sale after you sign and during your 10-day cooling off period.
Not sure who to talk to? Don't worry – getting a lawyer is something I can help you with. Contact me for more details.
Do I need to have a mortgage pre-approval to buy?
95% of all builders will require you to provide them with proof of financing capability in order to purchase. This is not required before you sign a contract, but it is usually required within 60 days of signing.
Not sure where to begin? Don't worry – getting a mortgage pre-approval is something that I can help you with. Contact me for more details.
Do the prices include HST?
If you are purchasing for yourself and plan to move in, then yes, prices include the HST and there is nothing you will have to pay at final closing.
If you are purchasing as an investment rental property, then you will have to pay approximately 7.8% of the purchase price as HST on final closing.
This money is remitted to the CRA and as an investor renting out your property you can apply to the CRA immediately to get this money back. It usually takes about 1 month to get your rebate back.
For more information on the HST, see here:
https://truecondos.com/tag/hst-rebates/
Contact me for more details.
What are my closing costs on a pre-construction condo?
Closing costs on a pre-construction condo will vary greatly depending on the actual purchase price of the unit you are buying, but it also depends on the builder, the city that you are buying in, and the type of unit that you are buying.
Roughly speaking in Toronto you can expect to pay approximately 3-5% of the purchase price in closing costs when purchasing a brand new condo.
Check out this article for more info on closing costs:
https://truecondos.com/5-things-to-know-about-closing-costs-when-investing-in-a-pre-construction-condo/
Contact me for more details
Are there any 'hidden' costs when buying a pre-construction condo?
No, there are no hidden fees when buying pre-construction condos because all fees must be disclosed in the agreement of purchase and sale. All purchasers have 10 days to review the agreement and have a lawyer advise them on the exact closing cost amounts. If you need a lawyer to help you we can suggest to you to several expert law firms that will review your agreement in detail.
Is it possible to assign my condo? How much is the assignment fee?
Most condo builders do allow you to sell your unit before the building is complete. This projcess is called selling by "assignment".
There is usually an assignment fee and a legal fee associated with selling. Costs can range from $1000-7000. Contact me for more details.