Canopy Towers Condos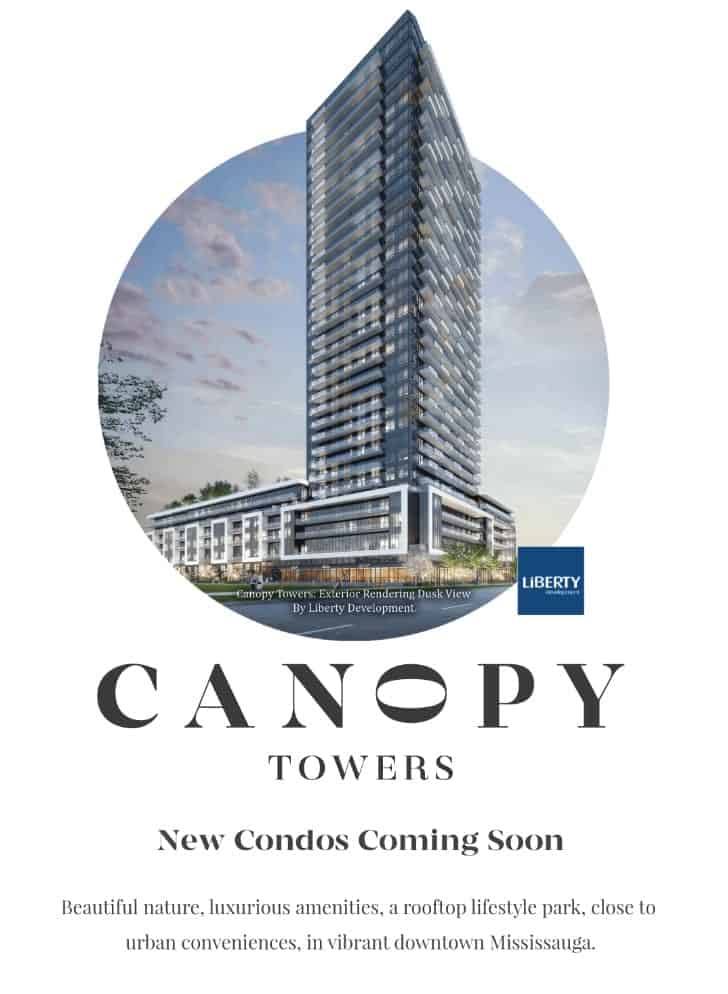 | | | | |
| --- | --- | --- | --- |
| | Address | Eglinton Avenue East & Hurontario Street, Mississauga | |
| Developer | Liberty Development Corporation | Occupancy | TBA |
| Area | Mississauga | Deposit | TBA |
| Storeys | TBA | Maint. Fees | TBA |
| Units | TBA | Prices | TBA |
About Canopy Tower Condos
WHAT'S UP MISSISSAUGA?
Beautiful nature, luxurious amenities, a rooftop lifestyle park, close to urban conveniences, in vibrant downtown Mississauga. Canopy Towers Condos, that's what's up!
Canopy Tower Condos Location
Canopy Towers is centrally located at Hurontario Street and Burnhamthorpe Road, in the epicenter of downtown Mississauga. At Canopy Towers offers everything you possibly want in a matter of moments, from access to employment, transit, major highways, unbelieve shopping, parks restaurants, and nightlife. Be at the centre of it all, at Canopy Towers Condos where you have quick access to:
Steps to future Hurontario LRT, an 18-kilometre dedicated lane rapid transit rail line connecting you to Milton and Lakeshore West GO lines, along with local transit links already in place near Canopy Towers, like MiWay, Brampton Transit, Züm, and Mississauga Transitway at Square One
Quick access to major highways such as the 403, 407, 410 and 401
Walking distance Square One Shopping Centre (Canada's largest mall at 2.2 million square feet) featuring major retailers such as Holt Renfrew, Apple, Kate Spade, Muji, Simons and more!
The Food District, at over 40,000 square feet, is an interactive food concept offers local, handmade, high-quality foods in a setting that is inspired by both modern and vintage food emporiums with favourites such as La Carnita, The Pie Commission, Blackjack BBQ and more!
Walking distance to Whole Foods, the YMCA, The Rec Room, Playdium, GoodLife Fitness, Cineplex Cinemas and Central Library
Billion Dollar Neighbours! Canopy Towers will be steps to the largest development project in Canadian history, as over 130 acres of land in around Square One District is reimagined with Mississauga's newest office tower planned, as well as exciting new retail, public spaces and thousands of new residential dwellings, all of which is head up by some of the largest developers in the country
Adjacent to Sheridan College Hazel McCallion Campus, offering state-of-the-art classrooms, studios, labs and production spaces to over 5,500 students!
The City of Mississauga
Mississauga is the sixth-largest city in Canada and the third in Ontario, with a population approaching 800,000. By 2041, Mississauga is expected to be home to 920,000 people and 565,000 jobs. Mississauga is already a net importer of jobs, meaning more people come to work in Mississauga than leave for employment elsewhere.
This year, major construction will start on the Hurontario LRT. This is the largest infrastructure investment in our City's history. Thousands of jobs and businesses and over 12,000 new housing units will be built along the corridor.
The Hurontario LRT will stop in downtown Mississauga at City Centre, and will be an important connection for the thousands of residents living and working in the downtown.
About the Developer
Liberty Development Corporation
Liberty Development Corporation is a full service real estate development company. It is a leading development manager of commercial, office, and residential buildings in the Greater Toronto Area. The principals of Liberty have over 30 years of hands-on experience in the development and construction industries.
Liberty brings expertise in land assembly, development, design and construction, sales, leasing, and property management. It maintains excellent working relationships with various municipalities as well as professional consultants and trades involved in each project.
Over the past few years, Liberty has created diverse housing styles from single-family homes and townhomes to high-rise condominiums, as well as many notable commercial developments. In doing so, Liberty has been careful to preserve and enhance the communities it has developed and maintains strict design standards in all of its projects.
Liberty is dedicated to total customer care. From knowledgeable sales associates and old world craftsmanship to prompt and courteous after sales service, Liberty is committed to complete customer satisfaction.
Other condos by Liberty Development Corporation:
Promenade Park Towers
Canopy Towers Condos FAQs
How do I reserve a unit in this project?
After you review the floor plans and prices, if you know what suites you are interested in, you may reserve a suite online using our online reservation worksheet form at https://truecondos.com/worksheet.
Does filling out the worksheet form mean I'm committing to buy a suite?
No it is not a formal commitment, it is an expression of interest and the first step you must take if you are thinking about getting a unit in this project.
What does it mean that Andrew la Fleur is a "Platinum Agent"?
Platinum agents are the top selling agents who get preferred status with developers and first access to new projects before regular agents and the public.
Andrew la Fleur has been a top-selling pre-construction agent since 2007, and during this time he has achieved platinum status with many of the top builders and sales companies in the Greater Toronto Area.
For more information on about Platinum agents see this article: https://truecondos.com/5-things-to-know-about-buying-a-condo-with-a-platinum-vip-realtor-real-estate-agent/
How does it benefit me as a buyer to work with Andrew la Fleur as my Platinum Agent?
Working with me as your Platinum agent gives you several benefits
You get the

highest level of access

in the building

You pay the

lowest possible price

for the unit (prices are typically increased significantly after the Platinum sales event)

The best possible

incentives

I do not represent the builder. I represent you. You benefit from my expertise of being a top selling pre-construction agent and investor myself since 2007.

Access to my personal network of mortgage brokers, lawyers, property management, HST rebate services, handymen and much more.

My services to you as a buyer are

free
Do I get a cooling off period? What is it for?
Yes, after you sign the contract to purchase a suite you will have a standard 10-day cooling off period. It's 10 calendar days, not business days from the time you sign.
The 10 days are primarily for 2 things: 1) to have a lawyer review your contract with you if you wish and 2) to get a mortgage pre-approval letter
Do I need to have a lawyer?
You don't need to have a lawyer at the moment that you sign the agreement, however I always recommend that you have a qualified lawyer review your agreement of purchase and sale after you sign and during your 10-day cooling off period.
Not sure who to talk to? Don't worry – getting a lawyer is something I can help you with. Contact me for more details.
Do I need to have a mortgage pre-approval to buy?
95% of all builders will require you to provide them with proof of financing capability in order to purchase. This is not required before you sign a contract, but it is usually required within 60 days of signing.
Not sure where to begin? Don't worry – getting a mortgage pre-approval is something that I can help you with. Contact me for more details.
Do the prices include HST?
If you are purchasing for yourself and plan to move in, then yes, prices include the HST and there is nothing you will have to pay at final closing.
If you are purchasing as an investment rental property, then you will have to pay approximately 7.8% of the purchase price as HST on final closing.
This money is remitted to the CRA and as an investor renting out your property you can apply to the CRA immediately to get this money back. It usually takes about 1 month to get your rebate back.
For more information on the HST, see here:
https://truecondos.com/tag/hst-rebates/
Contact me for more details.
What are my closing costs on a pre-construction condo?
Closing costs on a pre-construction condo will vary greatly depending on the actual purchase price of the unit you are buying, but it also depends on the builder, the city that you are buying in, and the type of unit that you are buying.
Roughly speaking in Toronto you can expect to pay approximately 3-5% of the purchase price in closing costs when purchasing a brand new condo.
Check out this article for more info on closing costs:
https://truecondos.com/5-things-to-know-about-closing-costs-when-investing-in-a-pre-construction-condo/
Contact me for more details
Are there any 'hidden' costs when buying a pre-construction condo?
No, there are no hidden fees when buying pre-construction condos because all fees must be disclosed in the agreement of purchase and sale. All purchasers have 10 days to review the agreement and have a lawyer advise them on the exact closing cost amounts. If you need a lawyer to help you we can suggest to you to several expert law firms that will review your agreement in detail.
Is it possible to assign my condo? How much is the assignment fee?
Most condo builders do allow you to sell your unit before the building is complete. This projcess is called selling by "assignment".
There is usually an assignment fee and a legal fee associated with selling. Costs can range from $1000-7000. Contact me for more details.