Carlyle Condos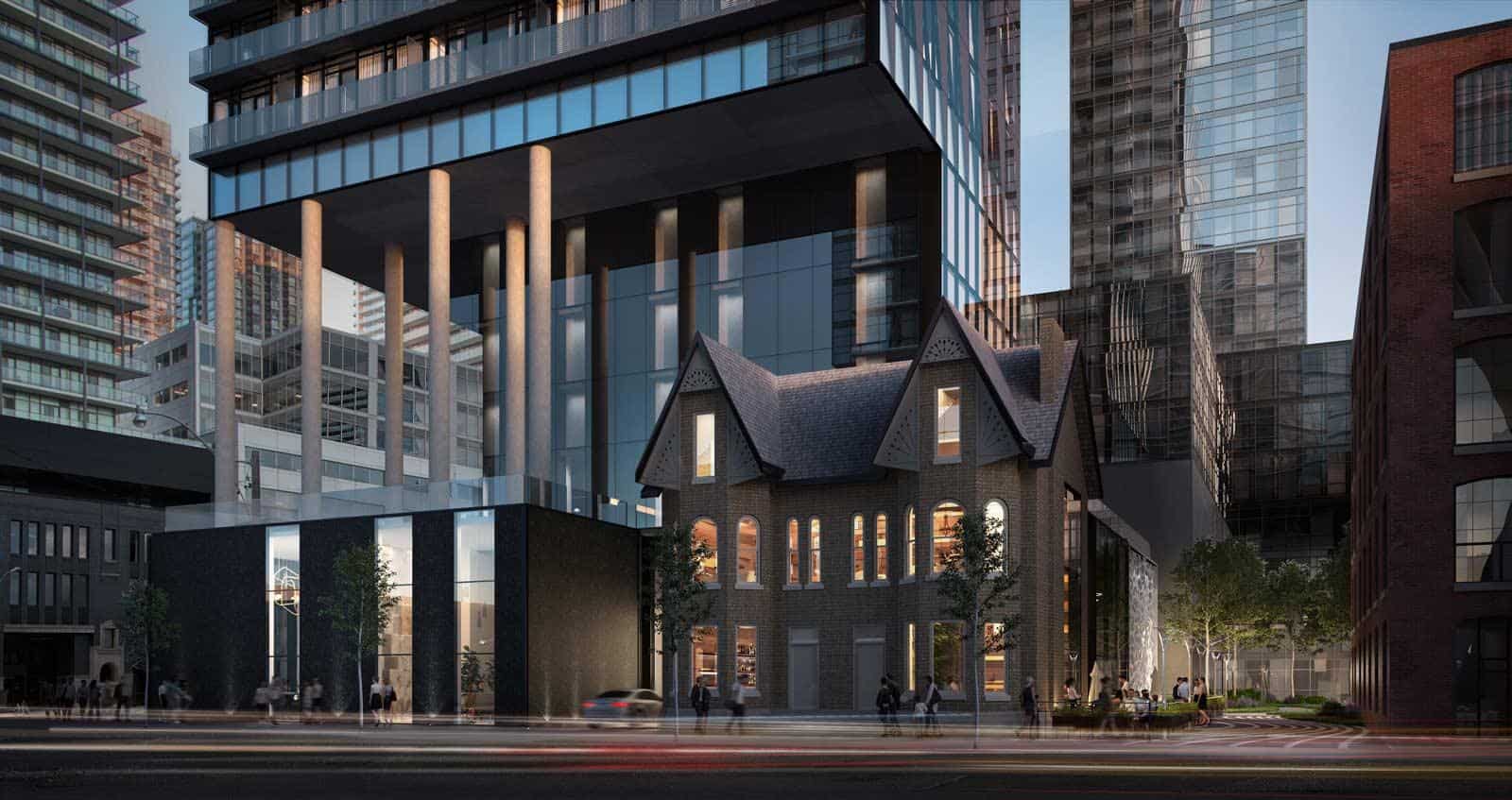 Carlyle Condos is a new condo project by Carlyle Communities, currently in pre-construction at 124 Peter St, Toronto.
| | | | |
| --- | --- | --- | --- |
| | Address | 124 Peter St, Toronto | |
| Developer | Carlyle Communities | Occupancy | Fall/Winter 2022 |
| Area | Downtown | Deposit | TBA |
| Storeys | 42 | Maint. Fees | TBA |
| Units | 350 | Prices | TBA |
About Carlyle Condos
Carlyle Condos is located at the southwest corner of Peter Street & Richmond Street West, within the vibrant and burgeoning Entertainment District, one of Toronto's fastest growing neighbourhoods.
The area has emerged as one of the most in-demand places to live, becoming a local "hot spot" for young professionals to live largely as a result of its close proximity to the Financial District, many of the City's best restaurants, bars, nightspots and performance venues.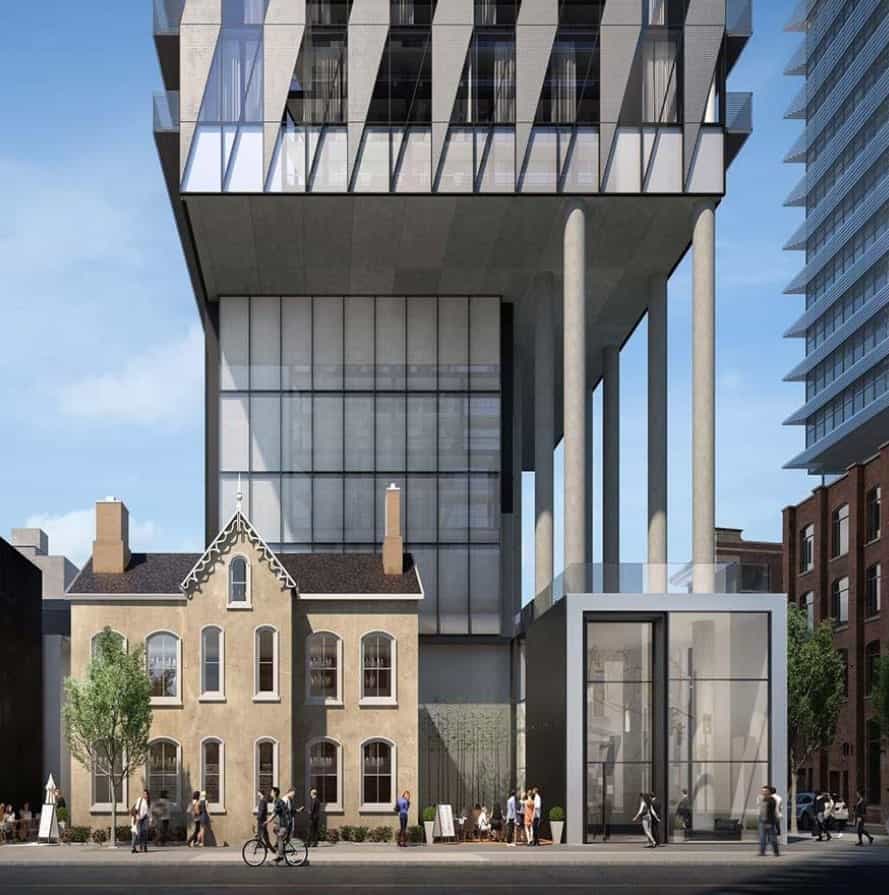 Carlyle Condos Location
Carlyle Condos is located in Toronto's renowned Entertainment District, the epicentre of the hustle and bustle that only downtown can offer. Whether it's taking in a show on King Street West at one of the many iconic theatres, or a film at TIFF Bell Lightbox, Toronto's best culture and entertainment is yours to discover at Carlyle Condos. Window-shop on Queen Street West or let your inner foodie reign free with the city's best cheap eats or fine dining nearby.
TORONTO'S BEST SHOPPING & DINING
Toronto's Entertainment District features some of the top-rated restaurants anywhere in the city, and for good reason. This is where those with taste dine out. Whatever cuisine you find yourself craving, you'll find it here, elevated to new heights:
Alo (consistently rated as Toronto's top restaurant)

Labora

Aloette 

Pai

La Carnita

Byblos

Michael's on Simcoe

Cactus Club Cafe

Figo

Khao San Road

Luma

Pizzeria Libretto 
You are also just a short stroll from Queen Street West, Toronto's coolest shopping destination – where global brands and local boutiques can be found side by side, catering to every style and need imaginable:
MEC

Lululemon

Aritzia

Zara

Brandy Melville

H&M

LCBO

Little Burgundy

HomeSense

Lush and many more!
TRANSIT CONNECTIONS TO GET YOU MOVING
At Carlyle Condos, you have access to a number of rapid transit options including:
Walking distance to both the 504 King and 501 Queen Streetcars, the two most vital streetcar routes in the city, connecting you to any neighbourhood in the city

Walking Distance to Osgoode Subway (Line 1), allowing you to go from downtown to Vaughan, and everyone in between

Future Ontario Line rapid transit will be walking distance to Carlyle Condos
STEPS TO BEST IN CLASS EMPLOYERS
Carlyle Condos is in the heart of Toronto's Entertainment District, the epicentre of arts, culture and entertainment, but also centrally located to the best employment Toronto has to offer:
Amazon

Shopify

IBM

Oracle

Apple

The headquarters of all Big 5 Canadian Banks

Consulting firms such as E&Y, PwC, KPMG and Deloitte 
About the Developer
Carlyle exists for the forward thinking. Specializing in urban developments in Toronto's most sought-after neighbourhoods, Carlyle utilizes a bottom-up approach in all facets of the development process.
Our ability to look at real estate development through a new lens allows us to create inspiring and inviting communities with design at the forefront, uncompromising quality and an unsurpassed attention to detail.
Starting with vision, Carlyle prides itself on its ability to learn about the existing communities in which we work to develop a broad understanding of their unique nuances. That allows us to appropriately weave old with new in order to complement and enhance the existing neighbourhood context.
Each one of our projects is an expression of experience through architecture and design. Our developments are for those who believe that real estate is about more than just bricks and mortar.
How do I reserve a unit in this project?
After you review the floor plans and prices, if you know what suites you are interested in, you may reserve a suite online using our online reservation worksheet form at https://truecondos.com/worksheet.
Does filling out the worksheet form mean I'm committing to buy a suite?
No it is not a formal commitment, it is an expression of interest and the first step you must take if you are thinking about getting a unit in this project.
What does it mean that Andrew la Fleur is a "Platinum Agent"?
Platinum agents are the top selling agents who get preferred status with developers and first access to new projects before regular agents and the public.
Andrew la Fleur has been a top-selling pre-construction agent since 2007, and during this time he has achieved platinum status with many of the top builders and sales companies in the Greater Toronto Area.
For more information on about Platinum agents see this article: https://truecondos.com/5-things-to-know-about-buying-a-condo-with-a-platinum-vip-realtor-real-estate-agent/
How does it benefit me as a buyer to work with Andrew la Fleur as my Platinum Agent?
Working with me as your Platinum agent gives you several benefits
You get the

highest level of access

in the building

You pay the

lowest possible price

for the unit (prices are typically increased significantly after the Platinum sales event)

The best possible

incentives

I do not represent the builder. I represent you. You benefit from my expertise of being a top selling pre-construction agent and investor myself since 2007.

Access to my personal network of mortgage brokers, lawyers, property management, HST rebate services, handymen and much more.

My services to you as a buyer are

free
Do I get a cooling off period? What is it for?
Yes, after you sign the contract to purchase a suite you will have a standard 10-day cooling off period. It's 10 calendar days, not business days from the time you sign.
The 10 days are primarily for 2 things: 1) to have a lawyer review your contract with you if you wish and 2) to get a mortgage pre-approval letter
Do I need to have a lawyer?
You don't need to have a lawyer at the moment that you sign the agreement, however I always recommend that you have a qualified lawyer review your agreement of purchase and sale after you sign and during your 10-day cooling off period.
Not sure who to talk to? Don't worry – getting a lawyer is something I can help you with. Contact me for more details.
Do I need to have a mortgage pre-approval to buy?
95% of all builders will require you to provide them with proof of financing capability in order to purchase. This is not required before you sign a contract, but it is usually required within 60 days of signing.
Not sure where to begin? Don't worry – getting a mortgage pre-approval is something that I can help you with. Contact me for more details.
Do the prices include HST?
If you are purchasing for yourself and plan to move in, then yes, prices include the HST and there is nothing you will have to pay at final closing.
If you are purchasing as an investment rental property, then you will have to pay approximately 7.8% of the purchase price as HST on final closing.
This money is remitted to the CRA and as an investor renting out your property you can apply to the CRA immediately to get this money back. It usually takes about 1 month to get your rebate back.
For more information on the HST, see here:
https://truecondos.com/tag/hst-rebates/
Contact me for more details.
What are my closing costs on a pre-construction condo?
Closing costs on a pre-construction condo will vary greatly depending on the actual purchase price of the unit you are buying, but it also depends on the builder, the city that you are buying in, and the type of unit that you are buying.
Roughly speaking in Toronto you can expect to pay approximately 3-5% of the purchase price in closing costs when purchasing a brand new condo.
Check out this article for more info on closing costs:
https://truecondos.com/5-things-to-know-about-closing-costs-when-investing-in-a-pre-construction-condo/
Contact me for more details
Are there any 'hidden' costs when buying a pre-construction condo?
No, there are no hidden fees when buying pre-construction condos because all fees must be disclosed in the agreement of purchase and sale. All purchasers have 10 days to review the agreement and have a lawyer advise them on the exact closing cost amounts. If you need a lawyer to help you we can suggest to you to several expert law firms that will review your agreement in detail.
Is it possible to assign my condo? How much is the assignment fee?
Most condo builders do allow you to sell your unit before the building is complete. This projcess is called selling by "assignment".
There is usually an assignment fee and a legal fee associated with selling. Costs can range from $1000-7000. Contact me for more details.