Carlyle Junction Condos
Carlyle Junction Condos is a new condo project in Toronto by Carlyle Communities coming to 6 Lloyd Avenue, Toronto, ON.
| | | | |
| --- | --- | --- | --- |
| | Address | 6 Lloyd Avenue, Toronto | |
| Developer | Carlyle Communities | Occupancy | Summer 2023 |
| Area | Stockyards District | Deposit | TBA |
| Storeys | 17 | Maint. Fees | TBA |
| Units | 529 | Prices | TBA |
About Caryle Junction Condos
Coming soon to where The Junction, Stockyards and Corso Italia intertwine, is Carlyle Junction Condos, a beautiful mixed-use development consisting of condo, retail and office.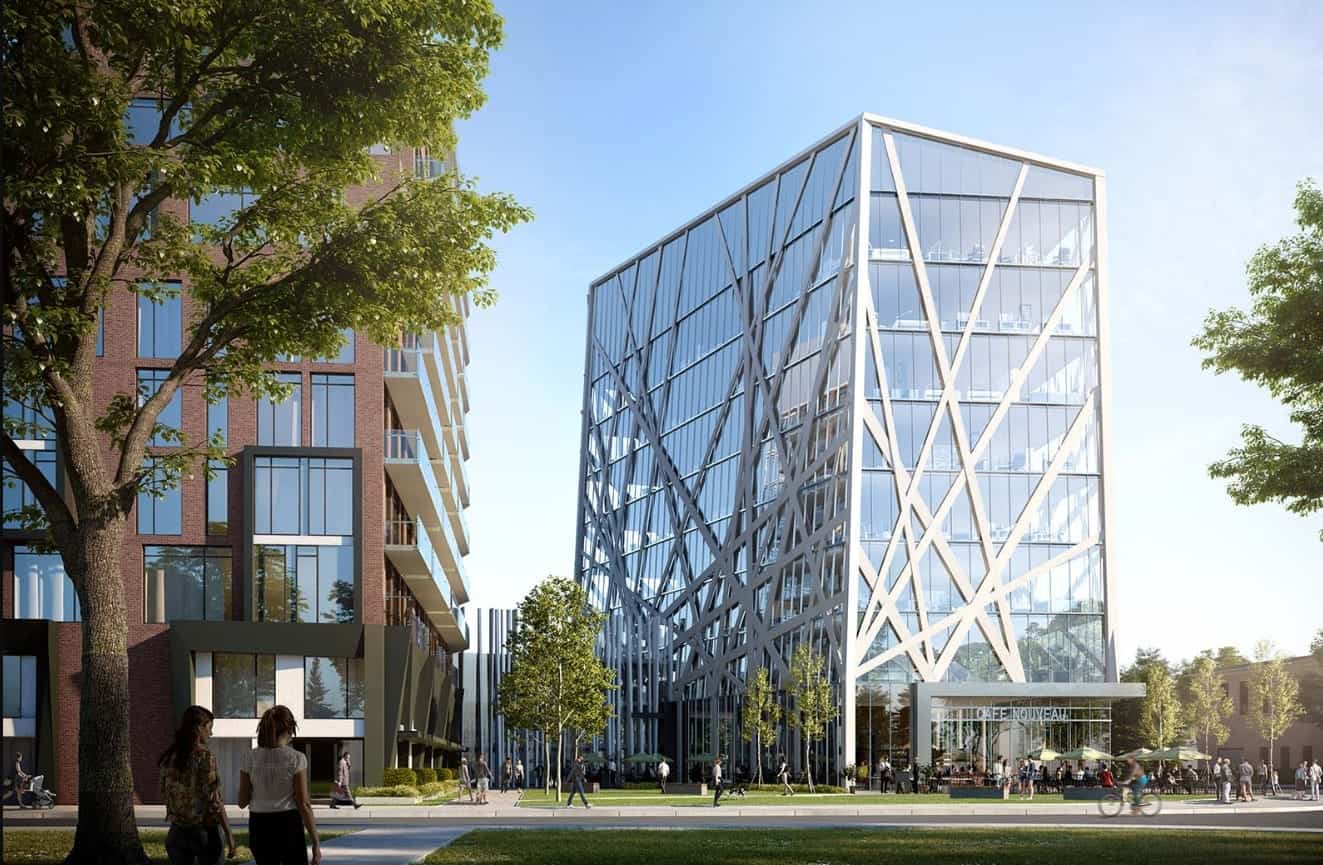 Carlyle Junction Condos Location
Located on the south side of St. Clair Avenue, just east of Keele Street, Carlyle Junction is steps from both The Junction, The Stockyards, and Corso Italia, three of Toronto's fastest growing and highly coveted neighbourhoods for young families, professionals and creatives, as a result of its unique character as well as its close proximity to retail amenities and public transit alike. 
THREE NEIGHBOURHOODS IN ONE
Carlyle Junction is uniquely situated amongst three of awesome neighbourhoods, representing Toronto's past, present and future:
Corso Italia

is one of

Toronto

's historic Italian neighbourhoods. Get a taste of the neighbourhood with delicious gelato from La Paloma, or stalwart cafes like Tre Marie and Nova Era. Sample one of the many Latin American restaurants, such as Tenoch or Itacate. As one of the city's great cultural hubs, Corso Italia allows you to experience flavours from across the world, in your backyard
The Junction

is one of the hippest neighbourhoods in

Toronto

. Discover hand-crafted Scandinavian and Japanese designed furniture at Mjolk. Taste the fresh local foods of The Junction Farmers Market. Dine at local faves such as Nodo Junction, Indie Alehouse, Honest Weight and more. Living at Carlyle Junction, you can practically spend all of your weekends exploring new things just in this neighbourhood alone
The Stockyards

is quickly becoming the city's most up and coming neighbourhood, yet is also home to some of the best big box retail shopping in

Toronto

. In addition to the 50+ shops and restaurants of Stock Yards Village Shopping Centre, there's also a Home Depot, Canadian Tire, Rona, Walmart, Best Buy and much more, all within easy walking distance. Recently, the area has also become a hub for craft breweries, with local faves such as Junction Craft Brewing, Rainhard Brewing, and Shacklands Brewing forming a new 'Brewery District'.
TRANSIT CONNECTIONS
Being situated between three neighbourhoods means you are well connected in terms of transit, at Carlyle Junction. In minutes, you have access to:
TTC 512 St Clair Streetcar, connecting you The Stockyards, Corso Italia, St Clair West, Wynchwood, Forest Hill and Yonge and St Clair, connecting you to two subway stations on Line 1

Future Smarttrack station at St Clair/Old Weston will be a game changer for the area, providing a fast connection to downtown via dedicated rail, similar to express commuter rail in Germany and France

Multiple bus routes whisking you elsewhere in the city, in particular to the upcoming Mount Dennis Transit Hub, with connections to TTC Line 5 (Eglinton Crosstown), GO Transit and UP Express
GREENSPACES GALORE
Carlyle Junction is near a number of parks in all directions, including:
Runnymede Park

Earlscourt Park

Wadsworth Park

Sadra Park

Upper Junction Park

Maple Clare Park

Lavender Creek Trail
About the Developer
Carlyle exists for the forward thinking. Specializing in urban developments in Toronto's most sought-after neighbourhoods, Carlyle utilizes a bottom-up approach in all facets of the development process.
Our ability to look at real estate development through a new lens allows us to create inspiring and inviting communities with design at the forefront, uncompromising quality and an unsurpassed attention to detail.
Starting with vision, Carlyle prides itself on its ability to learn about the existing communities in which we work to develop a broad understanding of their unique nuances.
That allows us to appropriately weave old with new in order to complement and enhance the existing neighbourhood context.
Each one of our projects is an expression of experience through architecture and design. Our developments are for those who believe that real estate is about more than just bricks and mortar.
Carlyle Junction Condos FAQs
How do I reserve a unit in this project?
After you review the floor plans and prices, if you know what suites you are interested in, you may reserve a suite online using our online reservation worksheet form at https://truecondos.com/worksheet.
Does filling out the worksheet form mean I'm committing to buy a suite?
No it is not a formal commitment, it is an expression of interest and the first step you must take if you are thinking about getting a unit in this project.
What does it mean that Andrew la Fleur is a "Platinum Agent"?
Platinum agents are the top selling agents who get preferred status with developers and first access to new projects before regular agents and the public.
Andrew la Fleur has been a top-selling pre-construction agent since 2007, and during this time he has achieved platinum status with many of the top builders and sales companies in the Greater Toronto Area.
For more information on about Platinum agents see this article: https://truecondos.com/5-things-to-know-about-buying-a-condo-with-a-platinum-vip-realtor-real-estate-agent/
How does it benefit me as a buyer to work with Andrew la Fleur as my Platinum Agent?
Working with me as your Platinum agent gives you several benefits
You get the

highest level of access

in the building

You pay the

lowest possible price

for the unit (prices are typically increased significantly after the Platinum sales event)

The best possible

incentives

I do not represent the builder. I represent you. You benefit from my expertise of being a top selling pre-construction agent and investor myself since 2007.

Access to my personal network of mortgage brokers, lawyers, property management, HST rebate services, handymen and much more.

My services to you as a buyer are

free
Do I get a cooling off period? What is it for?
Yes, after you sign the contract to purchase a suite you will have a standard 10-day cooling off period. It's 10 calendar days, not business days from the time you sign.
The 10 days are primarily for 2 things: 1) to have a lawyer review your contract with you if you wish and 2) to get a mortgage pre-approval letter
Do I need to have a lawyer?
You don't need to have a lawyer at the moment that you sign the agreement, however I always recommend that you have a qualified lawyer review your agreement of purchase and sale after you sign and during your 10-day cooling off period.
Not sure who to talk to? Don't worry – getting a lawyer is something I can help you with. Contact me for more details.
Do I need to have a mortgage pre-approval to buy?
95% of all builders will require you to provide them with proof of financing capability in order to purchase. This is not required before you sign a contract, but it is usually required within 60 days of signing.
Not sure where to begin? Don't worry – getting a mortgage pre-approval is something that I can help you with. Contact me for more details.
Do the prices include HST?
If you are purchasing for yourself and plan to move in, then yes, prices include the HST and there is nothing you will have to pay at final closing.
If you are purchasing as an investment rental property, then you will have to pay approximately 7.8% of the purchase price as HST on final closing.
This money is remitted to the CRA and as an investor renting out your property you can apply to the CRA immediately to get this money back. It usually takes about 1 month to get your rebate back.
For more information on the HST, see here:
https://truecondos.com/tag/hst-rebates/
Contact me for more details.
What are my closing costs on a pre-construction condo?
Closing costs on a pre-construction condo will vary greatly depending on the actual purchase price of the unit you are buying, but it also depends on the builder, the city that you are buying in, and the type of unit that you are buying.
Roughly speaking in Toronto you can expect to pay approximately 3-5% of the purchase price in closing costs when purchasing a brand new condo.
Check out this article for more info on closing costs:
https://truecondos.com/5-things-to-know-about-closing-costs-when-investing-in-a-pre-construction-condo/
Contact me for more details
Are there any 'hidden' costs when buying a pre-construction condo?
No, there are no hidden fees when buying pre-construction condos because all fees must be disclosed in the agreement of purchase and sale. All purchasers have 10 days to review the agreement and have a lawyer advise them on the exact closing cost amounts. If you need a lawyer to help you we can suggest to you to several expert law firms that will review your agreement in detail.
Is it possible to assign my condo? How much is the assignment fee?
Most condo builders do allow you to sell your unit before the building is complete. This projcess is called selling by "assignment".
There is usually an assignment fee and a legal fee associated with selling. Costs can range from $1000-7000. Contact me for more details.