East 3220 Condos
| | |
| --- | --- |
| Developer | Quadcam Development Group |
| Address | 3220 Sheppard Avenue East, Toronto |
| Neighbourhood | Scarborough |
| Number of Storeys | 18 |
| Number of Units | 234 |
| Occupancy Date | November 2021 |
| Maintenance Fees | $0.497 psf/m |
| Priced From | Low $600,000s |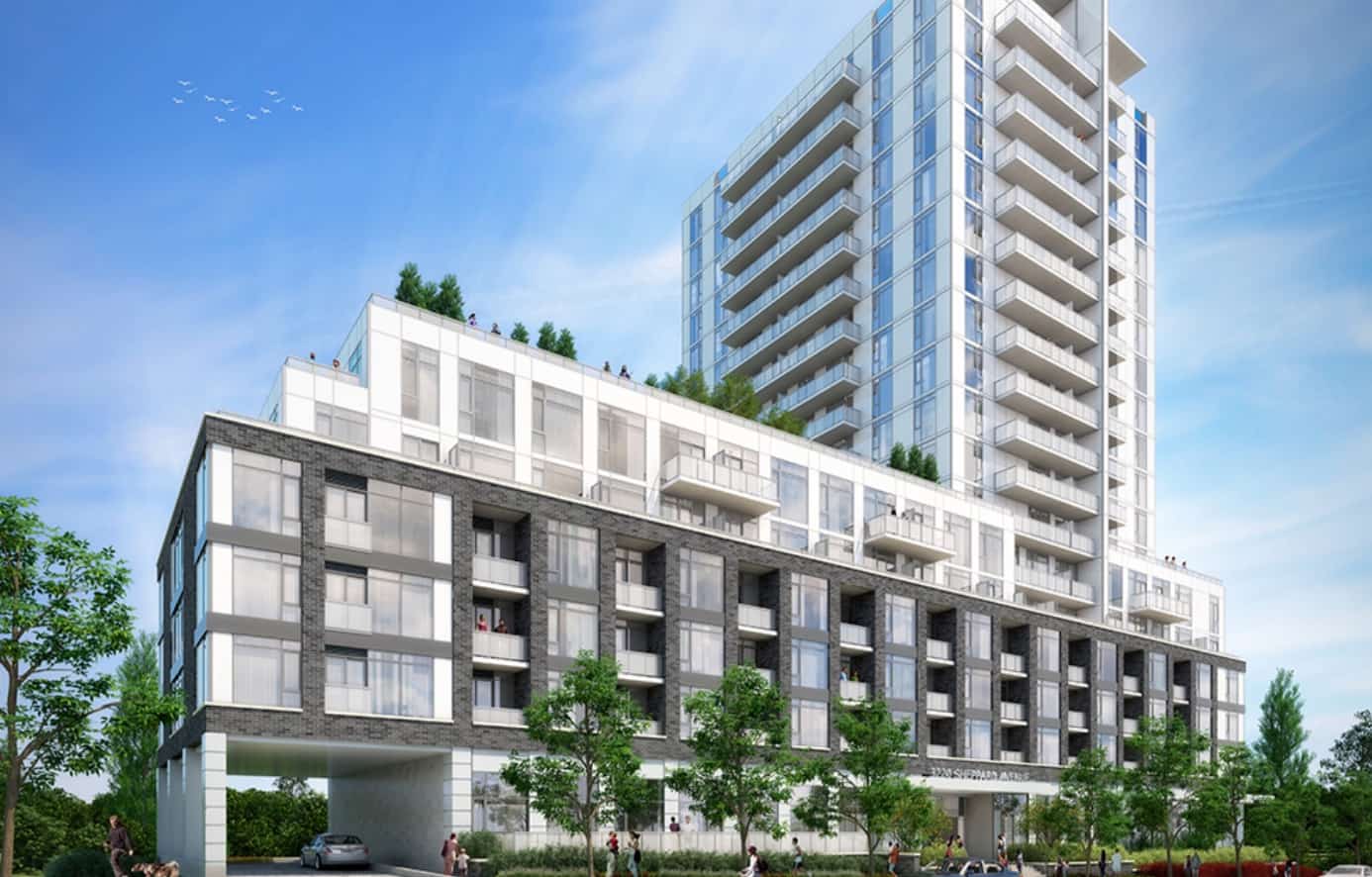 Get the True Condos Insider Market Advantage for FREE!
Along with instant access to this project, after signing up you will receive:
✅ Access to DAY 1 Platinum VIP pricing
✅ Best selection of units
✅ Opportunity to reserve your unit via worksheet before the general public
✅ Work with a condo investing specialist (someone who currently invests in the condo market and has sold hundreds of condos)
✅ Expert analysis on the 5% of condos worth investing in Toronto and the GTA
About East 3220 Condos
East 3220 Condos offer an extensive collection of amenities that will elevate your living experience. Every level has a space dedicated to you starting with a welcoming seating area in the chic and fully furnished lobby and ground floor patio, to the beautifully landscaped rooftop terrace.
Entertain your guests in the spacious party or meeting room, or let them stay overnight in a polished guest suite. Fitness enthusiasts will enjoy a fully-equipped fitness centre and spa, readers will get lost in a story in the library, and children will always be amused in the playroom.
This remarkable condominium offers a variety of suite options including bachelor, 1 bedroom, 1 bedroom plus den, 2 bedroom and 2 bedroom plus den options surrounded by oversized balconies and large wrap-around terraces. These charming suites include elegant master bedrooms, with a comfortable ensuite and a wonderful walk-in closet.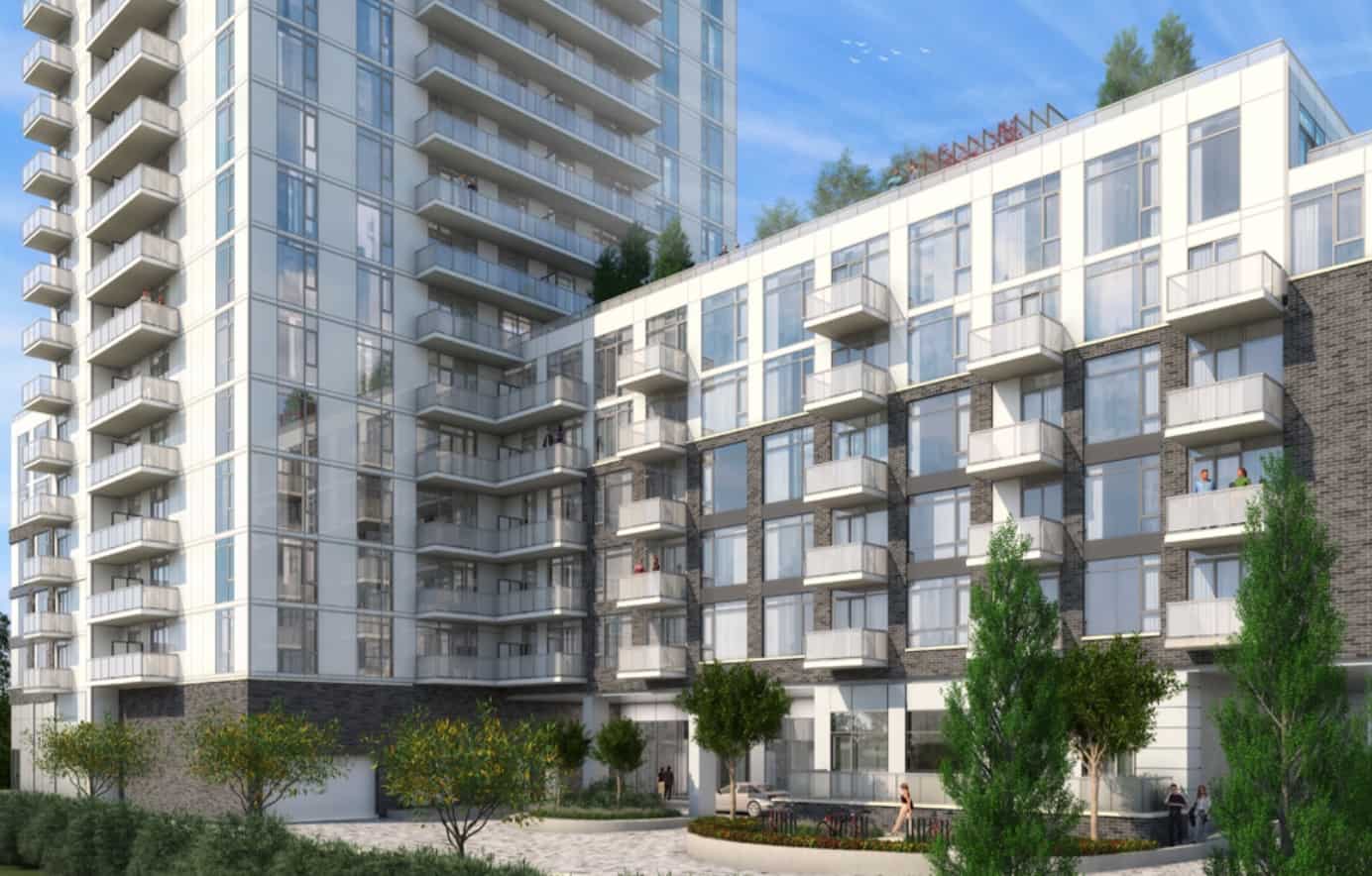 East 3220 Condos Location
East 3220 Condos will be located at the corner of Sheppard Avenue East and Midland Avenue in Scarborough of Toronto, ON.
SHOPPING & DINING
Visit Fairview Mall, Scarborough Town Centre or Pacific Mall to satisfy all your shopping desires. Afterwards, you can wine and dine at some of the best fine dining restaurants in the area including Sagano Rooftop Japanese Restaurant, Marlowe Restaurant and Wine Bar or Blackhorn Steakhouse.
RECREATION & PARK
Enjoy the lavish, active lifestyle of the Upper East Side with state of the art recreation facilities, Bayview Golf and Country Club and local outdoor parks just minutes away from your suite. Visit Crossroads Recreation Centre for a nice dip in the pool or stopover the Stephen Leacock Community Centre where you can pick up a soccer game or run some track. Tennis players can also enjoy a match at Bridlewood Park.
TRANSPORTATION
Travel anywhere in Toronto or the GTA using one of the several highways that surround you such as the 401, 404 or Don Valley Parkway. Living in the Upper East Side, you are surrounded by several public transit options. You can hop on the Agincourt GO Bus just steps away or catch the subway at the Don Mills subway station.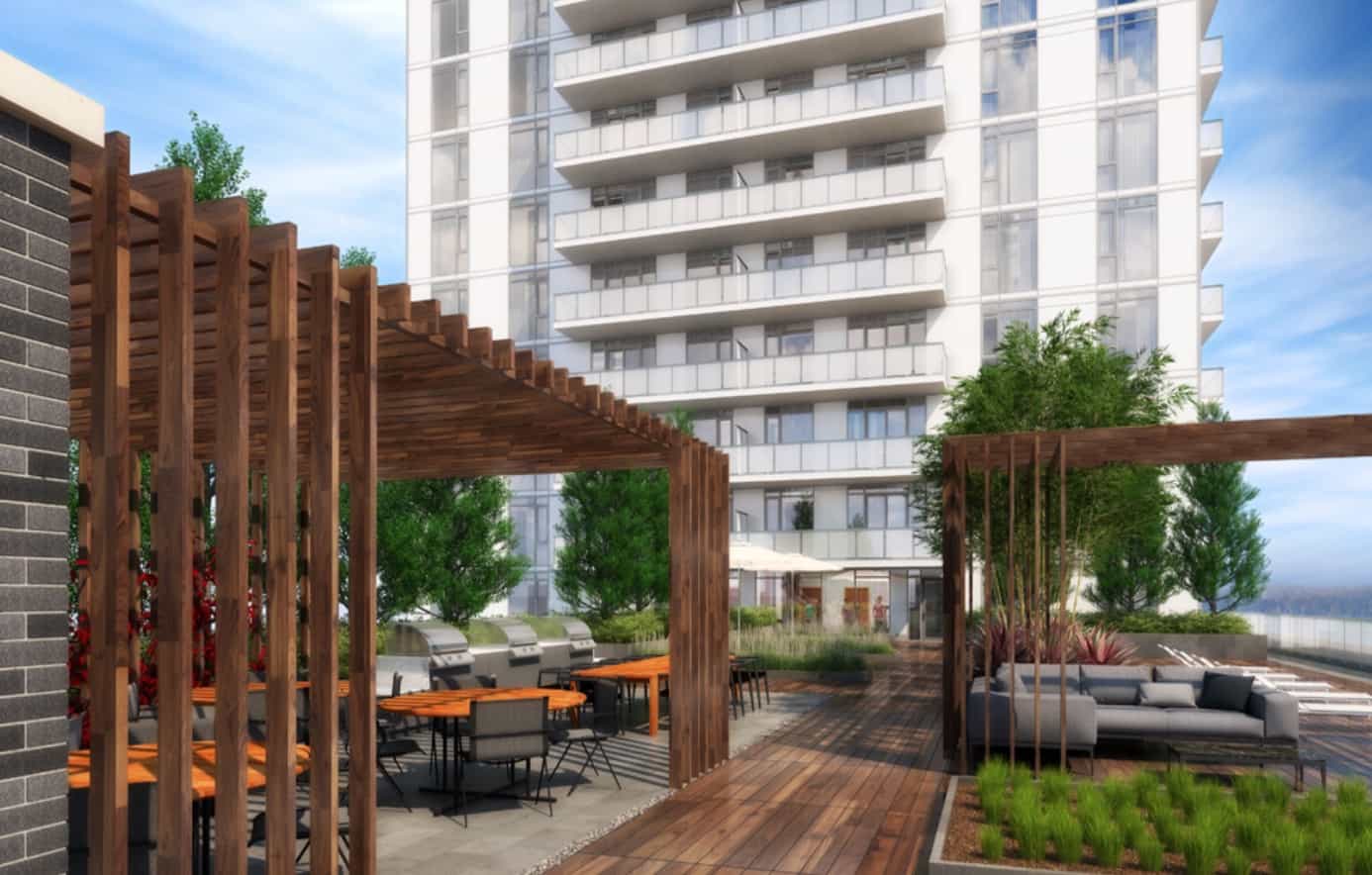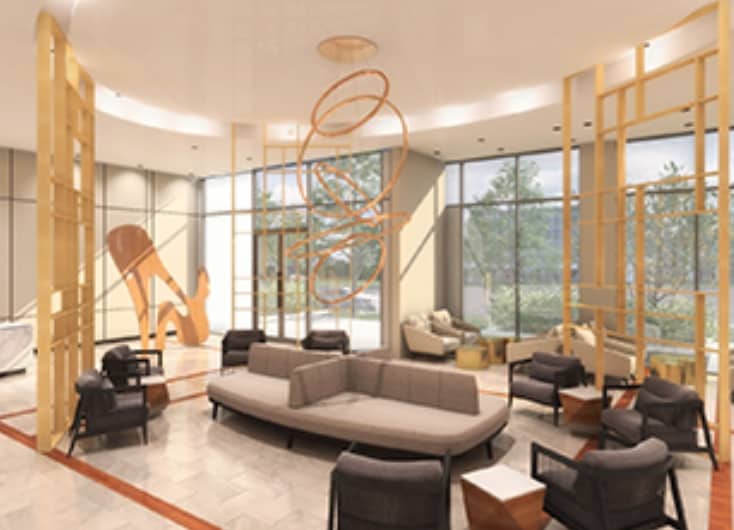 About the Developer
For over a decade QUADCAM has been dedicated to creating affordable high quality condominium residences that are sensitive to the needs of the community. Phil Campione, the CEO of QUADCAM Development Group, is the visionary whose multiple talents and vast experience have significantly contributed to Vaughan becoming one of the fastest growing and most livable cities in Canada.
QUADCAM has developed a progressive team that thrives on meeting the evolving challenges of the construction industry, recruiting only leaders in their field with a proven track record. This forward thinking group has created innovative ways to deliver sustainability and affordability, while remaining true to its enduring commitment to quality.
Our recent developments 2800 Condominiums and Vista Parc Condominiums are shining examples of how intelligent land acquistion, superior design and creative thinking can converge to fill a void in and enhance the condominium marketplace.
How do I reserve a unit in this project?
After you review the floor plans and prices, if you know what suites you are interested in, you may reserve a suite online using our online reservation worksheet form at https://truecondos.com/worksheet.
Does filling out the worksheet form mean I'm committing to buy a suite?
No it is not a formal commitment, it is an expression of interest and the first step you must take if you are thinking about getting a unit in this project.
What does it mean that Andrew la Fleur is a "Platinum Agent"?
Platinum agents are the top selling agents who get preferred status with developers and first access to new projects before regular agents and the public.
Andrew la Fleur has been a top-selling pre-construction agent since 2007, and during this time he has achieved platinum status with many of the top builders and sales companies in the Greater Toronto Area.
For more information on about Platinum agents see this article: https://truecondos.com/5-things-to-know-about-buying-a-condo-with-a-platinum-vip-realtor-real-estate-agent/
How does it benefit me as a buyer to work with Andrew la Fleur as my Platinum Agent?
Working with me as your Platinum agent gives you several benefits
You get the

highest level of access

in the building

You pay the

lowest possible price

for the unit (prices are typically increased significantly after the Platinum sales event)

The best possible

incentives

I do not represent the builder. I represent you. You benefit from my expertise of being a top selling pre-construction agent and investor myself since 2007.

Access to my personal network of mortgage brokers, lawyers, property management, HST rebate services, handymen and much more.

My services to you as a buyer are

free
Do I get a cooling off period? What is it for?
Yes, after you sign the contract to purchase a suite you will have a standard 10-day cooling off period. It's 10 calendar days, not business days from the time you sign.
The 10 days are primarily for 2 things: 1) to have a lawyer review your contract with you if you wish and 2) to get a mortgage pre-approval letter
Do I need to have a lawyer?
You don't need to have a lawyer at the moment that you sign the agreement, however I always recommend that you have a qualified lawyer review your agreement of purchase and sale after you sign and during your 10-day cooling off period.
Not sure who to talk to? Don't worry – getting a lawyer is something I can help you with. Contact me for more details.
Do I need to have a mortgage pre-approval to buy?
95% of all builders will require you to provide them with proof of financing capability in order to purchase. This is not required before you sign a contract, but it is usually required within 60 days of signing.
Not sure where to begin? Don't worry – getting a mortgage pre-approval is something that I can help you with. Contact me for more details.
Do the prices include HST?
If you are purchasing for yourself and plan to move in, then yes, prices include the HST and there is nothing you will have to pay at final closing.
If you are purchasing as an investment rental property, then you will have to pay approximately 7.8% of the purchase price as HST on final closing.
This money is remitted to the CRA and as an investor renting out your property you can apply to the CRA immediately to get this money back. It usually takes about 1 month to get your rebate back.
For more information on the HST, see here:
https://truecondos.com/tag/hst-rebates/
Contact me for more details.
What are my closing costs on a pre-construction condo?
Closing costs on a pre-construction condo will vary greatly depending on the actual purchase price of the unit you are buying, but it also depends on the builder, the city that you are buying in, and the type of unit that you are buying.
Roughly speaking in Toronto you can expect to pay approximately 3-5% of the purchase price in closing costs when purchasing a brand new condo.
Check out this article for more info on closing costs:
https://truecondos.com/5-things-to-know-about-closing-costs-when-investing-in-a-pre-construction-condo/
Contact me for more details
Are there any 'hidden' costs when buying a pre-construction condo?
No, there are no hidden fees when buying pre-construction condos because all fees must be disclosed in the agreement of purchase and sale. All purchasers have 10 days to review the agreement and have a lawyer advise them on the exact closing cost amounts. If you need a lawyer to help you we can suggest to you to several expert law firms that will review your agreement in detail.
Is it possible to assign my condo? How much is the assignment fee?
Most condo builders do allow you to sell your unit before the building is complete. This projcess is called selling by "assignment".
There is usually an assignment fee and a legal fee associated with selling. Costs can range from $1000-7000. Contact me for more details.