East City Condos
East City Condos is a new condo in Peterborough developed by TVM Group currently in pre-construction at Hunter Street East, Peterborough, ON.
| | | | |
| --- | --- | --- | --- |
| | Address | Hunter Street East, Peterborough | |
| Developer | TVM Group | Occupancy | Summer 2022 |
| Area | Peterborough | Deposit | 15% Before Occupancy |
| Storeys | 9 | Maint. Fees | $0.31 psf/m |
| Units | 91 | Priced From | Low $400,000s |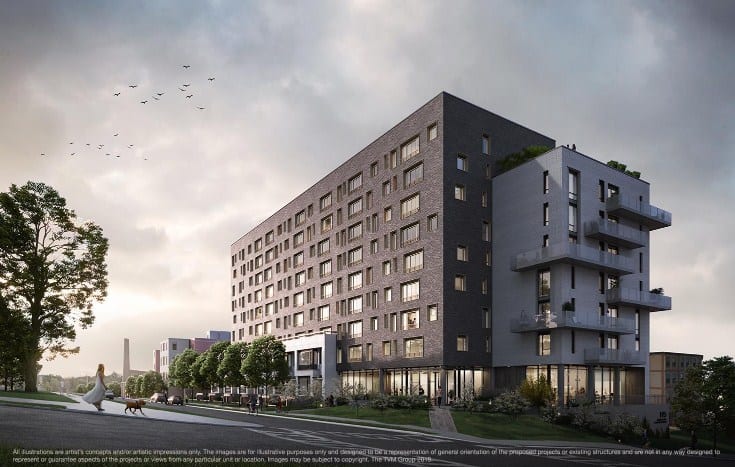 Get the True Condos Insider Market Advantage for FREE!
Along with instant access to this project, after signing up you will receive:
✅ Access to DAY 1 Platinum VIP pricing
✅ Best selection of units
✅ Opportunity to reserve your unit via worksheet before the general public
✅ Work with a condo investing specialist (someone who currently invests in the condo market and has sold hundreds of condos)
✅ Expert analysis on the 5% of condos worth investing in Toronto and the GTA
About East City Condos
Situated in an idyllic setting kilometres from Toronto's urban frenzy, East City Condos will rival the GTA's most upscale offerings. A new addition to Peterborough's skyline, East City Condos will rise to 9 storeys. East City Condos is a contemporary interpretation of the original hospital legacy of masonry architecture.
Visual interest is enhanced by the deft placement of windows, balconies and juliet balconies. An interplay of light brick with a concentration of charcoal brick and a high wall-to-window ratio, East City Condos is destined to become a landmark building within a residential neighbourhood.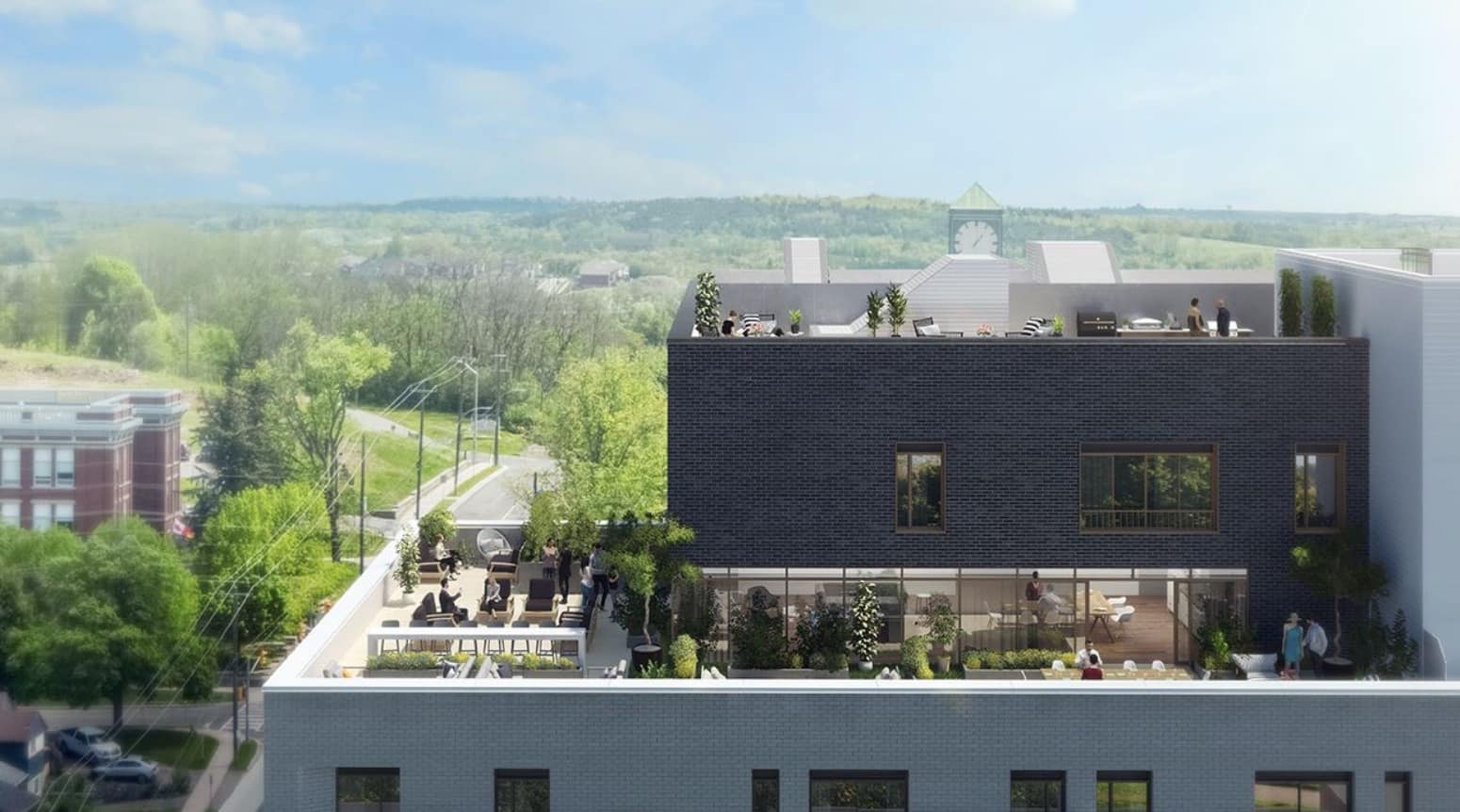 East City Condos Location
The grand waters of the Otonabee River, part of the Trent-Severn Waterway, bisect the City into two communities that spread east and west from its shoreline.
The East City rises above the downtown, affording breathtaking views from many places. Peterborough is a thriving gateway to the Kawartha Lakes recreational playground, enjoyed by residents and visitors of all ages.
The Kawarthas are renowned for being home to numerous lakes and rivers, connected by the Trent-Severn Waterway, which links Georgian Bay with Lake Ontario. Peterborough's natural setting is beautifully unveiled in all seasons.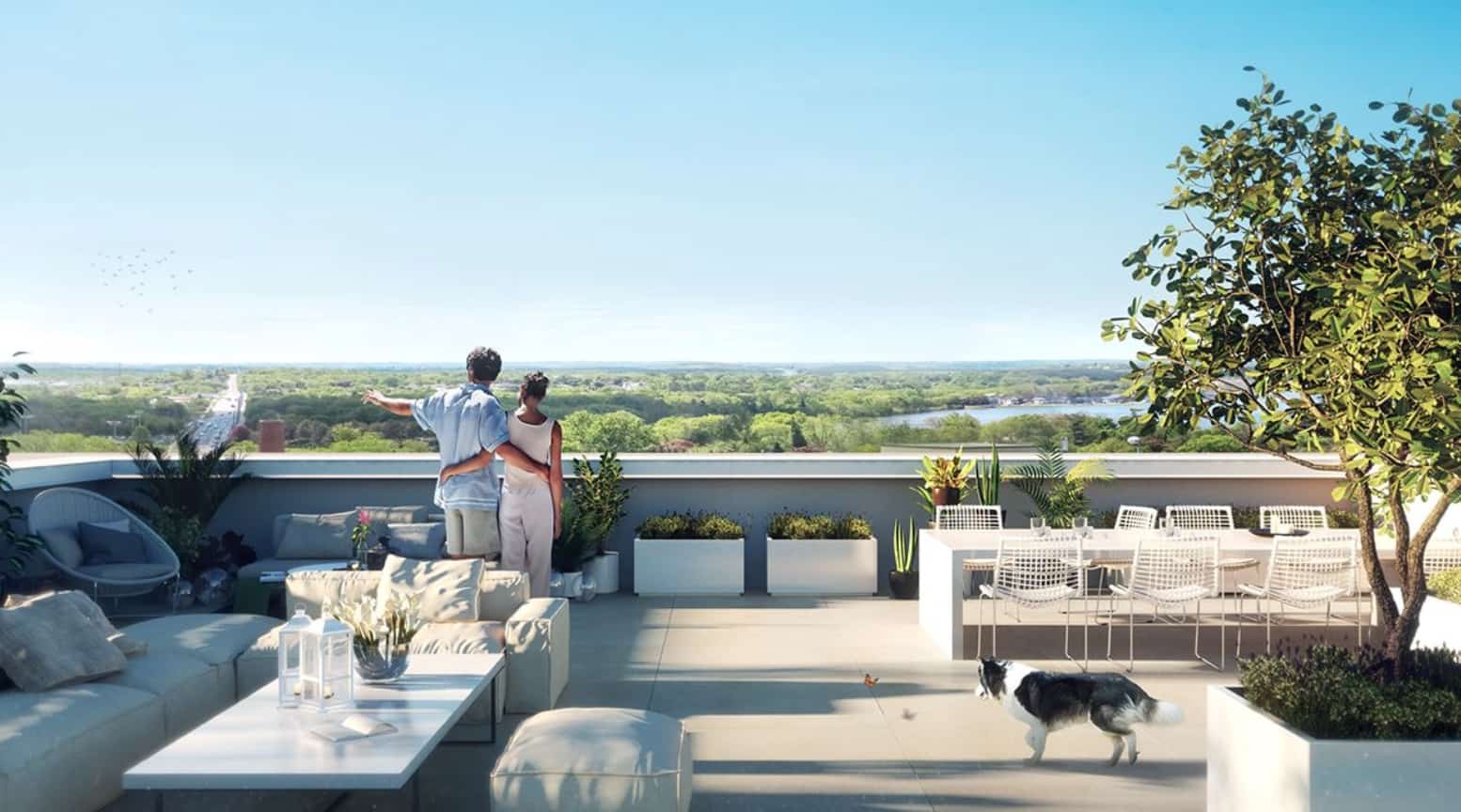 East City Condos Amenities 
The lush landscaped courtyard creates a unique arrival experience on the corner of Armour Road and Hunter Street East. Dramatic entrance and lobby designed by TACT Interior Design of Toronto featuring lounge and table-side seating, proposed outdoor café seating, large windows, and greenery all serve to provide a warm and enticing welcome to you and your guests.
East City residents will appreciate the conveniently located dog spa on the main floor lobby level along with a secure Amazon parcel delivery system. The building's equipped gym area offers year-round indoor use. You will love coming home to East City Condos.
The eighth-floor amenity space at East City Condos will offer residents the most breathtaking views in all of Peterborough. This elegant indoor/outdoor gathering space features ample room for both sit-down dining and comfortable lounging.
Whether it be daytime barbecues with the family or nighttime cocktails with friends, the views from the exclusive eighth floor at East City Condos will leave you breathless.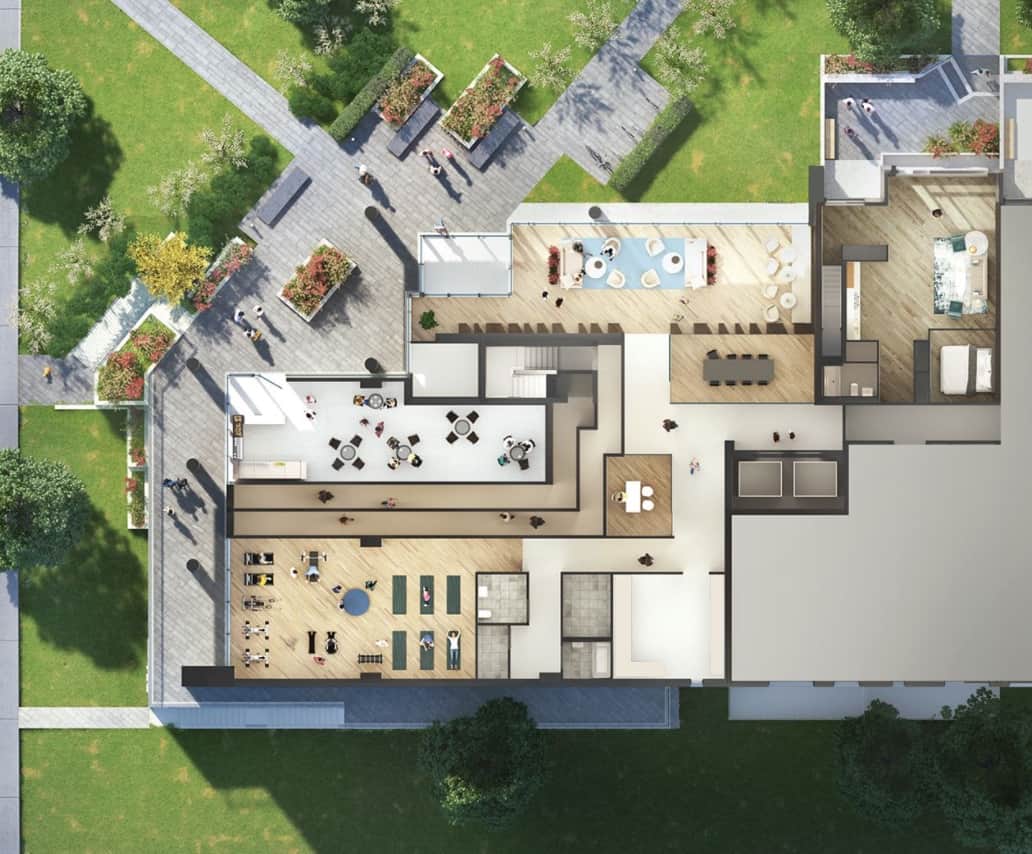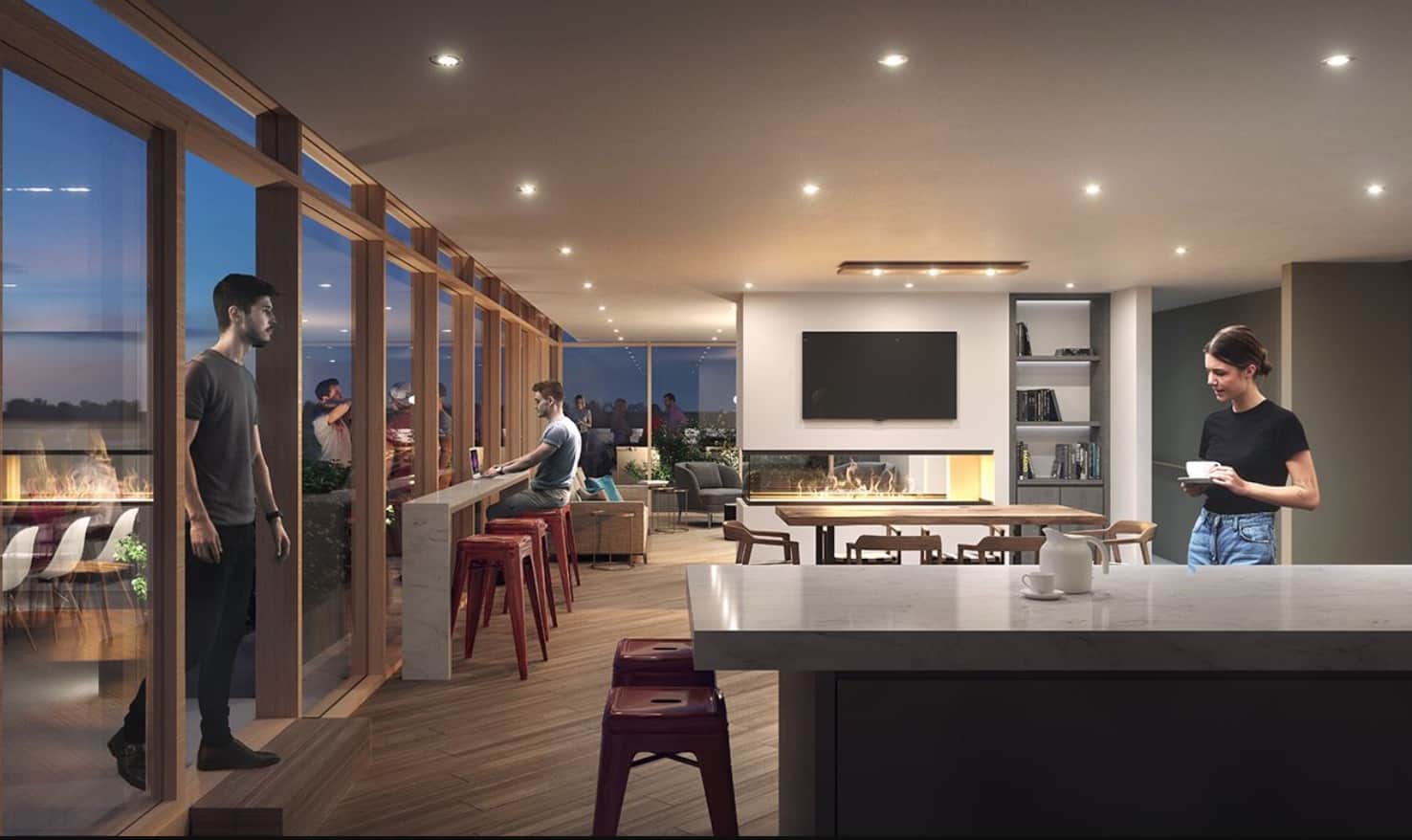 East City Condos Features and Finishes 
At the heart of every suite at East City Condos is a chef-inspired kitchen. Featuring smooth flat profiled cabinetry and brushed finished hardware, pull-out faucet & stainless-steel under-mount sinks, elegant quartz countertops and backsplashes you're going to truly enjoy cooking in your new home.
Included in your suite is a 33" wide french-door refrigerator, built-in dishwasher, 30" wide electric range, 2.0 cubic foot over-the-range microwave and a built-in hood fan all stainless steel.
East City Condos' thoughtfully designed suites maximize the amount of useable space. Designs feature open-concept main areas incorporating the kitchen, living and dining rooms which flow one to the other. These layouts afford maximum flexibility when entertaining. Styles range from generous 1-bedroom layouts to expansive 3-bedroom + study plans. Choose a spectacular sunset or morning sunrise view, and create a home that caters to your new carefree condominium lifestyle.
The Reserve Collection
Soaring above it all on the ninth floor, the Reserve Collection of Penthouse Suites offers a special few the unique opportunity to own one of the most incredible and exquisite homes in the entire city.
The Reserve Collection at East City Condos features spacious layouts, truly stunning views and for a lucky few, a private rooftop terrace with direct in-suite access.
The Reserve Collection at East City Condos represents the highest level of luxury condominium living in Peterborough.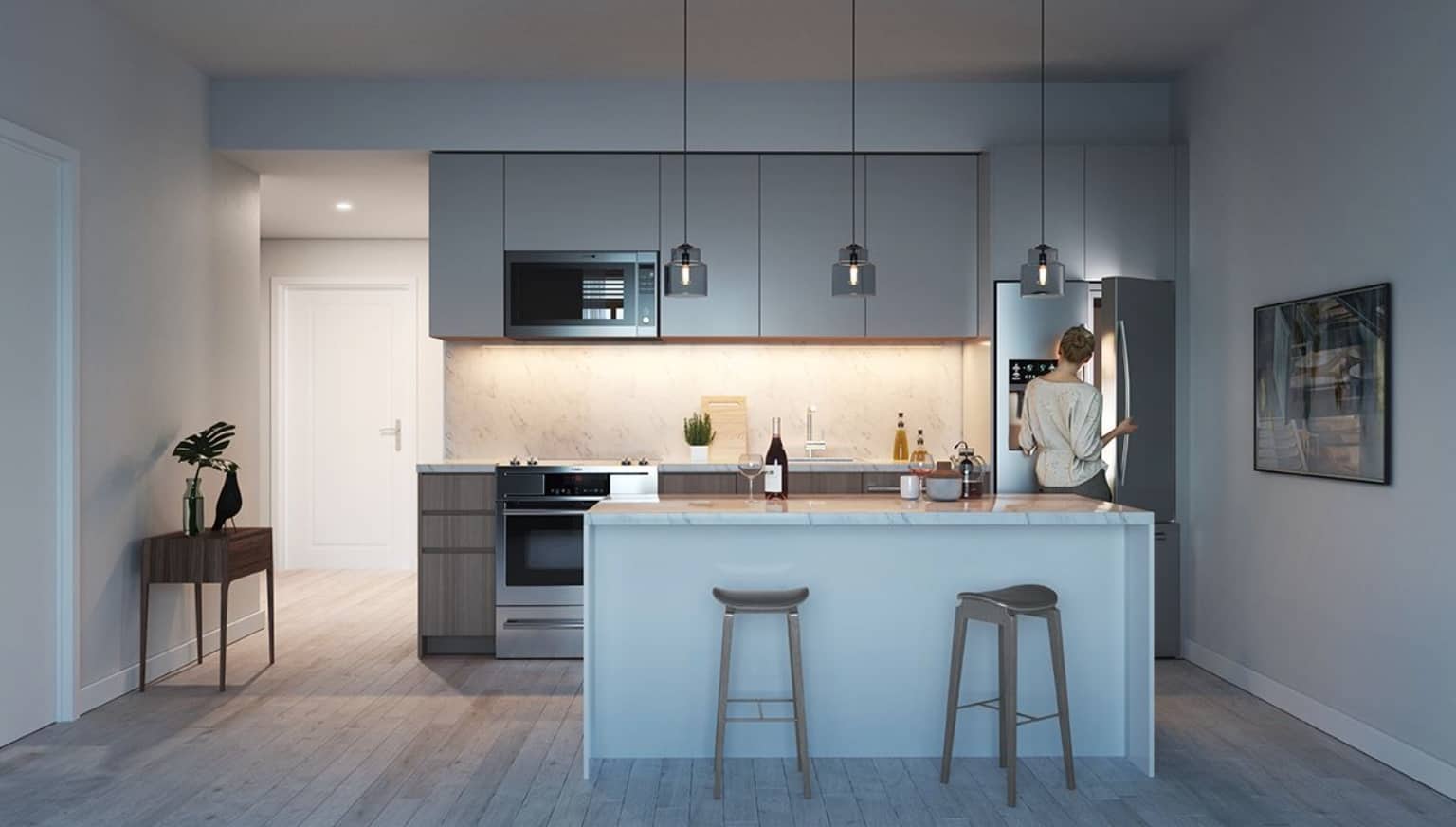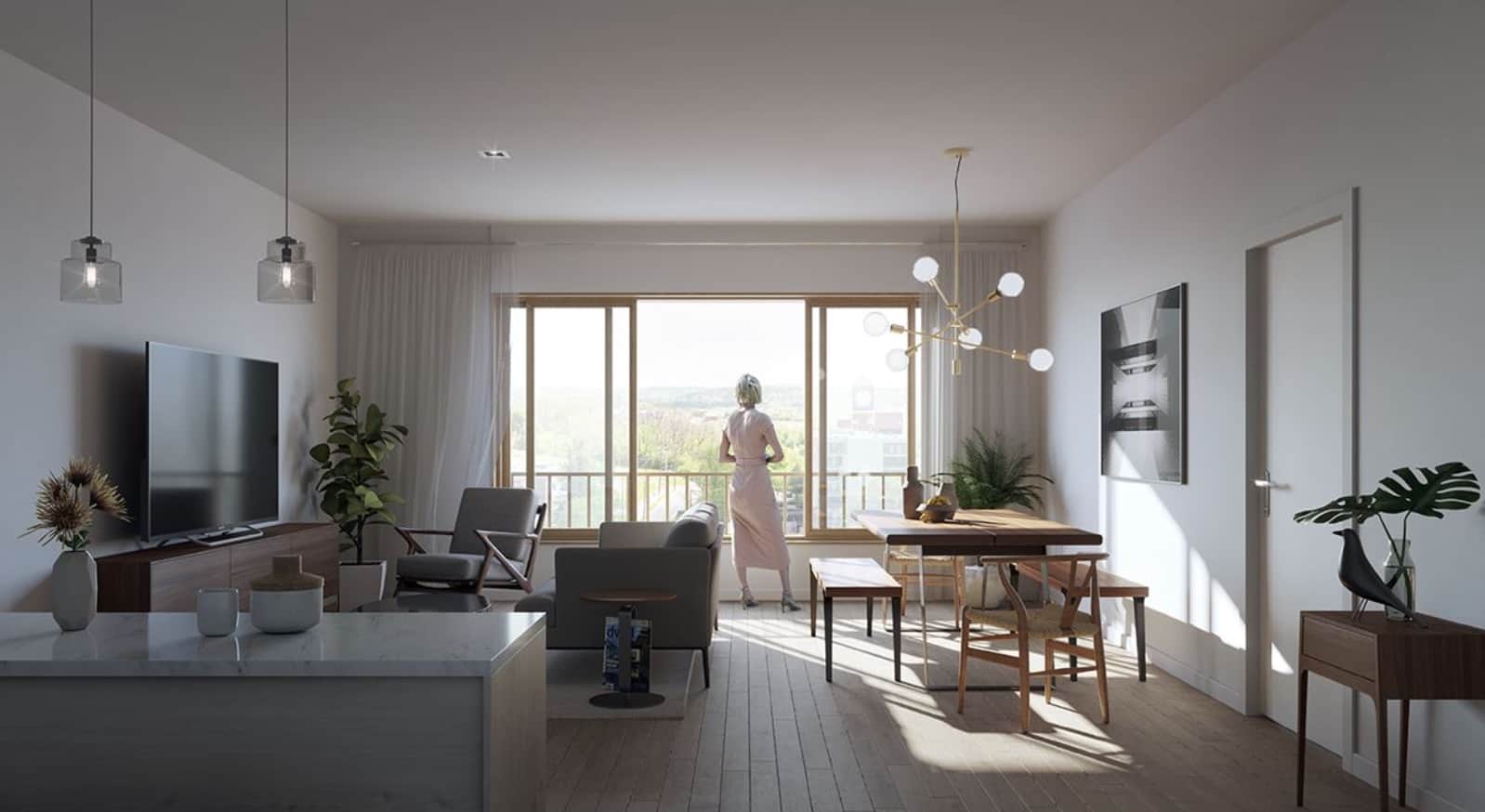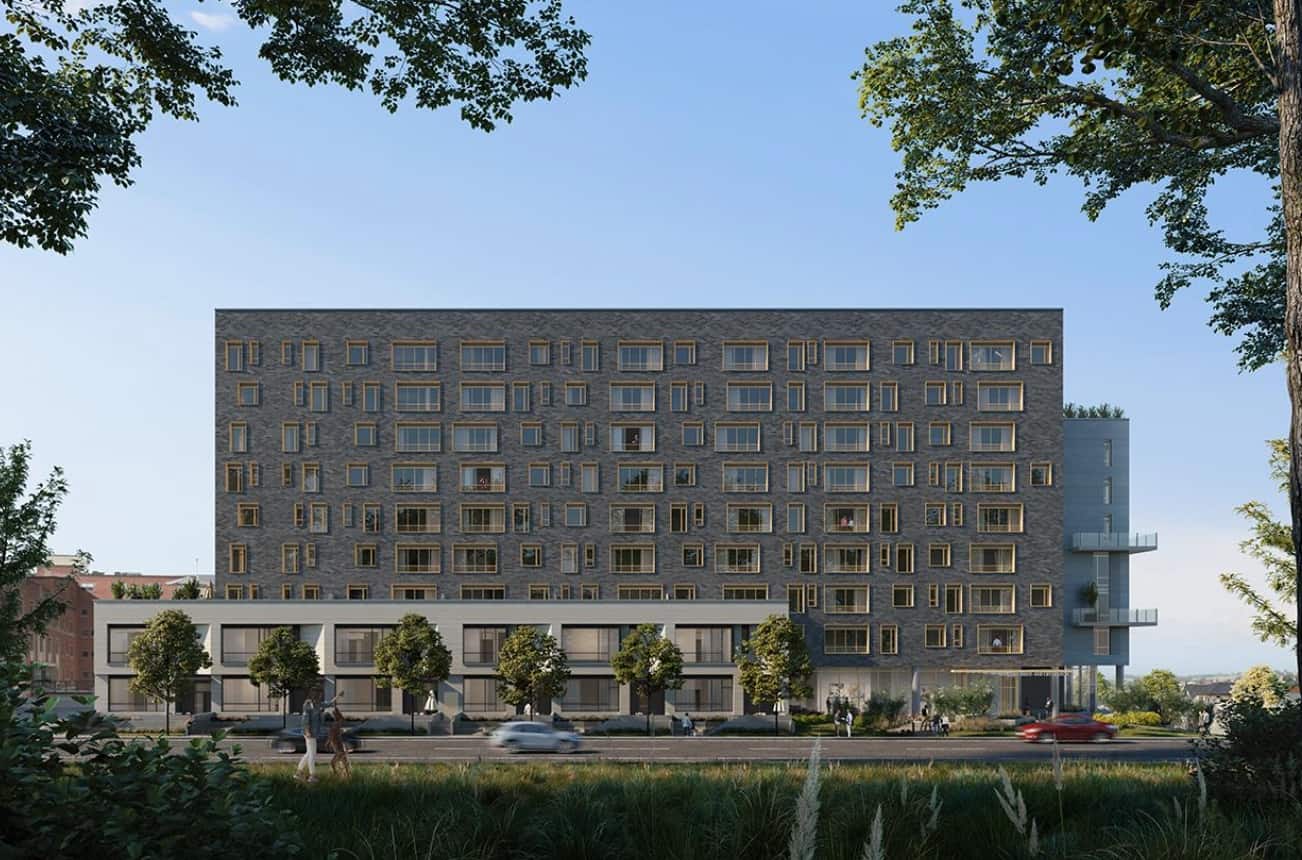 About the Developer
Over the last 20+ years, as TVM has grown from humble beginnings into a leading housing provider, as have its community commitments. TVM is proud to build and provide housing for clients of Canadian Mental Health Association, Cornerstone Family Violence Prevention Centre, Christian Horizons, Kawartha Participation Project and Northumberland Hills Hospital among other community service providers. TVM is also proud to provide office and clinical space to Community Care Peterborough, Christian Horizons and Kawartha Turtle Trauma Center.
How do I reserve a unit in this project?
After you review the floor plans and prices, if you know what suites you are interested in, you may reserve a suite online using our online reservation worksheet form at https://truecondos.com/worksheet.
Does filling out the worksheet form mean I'm committing to buy a suite?
No it is not a formal commitment, it is an expression of interest and the first step you must take if you are thinking about getting a unit in this project.
What does it mean that Andrew la Fleur is a "Platinum Agent"?
Platinum agents are the top selling agents who get preferred status with developers and first access to new projects before regular agents and the public.
Andrew la Fleur has been a top-selling pre-construction agent since 2007, and during this time he has achieved platinum status with many of the top builders and sales companies in the Greater Toronto Area.
For more information on about Platinum agents see this article: https://truecondos.com/5-things-to-know-about-buying-a-condo-with-a-platinum-vip-realtor-real-estate-agent/
How does it benefit me as a buyer to work with Andrew la Fleur as my Platinum Agent?
Working with me as your Platinum agent gives you several benefits
You get the

highest level of access

in the building

You pay the

lowest possible price

for the unit (prices are typically increased significantly after the Platinum sales event)

The best possible

incentives

I do not represent the builder. I represent you. You benefit from my expertise of being a top selling pre-construction agent and investor myself since 2007.

Access to my personal network of mortgage brokers, lawyers, property management, HST rebate services, handymen and much more.

My services to you as a buyer are

free
Do I get a cooling off period? What is it for?
Yes, after you sign the contract to purchase a suite you will have a standard 10-day cooling off period. It's 10 calendar days, not business days from the time you sign.
The 10 days are primarily for 2 things: 1) to have a lawyer review your contract with you if you wish and 2) to get a mortgage pre-approval letter
Do I need to have a lawyer?
You don't need to have a lawyer at the moment that you sign the agreement, however I always recommend that you have a qualified lawyer review your agreement of purchase and sale after you sign and during your 10-day cooling off period.
Not sure who to talk to? Don't worry – getting a lawyer is something I can help you with. Contact me for more details.
Do I need to have a mortgage pre-approval to buy?
95% of all builders will require you to provide them with proof of financing capability in order to purchase. This is not required before you sign a contract, but it is usually required within 60 days of signing.
Not sure where to begin? Don't worry – getting a mortgage pre-approval is something that I can help you with. Contact me for more details.
Do the prices include HST?
If you are purchasing for yourself and plan to move in, then yes, prices include the HST and there is nothing you will have to pay at final closing.
If you are purchasing as an investment rental property, then you will have to pay approximately 7.8% of the purchase price as HST on final closing.
This money is remitted to the CRA and as an investor renting out your property you can apply to the CRA immediately to get this money back. It usually takes about 1 month to get your rebate back.
For more information on the HST, see here:
https://truecondos.com/tag/hst-rebates/
Contact me for more details.
What are my closing costs on a pre-construction condo?
Closing costs on a pre-construction condo will vary greatly depending on the actual purchase price of the unit you are buying, but it also depends on the builder, the city that you are buying in, and the type of unit that you are buying.
Roughly speaking in Toronto you can expect to pay approximately 3-5% of the purchase price in closing costs when purchasing a brand new condo.
Check out this article for more info on closing costs:
https://truecondos.com/5-things-to-know-about-closing-costs-when-investing-in-a-pre-construction-condo/
Contact me for more details
Are there any 'hidden' costs when buying a pre-construction condo?
No, there are no hidden fees when buying pre-construction condos because all fees must be disclosed in the agreement of purchase and sale. All purchasers have 10 days to review the agreement and have a lawyer advise them on the exact closing cost amounts. If you need a lawyer to help you we can suggest to you to several expert law firms that will review your agreement in detail.
Is it possible to assign my condo? How much is the assignment fee?
Most condo builders do allow you to sell your unit before the building is complete. This projcess is called selling by "assignment".
There is usually an assignment fee and a legal fee associated with selling. Costs can range from $1000-7000. Contact me for more details.