Gates of Thornhill Condos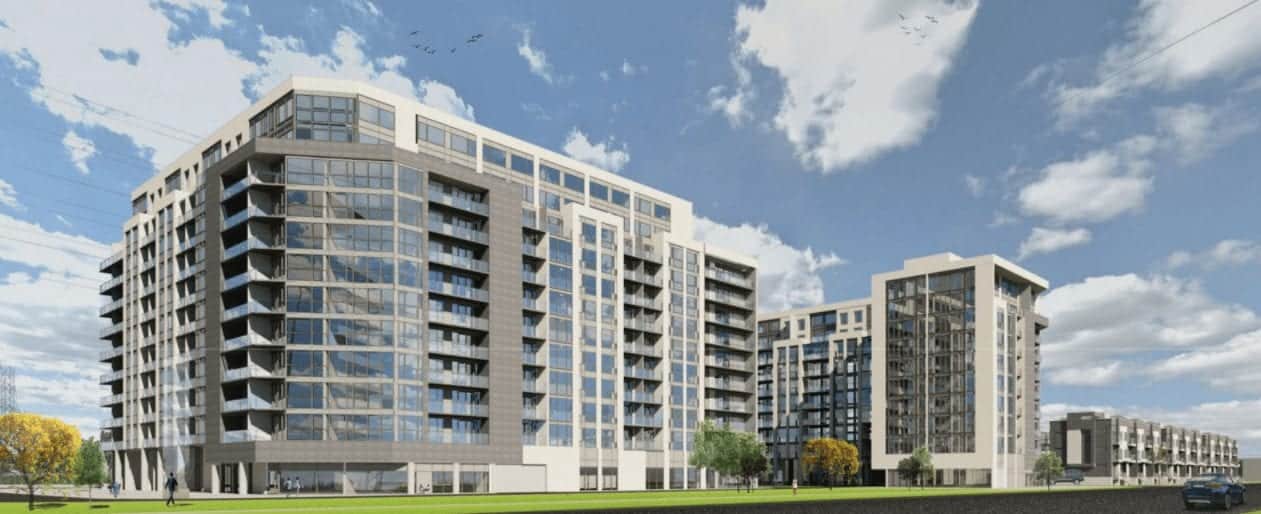 Gates of Thornhill Condos is a new preconstruction condo and townhome development by Marydel Homes, located in Thornhill, ON.
| | | | |
| --- | --- | --- | --- |
| | Address | Dufferin Street & Centre Street, Vaughan | |
| Developer | Marydel Homes | Occupancy | 2022 |
| Area | Thornhill | Deposit | TBA |
| Storeys | 12 | Maint. Fees | TBA |
| Units | 582 | Prices | TBA |
About Gates of Thornhill Condos
Discover a luxury townhome community strategically located north of Centre Street on West side of Dufferin Street. Just steps away from coffee shops, restaurants, community centres, and places of worship; The Gates of Thornhill community is truly an enhancement to the already beautiful city of Thornhill.
Ideally located with convenient access to Highway 407, served by the Viva Bus Rapid Transit Station, and 4km from the Vaughan Metropolitan Centre.
This community will consist of 140 Urban town homes and 442 condominiums in two mid-rise buildings (10-12 stories high respectively).
Gates of Thornhill Condos Location
Thornhill is a thriving community with a myriad of shopping, dining and entertainment venues within walking distance of Gates of Thornhill. It is home to some of Vaughan's most sought after schools and beloved parks, trails, golf courses and community spaces. Thornhill is a  transit-oriented, accessible location that offers the convenience of public transit at your door, an adjacent VIVA line, and easy access to a network of highways and major arterial roads. 
Easy Access, Whatever Your Mode of Transportation
Gates of Thornhill provides residents with the benefits of an established community and the ultimate in modern convenience. It is central and well-connected:
Close to Highways 400 and 407, as well as Highway 7 and major arterial roads such as Dufferin, Langstaff, Bathurst and more

Viva and YRT bus connections

Near Rutherford and Langstaff GO stations, as well as Vaughan Metropolitan Centre TTC subway station
Restaurants, Cafes and Shopping
Gates of Thornhill is your one-stop-shop community. Whether you are looking for the conveniences of an eclectic streetscape, the perfect brew of coffee, local boutiques and major retail brands, or freshly baked delicacies, it is just a stroll away:
Close proximity to Promenade Mall, home to major brands such as Aritzia, Designer Row, Club Monaco, H & M, Roots and more

Restaurants such as Frilu, Terra, Santo's, Tutto Bene Osteria, The Octagon, Marcello's, Congee Queen, and so much more

Plenty of cafes and bakeries with major chains such as Starbucks and Tim Hortons, as well specialty shops such as: Nino D'Aversa Bakery, Duo Patisserie, Sweet-o-one, Grodzinski Bakery, Coffee Box Cafe & Bar, Cafe Landwer and Symposium Cafe
Lush Green Spaces 
A number of lush green spaces, trails, golf clubs and more are yours to discover when you are living at Gates of Thornhill. A wide variety of family-friendly and tranquil spaces await you, such as:
 Sugarbush Heritage Park

Uplands Golf & Ski Club

Concord/Thornhill Regional Park

Richmond Hill Golf Club

The Thornhill Club

Pomona Mills Park

Royal Orchard Park and the list goes on!
About the Developer
It started out simply enough…With a dream, a passion and a simple philosophy; to deliver the very best in quality, value, and customer service in every community project.
We know that making the decision to purchase a new home is not one to be taken lightly. It is a significant investment of both money and time and if you put your trust in the wrong people, it can cause quite a lot of stress and upheaval in your life. We have received the Tarion Warranty Corporation Award of Excellence on multiple occasions and established an enviable record for quality and craftsmanship in new home construction.
We are also in excellent standing with the Greater Toronto Home Builders Association, as well as one of Ontario's Top New Home Builders.
Gates of Thornhill Condos FAQs
How do I reserve a unit in this project?
After you review the floor plans and prices, if you know what suites you are interested in, you may reserve a suite online using our online reservation worksheet form at https://truecondos.com/worksheet.
Does filling out the worksheet form mean I'm committing to buy a suite?
No it is not a formal commitment, it is an expression of interest and the first step you must take if you are thinking about getting a unit in this project.
What does it mean that Andrew la Fleur is a "Platinum Agent"?
Platinum agents are the top selling agents who get preferred status with developers and first access to new projects before regular agents and the public.
Andrew la Fleur has been a top-selling pre-construction agent since 2007, and during this time he has achieved platinum status with many of the top builders and sales companies in the Greater Toronto Area.
For more information on about Platinum agents see this article: https://truecondos.com/5-things-to-know-about-buying-a-condo-with-a-platinum-vip-realtor-real-estate-agent/
How does it benefit me as a buyer to work with Andrew la Fleur as my Platinum Agent?
Working with me as your Platinum agent gives you several benefits
You get the

highest level of access

in the building

You pay the

lowest possible price

for the unit (prices are typically increased significantly after the Platinum sales event)

The best possible

incentives

I do not represent the builder. I represent you. You benefit from my expertise of being a top selling pre-construction agent and investor myself since 2007.

Access to my personal network of mortgage brokers, lawyers, property management, HST rebate services, handymen and much more.

My services to you as a buyer are

free
Do I get a cooling off period? What is it for?
Yes, after you sign the contract to purchase a suite you will have a standard 10-day cooling off period. It's 10 calendar days, not business days from the time you sign.
The 10 days are primarily for 2 things: 1) to have a lawyer review your contract with you if you wish and 2) to get a mortgage pre-approval letter
Do I need to have a lawyer?
You don't need to have a lawyer at the moment that you sign the agreement, however I always recommend that you have a qualified lawyer review your agreement of purchase and sale after you sign and during your 10-day cooling off period.
Not sure who to talk to? Don't worry – getting a lawyer is something I can help you with. Contact me for more details.
Do I need to have a mortgage pre-approval to buy?
95% of all builders will require you to provide them with proof of financing capability in order to purchase. This is not required before you sign a contract, but it is usually required within 60 days of signing.
Not sure where to begin? Don't worry – getting a mortgage pre-approval is something that I can help you with. Contact me for more details.
Do the prices include HST?
If you are purchasing for yourself and plan to move in, then yes, prices include the HST and there is nothing you will have to pay at final closing.
If you are purchasing as an investment rental property, then you will have to pay approximately 7.8% of the purchase price as HST on final closing.
This money is remitted to the CRA and as an investor renting out your property you can apply to the CRA immediately to get this money back. It usually takes about 1 month to get your rebate back.
For more information on the HST, see here:
https://truecondos.com/tag/hst-rebates/
Contact me for more details.
What are my closing costs on a pre-construction condo?
Closing costs on a pre-construction condo will vary greatly depending on the actual purchase price of the unit you are buying, but it also depends on the builder, the city that you are buying in, and the type of unit that you are buying.
Roughly speaking in Toronto you can expect to pay approximately 3-5% of the purchase price in closing costs when purchasing a brand new condo.
Check out this article for more info on closing costs:
https://truecondos.com/5-things-to-know-about-closing-costs-when-investing-in-a-pre-construction-condo/
Contact me for more details
Are there any 'hidden' costs when buying a pre-construction condo?
No, there are no hidden fees when buying pre-construction condos because all fees must be disclosed in the agreement of purchase and sale. All purchasers have 10 days to review the agreement and have a lawyer advise them on the exact closing cost amounts. If you need a lawyer to help you we can suggest to you to several expert law firms that will review your agreement in detail.
Is it possible to assign my condo? How much is the assignment fee?
Most condo builders do allow you to sell your unit before the building is complete. This projcess is called selling by "assignment".
There is usually an assignment fee and a legal fee associated with selling. Costs can range from $1000-7000. Contact me for more details.