How Toronto has changed over the last 27 years and where we are going next, with Dan Flomen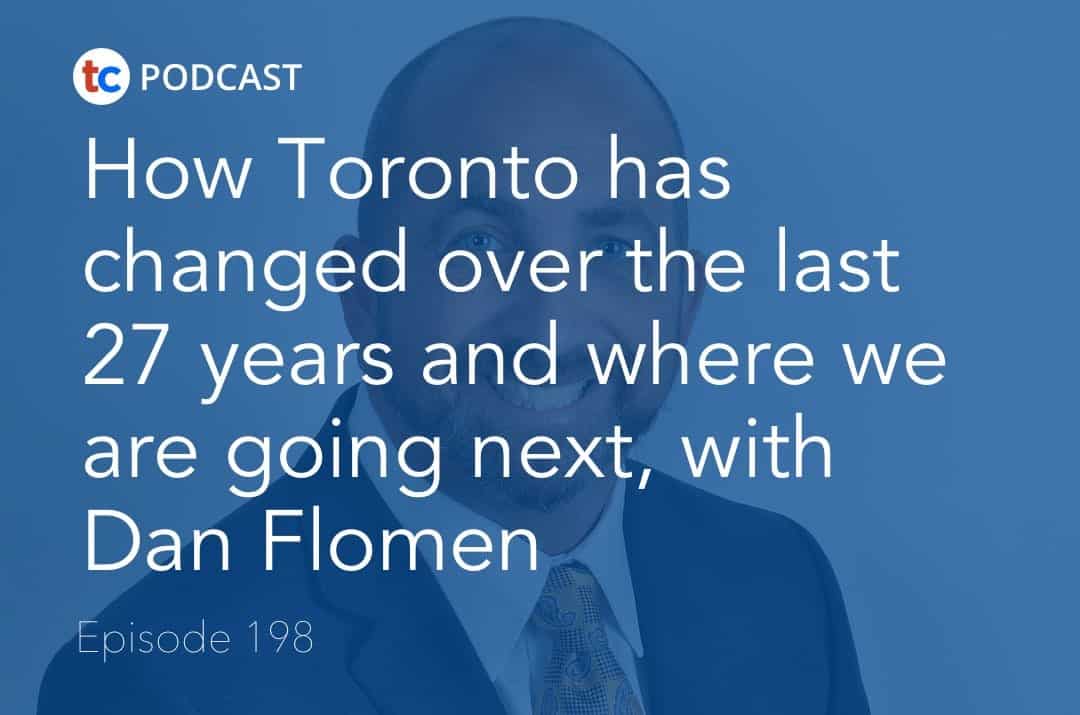 Andrew la Fleur sits down with real estate industry veteran Dan Flomen of Empire Communities to talk about the evolution of Toronto, how condo development has changed in the last 10 years, and their 2 upcoming projects: Empire Maverick in King West and Empire Phoenix in South Etobicoke.
DAN FLOMEN INTERVIEW HIGHLIGHTS
5:00 How do you interpret market in the past year, taking difference between 2 markets?
6:33 Where do you see the future of this market going?
10:45 How has it become more expensive to acquire and build a site like in a prime area?
12:31 Lot of buzz around Maverick.
15:14 Can you speak to that a little bit in terms of your partnership with Toronto Life?
22:40 Empire Phoenix coming up. Is there any significance to the name?
23:50 Big news about the connectivity of the project as it pertains to the waterfront.
27:19 What do you think it is about that area that's just in general?
30:13 Why would you say, "You should invest in Phoenix?"
Andrew la Fleur: Hi, welcome back to the show. Thanks for listening in. On today's show, I have a very special guest. I had a chance to sit down and talk with Dan Flomen, who's the executive vice president of sales at Empire Communities. Dan is an industry veteran, he's been in the game a long time, 27 years, and he really knows his stuff, he's a great guy to talk to about the market and what's happening. Dan has a couple projects coming up with Empire right now, Empire Maverick in the heart of King West downtown, and Empire Phoenix in the South Etobicoke  community near the waterfront there.
Andrew la Fleur: Very happy to bring this interview to you. If you're interested in either of these projects, by the way, and if you'd like to receive the floor plans, prices and more on these, learn more about how you can purchase a unit at one of these projects, just go ahead and the easiest way is probably send me an email, andrew@truecondos.com, or call me, text me, 416-371-2333, I'd be happy to get that information over to you. Okay, thank you for tuning in once again, without further ado, here is my interview with Dan Flomen.
Announcer: Welcome to the True Condos Podcast, with Andrew la Fleur, the place to get the truth on the Toronto condo market, and condo investing in Toronto.
Andrew la Fleur: Okay, so we are live, we're live here with Dan Flomen. Dan, welcome to the show.
Dan Flomen: Thank you very much.
Andrew la Fleur: Always great to chat with you, Dan. I was listening to one of your interviews you did recently, and I was surprised, you said 27 years you'd been in this business.
Dan Flomen: I have been in this business [crosstalk 00:01:35]-
Andrew la Fleur: You started when you were like 14.
Dan Flomen: You know what it was? I graduated from a university, and I jumped straight into real estate, and I haven't done anything else since, and it's been a great 27-year ride.
Andrew la Fleur: Phenomenal. We're going to be talking about a couple projects you have coming up in Toronto, how has Toronto changed, like [crosstalk 00:01:56]-
Dan Flomen: Oh man, that's a loaded question.
Andrew la Fleur: How has Toronto changed in 27 years [crosstalk 00:02:00]?
Dan Flomen: That's a loaded question. It's incredible the evolution of the city, I mean when I got into the business, first of all, you know condos were almost non-existent, there were a handful of them only in the entire city. Now when you go downtown, it is a way of living. It used to be the alternative, if you couldn't afford a house, you afforded a condo. Today, people buy condos for many reasons, some buy for investment, but others buy because they want that lifestyle, that ability to close the door, walk out, and be downtown. The comparison of 27 years ago to today is night and day. I used to joke about talking to my grandparents, you know I'm a fourth generation Canadian, and they talked about seeing cars for the first time and seeing radio and seeing television, and here I am not having those references, but seeing a completely different Toronto than what I grew up in.
Dan Flomen: Even areas where people would've never assumed people were going to build condos, North York, I'm not even talking about the 'burbs, I'm talking about North York. When we were looking for a house in Toronto in 1970, obviously I was a baby, but my mother said to my late father, "I will never live north of Lawrence, because I want to live in the city." Today if you live in Lawrence, people say, "Oh, you live downtown."
Andrew la Fleur: Right.
Dan Flomen: There's a huge evolution. Also, just the way people live downtown is very different now than it was before. Before, downtown had a couple of good restaurants and there was a couple of good theaters, the Royal Alex, some big name theaters. Today, you've got some of the greatest restaurants in Toronto, some of the greatest restaurants I'm referring to in the world, and I've had the pleasure of traveling the world, so I can honestly say that.
Andrew la Fleur: What's your favorite restaurant right now? I know you're a big foodie, I see you on social media, you're out there at the awesome restaurants, I'm always jealous, what [crosstalk 00:04:03]-
Dan Flomen: I am an amateur chef also, you know that I love cooking. My favorite restaurant, obviously my favorite restaurant will always go back to Patrio, which happens to be on King Street, down the street from one of the buildings I will be doing. I love Biblos, and Fierra Moscow on Prince Arthur if you want to be in Yorkville, Julieta, which is now on College Street, and I could go on and on, but I'm not going to. I do love eating out, which is probably why I work out five days a week, just to maintain all the food intake I put on.
Andrew la Fleur: To allow you to get out there and enjoy. That's awesome. You're one of, I mean Empire Communities, you're one of the few builders where you have your feet in both worlds in terms of low rise and high rise. It's been a tale of two markets really, low rise and high rise in the past year or so especially, how do you interpret the market and what's sort of happened in the past year, taking the difference between the two markets?
Dan Flomen: Let's take a step back too, just so that your listeners understand. Empire Communities, which I'm the executive vice president of, builds over 1,000 low rise homes a year in southwest Ontario, and a lot of people don't know that. In the last several years, low rise has been the golden child, and low rise will always continue to be probably 70% of our business, maybe even 80% in good years. Well, in the last year, what's happened is because of different regulations and costing outside of the city, Toronto has now become again the golden child, people are coming back to the city and looking to it as a great investment, not necessarily a better investment, there's still amazing investments in southwest and in low rise in general, but Toronto is always going to be the economic hub of Canada, the capital of the economy of our country, let alone our province obviously.
Dan Flomen: What's happening in the last year is that condos have been virtually flying off the shelves where you have a good product. Where you don't have a good product, some of the outskirt condos have struggled, but have still sold, but whenever you're within the city limits and you've got the right pricing and the right product, it's a virtual sellout if you want to sell it, and that's the big difference.
Andrew la Fleur: Where do you see the future of this market heading? I mean, I'm starting to see more and more projections, particularly around the population growth coming to the city over the next 10, 20, 30 years. The latest one I saw, I don't know if you saw it this week, projecting out Toronto basically within 50 years to become the second-biggest city in North America, next to New York. The growth rate outpacing every other city in North America by far. Where do you [crosstalk 00:07:02] see things heading longer term, [crosstalk 00:07:04]?
Dan Flomen: I would say that, you know we used to say 140,000 net immigration into the city was a big number, and we attributed it to saying like, "If all of Frederickton used to come into Toronto every year," but now they're talking about numbers in the north of 200,000 will be coming in. If that continues, and you take exponential growth, your numbers may not be off, and the stat of becoming the second-largest city in North America will come true. One of the things that we do have is we do have a lot of land, so Toronto is the never-ending city. Again, you talk about my 27 years, we used to drive west and we would pass Otoboko, there would be this massive gap, and then you have this little tiny town called [Nissasawga 00:07:49], and then you have another big gap and you'd have Oakville.
Dan Flomen: Today, it's just a continuation of a city, it just doesn't stop, it's something that you almost saw when you were growing up and watching sci-fi movies, and you saw these cities that just never seemed to have an end to them. What does it mean? It also means that price escalation will continue. There is very few builders out there that I know that will build at losses, there would be no reason to build at a loss. With trade price increases coupled with the new tariffs that are coming in and just material increases, and obviously land price increases, that means the end product is going to increase.
Dan Flomen: Now, we have this funny government who preaches affordable housing, yet then turns around and taxes the hell out of us, so that we can't as builders create affordable housing. A lot of the new price increases that you're seeing very recently, over $100 a foot in fact, are actually new levies that the government is putting on. In one hand, they're saying, "Hey listen, we want you to build affordable housing," and on the other hand they're saying, "But we'd like this extra $10 million from your project as our new taxes." A lot of people don't fully understand how much builders pay in development charges and education development charges and park levies, and it is a tremendous amount of money.
Dan Flomen: If that number was to lower, you would see a number of builders being able to sort of like an elastic, pull back some of their prices, but as the government is doing the opposite, is increasing their levies each year, forcing builders to increase their pricing. Let's be honest, we all want the right buyers in our project, we would all love to build, there isn't a builder that I know that doesn't want to build affordable housing, we just can't find a-
Andrew la Fleur: It's easier to sell.
Dan Flomen: It's the only thing that we can do now and maintain profitability as a corporation, we are still private corporations that have to make a profit.
Andrew la Fleur: Yeah, that funny little thing called "profit", to keep the doors open, yeah, exactly. You have this project coming out obviously Maverick, want to get into it, you had another project called fly condos around the corner from Maverick, I think 2009, was it?
Dan Flomen: Yeah.
Andrew la Fleur: You were selling that project [crosstalk 00:10:09]-
Dan Flomen: Well, it's funny, it started in 2008, right after-
Andrew la Fleur: That's right, that's right.
Dan Flomen: The subprime market effect in the US.
Andrew la Fleur: Meltdown, right.
Dan Flomen: It initially took a long time to launch that project, and it involved revamping it, but obviously it sold out quite well after the market had a little bit of a rebound.
Andrew la Fleur: Now I'm curious, just comparing fly condos in a very similar neighborhood to Maverick condos coming up now, 2008 versus 2018. From a builder perspective, from your perspective, how has it changed, how has it become more difficult, how has it become more expensive to acquire and build a site like that in a prime, prime area of downtown?
Dan Flomen: Well, I would say some of the biggest obstacles we always face is obviously land pricing, but also just getting through site plan approvals. Now we were very lucky on King Street, which is the Maverick project, we bought a site plan approved site, which means that we already had the height. If we had not bought the project in that way, we may not have even bought the project. Today, it is harder and harder to get the type of height that's required to make the numbers make sense for a builder to build. With fly, it was a very different time. It's not that the government was easier to deal with, it's just that they were more receptive to allowing builders to do somewhat what they wanted to do, provided it stayed within the confines of the aesthetics of the neighborhood, which was a key component with fly, fly is a beautiful building.
Dan Flomen: On the same token, even before fly, we took over and built what's called The Modern. This may even predate a lot of your listeners, which was at Richmond and [Sherburn 00:12:01], and that's a beautiful, beautiful building. We've built a lot downtown, King Street was a challenge, will continue to be a challenge, especially now with the road closure for regular traffic and the tightness of the site, but we will be building a 49-story tower there, and it will be one of the more successful projects in 2018.
Andrew la Fleur: Maverick, so let's get into Maverick. A lot of buzz around Maverick, people have been hearing bits and pieces about it. What are you most excited about, this 49-story tower right on King Street in the heart of the entertainment district?
Dan Flomen: You brought up the word "heart of entertainment district", so let's start with that. We are directly across from the Toronto International Film Festival, right across from TIFF. A lot of projects talk about being in King West. King West is a large area, but there is no better location than probably the one we have, we bought what used to be called restaurant row, where there's a few restaurants, and again, it's right across from TIFF. We are at the true heart of the entertainment industry, you walk out the door and you're a stone's throw, as they say, to some of the best restaurants, entertainment, and night life of the city of Toronto, and yet you're still only a five-minute streetcar ride, which is directly in front of our building, to the major businesses of Bay Street, the Bay Street lawyers, the Bay Street bankers.
Dan Flomen: On the same token, you go the other way, you go a little bit further west and you have a whole different type of nightlife and entertainment. You've got the true Liberty Village area to the west of us. One of the things that most excites me though about this project is through our travels, be it Dubai, London, Paris, and into New York, we found that one of the things that Toronto lacks in condos is what we are coining a "social architect". You go to some of these other buildings in other locations, and you go down to the concierge, and they're a true concierge. You want to get some knowledge about theater and night life, you can ask them. The concierge in Toronto has become more of an upscale security guard who opens the door, collects your parcels, and just makes sure that the building is running well.
Dan Flomen: We are actually putting in, again, we're coining the "social architect", and what their job is, is to "curate", for lack of a better word, to create events for the residents of the building. Let's say the HEO is going to have a new exhibit, so this curator, this social architect's job is to basically try to block off a night for the residents of the building, so that they can go. Now don't get me wrong, it's still pay as you go for the actual items, but their job is to create these events. A top new restaurant is coming in, they're bringing in a new chef, you know we maybe block 20 seats for the first 20 residents who want to go to the restaurant.
Dan Flomen: We're really bringing in like a Vegas-style concierge as a secondary person to the concierge which we will have in this building, the traditional 24-hour concierge, but to create something different.
Andrew la Fleur: Incredible.
Dan Flomen: That's the big difference.
Andrew la Fleur: Yeah, really unique. Maverick the club, you've already been doing events, and you're partnered with Toronto Life. Can you speak to that a little bit in terms of your partnership with Toronto Life?
Dan Flomen: It's funny you say that. What we did is, we created what's called the Maverick Social, of which you happen to be a member of the Maverick Social, as one of our premier agents who has first access to all of my sites. What we've done is prior to the building being ready, we have started some of these events. We've curated, along with a partnership with Toronto Life and in fact Universal Music, which was our last event, to have events. We had a fantastic dinner which we brought in two top chefs for, with Universal Music we had seven up and coming Toronto artists, and we took over a theater and brought in what we call our originals, our original members for this.
Dan Flomen: Then we also took over a speakeasy one night, and had a private event for the members of the social club. Now everybody who becomes a buyer at the Maverick will have access to what is called our social club, so it's not a fixed, hard bricks and mortar, bricks and sticks location, what it is is it's revolving events that the owners of the building will be invited to attend.
Andrew la Fleur: It's an experience that's unique to the building, you can't get anywhere else, and I think it really just fits the fabric of the neighborhood and the type of people who are living in King West now, and who are going to continue to want to live there.
Dan Flomen: Agreed.
Andrew la Fleur: Like you're speaking to investors here now, why invest in Empire Maverick?
Dan Flomen: Well, let's be honest, when you're looking into an investment, one of the key components is always going to be location, and again, I'm going to talk about our location as opposed to a number of other buildings that are in King West, we are the actual heart of King West. You will never repeat this location. When the film festival is ongoing and the celebrities are walking, they're walking directly in front of our building. You can't get a better location. As far as the units are concerned, we have one-bedrooms, two-bedrooms, and three-bedroom units, and so we do cater to the traditional investor who may be looking for a one-bedroom unit, but we also have investors who are, let's say, higher end investors looking for twos and three-bedroom units, but also possibly are end users.
Dan Flomen: They may be using it as an investment for the next several years, until such time that they decide that they want to have their pied a terre in Toronto, or their own permanent place in Toronto. Rents in King West vary, but where we are, they're at the highest point. Remember, this building is still three, three and a half years away, so you can imagine with normal escalation of rents, you are going to see some of the highest rents in King West, maybe some of the highest rents in Toronto next to Yorkville as being in this building.
Andrew la Fleur: Absolutely.
Dan Flomen: I think that is an absolute key component. From an investor, you want something unique, and our building is unique. From its location to the social architect, to even some of the facilities that we're putting in the building, the rooftop, which is on the sixth floor, so it's like a sky lobby rather than the lobby on the ground floor. There will be a sitting area on the ground floor, but when you come into the building, you go up and the actual … Sorry I said sixth, but it's on the fifth floor, it's on the fifth floor. We also in the building have what we're coining a "beauty bar".
Dan Flomen: Let's say you get together with a bunch of girlfriends and you want to do your hair and makeup, your listeners can't see me, but I'm bald, but you know maybe I want to buff my head, but you bring in your stylist, you [crosstalk 00:19:05]-
Andrew la Fleur: Right, night on the town.
Dan Flomen: As a group, and then go straight out the door to the restaurants. It's awesome where you've got to travel somewhere, come back to home, meet up somewhere, you can all get together at the building. [crosstalk 00:19:16] Maybe for guys like you and me, we call in for a guy who does a close shave, like the straight razor. [crosstalk 00:19:24] That's kind of different, and I do think that buildings do have to stand out not only because of location, but the experience that you will have. I do want to point out one thing, especially for the investors that are listening into this broadcast. We treat tenants as a corporation as though they were end users.
Dan Flomen: When a tenant has a problem, we don't say, "Ah, you know what? He's just a tenant." We go, we treat those tenants like they were the buyers of the product, and we treat them at the same level, which means that the service that the tenants will get from a builder point will be equal to that as if it was an end user owner occupied suite. That is an important thing, just for the experience of the tenant, so the tenant isn't bugging the landlord saying, "You know, they didn't do this or they didn't do that." That's a key component.
Andrew la Fleur: Yeah, and investors don't like it when you buy from a builder, and you just feel like the builder just washes their hands as soon as the last brick is on the building, they just get the heck out of there and you never hear from them again, kind of thing.
Dan Flomen: No, no. Andrew, you've dealt with me for many many years, you know that that's not the way we do business.
Andrew la Fleur: No, absolutely not, and that's a thing I think really helps the building stand out and helps the building age well over time and continue to appreciate. Let's shift gears and move west now, out of the downtown core, and we're heading over to Otoboko. South Otoboko, and obviously an area that you know very well, having done, it's got to be 2,000 units?
Dan Flomen: Crazy, no, way more.
Andrew la Fleur: Was it 2,000 units?
Dan Flomen: More.
Andrew la Fleur: In that neighborhood? Yeah.
Dan Flomen: More.
Andrew la Fleur: More than 2,000 units.
Dan Flomen: More than 2,000. Yeah, we're going to south Otoboko, one of my secondary homes, as I always like to say. I've been working in that community for the full time I've been in real estate, so when it was really just vacant land areas, I fell in love with south Otoboko, and [crosstalk 00:21:28]-
Andrew la Fleur: All the motels on the water on Lakeshore there, the old motels.
Dan Flomen: Well, let's not talk about liking those motels, because they're all gone now, but you know I'll be honest with you, in their heyday in the 60s and 70s, they were stunning. Like you went down there, you got a room, you brought your kids down right onto the water, and those hotels had great beach areas, but today it's a little bit more built up. We've built well over 2,000 units just in one project, which was completed in 2013, I think was the final building of it. We had almost 900 units in that one. I've got another 1,280 going up in two towers called Au de Soleil, of which there's only 11 units still remaining, it's the tallest building on the water in Canada, it's 67 stories, along with a sister building of 50 stories.
Dan Flomen: Then with some of the other builders that I've had the pleasure of working with, I've done a lot of work in what's called Mystic Point, which is where we are now going to be building our project known as Phoenix.
Andrew la Fleur: Yes, Empire Phoenix coming up. Is there any significance to the name? I mean, it's a very cool name.
Dan Flomen: You know what? I think we were all sitting around drinking one day, [crosstalk 00:22:50] and somebody said, "Hey, let's go to the Phoenix," which was a nightclub. I'm just kidding. You know what? We have a great marketing department, and this is the last piece of land in Mystic Point. It's a piece that was discarded, and you know when the owner of the land, who is a developer, decided not to proceed with it, they called me because I had known this developer for, again, over 20 years, and they said, "Would you guys be interested in it," and I jumped at the opportunity. I presented it to Empire, and we purchased the property.
Dan Flomen: I guess one significance of the phoenix is, you know out of the ground is coming this magnificent building, or buildings per se, because it is two towers connected by a podium, 499 units, with some of the best views and best investments that you can have in Otoboko right now.
Andrew la Fleur: Talk to me about the location. I know there's some big news about the connectivity of the project as it pertains to the waterfront, so what's happening there?
Dan Flomen: Many, many, many moons ago, in 2004, I was involved with the city, and they were talking about connecting Mystic Point down to Lakeshore, because right now what happens is there's two roads, one that's called Legion Road North and one that's called Legion Road South. They don't connect because to the south of us are some railway tracks, so like what they've done on [Duphrine 00:24:23] King, they have allocated the funds so the construction will be starting to connect these two roads by creating an underpass, so under the railway tracks. Why is this significant?
Dan Flomen: Well right now, Mystic Point, to get to Lakeshore, you'd have to come up what's called Grand Avenue, go across the Queens Way and down Park Line, so it was a bit of a trek to get down there. By connecting these two roads, you're now going to be able to jump on your bicycle, put on your rollerblades, and quickly get down to Lakeshore, and then jump onto the Martin Goodman trail where you've got those 140 kilometers of trails to go. It'll become like a true great place to just live from the point of exercise even, or just walking. You don't have to get on a major road anymore to get down to the waterfront, you'll be able to go down Legion Road, and that's a massive upside, especially for investors who are looking for something that isn't directly related to the building, but that will influence values at a later date, and this will be a huge influencer.
Andrew la Fleur: That's great, yeah, so Legion Road, that's great, yeah. It's right beside the building, it's going to be under the train tracks, or over the train tracks?
Dan Flomen: What happens is the roads, because they have to connect, have to bypass the train tracks. The concept is that they'll go underneath the train tracks, exactly the way Duphrine works at King Street, if you know how that underpass works.
Andrew la Fleur: Right, right, perfect, yeah.
Dan Flomen: It's not a big underpass, it's just a two-second drive, but it's just a continuation of the road, which is the key component.
Andrew la Fleur: Right, and again, it's just hop on your bike, boom, go under the underpass, and two seconds, you're down on the waterfront trail, as opposed to currently, you've got to go all the way around the long way. That's a huge, like you said, I mean anytime as an investor you can get into location that is before that major infrastructure comes into place, and that's always a good thing.
Dan Flomen: The key component is it's not a pipe dream infrastructure that some politician has said to get elected, it's money that's been already allocated and construction will be beginning. The other thing, just so your listeners who may not be familiar with the area understand, the project is also surrounded by two parks, one to the west and one to the south, which will not be developed. It has some natural parks already there, so if you have a dog, if you just want to lie out on the park, we have that at our doorstep of this building also.
Andrew la Fleur: Right, so you've got parks right at your doorstep, and now you'll have access to of course the waterfront trail and all the parks on the waterfront as well within two seconds. I mean, that whole area is just absolutely booming, like it just continues to grow and grow and grow, and continues to just grow in popularity as well. It's just incredible just how much development there is happening in that entire south Otoboko area. I mean, what do you think it is about that area that's just in general, I mean obviously the easy answer is, it's close to the water, but what else is it about the area that just [crosstalk 00:27:26]-
Dan Flomen: No, I'll tell you what it is for me. You're either a downtown person, which I truly am, that's the reality of who I am, or you want that sense of coming home even though you work downtown. It affords you the ability to drive downtown in 20 minutes, and then at the end of the day, come to a serene part of the city that's still in the 416, like you're not in the 905, nothing wrong with 905, but you're not in the 905, you're still in the 416 where you've got green around you, you've got the lake, you've got this sense of coming home. The other beautiful thing is, you know we talk about Toronto buyers and Toronto investors, but also we are at equidistance to Missasawga city center.
Dan Flomen: If you want to go west, you've now bypassed the tremendous amount of the traffic that travels west, and so you're 20 minutes to the downtown Missasawga city center, which is a key. If you also are even further than that, you're a Hamilton, you know again you're that much closer, because you can hop onto the Gardener or onto the Queens Way right at the doorsteps of this building. Those are all very important factors.
Andrew la Fleur: Yeah, a lot of people work in Missasawga, yeah, there's tons of employment in Missasawga and around the airport area as well, [crosstalk 00:28:40] airport a lot, or if you use Billy Bishop or Pearson, it's a perfect spot.
Dan Flomen: It's perfect. It's absolutely perfect. To your point, we're at equidistance to Billy Bishop and Pearson, you know the 427 is just a couple of streets down once you pass Kipling and Islington, the next one is the 427, you shoot up and catch onto the 409, and then you're right at the airport. There's a lot of great, great advantages of this location, and again, you are in the 416, but it doesn't feel like you're downtown.
Andrew la Fleur: Right, and there's a lot of, I mean the GO train is there, so it's a great place to be a driver, obviously as we talked about, you've got great highway access east, west, north, south.
Dan Flomen: You also have TTC.
Andrew la Fleur: Yeah, you've got TTC there as well, with the streetcar, you mean.
Dan Flomen: With the street car.
Andrew la Fleur: [crosstalk 00:29:33] as well, which is two minutes away to the GO train.
Dan Flomen: Yeah, it's all there, like transit is actually better in some regards for transit than some of the sort of northeast parts of the city of Toronto. It's funny, they've really thought about the commuters coming into Toronto when they designed transit for people in Otoboko in general.
Andrew la Fleur: Yeah, and there's talk about LRT potentially coming in there, or even more expansion of the GO as well.
Dan Flomen: Yep, absolutely.
Andrew la Fleur: It's going to continue to improve there as well. Speaking to investors again about Phoenix, if someone's thinking about investing in this project, why would you say, "You should invest in Phoenix?"
Dan Flomen: Well, for very similar reasons that you would invest in King Street. It is unique, the building has phenomenal facilities. Again, when you're buying something, you have to look at upsides, we mentioned the infrastructure upside. This building will also have some unique facilities such as an outdoor infinity pool overlooking the park. If you are looking at an investment in Otoboko, this would be the building that stands out among the buildings in Otoboko, you know as something that really caters to people who work in Toronto or work in Missasawga.
Dan Flomen: That's the other thing, is that your tenant here, if you are an investor, may be somebody who works in Missasawga. A Missasawga person isn't actually going to want to live downtown and fight that commute, they just may not want to do that, but they may want to live in a building that has all the bells and whistles of every downtown condo, but in Otoboko, and our building tics all the boxes, the 24-hour concierge, spectacular gym, great party rooms, great outdoor area. Like I said, it's got a Miami-style pool deck area with cabanas and a waiting area I'm referring to by the pool, like a six-inch deep thing that drops off to a deep end overlooking the park.
Andrew la Fleur: Wow.
Dan Flomen: We're very pet friendly in this building, especially since we do have parks surrounding us. I think from an investor, you're going to see a huge upside longterm with this project, and also rents are very strong in Otoboko. It's one of those few, for lack of a better word, "sub-cities" within the city of Toronto that achieves very very high rents. Part of it I think is, is that although we talk about a number of buildings, it's still a fraction of the number of buildings in Otoboko that you would have in other sub-cities like North York, where you would have a ton of condo buildings up and down the Young Street corridor, not that there's anything wrong with them, but you have a lot of competition there, you don't have the same type of competition here in Otoboko.
Andrew la Fleur: That's everything, I mean like you said, the rents are very strong, they're very high, all the buildings are full. There's a lot of buildings, but they're all full, like it's not like there's a lot of supply out there to be able to buy right now or to rent. Dan, it's [crosstalk 00:32:37]-
Dan Flomen: Can I just say one thing though? One other thing about Otoboko, if you are an investor looking to buy, the building's predominately become owner occupied, so you also won't have the same competition to rent your suite out, and that's a big factor also. It's not a building that's going to be by any means 100% investor. I'd be very surprised if it was more than even 25 or 30% investor at the end of the day.
Andrew la Fleur: Yeah no, absolutely, great point. Yeah, it's been great chatting with you today, Dan. Is there anything else that I didn't ask you about Empire Phoenix or Empire Maverick that you wish I had have?
Dan Flomen: Well, I think you should've asked, "How do I get in, as a client?" Not to promote you too hard, but I would say that [crosstalk 00:33:19] if you are listening and you are interested in buying, please contact Andrew. He does have first access to all of my projects, we've been doing business now for a very long time, his clients have always done well, and [inaudible 00:33:32] can speak to that, but I would strongly speak to Andrew. We'll find a unit that works for you, and we'll put you into the unit that best suits the needs that you want.
Andrew la Fleur: Great, thank you so much, Dan. Appreciate your time today, and I look forward to chatting with you again soon.
Dan Flomen: Have a great day.
Announcer: Thanks for listening to the True Condos Podcast. Remember, your positive reviews make a big difference to the show. To learn more about condo investing, become a True Condo subscriber by visiting truecondos.com.