Investors: Time to Sell Your Downtown Toronto condos?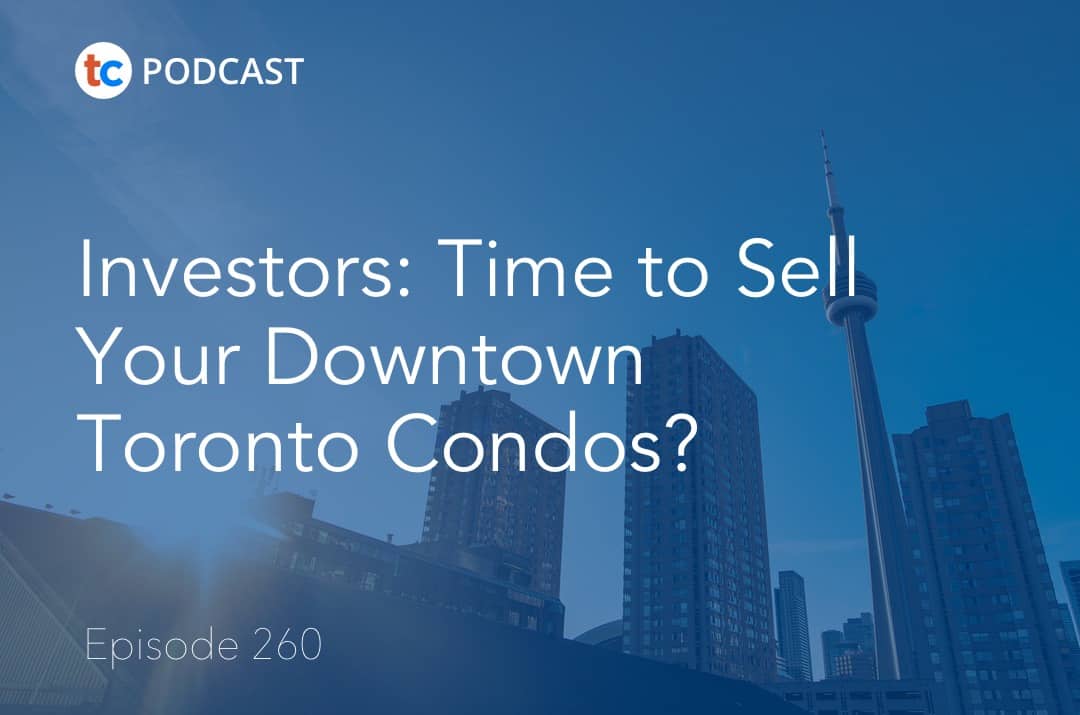 As the COVID pandemic continues, the Toronto condo market is showing signs of slowing down. Is it time for condo investors to sell? Andrew la Fleur dives deeper into the latest monthly sales results from the Toronto Real Estate Board to let investors know what's really going on in the condo market and the GTA real estate market overall.
Subscribe and listen to the True Condos Podcast
Andrew la Fleur: The condo market downtown looks like it's slowing down. Should you sell your condos? Find out on today's episode.
Speaker 2: Welcome to The True Condos Podcast with Andrew La Fleur, the place to get the truth on the Toronto condo market and condo investing in Toronto.
Andrew la Fleur: Hi there. Welcome back to the show. Thanks again for tuning in. As always, your host here on The True Condos Podcast, Andrew la Fleur, if you want to get ahold of me, you can reach me at 416-371-2333. Or you can reach me by email, Andrew@truecondos.com. Make sure if you're not already that you are a subscriber to True Condos. Make sure you have put your name and email anywhere on truecondos.com to never miss out on a condo investment opportunity.
Andrew la Fleur: Okay. On today's episode, as I said, I want to talk about the fact that the condo market downtown is showing signs of slowing down, talking specifically about the resale condo market. And so people are starting to ask the question: Should I, should you, sell your condos downtown? We'll talk about that. We'll answer that question and other questions. But first, I want to preface that with the latest stats from the Toronto Real Estate Board in the resale market for the month of July. So we have the stats now for the month of July 2020.
Andrew la Fleur: And the headlines, of course, are basically all saying something to the effect of the market is absolutely on fire and everything is going crazy, which again, if you just look at the surface level of the stats, that's basically what you're seeing. Sales are up dramatically over last year for the month of July. However, of course, as always, we want to go deeper than that on the podcast here, and that's what you're here for. And that's what you keep coming back to this podcast for year after year. And so we want to go a little bit behind the headlines of course, as always, and dig a bit deeper.
Andrew la Fleur: Yep, you're going to see that top line sales are up massively. You've got over 11,000 transactions in July versus July last year, 8,500, so you have a huge jump in transactions overall. And if you go back, interesting, even further to July of 2018, the number, believe it or not, in July 2018 was only 6,900, which is under 7,000 two years ago. And now we're over 11,000 and we're in the middle of a global pandemic. What the heck is going on? And what is really driving all this? But more important, what is hot and what is not when you dig deeper? You quickly see that there's a big difference between the low rise market, the freehold market, and the condo market.
Andrew la Fleur: Condos and freeholds, very interestingly comparing July 2019, a year ago, with July today, this year, the two, it's like really a tale of two markets. The two markets are really basically flipped on their heads, whereas a year ago, the low rise detached market was pretty slow. It was actually borderline a buyer's market. Looking at the stats for detached houses last year at this time, the sales to listing ratio was about 35%, 35%, which basically the number sales in a given month compared to the number of active listings in the given month. That's my favorite statistic to look at the market. Tells you the temperature of the market and tells you the direction the market is heading.
Andrew la Fleur: And so 35%, that is sort of a balanced market. It's on the weaker end of a balanced market. It's not a buyer's market, but definitely not a seller's market, somewhere in between, leaning a little bit more towards the buyer's side than the seller's side. That was a year ago, detached. And now today, detached houses, the sales to listing ratio's gone from 35%, now it's 78%, which is huge, more than doubling from last year. And that is putting it very far into a seller's market. And of course, if you look anywhere on the GTA, probably where you live or anywhere you are, you're seeing sold signs everywhere. Every freehold, low rise home that's going up is getting multiple offers all across the GTA.
Andrew la Fleur: But in particular, the outer areas, the 905 areas of the GTA, regions like especially areas like Durham region, wherever there's affordability, wherever you can get a backyard and a front door at a reasonable price, you are seeing huge, huge demand and multiple offers on every single property, so that's what's happening in detached right now. The market's gone absolutely crazy. 3,900 sales last year. This year, 5,600 sales in the same month. Huge increase, so most of the increase in activity this year over last year is from the low rise segment.
Andrew la Fleur: On the other hand, if you look at the condo market, just condo apartments, last year, again, last year, it was a very strong seller's market. The sales to listing ratio was 65%. This year the sales to listing ratio is down overall in the whole GTA, down to 47%. So still a pretty strong market overall at 47% if you look at the overall GTA. But what's interesting if you drill down, the biggest segment, biggest single segment of the condo market of course is the downtown Toronto core condo market, the market that I've been tracking closely for the last 13 years or so. So when you look at just the downtown core, the sales to listing ratio right now is actually only 34%, 34%, which is very close borderline. Again, the detached market last year was 35%. Now the downtown condo market is 34%. So basically, right on the edge of a buyer's market, not quite, but definitely going that way, versus again, a year ago, the downtown condo market sales to list was 67%.
Andrew la Fleur: All that to say, basically, as I said, the markets, condo and detached markets have started to turn on their heads, whereas the condor market was very hot last year, now it's cooled off quite a bit. And the detached market, well, it was actually kind of cool last year. Hard to believe. And it's now absolutely on fire. And when you go back before COVID, let's go back right before COVID, the last full month that we had reporting right before COVID, which was February 2020. Just a few months ago, it feels like 100 years ago, but the condo market was absolutely bananas. Detached was also starting to heat up. The whole market overall, we were definitely on pace. We were thinking it was going to be a record year. Things were really strong going into the year, January, February overall in the whole market.
Andrew la Fleur: But in particular, the condo market was going absolutely bananas. The sales to listing ratio was actually 103%, so actually more than 100%, which is extremely rare for that number to do that. It just means that listings are selling so quickly that the stats actually go over 100% the way that's calculated, the number of sales compared to the number of active listings in a given month. So it was over 100% for condos. Detached was at 62% in February. And the downtown condo market was very, very hot, again, at 85% sales to listing ratio, so strong seller's markets across the board in February. And now in July, again, we're seeing detached absolutely crazy, low rise, absolutely crazy. Condos, definitely a lot softer than they were. The condo market is definitely a lot softer, a lot different than it was in February. Still not a buyer's market technically speaking, but definitely showing signs of softness.
Andrew la Fleur: And the big reason for that is supply. Supply is up dramatically if you look at the downtown, I was tweeting about this today on Twitter if you follow me, at Andrew La Fleur. If you just look at downtown, the supply of condos available downtown has more than tripled, more than tripled from February to today, from around 540 condos were available for sale in February of this year. And now we have almost 1,800 units for sale, which is the most supply, the most number of units available for sale downtown since 2015, so it's been a long time since we've seen a big supply number there. And it's something I've talked about on this podcast many times over the last four or five years, is basically the story was always that supply was very, very low. And that was keeping the sales to listing ratio very high, which was keeping it in the seller's market year after year, month after month, quarter after quarter. And that was driving prices higher and higher.
Andrew la Fleur: So with a low sales to listing ratio right now of say low 30s for downtown condos, basically, historically speaking, if we look at other years where that's been the case, that translates into pretty much flat pricing. You don't expect prices really to go up. You don't expect them to go down. They tend to be about flat when the sales to listing ratio is about that. Conversely, you look at detached at currently again, it's at 78% for the market across the GTA right now. A number that high, you know that prices are rising every single day. And they're going to rise at a very fast rate until that number changes and comes down.
Andrew la Fleur: So again, what's the story here? What's going on? Well, it's probably no surprise if you're been paying attention to the world and what's happening, there's a whole number of factors, which is a very unusual time. This is certainly not a normal situation, and certainly not, we can't draw long-term conclusions, I don't think, from any of this stuff that's going on in the market right now. This is the COVID world that we're in. There's a lot of weird stuff happening in the world and it won't last forever. We know that. But we don't know how long it's going to last.
Andrew la Fleur: But again, you're dealing with a situation where a lot of people just don't want to live in condos right now. Lot of people want to own properties with front doors and backyards. They want to have their own space. They don't want to be sharing hallways and amenities and things with other people. You've got work from home is a massive thing that's happening right now, and it seems to be an ongoing trend that may be with us for a while as well. So a lot of people are just saying, "I need more space. I need an office. I need an extra room, a bedroom to work from home." Other people are saying, "If I don't have to go into the office anymore downtown, then why don't I just move somewhere further away and get something, get more bang for my buck?" So people are moving again to areas like Durham and stuff.
Andrew la Fleur: You've got immigration, which is on hold. You've got international students, which is on hold. You've got the Airbnb situation downtown, which is a lot of investors are putting their units on the market for sale, or putting their units on the long-term rental market as well, as opposed to the short-term rental market. So you've got all these sorts of different factors and things all sort of happening at the same time, which has resulted in this wild switcheroo, this massive swing and change and preferences. And it's amazing to see how things can change so quickly one way or the other in the real estate market.
Andrew la Fleur: Moving forward, what can we expect for the rest of 2020? Again, who knows? It's COVID and everything changes it seems day by day. We'll see what happens as the time presses on in front of us here. It's a very difficult time to make predictions. But just based on the numbers and where things are currently right now and the sort of direction in the market, most likely the overall trend of freeholds, low rise being hot, and condos, high rise, particularly downtown core being not as hot, and sort of a cooler projection ahead. That's probably going to be the case, again particularly downtown Toronto. You have a lot of inventory on the market right now. This is not record high inventory. This is not anything we haven't seen before. This is not anything to freak out over by any means. This is not a condo crash by any means at all.
Andrew la Fleur: It simply just looks like again the market will be probably flat based on the current number of sales and the inventory that is out there. Interesting enough, the number of sales downtown are actually above where they were last year, so sales are actually up. There's more activity in the market. There was more activity in the market in July compared to July of last year. Again, even though we're in a pandemic and even though all these factors are working against the condo market right now, sales are still up over last year. So think about that, food for thought, the market is extremely resilient. Interest rates are extremely low and they seem to be heading even lower going into this fall. Mortgage Jake, regular contributor on the podcast and guest on the show here, he was tweeting in recent days that he thinks mortgage rates could get down to 1.5% very soon. So 1.5, what a time to be alive. It's crazy times right now and nothing is really normal, so it's really hard to sort of make predictions and longer term plans as to what's happening.
Andrew la Fleur: But it's very interesting and important to keep on top of these things to understand where things are going. This'll all go back to the bigger trends that we've been observing over the last 10, 15 years I think are still going to remain true. It's just a matter of when is that. When do we go back to normal? When do the condos go back? When do we go back to offices as normal? When are companies returning to business as usual? When can we go back to sporting events and things like that? We don't know. When are people going back to dining in restaurants and going out and all the normal stuff that we normally do? We don't know yet. We are still in the middle of this and we're working our way through it. This is where the market is right now.
Andrew la Fleur: So that's kind of a snapshot of what's happening in the market. And going back to the original question of: Should you sell your condos downtown? So the market is slower, and a lot of people are starting to think about that. What do I do? Market's slowing down, Andrew, does that mean I should sell? Should I get out of these investments? My answer is no, this is definitely not the time to sell. Again, real estate, as I've been preaching on this podcast my entire career here in real estate, it's a long-term game. There's going to be ups and downs in your experience in this thing called real estate investing. Markets don't go up forever. And you're not trading stocks. You're not day trading condos. Prices go up and prices go down over there.
Andrew la Fleur: Just look how much the market has changed in just one year. We can't make these predictions and know exactly how these things are going to go. Nobody has that crystal ball. It's about making money in real estate and growing your wealth in real estate. Never changes. The number one rule, the thing that I always keep going back to and that so many people just can't seem to embrace and understand is simply the fact that you've got to be in this for the long haul. The longer that you're in the market, the better that you're going to do, the more wealth that you're going to create over time.
Andrew la Fleur: And another thing I say to people all the time is, "Okay. Let's say you did sell your condo. What are you going to do with the money? What else are you going to do with it?" They're going to say, "Well, I'm going to look for another ... " Most people say, "I'm going to look for another property to buy." Well, why would you get rid of the asset? You have this asset, this great thing in your hand. Why would you get rid of it to find, to replace it with something else that's the same? Right?
Andrew la Fleur: Unless you have some amazing, completely different alternative investment of some kind that you have discovered that is tried and true and as proven as real estate is, then stay the course. Stick with it. Ride it out. There's going to be ups and downs. But I guarantee you that two, three, four years from now, this will be ancient history and prices will be much, much higher than they are right now. And yeah, so that's my advice to anybody who's thinking about selling is, this is not the time to sell. There's no reason to sell. The market will continue to do well and the trends will continue as they have been over the long-term. It's just a matter of when, not if.
Andrew la Fleur: The other big question coming up is talking about: Should you sell your condo? The other question that's starting to surface with some people now, and condo investors, is: Should you buy some freehold? Should you buy some low rise homes? Should you put some of your money and build your portfolio on that side of the real estate spectrum? And yeah, the answer is yes, you should, if you can afford it. That's the thing. I've been saying for probably the last two years on this podcast, if you've been a regular listener, you know that, yeah, I've been preaching that starting about two years ago. I said that the pendulum was going to shift back at some point to freeholds, condos. We were having an amazing run for a number of years, particularly after 2017 and the fair housing plan, when condos just kept on rocking. And freehold homes really took a big dip there in mid 2017. And even through 2018, there was still, the freehold, low rise market overall on GTA was still very slow.
Andrew la Fleur: And relatively speaking, condos were flying high. And low rise homes, they took a dip and they kind of stayed down for a couple years. So that's about two years ago or so, I started preaching to those who can afford it, to condo investors and real estate investors who can afford it, yes, you should start adding some freehold properties to your portfolio. Even though, as I said, I talk about it on the podcast a lot too, the freehold properties that I do have in my portfolio, most of my stuff is all condos, but the freeholds that I do have, they're the biggest pain in the butt. They're the biggest thorn in my side.
Andrew la Fleur: They're the things that take up most of my time and energy on a given month when it comes to property management. It's always the freeholds. And there are expenses involved with freeholds are huge compared to that of condos, which again, many of my condos, I haven't seen and stepped foot in, in years, multiple years. I haven't set foot in many of the condos that I own. And the tenants just keep paying the rent, and there's nothing to do, nothing to worry about. And you just sleep well at night. There's nothing to think about.
Andrew la Fleur: On the other hand, freehold, there's always issues, particularly in the city of Toronto, where most of the freehold properties are very old. The average age of a freehold home in the city of Toronto is probably 60 to 70 years old. Not much has been built in the city of Toronto after more recently than that, overall when you look at the whole city. So old houses, lots of problems, wear and tear issues, roofs, leaks, raccoons, shoveling snow, grass, you name it. There's a million things that you've got to consider when you're getting into older freehold homes. And that means big expense bills and stuff. But that being said, again, over the long-term, freeholds, especially in the 416, great investment. Definitely recommend having them in your portfolio if you can afford it.
Andrew la Fleur: The reality of course is most people cannot. Most people never will be able to afford to start buying freehold homes in Toronto as investments because the average price of course is well over a million dollars, versus you can still be buying condos for less than half of that. So most investors are still looking at condos as the only choice really. But for those of you investors who are able to look at freehold properties, you should be doing that. And you should be looking at adding some freehold to the mix if you can afford it. Of course, if you'd like to talk about that and talk about specific options in that regard, then I'd love to chat with you more. Again, give me a call. 416-371-2333. Andrew@truecondos.com. I'd love to discuss your portfolio and look at some options that would be a good fit for you.
Andrew la Fleur: Okay, there you have it. That is today's podcast. I hope you enjoyed that. I hope you got some value somewhere from that. And if you did, if you don't mind sharing this with somebody that you know, who you think could benefit from it, and make sure you do subscribe to this podcast and subscribe to truecondos.com, by again leaving your name and email anywhere on the website. Make sure you never miss a great investment opportunity and podcasts and content like this. Okay, until next time, I hope you're having a great week, and happy investing. Talk to you soon. Bye.
Speaker 2: Thanks for listening to The True Condos Podcast. Remember, your positive reviews make a big difference to the show. To learn more about condo investing, become a True Condos subscriber by visiting truecondos.com.
Sign up to receive email updates
Enter your name and email address below and I'll send you periodic updates about the podcast.