NOBU Residences Exclusive Video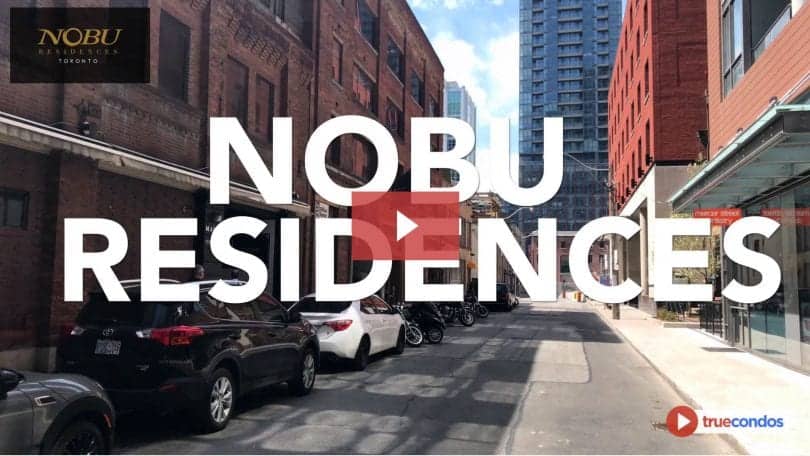 Last Updated on
Nobu Residences is launching May 30th. Why are so many people excited for this project? Watch this video to find out.
Nobu Residences Toronto is a new condo development by Madison Homes currently in preconstruction at 15 Mercer St, Toronto
More information on the project here.
TRANSCRIPT
Hi it's Andrew here again, and I'm in the heart of the Entertainment District today on Mercer Street. And I wanna tell you all about Nobu Residences. Every once in a while a new project comes along that truly has potential to change the city and this is one of those projects. So come on and let's take a look at Nobu Residences.
Nobu Residences is going to be the world's first Nobu Branded Residence. Nobu started in the 1980s when the now world famous celebrity chef Nobu, opened his first restaurant in California. Robert Deniro loved it so much that he along with his big-time Hollywood producer friend Meir Teper, convinced Chef Nobu to open a restaurant in New York in the early 90s and the rest is history. Today there are over 32 Nobu Restaurants around the world and 15 Nobu Hotels.
I recently go to visit the Nobu Hotel & Restaurant in Las Vegas with the team from the Madison Group who is going to be building Nobu Residences here in Toronto and it was absolutely fantastic. Until now there have only been Nobu Restaurants and Hotels, so it's pretty amazing that Toronto was selected as the location of the world's first Nobu Branded Residence.
Along with approximately 700 condominium suites, there will also be a 36 room Nobu hotel and of course the flagship Nobu Restaurant which already has Toronto's foodie's buzzing. Madonna famously said you can tell how much fun a city's going to be if it has a Nobu in it. And Toronto will soon have one. Nobu Residences is being built by the Madison Group.
As I mentioned, the Madison Group are one of Toronto's most respected builders and have built thousands of homes and condos in Toronto over the last 60 years, including the recently completed The Madison building at Yonge and Eglinton.
With Nobu Residences, the Madison Group continues their pursuit of excellence and is bringing something special to Toronto that hasn't been seen before. Check out these gorgeous renderings of this project starting with the tower shot showing how the black clad towers will stand out in the skyline.
Zooming in to the ground level you can see that they will be incorporating the century old factory building that currently occupies the site into the podium which will also be home to the flagship Nobu Restaurant, hotel lobby entrance and the separate condominium lobby entrance. The condo lobby itself is a stunning work of art, done in the famous Nobu design style. But what I'm most excited to show you is the gym.
This will be a five-star hotel quality gym that's unlike anything that exists in Toronto. Imagine working out in this room with a central glass water feature and huge skylight above. Wow!
Now you know that when you're located in the heart of the Entertainment District you're gonna get some spectacular city view's in this building. So enough talk, let me show you what I mean.
Okay that's it for this video. I hope you found this useful as you're considering investing in Nobu by Madison Homes. Make sure you get the investor package by clicking on the link below. And until next time, happy investing.